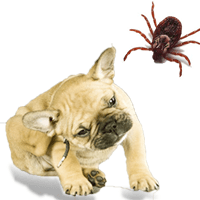 Fleas and especially ticks on dogs, are common external parasites are that live on the skin. They are small arthropods that suck the blood of domestic animals. In addition to the discomfort they cause to pets, fleas and ticks can transmit serious diseases in their saliva. So it is important to prevent these parasites. All dogs should be treated as a prevention measure to control infestation.
How do fleas and ticks infest dogs?
Fleas Vs Tics
Fleas are small arthropods that live on the skin of many animals like dogs and cats. They are high-jumping arthropods of 1 to 2 mm in size. But ticks are flightless 8-legged arthropods that infest domestic animals. They are 2-5mm long, both fleas and ticks are blood sucking parasites. They live and reproduce in the dog skin as well as the environment in which the dog lives. Therefore are able to infest other pets, these arthropods lay eggs. After hatching, nymphs make a long journey to find a pet to infest. That's how a pet gets infested.
What are the signs of infestation?
Infested animals will show an increased desire to scratch and bite their skin. Skin parasites are responsible for a big disturbance. Highly infested dogs can have anemia and poor growth. Ticks are generally spotted in the ear and fleas can be observed as small fast-crawling insects.

Are Fleas & Tics dangerous for my dog?
If not well controlled, fleas infestation may result in allergy. Flea allergy dermatitis is common in dogs. There are also many diseases that are transmitted through external parasites. These are called vector-borne diseases.

How to remove ticks on dogs?
Is there a recommended way? because if you do it the wrong way the flea or tick and inject nasty stuff right?
There is a "tick remover" instrument that should be used. If you don't have it you must do it manually and make sure all the tick body is removed, the anterior part of the tick is the hardest one to remove because it sticks in the skin

How to control fleas and skin parasites?
How to remove a tick from a dog
There are several methods to control fleas and ticks. These treatments should be applied all the year round and especially in warmer months where ticks become active.
Collars are the ideal solution to control fleas and ticks. These are collars that contain antiparasitic substances that acts as parasite repellent. Some collars emit a gas around the neck. Others contain a substance that is absorbed and spread through the skin. Collars are preferred because of the long term effect which lasts several months depending on the mark.
There are parasitical pills that help prevent fleas infestations. The active ingredient is absorbed and then reaches the sebaceous glands in the skin. So when insects try to suck blood, they get killed. These pills are active for 1 or 2 months, regular treatments are necessary.
There are some shampoos that contain anti parasitic compounds that help prevent fleas. After the bath, the dog should be well rinsed with fresh water because if he licks himself, he may get intoxicated.
Sprays and Spot-on solutions
These products are applied directly to the skin. They kill parasites immediately and they persist in the coat for a while. Sprays are also easily applied to the dog environment to get a double shot. These products should be applied once every month.
Spot-ons are small tubes that contain concentrated insecticides. The product is squeezed on a single area over the dog's shoulders, so that he can't lick it. Once applied, the insecticide slowly spreads through the skin and exerts its activity. The treatment should be applied once every month.
If you have more than one dog? Then it get trickier! Because they lick each other…. is there anything other than E-collars for this?
You can separate them for a while. Or there is another solution, antiparasitic collars, (more expensive but more efficient and has a long term effect), they are placed around the neck, they are dry and insects repulsive.
Natural products for removing fleas and ticks
There are some natural oils and compounds that have an antiprasitic properties and may be used as flea repellents. Although these products are not of wide use, they have the advantage of being not toxic to the dog.
On the other hand, if your dog lives in a yard, it is important to "treat" the yard also, because fleas and ticks hide in the environment in which the dog lives, treating the dog only is not sufficient because insects persist and infest the dog again and again.
Visit Shih Tzu skin problems for information on other skin deceases and bathing frequencies.