We may earn commission from qualifying purchases at no extra cost to you.
Learn more
Should I use a grooming table?
If you groom your dog at home, you've probably been wondering whether or not you should invest in a grooming table. Maybe it's going OK trying to groom your dog on a countertop, your lap, or the floor, but chances are you and your dog would be much more comfortable for the grooming process if you invest in a table. As a groomer for more than 12 years, I'm here to tell you what you need to know about grooming tables to decide if you should invest in one.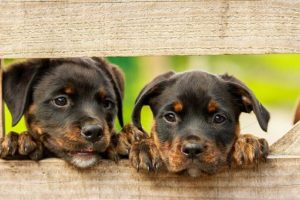 Types of Dog Grooming Tables
Foldable
These are the simplest and cheapest type of grooming table, perfect for small dogs. The best part about a foldable grooming table is that it's easy to store when you aren't using it. Foldable tables are best for small to medium dogs since you have to pick up the dog to place it on the table and they tend not to be as sturdy.
Hydraulic
If your dog is too heavy for you to comfortably lift to chest height, you should consider spending a little extra money on a hydraulic table. Hydraulic grooming tables raise and lower so that the dog can easily step or jump onto it and then be raised to a comfortable height for grooming.
Electric
For the ultimate grooming experience, electric grooming tables offer the smoothest way to raise and lower the table. Electric tables make it easy to make small adjustments, so your dog is always at the most comfortable height for you to groom him.
What to look for when buying a dog grooming table?
What features do you need?
The size of your dog, how often you groom your dog, how much your dog cooperates for grooming, and how long it takes you to groom your dog are all factors that will determine which features you should prioritize when shopping for a grooming table.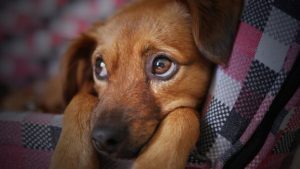 Sturdy construction
For small dogs, even a flimsy table will work just fine for grooming and will be a big step up from trying to control your dog on a regular table or your lap. Larger or more wiggly dogs need a sturdier table because the last thing you want is for a cheap table to collapse under your dog.
Height of the table
The smaller your dog, the taller the table you will want. Trust me when I say that hunching over a table that is too short for your dog is brutal on your back. This also applies if you are a taller than average person. On the other hand, larger dogs don't need to be raised as high to be comfortably groomed.
The best thing about hydraulic and electric tables is that you can adjust them to exactly the right height. This means you can raise your dog to get a closer look at his feet and lower the table to comfortably work on his face.
Size of the table top
Again, the larger dog you have, the larger table top you want. It's terrifying to watch a dog take a step off the table when they aren't paying attention. Usually, they can catch themselves before falling all the way off, but your heart will stop anyway!
Arms for grooming tables
The biggest benefit of buying a grooming table is the ability to control your dog with the use of a tether attached to an arm that is usually adjustable. Given a choice, most dogs would rather wander around the entire table or try to jump off rather than stay in one spot for the grooming.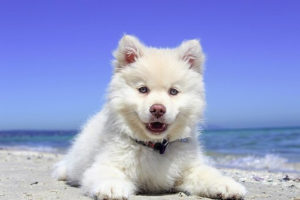 While the tether can go around your dog's neck, it's safer to stick one of your dog's front legs through the tether and use it more like a harness. Adjustable table arms allow you to set the arm to the perfect height to reduce your dog's wandering without the risk of choking him.
Table Harnesses and tethers
While most tables come with a single tether, you can use additional restraints or tethers to secure your dog safely. How much your dog wanders or sits during the grooming process will dictate what sort of restraints you need for your dog.
How do I manage a Difficult Dog on the Table?
The more restraints you use on a difficult dog, the safer the experience will be for both of you. Obviously, you want to be careful not to choke your dog, but the more you can restrict the movement of his head, the safer you will be able to groom a difficult dog.
Best Grooming Table for Small Dogs /Toy breeds & Puppies
Flying Pig Heavy Duty Stainless Steel Pet Dog Cat Bone Pattern Rubber Surface Grooming Table with Arm/noose This table comes in three different sizes, so you don't need to purchase a larger table than you need. The basket underneath allows you to store your grooming tools underneath so that you are never more than an arm's length away from your dog while he's on the table. The non-slip rubber table top keeps your dog sturdy.
Best Grooming Table for Medium Dogs
VEVOR Dog Grooming Table Z-Lift Hydraulic Grooming Table 42.5 x 23.6 Inch Adjustable Pet Table Grooming Save your back with this hydraulic table. You can lower it to allow your dog to jump on it, then raise it to a comfortable height for grooming. You may need to purchase a longer grooming arm, but this table will be sturdy enough to last for years if you're only using it on medium-sized dogs.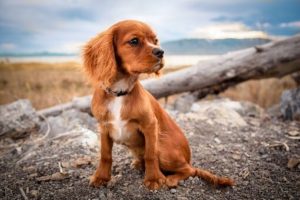 Best Dog Grooming Table for large dogs
Flying Pig Heavy Duty Super-Low Electric Lift Dog Grooming Table This table holds dogs up to 220 pounds and lowers down to less than a foot high, allowing large dogs to step easily onto the table, while the electric hydraulics smoothly lift your dog to a height comfortable for grooming. The overhead arm gives you the ultimate ability to control wiggly dogs or those that refuse to stand.
Related articles
How to Take Care of Your Dog? [Home Care Tips for New Dog Owners]