We use affiliate links and may receive a small commission on purchases.
Learn more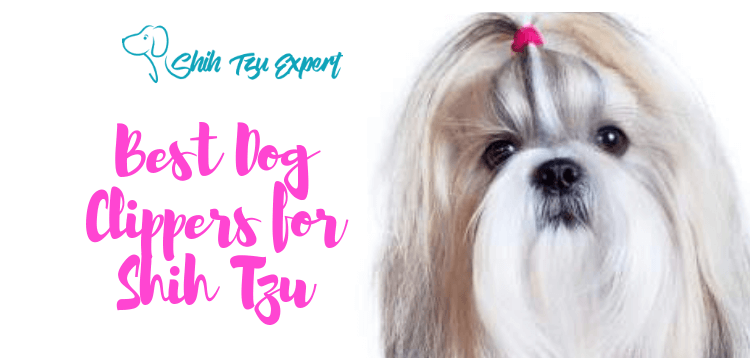 One of the most CRITICAL mistakes I ever made was not buying a good pair of pro clippers (like Andis, Oster or Wahl) early on! because I assumed it would be a waste of my money!.
Here is my journey to finding the best dog clippers for Shih Tzu so you can avoid the same mistakes I made!.
*During our extensive testing we found out that this would get rather hot under certain conditions, especially blunt clipper blades! Solution is to always use Andis professionals to sharpen clipper blades. They are significantly cheaper in the long run.
Our TOP Pick
Wahl Motion Lithium Ion Clipper -Is Our TOP Pick!
OUR RATING =
(4.9 / 5) Check Price on Amazon
The comfortable, quiet, low heat, Easy to use clipper for your money
Our top pick boasts great ease of use, extreme quite comfort for long grooming sessions, a choice of 5-in-1 blades (Sizes 40-30-15-10-9)
To prevent heating up, long durability, Power packed 5,500 strokes per minute motor, versatile Cordless and/or Corded usability, and better build quality and performance than anything else in its class.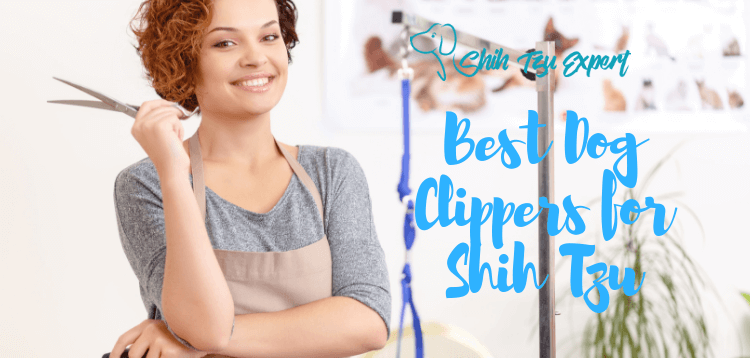 4 Best Clippers for Shih Tzus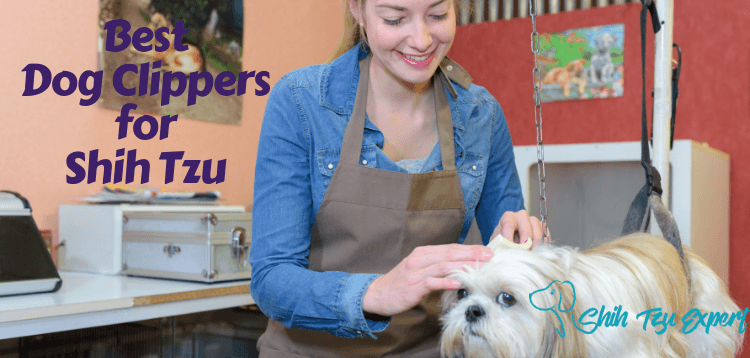 As it turned out buying Cheap clippers were a HUGE mistake, because they stopped working after 1-2 months and scared my pups!
EVEN IF YOU DON'T HAVE TIME TO READ THE WHOLE ARTICLE, PLEASE JUST READ THIS SECTION HERE
ABOUT What to look for when buying clippers, BEFORE YOU SPEND MONEY ON CLIPPERS THAT ARE NOT A GOOD FIT FOR YOU OR YOUR DOG!!!
I ended up Wasting money on cheap clippers and then finally investing in a pair of pro clippers (they are pet friendly and usable) that I use to this day.
THINK VERY carefully before you buy!
Can you really afford to buy cheap junk that would break down? or would it be better to buy a good pair of clippers from the start?

I based this article on my experience from raising and grooming my five Shih Tzu, from tips and advice from other Shih Tzu Parents, and some professional groomers. Even if you don't read the whole article, please make sure to
Read This First
before buying to understand what you are buying and how critically important some factors like the Motor, Torque, Heat & Noise emissions are.
A few crucial tips and tricks that have helped us find the Best clippers for Shih Tzu, and other small or medium breeds of dogs like the loveable Maltese.
I think you'll probably agree with me when I say:
It's REALLY confusing to know, what to look for when buying dog clippers. Or is it?
Well, as it turns out, there are ONLY 3 Very SIMPLE things to keep an eye on before you buy! And in today's post, I'm going to show you what those 3 things are…and exactly how you too can easily select dog clippers by using those.
Ready? Let's go.
11 Best dog clippers for Shih Tzu

Best option for grooming a Shih Tzu at home (or even if you are a pro groomer).The Wahl Motion Lithium Ion Clipper saved me so much time and money!
My runt of a pup's mats didn't stand a chance with these clippers. The Five in One Blade on this Wahl Lithium Ion Clipper will make it simple for you to change the length of your dog's coat without changing blades constantly.
As long as you clean and oil it regularly. With 5500 strokes per minute from it, you won't have any issues trimming your dog's fur.
Motor: 5500 strokes per minute (SPM)
Blades:'5 in 1' Pro Blade with 5 adjustable sizes 9, 10, 15, 30 and 40 included
Weight and Ergonomics: Light, 0.5 pounds
Cord/cordless charge: Versatile Cord and Cordless
Maintenance: Is it easy to clean/Oil? Yes
Heat and noise: Very quiet; Blades heat up a bit
Wahl Motion Lithium Clipper – Performance Analysis
No matter how many times I would brush Pickles he would get these incredulous mats of fur around his hind legs and belly.
When doing research on how to best control mats I found an article that said mats can be fairly
painful for animals the tighter they get and shaving them off is the best option.
Going to the groomers every three months was beginning to take its toll on my bank account, stressed out my pup, and forced me to look elsewhere.
I was really nervous to clip my dog for first time so I made sure to do a lot of research before picking out the Wahl.
It was important the clippers were quiet and efficient as Pickles is a rescue and is extremely skittish. The Wahl was just that – quiet, yet did the job.
I loved the adjustable blade sizes. There are five adjustable sizes – 9, 10, 15, 30, and 40 – with each size available for the preferred area to shave, whether that is the face, ears, feet,stomach, or entire coat.
I wanted the option of just shaving his mats if I didn't need to shave him entirely and I do with the Wahl.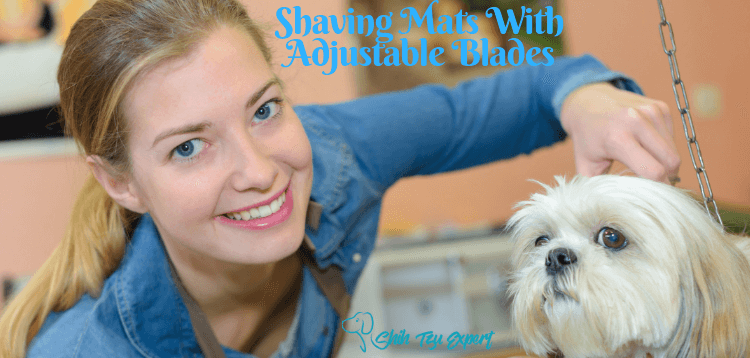 Pickles tends to get this clumps of hair around his face so the clippers excelled at clipping those right off! The clippers were also easy to handle with a nice grip and were just heavy duty enough to slice through each mat with no tangles while also not hurting my wrist. The grips helped glide the blades through Pickles fur with great ease.
Maneuverability – 10 out of 10.
The best part was the cordless feature! It made it easier to handle a frightened dog without also having to worry about a tangled cord. The only downside to this product was that it seemed to get hot quickly.
Within 5 minutes the body had become warm to the touch. By 15 minutes, I was worried the clippers were going to overheat so I turned it off.
It never overheated and was never too hot to handle but the frequent breaks helped Pickles relax and allowed time for the machine to cool a bit.
Things to be aware of…
Sometimes this clipper seems to get a bit hot.

Pros
Low Noice level!
Professional cut capabilities
Efficiently cuts through mats
Great for any kind of groom
Cordless
Great quality
Cons
Clippers get hot
Adjustable blades difficult to replace in the beginning
Wahl Motion Lithium Clippers -Can you really Rely on them? The Conclusion…
I recommend these clippers to anyone who needs to groom their fur baby! I would also recommend the blade oil that is suggested as a frequently bought partner to the Wahl.
I only say this because the blades were not easy to interchange the first few times. Overall very satisfied with this product!

Best option for grooming a Shih Tzu (or any other Small, Medium or even large breed) on your own or even if you are a professional groomer. Cuts through mats and tangles easily. Keep the blades sharpened or buy several spare blades to make it easier if you groom several dogs.
Motor: 2 speeds SPM variable
Blades:Detachable, Comes with UltraEdge #10 Blade
Weight and Ergonomics: Light weight
Cord/cordless charge: 14' -foot cord
Maintenance: Is it easy to clean/Oil? Yes
Heat and noise: very quiet, heats up a bit
Lucy is my loving, cuddly, joyful Shih Tzu. She gets so excited whenever I come home, she does all of her tricks well, and she is the sweetest dog you could ever find. She is also the hairiest, fluffiest animal I have ever owned. The groomers were charging me $50 each month, and they were getting to be too expensive. But her wavy fleece coat grows faster than you would believe. Once her coat gets too long, it drags along the ground and gets dirt and mud caked on her belly and feet. So she has to be groomed on a regular basis.
So I found a solution that would work for me. I groom her myself instead of paying someone else to do it for me I did a lot of studying to learn the best way to groom Lucy, but I was overwhelmed by the number of possible clippers available. After getting some recommendations, I chose the Andis UltraEdge Super Clipper.
The Andis UltraEdge Super Clipper is great for dog owners because it is able to easily cut through all types of dog fur, including hair or fur, wavy or curly. If you have multiple dogs, you will be able to use one product for all of them. The long cord makes it easy for you to maneuver around your dog to get the best angle for the cut. It is faster and stronger than other brands, so it is able to cut through even the thickest dog fur.
Check Carefully because…
The motor is quiet enough that it won't spook even anxious dogs, but it has a powerful motor with two different speeds. The slower speed is great for areas around the joints or face.


Andis UltraEdge Super 2-Speed Detachable Blade Clippers -The MUST Know, True Facts
It is important to use the correct blade size for the area of your dog's body that you are grooming. If you want long hair, you need to use a blade with a smaller blade number. It is also a good idea to get some grooming scissors to have on hand.
What to watch out for with this product?
The UltraEdge Super comes with only one blade size, and it does not include combs. Combs and extra blades are available for separate purchase but make sure that you are buying right ones for this model.
In some cases, customers reported that applying pressure, or holding the clippers at a certain angle can cause the clippers to turn off. If this happens, it is because of a faulty selector switch. You need to contact the manufacturer immediately if this is happening so that you can get it fixed or replaced while still under warranty.
Crucial Tips
You should always move from head to toe when using electric clippers. Moving in the other direction can cause the clippers to get snagged in the hair.
Most grooming clippers do get hot eventually because of the build-up of friction as they run. However, these clippers do not get hot as often as some others. If you are having issues with it heating up, simply take breaks to do other grooming tasks like cleaning your dog's ears. You can also switch out the blades when it gets hot. Because you are using the different blades for different areas on your dog, it will give each blade a chance to cool down while you work on a different spot. There are also cooling sprays available that help to cool your dog down and make sure that they do not suffer from any minor burns.
Benefits and Features
14-inch long cord for easy maneuverability
Locking switch prevents it from accidentally turning off
Round shape and larger base that is recommended for wider grips.
Compatible with other blades and combs by this brand.
It is easy to detach the blades to clean or change them.
Conclusion – Are Andis UltraEdge Super 2 clippers a good investment?
The Andis UltraEdge Super 2-Speed Detachable Blade Clipper is a quiet and powerful option for groomers, for both professionals and at-home use. It is an initial investment but way cheaper than continued grooming bills in the long run. The professional quality of this product sets it apart from its cheaper competitors.
These dog clippers are the 3rd Best and the Most budget friendly option for grooming a Shih Tzu
Motor: Turbo, 2-speed, 3,100 and 4,000 SPM
Blades:A5 detachable, size 10 (2.4mm) included
Weight and Ergonomics: Heavy and bulky, 1.97 pounds
Cord/cordless charge: 12-foot cord
Maintenance: Is it easy to clean/Oil? Yes
Heat and noise: Blades heat up and motor is a bit loud
Performance
This
Oster Turbo A5
two-speed professional clipper is an excellent choice. Oster is a well-known appliance brand with a reputation for quality in its motorized products, and this is no exception.
Sharp and powerful this is a heavy-duty product with some serious speed. The motor blows cheaper models out of the water. Two speed settings allow for versatility to switch from everyday grooming to tackling heavy matting with the flick of a switch. It is nice and wide, so it will quickly and easily groom your pet.
A detachable-blade system allows you to trade out blades (only one is included, but it is compatible with many others) to leave longer fur on the body or for dogs with long, curly, or matted fur. The one included is the preferred blade for face, ears, stomach, feet, and tail. A one-year warranty guarantees that these will work for you from the start. Also included are oil, clipper grease, a cleaning brush, and replacement carbon brushes.
Things to be aware of…
Sometimes this clipper seems to get too hot. It is probable that any product as heavy-duty as this will get hot when cutting through thick fur.
It is also heavier than most other models. But again, this is a professional-level device.
Pros
Professional heavy-duty motor
Turbo speed cuts through matting
Great for getting a short cut
1-year warranty
Trusted brand
Cons
Only one blade
Blade heats up
Heavy
Loud
Conclusion – Cheap but is it worth buying?
In all, the Oster Turbo A5 is one of the best high-quality professional-grade trimmers. This is definitely worth the investment.

Best Clippers for At-home Use that can easily compete with an Oster A5!
Motor: 5 speeds SPM variable
Blades:Ceramic Edge #10 blade included
Weight and Ergonomics: Light weight
Cord/cordless charge: 14 1/2 -foot cord
Maintenance: Is it easy to clean/Oil? Yes
Heat and noise: very quiet, heats up a bit
Roxie is a 2-year-old Shih Tzu. She is friendly, well-trained, and a wonderful companion. She is the best pet you could ask for. The only downside to having Roxie is having to take her to the groomers every month.
At $50 for each session, her haircuts were beginning to cost more than her food, treats, and toys combined! But skipping a grooming session was not an option.
Shih Tzus have hair instead of fur, so they can easily get matted tangles throughout their coat. These mats are just as painful for dogs as tangled hair is for humans. The mats get more complicated and more painful the longer that you wait to groom them.
So in order to save the money I was spending on the groomers each month, I decided to learn how to groom Roxie myself. After doing a lot of research, I felt confident that I could safely groom Roxie and get rid of all of those tangled mats without hurting her.
But now I had to figure out which product I should use. After more research and talking to some friends who also do their own grooming, I decided to try the Andis ProClip Excel Clipper.
Check Carefully because…
The ProClip Excel may not come with everything you need when you first buy it. You may need to purchase combs or extra blade sizes separately. It had all of the sizes that I needed for Roxie but I did purchase the combs separately so that it combs her hair as it clips. I also discovered that this product will work with blades and combs from other detachable clipper products, even if they are a different brand.

The MUST Know, True Facts about Andis ProClip Excel 5-Speed Detachable Blade Clipper
The Andis ProClip Excel Clipper is easy to use and easy to maintain. The lightweight handle makes it easier for people who are grooming dogs all day long. The case is detachable in the back so it is easy to replace the blade drive if necessary. The longer cord also makes it easier to work with. It is fast and powerful, but as long as you are using it correctly it will not knick your dog's skin.
What to watch out for with this product?
It does have a tendency to heat up after a while but that hasn't really been an issue for me because I am just grooming my one dog. I'm not trying to use this clipper for hours at a time. When I feel the handle start to get a little warm, I simply turn it off for a moment. I usually take that time to brush Roxie's teeth, clean her ears, or simply pet her.
Crucial Tips
She tends to get a little nervous, so she seems to appreciate these small breaks. But if you are looking to use these clippers in a grooming business where you will need to use them constantly, it would be better to invest in some clippers that don't heat up as quickly as these ones.
Benefits and Features
It has a quiet motor that won't scare dogs.
The handle is only ten inches long and it is lightweight. It has a comfortable grip that makes it painless to use even for extended amounts of time.
It is powerful enough to cut through long, thick fur.
It includes a cleaning brush that can be used to easily clean the blades.
It has a 14-inch long cord so you can easily use it while walking around the dog.
It has 5 different clipping speeds.
The blades are easy to detach for switching blades. They are also easy to clean once they are detached.
Things to watch out for
It can begin to overheat after extended use.
It must be oiled regularly.
Some customers have reported that it stopped working after a few months of extended use.
Conclusion – Is Andis ProClip Excel 5-Speed A good buy?
The Andis ProClip Excel 5-Speed Detachable Blade Clipper is a powerful yet quiet device that was perfect for easy at-home grooming. The size of the handle and length of the cord make it easy to use. It comes with a few different blade sizes, but it can also be used with almost any blade or comb that fits other detachable clippers. It is perfect for anyone who is looking for a cheaper solution to professional grooming costs.

Best Performance on a Budget, No Heating Up and No Noise!
Motor: 5,500 SPM rotary
Blades: Non-adjustable #45 surgical-cut detachable included
Weight and Ergonomics: Light, 7.9 ounces
Cord/cordless charge: Two drop-in NiMH rechargeable battery packs, 75-minute charge for 80-minute run
Maintenance: Is it easy to clean/Oil? Yes
Heat and noise: Stays quiet and Cool
Wahl Arco SE – Performance
The Wahl Arco SE professional clipper is a great, lightweight cordless product. Wahl is an established brand in both human and
animal clippers
that you can trust.
Light, cordless, and powerful, this is a really convenient clipper. Whether you need to catch a few stray hairs before a show or simply want to do a full groom without needing to wrestle with a cord, this device will work really well.
This is a small, quiet trimmer, and it has two rechargeable batteries, so that you can use it continuously by simply switching them out. The included blade is best for face, feet, and finishing work.
You'll want to look carefully at which trimmer you've selected. There are several with different features at different prices. This particular one, the teal option, only comes with one very short non-adjustable blade, but others in the same range come with the adjustable 5-in-1 blade. The blades are changeable, however, and four plastic guide combs can be used to achieve different lengths.
Also included are a carrying case, cleaning brush, oil, and instructions.
Things to be aware of…
This is a small, lightweight product, not a heavy-duty clipper, although it has a strong motor.
The casing is flimsy, so it will break easily if dropped.
It may wear out faster than more-expensive models as well.

Pros
Professional-grade motor
Extremely Lightweight
Stays cool
Runs quiet
Case and combs included
1-year warranty
Trusted brand
Cons
Flimsy and breaks if dropped
Wears out faster than heavier models
Conclusion Wahl ARCO SE
The Arco SE is a great little cordless trimmer with a strong motor, ideal for touch-ups and light use on all fur types. If you need something for a heavier workload, you might want to look at other models.
Best Clipper on an ultra low Budget! Cool and Quite, lots of Blades
Motor: Heavy-Duty Powerdrive, ? SPM
Blades:High-carbon self-sharpening
Weight and Ergonomics: Comfort Grip, ? ounces
Cord/cordless charge: NiMH rechargeable battery, 60-minute charge for 45-minute run, 120-volt power cord
Maintenance: Is it easy to clean/Oil? Yes
Heat and noise: Stays quiet and cool

Wahl Pro-Series – Performance
The Wahl Pro-Series rechargeable corded or cordless clipper and kit allows for versatility in your grooming.
This rechargeable clipper has a convenient option for use with or without a cord, though it maintains power better with the cord.
The self-sharpening, high-carbon steel blade (not interchangeable) is said to stay sharp longer than comparably priced blades. At this price and with the cordless feature, this is a great clipper.
With a full case full of accessories, including four color-coded combs and a step-by-step instructional DVD, this grooming kit will show you how to get the optimum groom for your pet using various lengths. It also has a comfort grip and its operation is both cool and quiet.
Things to be aware of…
This is a cheaper product. It costs less for a reason. The motor speed (not recorded here) may not match up to more expensive models, and the accessories are on the flimsier side. However, for its price, it is a very high quality clipper. And the grooming kit comes with more than most expensive models.
The blade is not removable, but the guards will allow you to cut different lengths on various parts of your pet.
The power may diminish when it is unplugged. The battery may not be as effective as a cord, but it adds increased versatility.
Pros
Inexpensive
Cordless option
Lots of accessories
5-year limited warranty, 30-day money back
Light weight
Runs quiet
Cons
Cheap accessories
Lower power, especially without cord
Single fixed blade
Conclusion – Wahl Pro-Series
This is a good, versatile trimmer for less money than more professional models. The kit has a bundle of accessories for different lengths in your cut, and the product doesn't seem to heat up as much as more powerful varieties.
The BEST Professional Dog Clipper 2021 – Pricey but Worth it!
Motor: Heavy-duty rotary 3,000 SPM
Blades: #10 CryogenX treated steel
Weight and Ergonomics: 15 ounces, contoured
Cord/cordless charge: Cordless, Lithium ion, 2-hour runtime on 60-minute charge, 110 volts
Maintenance: Is it easy to clean/Oil? Yes
Heat and Noise: Loud and Hot

Performance of Oster Pro 3000i
This is the crème of the crop. It is expensive, but for a good reason. With Oster you get the quality promised by their reputation.
Best suited for a professional groomer or handler, this heavy-duty cordless trimmer can groom multiple dogs on a single charge without the hassle of dragging a cord around. The rotary motor delivers a smooth cutting experience for even tough coats, and the lithium ion battery won't lose power for up to two hours.
The included blade is recommended for overall use, but it is interchangeable with any A5 blade for more length options. The CryogenX treated steel is strong and will remain sharp while resisting rust.
This is sold with one battery, charging stand, and power adapter. The stand is a real space-saver, also functioning as a docking station.
Things to be aware of…
There are no accessories. If you want a carrying case, extra blades, cooling spray, or a cleaning kit, you'll have to buy them separately. You'd think such an expensive product would come with a few bonuses, but here you're paying for the quality motor and battery.
This is a little heavy and bulky, but it seems easy enough to handle and maneuver. Professional-grade products tend to be heavier.
It does heat up a bit, but no more than comparable models.
Pros
Fast, powerful motor
Long-lasting lithium ion battery
Cordless convenience
Strong blade
Compact charging station
1-year warranty
Trusted brand
Cons
No accessories or case
A bit heavy
Pricey
Heats up
Conclusion – Is Oster Pro 3000i Recommended?
The Oster Pro 3000i is the best cordless clipper you'll find. If you're willing to shell out the money, it is absolutely worth it.
Best Advanced & Budget Friendly Dog Clippers (Under $200)
Motor: 3,400 and 4,400 SPM rotary, 120 volts, 60 hertz
Blades: UltraEdge carbon steel size 10 detachable included
Weight and Ergonomics: 17.5ounces, heavy and bulky
Cord/cordless charge: 14 feet cord
Maintenance: Is it easy to clean/Oil? Yes
Heat and noise: Fairly quiet, but heats up a bit

Performance of Andis ProClip AGC2
The Andis ProClip Super 2-speed clipper is great. Andis is a manufacturer of high-quality hair products for both animals and humans.
This isn't just heavy-duty, it's super-duty. The motor has two speeds for easy everyday grooming and for cutting through mats. And the special design runs without using vents or fans, which can get clogged with hair. It's also a fairly quiet model.
With a shatter-proof housing and long, thick cord, this is a durable clipper that will last a really long time. A one-year warranty is included.
The detachable blade (only one is included, but it is compatible with many others) allows for varied coat lengths. The included blade is for common use, and it is specially treated steel that prevents rust and corrosion.
Things to be aware of…
This is a professional-grade product, so it is built for speed, not comfort. The device is a bit heavy and bulky, though it makes an average amount of noise. It also heats up a little more than some other products.
The switch is in a bit of an annoying position on the side, so you will either hit it accidentally or not be able to reach it easily to change speed.
Pros
Professional super-duty
Two speeds to cut through matting
No fan or vent to clog
1-year warranty
Runs fairly quiet
Durable
Long, thick cord
Cons
Blade heats up
Inconvenient switch location
No accessories or case
Conclusion – Should you buy Andis ProClip AGC2?
This is a great trimmer for multiple dogs or professional use. The super-duty motor cuts through even tough, thick fur, and although it can get hot, it gets no hotter than other models.
Cheap, But Only 1 blade, not interchangeable
Motor: Heavy-duty lithium-powered, ? SPM
Blades: Self-sharpening high-carbon steel
Weight and Ergonomics: Heavy 1.62 lb (26 oz), contoured handle
Cord/cordless charge: 2-hour runtime with 60-minute charge or 15-minute quick charge
Maintenance: Is it easy to clean/Oil? Yes
Heat and noise: Noisy but Stays cool

Performance of Wahl Pro-Series Lithium Ion dog clippers
The Wahl Pro-Series lithium ion rechargeable home grooming kit lets you groom your pet without being tethered to a cord for up to two full hours. Wahl is a trusted manufacturer of trimmers for both humans and animals.
This rechargeable clipper will work for two hours on a 60-minute charge. But it will also work (for up to 8 minutes) on a 15-minute quick charge, so this is perfect for touch-ups. This is the easiest cordless trimmer to use at this price.
The self-sharpening blades are tough, high-carbon steel. The grooming kit includes color-coded combs and an instructional DVD, to show you how to achieve the look you want on your animal using various lengths.
Things to be aware of…
Just like its removable-cord counterpart, this product costs less for a reason. The motor speed (not recorded here) may not match up to more expensive models, and the accessories are on the flimsier side.
There is only one blade, and it is not interchangeable. But the guards allow you to achieve different lengths.
It can also be a bit louder than other models. If it is really too loud, that may be a defect, which the warranty should cover.

Pros
Inexpensive
Cordless
Lots of accessories
5-year limited warranty, 30-day money back
Quick charge for use after 15 minutes
Full charge runs 3 hours
Cons
Flimsy accessories
Lower power, especially without cord
One blade, not interchangeable
Loud
Conclusion – Is Wahl Pro-Series Lithium Ion a good option?
This cordless trimmer makes grooming your pet more convenient than similar corded models. And the quality available at this price is hard to beat. For more power, go for a more professional and more expensive clipper. But for a lighter workload (if you only have one dog, for instance), this ought to work just fine.
Best Budget Clipper (Under $50)
Motor: Electromagnetic, 7,200 SPM
Blades: One adjustable steel blade for lengths of #10, #15, and #30
Weight and Ergonomics: 16 ounces
Cord/cordless charge: 8-foot cord
Maintenance: Is it easy to clean/Oil? Yes
Heat and Noise: Loud and Hot

Performance of Wahl Professional Animal Deluxe U-Clip
The Wahl Deluxe U-Clip is a great medium-duty model.
This is an inexpensive device that is intended for home use. The motor is fast, running at 7,200 strokes per minute, which means it can cut through lots of fur at once. It will work great on small or medium animals with medium-length fur.
The adjustable steel blades (not interchangeable) and included plastic guides offer a variety of options for length. The grooming kit has eight guides, a comb, grooming scissors, blade oil, a cleaning brush, an instructional DVD, and a grooming apron, all in a handy carrying case.
Things to be aware of…
Although it has a really fast motor and says it is professional, this is a medium-duty device that is intended for home use. It won't likely cut through mats or really thick fur, but it will do just fine on short or medium fur.
The casing is will break if dropped too much, but the grip is easy to hold.
The blades tend to heat up, but this can be helped with proper oiling and a lubricating spray.
Pros
Fast, medium-duty motor
Inexpensive
16-piece accessory kit included
1-year warranty
Adjustable blade
Trusted brand
Cons
Medium-duty not for long/thick fur
Won't cut mats
Hot and loud
Conclusion – Would you recommend buying Wahl Professional Animal Deluxe U-Clip?
The Wahl Deluxe U-Clip is a solid choice for medium or small animals with shorter or less-coarse coats. This isn't a professional model; it's designed for lighter use at home. If this meets your needs, then it's a great choice for a fantastic price.
The Most Comfortable Clippers!
Motor: Heavy-duty, high-efficiency 3,100, 3,600, and 4,000 SPM
Blades: #10 CryogenX treated steel
Weight and Ergonomics: 12.9 ounces, contoured grip, vibration isolators
Cord/cordless charge: 12-foot cord
Maintenance: Is it easy to clean/Oil? Yes
Heat and Noise: Loud and mildly Hot

Oster A6 Performance
The A6 Cool Comfort is a heavy-duty clipper built for your comfort. Oster is a well-known manufacturer of home appliances and grooming products.
Powerful but lightweight, the Oster A6 uses Zin alloy technology to ensure a smooth, efficient cut in a durable product. Three speeds allow you to switch from everyday grooming to cutting though matting with a single switch. Although it may not cut through thick and matted fur quite as well as the A5, it will get the job done with more user comfort.
This model has special vibration absorbers and a lighter weight to allow you to groom longer without your hands going numb. And the cool blade will keep your animal comfortable, too.
The included CryogenX blade is made of high-quality carbon steel that is treated for extra hardness. It can be switched out and is compatible with all Oster A5 blades.
Things to be aware of…
The casing isn't as tough as similarly priced models, so it will break if dropped too much.
Although this product does tend to stay cooler, the blades may still heat up more than you expect based on the name.
Pros
Fast 3-speed motor
Vibration suppression
Usually stays cool
Comfortable grip
1-year warranty
Trusted brand
Cons
Casing might break
Still might heat up a bit
Conclusion for Oster A6
The Oster A6 Cool Comfort is possibly the most comfortable device to hold and use. It isn't quite as powerful as the A5, and it may be slightly less durable, but it will certainly get the job done while ensuring your comfort during use.
12. Wahl Professional Animal Bravura Cordless Lithium Pet Clipper
Best Sensitive Option
Heat and noise: This clipper is very quiet and does not create a lot of vibration, helping to keep it cool in your hand and make it comfortable to use. It does not heat up very quickly.
Weight and Ergonomics: This clipper is 7 inches long and weighs 8.8 ounces. It is designed to fit comfortably into your hand.
Motor: Rotary, one speed. 240 Volts and 60 Hz.
Blades: Comes with a 5-in-1 Blade that adjusts between size #9, 10, 15, 30 and 40 that allows you to get a variety of lengths on your animal's fur. It also comes with six different guide combs – size #1,2, 3, 4, 6, and 8. It is one speed of 5,500 strokes per minute.
Cord/cordless charge: Corded or cordless. Operates for 90 minutes without charge. Recharges in 60 minutes or can charge while in use and corded. Lithium (Li) batteries (No memory effect + long idle life) relatively high operational cycles. It comes with a charging stand and charging cord.
Maintenance: Easy
Check Carefully Because:
This comes with a 5-in-1 fine blade. Make sure that this blade is appropriate for your dog. You might also want to buy a second blade to help the blade stay cool if you have more than one dog.
The MUST KNOW, True Facts About Wahl Professional Animal Bravura Cordless Lithium Pet Clipper:
This clipper can run both corded and cordless, making it simple to use and easy to recharge.
What to Watch Out For:
This comes with the blade for fine hair, so if you have a dog with coarser hair like a poodle or an undercoat, you will need to buy a different blade.
Crucial Tips:
Make sure that you clean the blade regularly. Because it is adjustable, there are more pieces that can be damaged easily if you do not take good care of it. Clean and oil the hinges with every use and your blade will work the next time you need it to.
PROS:
– Light & Ergonomic
This clipper is designed to fit well in your hand and be easy to use
– Quiet
– Versatile
Because this can run corded or cordless, you can use it any way you need to, even on the underside of your dog.
– Color options
If you like your clippers to be pretty colors, this clipper comes in five different colors.
– Comes with plastic guards
You don't have to buy comb guides to help you get different cuts, because it comes with six different ones.
CONS:
– A little expensive
The slipper is a professional clipper, so it can be a little more expensive than some of the others.
– Clips break easily
The plastic clips that help adjust the blade on the clipper tend to break fairly easily, making it more difficult to use.
– Fine blade struggles with coarse hair
You may need to buy a different blade if your dog has coarse hair or an undercoat. The fine blade that comes with this clipper struggles with those kinds of fur.
– Blade dulls quickly
– Comes with plastic guards
If your dog has a lot of hair or you groom more than one dog, you'll have better luck with the stainless steel comb guides for long term usage.
Conclusion : Is Wahl Professional Animal Bravura a good buy?
The Bravura clippers are perfect if you have a sensitive dog who hates having their fur trimmed, or if you just like to make your life easy when you groom your dog. It's quiet, easy to use and versatile enough to do any cut you need to do on your dog.
Do I need to use a grooming table?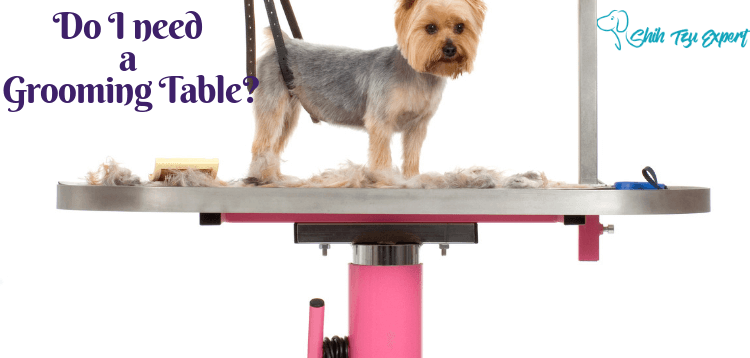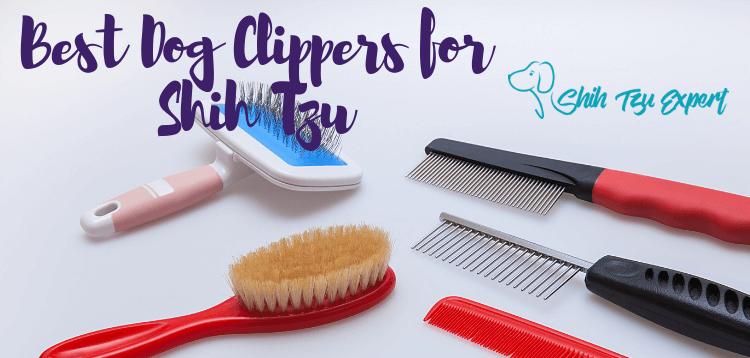 Best dog clippers for Shih Tzu -How to find them? What to Look for When Buying?

You might not know what to look for when you're shopping for pet trimmers. Basically, there are six aspects to look at closely. I've summarized them here as a quick overview before listing the qualities of each product below.
What do you need to look for?
Motor is The heart of a Clipper
Motor
A fast, powerful motor makes the blades cut quickly through fur without snagging. Measured in SPM (strokes per minute), some models have two speeds, the faster for matted fur.
Heat and Noise Emissions Minimize
Heat and noise
Blades heat up and motors make noise. Some products stay cooler than others. And no clipper is silent, but will your dog be terrified of too much noise?
Looking at these key areas will point you toward the best shears. We've also listed these 6 things to look out for, for each clipper we reviewed so that you can easily and directly compare products. If you take just these into account before shopping for best dog clippers for Shih Tzu, you'll have a much easier time picking out the product that is right for you.
Best clippers for Shih Tzu – Buyer's Guide to Dog Clippers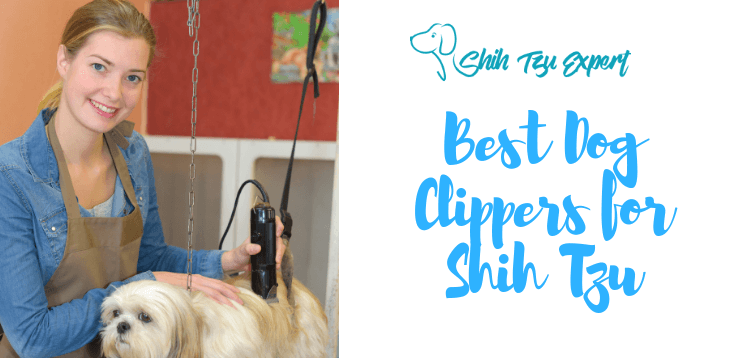 A high-quality electric dog clipper contains a lot of technology in a small package. Before you buy one, read this Buyer's Guide to help you understand the elements involved and make the Best and Safest choice for your situation!.

The type of device you need depends on how you will be using it. If you're just nipping off some stray hairs or neatening up one small area, you'll likely find that an inexpensive set with a less powerful motor works just fine. If you're trying to maintain the coat of a show dog between professional groomings, maybe a medium-level will work best. You may also want more accessories, which not all models come with. However, if you've got a dog with a heavy coat that can become problematic, or if you're grooming professionally, you'll absolutely want to invest in a high-end set and buy some add-ons.
So let's take a look at all the elements of electric clippers that would qualify them as the top dog trimmers.
Why are some brands like Conair are not on my list?
---
There are several manufacturers of clippers. Among others, Oster, Andis, Wahl, and Conair are the ones you'll come across most often. You'll notice, however, that we haven't included Conair in this review of best dog clippers for Shih Tzu.
That's because we've found that their dog clippers
Just aren't as high in quality as the other three top manufacturers.
Most of their models are on the cheaper side, but even the professional models like Conair Canine FX Turbo-Groom II  just don't live up to the standard of Oster, Andis, and Wahl. And
Where those three manufacturers have removable blades that are largely interchangeable with one another, Conair tends to use a fixed blade (for example: Conair PRO Dog), so that the only way to get a different length cut is to use a snap-on guard.
I hope these clipper manufacturers will make the necessary improvements so that they too will make it to our Best clippers for Shih Tzu List in the future!
Dog clipper Buyer's Guide

Motor
Blades
Cord versus Cordless (Battery)
Weight and Ergonomics
Heat
Noise
Maintenance
Accessories
The motor is the heart of the clipper, so this is the most important aspect to look at.
What type of motor is the best? Universal? Rotary? Pivot? Magnetic?
The type of motor you need depends on the coat of the dog you'll be grooming.
For heavy coats or professional use: You need a really good, reliable pair with rotary motors. These will be able to work through long and/or thick coats and matting. Matting will also require a high speed of strokes per minute (SPM), or you'll get the device tangled in the fur. High SPM also lets you work quickly.
For medium coats: You don't need as much power, but you still need to be able to cut through a fair amount of fur. A pivot motor works well, although an electromagnetic motor might suffice in some models.
For thin coats: You're probably not grooming as often or as heavily, so an electromagnetic motor will work just fine. You probably don't need to invest in a heavier-duty model.
Do I need multiple speeds? Turbo?
More than one speed can be really handy when you plan on grooming more than one type of dog. Fast or turbo speeds are necessary for thick fur and matting, but a slower speed on a short-haired dog will give you a smoother look. Faster speeds will also heat up faster than slower speeds.

Next to the motor, the blade is the most crucial part of the device.
What type of material should I use? Ceramic? Steel?
There are combinations of materials including steel, ceramic, titanium, carbon, chrome, or silver, as well as finishing treatments, but mostly you're just looking at steel or ceramic. Steel is tougher, but ceramic stays cooler. As for finishes, chrome resists rust better, silver can be antibacterial/antifungal, and carbon adds a harder edge.
What is UltraEdge? ShowEdge? Ceramic Edge?
There are also varieties in edging. UltraEdge is steel that is infused with carbon for harder, longer-lasting edges. ShowEdge is meant for smooth and sleek finishes. And CeramicEdge stays cooler longer.
Why would I want detachable blades? Do I need more than one blade?
Most professional-grade clippers have detachable blades so that you can change them out for different sizes or finishes, or simply to allow a blade to cool off. Keep in mind that most blades for Oster, Andis, and Wahl are interchangeable, so you can use Oster blades on an Andis device and vice versa. Changing out is great for tackling different types of fur and achieving different lengths.
Less-expensive models tend to have a single fixed blade to cut down on cost and maintenance. However, to give your dog's coat different lengths of fur, some models come with adjustable-length blades, and many come with snap-on plastic guides (also called combs) that allow for a longer cut.
What do skip tooth and finish cut mean?
A skip-tooth blade is best for cutting out mats and for getting through thicker fur. A finish-cut blade is, as it sounds, for finishing work. It leaves prettier, smoother fur.
What does the number on the blade mean?


The number on the blade corresponds to how short it will cut the coat. Higher numbers cut closer than smaller. A #5 blade cuts fur down to ¼-inch long, but a #30 cuts all the way down to 1/100 inch. A #10 is a typical blade included with a set of clippers, and it is generally good for all-around use, especially on faces, legs, and ears. The most common sizes are #10, #5 (for matting), #7 (for thick fur or heavy matting), and #15 (for foot pads). A #40 or #45 cuts extremely short for surgical purposes.
Are the blades really, really sharp?
The blades should be sharp when you receive them, but don't worry, you're highly unlikely to cut yourself because of how the blades teeth fit together. Nevertheless, always be careful when handling them. If your blades seem dull, get them sharpened.
Can I sharpen blades? Is it important to lubricate the blades? Will the blades get too hot? Too loud?
All blades can be sharpened, which should probably be done professionally. You should regularly lubricate before and during use. See sections below for more information.
Blades Vs Guides
Guides are plastic combs that snap over the blade to allow you to cut fur different lengths. Different blades also cut different lengths and are far more durable, but if you have a fixed blade or don't want to invest in expensive blades, guides are important to giving your dog a multi-length cut. And in some instances, the guide can help keep a hot blade off your dog's skin, though this shouldn't take the place of proper maintenance or cooling spray.

You'll need to choose whether to buy a model with a cord or a cordless device with a rechargeable battery.
Why would I want a cord?
Models with cords tend to maintain more constant power than their cordless counterparts, which might lose power over time. Also, if you're grooming for long periods, using a cord can be more efficient than having to stop to charge batteries.
What is important in a cord? Length? Durability?
If you groom several animals or larger animals, a long cord can greatly increase your ability to move around and reach all angles easily. A more durable cord can be important if you use your device often. With lighter use, almost any cord will last long enough.
Why is cordless a good option?
If you are grooming multiple dogs, large dogs, or simply want the ease of working without being tethered to an outlet, a cordless option can be really convenient.
All you want to know about Batteries used in a dog clipper;
What kind of battery is it? What is NiCd? What is NiMH? Lithium ion? Do I need to run it all the way down before charging?
There are essentially two types of rechargeable battery in dog clippers: Nickel Cadmium (NiCd), Nickel Metal Hydride (NiMH), and Lithium ion.
NiCd batteries have a long life (800 cycles), but the run time is shorter than NiMH, and they will lose run time if you don't let them go dead before recharging. This is called the memory effect, but it can be reversed if you know that you need to run the battery all the way down.
NiMH will run longer on a single charge, and the memory effect is less of a problem (though still present), but the battery has a shorter overall life (400-600 cycles).
Lithium ion batteries have the longest run on a charge and don't suffer from the memory effect, but they, too, have a shorter life than NiCd (400 cycles).
If you have an NiCd or NiMH battery, it is advisable to leave the clipper running until the battery dies at least once a month. Running the battery out several times can also help a device that has already suffered from the memory effect.

Why do I want a small clipper?
Lighter, smaller models are easier to maneuver and easier to hang on to. If you're grooming for hours on end, you might start to feel like your arm is going to fall off with a heavy device. Heavy-duty professional models tend to weigh more, but some models are built to be both powerful and lighter.
Do ergonomics matter?
Grip can be important. If your trimmer is constantly slipping out of your hand, you might end up with an uneven cut, or worse, hurt your dog. And if the casing on the device is on the flimsier side, you could break it.

Why does the clipper heat up? How do I prevent it?
Heat can come from the motor running at a high speed for a long time, but mostly it comes from friction in the blades caused by fur and dirt. You need to be careful when grooming not to burn your pet. Test the blade on the back of your hand periodically to make sure it isn't too hot.
Proper maintenance—cleaning and lubrication—before use will significantly reduce how quickly your blades heat up. But they will still likely heat up if you are using them for a long time.
How do I cool it off quickly?
Use a cooling lubricating spray. Several clipper brands sell their own cooling sprays, but most silicone lubricating sprays will work.
Change out your blades. If you have a device with interchangeable blades, when one gets too hot, pop it off, wipe the fur out of the device, pop a new one on, and use an ice pack or wet sponge to cool the hot blade off. Then, clean off the blade after it cools so you can use it again.
Take a break to use scissors or nail clippers while the device cools off. Again, use an ice pack or sponge, then clean and lubricate the blade.

Does it get noisy? Can you reduce it?
Too much noise can spook your dog. Some models are designed to be quiet, but some live up to the claim better than others. In reality, heavy-duty clippers tend to make a fair amount of noise. If your device is making an unreasonable amount of noise, it may need to be serviced, which many warranties will cover.
If your dog is afraid of the sound your clippers make, try letting it get used to the sound gradually before trying to groom it. Let it sniff and inspect the device before use, and during grooming, try to distract it with toys and treats.

How do I clean my clippers? Lubricate them? Sharpen them?
Before you use the clipper, and after every use, make sure it is fully cleaned and oiled.
Clean
With the device unplugged, wipe off any hair on the surface, use a bristle brush to clean the blades. If you have a detachable blade, remove it and wash it in a cleaning solution for a few seconds before using the brush, then letting it dry completely before spraying it with a disinfectant, oiling it, and replacing it on the clipper.
You should never submerge the clipper, and don't soak the blade in water (it might rust). Simply wipe with a dry or damp cloth and let it dry.
Oil
When the blade is clean and dry, turn the device on, hold it upside down, and place a few drops of oil between the upper and lower blades. Any extra oil will drip off. Oil the blade regularly during use.
Sharpen
If the device just doesn't seem to be cutting well—if it won't cut through thick hair, or if it is pulling on the fur—you probably need your blades sharpened. This should be done professionally. See if your warranty covers this, and consult the manufacturer to see where to service your device.

Do I need a case? Guides? Extra blades?
Some models come with all sorts of accessories, but others simply include the clipper itself and a single blade. Consider your needs and whether the accessories are important, and if they are not included, whether you need to purchase them separately.
A case is needed if you take your clippers for use outside of your home, for instance if you are a professional groomer going to other people's homes or if you go to shows. The case will protect the device and hold any accessories.
Can you cut dog hair with human Clippers?
No, they won't work very well, and they'll likely overheat. Dogs have far more and far thicker hair than humans, and the clippers are made with this in mind. Products for dogs have stronger motors and more teeth on the blade to work through their coats.
Should you shave a Shih Tzu?
Only in exceptional circumstances like when the hair is matted, unmanageable and the skin underneath is about to get infected (Pro Tip: If your Shih Tzu is scratching a lot then this is a clear indication!)
What Clippers do professional dog groomers use?
They tend to prefer brands like Andis, Wahl or Oster. But the clippers are at the steeper end of the price range. A good list can be found at
7 Best Dog Clippers for Professional use 2021 [Ultimate Guide]
So, Now you know the basics and can make an educated choice as well as keep your clippers in top working condition.

Dog Clipper Basics and Safety Tips

Crucial Tips for Dog Clippers
Consider your needs before buying. A professional groomer will have different needs than a single-pet owner. Also consider fur thickness, device weight, and usage time. These aspects will determine whether you need an expensive heavy-duty product or a lighter-duty model that costs less. Another important apspet is the breed of dog you have, is it single coated or double coated, does it have matted hair, etc Please Refer to this for best clippers for a large range of dogs
Buy extra blades. Some models come with interchangeable blades, but only one is included. Blades are more durable than flimsy plastic guards. Also, if your blade heats up, you can switch it out for another and keep on working while it cools down.
Wash, dry, and comb your animal before grooming. This will help prevent your blade from heating up too much.
When you insert the blade on most interchangeable-blade models, the motor needs to be running.
Clean the blade and use a cooling spray during grooming. Blades heat up because oils, dirt, and hairs get the blade housing creating friction. Various brands sell cooling spray, but you can use any silicone cooling lubricant from the automotive store.
Maintain your clippers. Keep your blades sharp and keep them oiled. This will prevent excessive heat, snagging in your animal's fur, and wear and tear on your device.
If your blades arrive dull, if the housing falls apart when you first use it, if the noise is deafening, or if the battery won't hold a charge, that's a factory defect. Make sure and check out the warranty before buying, and if there's a problem, send the item back or get it repaired.
How to groom a shih tzu with clippers -Like a Pro

Look:
Now that you read and bought the best dog clippers for Shih Tzu, you can get on with grooming right? NO! not just yet..Edward Scissorhands!…
In addition to choosing the proper pair of clippers, you also need to know how to use the clippers to make your dog look its best.
In addition to choosing the proper pair of clippers, you also need to know how to use the clippers to make your dog look its best.
Some preparation is key before you even start your grooming session.
Long Before You Start grooming
Start young.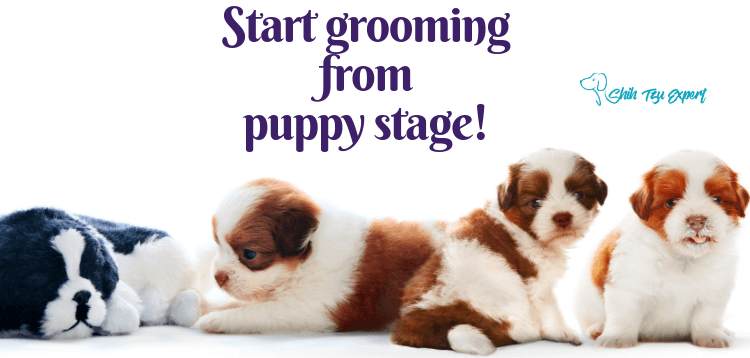 For the very best experience, start grooming your dog from the time it is a puppy. This will help reduce anxiety over the years as you and your animal develop a routine to quickly and easily finish grooming time and time again.
Do some research. Look at specific information about your dog's breed. How do professionals prefer to make that breed look? Decide if you would like to emulate that look, or if you would like to change certain aspects of it. Also consider whether the breed is cut in a particular way for looks or to help the dog with performance or health.
Watch some videos.

There are millions available online. Some might give you step-by-step instructions as they demonstrate the proper way to clip an animal exactly like yours. Others have excellent tips for all breeds.
Ask and observe professionals. Take your dog to a trusted groomer before you try it at home. Most pros will be happy to explain the process and show you how to get it right. They may even share some tricks on how to keep your pet calm and achieve the best results. A professional groomer will also help your pet get used to the process while you have a professional around to help calm and restrain your pet before you try doing it on your own.
When You're about to Start

Read the instructions. Make sure you know how to properly operate and maintain your clippers. Figure out how to turn the device off and on, how to change blades, how to oil it, and how to get optimum performance.
Get your dog used to the sound. For best results, start grooming your dog as a puppy. But any dog can get used to the sound and look of clippers. While unplugged, show the device to your dog and let it sniff and inspect it. Run the clippers in a different room for a while, then move them into the same room, and gradually move them closer to your dog. If you have a particularly loud clipper or a particularly skittish dog, it might take several sessions before you can successfully approach your dog with the clippers. Don't fret; just keep trying.
Exercise your dog.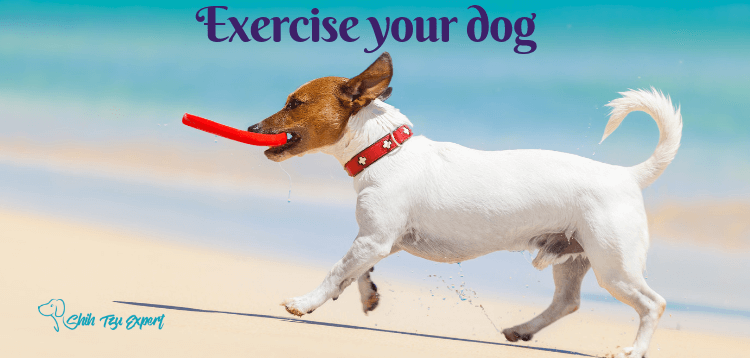 Get out any extra energy. This will help keep your dog calm. So will chew toys and treats.
Bathe, comb, and dry your dog. Get any knots or matting out, and comb out any loose fur. This will make your clippers work more efficiently, keep the blades from heating up as quickly, and help you cut through the fur more easily. Make sure the fur is completely dry before clipping.
Have all of the equipment within reach.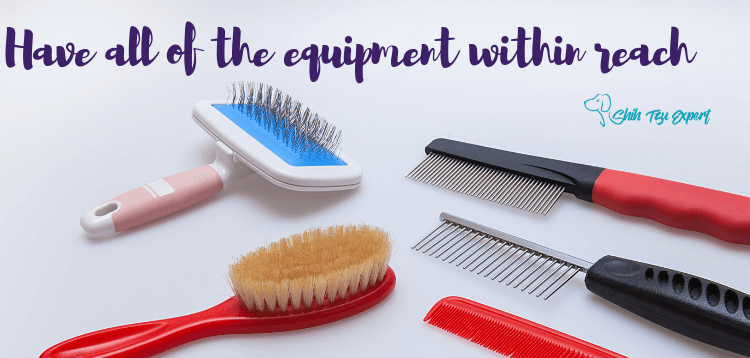 You don't want to have to stop and run into the other room when you've gotten your dog calm and used to the process, so have everything you might need close at hand. You'll need the clippers, any extra blades (different sizes or just extras to switch out when cooling others down), cooling spray, a damp (not wet) cloth, a place to cool the device or extra blades (a metal cooking sheet or ice packs work well), a comb, scissors, and possibly various snap-on guides, nail clippers, or other grooming items.
Clean and oil the device.

Properly maintained clippers work best!
They stay cooler longer and keep you from pulling on the dog's fur.
Make sure there is no fur on the clipper or in the blade.
Use a small wire brush to clean the blade if it is dirty from previous use.
While the device is running, put one or two drops of oil between the blades and let any excess drip off.

Grooming Your Pet

Start small. Begin by working on an easy and inconspicuous location to test your skill and your dog's tolerance.
If you're not sure about your skill with the device, start by neatening up a spot that is just a bit untidy rather than needing a full cut, for instance around the paws, in order to get a feel for the clipper in your hand.
If you're not sure about the length of the cut, consider using snap-on guides before investing in blades of various lengths. Start with longer cuts at first, and maybe try a shorter one the next time you groom.
Remember, on guides the number corresponds directly to the length of cut (larger numbers=longer fur), but the numbers on blades are inverse to the length (larger numbers=shorter fur)
Begin with the top of the neck.
When you start doing the full groom, start a channel down the center of the dog's neck and back, then work your way down either side from there.
Hold the clippers level. The blade should sit flat against the dog's skin. And if you have a breed with loose skin, make sure to hold the skin taut while running the clippers across it to keep from nicking the skin.
Also, remember that you should run the clippers in the direction that the fur grows, that is, from neck to tail. If you do the opposite, the fur will be cut much shorter than you might expect and your dog might not be happy with the feeling.
Check the blade temperature.

As you use the clippers, the blades are likely to heat up at least a bit. Periodically turn off the clipper and touch the blade to your skin to make sure it isn't too hot for your dog's skin.
Cool the blades. Use a lubricating cooling spray whenever the blade seems too warm. Turn off the device and wipe away excess fur, then turn it back on, hold the clippers upside down and spray the blade, letting any excess lubricant drip off. If the blades really heat up, trade out blades.
If you don't have removable blades, set the device aside to cool off. Wipe the blade down with a damp (not wet) towel, remove excess fur, and set it on a metal surface (like a cooking tray) or ice pack. Clip the dog's nails, clean the ears, or use scissors on another portion for a few minutes, then resume clipping.
Establish a pattern.
Once you figure out how to groom your dog, try and do it in the same order every time.
Start at the neck and back, work your way down, go down each leg (careful of the dewclaw), do the paws, then trim under the belly.
Do the tail, go around to the chest, then move up to the head, and finally the face (being careful around ears, mouth, eyes, and nose).
Each area might require a different length, but with practice, you'll be able to quickly and easily change out blades and guides to use on different parts of the body.
With these tips as well as specific instructions for your breed, you'll be able to establish a grooming routine so that both you and your dog are comfortable.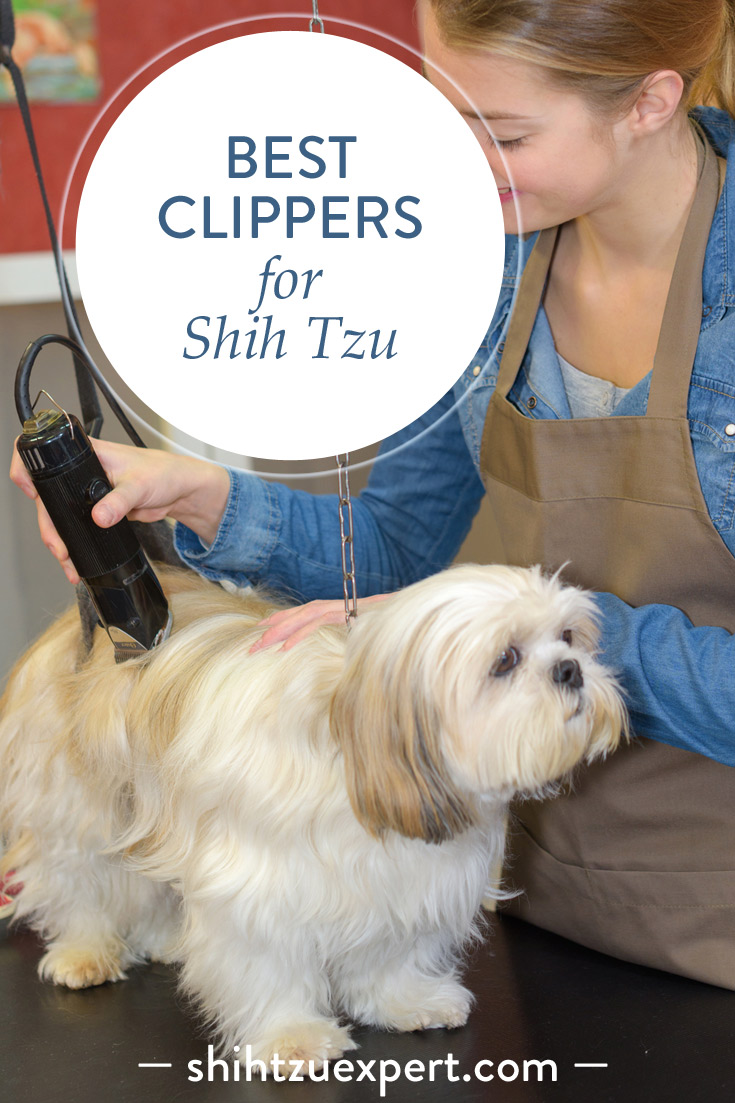 Good pet clippers and/or Grooming practices…
Your are a dog's best friend! Hope your quest for finding the best dog clippers for Shih Tzu was fun and successful.
If you have questions or tips about clippers / trimmers or grooming your Shih Tzu, that you would like to share then please leave a comment below.