We may earn commission from qualifying purchases at no extra cost to you.
Learn more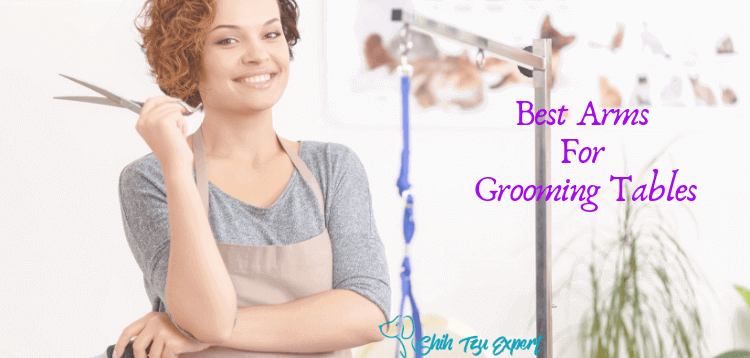 Maybe you're a professional dog groomer who deals with canines of every size and shape all week long. Perhaps you're a pet parent with a dog whose thick coat requires a lot of maintenance. Or maybe you groom your pup yourself, rather than taking her to a professional.
No matter your current situation, it's worth considering all the available tools of the grooming trade, how they function, and how they might help you and your dog (or dogs) during your regular grooming ventures. Grooming arms can be an extremely handy tool for the job 🙂
Best Solid Grooming Arms
The Downtown Pet Supply Grooming Arm. The arm has 36″ of adjustability, and the clamp is designed to fit a range of tables, opening up to 1.8″ in height. The grooming arm is made of powder-coated steel to make the steel water-resistant. A loop is included with the grooming arm. Downtown Pet Supply offers this arm in a variety of colors: black, blue, pink, purple, and silver.
The Master Equipment Aluminum Pet Grooming Arm. The arm has 36″ of adjustability. The clamp opens up to 1.25″, so it's essential to check the width of your table before purchasing. The grooming arm is made of aluminum to resist rust and includes a loop to restrain your dog. This arm comes in blue, purple, and silver.
Best Folding Grooming Arms
The Master Equipment Foldable Grooming Arm. The arm telescopes to give you a range of height options between 24″ and 48″. The arm's clamp opens to an impressive 3″, ensuring that it fits your table. A loop is included with your purchase. Both the clamp and the arm are made of steel, with a powder-coated graphite finish. That graphic shade is the only color option for this particular grooming arm.
The SHELANDY Pet Grooming Arm. The arm has 35″ of adjustability. The clamp opens up to 1.96″, so be sure to measure your table before purchasing. The grooming arm is made of stainless steel and painted to resist rust. Both a loop and a haunch holder (to circle under your dog's hind legs) are included with this grooming arm. The SHELANDY Pet Grooming Arm comes in black.
Best Double-Post Grooming Arm
The Master Equipment Zinc-Plated Steel Overhead Pet Grooming Arm. The two vertical posts are 48″ tall, and the connecting bar telescopes from 36″ to 48″ inches so that the arm fits a wide range of table sizes. The side clamps open to 1.25″ inches wide, so please measure your table before purchasing. The grooming arm itself is zinc-plated steel, while the clamps are powder-coated aluminum. A loop is not included with your purchase, so you will have to buy one separately, or use on that you already have on hand. Master Equipment Zinc-Plated Steel Overhead Pet Grooming Arm comes in black.
There are other double-post options available on the internet, but this particular arm was the best choice for sale.
A Short History of Dog Grooming
Humans and dogs first teamed up thousands of years ago, and grooming has evolved over the centuries. Initially, working dogs were groomed to keep fur over their joints and vital organs, protecting them from the cold. Meanwhile, their remaining
hair was trimmed short to cut down on potential tangles and mats.
These haircuts looked odd but served to protect working dogs.
As dogs continued their rise in social status, dog grooming also evolved. In the 1500s, dog grooming shifted to something of an art form, beginning with the classic puffy poodle cut that we all recognize today. New technology like clippers made grooming more manageable, and by the mid-1900s, professional pet grooming was prevalent. Pet parents looked for professional groomers who could groom their dogs skillfully, and they were willing to pay for a job well done. As a result, additional tools of the grooming trade rose to popularity, including the grooming arm.
What Is A Grooming Arm?
A grooming arm is a post that clamps to a table and stands straight up to reach above the groomer and the dog. It has a loop that hangs down and goes around the dog's neck to hold him in place. Two grooming arms can be used if necessary, with one securing the dog's head and the other securing his hindquarters. The loop (or loops) keep the dog on the table while the groomer cuts his nails, brushes his hair, or cleans his ears.
While grooming arms are often attached to specific tables meant for grooming, you can attach a grooming arm to a range of tables.
Why Use A Grooming Arm
It's worth noting that even if you're not a professional groomer, a grooming arm is still a helpful tool. If you've survived this long never using a grooming arm with your dog, you might wonder why you need one. Many pet owners choose to cut their dog's nails or trim their dog's bangs in any room of their house where they can corner their pet for a few minutes. However, there are multiple compelling reasons to start using a grooming arm on your four-legged friend.
Grooming Arms Are Safer For Dogs
For starters, a grooming arm makes the process of grooming safer for the dog. Perhaps your dog is a perfect saint, standing still while you wield scissors around her eyes to keep her bangs in check. Many dogs, however, dislike being groomed. They don't understand that long toenails, matted fur, and dirty ears will cause them health problems in the long run. Instead, dogs focus on the fact that electric clippers are loud and scissors are scary next to their eyes – not to mention grooming can be a lengthy process, and canine attention spans are short. As a result, dogs are often fidgety at best and runaways at worst when it comes to grooming.
It goes without saying that the tools of the grooming trade are sharp. Scissors, clippers, and nail trimmers can be painful and potentially dangerous if a struggling dog steps on an instrument or turns her head into oncoming scissors. Additionally, a dog can hurt himself wriggling away or jumping off a table to escape your grooming efforts. A grooming arm keeps a dog secured on a table to avoid any escapade injuries.
Counterintuitively, a grooming arm relieves some of your dog's worries while he's attached to it, especially if your dog is a rescue who isn't used to being groomed. An unrestrained dog has several options: try to bolt, pull away from you, give you a warning bite to discourage you from touching that matted spot on their leg. While looped to a grooming arm, however, a dog quickly understands that his motion and options are limited. A dog that would struggle endlessly in your arms often accepts his fate and stops tugging at the grooming arm.
Grooming arms can also offer support for older, arthritic dogs. A loop under the belly or hindquarters takes some weight off a dog's legs while she stands for her grooming session.
Grooming Arms Are Safer For You
Any dog who is scared or in pain might instinctually lash out, even against a beloved family member. A grooming arm protects you from these accidental bites since your dog doesn't have the mobility to swing her head back and nip you while you're trimming a mat from her fur. If you have an especially nervous shelter dog, a grooming arm is particularly helpful as he gets used to both you and grooming in general. And obviously, if you're a groomer dealing with dogs you don't know, a grooming arm helps ensure that you aren't bitten by frightened dogs.
With your dog securely fastened to a grooming arm, your hands are free to focus entirely on grooming. A grooming arm also eliminates the need for more than one person to groom even a large dog, making the whole process easier on you.
Types Of Grooming Arms
Grooming arms come in several forms and materials. The costs vary accordingly, starting around $30.00 and ranging to several hundred.
The most basic grooming arm is one solid piece. This L-shaped arm attaches to the table by the grooming arm's long limb, with the short part of the L hanging over the table. The arm has one or two loops to secure a dog safely. Of all the grooming arms available, this is the most straightforward and most affordable.
Slightly more complicated than the solid L-shaped grooming arm is the folding grooming arm. This model is also L-shaped, but unlike the basic solid model, the shorter end of the L folds down against the longer end. As a result, the folding grooming arm is more convenient to transport and store. The added feature means that the folding arm is typically more expensive than the solid arm.
The most expensive variety of grooming arm is the double-post grooming arm. As the name implies, this model has one regular post on either side of the table. Those two posts are connected to each other by yet another post between them, which is suspended above the length of the table. The sturdy square shape of this grooming arm allows a dog to be restrained at multiple points, and the increased size gives you flexibility when deciding where and how to secure a dog.
Additionally, some grooming arms are made explicitly to telescope up and down, allowing you to easily position the arm at different heights for different dogs.
How To Pick A Grooming Arm
Based on the descriptions above, you might already know which grooming arms work for your needs and which don't. Professional groomers need the most flexibility since dogs come in such a variety of sizes. Additionally, professional groomers might need the most restraints. Many dogs don't take kindly to strangers approaching them with sharp, noisy clippers, and groomers want to be extra cautious with someone else's dog.
At-home groomers deal with fewer dogs and know precisely what size dog they're dealing with each time. They also know their dog's temperament and how many tether points they should use for their pup.
Budget and space are also factors. If you're a professional groomer, you probably have the budget and space for a double-post grooming arm, and you might need that particular arm to groom large dogs. Pet parents with home grooming stations, however, might opt for a smaller folding or solid L-shaped grooming arm.
There are countless options for grooming arms on the internet. To simplify your choice, here is a selection of grooming arms for sale with good rating.
Tips For Using A Grooming Arm
If you only take one tip from this section, let it be this one: Never leave a dog unattended while she's restrained by a grooming arm. An abandoned dog could panic and try to jump off the table, then accidentally strangle herself as she struggles at the end of the grooming arm's loop. Loops with quick-releases are available to purchase so you can quickly free the dog if need be – but this only works if you're in the room! If you have to leave the room for any reason,
take the dog with you on a short leash,
or put her safely in a crate until you return.
Professional groomers should make sure they are using the right size arm for the dog that they're grooming. A small arm won't hold a big, frightened dog. If you accept canine clients of all sizes, have a variety of arms and loops available to safely restrain dogs of any size.
Another good tip for professional groomers is one that might come as a surprise: the use of muzzles. Often, muzzles are seen as cruel, and some groomers hesitate to use them. A well-fitting muzzle, however, is far from evil. On the contrary, a muzzle further restricts a dog's choices while he's being groomed – he can't bite you even while you're grooming his head. Therefore, the dog eventually learns that his options are limited and stops stressing over whether or not to administer a warning nip when you bring clippers near his face. Additionally, a well-fitting muzzle also means you are less likely to be bitten by a stressed or startled dog.
If you're an at-home groomer dealing with your own pets, start using a grooming arm as early as possible. The younger a dog is when she starts being regularly groomed, the less stressful of an experience it will be for her.
Monitor the dog you're grooming for signs of stress or pain. If you're a professional groomer, ask how your client's dog handles being restrained and if there is anything you should avoid doing to keep the dog as comfortable as possible. At-home groomers should take particular note if their dog is a rescue. With a skittish dog, it's worth taking the time to get him used to all of your grooming equipment slowly. Initially, just secure your pup to the grooming arm, but don't subject him to the full grooming process. Afterward, reward him with his favorite treat. Gradually work up to actually grooming your dog while he's looped to the grooming arm. Some rescue dogs are happiest when their grooming is broken up over several days – for example, you might trim your pup's nails on day one, then release and reward him. Day two could be bath day, and day three could be his haircut. Go slowly and note what works best for you and your dog.
Conclusion
Whether you are a professional groomer or a pet parent who grooms your own dog, it's worth exploring the various options of grooming tools available.
As previously noted, a grooming arm makes the whole grooming process safer for both you and the dog you're grooming. It goes without saying that anything adding additional safety and comfort for both groomer and canine is worth the price. With the range of grooming arm sizes and prices available on the market, you're sure to find a grooming arm that meets your needs.