We may earn commission from qualifying purchases at no extra cost to you.
Learn more
One of the most important things for new pet owners is making sure they have bought the proper materials for their dog. Walks are essential to a dog's health, and therefore you will need to be prepared with a leash and harness. The type of harness you buy will depend largely on your dog's size, type, and comfortability.
In this article, we will be focusing on Corgis. We will go over a few recommended products and review them, then go over some general questions about the best types of harnesses for Corgis in general.
Harnesses have a lot of different components to them that must be considered. This includes adjustability, comfort, safety, attachment, durability, and affordability among other things. By being informed about each component, you will be able to choose the best kind of harness for your Corgi.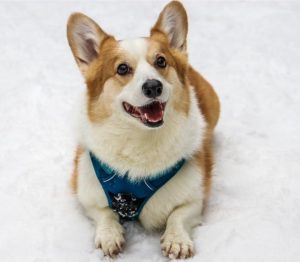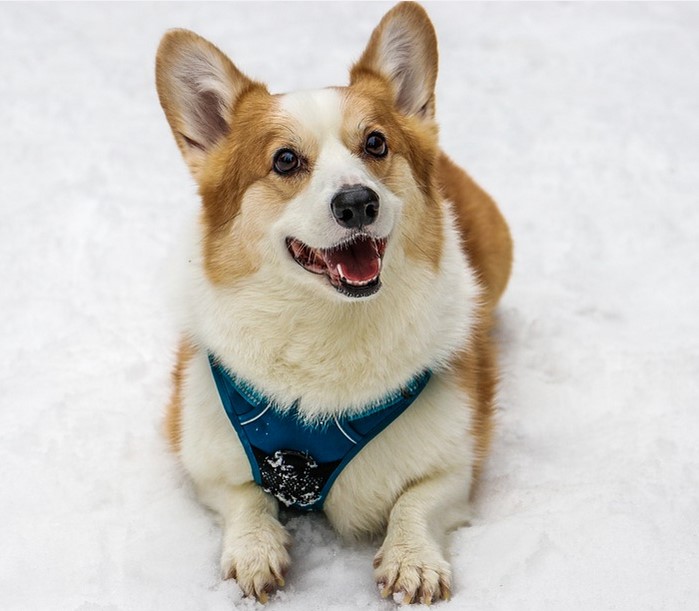 Product Reviews
The Barkbay No Pull Dog Harness is on this list for its great reviews and comfortability. This harness is currently on sale, 41% off. This harness is perfect for hot days and hiking, because it's breathable. It has mesh padding that is anti chafing, and no rip nylon. It would be perfect for going on long hikes or trips, and your dog would be perfectly comfortable.
The ring for the leash is also in the front of the harness, rather than the usual back. This means you as the owner have much more control. Most harnesses will actually encourage your dog to pull because of the placement, and the dog's natural instinct. But with the Barkbay No Pull Dog Harness, your dog won't be able to pull away as much. This is perfect especially if its a new dog and hasn't yet learned the rules of walks!
If you prefer the ring on the back, there is one there too. This can be used for more relaxed walks. The anti-pulling material also prevents choking and any unpleasant sensations for the dog. This harness is great for the dog, but also great for the owner! It is easy to use, and even adjustable. You can adjust the harness at four points for the perfect fit!
You should also be able to take the harness on and off very easily, and the dog should be perfectly comfortable. The harness offers extra safety, too. If you prefer night walks, this harness has reflective strips that will make sure your dog is always visible, even in the dark of night. This will keep both you and your dog safe wherever you go.
There is also a dog ID tag pocket, so you know that no matter what your dog will be identifiable and will get home safely. The harness also has two very durable metal rings that will keep your harness connected. They will not rust if you dog wanders into water, or if they are splashed. This harness comes in a variety of sizes and colors. Just a few colors include black, blue, camo, gray, purple, orange, pink and red. All of these features add up to a great harness for a Corgi.
If you plan on buying this harness, beware of the cons too. Though it is a great harness, every product has its faults. Some say that the harness is bulky for smaller dogs, and that the metal rings don't always stay secure long-term. The ring may also be difficult to put your fingers through, depending on the size of your hand.
Overall, the product offers a lot for Corgi dogs. The adjustable and custom fit would be especially helpful for these types of dogs. By buying this product you will be able to choose the style and color, but also know that your dog will be safe and comfortable. The most important thing to consider when buying a harness is your dog's comfortability, and this harness offers breathable material and a comfy fit. The second should be the ease of use for you, the owner. This product also claims to be easy to put on and off, and you won't have to worry about it falling apart because it is very durable.
The WINSEE Dog Harness is one that is both secure and inexpensive. The ratings are also very good and reliable. This harness is perfect for keeping smaller dogs secure. It has very specific measurements so you can know if this harness is right for your dog. The adjustable neck girl is 14-22 inches, the chest girth is 16-27 inches, and the suitable weight for dogs to use this harness is between twenty and thirty pounds. Dogs like poodles, pugs, chihuahuas, teddys, corgis, boston dogs, and
havanese
are recommended for this harness. There is also a very durable dog collar included in this purchase!
This harness also includes reflective straps. These straps will secure your hold on your dog while also keeping your dog safe at night. This means you can walk your dog at any time of the day! There is also a sturdy fabric handle on the back that allows you to guide your dog and keep close during walks. Be careful not to pull on this too much as you could end up unintentionally hurting your dog. If you want more control, use the D ring on the back to assist your dog.
As long as your dog is between the measures listed above, you can adjust this harness to the perfect size! The harness is completely adjustable and allows you to adjust its chest girth and neck girth. You can do this by using the adjustable straps on the sides. There is a locking tab on the clasp that will then keep the adjusted size secure. There is a lot of reinforcement in this harness, which keeps your dog safe and secure. Due to the perfect fit, this harness will also be comfortable for your dog to be in for long periods of time.
The WINSEE Dog Harness guarantees that your dog will be safe from pulling and choking hazards when wearing this harness if used properly. The two D rings on the front and back can be used to attach the leash or guide your dog. This makes for a relaxed walk. The rings are also very durable and reinforced, so they will not be pulled off very easily. The pulling pressure is also evenly distributed, which keeps your dog safe from choking.
Not only is this harness great for your dog, but it will cause you no more stress. The WINSEE Dog Harness is very user-friendly. It is designed with quick snap buckles  and a safe lock. These features make the harness very easy to take on and off of your dog. The no pull harness is reinforced with high density fabric, which will make it nearly indestructible from a little chewing. This harness is also made with mesh, breathable material which will keep both you and your dog happier.
The few downsides of this product include the picture not being entirely accurate, the harness being smaller in the front. If you have a very aggressive or active dog, you might need to be weary of this harness falling apart if they are left alone with it.
Ultimately, this is a great product, especially for our small Corgis! They will be safe, secure, and comfortable in this harness. The easy to use product will keep both owners and pets stress-free on walks. 
Noxgear LightHound Harness
The Noxgear LightHound Harness is unique from every other on this list! Not only is it adjustable and durable, but its waterproof and USB rechargeable! Though it is a little more expensive, the extra features should determine whether or not the price is worth it.The light-up harness is available in a wide variety of colors, each that can light up with a push of a button.
The colors are
red,
yellow,
magenta,
blue,
purple,
pink,
green, and
Along with these solid colors, there are six multicolor flashing and slow fading color modes –
Disco Dog,
Rainbow,
Cool Comet,
Rescue,
Independence Day, and
Photon Burst.
The harness makes your dog perfectly visible to other pedestrians and drivers during the day or at night, ensuring their safety. The modes are very easy to operate, and you can change whenever you want.
The illumination visibility is over half a mile (800 meters), so you'll never worry about your dog disappearing into a dark gloomy night! This guarantees safety even more so than just reflective straps, as the light this harness has is guaranteed to catch people's attention more effectively and faster. This means no matter the weather or time of day, your dog will be safe in this harness.
You don't have to deal with batteries either! This harness is completely rechargeable. The battery life is great too, once fully charged it can last up to twelve hours. Your dog can wear this harness year-round, no matter the time of day or weather. The extremely durable material means it can withstand general wear and tear, and is even washing machine safe for when it gets dirty!
Noxgear LightHouse Harness is also perfectly easy to use! The redesigned harness added a leash attachment that makes it easier than ever to clip your leash on and speed out the door. Once you're back home, you can also easily unhook the leash and let your dog drink their water! This harness will also easily fit over any collar, harness, or dog gear your dog is already wearing. The harness is also adjustable in the neck and chest for the perfect, safe, and comfortable fit for your dog. No need to worry about chafing or rubbing in this harness!
The unfortunate parts of this product is that it may not be sustainable long term if not used regularly, and you must be careful to keep it charged so that the battery does not get damaged. There have also been instances where the LED part detaches from the harness, though that doesn't seem to be a common occurrence. Keep these in mind when purchasing this harness.
Overall, the Noxgear LightHouse Harness would be excellent for a Corgi. Because they are so small, they can often be difficult to see even during the day– let alone the night. Even in the darkest nights, this harness will guarantee that your Corgi is able to be seen by drivers and other pedestrians, and that you never have to lose sight of them! This is vital for their safety and your peace of mind as an owner.

Voyager Step In Dog Harness
The Voyager Step In Dog Harness is a simple and inexpensive harness. This harness is great if your walks are usually relaxed, and you don't need anything too fancy.
This harness is made specifically for small dogs or cats, so it will be perfect for your corgi! You should definitely refer to the sizing chart before ordering.
This harness is perfect for routine walks year round! The mesh material makes it great in all weather. It is also lightweight, so your dog will be comfortable. There are also two reflective bands on either side of the harness. This makes it much easier for your dog to be seen at night, especially as a smaller dog this is important. This way you know your dog will always be safe and comfortable.
There is a hook and loop fastener, a buckle, and double D rings that make sure your dog is always secure in this harness. By providing three layers of security, you'll never have to worry about your dog slipping out!
The material of the Voyager Step In Dog Harness is breathable and gentle against your dog's skin! It will cause no irritation. It is so light that it allows your dog to wear it all day. It securely and gently holds your bet, and even comes in a wide range of sizes and colors to choose from.
Another benefit is how easy this harness is to use! This harness is easily slipped on and off of your dog, providing ease for both you and your pet.
There is even a step-by-step guide for this harness. First, you will slip your dog's legs through the harness. Then, you will pull the harness up. After that you will need to wrap it around your dog's chest and secure it with the hook and loop fastener! Next, you need to make sure the buckle is clipped. Finally, you just need to clip your leash onto your D ring and you're ready to go on your walk!
Often dogs will be so excited and eager for their walks, they don't want to sit still to be put in the harness. This makes extra buckles and bands hard to put on, and if the harness is too complicated to put on a wiggling dog, you might never make it on your walk. With Voyager Step In Dog Harness, you'll be able to get your dog inthe harness and on their walk, making for a happier dog and a happier owner!
There is also a matching leash offered with this harness, for the combined price.
There are a few cons to this harness. Firstly, if your dog has a narrow or triangular head, this harness may not be for you. The shape of the hole for the head will make it very easy for them to escape the harness' hold. There were also some complaints that the D rings were too big for such a small harness. If your dog is too strong or likes to pull a lot, you might also want to try a different harness, as if your dog has the strength and ability they may be able to pull their way out of this harness.
Ultimately, if you're looking for the cheapest, simplest harness for casual walks with your smaller dog, this harness is perfect! The ease of use is a definite benefit for both the owner and the dog,
The Kurgo Dog Harness
The Kurgo Dog Harness is reliable, durable, and versatile. It is on this list because like the others it offers safety and comfort for your pet, but with some added benefits. It is perfect for dogs of any size, it is secure, and it includes a dog seat belt tether!
Firstly, you are able to choose your preferred type of buckle. There are easy on and off buckles, but there is also the choice of crash-tested buckles. This means that whatever is right for you and your dog, you have the option for. If they are more rowdy and accident prone, you might want to go for the crash tested buckles for the extra security. If they are more calm of nature, you might be able to get away with the easy on and off buckles.
This is an everyday harness. You can use it frequently. This harness is comfortable and breathable. It has five adjustment points to make sure it is the perfect fit. Along with the extra security, it's easy to take on and off with the plastic release buckles! You won't have to worry about your pet getting anxious as you try to take the harness on or off– you'll be done before they know it! This harness will work whether you are walking or jogging with your dog.
Does your dog like to pull? Does it stress you out during walks? With the Kurgo Dog Harness, you will be able to train your dog not to pull. The no-pull training clip feature is an attachment that teaches your dog not to pull. If they try, it will turn them back around.
If you like to take your dog on car rides as well as walks, this might be the harness perfect for you. It comes with a 10 inch tether that can act as a seatbelt or just a training tether for when you are in the car and don't want to be distracted.
There is a sizing chart, please use it to make sure your purchase is the right size. This harness is available as small, medium, and large.
This product also comes with a lifetime warranty. If it is damaged or stops working or meeting your needs, you'll be able to get another!
One of the downsides to this harness is that the seat belt tether is not crash tested. Additionally, the harness can be a bit rough on the dog if they are sensitive, so keep this in mind.
If you take your dog on a lot of car rides along with walks, this harness is probably the best to choose. It is the only harness that offers security in the car as well as outside of it. The ease of use is also a benefit, especially when on a small dog like a corgi! You'll want them in and out of their harness as quick as possible.
Puppia Dog Harness
The Puppia Dog Harness is a simple and easy to use harness that is lightweight and secure. There are a lot of benefits to this harness. The range of sizes is the first that stands out– this harness runs all the way from X small to XX large. This means that no matter what size your dog is, using the size chart you should be able to get the perfect size.
The material is made out of 100% polyester, and comes in a variety of colors. Beige, black, brown, camo, green or navy blue if you're going for a more neutral look, but they also offer orange, pink, bright blue, read, and yellow if you're looking for some flare or a way to make your dog stand out! This could help you keep an eye on your dog, especially a small one like a corgi!
This harness has an adjustable chest belt, so you know your dog will be secure. It also has quick-release buckles, so it will be easy to get your dog in and out of the harness. This will be helpful no matter where you go because sometimes you cannot get your dog to sit still long enough to take off the harness. With quick release buckles, you can easily slip it off without worrying about this.
The Puppia Dog Harness has a padded neck area to keep your pet comfortable and resist chafing or other irritation. Your dog's comfort should always be your number one priority! The material also allows it to be washable either by machine or hand.
Additionally, this harness offers double coated D rings. They will resist humidity and dirt. This means that you can walk your dog at any time in any weather. You can also walk them anywhere, and not worry about it getting dirty because it will not hurt the harness. This will make for stress free walks.
The material is highly breathable and even water repellent. Even the buckles are lightweight. As stated before, your pet's comfort is always your number one priority, so this is a great choice.
The only downside to this harness is that the sizing is not always accurate. Compared to other harnesses, the sizing may be different and you might need to consider this if your dog is typically hard to fit.
Overall, though, this harness is great for smaller dogs or cats that need a simple and comfortable harness. You will be able to walk in any conditions and wash the harness afterward. The easy to use buckles will also make for stress free walks and play time! A happier owner is a happier dog, and vice versa.

Bolux Dog Harness
The Bolux Dog Harness is an inexpensive harness that is perfect if you are especially worried about your dog pulling. It guarantees that there will be no more pulling, tugging or choking on your walks.
The harness looks extremely secure and comes in a variety of bright colors. There are even different shades of each color, so you will be able to customize the harness to your liking. Brighter colors may help catch your eye if you lose hold of your dog or you are trying to keep an eye on them when you let them off the leash.
Bolux also has a variety of sizes ranging from XS to XXL. The Medium size is recommended for dogs like a corgi.
Firstly, this harness is SUPER comfortable. The pulling pressure is evenly distributed to prevent any choking. The vest has an adjustable chest strap to ensure your dog is secure but comfy. The snap buckle and design also allows your dog to move freely without wiggling out of the harness. You can also always change how you adjust the harness if your dog grows!
This harness is unique because it has a nylon handle feature. This feature makes it possible for you to have a better grip on your dog without completely restraining it. This enhances intimacy and safety between you and your dog. This can be particularly helpful for service dogs, but is great for any pet!
Don't be afraid to take walks at any point in the day. The Bolux Dog Harness has reflective strips that keep your dog visible even at night or in bad weather. Connecting the leash to the D ring on the back also makes your dog safer on busier streets. This harness is claimed to be great for any outdoor activities. From just walking, to hiking, climbing, and more.
Bolux is also committed to finding solutions for their customers within 24 hours. If you have a problem, it is sure to be solved in time for you and your dog.
The only con for this harness seems to be the lack of sustainability. Depending on how much you use it, it may not be a long-term harness. If you are looking for a quick and easy harness to try out, however, this might work! If your dog is calmer and doesn't tend to pull too much, this harness will probably still be okay too.
Overall, the harness is great especially if you enjoy a lot of outdoor activity. Not only can you go for walks but you can hike and climb and go camping! No one ever wants to leave behind their best friend for great outdoor adventures, and this harness makes it possible for them to come along. The material also makes it extremely comfortable for them, making it even more of a pleasant experience for everyone involved.
More Information
Now that we've finished the specific product reviews, we'll go over some general questions in case you're looking to further your harness shopping experience.
What is the Best Harness for a Corgi?
To determine the best kind of harness for a Corgi, there are a few different factors to consider. There is size, adjustability, material, comfortability, ease of use, and cost.
Size & Adjusting
The most important thing when buying a harness for a corgi is size. Corgis are long, but short, which makes sizing for harnesses a little difficult. You'll want as many adjustment points as possible. You'll also want a harness that is versatile and can be used in numerous situations. Additionally, you'll most likely want something that is cost effective.
Comfortability
Your pets comfort is so important! Be sure that the harness you purchase has plenty of padding. This will ensure that they are comfortable for long periods of time. It will also help to make sure that the harness is not digging into your dog's skin if they are pulling or tugging on the leash during walks.
Corgi neck type, why you should be careful of choke collars  
You should be especially careful with the way your harness affects your corgi's neck. It is common for Corgis to have stunted growth or Thyroid issues, which can make choking a very real hazard if you do not purchase the right kind of harness.
Overall Best Harness for Corgis
The BEST harness for Corgis, as claimed by many sources, is definitely the Chai's Choice Dog Harness. This harness has everything a Corgi harness needs. It has 3M reflective material, dual attachment points, it is fully adjustable, it is padded, has a no-pull feature, has hooks at the top of the harness, and the harness is offered in nine different colors.
Five More High-Rated Harnesses for Corgis
If you'd like to explore a little more before committing to a harness, we have more options to recommend! Every dog is different, so choose the harness best for your corgi. Five more very high rated corgi harnesses are:
Buddy Belts Classic Dog Harness
Kurgo Tru-Fit Dog Harness
Fisco Small Breed Vest Dog Harness
Puppia Soft Vest Harness
Blueberry Pet Spring Prints Dog Harness

Buyer's Guide / What to Look for in a Good Harness for Corgis
If you're still looking to do some more exploring for harnesses, we can at least provide a guide for what to look for.
Safety 
Of course one of your priorities should be safety, for both your corgi and you. Some features that will ensure your safety as well as your dog's are reflective strips and a grip handle. The reflective strips will make it possible for your dog to be seen in the dark during those early morning or night walks. It also helps in bad weather. The grip handle will make it easier for you to have a good hold on your dog in emergency situations. Especially with corgis, you want to be sure that they are in sight at all times. They are small and gentle dogs, and could easily be hurt if their safety is not taken care of.
Durability
Of course, you want a harness that is going to be sustainable in all situations. Look out for harnesses made of godo material, and some companies will even offer lifetime warranty! These may be a bit pricier, but it is ultimately worth it for the longevity!
Secure Buckles
For safety, you'll want to make sure that whatever harness you are purchasing has at least one secure buckle. These will keep your dog from accidentally slipping out. Make sure they are secure and won't break during walks! Corgis are relatively calm dogs, so the harness and its buckles shouldn't need to be too indestructible, but keep the buckles in mind when purchasing.
Attachments
Some harnesses will come with extra components! Consider what you and your Corgi's needs are. If a basic harness will do, that's great. If you like to go hiking, or drive your corgi around, or if you need a collar, you might want to look for harnesses with those extra components. Just on this list, we've found a harness that lights up, a harness that comes with a collar, and a harness that comes with a tether that can act as a seatbelt. Consider you and your Corgi's daily activities before buying.
Multiple Points of Adjustment
As mentioned before, make sure your corgi's harness is adjustable! Sizing charts are helpful, but Corgis are a very unique shape and size and will most likely need adjusting. Make sure the harness you buy has multiple adjustment points around the chest and neck so they are safe and secure in their harness.
Body Mesh / Step In  
Make sure that you are paying attention to the type of material you are buying for your Corgi. You will want a material that is comfortable and breathable, like mesh. This will make it easier for them to stay in long-term, and will make it more lightweight and easier for you as well. Dogs are often eager to get out the door for their walks, so by getting a step in harness, you are eliminating the time it takes to struggle your dog into their harness. This means you're out the door faster and easier, increasing the enjoyment of the walk for both you and your pup!
Different Types of Harness for Your Corgi
Just to go over the few different types of harness that you may consider buying for your Corgi, there are three general types. The one you choose will depend on what your needs as an owner are, and what your Corgi's needs as your pet are. The three types of harness are the front clip harness, the back clip harness, and the vest harness.
Front Clip Harness
The Front Clip Harness will be most effective for untrained dogs or strong pullers. The clip to hook your leash is in the front, on the chest. These harnesses make it much easier for you as the owner to keep control and steer your dog away from danger. This may be a good harness to buy if your dog is new, or isn't very experienced with walks. If they are usually rambunctious and have a tendency to pull, a front clip harness may be the best option for you.
Back Clip Harness
The Back Clip Harness, on the other hand, is meant for calmer walks. If your dog doesn't typically pull and you can confidently walk without having as much control, the back clip harness is a great choice! It puts less strain on your dog and is more evenly distributed. Just make sure this type has lots of padding to keep your Corgi comfy!
Vest Harness
The last type of harness is the vest harness. As its name suggests, this harness is more of a vest around your dog. However, due to the unique shape of a Corgi, these types of harnesses tend not to fit Corgis very well. Just be sure if you are going to purchase one that it will be able to fit your pet securely!
Tips for Getting your Corgi Accustomed to a Harness
If you've adopted a puppy, or your adult Corgi just hasn't used a harness before, you'll need to have patience with them! Getting used to a harness will take a little bit of time. But don't worry, we have some tips to get you started.
POSITIVE REINFORCEMENT- Dogs learn best from reinforcement training. By feeding them treats when they are good, you will strengthen your bond while also reinforcing good behavior!
LET THEM GROW USED TO THE HARNESS- Dogs aren't usually fans of things they aren't familiar with. If you lay the harness down before using it and allow them to sniff it and check it out, they may be less hesitant to let you put it on them. The more experience they have with the harness, the more comfortable they will be.
TAKE BREAKS- When you go to put on the harness, if your dog is struggling too much or seems too fearful, give them a break. Forcing it on won't help anyone. They will allow you to put on the harness when they are ready. Then, once they associate the harness wil positive things like walks, they'll be happy to see it!
OBSERVE- Start with letting your corgi wear the harness around the house. Observe how comfortable they are– if it is restricting their movement, don't be afraid to readjust. Make sure that they are comfortable and used to the harness before venturing outside.
WALK- Once they seem comfortable inside, you can start with walks! Don't overdo it– start with shorter walks first. Users treat it as reinforcement. Then work your way up to longer walks! The more time they spend in the harness, the better they will be able to get used to it.
STAY PATIENT- This process may not be easy, it might take time. Every dog is different and has their own experiences and fear. Work with your corgi, figure out what is best for them. Don't get frustrated, take lots of breaks, and stay patient. This should be an opportunity to strengthen your experience with your dog!
Frequently Asked Questions
Different Corgi Harness Materials 
There are a lot of materials that harnesses are typically made from. Just to name a few, there are nylon, polyester, cotton, mesh, leather, and neoprene.
Nylon is the most popular material for dog harnesses, as it is both strong and breathable. It is also water resistant and relatively easy to clean. This material makes for a great harness because it is comfortable for the dog, and easy to use for the owner.
Polyester is also a great choice for a harness. It is a little less durable than nylon, but it is more breathable for your dog. If you aren't worried about the strength of the harness too much, you might want to consider buying a polyester harness to keep your dog as comfortable as possible.
Cotton, though not as strong or breathable as either nylon or polyester, is better if your dog has especially sensitive skin.
Mesh can be either nylon, polyester or cotton. It is stretchy and breathable, and also can be used with or without extra padding.
Leather isn't a very popular material for harnesses, but it is a good choice if you're looking for the best quality and durability. It is usually quite expensive, and takes some work to maintain, but if you're willing to put in the work the harness should last a long time.
Neoprene is the softest material, usually used for the padding in dog harnesses. It is typically used alongside nylon or cotton, making it even softer and more comfortable for your dog.
Key Components of a Dog Harness for a Corgi
 The key components that you should be looking at when purchasing a harness include:
Comfortability/padding
Durability
Adjustment
Buckles
Style
Materials
Size
No Pull/Anti Pull
Weight Distribution
Breathability
Tips for Walking your Corgi in a Harness
 If you are walking a Corgi for the first time and are looking for some tips, we are happy to provide some.
To start, make sure that the harness fits well before you take your dog outside. You should be able to fit two fingers into the harness.
You also will need to let your dog become accustomed to the harness in doors first. When you are putting the harness on, if it has noisy buckles, show your dog first and praise them when you've clicked them into place. You should also use treats as rewards in this process.
Make sure when they are wearing the harness you are giving them extra attention and love! They need to associate positivity with the harness. Remember to be patient, this can take time.
If at first you don't succeed, try try again!
Collar or Dog Harness for a Corgi?
Everything depends on the needs of you and your corgi. If your corgi is usually even tempered and doesn't pull a lot, and they are already accustomed to a collar, there may be no need to change that! However, if they pull a lot or need extra security, you may want to opt for a harness. You don't want them to choke or hurt themselves when pulling on walks.
Alternatives to a Harness?
 If you are looking for alternatives to a dog harness, you might want to try:
If your dog doesn't pull a lot and you feel safe walking them without a harness, you might just need a collar and leash!
If it is allowed where you're walking, and the people around you are comfortable, let your dog wander without a leash. As long as they are not running away or hurting anyone, there is no reason to make them less comfortable.
Head collars are collars that fit around a dog's head and around their muzzle. This is another alternative to a harness.
What is the Best Food for Corgis?
After those long walks, your Corgi will
most definitely be hungry
. Corgis love their food. The highest rated dog food for corgis is Rachel Ray Nutrish Just 6. This dog food only includes six ingredients, and is extremely healthy for your corgi. More dog foods that are recommended for corgis include Wellness Core Natural Grain Free, CANIDAE Pure Grain Free, and ORIJEN high protein dog food.
Now that we've answered all your questions, go out and find the best harness for your corgi! The sooner you have one and have your dog used to it, the sooner you can both enjoy nice walks outside together. Remember that when looking for a harness, pay attention to size, comfortability, and for Corgis especially- adjustability. That way, they can be safe and you can know they're safe, as you frolic off on your walks.