We may earn commission from qualifying purchases at no extra cost to you.
Learn more
I have launched a full-on assault on fleas and have learned a lot in the process. I have tried several products and have researched others. In the hopes of helping other dog owners, I have created this buyer's guide full of everything you need to know about fleas. Hopefully, you will read the following guide to choosing a flea collar before your dog gets fleas. Then you can avoid all of the hassle, itchiness, and lack of comfort that I dealt with. Read my story below….
Do you remember that day in elementary school, when the school nurse called everyone in your classroom to her office, one by one? By the time the second person
was out the door
, everyone knew why. She was checking everyone for lice. Do you remember that itchy, creepy-crawling feeling you got as soon as you found out? I have never had lice in my life, but every time someone in my class got it, I was convinced that I need to shave my head.
I found out recently that I get the same feeling when my dog has fleas.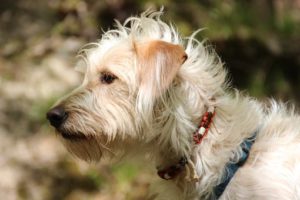 Panther is my black lab mix. He is well-trained, loveable, and the best guard dog ever. A few weeks ago, I noticed that he was scratching a lot. I immediately took him to the vet, and we found out he had fleas. Reading the pamphlet on them made me want to burn my house down along with every surface in it, but the vet promised me that there was a better solution. He gave me some medication to use on the dog immediately, and I got a flea shampoo to keep the fleas from coming back. I followed every trick I could find to clean my house and get rid of the fleas. After weeks of fighting them and cleaning my house from top to bottom, I am determined to make sure that Panther doesn't get fleas again. So, I invested in a flea collar.
1
Bayer Seresto Flea and Tick Collar

Best Flea Collar Overall

Check Carefully because…

The Bayer Seresto is the most popular flea and tick collar and for a good reason. It is odorless, comfortable for your dog, and it works for eight months at a time. It continuously releases insecticide, covering your dog from head to toe, for complete protection against fleas in all life stages. It is completely water-resistant, even if your dog takes a swim. The collar has an adjustable fit, and you can purchase a large or small variety to find the perfect fit for your animal.
The MUST Know, True Facts about Bayer Seresto Flea and Tick Collar
What to watch out for with this product?
Crucial Tips
(there is another collar suitable for cats if you happen to have multiple animals)
Pros
– Safety release mechanism
– Odorless and non-greasy
– Water-resistant
– Last up to 8 months
– Continuously kills adult fleas, eggs, and larvae
– Active Ingredients: Flumethrin, Imidacloprid
Cons
– Only repels some types of ticks
– Some dogs may have a reaction, including skin irritation, illness, and in extreme cases, seizures
– Higher price than other options, but similar in cost to spot-treatments and other more effective treatments.
Conclusion
Probably the best product on the market for most pups!
2
Hopewell Flea and Tick Dog Collar

Best All-Natural Repellant Collar

Check Carefully because…

The Hopewell flea and tick collar is a newer product that is made in Germany, and it is made with 100% natural ingredients, which are mostly essential oils. There are no harsh chemicals, so it is completely hypoallergenic and safe for your dog. It is waterproof and works for up to eight months.

The MUST Know, True Facts about Hopewell Flea and Tick Dog Collar
What to watch out for with this product?
Crucial Tips
The essential oils include cinnamon, eucalyptus, lavender, and lemon oils. However, these ingredients are better at repelling fleas, not necessarily killing them.
Pros
– Hypoallergenic and no harsh chemicals
– Lasts up to 8 months
– One-size fits all (the collar is 25 inches, to begin with, you cut it down to fit your dog)
– Low price
Cons
– A weaker collar that might break more easily
– Only repels fleas for prevention, doesn't effectively treat prior infestations
Conclusion
This is a good collar for preventing fleas, but it won't do much if your dog already has them.
3
Scalibur Protector Band

Best Collar for Protection Against Several Insects

Check Carefully because…

Most flea collars protect against two of the most dangerous insects, fleas, and ticks. But those are not the only kinds of insects that can irritate your dog, nest in their fur, and infest your home.

The Scalibur Protector Band fights off fleas and ticks, but it also works against mosquitos and sand-flies.

The MUST Know, True Facts about Scalibur Protector Band
What to watch out for with this product?
Crucial Tips
The main active ingredient is Deltamethrin, which is one of the safest ingredients available. It continuously releases the insecticide for six months.
Pros
– Safe, active ingredients
– Fights multiple insects
– Lasts for six months
– Odorless
– Water-resistant
– One-size fits all
Cons
– Some customers have complained that the collar caused a rash or blisters on their dog's neck. Do not use if your dog has sensitive skin.
– The collar is weaker than some other brands.
– Higher cost (however, check with your veterinarian to see if they can offer you a better price).
Conclusion
This is a comprehensive solution against a range of issues from ticks to sand flies!

4
Arava Dead Sea Pet Spa Flea Collar

Safest Flea Collar for Puppies

Check Carefully because…

The Arava flea collar is one of the safest collars available, and it is even safe for use around babies and puppies. It has a combination of natural ingredients, including herbal remedies and essential oils.

The MUST Know, True Facts about Arava Dead Sea Pet Spa Flea Collar
What to watch out for with this product?
Crucial Tips
There are no harsh chemicals. It is water-resistant, lasts for five months, and has a money-back guarantee.
Pros
– All-natural ingredients that are safe for babies and puppies
– Money-back guarantee
– Light but pleasant scent (if the scent is overwhelming at first, allow it to air out before putting it on your dog)
– A portion of each purchase is donated to animal rights charities
– Water-resistant
Cons
– Is less effective on thick fur
– Can be greasy
Conclusion
This is a good option if you have a puppy because it is safe!

5
Hartz Ultraguard Plus Flea Collar

Best Budget Option

Check Carefully because…

The Hartz Ultraguard is one of the best-priced flea collars on the market. However, the reason that it is so affordable is that it uses harmful active ingredients, including TCVP. If you simply can't afford the more expensive options, this collar will work, but be sure to be extra careful when handling the collar, don't let your children play with it, and watch your dog carefully for signs of any reaction.
The MUST Know, True Facts about Hartz Ultraguard Plus Flea Collar
What to watch out for with this product?
Crucial Tips
Pros
– Lowest price
– Fights fleas in every life stage
– Lasts for up to 5 months
– Comfortable design (they have a large dog collar that is specifically designed to fit your dog's neck without being too heavy).
Cons
– Harmful ingredients including TCVP, which can cause cancer
– The plastic on the collar is cheap and might break easily
– May take some time to begin working
Conclusion
This collar is a great option if you are on a tight budget!
6
Pet Gallo Flea and Tick Dog Collar

Best Collar for Small Dogs

Check Carefully because…

The Pet Gallo flea collar is similar to other options in a lot of its features, like the active ingredients, water-resistant design, and effectiveness at killing fleas. But they have a small sized collar that is perfect for small breed dogs. The 18-inch collar can be adjusted to your dog's size, but it only weighs two ounces, so it won't weigh on your dog's neck.

The MUST Know, True Facts about Pet Gallo Flea and Tick Dog Collar
What to watch out for with this product?
Crucial Tips
Pros
– Adjustable, lightweight collar perfect for small breeds
– Light, pleasant scent
– Water-resistant
– Effectively kills fleas, eggs, larvae, and ticks
– Safe for puppies over 6 weeks old
– Money-back guarantee available
Cons
– Harmful TCVP is the first active ingredient
– Cheap materials may break easily
– Some customers complained that the collar only protected the dog's head and chest, but the areas away from the collar were still infested.
– May not work as well if you store it for extended amounts of time
Conclusion
Be aware that the main ingredient is TCVP, so you should use it cautiously.
7
Regirock Flea and Tick Collar for Dogs

Best Hypoallergenic Flea Collar

Check Carefully because…

The Regirock flea and tick collar is made from natural plant extracts, so it is safe, non-toxic, and hypoallergenic. It is effective at killing fleas, ticks, and other pests, and it lasts for up to eight months.

The MUST Know, True Facts about Regirock Flea and Tick Collar for Dogs
What to watch out for with this product?
Crucial Tips
Pros
– Hypoallergenic
– Non-greasy, odorless
– One-size fits all, adjustable collar
– Water-resistant
– Protection for up to 8 months
– Some offers include a flea removal kit for free
– Natural and safe ingredients
– Made in Germany
Cons
– The expiration date may change the effectiveness of the product.
– Some dogs showed signs of distress, such as pacing or heavy-breathing, that seemed to be connected to this product.
What to Watch Out For
– Some customers had complained that they received a knockoff version of this product when they ordered online. Check the reviews on the product and seller before purchasing. If the active ingredient listed is Citronella- it is a knock-off, and you should send it back.
Conclusion
If your
dog has had allergic
reactions to other collars, or you want to stay away from the harmful chemicals found in some, the Regirock flea collar is a great option.
8
Adams Plus Flea and Tick Collar
Check Carefully because…
The Adams Plus Flea and Tick Collar is effective, water-resistant, and affordable. It doesn't contain the harmful TCVP ingredient, but it also contains an (S)-Methoprene, which is a safe insect growth regulator.

The MUST Know, True Facts about Adams Plus Flea and Tick Collar
What to watch out for with this product?
Crucial Tips
Pros
– Inexpensive and effective
– Water-resistant
– Lasts for up to 7 months
– Works against fleas at all life stages
Cons
– Harmful TCVP is an active ingredient
– There is no safety release mechanism on the collar, which could be dangerous if the collar gets stuck on something while your dog is wearing it.
– May cause seizures in some dogs
– Some customers complain that it was not effective for the whole seven months that it advertises
Conclusion
This collar is not safe for pregnant or nursing dogs, and it should be handled carefully by humans.
WHAT TO LOOK FOR WHEN CHOOSING A FLEA COLLAR?
There are hundreds of options available when it comes to flea collars, and it can be very overwhelming to find the right one for your dog. When I first started searching for a collar for Panther, I was astonished by how many options there are. But I soon discovered that you could easily rule some of the options out by paying attention to a few important factors.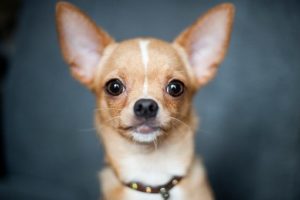 The easiest way to rule out a flea collar is if it has harmful ingredients. More information on harmful and helpful ingredients is listed below, but when you are trying to narrow down your options, just take out any collars that include the ingredient
Tetrachlorvinphos or TCVP. TVCP could be harmful to your dog
, and it could cause cancer in you or your children.
The second thing that you can do to narrow down your possibilities of the best dog flea collar is to find one that is water resistant. This is especially important if your dog could get caught in the rain while wearing the collar or if it is going to be worn near lakes, ponds, or other bodies of water. If a collar is not water-resistant and it gets wet, it could stop fighting against fleas without you even knowing it. Even water-resistant collars should not be submerged in water on a regular basis if it can be avoided.
Another thing to consider when you are purchasing a flea collar is how long it will prevent fleas. Most products will last from three to nine months. You might be tempted to purchase a cheaper flea collar, but if you compare how long it lasts, you will see why the slightly more expensive collar is cheaper in the long run.
Flea Collar for Dogs Buyer's Guide
When you decide to buy a flea collar, there are some things that you should keep in mind, especially once you have narrowed it down to two or three possibilities. If you are choosing between a few products, here are the factors that can make one stand out as a better option for you and your dog.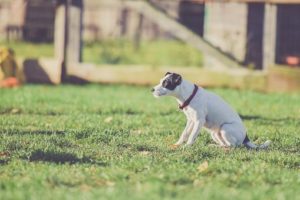 The first thing to consider is whether or not the flea collar is available in your dog's size. You should measure the circumference of your dog's neck, as well as know his or her weight before your purchase. You want the collar to be snug, and out of reach of your dog's muzzle, but not too tight.
Another thing that might cause you to buy a particular product over another one is the odor. Odorless flea collars are great. Some collars have a pleasant clove smell that reminds me of Christmas but isn't overwhelming. Other collars will have an overpowering smell that will convince you to throw the collar away before you even put it on your dog.
Safety Precautions
Flea collars do contain a combination of medicine, essential oils, and chemicals to create an insecticide that is deadly to fleas and ticks. They are safe for your dog to wear, but there are some important safety precautions that you should take to avoid some possibly major medical problems for both you and your pet.
The medicine in flea collars is meant to be absorbed into your pets' skin, but it is not meant for your dog to ingest. Don't let your dog chew on or lick the flea collar. Make sure that it is sized appropriately so that your dog can't reach it with its mouth.
It is also important that you do not use multiple flea treatments at one time (see below for information on other possible treatments). Too much of similar medications could cause some
serious side effects for your dog
. This includes using flea shampoos. Be sure to talk to your veterinarian about which products you plan to use and how often they should be used.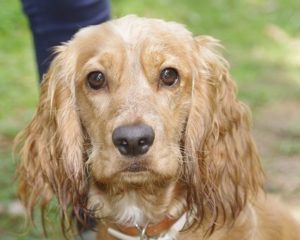 Dog's fur can help them to absorb the medicine at the appropriate pace. Your skin doesn't have that benefit. It is important that you wash your hands after handling your dog's collar, and that you never touch your eyes, face, or food immediately after touching the collar. Dog collars are not suitable for cats for the same reason; their fur won't impede the medication as much, and their skin is more sensitive than dogs. So, get the right collar for the pet you intend to use it on.
How Do Flea Collars Work?
Flea collars work in a few different ways. Many flea collars will have multiple insecticides so that they can target fleas at different life stages or so they can be used during both prevention and treatment. Look for a collar that has a combination best suited to your needs.
Repellent
Insect repellents are good for getting fleas to stay away from your dog in the first place, but they aren't so great at treating an infestation that has already begun. Repellants often contain essential oils and other natural ingredients. These collars work by sending a medicine into the uppermost layer of your dog's skin that bothers the fleas once they take a bite out of your dog. Because they have to be bitten before repellants are useful, I recommend finding a collar that repels and kills on contact.
Pesticide
Many flea collars contain a pesticide, but there are two types that should be included. Strong insecticides immediately kill adult fleas and other insects. However, they do nothing to fight against the eggs and larvae that have been laid. So, you need a collar that also has an IGR. An IGR is an insect growth regulator that disrupts the life cycle of eggs and larvae so that they cannot become full-grown insects.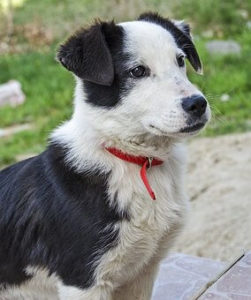 Why use dog flea collars and how effective are they?
The effectiveness of flea collars will depend on the ingredients, water resistance, and the materials that the collar is made from. They are effective 80-95% of the time, and they usually start working within the first 48 hours. Deltamethrin is one of the safest insecticides, and it also happens to be one of the most effective.
There are multiple options when it comes to flea treatment, but most dog owners choose a flea collar because they don't have to worry about giving their dog medicine at the right time each month. Flea collars tend to last several months, so you can use it for a while before you have to think about changing it.
Are they safe?
As mentioned, flea collars do contain insecticides that can be potentially harmful. There is a big difference between some of the active ingredients, and some are more harmful than others. Below, I have listed a few common ingredients and why you should or should not choose them.
Pyriproxyfen is another safe insecticide, but it is only good for getting rid of flea eggs and larvae. It is an insect growth regulator (IGR) that mimics natural hormones to disrupt the growth process so that eggs and larvae cannot mature into adult fleas. Many flea collars that include pyriproxyfen will also include other ingredients to combat full-grown fleas.
Propoxur is another common ingredient that attacks the central nervous system of fleas. It is safe for your dog, but it can be harmful to humans, so it is very important that you handle your dog's collar with care and wash your hands immediately after touching the collar.
Tetrachlorvinphos (TCVP) is one of the most harmful ingredients found in flea collars, and it should be avoided whenever possible. It is a known carcinogen in humans, is especially harmful to children, and is still being studied to determine other possible effects. It is also
toxic
to many marine animals and could be dangerous for your dog.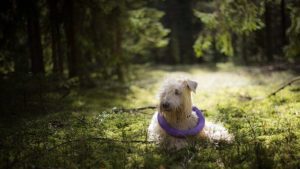 Are flea collars NOT suitable for some dogs?
Other ways to control/remove fleas and ticks on the dog
There are several ways to treat fleas and ticks, including shampoos, oral medications, spot-treatments, and combs that help you remove the insects from your dog's fur. Oral medications and spot-treatments will need to be administered more often than flea collars.
Shampoos can be used once a month
or so, but they can be harsh on your dog's skin so use them carefully if your dog has dry or sensitive skin. Combs are only effective once your dog has been infested, while flea collars are much better at prevention.
In the end, you will have to choose the one that works best for you and your dog. Your veterinarian can give you guidance, specific to your dog's breed and other health factors. Be certain to talk to your vet before using any of these products, and certainly when using multiple products. Using multiple insecticides can be harmful to you and your pet, so proceed cautiously.
Are Dog and Cat Flea Collars the Same?
Flea Collars for cats are NOT the same as the collars for dogs, and they should not be used interchangeably. Dogs have an ability to break down chemicals much faster than cats. So, chemicals that are fine for your dog's system might be harmful, or even fatal, to your cat's system. Your pet's weight and the chemical composition of their fur can also play a role in how flea collars work, which means that they work differently for each animal. It is imperative that you purchase a collar specific to your pet, and if you have both dogs and cats, be sure to avoid mixing up their flea collars.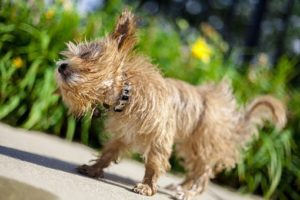 Do I Have Dog Fleas in My Home?
Unfortunately, if you have noticed your dog beginning to scratch from the fleas, it has most likely already infested your home with eggs and larvae. If you do get fleas in your home, you should vacuum all carpets or cloth materials that you can't machine wash. You should machine wash any fabrics that you believe are infested. It's better to be safe than sorry, so I recommend cleaning your whole house, but you definitely need to pay special attention to areas that your dog inhabits regularly. There are some tricks that can make your cleaning process even more effective, like putting a flea collar inside your vacuum bag, or spread a thin layer of borax on the carpet before you vacuum. However, the best way to protect your home from fleas and ticks, and all of the diseases that they carry, is to prevent the infestation in the first place. That is why flea collars are an important investment for your dog's health. Here are a few recommendations of flea collars that might work well for you.
Conclusion
No one wants to deal with the hassle and possible medical conditions that are caused by fleas and ticks, especially if they get inside your home. Flea collars are a convenient way to prevent and treat infestations without the hassle of giving your dog medicine on a regular basis. You should be careful about choosing a collar with safe, active ingredients and watch your dog carefully for the first day that it wears the collar for any adverse reactions. Any of the products reviewed above are good options for most pet owners. I hope that this article helped you to narrow down your choices and learn the best ways to protect your pup.