Dogs are widely known as human's best friend. But an unfortunate number of us also suffer from allergies to dogs.
So what can you do if you want (or have) a dog but are allergic?
Allergic But Would Love A Dog
Dogs are a wonderful part of so many lives, but those with allergies may be faced with a difficult choice. If you're committed to having a dog and you have a non-severe (or life-threatening) allergy, there are many options to managing your allergy. Sticking with your pup despite the allergies? There are options! But first, you'll want to talk with your doctor, get learning, and grab some allergy meds.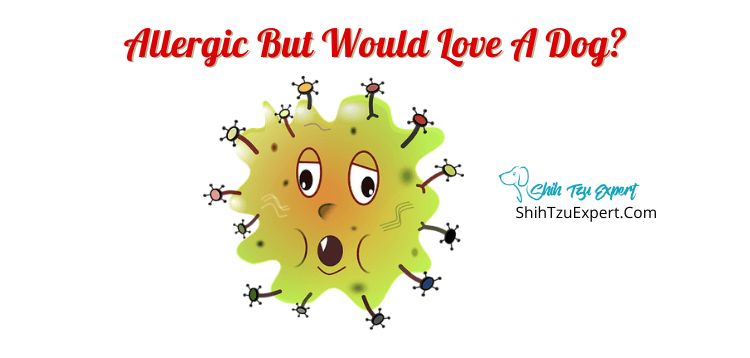 Can You Build Up An Immunity To Dog Allergies?
There are steps you can take to help reduce the impact of dog allergies in your life, especially if giving up your pup is unthinkable.
Thankfully, there's hope! Medications like allergy shots, also known as immunotherapy, and allergy drops can help build your immunity to dog allergens over time—but these both must be done in conjunction with an allergist.
I'm Allergic To My Dog What Can I Can Do?
Fortunately, there are many options for allergy sufferers and their pups. The first is speaking to your doctor or allergist about taking allergy meds like over-the-counter (OTC) or prescriptions to help. You can get antihistamines, inhalers, nasal sprays, and more to help manage your allergic symptoms.
The other thing essential to managing your allergy to dogs is to keep clean—yourself, your dog, and your home.
Washing your hands throughout the day, especially after petting your pup, and changing clothes if you might have pet dander or saliva on them will go a long way to help. Likewise, bathing and brushing your pup regularly will help reduce their dander.
Can I Be Tested For Dog Allergies Before Getting A Dog?
If you suspect that you might be allergic to dogs—like if you have an existing pet allergy–and plan to get a dog, you may want to look into allergy testing before you welcome a new dog into your family.
Your doctor will be able to recommend the best course of action whether it's a skin prick test or a specific allergen test.
What Are The Obvious Symptoms If I Am Allergic To Dogs?
Obvious signs that you may be allergic to dogs are similar to other allergy symptoms: runny or stuffy nose, itchy or watery eyes, and skin symptoms like hives or rashes.
Some pet allergies can even trigger respiratory conditions like asthma, which causes symptoms like wheezing, coughing, and shortness of breath.
But more severe allergies to dogs can cause anaphylaxis which can cause swelling, respiratory distress, and even more severe reactions like shock and potentially death.
Do Puppies Have More Dander Than Dogs (Do Puppies Shed More)?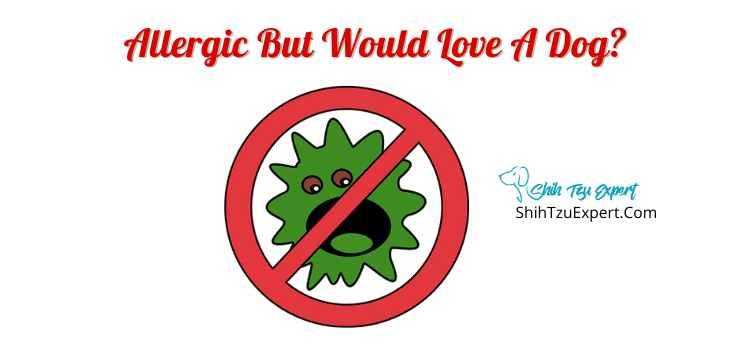 It can seem like puppies shed more than adult dogs, and in some cases that's true. But it really depends on the dog's breed, size, and type of hair.
Puppies will go through a few shedding stages, and the shedding may taper off as they mature. Or, in the case of double-coated dogs, they'll lose their coat in clumps during seasonal shedding every year.
What To Do If You Love Dogs But Are Allergic?
If you love dogs but are allergic, it can be really tough. You may still be able to have a dog in your life if your allergy isn't severe. You can still enjoy dogs from afar like visiting with a friend or family with a dog—just take precautions like washing your hands and clothes after coming into contact with a pup.
You may also be able to tolerate certain shorter-coated breeds, so it's worth looking into potential breeds that don't trigger your allergies if you can't imagine living without a dog.
I Am Allergic To The New Puppy What Can I Do?
If you just welcomed a new puppy into your life and suddenly have allergy symptoms, you'll first want to confirm that you indeed have an allergy to the puppy. You can do this by visiting your doctor or an allergist for allergy testing.
From there, you can decide whether or not the puppy should remain part of your family or if it's better suited with a friend or family who's not allergic.
Can I Still Keep My Dog If I Or My Child Is Allergic To It?
You may wonder if you can still keep your dog if you or your child is allergic. The short answer is yes, but there are some important things to consider.
So many options are available for allergy management and treatment, but it's recommended to consult with your or your child's doctor if you suspect allergies.
Can I Get Used To A Dog If I Am Allergic?
We consider pets to be part of our families, so it's no wonder people with allergies will do anything to get used to our dogs. The good news is that it's definitely possible to manage a dog allergy (so long as it's not severe or life-threatening) with the help of your doctor or allergist.
Is There A Way I Stop Being Allergic To Dogs?
Allergies aren't likely to just stop, but they can wane over time. You'll want to get allergy tested and determine how severe your allergy is.
From there, you can decide if OTC medications and cleaning are sufficient, or if you need to move forward with a longer-term solution like allergy shots or other immunotherapy.
How To Choose A Dog If I Am Allergic To Dogs?
Though hypoallergenic breeds don't truly exist, some breeds are considered to be better for people with allergies. These breeds have coats that make them shed less which means they release less dander and therefore aren't as likely to trigger allergies.
If you have your heart set on a specific breed, it might be a good idea to meet one in person to see if their dander or saliva aggravates an allergic reaction.
What To Do If I Am Allergic To My Emotional Support Dog?
Unless you have a severe and/or life-threatening allergy, you may feel that the benefits of your Emotional Support Dog outweigh potential allergies to your dog.
It's best to work with your doctor or allergist to determine if this is in fact true so you can still get the benefits of an Emotional Support Animal–whether or not it's a dog.
What Are The Best Dog Breeds For Someone Like Me With Allergies?
It's not ideal, but there, unfortunately, is no way to be sure if a certain breed will or won't cause an allergic reaction.
But there are indeed some breeds that are believed to have coats that trigger fewer allergy symptoms. Low-shedding or breeds with single coats can be good for people with allergies. Some potential options include Miniature Poodles, Maltese, and Airedale Terriers.
Does Bathing A Dog Help If It Triggers My Allergies?
You probably should try to avoid anything that directly triggers your allergies. So if you find that bathing your pup triggers your allergies, you'll want to enlist a professional groomer to help reduce your pup's dander.
How Effective Are Air Purifiers For Pet Allergies?
Home Air Purifiers can be extremely helpful when it comes to managing pet allergies.
For example, a high-efficiency filter like a HEPA filter will remove tiny molecules like pollen and pet dander from the air. This can actually go a long way to reducing allergens in the home and improving your allergy symptoms.
Are Samoyeds/Labradors/Labradoodles/Pitbulls/Huskies/Poodle Hypoallergenic?
Unfortunately, there is no such thing as truly hypoallergenic dog breeds—so-called 'hypoallergenic' dog breeds are often those with different hair and less dander.
However, some breeds like Poodles and Labradoodles have hair that may shed fewer allergens, but especially longer-haired dogs like Labradors and Huskies are certainly not hypoallergenic and can make allergies worse.
Why Are Some People Allergic To Dogs?
Allergies to pets are very common, and in the US, it's estimated that up to 30% of people have an allergy to dogs or cats. Some people are naturally predisposed to allergies due to genetics but others can develop allergies over time.
How Much Do Anti-Allergy Shots Cost?
Depending on insurance and/or where you live, allergy shots (known as immunotherapy) costs anywhere between $20 and $100 per visit.
Cost can vary by allergist and program, so it's important to work with your doctor and insurance if you're insured to determine the best and most cost-effective program.
What Are The Worst Dog Breeds For Allergies And Asthma Sufferers?
Breeds that shed a lot or have long hair are definitely not recommended for people with allergies to dogs and asthma caused by dog allergies. The level of reaction is going to differ from person to person, but breeds like Huskies, German Shepherds, Newfoundlands, and Labs shed frequently and will likely trigger a person's allergies.
What Is A Dog Allergy Test?
There are a few different types of allergy tests to determine a dog allergy. You can get a skin prick test or RAST test—a type of blood test—specific to dog allergens.
How & Where Can I Get Tested For Pet Dander Allergies?
You can check with your doctor about testing near you. They'll be able to let you know if you'd be able to get allergy tests done at your doctor's office or if you need to go to a specialist like an allergist to have your testing done.
In some cases, you may be able to get at-home or remote testing options for yourself or your family.
How To Make My Home Allergy-Friendly?
Making your home allergy-friendly doesn't have to be a full-time job with a firm plan in place. Here's how to improve allergy symptoms:
Keep it clean. Make sure to wipe down surfaces and vacuum regularly.
Wash up. Wash bedding often and keep dogs off your bed when possible.
Create a dog-free area. Keep pups away from certain areas of the house, including off of upholstery or carpeted areas.
Air it out. Use a HEPA filter to circulate air and change it (and other home air filters) regularly.
Can I Reduce Dog Allergens In My Home?
The best way to reduce dog allergens in your home is to keep it extra clean with frequent sweeping, vacuuming, and dusting. If you can, ask a family member without allergies to help break up the cleaning work.
Wash bedding frequently and remove clutter to make sure there aren't places allergens can hide. You can also remove carpets or area rugs (if possible) and replace them with hard flooring that doesn't hold on to allergens.
Does Regular Grooming Of A Dog Help With My Allergies?
Regular grooming of your pup can help keep your allergies under control, and it helps your dog too.
Weekly brushing will help remove loose hair—which can irritate allergy sufferers—from the air and brush outdoors when possible.
Do People With A Severe Dog Allergy Keep Dogs?
Choosing to keep your dog and live with an allergy is a personal choice, and one that requires careful consideration.
If your allergy is minor and becomes better over time with cleaning and medication, you may be able to live with your allergy without issues. However, if your allergy is severe and is negatively impacting your quality of life, you'll want to consider the best way to move forward.
References
https://www.hillspet.com/dog-care/resources/coping-with-dog-allergies
https://vet.osu.edu/sites/vet.osu.edu/files/legacy/documents/pdf/education/mph-vph/allergic%20to%20your%20dog.pdf