We may earn commission from qualifying purchases at no extra cost to you.
Learn more

Types of pregnancy loss in the dog
A pregnancy loss in general is an embryonic death, early fetal reabsorption, mummification (dehydration and preservation of a dead fetus in the womb), stillbirth, abortion, and the poor outcomes of a difficult birth (termed dystocia).
Abortion
Before a pregnancy reaches its full term, the fetus might be naturally forced from the body, or procedurally removed based by medical procedure. This often happens before the conceptus is able to thrive independently. If the abortion is not planned and occurs without intervention, terms such as miscarriage or spontaneous abortion are used to describe the occurrence. Spontaneous abortion or miscarriage is not common in bitches—meaning the fetal death is rarely expelled—but rather mummification requiring procedural removal of the fetus, or fetal reabsorption happen more often.
Signs and symptoms of abortion in dogs
A common symptom or result of a planned abortion is increased vaginal bleeding following an abortion procedure. This requires close monitoring for extensive health issues or side effects that may warrant a quick response.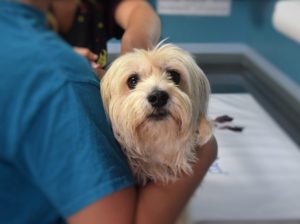 What is miscarriage?
When a fetus is expelled from the womb before it has the ability to thrive independently, often due to an accident known as a spontaneous abortion or pregnancy loss. Some dog breeds are more likely to experience a miscarriage than others. Some miscarriages occur early in pregnancy, within the first forty-five days. The dead embryo(s) in this case is either expelled through the birth canal, or the embryo might be reabsorbed into the mother's body, leaving no trace. Miscarriages that occur in late pregnancy (twenty to 35 weeks gestation) must either be expelled via an induction or removed surgically, or delivered naturally as a stillbirth. Late miscarriages might deliver soon after the miscarry, or might wait until the normal ninth month of pregnancy to naturally be expelled. These late miscarries are more likely to affect the dam's wellness.
Fetal death
A fetal death is the death specifically after twenty to thirty-five weeks in utero of a baby—or fetus—and often is called a stillbirth or spontaneous abortion.
Mummification
Sometimes (usually by the fiftieth day in the womb) the bitch's body mummifies or preserves the deceased fetus. While still in the womb, fluids are reabsorbed, the skeleton calcifies, and if there is no bacteria in the uterus and the cervix is closed, the remaining tissues are completely dehydrated. The skin becomes a dry membrane around the body that prevents further decay. The fetus becomes leathery and somewhat preserved and often remains in the uterus until delivery is induced.
Since often the fetal skull and skeleton remain without damage on the mummy, the mummified fetus is recognizable under ultrasound and radiograph. The main sign of mummification is often that the dam stops showing signs of progress in pregnancy, and further palpation and evaluation show that the fetus is immovable and firm. Sometimes after delivery is induced with a synthetic hormone, the uterus must be manually cleaned of any remains before the bitch can be treated to conceive and cary a pregnancy again.
Typically the dam is not affected and the uterus remains healthy, unless infection is present in the uterus and the fetus dissolutions and decays further. On occasion history of mummification can prevent the dam from having normal pregnancies since the uterus no longer contracts with strength like normal. Thus, future deliveries may require a caesarean section for success.
Fetal Reabsorption
If a fetus dies within the pregnancy's first half, the mother's body might partially or completely reabsorb the dead fetus(es)—or embryo(s) while other living fetuses present may go on to thrive. Fetal reabsorption is usually caused by poor hormonal support, infections like brucellosis or canine herpesvirus, or disorders in the placenta. In these cases, a miscarriage might be easily missed since a pregnant dog only begins to appear pregnant after approximately three weeks into the pregnancy, and if the miscarriage occurs prior to this then there might be no obvious signs of the pregnancy nor of the loss.
Expulsion of the fetus
When a litter is absorbed by the dam's body, there is no trace of the pregnancy. However, the alternative way of caring for the dead body is expulsion through the birth canal. In the case, the fetus(es) might be apparent. It is possible that the dam will follow an instinct to partially or completely eat the fetus(es), which will prove identifying them difficult or impossible. If any evidence is concerning, remains can be photographed or collected in a container and shared with a veterinarian for analysis. Continued close monitoring is also necessary in the weeks following an expulsion as further medical attention may be needed or assistance in delivering remaining puppies.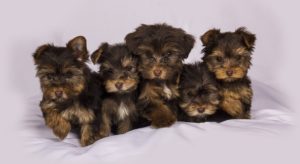 Stillborn Puppies
If a fetus is expelled after being capable of thriving independently, the fetus is considered to have been stillborn. A stillborn puppy is a full-term fetus that is born dead but could have survived outside of the womb. In this case, the death of the fetus might happen many days, or just hours or even minutes prior to the normal birth date, or parturition. Some causes of a stillbirth include infection, a dysfunctional placenta, intoxication, uterine space that is not adequate for the growing fetus, malformations, dystocia, and failure of the corpus luteum.
What are common causes of dog miscarriages?
Miscarriage is less common in dogs than in humans, and is likely to go undetected if aborted early in the term.
The death of an embryo or fetus might happen due to malnourishment since nutrients are imperative to a healthy pregnancy, a genetic disorder, hormonal imbalance, an infection from a virus, parasite like Neospora canine introduced through food or water that is contaminated, or a bacterial infection like Brucella canis. If the miscarriage is due to a fungal or bacterial infection, treatment should be immediate to identify infections that may have caused the miscarriage so that the infection might be diagnosed and treated, thus improving future pregnancy outcomes.
Miscarriage due to non-infectious causes
Hormonal imbalance in the dam is a common cause of miscarriage because the embryo's development is heavily dependent on the balance of hormones. Thyroid hormone imbalances (Hypothyroidism), Addisons Disease, Diabetes, Cushings Disease all signify a dam's poor health and can lead to a miscarriage.
Progesterone is another important hormone in the support of gestation. Normal functioning of the corpus luteum is also imperative to a healthy pregnancy, and prolactin of the pituitary is necessary for the corpus luteum to maintain balance. Drug therapies are used to interrupt these hormones for birth control measures.
A diet low in quality vitamins and minerals can cause deficiencies in Vitamin A or magnesium, both important nutrients in the dog's maternal diet that when low can lead to a miscarriage.
Disease of the uterus such as an inflamed uterine lining, called endometritis, or a cystic uterus might interrupt the ability of the uterus to support normal fetal growth. Further uterine complications that can lead to a miscarriage include the presence of estrogens or high doses of steroids, chemotherapeutic agents, uterine trauma, cancer or tumors.
The ovaries may be the cause of a pregnancy loss if the prostaglandins that support progesterone are not not sufficient, or if dopamine agonist medications are used.
Genetics are not known to directly cause an abortion, though genetically low thyroid hormone levels or low levels of lymphocytes can be passed through generations are lead to miscarriage, and lethal abnormalities in genetic or chromosomes are present, or the dam has lethal defects of reproductive organs.
Fetal Developmental Abnormalities
A miscarriage may be due to an abnormal development of an unborn puppy. Whether the problem be a genetic disease or due to inbreeding or defective birth growth, the pup's body may not be able to grow and thrive within the womb and will die naturally.
Medications
Some medications are contraindicated for pregnancy as they contain chemicals that disrupt the pregnancy process. Some medications to beware during a dog's pregnancy are chemotherapy drugs, organophosphates, chloramphenicol, and glucocorticoids. When receiving medications for a dog from a veterinarian, confirm before using that they are compatible with pregnancy. Never use human or over the counter medications for dogs.
Trauma
If a dam has received trauma to the abdomen at any time in her life from abuse, collisions, or a fall, the damage may have impaired her ability to cary a pregnancy. Some exercises such as agility or field trainings may also increase trauma risk, and should be avoided or postponed for bitches in pregnancy. A veterinarian is a recommended resource for specific information regarding a dam's advised exercise level based on her current fitness and breed.
Stress
As in humans, the level of stress of a dam is a strong determinant of the likelihood that she will miscarry a pup. This is due to the changes in hormones in relation to the stress. Professionals recommend showing a dam increased affection, protection, and keeping them more comfortable than usual during their pregnancy. This might involve a more consistent routine, less social time with strangers and less noise in the household.
Miscarriage in dogs due to bacterial infection
The normal flora in a healthy bitch can change into an opportunistic pathogen, for example E. coli is normally found in the gut but in certain amounts it can attack the body as an infection following a hormonal disturbance, infection of the urinary tract, or endometritis. An endotoxin produced by some E. coli strains, and exotoxins that are produced by some Staphylococcus species can negatively effect the bitch's system through septicemia, and can cause abortion. These toxins are usually harmful because of a supplemental increase in the synthesis of prostaglandins that are released when tissues and cells that normally contain them are weakened by the toxins.
Brucella canis
A common bacterium common among dog kennels, B. canis spreads easily and is a disease called Brucellosis that causes late term stillbirths and failure to conceive. Brucellosis is common in all of South America and to an extent in North America, and France. Signs of this disease include a long period of vaginal discharge and is sometimes accompanied by arthritis (spondylitis) and eye inflammation (uveitis). This rod-shaped bacterium is commonly found in the dog's bloodstream (bacteremia) until eighteen months following a miscarriage.
Canine Herpesvirus (CHV)
Herpesvirus in dogs, Canine herpesvirus 1 (CHV1) has migrated worldwide. It is seen under various clinical symptoms which depend on the infected dog's immunity and age. CHV1 inhabits adult dogs' upper respiratory. The viral transmission of CHV1 is not necessarily by venereal contact. If a bitch is infected, her fetal litter can foresee gestational affects that eventually lead to the necrosis of the dam's placenta. If the infection takes place before the thirtieth day gestation, it is likely that reabsorption or abortion will result later in the pregnancy. If the infection occurs during the last three weeks of the pregnancy, the most likely result will be the death of late fetuses that result in mummification of the puppies or stillborns. If the puppies are born alive, they may experience respiratory distress or illnesses of the intestinal tract.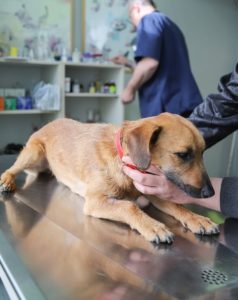 Mycotic abortion
Miscarriage can occur due to mycosis, which is an infection by a fugal disease. Examples of mycosis include thrush and ringworm. These diseases may lead to excessive bleeding within the uterus that must receive immediate medical attention to save the life of the dam.
Neospora caninum
This parasite is found typically in dogs, transmitted to them through food and water, feces, or animal flesh that is infected with the parasite, that the dog ingests. These microscopic protozoa often cause defects in the fetus or are the cause of an abortion if not treated with antibiotics.
Salmonella infection in dogs
Miscarriage can occur due to the disease salmonellosis, a bacterial infection that easily spreads between humans and pets. This bacteria is mostly found in undercooked meat, saliva or feces from an infected animal ingested by another species, or pet food that has been contaminated.
A dog may become infected by the bacteria and instead of being affected, it may be a carrier of the disease and pass it to others. A dog might also become affected by the disease, and can become symptomatic within seventy-two hours of initially being infected. Other signs of infection besides miscarriage include fever, diarrhea, vomiting, lethargy, depression, dehydration, loss or decrease in appetite, lymph nodes that are swollen, and shock.
Since salmonellosis can lead to more serious problems such as sepsis or gastroenteritis, it is important that the dam receives a veterinarian's evaluation as soon as possible.
Though dogs with weak immune systems such as the very old or young may need extensive medical treatment to recover from salmonellosis, most adult dogs recover without a problem with plenty of water to resupply that lost through vomiting and diarrhea.
Bacterial infection of the uterus (Metritis) in dogs
The lining of the uterus, called the endometrium, can become infected by bacteria such as Escherichia coli approximately one week following a miscarriage. The E. coli can spread venously, which causes a blood infection that might lead to the dam's sterility, or if not treated, may lead to septic shock which is lethal.
Some symptoms of metritis include a swollen abdomen, gums that have turned a dark red color, a fever, a reduction in normal milk production, depression, a lack of or decrease in appetite, behavioral changes that cause the dam to neglect her puppies, or foul-smelling vaginal discharge.
Though sometimes caused by miscarriage, Metritis can also be caused by a medical or spontaneous abortion, artificial or natural insemination procedure, the stress on the body from a long delivery such as that when the litter is large, or manipulation initiated obstetrically, or a placenta or a fetus that is retained.
The diagnosis of metritis is performed by a veterinarian through a physical exam of the dam, and tests including a blood count and chemical profile, electrolyte panel, and urinalysis. The veterinarian will request information such as the dam's medical history, when the symptoms began, and any triggers that were noticed to have begun this infection. Further diagnostics including ultrasound and radiograph can be used to further examine the condition of the uterus and any possibly retained fetuses or abnormal condition of the abdomen due to a possible uterine rupture. Vaginal discharge may be collected as well to examine for bacteria present that may help in the identification of the bacteria in the blood.
Depending on the bacteria found through these tests, an antibiotic may be prescribed. Further treatment can include hospitalization in order to perform fluid therapy and address any imbalances in her electrolytes, treat for shock if the infection has become septic, and to receive broad-spectrum antibiotics that will support wellbeing in the dam until further antibiotics can be used according to the bacteria test results when they are returned. These antibiotics will help to rid the dam's body of the specific infecting agents.
Most dogs that are not experiencing an advanced stage of metritis will respond well to treatment. Medical treatment however is not guaranteed to prevent abdominal infection and uterine rupture as the result of a progression of the infection. Due to this possibility, which if occurs can interrupt future breeding, it is recommended that the dam be spayed especially in cases of uterine rupture, severe uterine infection, retained placentas or retained fetuses. If the dam does not respond to medical treatment, a cleansing of the uterus through surgery might improve her health.
Due to the process of healing from metritis, and the characteristics of the disease that have infected her blood, a nursing dam ought to stop nursing and allow the hand-raising of her puppies instead so that the bacteria and strong antibiotics in her blood do not transmit to her pups through her milk.
What are the signs of miscarriage?
Often miscarriages happen without any outward signs, as in early miscarriages when the puppy is too small to cause the mother to look outwardly pregnant, and especially so when this small puppy embryo is reabsorbed by the dam's body following the miscarriage. This can be easily missed.
Miscarriages that occur later in the term are sometimes clinically obvious. If the dam was obviously pregnant and a miscarriage is suspected, the dam may look less pregnant after a miscarriage due to her having expelled the fetus through the birth canal. Subsequently, her abdomen will be smaller. In these cases signs of miscarriage include anytime during pregnancy when there is vaginal discharge that has an abnormal color (green, brown, black, and potentially milky discharge), vaginal bleeding that is unusual, a fever which indicates an infection, or the labor (includes the onset of contractions) and birth of the dead fetus (delivery of stillborn puppies). Further signs of miscarriage are best found by ultrasound.
A sign that a dog is experiencing a miscarriage is and likely the, and a sign that a miscarriage has already happened is a sudden change in the dog's behavior.
A major way of noting a miscarriage is by ultrasound, especially early and later ultrasound results compared to show a viable to a confirmed non-viable pregnancy. Being in tune with your dog will help you navigate her behavior and any changes that could be a sign of a miscarriage. Just as humans grieve, so dogs experience and feel loss by changing their behaviors. Some behavioral changes to watch for include a decreased appetite and unwillingness to eat, vomiting, diarrhea, abdominal aches and tenderness, lethargy, or weight loss. She might whine, seem in pain or not to enjoy her walks and usual playtime, and retreat to her dog bed often. Though these signs may warrant another problem not related to a pregnancy, if any of these symptoms are present the dog should receive medical attention immediately.
Symptoms of Miscarriage in Dogs
If a bitch is diagnostically pregnant by a relaxin test (less than thirty days) or radiography (more than fifty days), or by ultrasonography, and has a history of abnormal pregnancies or does not give birth at term, she might be experiencing a fetal death. She may also have a history in this pregnancy of abnormal vulval discharge, colic or fever. Normal vaginal discharge occurs in dams between days thirty to thirty-five of pregnancy and is typically clear or mucoid, slightly pinkish, and without an odor. If this discharge is bloody or pussy, brown, blackish, green, or smells foul, these could be signs of a seriously complicated pregnancy. However, many of these signs are not applied and a pregnancy loss often occurs without clinical symptoms.
Diagnosis of miscarriage in dogs
Miscarriage can be easily undiagnosed if the dog's owner is unaware of a pregnancy. Especially near the beginning of a pregnancy, before the bitch shows signs of her pregnancy, her miscarried embryo can be absorbed without sign and the a miscarriage might be missed. A miscarry might be delivered as well and the dam may eat the evidence leaving no trace.
If a miscarriage is suspected, a veterinarian can identify whether or not it occurred by using tests such as palpation, ultrasound, or radiograph to detect the presence of a fetus. Ultrasounds are are able to detect the presence and the viability of the fetus.
Another way to monitor the viability of a fetus is to measure the mother's progesterone levels. If progesterone levels are abnormally low, this might be an indication of impending miscarriage. Blood testing can be used to reveal B. canis or parasites. Vaginal fluid cultures an microscopic exams or histopathology can be run on the fetus to determine if the pup died from an infectious disease.
Following a miscarriage, diagnosis of the cause of the loss can be taken by isolating viruses from the aborted fetus or the placenta, or the dam can undergo serological testing, and these findings can be compared with an autopsy of the fetus.
In order to monitor the dam's general health following a miscarriage, a veterinarian may prescribe additional testing to identify conditions that are underlying and in need of further treatment.
How is miscarriage treated or prevented?
Once a miscarriage has begun is is difficult to stop. At times only one pup out of a litter is aborted, giving the veterinarian the opportunity to possible save the rest of the litter given treatment is begun immediately.
Some tips to lessen the likelihood of a miscarriage include running a test for Brucella canis  prior to breeding a do, considering the vaccination for Herpesvirus, helping the dog to keep levels of stress low, feeding her a balanced, high-quality, complete diet, getting a health check from a veterinarian for pre-breeding that includes a test of her blood to screen for other health problems.
Abortions that occur near the end of a pregnancy may be supported via a cesarean section in hopes of saving the rest of the litter.
Treatment usually tends to supportive measures, and they vary depending on the specific situation. In general, implementing a routine that allows the dam more rest and quiet time, and increased hydration will support overall healing. If the miscarriage is complete, it is important to ensure the dam expels all tissues related to the pregnancy so that infection does not ensue. These tissues can be identified by an ultrasound. If infection caused a miscarriage, antibiotic therapies ought to be initiated and coupled with intravenous fluid therapy in cases of dehydration. In many cases, if she did not experience brucellosis or infection of the uterus, dams recover well and cary healthy future pregnancies. If the dam's fetuses are yet living, a veterinarian will implement therapies to support their wellbeing.
If a fever or abnormal discharge develops, this may be a sign of an infection. Infection is usually treated by administering fluids via an intravenous (IV) route, and injecting antibiotics. This treatment might prevent an impending miscarriage, or if it has occurred already, prevent further medical problems for the mother. The fetuses ought to be monitored via ultrasound following an infection.
If Brucellosis is the diagnosed cause of the abortion, antibiotics ought to be used to help the dam regain full health. Following this infection, the dam should not breed further.
An imbalance in hormone levels might be treated by administering daily supplementation of the hormone progesterone under the careful monitoring of a professional, to support a healthy pregnancy. This regimen is typically begun after the thirtieth day of the pregnancy and discontinued two days prior to the suspected delivery date in order to allow tfor the proper dilation of the cervix.
Dogs' recovery from miscarriage
The healing time following a miscarriage can be very uncomfortable, and calls for an increase in attention from the dam's family. Signs of depression are common following a miscarriage, and with time and attention from her caregivers, this ought to resolve. Treatments and therapy are sometimes necessary for a full recovery following a miscarriage. A decrease in activity is likely and recommended within the several days after a miscarriage. Ensuring the dam stays clean and comfortable and eats and drinks well will further support her healing. Vaginal discharge and bleeding within the days following the miscarriage are normal though discharge must be monitored for odor and any coloring, both of which are not normal. The amount of discharge should also decrease until its complete cessation, and an exam to follow-up soon after the miscarriage is important to ensure total health.
During this period it is important to watch for signs of bacterial infection by closely observing the dog's behavior for abnormalities.
Therapy can help the dam to recover from a miscarriage. In the case of fever, antibiotics and fluid therapy ought to be used. These therapies can also be used to keep a currently failing pregnancy, though they are not definite solutions. They are however, sometimes effective in cases that are not Brucellosis–related because there have not been vaccines developed for miscarriage situations involving infection by Brucella species. A vaccine is available for herpesvirus, available commercially. If pregnancy difficulty is due to luteal insufficiency, and the fetus is currently living, supplementation with gestagens might be used following a strict protocol to allow the delivery to follow without trouble and to allow the thriving of the dysmature fetus(es). In cases of saving a troubled fetus, subsequent pregnancies are likely to abort.
How to deal with a miscarriage
A miscarriage is both difficult on the dam and also on her human family. If the dam delivers the dead pups, they ought to be collected and contained in a towel then brought to a veterinary clinic.
Handling any birth or miscarriage remains should always be done wearing gloves and followed by a thorough hand wash. It is important to note that any infectious agents present in and that caused the miscarriage are able to infect humans as well. Having a dam fully evaluated by a veterinarian soon after her miscarriage is helpful to verify her ongoing health and the health of her caregivers. The veterinarian will confirm the full removal of any remains inside her uterus, and her wellness for continued healing at home. With the caregiver's consent, the veterinarian may collect samples from the dam and her dead pup(s) for analysis to identify the cause of the miscarriage.
Care at home for a dog following a miscarriage should always include giving plenty of all of the essentials for her comfort such as food, water, a bed, a quiet place to rest, and quiet attention. Beware that she may be experiencing cramping and other pain, vaginal discharge and bleeding. Use care when petting her as she might feel tender and could behave aggressively if feeling bothered or in pain. Use towels on her bedding and change frequently to catch any vaginal fluids. Wash the frequently changed bedding often in hot water and gentle soap to get rid of infectious agents.
Follow the veterinarian's advice concerning signs to expect in the weeks following a miscarriage.
Kennel Management
When introducing new bitches to a breeding kennel, consider a three-week isolation of each new bitch to ensure their health. Use this time to test for parasites, infections such as Brucellosis, manage for internal parasites and external parasites like lice and flees, and boost vaccinations for diseases easily passed in kennels.
Dog Breeding
Basic procedures to breeding dogs include managing common diseases, deworming, and proper nutrition. Connecting with strong resources such as breeding kennels, breeding groups, and veterinarians is important to the further exploration and management of breeding a dog.
Breeding dogs should receive vitamins to support regular cycles, and ought to receive extra vitamins such as Iron and B-Complex every six or seven months.
Once a dam is pregnant, professionals recommend supplementing her diet and replacing her other vitamin routines with prenatal vitamins that support embryo development.
Lactation can be supported with specific vitamins recommended by a veterinarian, and specialized formulas may be used for dams that experienced a cesarean section since without a natural delivery the milk production is not naturally triggered to begin.
When a dam is pregnant, specialized deworming products should be used based upon veterinarian recommendation. The deworming ought to happen prior to whelping since hook worms may transfer from dam to pup through her milk. Parasites are also more active in dogs that are especially heavily pregnant due to the hormonal changes that decrease her resistance to parasites. Riding parasites before pregnancy is important to stopping them from transferring to the next generation. Only use deworming and parasitic solutions appropriate for pregnant dogs.
Breeding should always begin with knowledge, and this can be found through studying the breed of dog to be bred, attending dog events, talking to breeders, and visiting websites and groups of breeders.
Temperament is a trait that will be inherited so is a strong influencer in whether a dog is suited for breeding or not. Knowing the genetics of a dam and how they will pass on to the next generation is important, including understanding recessive patterns, pulygenic disorders, and chromosomal anomalies.
Purebred breeders
follow a motto "Breed to Improve," meaning that every dog has its own strong sides and weak sides, and a close examination and evaluation of which combinations might go well together and which genes may transfer will help in the determination of whether a pair of dogs will make a good match for breeding. Some breeders determine the suitability of their dog for breeding by measuring her up against the breeds they observe in dog shows. This includes not only the evaluation of the dam
but of the mate
.
Best breeding supplies
There are many products in the market for breeding, including heated kennel pads, bitch pills, obstetric lubricant, insemination kits, DNA tests, whelping boxes, and more. Dog breeders ought to remember that the best aid in the breeding process is knowledge, preparation, support from professionals and access to those professionals for the day of the breeding and birth, and the gentleness and care of the dog's caregivers. A dog is truly man's best friend and wants to please her humans. Minding to never take advantage of a dam's abilities and friendship by breeding her too much beyond her potential and strength, and never harming her physically or emotionally will lead to a long line of happy dogs.