When one thinks of hernias, they may picture dysfunction in the low spine of the human body, but there is a variety called a perineal hernia that can occur in dogs, particularly older males. It can be a life-threatening condition but has a high success rate when treated immediately.
How Serious Is Perineal Hernia In Dogs?
Perineal hernias in dogs can be a life-threatening condition if not treated quickly. As time goes on, the condition will worsen to the point where the pet will suffer, so it is best to be swift in the diagnosis. If there is any indication that your dog may have a perineal hernia, it is best to see a veterinarian as soon as possible to diagnose. The most visual sign will be swelling around the anus. Please do not waste time in getting medical care, as even if this is not a hernia, it could be another possibly fatal condition.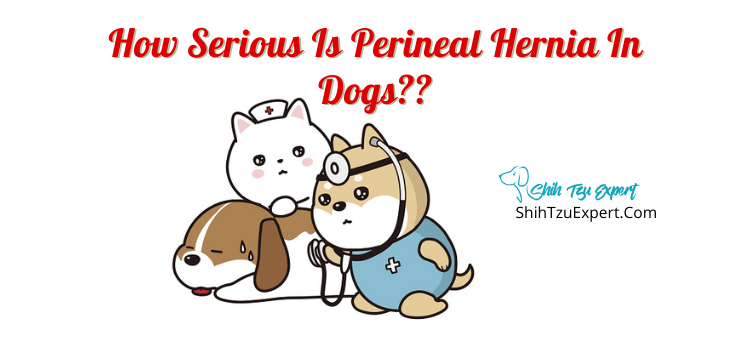 What Is Perineal Hernia?
A perineal hernia is a condition where the pelvic diaphragm collapses or weakens significantly to the point where organs shift in the body and create serious medical problems for the pet. Typically, this malady can affect the bladder and intestines and cause anything from mild discomfort to incredible pain and requires surgery.
It Looks Rather Nasty, Is My Dog In Pain?
Depending on the severity of the hernia, yes, the dog will be in pain. As organs move around in the body it can cause anything from slight discomfort to incredible pain, as well as cut off blood circulation.
This is a condition that should be immediately checked out by a veterinarian and the severity determined.
Can My Dog Die Because Of Perineal Hernia?
If it has progressed significantly, the dog could die from the hernia. If organs such as the small intestine shift too much it can cut off blood supply to the organ. This means that either your dog will lose its appetite to the point of starving itself or the intestine can begin to fail due to the lack of circulation or too much back up.
Why Did My Dog Get This?
Currently, studies have not shown any definitive results as to why this occurs in pets. Some posit that damage to a nerve of the pelvic diaphragm or a hormonal imbalance can have an affect on the occurrence of this condition. Still, others believe it may be due to the anatomy of the dog or enlargement of the prostate gland (in male dogs).
Aren't Only Old Dogs Supposed To Get This?
It is more typically found in male dogs aged 7-9, but it has been found in puppies as well. This would likely be due to the anatomy of the dog, whether they were born with an enlarged prostate or a genetically weak pelvic diaphragm.
A diet lacking in fiber could also be a possible cause, as straining too much while defecating could create an incredible amount of pressure in the area and cause the diaphragm to weaken significantly.
Are Some Breeds More Likely To Get This?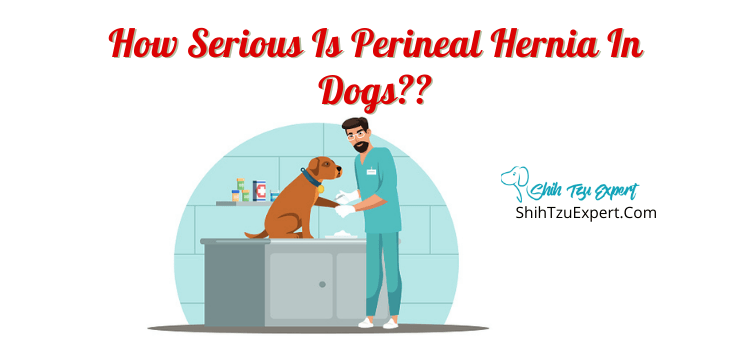 Yes, this is typically found in smaller breeds such as Welsh Corgis, Pekingese, Boston Terriers and Dachshunds.
It is also commonly found in Boxers, though they are a medium-sized breed. That being said, it is not a breed-exclusive condition and can occur in any dog or cat, even females.
Are Small Breed Dogs More Likely To Get Perineal Hernia?
Perineal hernias are more often found in smaller breeds, but vets do not currently have a definitive answer as to why. It could be that the anatomy of the breed is more prone or even possibly a genetic fluke. Some have questioned whether or not genetics can have an impact on this as well, and may impact breeding later on.
Can A Dog's Hernia Reopen After Operation?
Every precaution will be taken when it comes to treatment of these types of hernias, but as with all medical procedures there is a statistical success rate. In most dogs, there is a 10-15% chance of this recurring due to various reasons, such as re-irritation of the surgical site or too much exercise following the procedure. Please be sure to listen attentively to your veterinarian for after care to avoid this.
Should My Male Dog Be Neutered To Reduce The Likelihood Of Getting Perineal Hernia?
Although there is no definitive research, this condition is mostly found in male dogs aged seven to nine. This is believed to be a result of the prostate gland becoming enlarged and when the surgery is performed to abate the hernia, all dogs are castrated and neutered.
It is recommended that unless you are planning on breeding the pet later in life that they should be neutered to reduce the risk of a perineal hernia as they age.
Is Castration/Neutering A Must During Surgery For Perineal Hernia?
Castration or neutering is an essential part of the surgery for perineal hernias as it will encourage the prostate to shrink and reduce any straining during bowel movements. This is a preventative measure that will help with recovery of the hernia as well as significantly reduce the chance of reoccurrence.
Should I Go Ahead With Surgery Or Wait And See?
This is a condition that will absolutely get worse over time. Especially if the dog is younger, medical care should be immediate as it could cause bladder entrapment and life-threatening complications as the dog ages. If left untreated, the dog will continue to strain and fecal matter becomes impacted. This could lead to herniation on both sides of the pelvic diaphragm.
Your dog will also be neutered and castrated (if not already) to avoid reoccurrence. Getting your dog neutered at a young age is recommended to avoid perineal hernias.
How Long Can A Dog Live With A Perineal Hernia (Does It Have An Effect)?
It depends entirely on which organs have been affected, but most likely not more than a couple of weeks. It is a progressively worsening condition that absolutely requires medical attention as soon as possible.
Perineal Hernia Dog Surgery Cost USA, UK, Australia
Surgery costs for your pet can vary depending on your location, the specific vet, as well as boarding costs for post-surgical monitoring. Below are the averages for these three countries:
USA: $5,000
UK: £789
Australia: $1,600
Many veterinarians have a list of services offered and a call to the office can give you a more specific answer.
What Happens If Your Dog's Perineal Hernia Goes Untreated?
If the hernia goes untreated, the dog will likely pass away. Because it is a malady that continuously gets worse without treatment, there is only so much a dog's body can handle. Not treating the perineal hernia can result in sepsis, lack of blood flow, refusal to eat, and a few more awful endings.
How Long Does It Take For A Dog To Recover From Perineal Hernia Surgery?
The dog will usually start feeling better about two weeks post-surgery, but most vets recommend a full four week recovery to ensure no damage to the surgery site and for the internal muscles to gain strength. Your dog should return to the vet two weeks after surgery for a check-up and for any additional treatment that may be needed.
What Is The Perineal Hernia Surgery Success Rate For Dogs?
The success rate is about 85%, assuming there were no serious complications and that the condition had not progressed significantly before surgery. The dog will be neutered/castrated to prevent reoccurrence of the condition and regular vet checks post-surgery are recommended.
What Are The Most Important Factors For Perineal Hernia Surgery Success Rate For Dogs?
Factors to consider:
Surgeons – check with your vet to ensure competence in the procedure (how many times have they performed the surgery?) and we would highly recommend looking for someone who is board certified
Post-Surgery Care – ensure that you are taking the time to listen to your vet's care instructions to avoid reopening the wound site or rupturing anything internal
Medication – using medications such as antibiotics to their full extent instead of when "the dog seems to be feeling better" will prevent infection and other complications
Are There Natural Remedies For Perineal Hernia In Dogs?
No, hernias are an issue that needs to be addressed by a vet before any remedy is considered. Changes in the diet such as increasing fiber and stool softeners may help, but are not a long-term solution for the dog.
What Are The Symptoms Of Perineal Hernia In Dogs?
constipation
straining to defecate
straining or the inability to urinate
abdominal pain
depression/lethargy
anorexia
altered tail carriage (low hanging to protect the area; favoring one side)
Can A Dog Live With A Perineal Hernia?
A dog cannot live with a perineal hernia as it is a condition that progressively gets worse over time.
There are some options such as stool softeners and physical therapy that may help postpone surgery, but it must be treated eventually. Leaving it without care will likely end the life of your pet.
How Can I Help My Dog With Perineal Hernia?
Immediately take the dog to the vet and get testing done. There, they can guide you in how to help the pet at home before and after surgery, including medications, diet, and exercise adjustments.
Is A Perineal Hernia An Emergency?
Some are emergencies and others aren't – at least not right away. A dog should not live with the perineal hernia for long as organ entrapment can be a life-threatening situation.
How Common Are Perineal Hernias In Dogs?
It is not very common, but is more prevalent in older, male dogs that have not been neutered. The prevalence in dogs is anywhere from 0.34% to 7%, depending on breed, age, gender, etc.
What Does A Perineal Hernia In Dogs Look Like?
You'll notice some bulging around the anus as the most obvious symptom. Your dog will also avoid sitting, may strain to urinate/defecate, and lose their appetite.
Can A Female Dog Get A Perineal Hernia?
They can, but it is not nearly as likely as a male dog. Less than 1% of female dogs get perineal hernias as they do not have a prostate, which is the most commonly posited reason for the hernia in the first place.
Do Perineal Hernias Go Away?
No, they are a progressive condition that gets worse with time. They absolutely need to be treated by a medical professional as soon as possible.
How Long Does Perineal Hernia Surgery Take?
The surgery to repair the hernia should only take one to two hours, including prep time for anesthesia. It may go longer if there are complications or if the condition is in a very bad state.
Are Perineal Hernias Hard?
They are firm to start, but not particularly hard as it is internal organs (not bones) pressing against the anus. The hernias can get hard if enough fecal matter has built up in the area.
Why Do Dogs Get Perineal Hernias?
There is currently no definitive answer as to why, but many veterinarians posit that it has to do with an enlarged prostate as the dog gets older. Other possibilities include damage to the nerves of the pelvic diaphragm, anatomic factors, or hormonal imbalances.
How Are Perineal Hernia In Dogs Diagnosed?
They are diagnosed through imaging of the area, including x-rays and ultrasound. A vet may palpate the area first, and then go into more specific diagnostic medicine to ensure it is not cancer or a benign tumor.
How Are Perineal Hernia In Dogs Treated?
They always result in surgery. It is a condition that only gets worse as time goes on and surgery needs to be completed in hopes of fully healing it. Pain medication and stool softeners will help, but cannot be maintained for significant amounts of time.
What Are The Treatment Options For Perineal Hernia In Dogs?
Before the hernia gets too bad, stool softeners and minor forms of therapy can help postpone surgery, but it is inevitable. Surgery is the only guarantee that the pelvic diaphragm and internal organs are where they should be. Staples may be inserted to assist the diaphragm.
Critical Key Points
Perineal hernias can occur in both dogs and cats as an abnormal displacement of pelvic and/or abdominal organs. This is usually caused by a weakening of the pelvic diaphragm that allows the organs to move into the region around the anus, aka the perineum.
The internal obturator muscle flap technique is the most successful treatment for this particular condition.
Every time the perineal hernia surgery is performed, the animal will be castrated to encourage the prostate gland to shrink. This will minimize additional straining during bowel movements.
The success of the surgery is highly dependent upon the training and experience of the surgeon.
Make Your Checklist
All patients will be castrated during surgery to reduce any risk of recurrence in the animal.
Your pet will be placed on an antibiotic and pain medication to maintain comfort and reduce infection.
Their diet may be modified to include more fiber and stool softeners to reduce strain associated with defecation.
The first two weeks post-surgery, the pet should be kept calm with little to no exercise to help the healing process. They may have to wear an Elizabethan collar (cone) to prevent the pet from irritating the surgery site.
You can use a cold compress to reduce swelling at the surgical site.
References
https://365petinsurance.com/health-safety/perineal-hernia-in-dogs/
https://www.animaltrust.org.uk/conditions/hernias-in-dogs/