We all find flies annoying. But dogs can be scared of them.
What is it about flies that make dogs so afraid?
Why Are Dogs Scared Of Flies?
A possible reason for your dog being scared is if they had a bad experience with them before, such as being stung or bitten. If it is for this reason, they may only appear scared of flies when they're in a similar setting as where they were bitten. In this case, you should figure out what the trigger is to help work through their fear. The fear of flies may bring back bad memories.
If you have a rescue dog and they were found in a poor condition surrounded by flies, anytime they see flies, it will take them back to being in those conditions, so it's important you show them love and help them work through these emotions. Some dogs have very sensitive hearing and the sound of flies buzzing around them can make them fear flies because the sound and pitch of the buzzing goes right through them. There isn't much you can do with this, other than try and calm your dog down if they are around a fly.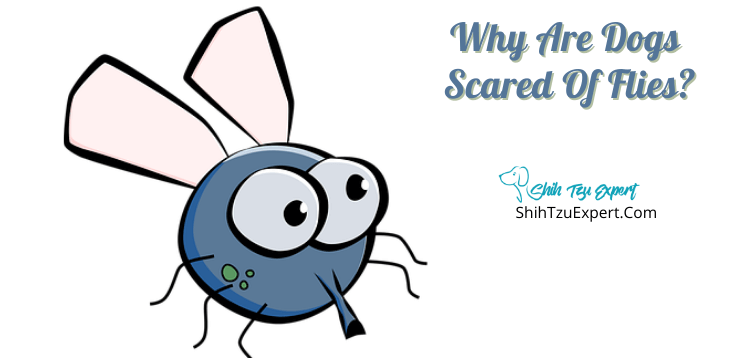 Signs That Your Dog Is Afraid Of Flies
– growling – head tilting – twitching whiskers – lack of focus – leaving the room – acting strange or annoyed If you notice these signs, you should pay attention to their behavior, help them if they appear frightened or annoyed, and try to distract them.
Why Are Small Dogs Like Chihuahuas And Shih Tzus Especially Scared Of Flies?
Some small dogs have really good hearing and because of this, it means they can hear flies better and this initial sound can scare them.
What Exactly About Flies Is My Dog Scared Of (The Look? Noise? Sounds? Vibrations?)
The main reason dogs are scared of flies is because they don't like the sound and pitch of the buzzing. This is because they have sensitive hearing and the sound often goes right through them, causing them to fear flies.
Why Is My Rescue Dog Scared Of Flies?
If you have a rescue dog, there is a possibility they were kept in squalid conditions with lots of flies around them; so anytime they see a fly, this brings back those memories. In this case, try to keep your dog away from flies and if a fly goes near them, get rid of it and keep your dog calm.
Can Dogs Smell Flies?
It's completely possible for a dog to smell flies. They have 220 million cells in and around their nose, compared to our five million cells, which makes them perfect for sniffing out things we would never be able to.
Can Dogs Hear Flies? What Are The Signs That Your Dog Can Hear Flies?
The following are signs your dog can hear flies:
– alert
– head tilting
– listening
– raise ears
– head turning
– ears up
– listening and sniffing the ground at the same time
– focusing on their surroundings
– ears moving back and forth
Are Dogs Scared Of All Flying Things Or Just Flies?
Dogs don't typically get scared of things unless there has been an incident that has caused this fear, so they shouldn't be scared of other flying things unless they've had a bad experience.
Why Do Dogs 'Freak Out' When They See Flies [Scared To Death & Shakes]?
If your dog really freaks out when they see flies, this is probably due to a previous bad experience with flies, such as being bitten or kept in squalid conditions. In both cases, try to keep your dog as calm as possible and remove them from the situation and try to get rid of the flies and give your dog lots of reassurance and cuddles.
My Dog Is Afraid Of A Fly Buzzing Around Inside The House, But Not Outside.
It's more than likely your dog is afraid of the buzzing inside and not outside the house because when they're inside, they are confined to a space and have very few places to move to get away from the buzzing. However, when they are outside, they have much more space to run and move away from the buzzing, causing less of a fear.
How Do I Train (Counter Condition / Desensitize) My Dog To Not Be Afraid Of Flies?
You can follow these simple steps to gradually counter condition/desensitize your dog:
– expose them gradually and over time increase this time by starting off exposing them for five minutes, then ten minutes and so on
– don't expose them to flies outside of their training as this can be counterproductive and could send them back to being afraid of flies
– be patient as all dogs differ and some may take longer than others to lose this fear
What Not To Do With A Dog Who Is Afraid Of Flies?
You shouldn't react too much to this fear as if you react in a negative way, this suggests flies are something to be scared of, as you're the pack leader and they follow your lead. You should react in a calm manner as they will notice your reaction and as long as you always show them there's nothing to be scared of, they should eventually copy this reaction and the fear should go away.
Should You Comfort A Dog Scared Of Flies?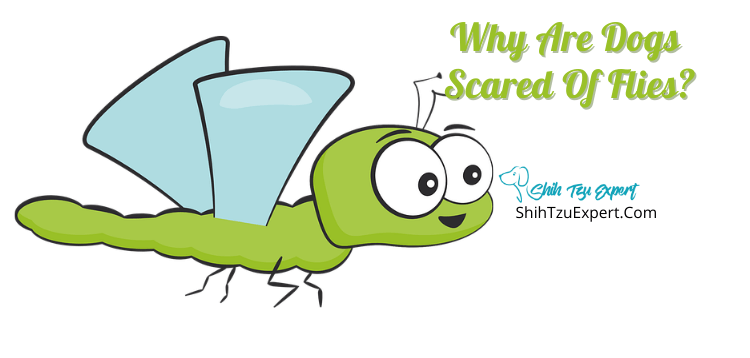 You shouldn't comfort a dog who is scared of flies as comfort is seen as a reward so if they start freaking out about a fly, comforting them teaches them this reaction is okay. You should act calm and assertive and show them they shouldn't be scared of flies and they'll eventually follow your lead.
Puppy Terrified Of Flies?
Puppies are scared of flies due to the unknown and the sound of the buzzing, as the loud noise scares them and they may not know where it's coming from.
Why Is My Old Dog Suddenly Afraid Of Flies?
If you have an old dog who has developed a fear of flies, it may be because they have been bitten by a fly without you knowing.
How To Help My Dogs Anxiety Attacks From Flies?
There are various methods you can take if your dog is having an anxiety attack from a fear of flies:
– give them treats/toys to occupy and soothe their mind
– distract them with trained behaviors, such as sitting or giving paw, as this takes their focus off the flies
– create a safe space for your dog to go to
– massaging/stroking your dog – audio stimulate your dog by playing music
Dog Suddenly Terrified Of Flies At Night?
If your dog is an older dog, being scared of flies at night will be due to a poorer sense of sight and because it's darker, this makes it harder for them to see flies but they will be able to feel them around them.
My Dog Is Getting An Increasingly Severe Fear Of Flies?
If you have never done anything about your dog's fear of flies, or if you react badly to flies being around, this can cause your dog to become increasingly scared of them.
Are Flies Dangerous To Dogs?
If your dog is bitten by a fly, in very rare (but severe) cases, there is a chance your dog could develop an infection from the bite. If you notice your dog has been bitten, you should wash it with warm water and mild soap and if this doesn't help clear it up, you should take them to the vet.
Do Dogs Like To Eat Flies?
It's completely normal for dogs to like eating flies and is not harmful.
Why Do Dogs Hate Flies?
Dogs hate flies because they find them annoying and isn't helped by their sensitive hearing
Do Flies Annoy Dogs?
As mentioned above, flies do annoy dogs due to their constant buzzing and the fact they can't get rid of flies as easily as we can.
Can Flies Lay Eggs On A Dog?
Flies can lay eggs on dogs and if they have an open wound, this can lead to infection.
Is It Normal For Dogs To Be Scared Of Bugs?
It is completely normal for your dog to be scared of bugs.
Why Does My Dog Have So Many Flies On Him?
This usually occurs if their coat is matted or unclean due to illness, a skin condition or diarrhoea, so regular grooming is important.
What Is A Natural Fly Repellent?
Apple cider vinegar is the perfect natural fly repellent for your furry friend, that doesn't have too much of a scent and keeps the flies away.
How Do I Know If My Dog Has Botflies (Maggots)?
There are various symptoms to look out for in your pet pooch:
– lump/bump on the skin
– scratching/licking the area
– small hole in the middle of the lump
– swelling – skin abscess
What Happens If Botflies Are Not Removed?
If botflies aren't removed, the larva will exit the skin after thirty days, drop to the ground, pupate, and become an adult fly. It could also cause neurological damage if the botfly enters the nose, mouth, eye, anus or vulva and migrates to the brain or spinal cord and is why it is important botflies are removed as soon as noticed.
What Does A Botfly Infection Look Like?
The following are signs to look out for of a botfly infection:
– formation of wounds on the skin that are red and slightly swollen
– a yellow or bloody fluid from the sores on the skin
– the sensation of something underneath the skin
– pain or intense itching around the wound
Why Are Flies Eating My Dog's Ears?
Flies will bite your dog's ears because the ears have thin skin and hair and dogs aren't able to defend their ears, making it easier for flies to bite this area.
How Do I Get Rid Of Flies Fast?
Mixing apple cider vinegar and dish soap in a bowl. Flypaper hung up around windows. Keep your bins sealed and dog poo cleared so they aren't attracted to the smell.
Can I Use Vaseline To Keep Flies Off My Dog?
You can apply vaseline to your dog, particularly their ears, as the flies cannot bite through it and serve as a fly deterrent.
What Can I Do If My Pup Is Afraid Of The Fly Swatter/Bug Zapper?
If your pup is afraid of a fly swatter, you need to get them used to it in cases where it's not used in a violent way. You can do this by leaving the swatter on the floor for a few days to get them used to it. Once they are used to it being stationary, you can move it gently whilst not using it for any purpose and whilst the dog is doing something they enjoy.
Only when they seem completely comfortable around the swatter should you use it on a fly, but when doing so, you should talk nicely to the fly and gently swat it as your dog will be watching and otherwise you may undo all the work you've done.
After Swatting Flies, Is It Best To Clean Up Their Corpses Or Leave Them As A Warning To Other Flies?
It is best to get rid of the corpses as flies won't realize if they see a corpse that the same could happen to them, so the problem still remains.
Why Is My Dog Obsessed With Flies?
If your dog is obsessed with flies, it may be because they're bored. To stop this, give them plenty to occupy their mind..
Why Does My Dog Like To Catch And Eat Flies?
If your dog is a hunting breed, they may be catching and eating flies because it's their natural instinct to do so and there isn't much you can do to stop this other than distracting them. Chasing and eating flies could be part of an obsession or compulsion and if you notice them doing it, try to distract them with something else.
Is It Safe For A Dog To Eat Flies?
Yes, it's completely safe for your dog to eat flies.
How To Teach A Dog To Catch Flies?
You shouldn't teach your dog to catch flies because they may mistake a bee or wasp for a fly and this could lead them to being stung.
What Is A Good Fly Trap For A Household With Dog/S?
One way to make a dog-safe fly trap is to soak strips of brown paper in a mixture of syrup and sugar and hang them around your house. You can also fill jugs/jars with sugar and water and leave them in areas that attract flies. You should put holes in the lids so the flies can get in but not out.
Can I Make A Diy Fly Trap?
It's really easy to make your own fly traps that are guaranteed to catch flies and can be done by using everyday household items.
Why Aren't Flies Attracted To Dog Feces Anymore Like They Used To Be?
Flies no longer being attracted to dog feces can be down to a few reasons, such as your dog being on new medication which makes their feces unedible to flies. It could also be due to a change in environment, such as moving to a new area that doesn't have as many flies as your old house used to.
Why Are Dogs Scared Of Flies?
To summarise, dogs are scared of flies because they have very sensitive hearing and the sound of the buzzing from the flies can freak them out, which is why it is important to desensitize them so they no longer have this fear.
References
https://www.wikihow.pet/Desensitize-Your-Dog
https://www.petmd.com/dog/care/evr_dg_how-to-keep-flies-off-dogs