We may earn commission from qualifying purchases at no extra cost to you.
Learn more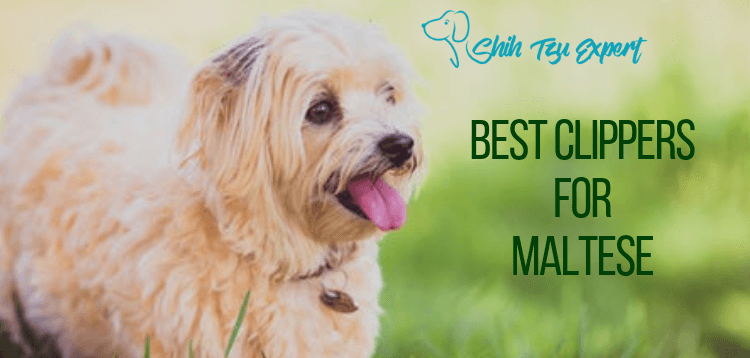 There is a lot of information out there about how to choose the best clippers for Maltese dogs, but not all of it is cohesive enough to explain why you want to make these choices for your dog.
If you are looking to groom your dog yourself, especially a high maintenance dog like a Maltese, this post will be your one-stop shop to get all the information that you need to make an educated decision about how to choose the best tools to help you do that. So here are our Top picks..
Reviews of The Top 5 Best Dog Clippers for Maltese
The Wahl Bravura Cordless Clipper is a one speed clipper that works either corded or cordless, making it extremely convenient for at home users. It also comes with a detachable five-in-one blade that allows users to cut different lengths of fur with the same blade. It runs for about 90 minutes on a full charge, and takes about an hour to charge. However, you can use it while it is charging with the cord. It is small and ergonomic, making it comfortable for people to hold in their hands.
For the most options possible, the Andis Pulse ZR Lithium 5 Speed Cordless Clipper is your best bet. It comes with a one year warranty, and can run for two hours at a time without needing to be charged. It is powerful and quiet, making it easy to use for even the most anxious of dogs without stressing them any more than usual.
The Andis UltraEdge AGC Super 2-Speed is perfect for dogs that have a little bit of trouble with matting. It is corded, so it's a little less convenient than other options, but need option allows better cutaway mats with the clippers. It's also designs to be shatterproof, so even if your dog is anxious and bumps it out of your hand, you won't have a problem. It is designed to stay cool, making it more comfortable for you to use. It also comes with a one-year warranty, and a variety of colors to match your pup's aesthetic!
The Andis Super AGR+ Cordless Rechargeable Clipper is a one speed clipper that has a detachable blade head that allows it to reach even the weirdest nooks and crannies. With a removable battery, you can easily replace it as needed. This clipper set is compatible with all of Andis's blades an the Oster A-5 blades, making it easy to replace the blades when you need to. It also comes with a one-year warranty.
The Oster A5 Turbo is a two speed, corded clipper that will give you the best bang for your buck. It works with any of the companies A-5 blades, making it simple to get exactly what you need from this clipper set. It tends to be relatively quiet and cool for the powerful engine that's inside the barrel of the clippers.
How to Groom A Maltese: A Step By Step Guide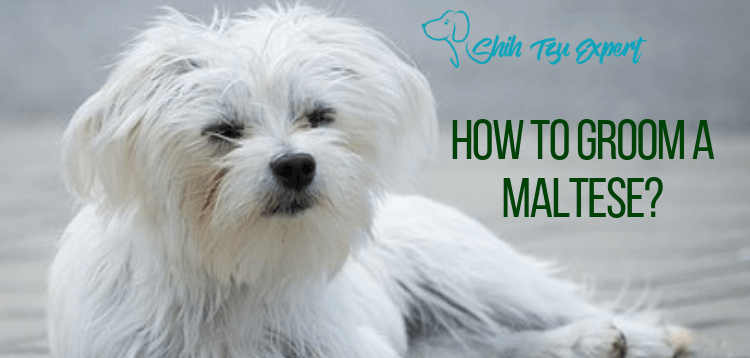 Brush
For long-haired breeds like Maltese and Shih Tzu, brushing is an especially important part of their  grooming routine. As a parent to a Maltese, you should be brushing your dog every day to help them stay knot and matt free. This should also be your first step when you are grooming your Maltese. Brushing loosens the fur that has already come loose from the skin as well as an dirt or detritus that their fur may have picked up since you last brushed them, making it easier for you to get them as clean as possible in the next step of the grooming process.
Bathe
Maltese dogs are capable swimmers and tend to enjoy the water, so getting them into the bathtub should not be difficult. If you have them there, wash them thoroughly with an appropriate shampoo, using your fingers to make sure that you clean all the way down to the scalp. Maltese dogs have sensitive skin so you might want to use a shampoo that is specifically designed for sensitive skin. Make sure to clean out their ears while they're already in the bathtub to make sure that no water gets stuck in there.
Brush & Dry
Even though you've already brushed your dog, you want to make sure that you brush their fur thoroughly again after you have washed them. Your Maltese is likely to get chilled very easily so you may want to use a blow dryer and hairbrush to do this all at once and avoid any chills or issues for older dogs with rheumatism or arthritis.
Thin Fur
The next step it's too thin out their fur so that they are more comfortable. This is especially important in the summer when the heat can be a problem for your Maltese. You do this first so that you are not forced to redo parts of the cut that you want for your dog.
Clip
Clipping your dog's fur is easily the most important step in your grooming process, especially for your dog's aesthetic.  This is the part where most dogs tend to get anxious, so have treats and kind words on hand to help your dog through the process.
Trim Nails
Last, but certainly not least, you need to train your dog's nails that they are barely longer than the quick. This is the other part that dogs get anxious about. They hate to have their feet touched, especially if they've had traumatic experiences with clippers before.
Tips and Tricks to make Grooming Easier (From a Groomer!)
Groomers take care of all sorts of dogs all day long. We pick their brains to find out the best tips and tricks to make your grooming process easier when you do it at home. Here's what they offered!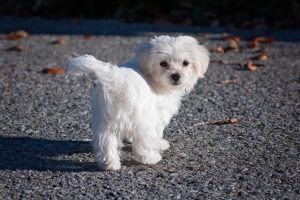 Have Your Tools On Hand
When you are grooming your dog, the less time you spend away from your dog the better. When you have your tools at the ready, you spend more time actually grooming your dog and less hunting for your supplies. This makes everything easier because your dog has less time to be nervous about everything when you're carrying on at a good clip.
Have Treats at the Ready
If you know that you are going to have a nervous dog, make sure that you have treats easily accessible during the grooming process. This will distract them long enough for you to finish whatever you are doing, whether it's cleaning their ears or trimming their toenails.
Pick a Breed Appropriate Cut
You will want to pick a different cut for your Maltese than you would for a German shepherd or a dog with an undercoat. Make sure that the cuts you want to give your dog is appropriate for their breed and the weather.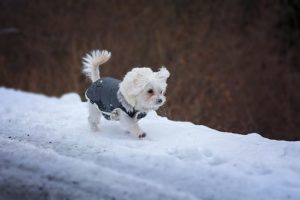 Differences Between Grooming Maltese's and Other Breeds
Maltese dogs are beautiful to look at, with straight and long silky fur that often reaches to their paws. They don't have undercuts and their fur is very easy to brush. However, it is prone to matting and tear stain development, not to mention picking up dirt like nobody's business. They also have long, floppy ears.
Because of this, Maltese dogs can be fairly high maintenance in comparison with many other dogs. However, we think you will agree with us when we say that they are worth all of the work that they need.
What Will I need to Groom My Maltese at Home?
Clippers
Blade Comb Guides
Maltese dogs are known for their beautiful fur. Because you are likely to want to keep your dogs hair just a little bit longer than the largest blade option, bladed guides are a great option for you to make sure that you are clipping at the right height.  These guides will also help to deflect the heat of the fast moving blades from your dog's sensitive skin.
Clipper Blades
You will need to talk to your groomer about the type of blades that they use on your Maltese in order to make sure that you are getting your dog's fur the length that you want it. Steel blades are expensive, but hold much more heat than you will want to use near your dog. Ceramic blades are much better at releasing heat into the air and not burning your dog underneath them. However, you will still need to have multiple blades to get through the grooming process without taking breaks.
Blade oil
Having a cooling oil for your blades will also help you to keep the blades cool. It also helps to keep your clippers and blades in great working condition, which is important since they are pretty pricey.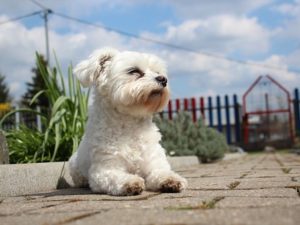 Slicker brush
A slicker brush is important for Maltese owners because it helps to give your dog's long, silky hair the slick look that you want it to have. You can pick this up at just about any pet store.
Scissors
This is pretty basic – you want nice, comfortable scissors to be able to trim your dog's fur without hurting them or yourself. You should use scissors for your dog's head, face, tails and ears to avoid injuring them or making them overly anxious with the clippers.
Comb
A good comb will make your trimming job a lot easier. You can pick this up at any drug store.
Shampoo
Make sure that the shampoo that you choose is specifically designed for long-haired dogs. Because your Maltese is likely to have some dry skin issues, you may want to choose a shampoo that accounts for that if your dog as healthy and happy as possible.
Hairdryer
This will keep your sweet pooch from getting chilled while they dry off – and keep them from spreading water all over your house. However, it might be scary for some of the more anxious dogs out there. Keep that in mind while you are grooming your pooch!
How to Use Clippers
Clippers might seem intimidating for someone having used them before, but they're surprisingly simple to use. If you buy a cordless clipper set, make sure that the battery is charged before you get started. Otherwise, you plug in your set of clippers and press the blade onto the tip of the clippers as per the instructions. Turn on the clippers, turn the dial to the speed that you want (or into the on position if you purchased a one speed clipper set), and start trimming! It's simple!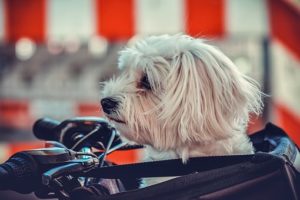 What to Expect from Grooming Your Maltese at Home
Grooming your Maltese from home will likely take you an hour or two to complete. Between bathing your dog, trimming their fur and trimming their toenails, you'll likely both be tuckered out by the end of the process. However, it will get easier once your dog gets used to the process.
What to Expect from Taking Your Maltese to the Groomers?
This is super simple – you'll set up an appointment with the groomer of your choice and tell them what you want. If you don't know the kind of cut that is appropriate for your Maltese, your groomer should be able to walk you through the best choices for your dog and lifestyle. You can look at show dogs for inspiration for traditional looks.