Does your beloved Shih Tzu look like it belongs to a homeless man begging on the streets? scruffy and unkempt? Even though you look after it with the greatest care…
Well, it turns out, you can dramatically change its appearance with only a few simple changes…
And in today's post I am going to show you what those simple changes are.. and exactly how you too can easily make those to your Shih Tzu.
Which Brush is the Best Brush for Shih Tzu?
Which Brush Should I Be Using on my Pet?

Did you know that there are 3 must have tools in the arsenal of any dog owner? So what are those?
A slicker brush
A dematting tool
Deschedding tool
| | | |
| --- | --- | --- |
| Slicker brush | Dematting tool | Deshedding tool |
| Is the sharpish looking brush. The slicker brush has multiple bristles and works as a topcoat brush.These have angled, fine steel short bristles and are used to remove anything that should not be in your dog's fur like dirt, loose, dead fur, or debris. | The de-matting tool is used for lifting and removing matts. These are used for removing things like mats, tangles, knots. Unlike a slicker brush, the pins on these are larger, longer, stronger and straight. | The deshedding tool is used for removing loose undercoat fur by reaching deep into the both upper and the inner coats and removing loose or dead fur. Deshedding brushes do not cut hair. This helps keep the skin follicles well ventilated and clean. These also cannot remove tangles or mats. |
What you should know before buying a dog brush

4 Things to Check before buying a brush
Important things to check before buying
So now you know the 3 must have tools and brushes now it's just a matter buying them online or at a shop? NO, just before you do that you need to check 4 more things! So these are the 4 important things to consider before you buy..
Pins
What is the density of pins? Are they well spread out ? Or just too close to each other and dense? Are there too sharp or Pokey pins that could damage the skin? Always try the pins gently on your skin first with very gentle pressure. Are the pins stainless Steel? Are the pins long enough to comb your dog's fur? Are the pins Polished and do they have Rounded tips? Do the pins Sink when you brush? Do the pins feel Comfortable when you brush your hand with the brush? Or do they scratch you? Could the tines bend and Get stuck, and jam the cleaner (if there is a self cleaning function)?
Handle –
Is it comfortable and easy to use? For a long session of brushing? Is it ergonomically built? Does it fit your hand? Or is it too small or too big? Is it made out of anti slip material?
Cleaning –
Is there a self cleaning mechanism? If there is do the pins retract and grill stays put? Or pins stay put and grill retracts? Is it easy to clean? Do the pins jam the cleaner? Is the cleaning button easy to reach during brushing?
Reachability and overall performance –
Is the head which the pins are attached to, too big? Or too small? Does the angle of the handle in relation to the head, allow it to reach difficult areas like stomach and base of the tail? If the brush can't reach then you will have to get one with a smaller head or a handle or both!
Additionally check for a manufacture's warrenty and a money back guarantee from the manufacturer or the retailer.
Most of the Shih Tzu enthusiasts or owners know Furminator because of their top of the line grooming tools. However, for those who don't know, Furminator is also at the helm for creating several high end, top of the line, all time favourites. The offer we are going to talk about today is known as the FURminator deShedding Tool for Dogs, this tool is priced under $30 and it happens to be one of the best Shih Tzu brushes one can buy right now.
The brush offers a stylish sleek look, something that people will find familiar, especially if they have used a Furminator product in the past. The brush is aesthetically pleasing with its complete black ergonomic rubber grip handle construction and a quick clean button which eliminates all the gathered hair with just once push of a button. Also the deep reaching steel edges will reduce shedding by up to about 90%.
However, most of you are not here for the looks and are more interested in the comfort for your Shih Tzu and performance for you, so without wasting any more time, let's take a look at how well this brush did in our tests.
The Furminator deShedding Tool is a brush, not a blade! So it does not cut hair, it only eliminates dead fur, and combines the performance of a deshedding tool, a sleek tool and a steel comb all combined together.
The brush comes with more than 60 deep reaching stainless steel teeth edges to it for deep penetration and removal of unwanted dog hair from both the top coat and especially the undercoat of Shih Tzu.
And do not forget that it can act as a standard steel comb as well. With that said Furminator has paid a significant amount of attention to detail when designing the ergonomic handle as it happens to be super easy and comfortable to use for a long session of brushing and untangling.
Pro Tip:
Oh! by the way keep a lint roller handy with plenty of adhesive sheets, you will need it because this Furminator will remove all the dead hair that you did not know existed, those are the ones that your normal brush couldn't reach or couldn't find.
This is exactly like using a Dyson vacuum cleaner on a carpet that had been "cleaned" with a standard vacuum cleaner. So if you want to do a quick experiment, use your standard brush then try this, you will be very pleasantly surprised!
Comfort, and Performance
Using the Furminator brush is a breeze, just wash and thoroughly dry the Shih Tzu until both the topcoat and the inner coat are completely dry. Then check for any mats or tangles, if there are any remove them. Search for any skin issues like healing skin infections, or Scabs that are helping a healing skin wound.
If all clear then proceed to brush by holding the Shih Tzu firmly in place with one hand and brush gently using, long gentle strokes with the other hand. Always start from the head and finish towards the tail.
Be extra gentle near areas like the stomach, genitals, near the base of the tail, where the fur is thin. Use only gentle pressure downwards at all times so that there is no excessive contact between the brush and the skin..
When it comes to performance, the Furminator deshedding tool provides multi layer grooming, removing a serious amount of clumps of dead fur which otherwise would have ended up in your house as sheds.
Once teeth get clogged with fur, just press the FurEjector button to easily remove all collected fur in just one swift motion with the press of a button to give you a fully cleaned brush. This brush stops the itching Shih Tzu feel, when their hair gets longer.
Conclusion
In short, this brush is perfect if you are willing to spend a bit more money than you would on a traditional brush. Just remember the old adage, "Good No Cheap!", because "you get what you pay for!".
Pros
The brush comes with deep reaching polished stainless steel edges which would glide through fur and eliminate 90% of shedding.
The ease of use and efficiency of this deshedding tool happens to be one of the best we have experienced so far!
Shih Tzu love the experience of being groomed by this brush
Furminator has given us one of the best ways to eliminate having to vacuum the house 3-4 times a day to get rid of dog hair.
Cons
Counterfeit products – Buy from reliable sources, Make sure to check labelling for correct printing, if it looks and feels fake then it probably is!
2.

GoPets Dematting Comb

–2 Sided Professional Grooming Rake (Best Brush under $25)
Next up is another dematting deshedding tool, but this time, the offering is by none other than the Famous GoPets. For those who don't know, the company is famous for creating a range of top of the range pet grooming products that have become increasingly famous overtime. GoPets is a company that has dedicated itself towards providing top of the line, unparalleled pet care products including their brilliant slicker brushes, detmatting and deshedding tools.
The product that we are bringing you today is called the GoPets Dematting Comb with 2 Sided Professional Grooming Rake, as the name suggests, the brush looks nothing less of a professional tool that you would find in a professional and rather expensive Pet grooming parlor. The Double sided, GoPets Dematting comb has a 12 toothed side for tough unruly mats and tangles and a 23 tooth side for less tangly hair that can be brushed faster.
I like this double sided tool more than FURminator deShedding brush reviewed above, because it is more affordable and much more easy to use on semi tangled hair with a single caveat. But unlike the FurMinator, it does not have a button for easy cleaning. During our testing, it was revealed that the double sided rake just might be the best GoPets brush we have used till date. Curious yet? Let's find out.
Design, Performance and Features
From the looks of it, the brush looks amazing, it has a minimal, sleek, solid, and a stylish look about it. It has a comfortable gel handle which contours to your hand and is therefor easier and comfortable to hold while grooming. The gel is non toxic, medical grade silicone. Our only issue on the design side of things was the sharpness or more precisely the lack of sharpness in the teeth. The brush is absolutely fantastic for deshedding; i.e. removing dead fur from the top and the undercoat.
But in all seriousness, the brush falls below par for cutting thick mats because simply put there are no blades, sharp razors or any sharpness to it to cut through the stubborn mats!. This is especially problematic because the inner coat of Shih Tzu tend to mat easily. In one way we are glad that this is the case because with sharp razors it could potentially be dangerous for your pet! And even You!. So what will happen if you use this on tough tangles and mats? It will cause mild to medium, discomfort to your pet, because the rake will pull the hair instead of cutting.
However, we found that these issues did not deter people from using this tool very successfully to groom and remove shedding on both coats of Shih Tzu without too many mats or tangles.
The GoPets Dematting comb offers stellar performance, as a matter of fact, it is one of the most versatile and the fastest combs that we have used to date. The performance on both topcoat and the inner coat is impeccable and didn't face any hiccups or slowdowns during the entire testing process except for when it came to heavily mated fur.
This also manages to perform really well on across a different range, of body sizes, it's important because a Shih Tzu can easily be between 10 lb to 20 lb or more. The performance is better than was given by your usual grooming tool.
Moving on to the features, this Grooming Rake is packed with them, if you are wondering what you'll be getting, you should know that this comes with the support of high density teeth on one side of the rake for faster deshedding, the low density side teeth for much thicker and stubborn fur. This means that the rake is fully capable of tackling a large range of small to large breed of various body sizes!.
The brush also comes with a great ergonomic handle, which makes it easier for using on those long sessions of grooming.
100% Guaranteed backed by the manufacturer
This professional grooming tool even comes with an Unconditional Satisfaction Guarantee if you buy it on Amazon. For those who don't know, this is means that you can get a replacement or a refund if ever you are unhappy with the product or the result. They also donate a portion of profits to animal charities.

Conclusion
Overall, the GoPets Dematting Comb with 2 Sided Professional Grooming Rake is an impressive brush that offers a lot for the price you are paying for it. Sure, it has some performance issues on the lack of sharpness on the teeth for removing mats. But considering the price to performance ratio, the comb is perhaps one of the best grooming tools you can buy in the market right now.
Pros
The Dematting Comb gives amazing, unparalleled performance on both the top coat and the inner coat of Shih Tzu because of its double headed rakes
It combines a bag full of features that you usually won't expect from an affordable But a professional grooming rake.
The tool looks and feels amazing, and has a great build quality, comfort, durability and standard.
Cons
The biggest issue is the inability to remove thick, stubborn mats or tangles due to a lack of sharp teeth.
Although It's marketed as a Dematting Comb, in our opinion based on the test results it is better used as a deShedding comb! But still this tool Beats scissors, hands down!!
If the handle gets damaged it would leak gel!
3.

HappyDogz Pet Grooming

Shedding Brush- Best Budget tool for 2021 (Under 20 Bucks)
The next up on our list is one of the top notch Shedding Brushes from HappyDogz, for those who don't know, this company has a long history of providing some of the best pet grooming products and this Grooming, deShedding Brush isn't here to tell a different story. As a matter of fact, it is perhaps one of the most stylish looking brushes we have ever encountered. Where the GoPets Dematting Comb resembled a pro gadget, the Magic Pro deShedding Brush looks like it was built by real dog enthusiasts. But looks aren't everything, right? Let's find out how this brush fairs in things that actually do matter.
The deShedder is an amazing tool in terms of the balance between effectiveness, and speed of cleaning and the ergonomic functionality.
Our Testing revealed that the Magic Pro is fast, efficient reliable and also very easy use.
This deshedder has a good range of motion when brushing to get in and around all the tight little spots like around the legs, base of the tail, face and neck. Since you need to apply only a tiny and a comfortable amount of downward pressure you don't need to grip the handle in a vice like grip, which makes this even more comfortable on both you and the dog. Another great thing about this brush is that it comes with the unique ability to be liked by most of the dogs it brushes. In fact dogs loved it, especially the dogs who normally do not liked to be brushed! Perhaps being able to brush without using brute force is the reason for this…
However, do keep in mind that unlike the FURminator which we reviewed above, the Magic Pro does not have an Easy cleaning button for one push cleaning. Also this brush has to be cleaned frequently during brushing, because it does a very effective job at removing all dead fur, but unfortunately has short tines that do not hold much hair.
Design, Performance and the Features
We have already discussed how the stylishness of this brush ends up making a statement of its own.
The design of the Magic Pro doesn't appear to be uncomfortable to any of our Shih Tzu that we tested this on. Judging by the pet's response, some other tools have generally been harsh on the skin, especially along the spine area. This brush is designed very well with ultimate comfort and performance in mind!. But enough about the looks and design, let's talk about the things that matter like Performance. If you happen have people who are allergic to dog fur, especially the fur that fly defying gravity and get stuck on your walls, picture frames, light fixtures etc, then that makes this a must have deshedding tool!
During our testing, the easy of use and the effectiveness of deshedding looked promising enough.
If you want more features, like an easy clean button, then unfortunately the HappyDogz Magic Pro is not something you want!.
The brush has to be cleaned often during use, and that is because it is very effective at removing/ deshedding fur. With that said, if you can overlook that minor limitation, then this brush is the one with and also is at an amazing price point!

Whether you love the fact that dogs love to be brushed by this deshedder, or a number of ergonomic design features it comes with; this Magic Pro by HappyDogz is perhaps one of the best priced grooming tools on the market. Despite the short cumming of not having a button for easy cleaning this manages to give a very respectable performance.
Pros
Incredible effectiveness and super simple at removing shedding from both top and inner coats.
Stellar ergonomic build quality with easy to reach angular head and amazing design aesthetics.
The brush is easy to use and comfortable for dogs
The absolutely amazing price point!
Cons
There is no, cleaning button like in the FurMinator
4.Pro Slicker Brush– Good for Grooming, Easy cleaning and Budget friendly
If you liked the FURminator deShedding but thought that you wanted something about half the price (But with the same functionality), then the Pro Slicker Brush is just what you are looking for.
Though do keep in mind that even though this brush from Pet Portal, is quite cheap, compared to others it will give similar results but the results won't be exactly the same.
The Pro Slicker although has a similar self cleaning technique to some of the highly rated brushers out there, it goes even beyond with an improved clever redesign which makes use of retracting pins while keeping the grid which catches fur stationary.
Performance
Speaking of performance, the slicker manages to give the same stellar performance as its more expensive counterparts. Based on this A lot of people might think that it's a waste of money to buy one of the other brushes, but like we said before this is a more modest version of a Slicker tool.
Although it is a respectable slicker tool, at the business end, which is the pins (or tines or bristles) tend to be too sharp or they bend and obstruct the self cleaning functionality! From out tests, we concluded that this was a nice little cheap slicker tool to have if you can't afford a more expensive one for your pet.
The Pro Quality Self Cleaning Slicker Brush for Dogs by Pet Portal is an impressive tool whose shortcomings make it a bit of a hard decision to purchase. If you are looking for something that gives you amazing performance and great build quality over the life time of your dog, then this probably should not be your pick. But It is not wrong to call it the Low budget friendly slicker tool!.
Pros
Clever and well designed and positioned self cleaning button, so you don't have to pluck fur from the brush after use.
Nice sturdy stainless steel pins
Comfortable handle for easy gripping
5 year manufacturer 100% money back guarantee.
Cons
Sometimes the pins would bend and jam the self cleaning mechanism
If you are looking for a brush that has a good price point, a useful design and is effective and removing dead fur as an expensive tool,The Chirpy Pets Brush is a good deal.
As you can tell, this is a good deshedding brush with a low price tag, but you should keep in mind that a number of features that are not available in the brush makes it rather difficult to justify it. For example most of these brushes come with a self cleaning function, but alas this has its own limitations.
Design and Features
Design
The brush looks quite similar to what you would expect from a slicker brush and a deshedding tool. It sports 4 inch long stainless steel pins at the head, that can not be detached or retrieved by a self cleaning mechanism. The handle is quite comfortable, especially for small hands but if you have big hands, you might have trouble holding it comfortably for a long time. Even though the design won't win any awards, it is very practical and usable. One of the wonderful selling points for this brush is the 60 days money back guarantee and 1 year manufacture's warranty.
Performance
During our testing this brush performed well, with only a few exceptions. Just make sure to get a smaller brush if your dog is of smaller size because a bigger brush would be difficult to use on a small dog. If you have a bigger dog, buy a big brush because if you use a small brush it will be very time consuming. Also as always make sure to do the most important test and check the pins or the tines, by yourself as described next. LIGHTLY run it along your skin BEFORE you use it on your dog! and if there are red marks on your skin, DO NOT USE IT on your dog!
Last but not least, another great thing about this grooming too is that it has good readability especially in and around difficult areas to reach like the stomach or the base of the tail.So overall it does an effective job.

Sadly, the brush does not have single touch self cleaning mechanism. Which would have made it easier to use. With the current design once hair gets in the steel pins of the slicker, you will have to pull out the collected fur, by yourself, before you continue. Another issue observed is with some brushes the pins will not hold the removed hair, so they will fall from the brush.
Conclusion
Overall, the Chirpy Pets slicker and deshedding Brush is an affordable, durable, and reliable tool with good performance. However just make sure that you follow all the test we have described under the section "Performance" before you use! Also make sure that you buy the correct size.
Pros
Long steel pins that are comfortable for your dog, and sturdy design
Good Durability and build quality
Easy to use, maneuverability and ergonomic design
Well priced compared to some of the other grooming tools
Cons
No self cleaning function
6.

Chris Christensen

Oval Pin Brush, 27mm – The old classic!
The next on our radar is the old classic handcrafted in Germany, with high quality material. Although it has a high price tag compared with other more advanced grooming brushes this is an all time favorite of dog lovers and groomers alike. .
Design, Performance and the Features
The Oval Pin Brush fared pretty well on all types of coats, except for heavily matted ones. You have to use another tool like a steel comb on really hard mats. Although the Chris Christensen is not packed with a bagful of of features like some other grooming tools, it has engineered the 3 most important fundamental functions, namely smooth well rounded steel pins, comfortable handle, and easy to clean.
The brush features high quality steel tines (pins), which are rounded and polished to give a soothing massage like experience to your dog. Perhaps that is the major selling point for this. Another thing we really think is great about this brush is how nicely everything is designed in to a classical package, this is the reason why you always see these at prestigious dog shows. Of course, unlike most of the other brushes in this price range, this does not have self cleaning functionality. We did not notice this to interfere with the performance. In fact it was highly satisfactory, so there were no discomforts or other issues during our test.
** Don't panic when you see the hole in the middle of the pad on these Chris Christensen Oval Pin Brushes . This does not mean that the brush is missing pins or that it faulty. This is a design feature.
Conclusion
Ideal for Shih Tzu, because these 27 mm rounded soft steel pins glide through their double coats to give them a brush and also a massage.
This is easily one of the most effective tools we have used and definitely justifies its place in our list of top brushes for Shih Tzu.
However, we do understand that this might not be the most suitable choice for some who prefer the modern versions of slicker, de matting tools with the convenience of keeping fur on the brush and removing them later with the single push of a button without having to use too much time or effort for cleaning.
Pros
Very comfortable because of the well rounded polished smooth steel pin construction
Tines do no "Sink" or "disappear" after a few uses, so this brush is a long term investment.
Chris Christensen reputation for Good build quality and Durability.
Cons
Lacks a self cleaning feature
Not effective on serious mats, tangles. Need to use this in tandem with a matt rake for heavily matted fur.
Some may be put off by the pricing!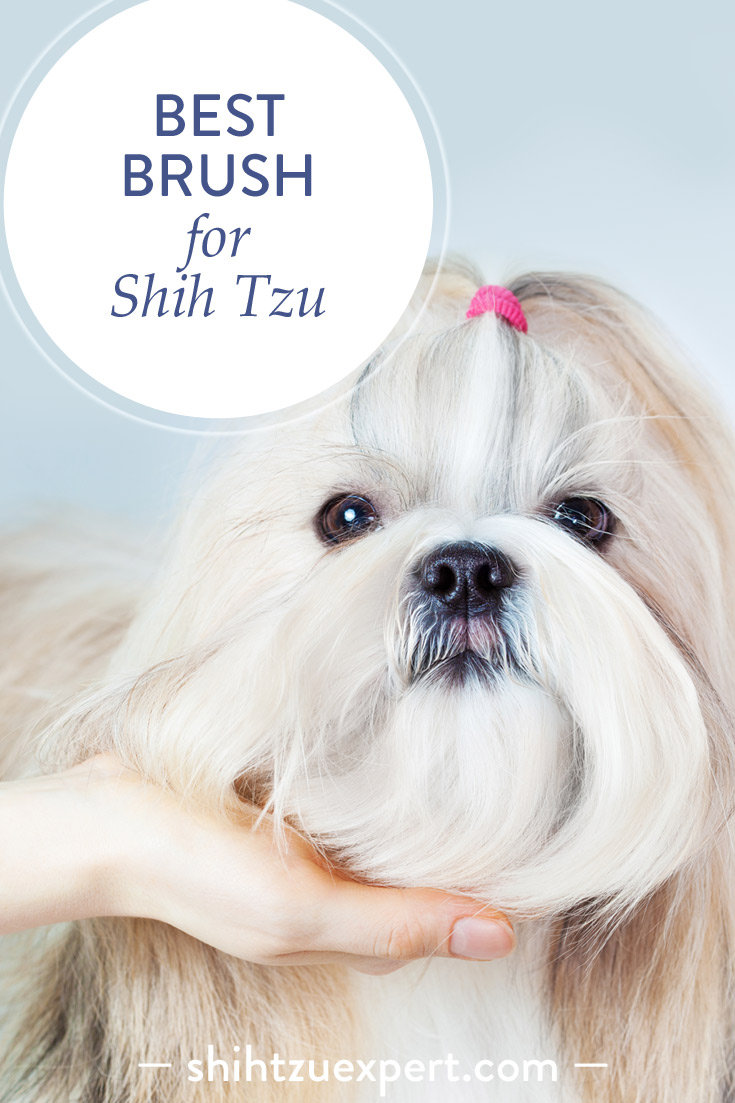 Buyer's guide to Shih Tzu Brushes

How do mats Occur in dog fur?
Fur gets tangled during normal activities of a dog, scratching, biting on these mat tent to help the mats get bigger 🙁 also other factors like shedding fur, help accumulation of matts. When a matts gets to this stage it is no longer possible to remove is with a simple brush.
Slicker brush vs Deshedding tool which one should I use?
Because excess trapped hair can cause discomfort like itches, it is important to do this using all 3 tools, not just 2. Use a dematting tool first, then use a slicker brush and then use the deshedding brush.
Is a Slicker Brush Safe to use on my dog?
Yes, but follow our safety information and do the simple test, to check the sharpness of the pins.
Critical information
Always listen to your dog! and Watch him carefully every time you groom. Is he is leaning away or pulling away from you? then there must be some pain or discomfort, so stop grooming and figure out what is wrong! Check the pins, again, or for anything else that could be hurting it. Gentle pressure brush is the key!. If it is leaning towards you then it must be comfortable, enjoyable, and fell good, so just continue for as long as you like 🙂
Here is what you are probably missing, the essentials of grooming!. The best Tips, Tricks and the Techniques…
In here, we would give the best information with regards to everything there is to know about how to take care of your dog when it comes to brushing their hair and coat, and the kind of brushes that are best suited for that purpose, as well as other relevant details.
To do this effectively, we are going to be answering specific questions which we know that shih tzu owners would be asking, and then we would provide the answers to those questions. So, if you are ready, let us go further.
Why is a brush an important consideration?
A brush is an important consideration because when it comes to grooming, there is no other part of this process that requires so much regular devotion and consumes as much time as brushing. And when you come to think of it, how do you brush the coat of a shih tzu? By the use of a good brush of course. And so, you now can see why we need to have a good brush.
Put in another way, if our brush is not a good one then there is no doubt that our pet would never enjoy it when we are grooming and brushing him or her. No, there is no way that our pet dog would enjoy the act of brushing and grooming at all. Besides, when it is done properly and with a good brush, hair would be tangle-free and clean because of a routine of regular brushing.
This would also ensure that natural oils are properly distributed in its skin and coat, dead hair is removed, blood flow is stimulated, all of which ensure that its skin is healthy. This is why it is important that we find a really good brush.
How to know if you are using the correct brush?



Now, a natural question anyone who owns a shih tzu would want to ask is this: how would you know that you are making use of the correct brush to groom? Well, the results would be there for everyone to see.
First of all, you would notice that the coat is always shiny, clean, and neat. And this would be a fact that others would be able to testify to as well. So, it would always be looking neat and beautiful because you are making use of the correct brush to groom her.
Secondly, it would actually be looking forward to being groomed and having her coat brushed. Such a reaction would only be natural. Even as human beings, we all tend to look forward to and cherish experiences which we find pleasing. This is not too different from pet animals. Once you are making use of a good brush to groom them, they would tend to look forward to being brushed and groomed. If on the other hand, they have a tendency of being feisty or avoiding us, then it is probably high time to change the brush you use to groom them.
Dwelling further on this important issue of knowing if you are making use of the correct brush, it is also important to remember that you should train to become accustomed to the process of grooming. In our experiences, the grooming process is something that small puppies tend to dislike. They might pretend to tolerate the process quite well. However, it is important to get them to become used to it, the way they might want to look forward to other activities like getting their legs brushed, having their ears manipulated, and having their feet handled. It is inevitable that during the course of its life, it would have to be examined by a veterinarian, would have to be professionally groomed, and would require its nails to be trimmed. All of these are activities which we should train our dogs to look forward to. And this training starts from when they are young puppies.
In order to make the grooming process interesting, they should be heavy on treats, upbeat, and kept short to the barest minimum, without allowing our favourite pet dogs to dictate the pace.

No, your shih tzu should never call the shots when it comes to grooming. For example, just because it does not feel like it does not mean you should not get its paws handled.
Once you adopt such a mindset, grooming would become an activity which both you and it would always be looking forward to enjoying every day.
Ultimately, you are going to train to stand, sit, or lay down on a kitchen counter, a grooming table, or any other hard surface. Rather than hoping that it would behave while it's on your lap, it is actually easier in the long run to groom this way.
Just think about this: standing or sitting on a grooming table can be a scary idea to even the smallest of dogs like the shih tzu. And for them to be there for a long time while being brushed is even scarier. The truth is that it would seem like the top of a mountain for a small dog, even if it is the correct height for you. You can begin to get them used to such heights by getting them to sit on the surface or grooming table that you plan to use to brush them on by picking up the shih tzu at every chance you have and placing them there. When they are on the surface, touch their muzzle, ears, tail, and paws, rub your fingers through their hair, and continuously pet them in a gentle way. This would reinforce their confidence and they would become more comfortable with the height. Eventually, when you begin to brush them, they would not necessarily be scared of the height.
The Right Type of brush for Shih Tzu



Your duty of brushing it becomes a lot easier when you have the right type of brushes. We would recommend that you buy a pin brush of really good quality if you are just getting started. For finishing, a slicker brush which has superb quality should be used.
You are going to have to go over the coat once you are through with thoroughly brushing it with a good brush. We would advise that in any circumstance, you should buy the best combs and brushes that are affordable to you. You might not now know it, but you actually do get to save more money in the long run because the brushes, combs, and other grooming tools which are of higher quality do get to last much longer.
Why is Cheap, No good! when it comes to brushes for Shih Tzu
Besides the obvious advantages in cost and durability, the pins of pin brushes that are cheap would bend or fall making it extremely difficult to get to the roots of the hair. Also, the teeth of metal combs which are cheap will eventually break off, further compounding your difficulty and getting you frustrated when you are brushing. What is more, brushes that are slicker but not strong and durable will wear out. Why not avoid all these issues upfront by getting grooming tools and brushes that would last?
A really good brush for shih tzu are those manufactured by any of the above companies we reviewed. They are reputed to last for long periods of time and can give a pleasurable experience when they are being brushed and groomed.
As you continue reading, you will come across our various recommendations of what brushes to choose for brushing and grooming.
Combs and brushes
How to groom Puppies with a Bristle Brush and a Puppy brush
For puppies which have short hair a synthetic or natural brush would work great on them. They should be used for smoothing out the top layer of hair, but you must remember that they do not go well through the coats of most adults. The best time to begin grooming puppies is as soon as their ears and eyes are open.To brush around the mouth, ears, and eyes of young puppies, you should use a soft puppy brush. Such brushes which are soft tend to be soothing and as a result it would get trained to love being groomed by tolerating the entire process. The Bristle Brush for Puppies and Small Dogs is the perfect size for when it is still young and even when they become adults.
Pin Brush
The Grooming Supplies Toolbox for a Shih Tzu must have this essential item. In order to prevent them from being too sharp, these brushes have metal pins with slightly rounded ends.The Pin Brushes are perfect for getting small tangles brushed out because they can go through both the under coat and the top. If you like the feel of a bristle brush then you would be happy to know that some pin brushes come with a flip side bristle brush. We cannot emphasise it more than enough that you need to get a pin brush. Never make use of your human pin brush to brush because you would be left with disappointments.

Can I use a human hair brush on a dog?


The double coats of a shih tzu are much too thick for the little tips at the end of human pin brushes.If you are searching for a top quality product, a Chris Christensen Wood Pin Brush 20mm Small 7.5 inches would be ideal. Also, an Oval Pin Brush would be wonderful. These are some of the best brushes for grooming as can be testified by the several owners.

Furthermore, an Oblong Pin Brush can work wonders. If what you require is a brush that you can use for grooming and brushing every day, and one that is not so costly, then you might consider getting the Safar Wire Pin Brush – Small. It is reputed to perform exceptionally well with the double coat.

They are not only durable but equally have a reasonable cost.The Slicker Brush is perfect for brushing the undercoat because they have little metal bristles without the rounded ends. Please never use them around the dog's eyes because these bristles are very sharp.

For the beard and moustache it is better to use a steel or metal comb. There are various sizes and shapes of the Slicker Brush.For a casual groomer, the Safari Self-Cleaning Large Small Slicker Brush for Dogs is recommended because cleaning it is very easy.

All you have to do to lift off all the hair from it is to push the button. If it is still a puppy, then any of the Lil Pals products would work well on them. They are highly recommended especially for first grooming experience. Shih tzu puppies are known to love the feel of the Lil Pals Slicker Purple and Green Brush for Dogs – Extra Small because it is very gentle.
How to Brush Like a Pro? Tips and Tricks

When you brush, work on one small section at a time using a pin brush. Another option would be to make use of a slicker brush which makes sure that all tangles on the top coat are removed and smoothens the hair.
For detangles in the undercoat You must mist the hair with a detangling product before you brush.
Just Divine by Chris Christensen and Top Performance GloCoat are two favourite products for grooming and brushing.
Another alternative is to get an empty and clean spray bottle, put a teaspoon full of conditioner into it, and then fill it up with clean water. You then make sure that the conditioner has been properly mixed by shaking the bottle. This would assist in removing any small knots and keeping the hair from breaking.
You begin at the foot, brushing in both directions. This technique is which required that you brush one small section at a time after parting the hair in a line is known as line brushing. Ensure that you work outward after you begin at the skin.
You can either make use of your fingernail, a knitting needle, a rat-tail comb, or the end of steel comb when you want to part the hair you want to brush. For coats that are not so thick, you begin brushing below the hair you are holding after lifting that section with your non dominant hand.
Ensure that you brush several times straight out until the brush or comb goes through the hair freely. Remember to work from the region much closer to the skin and then progress outwards.
You will not be able to get to the inner coat but would rather only reach the guard or outer coat if you only brush the surface of the coat. This is because a lot of the mats and knots form inside the inner coat. This is why any knots that are there might not be removed by you.
But you should not be worried or afraid if there are mats that you cannot remove by brushing. After you finish combing, they can be removed by the use of a de-matting comb or a steel comb. Do not tug or pull at any knots that you might come across. If you do so, you would make the dog fearful of the process of brushing and grooming because you would have hurt them, which are situations that we don't ever want happening.

Brushing must continue all through the head, tail, legs, and body of your pet dog. The length of your god's coat is what would determine how long this process is going to take. If you keep it in a kennel or a short puppy cot, the process of grooming would considerably be less.
Some areas like under the ear, on the neck behind, and under the arms in the soft sensitive chest area all tend to mat worse than other parts of its body do. as a result, you would have to be very careful and apply some precautions when brushing those mentioned areas as too rigorous brushing can easily hurt the shih tzu.
In addition, around the eyes and the face in general, you have to be extremely cautious. It is better to make use of a small comb around the eyes and muzzle area, especially until when you have trained it to stay while brushing.
Combs and Combing



An essential part of the process of brushing and grooming would entail using a good comb to run its coat over at least once. You have to go back over the dog's coat with a steel comb after you have brushed all the areas. Because it is going to pull at the hair, it is not advisable to use a plastic human comb to do this.
The most ideal type of comb is the steel comb which possesses two different sections, one of which has teeth which are spread far apart and one which has teeth spaced closely together. It is possible that while you are combing its coat, the comb might come out with some small tangles or knots. Remember that the next step to follow here is as outlined where you discover the coat being detangled by any large knots.
A flea comb or a slicker is a neat trick to be used to remove any hardened debris from anywhere close to or around the eyes. To get rid of such debris, begin with a cotton ball that is warm and then use water to moisten it. A flea comb can be used to remove not just dried debris from their eyes but also to spot a flea inside coats. They have very fine teeth and they work well on the face because it is also a comb that is extra fine for finishing and faces.
Every owner is advised to get a flea comb even if your pet dog does not have fleas. You can still use it to get rid of debris around the beard, in the whiskers, and under the eyes. Some shih tzus love their food being 'worn' on them so the flea comb is the best way to get out those crumbs.
You now remove any debris that you can by dabbing and wiping. Thereafter, you use a comb to go over the area. The metal comb will remove most of the debris. However, if this does not happen, make use of the flea comb. Begin at the eye's inner corners and then comb outwards. You then get the flea comb cleaned and then repeat this process until face becomes clean.
Steel Combs


There are steel combs which are normally used once you have brushed out the dog's coat thoroughly. In order to remove any last mats or tangles you can go over the entire face and body with the comb.
It is one of the best tools for de-tangling because any small mats which might remain can be worked out with the end of the comb or loosened out with the steel comb. To make a part down the back of it, you can also make use of this comb although from experience the best tool to use to make a part down the center of the shih tzu's back is a comb with a rat tail because it works much better.
Rather than brushing the hair, some owners prefer to comb them. Greyhound combs (which are a less popular name for steel combs) are available in different sizes, ranging from wide toothed combs to fine toothed combs. A lot of combs would have styles like face/finishing, medium/coarse, and fine/coarse.
If you have a lot of puppies which you are grooming, it is good to maintain a little puppy comb close by to ensure that puppies don't only get used to being combed, but being brushed as well. The faces of adult dogs can also be kept clean by using a puppy comb. It performs well as a flea comb as well as a facial finishing comb. Until your puppy gets a little older, you are not really going to need a detangling comb. But on adult coats it is going to work well.
When you want to part your shih tzu's hair, you would require a rattail comb. This rattail comb would not be required if you prefer to keep your in a puppy cut that is short with no topknot. A rat tail comb works much better than using the side of a regular steel comb for parting.
What these combs are used for is to create down the back of a shih tzu which is long haired a part. Also, they are utilized when making a topknot for partitioning off the hair. If you want to grow the hair out and have the top hairs pinned up into a topknot or a ponytail, then this comb is recommended for you.
When brushing a shih tzu why you should be concerned about mats



Whenever we don't have time to brush or comb our shih tzu's coat, mats tend to occur in a creepy way. They also occur when the coat's entire thickness does not get brushed. Remember that without touching the inner short coat where the tangles begin, it is quite easy to make the dog to look great by just going over the top coat with a brush. But this is not what we want. We want it to not only appear neat and beautiful on the outer coat, but deep inside its inner coat.
The dog would experience discomfort because tangles would pull its hair. The dog's skin would become inflamed and air would not be able to circulate if the tangles become too big. Badly matted coats can lead to the occurrence of infection. Apart from being quite painful to our pet, mats can also detract from the appearance of the coat.
There would be every likelihood of a mat when you find a shih tzu scratching and there are no obvious signs of any irritation on its skin. The best solution remains to brush daily because the removal of large mats can be a painful ordeal for our dog.
In summary, apart from being a major grooming and brushing problem, tangles can equally become the cause of major health issues which every owner would encounter.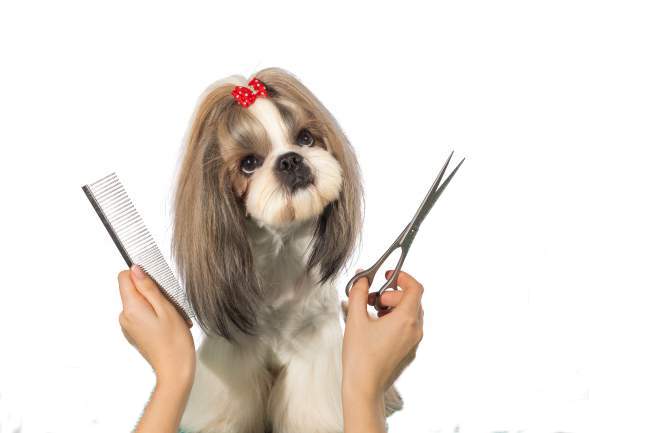 Removing mats by brushing a Shih Tzu
We have already learnt that tangles and mats can all be removed by brushing. However, it would interest owners to know that there are many other methods for removing tangles and mats. We would list these different methods below:
Using your fingers for removing a mat
For mats that are very loose and small is the best way to go. All you have to do is to find where the mat is located and pull it apart in a gentle manner until it gets very loose for you to comb the hair through. Some of these knots could be entirely pulled out with just your fingertips. Bear in mind that when you are removing mats with your fingers you must be gentle.
Using the end of a steel comb
You can try using the end of your steel comb if the knot is tighter. How you do this is by slowly dislodging parts of the knot by gently picking at the knot with the edge of the comb. You can then comb through the hair when it is loose by turning the comb around.
De-tangling Combs
Scissors or de-tangling combs are often required for tighter knots. A de-tangling comb resembles a normal or regular comb, but for cutting through the knots there is a sharp edge at its base. You need to be gentle and go slow with the de-tangling comb because it is very easy to start yanking at the hair with such tools.
Clippers or scissors
When all of the above solutions fail, the knot can be removed by using a pair of grooming scissors or clippers as a last resort.This method required the use of tricks to accomplish it so you do not just cut it out as soon as you find the knot because it would make that section of the shih tzu's coat to be bare. Also, the chances of getting the pet dog cut are greater.To make use of the scissors, finding the knot should be the first thing to do. Once you have done this, it should be held in between two of your fingers. With your other hand you hold on to the scissors, and then locate the base of the knot, closest to the skin with the scissors tip.From the skin towards the ends of the hair is how you are going to cut the knot. You are probably going to cut the skin of the shih tzu if you cut towards the dog's skin or if you point the scissors.If the knot is a large one, then you should make several small cuts before working out the knot with your comb.It could be preferable to shave down with a clipper if the dog's hair is badly matted.You would be forced to get professionally clipped or doing it yourself if the dog has too many mats. If you decide to get clipped by yourself, a 5 or 7 blade and a clipper are what you will need. A number 5 blade would leave a little more hair on your dog, while the 7 blade will cut its hair short while going through most of its mats.You can make use of a knitting needle, the end of your steel comb, or the end of your rat-tail comb to make a part from the neck of the dog down to its tail once the knots are all out and it is looking great. Your pet shih tzu would look wonderful after you add quick sprits of cologne.
Related Buyer's Guides for Grooming your Shih Tzu