We may earn commission from qualifying purchases at no extra cost to you.
Learn more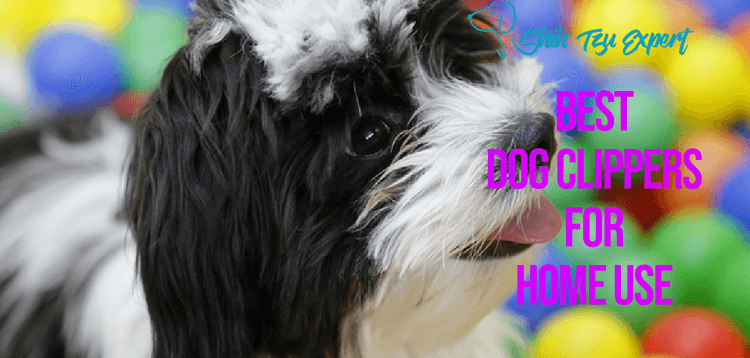 Taking your dog to the groomer is expensive, time-consuming, and stressful for both you and your dog!. While there are plenty of good groomers out there, all it takes is one neglectful groomer to traumatize, injure, or even accidentally kill your fur baby.
While learning how to groom your dog yourself and looking for the best dog clippers for home use are a bit of a time (about 5 hours) and financial investment ($100-$200+), the peace of mind and long-term savings you'll benefit from make it worthwhile in the end.
Top 7 Fur Clippers for Home Use — Andis, Wahl & Oster Reviews!
These are the cream of the crop when it comes to cordless clippers. The body of these clippers is somewhat shorter than other clipper styles, making it easier to maneuver. They're very sturdy, and most parts are replaceable.
These 5-speed clippers are very light and ergonomic, with plenty of speed choices to give you enough power for what you need and slower speeds for sensitive areas. They occasionally have problems with the cords going out, but the cord is simple to replace.
If you want cordless clippers that won't break the bank, these have enough power for any coat type and will hold a charge for 90 minutes.
Oster hasn't changed the design of these clippers in decades, for one simple reason – they get the job done. They are reasonably priced for professional-grade clippers with enough power for even thick coats, although they weigh nearly two pounds.
These 2-speed clippers are at the cheaper end for professional-grade dog clippers. They are sturdier than clippers marketed for home use without features of more expensive clippers. They are powerful enough to get through most coat types.
With an ergonomic design and enough power for thick coats, these 2-speed clippers give you the power of professional-grade clippers for under $100.
If you want to go cheap, these should serve your needs as long as you have a dog with fine to medium hair. They are heavy and awkward with a lot of vibration, but they should be strong enough to do what you need as long as you don't have a dog with a lot of mats or very thick fur.
How do you know which clippers you should buy? Can you get away with buying a cheap set of clippers? What sort of features should you look for? I was a dog groomer for more than 12 years, and I want to help you find the best pet clipper for home use.
What were the most critical / annoying / dangerous issues you faced when grooming at home?
One thing you should realize about grooming your dog is that accidents can happen to anybody. Even the best dog groomers will occasionally have a dog sit on their clippers when they're shaving under the tail, resulting in an uncomfortably close shave around a sensitive area, or have a dog lick their nose at a bad time and stick their tongue into the shears when having their face scissored.
You should be prepared for the fact that you may accidentally injure your baby, especially when you're first learning. It wouldn't be a bad idea to keep some basic first aid supplies handy when you groom your dog.
Why Should I Groom My Dog at home Myself?
The groomer can be a stressful place for many dogs. Depending on the type of place you take your dog, there may be many kennels full of barking dogs where they'll have to sit for a few hours to dry while the groomer works on other dogs. Or, you may take them to a place where the groomer does every dog straight through instead, but if your dog hates the dryer, they may hate having to be forced through the experience of getting them completely dry before the haircut.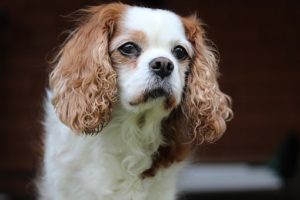 Going to the groomer can also be very expensive. Depending on where you live and what breed of dog you have, grooming will likely cost at least $40 and may cost over $100. You should groom your dog every 6-8 weeks, but even if you only go a few times a year, those costs can add up.
Crucial tips to follow when grooming my dog
#1 – Go slow. This may seem obvious since you'll be slow at first anyway, but most grooming accidents occur because the groomer was rushing. The great thing about grooming your dog at home is that you can start and stop as many times as you need for you and your dog to have the best experience.
#2 – Frequently check to see if the blade is hot. Whether you have ceramic rubbing against steel or steel rubbing against steel, the friction WILL cause heat, no matter what the clipper manufacturers say. This may take 3 minutes or 30.
As you can imagine, hot blades can hurt your dog. To check how hot the blade is, place it on the inside of your forearm. If it's too hot for you, it's too hot for your dog. Keep blade coolant or extra blades handy to keep your dog safe.
How to safely groom my dog's sensitive areas like ears, paws, etc.?
Some parts of your dog are easier to injure than others. If you buy clippers with multiple speeds, you should use the slower speed for the most sensitive areas of your dog to help prevent nicks and razor burn. Make sure you follow your dog's anatomy closely but gently and watch out for folds of skin.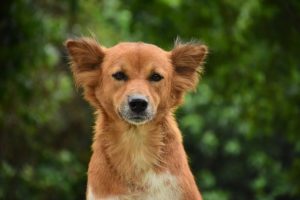 How do I get ready for grooming a dog at home? what do I need?
Exactly what you need to groom your dog will depend on how large your dog is, what type of coat they have, and other factors. Here are some of the things you may need to groom your dog at home:
-A place to groom your dog. This may be a countertop, a table, the floor, your lap, or a grooming table with a restraining loop to prevent your dog from running away during the grooming.
-Clippers. At the very least, you will likely want to shave the pads of your dog's feet and their potty areas. Clippers also come in handy if you need to shave out mats, say from behind the ears of your Golden Retriever. If you have a double coated breed dog like a Shih Tzu then you will need a pair of dog clippers with a lot of torque to cut through the mats without heating up and burning the dog's skin (and maybe yours when holding the clippers).
-Shears. What you may think of as scissors are referred to as shears in the grooming industry. You will want at least one pair of shears to tidy up your dog's haircut. Depending on what you plan on trimming on your dog, you may want curved shears, straight shears, thinning shears (for blending), or one of each.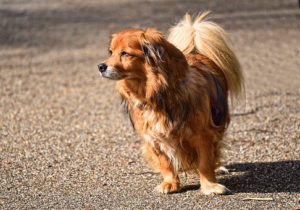 -Brushes, combs, etc. Unless you shave your dog to the skin from the tip of his nose to the tip of his tail, you will need brushes and combs for areas of your dog that are a little bit longer. For all but the baldest of haircuts, your dog will need to be free of mats and will need regular brushing between haircuts.
-Toenail clippers. Overgrown toenails can cause your dog a lot of problems. They can curl around and into the pads of your dog's feet or grow so long that they cause arthritis in his feet. Nails should be clipped about once a month. Dogs that walk a lot on pavement may need less-frequent nail clipping, while dogs that rarely walk on pavement may need their nails clipped more often.
-Ear cleaner. Regularly cleaning out your dog's ears helps prevent ear infections. Water can get into your dog's ears during the bath, which can lead to an infection, so cleaning your dog's ears with a cleaner made for dogs can help dry out that water and prevent infections.
-Shampoo and a place to wash your dog. Clean hair cuts more easily and looks better after you cut it. Unless your dog is matted, you should wash and dry him before doing the haircut.
-Dryer (optional). If your dog is sensitive to sound, you may choose to let him air dry. Otherwise, you may use a human hair dryer on a cool setting (never use a heat setting, as it can cause your dog to overheat or even burn their sensitive skin) or splurge on a high-velocity dryer which blasts the water off your dog. This can be a great investment for dogs with double coats since it will help blast loose hair off your dog. I would recommend using one outside or in a garage since it can make quite a mess.
-Clothes you don't mind getting dirty and something to clean up with. No matter how careful you are, you will end up wet and hairy after bathing and grooming your dog. Don't do this in your favorite outfit before going on a dinner date! You will also need a vacuum or broom and dustpan to clean up your dog's hair after the bath.
What to be mindful of when grooming at home
While grooming your dog at home can be a great option for many families, it does have its drawbacks.
It's much easier than you expect to accidentally injure your dog. Wiggly animals plus sharp shears and clipper blades can be a bad combination. You need to be mentally prepared for this possibility before you start grooming your dog at home.
Grooming your dog can also be quite messy. If you or a family member are sensitive to dander or dog hair, you may want to reconsider. Once you cut or shave dog hair, it can become like a splinter that embeds itself everywhere. The fewer soft surfaces (like carpet or furniture) you have in the area you choose to groom your dog, the better.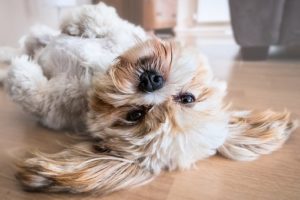 If you have any back problems, grooming your dog can make them worse. Unless you have an adjustable grooming table that goes as high and as low as you need it, you will need to hunch over to groom your dog and occasionally need to twist into awkward positions to see what you're doing. And of course,
wrestling a large dog into a tub can be a workout in and of itself
.
What are the differences between clippers marketed for home use and clippers marketed for groomers?
Clippers marketed for home use tend to be made of cheaper materials and less efficient motors. They may work okay for a while, but they may have a difficult time cutting through thick hair, the may stop working without much use, and they may be difficult to maintain, making it easier to replace the entire thing than just one part.
Clippers made for groomers are designed to withstand 40 hours a week of use for several years. They often have parts and blades that are easily replaced, which can buy you an even longer lifespan.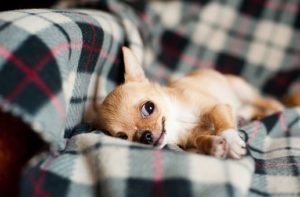 What is the most Reliable dog clipper brand?
#Buyer's guide to finding dog clippers for home use [Read this before you buy!]
Corded vs Cordless
Cordless clippers are easier to maneuver, which is a big bonus when you're unsure of what you're doing. Unfortunately, they do tend to be more expensive than corded clippers, and the battery may not last long enough for you to groom your dog all in one sitting, especially when you're new to grooming your dog.
Motor Speed [Fast? Slow? Multi Speed? Single Speed?]
Generally, you'll want the fastest motor speed you can get. The thicker your dog's coat is, or if he tends to be matted, the more important this becomes. The more strokes per minute (SPM) a clipper has, the easier it will cut through thick or matted hair.
For dogs with a thin or medium coat, single speed clippers work just fine. For dogs with thicker coats, having multiple speeds is nice because you can use the slower speed on sensitive areas like their face, feet, and potty areas and the faster speed on their body.
Size
Smaller clippers are easier to handle, but they may be less sturdy or powerful than larger clippers. Be aware that the larger the clippers, the more strain they will put on your hands.
Shape
Some clippers are boxy, some are round, and some have ergonomic hourglass shapes. From my experience, the ergonomic clippers are the most comfortable to use, and the boxy clippers are the most awkward and difficult to use, although some people find that the smooth round clippers slide through their hands.
Weight
The lighter the clippers, the easier they will be to use and the less strain they will put on your hand and arm. Some clippers weigh as little as ¾ of a pound, while others weigh nearly two pounds. As you can imagine, handling clippers that weigh two pounds can be tiring.
Noise
Some clippers can be very loud, which can be frightening to dogs, who have more sensitive hearing than we do. Look for clippers with reviews that mention how quiet they are (or at least don't have negative reviews about how loud they are).
Vibrations
As you can imagine, the vibrations from clippers can be scary for some dogs. Some clippers tend to vibrate more than others. Look for warnings about this in negative reviews.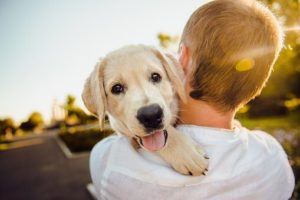 Heat
Whether you have ceramic rubbing against steel or steel rubbing against steel, blades will get hot eventually. Some blades stay cool longer than others, but you will want to have blade coolant or spare blades handy regardless of which clipper brand you choose. Some clippers can even get hot in your hand. Check the negative reviews to see if anybody has complained about this.
Which blades should I use?
Some clippers come with an all-in-one blade and attachment combs, while some clippers use detachable blades, which come in a variety of sizes.
If you have a dog with fine to medium hair and you want to do a haircut longer than ¼", an all-in-one blade with attachment combs may suit your needs just fine. Be warned, though, that all-in-one blades can be expensive to replace.
If you have a dog with thick hair or you want to leave a length longer than down to the skin but shorter than 3/8", detachable blades will be a better option. Blades leave a smoother cut at shorter lengths, especially on dogs with thick hair. You will need to buy the blades separately, but they are generally cheaper than all-in-one blades.
The #7 (1/8"), #5 (1/4"), and #4 (3/8") blade sizes are the best for home use.
Attachment Combs
If you want to leave a length longer than ¼", attachment combs can be a nice way to get the length you're looking for. Be warned that plastic attachment combs will get stuck in even the tiniest mats and may pop off at bad times. If you purchase clippers that use detachable blades, I recommend using steel attachment combs like these with a #30 blade underneath for the smoothest, safest cut.
Accessories
In addition to clippers and blades, you will likely need blade coolant, nail clippers, and a brush and comb.
Maintenance (How to Clean, Oil, Cooling spray, etc)
If your blade heats up while you're grooming your dog, you should spray a blade coolant on the blade while the clippers are running. Let it work its way into the clipper blade for a couple of seconds, then turn off the clippers and wipe off the excess lubricant before resuming the haircut on your dog.
When you're done grooming your dog, brush off the blades well with the brush included with the clippers or an old toothbrush, then add a few drops of oil to the blade while the clippers are running and let it work its way into the blade. Leave the oil on the blade while storing it, but be sure to wipe it off before grooming your dog again.
Blade washes are the best way to get all the hair out of your blades. With this blade wash, for example, you dip the blade into the liquid while the clippers are working and watch all the hair splinters vibrate their way out of the blade. Never use water to clean your blades as it can lead to rusting.
Sometimes certain parts of your clippers will fail and need to be replaced. Blade drives, in particular, tend to wear out and need replacing. It's easy enough to unscrew the old one and screw on a new one if you purchase Andis clippers. Other clipper brands may need professional servicing.
Why you should NOT Sharpen Dog clipper Blades at Home?
You may think you'll save yourself some money by purchasing a sharpening stone and sharpening your blades yourself, but without any training, you are likely to ruin the blades instead (I know a groomer who destroyed hundreds of dollars worth of her blades trying to sharpen them herself – she had to replace every last one).
If your blades seem dull, call a local groom shop and see when they'll have their sharpener coming and ask if you can bring your blades by to be sharpened.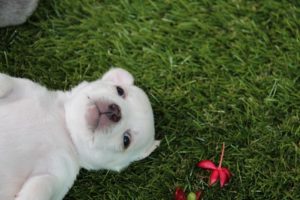 When should I not groom my dog at home? [When is it better to take the dog to the groomer?]
Sometimes, it's just better to leave grooming to the professionals. Trying to groom your dog yourself is great, but it isn't for everybody.
If your dog is severely matted, shaving him can be very dangerous since his skin can be pulled up into the mats, making it very easy to cut your dog if you don't know what you're doing. Let a professional shave him; then you can maintain him yourself from home.
If your dog becomes aggressive when you try to groom him, you should consider taking him to a professional. He's probably acting out of fear, but snapping teeth, thrashing movements, and sharp shears and clippers are a bad combination. Ask around for a groomer who has a lot of experience working with difficult dogs and try to let your dog develop a relationship with that one groomer.
Dogs that are not aggressive but extremely fidgety can be very easy to injure accidentally. If your dog is especially wiggly, it may be safer to let a professional handle him.
It's never too late to admit that you aren't the best person to groom your dog. Dog groomers see half-groomed dogs on a regular basis. We understand – grooming is much harder than it looks.