We may earn commission from qualifying purchases at no extra cost to you.
Learn more
Time to start grooming your Yorkie at home?
Do you worry about how the groomer treats your Yorkshire terrier? Maybe he shakes every time you pull into the groomer's parking lot. Perhaps it's time to buy clippers and start grooming your pet by yourself especially these days!. As a dog groomer for more than 12 years, I want to help you get started on the right foot. Here is the list of Best Clippers for Yorkies..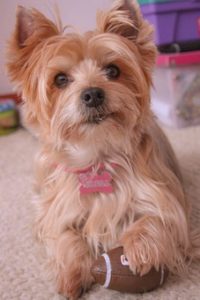 Small doesn't always mean easy
You should know that just because you have a small dog, that doesn't mean grooming him yourself will be easy. In fact, it can be more difficult to groom a dog that is smaller than the tools you're using. You have to be extra careful not to pull on anything too hard or be
too rough with the pet clippers
. It's surprisingly easy to accidentally injure your Yorkie during the grooming process. That makes it even more important to use the right grooming tools for the job
Grooming Yorkies vs grooming other breeds?
The nice thing about grooming a Yorkie is that you can wash them in your kitchen sink and groom them on a countertop or table. Trying to groom a larger dog at home requires getting on your knees to wash, dry, and groom them.
Yorkies do tend to have feisty temperaments, but they also tend to trust their human more than any other people, so as long as you don't cave to their demands, grooming a Yorkie can be easier than some other breeds.
Reviews of the Best Dog Clippers for Yorkies
These are the preferred brand and style of clippers for many professional groomers. The two speeds give you enough power to groom your entire Yorkie with a slower speed for sensitive areas like the potty paths, feet, and face.
These lightweight cordless clippers are easy to maneuver and won't tire your hands as much as some heavier models.
These clippers are at the low end of the price range for professional-grade clippers, but they'll give you plenty of power to groom your Yorkie at home. Nearly every part is easy to replace, meaning these clippers can last just about forever.
These lightweight cordless clippers hold a charge for 80 minutes and are a great choice for grooming your Yorkie at home.
If you want to start with a cheap good clipper kit, this Oster A5 has a high-star rating online. As a groomer, I usually recommend investing more money in a set of clippers that will last a long time, but these look like they may work just fine for a Yorkie.
A Groomer's Tips on How to Groom a Yorkie Like a Pro
Remove or Lift mats and tangles before washing
You will want to ensure your Yorkie is free of mats and tangles before washing him since water makes mats worse. If the tangles aren't severe, you can brush them out or trim them out with scissors before the bath. For severe matting, you should do a preliminary shave before the bath and then make it look neater once your Yorkie is clean and dry.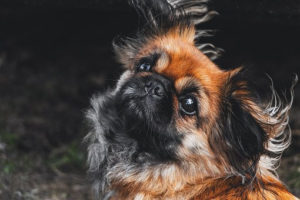 Wash and dry your pet before the haircut!
Your Yorkie's hair will be easier to cut and will look nicer if you wash and dry him before the haircut. If your Yorkie is sensitive about the dryer, you can wash him the day before the haircut and let him dry, but I wouldn't recommend washing him more than a day before doing the haircut.
Get into a routine and follow the routine with your Yorkshire terrier
Get into a routine and follow that routine every time you groom your Yorkie. This will not only ensure that you don't forget a step, like trimming his nails or shaving the pads of the feet, but it will train your dog to know what to expect with each grooming. If you sometimes start with his feet and sometimes start with his face, he won't know what to expect and may become anxious about the grooming process.
Don't Panic! even if the animal does!
As careful as you try to be while grooming your Yorkie, be prepared for the fact that you may accidentally injure him. Even the best groomers will have a dog jab their foot into the clippers or stick their tongue into the scissors while trimming their face. If you can't handle the thought of accidentally injuring your fur baby, you might want to leave the grooming to the professionals.
​Prepping for pet grooming
You want to make sure you have everything you need ahead of time, including blade coolant or spare blades and any other tools you'll need. Be sure to wear grubby clothes and maybe an apron, because you will get hair on you no matter how hard you try to avoid it, and hair splinters are the worst.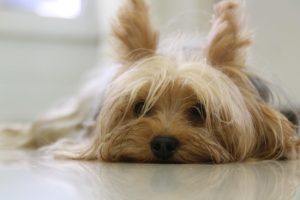 What Type of Clippers Should I Use On My Yorkie?
Since most Yorkies have fine to medium coats, you don't need to worry too much about finding the best clippers with a lot of speed or a powerful motor. You may want to put a priority on good dog clippers that are small, light, and ergonomic so that you can focus on grooming your Yorkie instead of worrying about how awkward or heavy the clippers feel in your hand.
How to Use Clippers on my Yorkie?
With a Yorkie's fine hair, you will probably be using an attachment comb on the clippers (unless the dog is matted, in which case you'll need to use a blade). Hold the attachment comb flat against your dog's skin as you glide it through the hair.
Be careful around your dog's potty areas, paw pads, and face, because these areas are easy to cut or clipper burn.
What to Expect IF Grooming a Yorkie at Home?
Yorkies are small enough to wash in your kitchen sink and dry with a hair dryer on a cool setting (never use a heated dryer on your Yorkie). Grooming a dainty Yorkie can be difficult at first while you both get used to the process, but eventually, it can turn into a bonding experience between you and your dog.
Go slowly at first while you're both learning the routine, and give your Yorkie plenty of treats during and after the grooming, so he understands that grooming is something to look forward to instead of something to dread.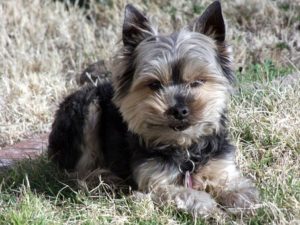 What to expect if you take your Yorkie to a pet groomer?
If you decide that grooming your Yorkie at home is too difficult, there's no shame in taking him to a professional groomer.
As you call around to different grooming salons, ask how they schedule their appointments and what their typical turnaround time is. For a place that grooms only one dog at a time, typical turnaround time for a Yorkie will be around 1-2 hours.
For salons that do block scheduling, the groomer will have several dogs come in at the same time, and your Yorkie will spend some time in a kennel while he dries. Expect a 3-4 hour turnaround time with this type of schedule.
Some groom shops do cattle call scheduling, where they will have every dog for the day come in at the same time in the morning and dogs will be sent home as they are completed. Your dog may be there all day.
Be sure to ask what the price is, what that price includes, and if the price will go up if the groomer encounters problems (like more severe matting than expected).
The groomer will feel your dog's coat and ask what type of haircut you are looking for. They will do their best to accommodate you, although your dog is likely to be shaved if it's matted. Some pet groomers will charge a fee to brush out matted dogs, but the process can be extremely painful for your dog, and I don't recommend it.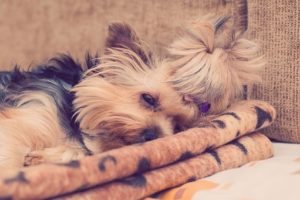 You may be asked to sign some paperwork or provide proof of vaccinations. Once the formalities are completed, you will typically leave and wait for a call saying that your dog is ready. While it's tempting to stick around, most dogs behave better when their owners aren't around since the sight of you gives them hope that they can leave instead of sending a signal that it's time to stand still and be patient during the grooming.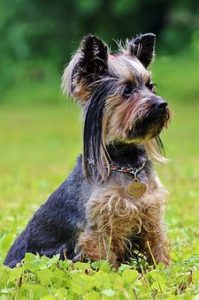 What extra grooming tools would you recommend for grooming a Yorkie?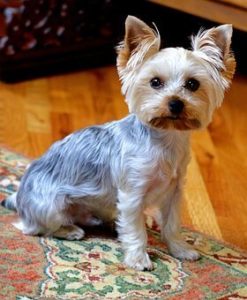 How to groom an Aggressive Yorkie?
Most Yorkies who act aggressively during grooming are actually afraid. You may need to take the grooming extremely slowly with an aggressive Yorkie, or else leave it to the pet professionals. A Yorkie can't kill you, but a bite from one can still become dangerously infected.