We may earn commission from qualifying purchases at no extra cost to you.
Learn more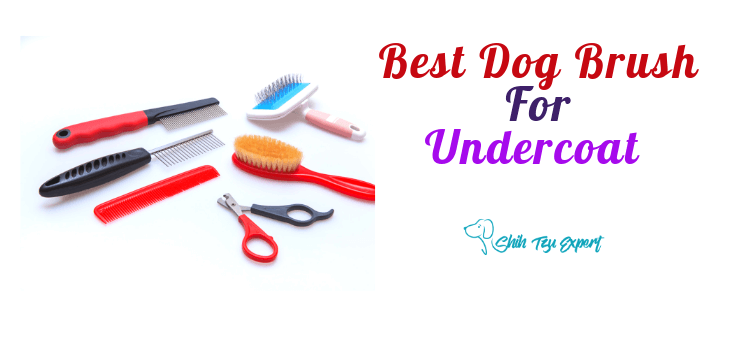 Here are our top contenders for the Best Dog Brush For Undercoat, that are the best on the market and worth spending your money on.
The FURminator perfect combination of brushes to get at-home professional grooming. Usable for both daily brushing and monthly deshedding, this brush is meant to maintain your dog's healthy skin and coat while reducing hair loss from shedding.
This brush has steel edges and includes a rubber grip in its smooth design to promote ease of use while grooming your dog. It's recommended for larger dogs with at least 2 inches of fur.
For these thick coats, the FURminator works amazingly! The amount of fur that comes off of your dog would blow your mind, but the best part is the simplicity of removing the hair from the brush. Just a simple release switch to let go of all that fur.
As an additional bonus, the FURminator doubles as an everyday brush in addition to a deshedder. The website also includes easy to follow instructions and suggestions for those of us that are new to the process of grooming at home. It even mentions what to look out for before grooming and when it's the best opportunity to groom your dog without hurting them.
Pro Tip: 
Try using a slicker brush or finishing comb before attempting to de-shed your dog. This allows you a smoother finish and prevents snags and tangles, avoiding any potential discomfort your dog may experience. When your dog is comfortable, the session goes much quicker and easier.
Comfort And Performance
Probably one of the best grooming tools out there, this brush gives pleasure to your dog instead of pain. While the everyday de-shedders that you can find at any convenience store cause your dog to cringe at the sight, the FURminator gives them the petting they've always deserved. Don't be surprised when they start twitching their leg like you've hit that nice spot on their back where the pets are just so much better than the rest.
Even with its comfort levels, it still manages to do a great job. It moves smoothly through impossibly thick furs and the quick release makes it easy to get into a rhythm and get the job done.
In Conclusion…
10/10 would buy again. As the dogs in my life continue to shed all over the couch and leave a trail down the middle of the house, this brush will continue to be my savior. When you combine the FURminator with their other products, like a finishing comb or daily brush, you create the dream team of fur shedding removal.
Pros
Easy to use
2-in-1 brush and deshedder
Affordable but reliable
Cons
Works best with add-ons
Not always the best for their specific coat
Simple and straightforward, the Rubold Dematting Tool is a skin sensitive option for detangling and de-matting your dog, with the added benefit of deshedding. With just a 5 minute brush through, you can prevent the piles of hair from growing in the corners or your home or the trail from one end to the next.
The Rubold Dematting Tool is an extra wide, 3.6 inch, grooming brush that has sharp teeth to comb through their undercoat quicker and easier. This brush also allows for brushing and deshedding simultaneously, making the process that much easier.
The brush works great for those thickly coated pups. The gentle edges of the brush prevent your dog from getting scratched or agitating their skin. It's also extremely helpful for those with dogs who do not like getting brushed, as the amount of time necessary to get a good deshedding is cut in half as no prior prep, like finishing combs, are needed beforehand.
This is a different type of two in one brush, instead of doing two different tasks with the same brush, it does the two different tasks at the same time. This brush also has the special feature of having a curved outside, which is what allows it to be so gentle on your dog's skin.
Pro Tip:
Although this tool boasts about being able to conquer both tangles and clumps while deshedding if your dog truly has sensitive skin it doesn't hurt to take a regular comb or brush to it before getting started. Remember, making sure your finicky dog is comfortable is the top priority, otherwise they may become angsty and hurt themselves.
Comfort And Performance
This is one of the best options for sensitive dogs. It works exactly as advertised and moves cleanly through their fur while avoiding their skin. The brush itself is made with an arched rubber coated handle for personal comfort while grooming. It provides great support while trying to get the underside of your pet.
The Rubold Dematting Tool is designed to leave the top coat healthy and shiny, which is exactly what it does. It only de-sheds the undercoat while leaving the top coat nice, clean, and perfectly intact.
In Conclusion…
This is the perfect pick for those peculiar pets. It works quickly and efficiently while protecting your dog from it's potentially irritating and damaging teeth. Not the best choice for those with heavily matted fur, unless you're planning on brushing them out first, but a great choice for those who need grooming frequently without the hassle of going to the groomer.
Pros:
Curved blade protection
Brushes and de-sheds simultaneously
Cons:
Small
Can catch on matted fur
Not for curly or long hair
An especially wide deshedder, the Hertzko Self Cleaning Slicker Brush is a normal brush with the added perk of getting those loose hairs free from your dog's coat. The brush is good for removing tangles, knots, dirt, and dander from all size dogs and cats. While the bristles are not exactly intended for sensitive skin, they are meant to give your dog the sensation of being massaged instead of brushed.
With bright purple coloring and an easy grip handle, the Hertzko Self Cleaning Slicker Brush is the epitome of ease of use. The brush also includes an easy to access button on its handle that quickly retracts the bristles to release all the built up fur from and during the grooming session.
This brush works well for dogs that have thicker, shorter fur and requires deshedding regularly. It catches enough hair so that you don't have to do it daily, but provides the needed removal to keep up monthly sessions.
The Hertzko Self Cleaning Slicker Brush is not necessarily a 2 in 1, it is a high functioning brush. The easy clean button and thumb rest make grooming a breeze and get rid of mats without hurting or terrorizing your dog.
Pro Tip:
This is not the most gentle deshedding brush and should not be used on sensitive dogs, especially if they frequently have scabs or other scratches from itching or biting at their skin. You never want to introduce a brush that will be uncomfortable against your dog's skin as it can influence their perception of the process in the future.
Comfort And Performance
While this brush is slightly wider than the others, the handle is still able to rest easy in your palm and even has notches within the rubber coating to allow maximum comfort while grooming your dog.
The Hertzko Self Cleaning Slicker Brush even works on curly-haired dogs, which is great considering finding a brush that actually works on curly headed dogs is almost harder than grooming them. The brush doesn't get stuck in their tangled messes and gives their top coat a chance to shine without being all matted up.
In Conclusion…
This brush works really well for beginners as there are no interchangeable parts and it works on almost all dog breeds, so no panicking about fitting the brush to your dog's breed. The easy release to remove all the collected dog fur is an added bonus, especially for the price. While it may not be as great as the FURminator, the Hertzko Self Cleaning Slicker Brush is a great choice for the move up.
Pros:
Versatile
Curl compatible
Easy Clean
Cons:
Not as efficient
Has rough wires
The Oster ShedMonster DeShedding Tool is not only meant to remove the shedding fur but to reduce your dog's shedding in general. With smooth edges similar to that of the Rubold Dematting Tool, it is equally efficient in working on thick haired dogs as well as dogs with sensitive skin.
This brush is smooth and sleek in design and is meant to fit easily in the palm of your hand while grooming. It has stainless steel curved teeth and a non-slip handle which allows you to easily remove that sticky undercoat that traps your dog's matted fur.
The Oster ShedMonster Deshedding Tool is capable of working on both long and short haired dogs, but it works so much better on medium to long hair versus short. It removes all dander and loose hairs without cutting the top or undercoat, only removing the already detached furs.
This brush doesn't seem like anything special upon first glance. It is not capable of doing any more than deshedding and in comparison to others, this doesn't seem like much. The specialty of this brush how wonderfully it does at its one job. It moves easily through even the longest hair and completely refreshes the top coat of your dog.
Pro Tip:
When using this specific brush, it doesn't hurt to go through your dog's fur with a regular brush beforehand. It's not required, it just makes the brush go through even smoother. With that in mind, the fewer knots you catch in the teeth, the easier it is to clean them out during and after grooming.
Comfort And Performance
As expected of Oster brand dog items, this Oster ShedMonster Deshedding Tool works wonders. It catches even the smallest hairs while working through your dog's fur. The teeth stay clean and last a long time while the handle is no slip and makes it easy to keep hold of the brush, especially for that first deshedding session that takes the longest.
The shape of the brush is also a plus. It fits snuggly into your hand and like most other brushes, the handle is made from an easy to grip rubber.
In Conclusion…
The simplicity of this brush is what attracts me to it. The ease at which it is used and the quality of the brush itself. I appreciate that it does amazing work without irritating my dog and still manages to get all of the loose hairs.
For me, the Oster ShedMonster Deshedding Tool is one of the top choices of brushes. It has not failed me yet and I do not expect it to anytime soon.
Pros:
Easy to use
Simple
Reliable
Cons:
Catches on thick mats
Does not brush
Unlike most of the brushes included, the Chris Christensen Oval Pin Brush is not a deshedder. A pin brush is meant to glide through a coat smoothly and to maintain your dog's fur. It is not meant for the thinning or cutting of fur.
This brush is the classiest looking brush as well. It is made with a wooden body and handles that look elegant as you use it. The coloring is much less gaudy than that of the deshedders as it is not purple or bright blue. Luckily, even though the brush is carved out of wood, it is still lightweight.
The Chris Christensen Pin Brush works extremely well on dogs with thick or curly fur. Not so much on a poodle's show coat though. But otherwise, it works well on almost all breed with varying types of coats, even Pomeranians and Goldendoodles.
This is the most basic option of the different brushes as it is the only brush that is just that, only a brush. Even though it is just a brush, it can still compete with others with its durability and reliability. It brushes through mats and thick coats with ease. Making the job even easier.
Pro Tip:
Use this brush on your curly headed dogs. The Chris Christensen Oval Pin Brush does not damage their fur or ruin their curls. It simply smooths them out into a more relaxed layer. When you first see the results, it is a guaranteed surprise and relief that you have finally found a functional brush.
Comfort And Performance
Nothing special and nothing complicated, this brush works extremely well and knocks out those knots easily. The bush itself handles well and does not tire out your arm or grip when in use. Never underestimate the usefulness of an everyday brush in the maintenance of your dog's coat.
In Conclusion…
A great investment that will last over time. Wear and tear is not a concern with this brush and expect longevity. Perfect for someone who likes to keep things around instead of rotating through products. Easy clean, easy use. Beginners welcome, no complications.
Pros:
Cons: 
Only a brush
No deshedder
Dog Grooming Brushes
There is a variety of brushes available to use on your dog. They can range from basic brushes to deshedders, to combination sets.
Basic Brushes
For those that don't require anything special and just want to comb through their dogs' coat, a basic brush is the best decision. Nothing fancy, they can range from as low as $4 to $50 depending on the brush brand and bristle type. Most are made as double-sided, with condensed straw bristles on one side and spread-out plastic bristles on the other.
Deshedders
Common deshedders are meant to remove the loose undercoat of a shedding dog. They work well to remove the loose hairs before they end up all around the house. They normally come with an easy cleaning tool or button to remove the hair they collect.
Combination Brushes
A combination brush is a brush that works as a simple brush along with being a deshedder. You use these by brushing through mats and knots before switching to the deshedder tool to remove the loose fur.
What Kind Of Brush Is Best For My Dog?
The best brush for your dog depends on its breed and hair type. A basic deshedder brush is a good choice for those who own mutts or dogs that do not require much special attention to their fur. Browsing through the dual options (deshedder and brush combo) would be a preference for those with curly haired dogs and thicker-haired dogs. Brush through the tangles before deshedding to prevent pulling at knots. If you have a sensitive dog or one with difficult hair, investing in a nice, simple brush and then a separate deshedder may be the best course of action.
Best Dog Brush For Shedding
The best dog brushes for shedding is a competition between the FurMinator and the Oster ShedMonster. Both are from well-known companies and provide great results.
Oster ShedMonster
The Oster ShedMonster is a deshedder that works very well for all kinds of fur. It does not require any brushing beforehand and can remove mats and knots while deshedding. It was created with the capability to avoid trimming hairs and instead only removes the loose and broken hairs beneath the top layer of fur.
Furminator Brush
The Furminator is a well-known brush that has been around for a while. The brush is a combination brush and can be used as a regular brush or as a deshedder. It works very well when used properly, taking it step by step. Using the brush before attempting to de-shed.
Electric Dog Brush
Electric dog brushes are a hit or miss type of purchase. Some work extremely well while others barely function. While they offer a quicker method of deshedding, they often come with the side-effect of knotting the fur or pulling fur that is not already loose. They are not the most comfortable for your dogs and can cause extreme discomfort.
Like other brushes, they come in different types. They can come in the shape of a comb or a circular deshedding brush. They can also come shaped like the Furminator or Oster ShedMonster.
Which Dog Breeds Have Undercoats?
Breeds with an undercoat have a long and coarse outer or guard coat that hides the undercoat. The undercoat is usually lighter in color than the outer coat. Not all breeds have an undercoat. Breeds that do have undercoats are normally ones that are native to
areas that experience cold winters
. This includes German Shepherds, Pomeranians, Chows, Huskies,
Malamutes
, and Samoyeds.
How Do You Brush A Dog's Undercoat?
The key to brushing a dog's undercoat is maintenance. Brush the undercoat year-round to prevent matting and when it is shedding season to help remove the loose and broken fur. When you encounter undercoat mats, dampen the fur with a detangler and use a slicker to gently detangle the fur.
Do not attempt to brush through severely matted or knotted fur. It will hurt both your dog's skin and muscles. Take them to the groomer to be properly groomed, do not attempt to cut or shave the mat yourself.
Best Brush For Double Coated Dogs
The Furminator is the best choice for double coated dogs. It allow the user to brush through the mats and knots before attempted to de-shed. When you do the process correctly, it allows for the fur of your dog to flourish and prevents any possible discomfort that your dog may experience during grooming.
Any type of combination brush would be the best option as they allow for the same steps to be taken.
Best Brush For Long Haired Dogs
A long-haired dog would do best with a simple grooming brush rather than a deshedding brush. If you attempt to use a deshedder on a long-haired dog, you risk the chance of pulling and tugging on hair that is not ready to be removed. Sticking to a basic brush, you have the capability of maintaining their fur and preventing knots and mats with frequent grooming.