We may earn commission from qualifying purchases at no extra cost to you.
Learn more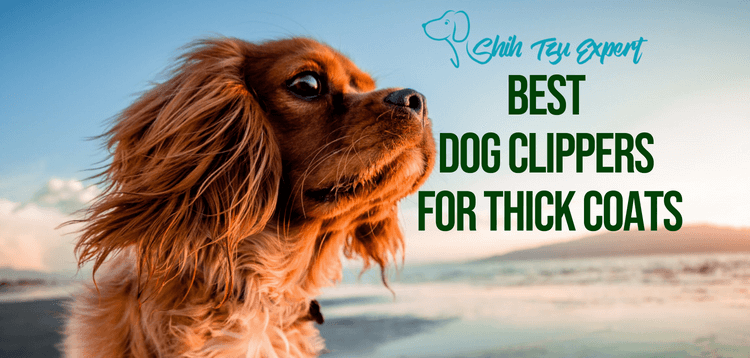 Are you tired of spending a bunch of money on a regular basis to leave your dog at the groomer for several hours and hope that they're treating your fur baby okay?
Maybe you've seen recent news reports about dogs who've died at the groomer's, and you're worried about your own dog. Or perhaps you bought some cheap clippers to groom your dog yourself, only to discover they didn't cut through his thick coat.
Here is what you need to know to find the best dog clippers for thick coats to solve both of those problems…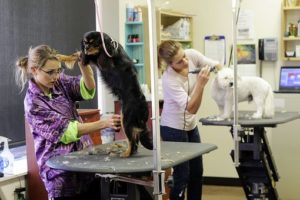 As a dog groomer for more than 12 years, I want to help give you the tips and tools to pick the best set of clippers to do a nice haircut on your dog at home. Dogs with thick coats are a little trickier to groom than dogs with finer coats, but it can certainly be done.
The Best dog clippers for Thick Coats & Thick Hair [A few recommendations]
These are clippers that I have personal experience with as a dog groomer for more than 12 years and would easily recommend for somebody grooming a dog with a thick coat at home.
If you're looking for cordless clippers, these will give you the power you need with an ergonomic shape and a reasonable weight. They run at 3800 strokes per minute (SPM), weigh 1.1 pounds, and have a 60-minute run time.
These clippers are at a much more affordable price point than the cordless clippers, and you don't need to worry about a battery running out. These two-speed clippers have plenty of power, with the lower speed coming in at 3400 SPM and the higher speed coming in at 4400 SPM. They weigh 1.1 pounds. These have been the favorite clippers of many of the groomers I've known over the years.
These are the cheapest clippers I would recommend for grooming a dog with a thick coat. The speed comes in at 2700 and 3400 SPM, giving you enough power for most thick coats. They are heavy, bulky, and uncomfortable to use, however.
How do I get ready for grooming a dog with a thick coat? [Bathe the dog first? Or Brush first? It's critical to get this right!]
To get a nice cut on a dog with thick hair, you want the coat to be in the best shape possible. Generally, the best way to do that will be to follow these steps in this order:
#1 – Brush dog before the bath. Unless you have access to a high-velocity dryer, adding water will make any mats tighter, and any undercoat will become stuck in the fur. Brushing out as much undercoat as possible and combing or cutting out any mats before you wash your dog will make a world of difference in the quality of the haircut.
#2 – Wash your dog with a gentle shampoo formulated for dogs. Some dogs, especially those with a thick undercoat, will benefit from a conditioner to smooth out their hair a little and ease out any more undercoat. Some breeds have thick coats that are wiry, such as terriers, which won't benefit from a conditioner. Use your discretion.
#3 – Blow dry your dog. Letting your dog air dry will make your dog's hair even thicker and more difficult to work with. Curls on dogs like Poodle and Bichons will become even tighter and lead to an uneven haircut. Using a strong hair dryer on a cool setting can help loosen undercoat and straighten curls for a smoother cutting experience. Be careful about using high heat on your dog!
#4 – Consider taking your dog to a place that allows you to bathe your dog for a fee instead of washing your dog at home. They will have high-velocity dryers that will be the best thing for your dog's thick coat. The high-velocity dryer will help blast out any remaining undercoat, straighten curls, loosen mats, and separate the hair.
All of these things will lead to a smoother haircut. Please note that some dogs may be afraid of the noise from the high-velocity dryer. Also, you need to be careful using that dryer around your dog's face and potty areas, since the pressure can damage your dog's ears, eyes, and other sensitive areas.
#5 – Brush your dog. You need to make sure your dog is thoroughly brushed before you start using the clippers. Tangles will make the clippers jump around and lead to an uneven haircut.
#6 – Put the blade on the clippers and cut in the direction that your dog's coat grows. Cutting against the grain will lead to a much shorter cut and can be uncomfortable for your dog.
#7 – Take your time, give your dog lots of praise and treats if necessary, and give him breaks if he becomes irritable.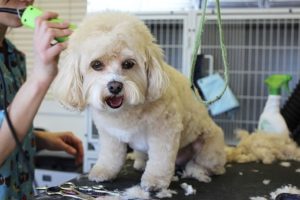 How does grooming a dog with a thick coat differ from grooming a dog with mats or normal fur?
Thick hair is much more resistant to clippers then regular hair. You will need to be more patient and take longer with the clippers to get an even haircut.
Mats are another story entirely. When your dog's hair starts to tangle, it's called a mat. You won't be able to see through a mat to your dog's skin. The tangled hair pulls on your dog's skin, which can be painful. It also makes shaving your dog more dangerous because your dog's skin can be pulled up into a tight mat and cut when you try to shave the mat off.
Whereas you want the clippers to go THROUGH a thick coat, you need the clippers to go UNDER a matted coat. This can be dangerous if you don't know what you're doing. If your dog has severe mats, you may want to consider having a professional groom your dog this time, then shaving him yourself before he becomes matted next time.
Crucial tips to follow when grooming a pet with thick fur
-Try to keep the clippers as level as possible. The thick hair will want to disrupt the smooth movement of the clippers, leading to an uneven haircut. You will need to work harder to get a smooth cut on a dog with thick hair.
-Your clippers will have to work hard to get through your dog's thick hair, and the blade WILL GET HOT. It doesn't matter which clippers you buy or how cool they claim to keep the blades – the friction caused from steel or ceramic vibrating against steel will cause heat, and the length of time required to groom a dog with thick hair almost certainly means the blades will get hot.
-Keep spare blades or blade coolant handy to avoid burning your dog. Periodically touch the blade to the inside of your forearm – if the blade is too hot for your skin, it's too hot for your dog's skin, too.
-Go slowly. The more you rush and try to force the clippers through thick hair, the more uneven the haircut is likely to be.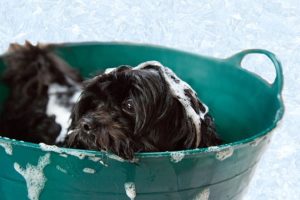 What to do to avoid excessive blade heating when grooming a dog with thick hair?
#Buyer's guide to finding best pet fur clippers [Read this before you buy!]
When you have a dog with a thick coat, you can't just buy any pair of clippers and hope for the best. Clippers that don't have enough power may not cut through your dog's coat at all, and if they do, it's unlikely to be an even haircut.
So how do you know which clippers to buy to give your dog the smoothest, safest cut possible? There are a lot of different factors to consider. Here are some things you should consider.
-Corded vs. Cordless Clippers
If you opt for cordless clippers, you need to take into consideration the runtime. Most cordless clippers can run for 60 to 90 minutes on a single charge. If you have a large dog with thick fur that you aren't used to grooming yet, that may not be long enough if you want to groom your dog all in one sitting.
If you're worried that a 60- to 90-minute runtime won't be long enough, you may want to consider buying a spare battery or opting for corded clippers instead. Otherwise, the fact that your dog has a thick coat shouldn't affect whether you choose corded or cordless clippers.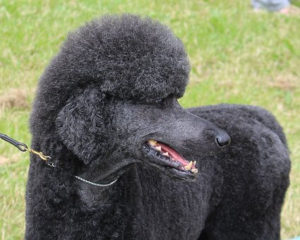 -Speed? Multi-speed?
If you have a dog with a thick coat, you're going to want the fastest clippers you can afford. The faster the strokes per minute (SPM), the easier the clippers will cut through your dog's thick coat.
The nice thing about having multiple speeds is that, while you need a high speed to get through the thick hair on your dog's body, a slower speed is quieter, gentler, and stays cool longer when you are shaving sensitive areas like the potty areas, the pads of the feet, and around the face.
Most clippers that have a high rate of strokes per minute will have multiple speeds, so clippers with only one speed may not be powerful enough to groom dogs with thick coats.
-Which blades to use?
The shorter the blade you use on a dog with a thick coat, the smoother the cut will look. You could use a blade as long as a 5/8" blade, which would leave just over half an inch of hair on your dog, but it likely wouldn't be a very smooth cut.
For the smoothest look, you will likely want to use a #5 blade or shorter. The higher the blade number, the shorter the cut. A #5 blade leaves the hair approximately ¼" long and a #7 blade leaves about 1/8". These are the best two blades for shaving a dog with a thick coat.
Most clippers come with a #10 blade. The #10 blade leaves 1/16" of hair and is considered a safety blade. It's the safest blade to use on your dog's potty areas, face, the pads of the feet, and underneath tight mats. If you use a #10 blade on the body of your dog, they will look nearly bald.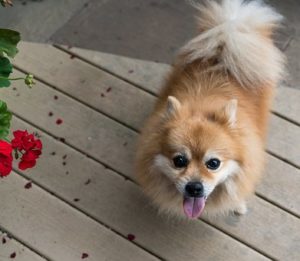 A #30 blade and a #40 blade are so short that they are considered surgical blades – that's what a veterinarian uses to shave an area they are about to perform surgery on. These blades can be used on the pads of your dog's feet if you are very careful, but these blades are mostly used under attachment combs, sometimes called snap-on combs.
Attachment combs often are not a great option for dogs with thick hair. While attachment combs allow you to do longer cuts, they can have a difficult time cutting through thick hair evenly.
If you want to try using attachment combs on your dog with a thick coat, I would recommend spending the extra money on metal attachment combs. Plastic attachment combs will have a more difficult time getting through the coat and are more likely to snap off unexpectedly, sometimes causing you to accidentally shave a swath through your dog's coat with the surgical blade!
-Ergonomics
For the sake of your hands, you will probably want to spend money to get the lightest clippers that are strong enough to cut through your dog's thick coat. The heavier the clippers are, the more your hand and arm will become fatigued. Clippers with round bodies are more ergonomic than square clipper bodies, and those with an hourglass-type shape are the most ergonomic of all.