We may earn commission from qualifying purchases at no extra cost to you.
Learn more
The joy of a dog's companionship is marked by their exceptional loyalty and sense of duty to their owner.  Dogs live in the moment and help us do the same.  The US Centers for Disease Control and Prevention (CDC) conducted research on the benefits of dogs in the lives of children.  Overall, children who have a dog at home were less likely to test positive for anxiety on standardized screening tests than children who do not have a pet dog.   Additionally, numerous studies have been done indicating adults also experience a reduction in stress and health issues when they have a pet dog.
Sounds perfect, yes?  Get a dog, and everyone is the family is happy and healthy!
Unfortunately, this isn't always the case.  Sometimes, your perfect pet has trouble adapting to your routine while you are away.
Top Dog Crate Brands for Separation Anxiety
ProSelect
PetMate
Midwest
If you are at the end of our rope trying to provide a calm space for a pup who is driven to destruction by separation anxiety, it might be time to think in terms of something industrial strength. As they say in Texas, "Go Big, or Go Home!" The Guardian Gear ProSelect Empire Dog Cage is rather imposing looking at first blush. Think Fort Knox. Nothing should be able to destroy this crate. This isn't the crate for those who want something soft and squishy. You want to be able to come home and find your dog happy, with nothing in your home out of place or destroyed. The decision to purchase the Guardian Gear ProSelect Empire Dog Cage is one made out of necessity and a desire for peace of mind.
One of the biggest concepts to keep in mind is safety. Aside from damaging your property, anxious dogs that chew and destroy things can hurt themselves.
Some dogs will actually swallow all of the objects they chew, in an attempt to hide their anxiety. The result is death from bowel blockage or very expensive gastrointestinal tract surgery. No one wants either of these outcomes.
Designed for peace of mind, this crate makes it very difficult for even the most cunning of escape artists. This crate is solid. Equipped with casters, it is still difficult to move when the wheels are not locked in place. Heavy gauge steel reinforced bars frame this crate, providing a very stable and sturdy environment. For those dogs with accidents issues, a plastic tray is mounted on the underside of the metal grate flooring. This makes for easy clean-up and provides essential safety, as your dog will not be able to chew the tray.
Check Carefully because…
You need the correct size of crate. The Guardian Gear ProSelect Empire Dog Cage comes in two sizes: Medium and Large. Determine the best size for your breed of dog before purchasing. This is an extremely heavy item to have to return ship, if the size is wrong. Taller dogs in the 60 and above pound weight range will likely need to use a size large.
Make sure you have a good place to put this crate. The crate is fully open by design. While you could put a blanket over the top of the crate to create a more den-like feel, this isn't recommended if you have a dog that chews destructively. A custom fit crate cover that has no chance of being pulled into the crate might be a better option. Or, better yet, place the crate in a quiet corner to create an element of security for your dog. With anxious dogs, you may have to experiment with the placement of the crate to provide the most comfortable atmosphere.
With this crate, dogs will be able to see everything and hear everything. Likewise, if you have a dog that likes to howl and bark while you are away, this crate doesn't buffer any noise.
The MUST Know, True Facts about Guardian Gear ProSelect Empire Dog Cage
Made of 20-gauge steel (reinforced) bars, the strongest of dogs may be able to create a slight bend in a bar, but they will not break them. If anything, they may make a dent, and not a dent big enough to allow for escape. At this price point, it is one of the toughest crates you can find.
Many users reported that after a few days, their anxious pets stopped trying to escape and actually relaxed!
What to watch out for with this product?
• Buy the correct size. Measure the length and height of your dog prior to purchase.
• Check the welds to make sure everything is secure.
• Understand that due to weight, the Guardian Gear ProSelect Empire Dog Cage will take longer to ship than average crates.
• Smarter breeds may figure out how to unlock the crate door. While infrequent, something to watch for. Users recommended buying a heavy u-lock, bike lock to secure the crate door to prevent escape.
Crucial Tips
Plan for how heavy this crate is. It requires simple assembly, but carrying the individual pieces may be difficult for some. Hire a helper if you have problems lifting heavy objects.
If you have a dog that has difficulty with steps, they may have difficulty stepping into this crate when the casters are on the crate. If not needing to move the crate around, try removing the casters to get this crate lower to ground level.
Many users wanted to add a dog bed or blanket and found it was immediately shredded. If tempted to use some type of cushion, check in with a local farm and agriculture store and ask about horse bedding, as it is difficult to shred.
Pros
• Hammered finish for a modern look.
• Locking casters to allow some portability, but to keep your dog from moving this crate around the house.
• Removable tray underneath floor grate acts as a drain pan, making for easy clean-up.
• Incredibly durable.
Product Features
20-gauge steel comprised of reinforced ½ inch steel tubes
Interior Measurements (use these for measuring your dog when determining right size to purchase):
Large-Sized Cage: Length 40 3/4″ x Width 28 1/8″ x Height 31 3/4″
Medium-Sized Cage: Length 35 3/4" x Width 23 1/2" x Height 24 1/2"
Heavy locking gate
Catch tray that easily detaches from underneath the cage
Cons
• Welds may not be as secure as they should be. If this is the case, call the manufacturer immediately.
• Some users reported bolt holes that did not align properly. Contact the manufacturer immediately.
• This crate is heavy. Be careful when moving it into your house. Many users actually unpacked the crate on their front porch, piece by piece.
• If you are looking for something portable or for travel, the Guardian Gear ProSelect Empire Dog Cage is not the right crate for you. This crate is designed to stay in place.
• While the crate is not supposed to rust, some users reported the crate rusting. Check for rust often. If found, it is easy to recover with a good metal spray paint. Surface level rust should not impact the structural integrity of this crate.
• By design, this crate does not come with any accessories, such as a food dish or water bowl. You will need to determine the best accessories for your dog based on your understanding of their anxiety and chewing habits.
• This crate takes longer to ship than most and it is sold at a higher price point than most crates on the market.
Conclusion
For dog owners who had tried everything, including behavioral training, to soothe their separation anxiety prone pooches, this crate is a miracle. Many wondered why they had not tried this crate first! Yes, it is expensive, but if you need something stable and strong, this is a perfect choice.
High quality, moderately priced dog cage for medium to large dogs suffering from separation anxiety, which have destroyed other, less sturdy cages.
Check Carefully because…
Many customers have reported missing or damaged pieces upon delivery. Upon receiving your package, check for missing pieces, damaged bars, and any other wrong parts. If these problems occur, as some customers have explained, notify customer service immediately, and ask for either a partial refund, if the cage is still usable, or request a new cage. In most cases, customer service has been very compliant in fixing any mistakes or damages to their product.
Before buying, it is also advised to choose the best cage for your dog breed and size. If your dog is suffering from separation anxiety, it is important to find a cage that fits their size perfectly. A cage that is too big will not provide your furry friend with the feeling of security that it needs while you are away, while a cage that is too small can cause cramping and muscle problems in your animal. This cage comes in two sizes, and both are suited towards dogs of larger size and breed.
It is important to get a quality, easy to clean and maintain cage with sturdy bars that will not rust or break when a stressed pup bites them.
This cage is meant for dogs that have chewed through, or broken out of many other dog cages, but if your dog is particularly strong, large, or intensely determined, then it may be advised to look at a cage with greater bar width and stronger locks.
The MUST Know, True Facts about LUCKUP Heavy Duty Dog Cage Strong Metal Kennel and Crate for Medium and Large Dogs
LUCKUP Heavy Duty Dog Cage is notably good at containing and keeping medium to large dogs with separation anxiety safe and confined while you are away. Many customers have reviewed that this cage was the only capable of containing their large dogs, as well as keeping them from injuring themselves in the process.
However, a few customers have noted that the LUCKUP Heavy duty Dog Cage's bars and/or locks have yielded to their dogs' efforts, and been damaged or bent, but not entirely destroyed. Some customers with the most determined dogs have noted that though their furry friends were able to damage the bars or locks, this cage held up better than any other cage they have tried.
A few customers have had problems with the assembly of the LUCKUP dog cage, as some of the drill holes and/or hardware pieces were missing, but in most cases, customer service was very quick and willing to fix the problem.
What to watch out for with this product?
One customer had the crate delivered without hardware, making it impossible to assemble, but customer service fixed it and sent a new crate quickly, satisfying the customer.
Some have noted that the latches are not entirely dog-proof (if your dog is known for having an incredibly strong jaw). Sadly, one dog was able to break one of these latches, and in the process, its head became trapped in the door, severely harming the animal. This is the one and only document case of injury with this dog cage.
Smart dogs have been able to learn how to open the cage's doors by watching their owners, so it may be smart to reinforce the locks.
Crucial Tips
Customers have noted that they have avoided escaping problems by reinforcing the latches with a heavy chain.
In addition, there is a small feeding door where an owner can put treats and food. This great feature can also be vulnerable to very smart dogs, who can see how to open this feeding door. Owners can also reinforce this door with zip-ties or a chain.
If your dog has very strong teeth, it has the possibility of damaging the bars. If this is your dog, you can request special anti-bite bars from the company before ordering.
A few customers recommend getting a small pillow or blanket for the bottom of the cage, as some dogs' feet can slip through the bars at the bottom.
Pros
Wont rust or corrode
Non-toxic paint
Easy to clean
Easy and fast assembly
2 sizes, 42 inch for very big dogs
Wheels for easy moving around home
Wheels lock in place, or can be removed for more stability
Trays to catch poop and pee
Great customer service
Cons
Not portable
Very heavy
Wider than some doorways, so moving about home may be hard
Not looking so beautiful, and not many color options
A dog's foot can slip through the bars on the bottom
Many problems noted with shipping and damaged bars
Conclusion
This is a sturdy cage, best suited for big dogs between 50-80 lbs. Despite some instances of damaged cages during shipping, customer service handled most cases quickly and honestly. This cage is near the top quality for its price range. Some stronger dogs with very severe separation anxiety have been able to bend the bars, but many owners have noted that this cage stands alone in its ability to contain and protect their pups. For its price, this cage is a great option for your furry friend.
Does your dog get upset at the very site of a crate sitting in the hallway? It's as if they can feel the tension that travel brings, before you even usher them inside of it. While it's never fun to separate from your pup, even if it's only to transport them somewhere else, there are practical measures that you can take in order to lessen the anxiety that can fill the air. One action you can take is ensuring that your dog has a crate that is created to your dog's liking.
Whether you are taking a long trip or you just need something that will allow your dog to sit tight for a short journey, this crate may be what you are looking for. It has benefits for both the dog and his master. Thankfully for the owner, it has the capability to collapse, making it simple and easy to carry when your dog is not using it. Even more incredible, this crate was created with your dog in mind. After all, you dog will be the one relaxing within it. Yes, they will be relaxing! By having holes on each side of this crate, your dog will not only have a very open ventilation system in place, but they will also be able to see out of any side, easing any initial stress about traveling that they may have. Furthermore, this crate was built with safe material, excluding any chemicals that could prove to be harmful to the health of man's best friend.
Check Carefully because…
This specific dog crate is medium in size. However, there are also options to purchase a large or small-sized crate. Be sure that you double-check your choice, and ensure that you have chosen the best option for your dog.
The MUST Know, True Facts about Impact Collapsible, Durable Aluminum Dog Crate
It will help put your worry to rest, knowing that the latch for this exporter is not exposed on the inside. This eliminates the possibility of your dog being able to easily open the crate, especially if they suffer from separation anxiety.
Also, this crate is the perfect size for your dog. A carrier that will reduce separation anxiety for your pup will only be slightly bigger than your dog. While having a transportation item that is too small could stress your dog out, having one that is too big can allow for the opportunity for your dog to increase in anxiety as well. When choosing a crate that is successful in taking that stress away, you should look for a container that is just tall enough for your dog to stand with ease, and just wide enough for them to be able to move without being crammed. This crate has dimensions that fit, and can help solve some problems that separation anxiety could create.
What to watch out for with this product?
Please ensure that you remain careful while assembling this crate. Because it is collapsible, you may have difficulty getting it into a locked position. It would be wise to have an extra person help you put this product together. Other than the flexible nature of this container, it should be an easy process to put together.
Crucial Tips
1. Assemble this crate with a friend to ensure it is done safely and properly.
2. Make sure that you buy the crate with the correct dimensions and that it is suitable for your pup.
3. Consider having the crate available for your pup to enter into while you are lounging around the house. This could further prevent separation anxiety by allowing your dog to become comfortable with the crate before you even separate from them.
Pros
• This crate has the ability to easily collapse
• Tall enough for your dog to be able to move about
• Ventilation is easily available on each side of the crate
• Latch does not reach the inside, leaving area more secure for your dog
• Made of sturdy material, which dog cannot tear apart
Cons
• May need two people to assemble
• More expensive than most dog carrying crates
Conclusion
This crate was built with your dog in mind. Since many dogs experience some level of anxiety when away from their owner, this carrier has many features that strive to prevent that type of tension from arising. Because of the shape of this crate, there are few areas that are easily accessible for your dog to chew on. Because dogs often look for areas to chew on when they are stressed, not having these areas present will decrease your dog's ability to inflame their own anxiety. While this crate may be more expensive than most dog carriers, nothing is worth the possibility of giving your dog an extra opportunity to become anxious when they aren't around you.
Technical Details:
• Holes are on each side of crate, making it comfortable
• Easily able to fold up and transport
• Size is thirty inches (length) by nineteen inches (width) by twenty two inches (height)
• Rust-resistant material
• Latch is located on outside
If your dog is destructive when you leave, if he is otherwise trained but has accidents, or if he is a normally quiet dog but your neighbors complain about his barking and howling whenever you leave, it is quite possible that your dog suffers from separation anxiety. Dogs are natural den animals. They like to be in small, dark spaces–it makes them feel safe and protected. A heavy-duty dog crate offers your dog a cozy little home. This is an invaluable tool for owners of dogs who suffer from separation anxiety.
Check Carefully because…
The Smonter Heavy-Duty Dog Crate Strong Metal Pet Kennel Playpen is an very good crate. It comes in three sizes, 38", 42", and 46". Always be sure that the crate you purchase is the correct size for your dog. The size of a crate is very important. If a crate is too small, your dog can feel squished and can even be injured. If the crate is too large, your dog may regress in house training and find a spot to "dump" his waste. For best sizing, be sure that your dog and stand up, sit up, lie on its side, stretch out, and turn around. This crate gives you some good options to ensure that you have a proper size for your furry friend.
The MUST Know, True Facts about SMONTER Heavy Duty Dog Crate
This crate has a strong and sturdy, rust-resistant, steel frame. Although it is not a fine piece of furniture, it is fairly attractive. Unlike some other crates, the bars cannot be chewed through. Although, a dog was able to get his teeth onto it and chew it up, damaging the finish. Smonter includes a Chew Through 100 percent warranty with this crate. If your dog is a "furry Houdini," who can get out of anything, be rest assured that he will not be able to chew its way out of this crate. The wire cage offers plenty of ventilation to keep your dog happy and healthy.
However, there were complaints about how this crate fared in shipping. Several reviewers were disappointed to open their packages to find their brand new crate, bent or somehow damaged in shipping. Be sure that you check the return policy of the place you purchase your crate from in case you need to return it due to damage.
What to watch out for with this product?
This crate comes with two, heavy-duty, escape-proof locks that your dog will not be able to access from the inside. This gives you peace of mind when you have to be away from him.
The crate is easy to clean. The metal bars, wipe the bars down with a soft, damp cloth. The 38" version has a black, plastic tray that can pull out for easy cleaning. The 42" crate has two black, plastic removable trays, and the 46" crate has two stainless steel removable trays that are easy to clean.
One thing to keep in mind is that this crate is not made for travel. It has four locking wheels that rotate all the way around, but it is too bulky and heavy to get around in an airport. It does not meet airline regulations. This crate is easy to assemble, but is not made to be easily collapsible for storage.
Crucial Tips
• If the bars on the floor are too far apart for your dog's comfort, you can put cement pavers in the bottom, or a heavy furniture blanket.
• Remove the metal Smonter tag from the front of the cage. One customer complained that his dog chewed it up.
• Another customer added a store-bought lock for added protection from escapes.
Pros
• Heavy and solid
• Attractive
• Easy to assemble
• Two escape proof locks
• Easy to maneuver with four wheels that rotate 360 degrees
• Easy to clean with removable trays
Cons
• Bars on the floor of the cage are too far apart from each other for some dogs (¾")
• There have been some complaints about poor welding that breaks or looks ugly and sharp edges on some of the medal
• Can be damaged during shipping
• Not built for travel and airline use
• Not collapsible for storage
Conclusion
This crate is a very nice crate for your dog to keep in your home. It is sturdy enough that you don't need to worry about any frustrating escapes that can lead to destructive behaviors or accidents. It will keep your pup safe and sound and give you peace of mind when you are away. It is not a crate that you can travel with, however. It is not portable nor is it safe for flight. So, if your dog is a world traveller, there are other options that would be better.
Provide a strong crate for medium to large dogs with mild to severe separation anxiety. This crate can contain, secure, and protect pups that are suffering from separation anxiety when you are out and about, doing any business. For a moderate price compared to most other cages in its class, this crate is a good choice for your anxious furry friend.
Check Carefully because…
Many customers have noted that their dogs were able to chew through the bars in a matter of days, but this problem only seems to occur in crates with faulty bars. Many other crates were able to contain very strong dogs.
Some customers noted that shards were needed to be removed during assembly that were very sharp and potentially dangerous to the dog.
The metal latches on the crate can be quite thin, but are noted to still be strong and capable of keeping dogs inside. Check these upon shipping.
Check the weight, durability and quality of the bars upon shipping, to ensure that the cage sent to you is strong and capable of keeping your pup safe. There is a three year warranty that comes with the purchase of this cage, so make use of this feature if you feel that the cage is not strong enough for your pup. Customer service has been very willing to correct any potential mistakes that have been made.
If you notice that bars were damaged during shipping, this can also be covered in the warranty, and past customer history has shown that the selling company would be willing to correct this mistake, even if the fault is on the shipping company.
If your dog has smaller feet, be prepared to need a pillow or blanket for the bottom of the cage, as some customers have noted that their dogs' feet were able to slip through the slats at the bottom of the dog cage.
The MUST Know, True Facts about SMONTER Heavy Duty Strong Metal Dog Cage Pet Kennel Crate Playpen with Wheels
Though this cage is in the higher price range of similar dog cages, it seems some of the cages delivered to customers were not able to offer superior strength and durability as compared to the others in its class.
It seems some customers receive a stronger, more durable cage than others, as some dog owners have noted that their pets were able to chew through the bars very quickly, while some say that this cage contained and protected their dog when no other could.
It may be worth contacting the seller prior to buying and request extra durable bars, if your furry friend has a history of breaking out of every cage it is in. Dogs with severe separation anxiety can be very prone to panic attacks, causing them to try and escape their cages. If your dog has this class of severe separation anxiety and is also a larger (over 80 lbs.) and stronger breed, it may be worth looking into other dog cages for the safest and best cage.
In other cases, the SMONTER Heavy Duty Strong Metal Dog Cage has helped many pet owners and their dogs in protection, containment, and soothing the dog's problems with separation anxiety.
Many customers have been very pleased with the style and strength of the SMOTNER heavy duty cage. In addition to the many colors this cage can be purchased in, making it look sleek in a pet owner's home, this dog cage has been successful in helping owners tame and cure their pups' separation anxiety, making it a great choice for pet owners of such dogs.
The large size of the cage and its style make it comfortable for bigger dogs, as well as great looking in the house.
What to watch out for with this product?
This crate comes in 3 colors and two sizes, so make sure to choose the one that fits your home and dog best before buying.
Upon receiving the crate, check for all parts and pieces, as well as any damage that may have come during shipping. Immediately notify the company if anything is not as specified in the item description.
Some have noted these bars were not completely bite resistant, so if possible, upon shipping, check the weight and durability of this crate. If you are not satisfied, make use of the warranty guaranteed with this cage, and request a new cage. The company has been very quick to solve most cases of customers not pleased with the quality of their cages. This is most likely to only be a problem if you have a particularly strong, anxious, or aggressive dog.
Crucial Tips
Because dogs with separation anxiety are prone to severe panic attacks, and subsequently, destroying your home, it is important to find the proper cage to take care of your pet, as well as keep them safe, at peace, and comfortable.
This cage comes in two sizes, offering options for owners of large dogs. The smaller, 38-inch crate can be recommended for dogs between 30-60 lbs., while the larger, 42-inch crate is better for larger dogs between 60-90 lbs.
It is important to choose a crate that is a comfortable size for your dog. A crate that is too big can cause anxiety and feelings that your dog is not safe, while a crate that is too small can cause muscle cramps. The perfect sized cage will help control your pet's separation anxiety problems and calm them while you are away.
Pros
Many color options
Two size options
Very strong and durable cage
3 Year Warranty and reliable customer service
The wheels on this cage turn 360 degrees
The wheels lock in place for secure placement
Feeding door
Three locks for security
Quick assembly
Quick delivery time
About 7 lbs. lighter than other similar brands
Corrosion resistant steel
Easy to clean, as there are pans under the bottom of the cage to catch hair, poop, and pee.
Cons
Paint on the bars has been reviewed to chip
Higher price than some other similar cages
Still very heavy
It is not specifically noted if the paint on this cage is non-toxic to dogs
Bars at the bottom of the cage have a large amount of space between them, making it easy for a dog's feet to slip.
Conclusion
This cage is in the middle of its class when it comes to price. Compared to others, there were less problems with this cage in concern of the assembly and shipping of the crate. Because there seems to be some discrepancies in the quality of the cage from customer to customer, it can be assumed that there may be some gaps in the production quality. To avoid facing these problems, include a message with the order requesting a cage specifically for a very strong dog. This should ensure that you are shipped a quality, durable cage, able to keep your dog suffering from the symptoms of separation anxiety safe. This cage is sleek, of good size, and in most cases, of good quality.
Separation anxiety in our furry, canine friends can be an upsetting and frustrating situation for not only the dog, but for the owner as well. Figuring out the best solutions for a canine friend is not always as straightforward as it seems it should be. As one of the stronger cages on the market, The Sliverylake Dog Cage Crate Kennel is one potential approach for those canine escape artists suffering from mild to extreme separation anxiety.
Check Carefully because…
There are mixed reviews as to whether or not a warranty is offered by the company for this product. Information about this topic is not found on the product or company page; however the company's reply to inquiry does suggest that a one year warranty is offered. It would be prudent to get written confirmation of this prior to purchase, if this is a concern for you. Take note, however, that the only way to get in contact with Sliverylake company is to email customer service, as a customer service phone number cannot not confirmed.
The MUST Know, True Facts about Sliverylake Dog Cage Crate Kennel,
The Sliverylake Dog Cage Crate Kennel is a dog crate designed to comfortably house pups troubled by separation anxiety, or the most driven of escape artists. The frame and bars are constructed of steel, with less room between bars, when compared with other crates or cages. The weight capacity of the cage is 330 lb., and there are three cage sizes available; so the cage size can be purchased based on your pup's size and needs.
The cage includes two latch-closure doors, one on the side and one on top. Additionally, it has a grate floor, and below that, a steel drip pan that can slide out for easy cleaning of any messes that may occur. Four casters are provided with the cage, two of which lock; the cage may be used with or without casters, their presence has no effect on the integrity of the product.
What to watch out for with this product?
One major flaw on these cages is the latch or lock on both doors which seems to be poorly designed and quite ineffective at keeping anxious dogs contained. Many customers discuss the same problem, noting that without any alteration, their canine friends are able to escape with ease. The use of heavy duty zip ties in addition to the latches has been successful for some dog owners, which ultimately resulted in great success containing their anxious, furry friends.
Crucial Tips
– Upon arrival, the weight of the product is about 89.1 lbs which may present a
challenge for some to unpack or assemble.
– The product does appear to require some assembly, and reviews about ease of assembly are quite mixed.
– A few customers discussed the need for a second set of hands in the assembly of the cage.
Pros
– Sliverylake Dog Cage Crate Kennel received an overall positive review
– Generally able to keep even the most anxious of escape artists safely within its confines
– Pet is safely contained, no longer putting him/herself in harms way, or destroying the home
– Unusually thick and sturdy (steel) construction of the bars means that dogs are simply unable to bite through the bars
– Inability to bite through bars can cause him or her to eventually give up and relax, decreasing anxiety levels
– Dogs no longer seem stressed, fighting to get out of the cage, but are instead found sleeping calmly in their cage
– Two access doors
– Casters included for ease of relocation in room
– Company offers good customer service
Cons
– Poorly designed locks can lead to easy escape
– Poor lock design may lead to a need for backup lock methods such as padlocks or heavy duty zip ties
– Some anxious pups were still able to bend the bars and escape, despite steel makeup
– Replacement parts can be challenging to obtain from the company, such as grate, lock, etc.
– Paint flakes off quite easily, cage can rust quickly
– Bolts holding the cage together are not flush, dogs are at risk tearing paws
– Loud cage may heighten dog's anxiety
– Lack of collapsibility or portability
– Suboptimal caster quality, may not lock well or can mark up flooring
Conclusion
Overall, if you have an anxious escape artist, the Sliverylake Dog Cage Crate Kennel may be worth a try. There are a number of little drawbacks to consider, as listed above, and like trying any new product, there is the unlikely risk that the cage may not be able to contain your dog. That said, however, it seems much more likely that this cage may keep your dog safe and effectively contained, at the very least. At the most, it may also help to eventually relive some of your pet's separation anxiety by providing a safe, calm, reliable environment for him or her.
The SmithBuilt Heavy-Duty Dog Crate gets a lot of praise on the dog crate market as a dependable, secure, and easy-to-set-up crate for the caring and price-conscious dog owner. Dogs are pack animals originally used to living in dens, and pups with separation anxiety rely on their crates to be both homey and secure, a den-away-from home when you step out. Add a pet bed or switch up the floor and throw in comfort items to help create a secure happy place for your nervous pet to relax. Decidedly, this Dog Crate is not perfect in the eye of every dog-owner-beholder. The folks at SmithBuilt are aware that this is not an escape-proof dog crate, as reported by owners of very large dogs and/or those aggressively filling the role of Houdini-style escape-artist dog.
SmithBuilt is a family-owned business, known for their commitment to both value and affordability. Founded in 2007, SmithBuilt's stated mission is to offer high quality dog crates at perfectly reasonable prices that provide a home-within-a-home for your beloved pet. Over the years, SmithBuilt's premium crates and pens have gotten the nod from professional breeders, handlers, and regular pet owners in an international market.
Check Carefully because…
Past customers report the need to inspect for complete parts, no damage, and a rust-free crate upon delivery; shipping can be complicated because the crate is very heavy. Assembled unit features four caster wheels, two locking, for indoor- outdoor use. If you do run into shipping issues, be pro-active in your communication, as you may find challenges with their customer service and your claims. Keep careful records of your purchase.
Some dogs don't want anything to do with the grated flooring- be prepared to try the metal tray, a plastic tray, or covering a portion of the grate with a pet blanket or bed. You will need to spend a minute to learn to maneuver and manage the lower tray that collects the dog's waste, as it isn't as easy as they make it look on Internet TV!
With very large or aggressive or anxious or just plain tricky dogs, the locks and doors can be the sites of the potential Houdini-escape hatches. So keep an eye on these elements and be ready with a solution to reinforce weak points – past creative customers have used carabineers or small luggage locks—as your pets with separation anxiety need a 100% secure space where they feel in control.
The MUST Know, True Facts about SmithBuilt Heavy-Duty Dog Crate Cage
This is a great product to create a secure environment to ease your four-legged friend's separation anxiety, practice pet training, and keep your dog's den and your home separate and in harmony while you are out running errands. This crate's list of must-have features is ideal for concerned larger doggy owners; its mid-market price point works for the savings-conscious.
You can create a great den home for your dog with this Dog Crate with practical features for you: hollow steel tubing and premium-grade construction materials that are sturdy but not ridiculously heavy, rolling and locking wheels, options for two different doors, and a removable bottom pan for cleaning up doggy's waste.
What to watch out for with this product?
Some past customers note that while it calls itself Heavy-Duty, this dog crate did not work for very large, very anxious dogs or those just bent on escaping. If this sounds like your dog, please also consider the most-sturdy alternatives.
You must know that past customers have reported that potentially you will need to reinforce the locks and the doors to foil the most creative and determined escape artist pups. The locking mechanisms on the doors seem to have alignment flaws, but DIY tips are out there for quick fixes with small luggage locks or carabineers.
Size matters. Consult breed charts and your vet to make sure you choose a crate that is a good fit and will continue to be for your adult pup.
Some past customers found issues with rust or corrosion that often started with shipping damage. Be prepared to read and understand the fine print of the guarantees and get on the horn with customer service should this come up.
Proper crate training is essential to the effectiveness of this crate and any commercial crate product. It is your responsibility as a dog owner to do your research and follow vetted instructions for successful crate training; if you do not train your dog correctly, your dog will be less likely to have a positive or successful experience in this or any crate. As long as you are mindful about training your dog properly and setting her or him up for success with the crate, then this crate should provide years of practical use.
Crucial Tips
1. Remember, if your locks break, don't worry! You can replace them with inexpensive luggage locks or a variety of sizes of carabineers.
2. Keep careful purchase records! Many customers complained that the customer service department's attention was sub-par; customers who did careful record-keeping and understood the fine print fared much better.
3. Because the SmithBuilt Dog Crate is heavy, be sure to take advantage of the wheels! There are four rolling caster wheels on the bottom of the crate, two of which conveniently lock. The caster wheels should keep your floors scratch-free when you move the crate around!
4. Eco-solution?! Add wood pellets to bottom tray, then investigate municipal or garden composting options for doggy waste for your region.
5. Remember to monitor the amount of time your dog is in the crate, and be ready to adjust your own schedule if necessary.
Pros
• Solid commercial-grade materials: steel high-tensile strength wire welded into mesh for additional structural integrity;
• Great quality for the price;
• Fast shipping & easy assembly;
• Removable grate in the floor and bottom tray for easy management and cleaning of dog waste;
• Nifty latches and simple tray design to contain messes;
• Multiple doors – one on the front and another top-loader—provide versatile ways to move your pup in and out, or gain access from top while pup stays put;
• Crate's four rolling caster wheels make moving it stress-free;
• Known issues have documented easy fixes like luggage locks, self-taping screws, and carabineers.
Cons
• Not suitable for largest, most aggressive, or most anxious dogs—reported as able to chew through or bend bars;
• Customer service gets some poor reviews, especially outside of the guarantee window;
• Customers take issue with lack of welds of vertical bars, and shallow pre-drilled holes;
• Grate at bottom of crate can be slid out by intelligent dogs who can then physically drag crate around house;
• Space between tubes sufficient for a dog snout to fit through; repeated attempts to push tubes apart could harm dog;
• Price point is high for a crate that is essentially cage-like and does not meet all recommendations for a more-enclosed structure for dogs with separation anxiety.
Conclusion
You could find more durable and more expensive crate cages out there for larger dogs or dogs with extreme separation anxiety, but you get plenty of bang for your buck for most large dogs with the SmithBuilt Heavy-Duty Dog Cage, including a solid product and accessible price. These crates make a practical den-within-a-home for your larger dogs; the thicker frame distinguishes this crate's look, the two doors provide lots of options for your pup to enter and exit, and you can't beat the cleaning ease of a removable grate and lower tray. Wheel it inside or outside and invite your pet to enjoy the new digs.
Technical Details:
• Built with commercial-grade materials with a 3/4″ frame
• ½" diameter (20 gauge) premium, quality steel tubes
• Available in three sizes:
o 36″ L x 24″ W x 29″ H
o 42″ L x 30″ W x 34″ H
o 48″ L x 33″ W x 37″ H
• Four rolling caster wheels, two have locking capabilities
• Removable grated pan for Maintenance: stain-, rust-, and odor-resistant;
o bottom pan integrated lip around perimeter to contain spillage
• Pan is 3 inches smaller than the cage, varies by model
• Finish is resistant to rust, corrosion, and fading
• Ships partially-assembled; minimal assembly required
• Average cost range, varies by size: $119.99-$239.99
While crating your dog can be a controversial issue, when done correctly, it can ease your mind knowing your dog is safe from harm, as well as providing a type of security blanket for your pet. Separation anxiety in your furry friend is a real issue and can be quite taxing on you as well as them.
Separation anxiety happens for many reasons including but not limited to:
• being dumped in a strange area or left at a shelter
• changes in the family unit such as a death or birth
• addition of new pets to the household
• moving to a new home or apartment
• changes in the family routine- going to work after time off, changes is shift times, deployment/returning from deployment
• puppyhood trauma such as abuse, malnutrition, or being involved in an accident
Regardless of the reason, when separation anxiety happens it can be traumatic for the pooch and the owner. Finding a solution is a must in order to keep your sanity and for the safety of your dog. Properly crating your pet can create a sense of safety, limiting the stress they feel from being separated from their beloved owner.
Since 2001, Richell USA, based out of Grand Prairie, Texas, with the home company being in Japan, holds true to their motto of making life more enjoyable for your pet. The end table dog crate is just one of many stylish, well-made items they offer. This innovative idea is perfect for every pet owner. A very stylish end table that doubles as a dog crate, comes in three different sizes, small 24"x18.1"x20.9", medium 31.1"x25"x24", and large 41.5"x29.9"x29.5", fitting any area and accommodates dogs up to 88 pounds.
Check Carefully because…
While this crate comes in three sizes, you want to make sure your dog will fit comfortably in the size you choose. Look at the measurements carefully before ordering. When crating, especially for separation anxiety issues, you want to make sure your dog has enough room to move comfortably, but not so much room that they don't feel secure.
• Small crate-24"x18.1"x 20.9" accommodates dogs up to 17.6 lbs
• Medium crate-31.1"x25"x24" accommodates dogs up to 44 lbs
• Large crate-41.5"x29.9"x29.5" accommodates dogs up to 88 lbs
The MUST Know, True Facts about RICHELL WOODEN END TABLE CRATE-A FASHIONABLE WAY TO EASE PET SEPRATION ANXIETY
These fully functional crates are expertly handcrafted from high quality wood. They offer sturdy construction while doubling as a beautiful piece of furniture. Providing comfort as well as safety for your dog while you are home or away is a big plus. They come with a removeable sliding tray made of durable plastic which allows for easy cleaning. All four sides are slatted -1.26" apart on the small and medium size crates and 1.36" apart on the large crate- giving your dog a 360° view, but still feeling the safety of the enclosure.
What to watch out for with this product?
While experiencing separation anxiety, some dogs tend to paw, dig, or chew on the things around them. Because this crate is made of solid wood, chewing, digging, or constant pawing can cause considerable damage. Also, the built in side stopper on this crate should be used any time the door is open, so it doesn't accidentally close, unintentionally capturing your pet keeping them from food and water.
Crucial Tips
Ordering the correct size crate for your pet is a must. Enclosing your dog in an area that is too small, not allowing for comfortable movement, or in an area that is too large, creating too much space, can heighten their sense of discontent creating even more anxiety. Measuring and weighing your pet before you order will help ensure you are getting the correct size crate for their needs.
Pros
✓ Space saver-doubling as an end table and a dog crate
✓ Aesthetically appealing
✓ Accommodates dogs up to 88 pounds
✓ Fully opening door for easy pet access
✓ Side stopper to keep the door open
✓ Removable sliding tray
✓ Durable construction
✓ All wood with dark brown stain resistant finish
✓ All-around view so pet can see from every angle
✓ Replaceable parts
Cons
▪ Wood material could be chewed or scarred from excessive pawing
▪ Because it doubles as a piece of furniture it is not considered portable
▪ Not made for outdoor use
Conclusion
Separation anxiety with your pet can be a major problem. Giving your dog a safe place where they feel comfortable is the first step toward solving this problem. Choosing the best crate for your situation is important. The Richell Wooden End Table could just be the solution you are looking for. It is a sturdy, beautiful piece of furniture for your home as well as an easy to clean, safe place for your pet to be while you are away. This crate offers you the piece of mind you need when leaving your dog, so you know they are safe and comfortable.
While it may seem counter-intuitive, crating your dog in a crate that's comfortable and secure may be the best way to relieve your dog's separation anxiety. Dog's need a crate that's the right size, with enough room to move around but still small enough to feel like a secure space where they'll feel safe. A well-chosen and well-used crate will be a safe haven for your dog, and Crown Pet Products Wood Pet Crate End Table will give your dog the safe space it needs, without being the unseemly blight that most metal crates are in a home's décor.
Check Carefully because…
This crate only comes in two sizes – make sure that you are getting the right size for your dog. If the crate is too small, your dog will be cramped and uncomfortable. If the crate is too big, then it won't help to make your dog feel safe and relieve her separation anxiety. One of these two sizes may not best suite your pet; make sure you know your dog's height (ground to back and ground to head) before thinking about purchasing this product.
The MUST Know, True Facts about Crown Pet Products Wood Pet Crate End Table
The uniquely designed Crown Pet Products Wood Pet Crate End Table is the best product on the market for dog owners who want a stylish, decorative crate option for their anxious pet. While many crates can effectively provide a safe and secure space for your pet, most crates look harsh and don't adequately accent your home's design. This crate is a secure option for your dog, and a stylish option for your home.
What to watch out for with this product?
Some assembly is required after you have purchased this product. Make sure you read the instructions carefully upon purchasing.
Crucial Tips
– While this crate comes in two sizes, neither size is suitable for dogs larger than 80 pounds. The smaller size may be a perfect size for your anxious toy breed, but make sure you buy a size that is large enough to allow your dog to stand upright and lie down comfortably with legs straight. However, it should not be bigger than that. Make sure that the measurements for the crate that you chose fits your dog's dimensions.
Pros
• Crown Pet Products Wood Pet Crate End Table's sleek wood design can become an asset to your home's décor, rather than the harsh metal design of most crates
• The Crown Pet Products Wood Pet Crate End Table comes in two finishes, to allow you to ensure that the Crown Pet Products Wood Pet Crate End Table matches the rest of your home's design
• Smaller size can provide an increased sense of security for your anxious dog
• The structure provides a 360-degree view for your dog through the wooden slats; however, the view is obstructed on some sides, which can help provide an increased sense of security for your anxious dog.
• While the crate is wood, the melamine coated floor is waterproof and easy to clean
• Door opens out and slides in to the crate to provide more flexible options
Cons
• While the melamine floor is an easy-clean material, it is not removeable. In order to clean up liquids or other messes in the crate, you will have to clean the floor by reaching inside the crate.
• While most crates are metal and relatively indestructible, the Crown Pet Products Wood Pet Crate End Table crate is made of wood. While the wood is guaranteed to be sturdy and secure, some dogs may be able to chew through or otherwise destroy the wooden slats.
• There are only two size options for the Crown Pet Products Wood Pet Crate End Table, which may make it harder to ensure that you are getting the right size for your pet. Picking the right size crate is crucial for alleviating separation anxiety.
• This crate is heavy and may be difficult to move once assembled; it is not a portable option if you bring your dog on trips or extended stays often. You may want to consider purchasing a foldable metal crate if you need a portable safe space for your dog.
• There are many other good, solid crate options that are more affordable in cost; with the Crown Pet Products Wood Pet Crate End Table, you are paying for function as well as design, so it is pricier than most options.
Conclusion
If you are looking for a stylish alternative to help give your pet that is suffering from separation anxiety a secure space without getting a harsh metal crate, then this is an ideal option for you and your dog.
Petmate has put over 50 years into studying the perfect crate for your four-legged friend. Comfort, safety and ease of use are the hallmarks of their kennels. The Petmate Sky Kennel has dual functionality for home use or for travel, including air travel. By design, the Petmate Sky Kennel balances ventilation with comforting privacy, offering your pet a den of safety.
A combination of durable plastic (in many models the plastic is recycled) and stainless steel provide for a sturdy environment. When crate training, you want to think of this as a place where your pet feels safe and secure. You are literally trying to create a special space for your dog, where they can relax. And, if done right, your dog will learn to put themselves to bed and go to sleep at night without you needing to shut the door to the crate.
In the marketplace, you will find nylon travel crates, all metal wire crates and plastic crates. Nylon crates are awful for anxious dogs, as they are easy for an anxious dog to chew and claw. The soft sides do not provide security. Nylon crates are great for dogs that merely need their own space and don't suffer from much separation anxiety.
Metal crates, while offering a lot of ventilation, do not provide a cozy, den-like atmosphere. Wire crates usually require separate plastic trays that an anxious dog will use as chew toys, creating an unsafe environment for a dog. Additionally, wire crates are very difficult to clean and can rust if not dried properly. This isn't a problem with the Petmate Sky Kennel.
If your dog has separation anxiety, you need to create the perfect den-like enclosure to create a safe and secure feeling for your pet.
The Petmate Sky Kennel has smooth, rounded sides, providing cozy corners for your dog to curl up in and take a nice snooze. It mimics all of the ways dogs naturally use to feel safe. The solid sides on bottom provide a sense of shelter. While the right openings on the top half allow the dog to smell their surrounding to tell where they are and who is around them. This crate definitely appeals to their senses.
Check Carefully because…
You want the right size crate for your dog. Too big, and the dog will be more prone to having accidents in the crate. Too small and the crate is not comfortable.
The crate should never be used as punishment. Make sure to train your dog properly to adjust to the crate. Start with short times in the crate with regular breaks out of the crate.
Make sure the door to the crate is easy to open for you, but not for your dog.
If your dog needs to be in the crate for a long time, the included divided bowl is rather shallow. Purchasing a separate after-market bowl may be necessary to ensure your pet has adequate food and water. Overall, however, try to not crate your pet for more than four hours at a time.
If using for a flight, make sure you understand what the size requirements and restrictions are for the type of aircraft transporting your dog. If you have a larger breed, you will likely need a larger crate and may run into size restrictions.
The standard bolts are plastic. In order to comply with various airline regulations, you need to upgrade to metal bolts, which are sold separately.
The MUST Know, True Facts about Petmate Sky Kennel
• The Petmate Sky Kennel comes closest to being fully compliant with most airlines, per many users. Note, however, no kennel is fully compliant with any airline without some modifications. You must contact your airline prior to travel.
• This kennel is easy to clean. Make sure to use cleaners that will not harm your pet.
• Petmate Sky Kennels are made in a variety of size options. The small sizes have handles for carrying. The larger ones come with reinforced front gates. Sizes range from 21 inches to 48 inches, accommodating pets weighing under 15 pounds to up to 125 pounds respectively.
• Petmate Sky Kennels are sturdy. Even an anxious dog trying to bolt will have a hard time escaping. A friend of mine uses Petmate Sky Kennels when transporting rescue dogs in her minivan. These kennels make transport much safer for anxious dogs. For one, she doesn't have to throw a blanket over a wire kennel to help calm them. The solid top of the Petmate Sky Kennel accomplishes that. Again, they are sturdy. An anxious dog will not be able to collapse this kennel.
What to watch out for with this product?
• Buy the right size. Measure the length of your dog prior to purchase. Do not just buy based on weight, or a "guesstimate."
• Check the door locking mechanism. Make sure you assemble this per the instructions. If the door can be unlocked by your dog, the kennel is broken, missing parts or was not assembled correctly. Contact the manufacturer.
• Make sure all bolts are properly fastened, so there are no gaps in pieces.
Crucial Tips
• Open upon delivery and verify all pieces have arrived with your package. It is essential that this crate be bolted correctly for safety of your pet. Some users reported not receiving all of the necessary parts.
• Check that the crate is neither too big, nor too small. Your pet should be able to stand up and turn around. If pet can walk back and forth, they may resort to soiling at one end of the kennel, which is not desirable.
• Practice opening and closing the gate prior to putting your pet in the kennel. A few users received gate mechanisms that did not lock properly. As a result, their pets were able to let themselves out.
• You must train your pet to use this, if you want to avoid separation anxiety. If not a chewer, include a favorite blanket or treats. Gradually increase the mount of time your pet is in the crate, reinforcing to your dog that they will be let out.
Pros
• One-year warranty.
• Easy to assemble. Put the top of the kennel on the bottom, align the holes and bolt the screws to the wing nuts.
• Good balance of ventilation to privacy, giving your pet the best of both worlds.
• Durable plastic shell. Some models made from post-consumer materials, making this an earth friendly option.
• Variety of sizes to accommodate small to large dogs.
Product Features
✓ Comes in appealing light gray or light gray and black color choices.
✓ Sizes to fit nearly every breed. 21 inches to 48 inches in length.
✓ Four-way vault door, providing the most secure space for your dog.
✓ Ventilation on all four sides, allowing sight and smell access.
✓ Solid plastic base, provided a durable shell.
✓ Rounded corners, designed to fit the way dogs curl up when they sleep.
✓ Clip on food and water dish.
✓ "Live Animal" Stickers, as well as, one pet identification sticker for travel.
✓ Smaller sizes have carry handles.
Cons
• The biggest problems are related to the gate mechanism not closing properly. It is critical to test the mechanism prior to leaving your dog in the kennel. If your dog can open the gate, the mechanism is not functioning as designed.
• Others had issues with not receiving all parts in the mail.
• Lastly, take the time to socialize your dog with this kennel to ensure the least amount of anxiety. Users who didn't do this, had dogs that would more likely to try to jerk the kennel around, spilling food and water.
• Split treat dish is shallow. Users bought after market drip bottles to ensure adequate water availability.
• This crate doesn't fold down flat like a nylon or wire crate. This crate is designed to stay set up.
• The price point is higher than many other kennels.
Conclusion
For those looking for the most secure crate for a dog with separation anxiety, the Petmate Sky Kennel offers it! For those with dogs suffering from separation anxiety the clever design of solid wall panels with perfectly spaced wire grid vents offers security and the ability to smell. Dogs use their sense of smell to detect friend or foe, safe from unsafe. When using this at home, the Petmate Sky Kennel offers your dog the comfort of knowing they are home and safe and sound. When used for travel, you can be confident this sturdy kennel will protect your pet, and create an environment that makes them feel secure and comfortable. Lastly, you cannot beat the ease of cleaning, the durability and quick assembly.
##
If you have recently come home to find your living room destroyed, feathers from couch pillows everywhere, your favorite shoes chewed to oblivion, you may be dealing with a dog with separation anxiety.  And, there is nothing more stressful and frustrating than owning a dog who is showing signs of being unbalanced emotionally.  The worry of not knowing what you are going to find, and the cost to replace personal belongings is unpleasant, to say the least.  Furthermore, a dog with separation anxiety can be a danger to themselves.  They can get hurt.  They can ingest items they have chewed, resulting in intestinal blockages, difficulty breathing, or death.
Does My Dog Suffer from Separation Anxiety?  What Are the Symptoms?
Separation anxiety can manifest itself in many ways.  Here are some of the most common behaviors you might observe:
Seemingly unwarranted whining, panting and barking when you start the process of leaving the house;
Excessive barking or howling while you are gone from the house (e.g. your neighbors repeatedly complain about your dog's noise level while you are out);
Pacing and circling in anticipation of being left alone;
Accidents – Using your carpet as the restroom;
Destruction – Chewing furniture, chews, toys, etc. while you are away; and/or
Self-mutilation – Licking or chewing paws until they are raw.
You can also set up a home monitoring camera  (Like this one  The Furbo Dog Camera) and watch your dog's activity while you are out.  This is a great way to gauge how your dog is doing without you.

What are the Root Causes?
Keep in mind, dogs are pack animals.  When they are removed from their dog packs, and become socialized to their human pack, that is, your house and family, you are their pack.  It is common knowledge there is safety in numbers and safety within the pack.  When you leave, your pet may not feel safe without you, their pack leader.
A dog's sense of time is different than ours.  Have you ever left the house for a minute to take out the trash and come back to a dog that is wagging their tail and ecstatic to see you?  It is as if you have been gone for days, yet you were just gone for a few minutes.  This inability to judge time, coupled with this intense loyalty can create the perfect recipe for separation anxiety.
If your dog views their job and sole purpose as being around you, what are they supposed to do when you are gone? In a perfect world, we would all be able to take our dogs with us to work, right?
Some dogs are just more intense, have higher energy levels and need a lot more occupation.  Such dogs are typically found in the Working and Herding Breeds.  These are dogs that need a purpose.  Sitting at home and waiting for you to arrive is not enough of a purpose for such dogs.
Are Some Breeds More Susceptible?
Yes.  While experts differ greatly on the rankings of which breed is the top breed known for separation anxiety, there are certain universal opinions as to which breeds are known to have the worst separation anxiety.  As stated above, it cannot be underestimated the loyalty and sense of duty a dog has.  And, in a Working breed or Herding breed, this sense of duty is extremely keen.  Dogs, such as German Shepherds, Australian Shepherds, Labrador Retrievers and Border Collies are known to have issues with separation anxiety.  On the flip side, this is why these breeds are such great partners in working situations, such as with the police or on farms.
Companion breed dogs are also known to be anxious.  These are breeds that are often called lap dogs.  They were bred to be with their human.  Breeds such as the Toy Poodle, Havanese, Bichon Frise, and Cavalier King Charles.
You can speak to anyone who has worked in dog rescue, or who has worked with a variety of dog breeds and they will tell you that ANY dog can be prone to separation anxiety.  A breed not ordinarily known to have separation anxiety may have it, especially if it is a rescued dog and one that hasn't had proper socialization or crate training before you adopted the dog.
Just as all humans are wired differently, so are all dogs.  And, just as we need certain creature comforts to feel safe and secure, so do our dogs.

Can Separation Anxiety be Cured?
Experts disagree.  Some celebrity dog trainers will state they can cure separation anxiety.  Such training is incredibly expensive, and may be difficult to reinforce at home. Others, however, know that certain dogs are simply more prone to separation anxiety than others.  Separation anxiety can happen with any dog.
With the right tools, however, separation anxiety can be overcome, or at the least well-managed.  There are ways to mitigate the anxiety and destructive behaviors that come with it.
What are the Solutions?
Many vets will suggest medications in the worst cases.  For some dogs, medications, such as Prozac are the only way to calm them down.  This really is an extreme.  I would recommend trying other methods prior to resorting to medicating your dog.
Your vet may also recommend training.  When most of
think of dog training,
we think of the dog being trained.  Really, though, dog training is about training the human to be more consistent in our communication and behaviors with our dog.  None of this is rocket science, but in the emotion of owning a pet or the shock of seeing the destruction that an occur when an anxious pet is left alone for the day, our emotion often clouds our ability to troubleshoot the situation.
First and foremost, you need to exercise your dog prior to leaving for the day.  Either walk or run your dog before you leave for the day, or invest in a treadmill.  The idea here is to make sure your dog's brain and body have been exercised and are in a more relaxed state.  After all, you want them to take a big nap and be comfortable while you are out.  Exercise prior to being left at home also helps your dog relieve themselves.  Some dogs are simply anxious they are going to have an accident while you are out.  And, if they are conscientious dogs, the thought of having an accident and disappointing you is a major stressor.
Secondly, focus on crate training.  Train your dog to relax in their crate while you are away.  You want to keep your dog safe.
Crate training really is the best way to keep your dog safe, because it protects your dogs from being able to get into hazards around your house.  Crates, when introduced properly, also tend to help reduce a dog's anxiety levels.
I love crate training for any dog, because it essentially provides your pet their own space, their own room, a special den just for them.  Dogs naturally feel safest when they are in an enclosed space where their backs are protected.  Something dark, but with partial visibility and access to fresh air is a perfect set up for most dogs.

Crating During the Day Time Vs. Crating at Night?
Using a crate for day time or night time is a great way to create a habit and routine for your dog.  These serve different purposes, though.  Night time crating might be done if you do not want your dog to wander the house at night, or hop into your bed.  Whereas day time crating has the purpose of easing anxiety, keeping your dog safe from harm and creating a calm environment.
You want your dog to get comfortable with the crate and think of the crate as their place for rest and relaxation.  Two rules to remember are:
Consistency; and
No more than four hours at a time while you are gone.
What are the Benefits of Crating?
Crating your dog creates a safe environment for your dog.  In addition, it can help train your dog, as dogs do not like to go potty where they sleep.  Crates, when used properly can promote relaxation and calm, reducing separation anxiety.
What is the Best Way to Encourage an Anxious Dog to Go Inside a Crate?
It cannot be stated enough, that you need to be consistent and you need to train your dog.  Training takes time.  You cannot get a crate and on day one put your dog in there and leave for four hours and expect your dog will be okay.  You need to approach this as developing a habit.
Here are some crate training techniques:
Keep the crate door open, and place their food and water in the crate.
Calmly call your dog to their crate, if they haven't already noticed it is chow time.
As your dog enters their crate, make sure to praise them.
Between the praise and the food, you are providing positive reinforcement in regards to the crate.  The crate is the place where food is served!
This technique works extremely well with food motivated dogs.
Build up to closing the crate door and increasing the amount of time the door is closed.
Think of Hansel and Gretel who followed a trail in the woods.
Place a trail of treats in a path to the crate and into the crate.
As your dog eats the treats and hops into the crate, reward your dog with one more treat and praise your dog with, "Good Kennel," or "Good Crate."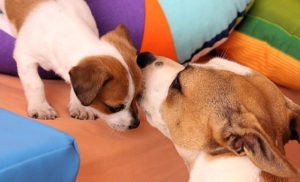 This serves to reinforce that you are happy with them for getting into the crate, and helps them understand there are rewards (treats) for being in the crate.
Make sure to practice this several times.  Work up to closing the crate door, and even using the command, "Stay."
Later, move to leaving the room for a few minutes while your dog is in the crate, just so your dog gets used to the routine.
Use the crate as a way to introduce a fun, new toy.
This technique works really well for inquisitive dogs, who have active minds and love to be engaged.
If motivated by finding toys that squeak, this one is a great option (Some Shih Tzu's are known to enjoy lugging around the large size model!):
Outward Hound Hide a Squirrel Fun Hide and Seek Interactive Puzzle Plush Dog Toy
If motivated by hidden food, this is a great choice:
KISSIN Dog Snuffle Mat Thicken Polar Fleece Dog Food Mat Encourages Anxious Dogs Natural Foraging Skills Dog Puzzle Toys
If dog is known to aggressively lick or chew as a past-time, two good options are hiding or spreading food in either of these toys:
StarMark Treat Dispensing Pickle Pocket for Dogs
Hyper Pet Lickimat Slow Feeder Dog Mat & Boredom Buster
Start by showing the toy to your dog.
Toss toy into the crate and watch dog follow toy and play with it in crate.
Make sure to follow with lots of praise.
Slowly increase the amount of time in the crate with the door closed.
Make sure to supervise toy time, at first, to ensure your dog isn't going to actually ingest the toy.  The toys suggested here, are fairly indestructible (especially, the StarMark Treat Dispensing Pickle Pocket).  For dogs with extreme separation anxiety, however, there is no way of knowing how destructive they can be when left alone with a toy, so always supervise and use caution.
After a walk or a round of exercise is also a great time to take the dog to the crate.
Put a favorite blanket or bed in the crate and guide the dog to the crate for rest.
You can create a command to go with this action, such as "Kennel," or "Bedtime," or "Rest."
Pick one that is easy for you to remember and be consistent.
Your ultimate goal should be to get your dog into their crate with just a command, or by their own choosing.  Dogs that love their crates will literally put themselves to bed in their own crates at night!  You should never force a dog into a crate, as that will reinforce their anxiety.
Remember to always praise your dog with a reward command when they execute the task of going into their crate.  Be consistent, but simply saying, "Good dog," or "Good Kennel," helps reinforce to your dog that they are doing the right thing.
Dogs aim to please, and you will get more positive results with positive reinforcement.
Are Kennels that Simulate Dark Caves Better?
Most experts on crate training recommend dark crates that are den or cave-like.  The crate should provide access to fresh air, and vent holes so your dog is able to sniff its surroundings.  Overall, however, the crate should make the dog feel protected and enclosed.
The crate should not be too big.  Your dog should not be able to pace in their crate.  You want your dog to be able to turn around and that is it. 
If your dog can walk
back and forth in their crate, I can promise you, your dog will use part of that crate as a restroom.  That is not desired.
If using a wire or open crate, and your dog is not known for chewing, a blanket or towel placed over the create helps create a safe feeling.
What are Different Types of Dog Crates?
The marketplace offers a lot of choices.  The best dog crate is one that your dog enjoys using, and is one that suits your needs.
It is important you prioritize the features different crates have, such as:
Portability
Ease of cleaning
Strength / Durability
Size
Aesthetics
Heavy-duty Dog Crate [High anxiety dog crates]
Typically made of metal, these are good for stronger breeds or dogs that are prone to escape or chewing their way through other materials (plastic, wood, etc.).
Non-portable, so these are not meant to be used for travel.
Heavy and hard to move.
Designed with dog safety in mind for overly anxious dogs.
Often the last resort for owners of destructive pets. This shouldn't be the first resort for basic crate training.
Highest price point.
Wooden Dog Crate
Aesthetically pleasing, wood crates can function as an end table and a dog crate. These crates literally look like furniture.
Not portable, so these are not meant to be used for travel.
Not recommended for initial crate training.
Not recommended for dogs that are prone to destructive chewing when anxious.
Not good for dogs that might urinate in their crate, as the urine smell can permeate the wood.
Higher price point.
Wicker Dog Crate
Aesthetically pleasing.
If small enough, they are portable, but not approved for most airline travel.
Not recommended for dogs that chew when anxious.
Not good for larger breeds.
Not recommended for initial crate training.
Soft Sided Dog Crate
Great for portability. Nice for camping and non-airline travel.
Easy to fold down and pack into a car.
Made of water-resistant canvas or nylon.
Not good for dogs that chew or scratch or dig when anxious, as they make it easy for escape.
May be difficult to clean, if the fabric gets soiled.
Plastic Dog Crate
Great for portability. Many are approved for air travel.
Not aesthetically pleasing.
Solid and will withstand dogs with mild chewing issues.
Difficult to escape from, unless dog is an extreme chewer.
Easy to clean.
Available in a wide variety of sizes.
Wire Dog Crate
Portable, but not designed for air travel.
Great for car travel.
Easy to fold down.
Smarter dogs may be able to open the latch and break free, so an additional padlock may be necessary.
Extreme chewers and excessively strong dogs may be able to bend the wires and escape.
May be prone to rust.

What to Look for When Buying a Crate for a Dog Suffering from Separation Anxiety?
It is really best to have an understanding of the behaviors your dog engages in when anxious before picking out a crate.
Accidents:  If the issue is having accidents, you may choose a wire crate or plastic crate, both of which are easy to clean.  The wire crates often come with interior panels that allow you to customize the size of the crate.  This is especially important if you aren't sure of what size crate to buy.  Keep in mind, the larger the crate, the more room to potty.  The crate should only provide enough room for your dog to turn around.
Barking / Howling:  This issue can go two directions.  One is your dog needs to be able to see their surroundings to feel safe.  A crate with good visibility might be the best bet.  Alternatively, however, they may need to feel safe.  In this case, a crate that has some visibility, but provides more of a dark, den-like feeling can ease anxiety.
A plastic crate with the balance of visibility and darkness can provide the perfect setting for creating calm.  Or, a wire crate with a crate cover may achieve the same level of calm and comfort.
Destruction / Desire to Escape:  If your dog is prone to chewing, scratching, digging and trying to escape, a heavy-duty crate is going to provide the highest level of safety.  If your dog has tried other types of crates, and has chewed through them, bent the wires, or figured out how to unlock the gate, your best bet is a heavy-duty type of crate.
Do I Really Need a Heavy-Duty Kennel?
You shouldn't automatically start crate training with a heavy-duty kennel.  Heavy-duty kennels are really chosen as a last resort, when you have a dog that has proven they have a problem with regular crates.
If your dog can escape out of their current crate, it is time for a heavy-duty kennel.  If your dog is barking and moving their current kennel across the room, it is time for a heavy-duty kennel.  If your dog is chewing through plastic, or bending bars, it is time for a heavy-duty kennel.
When in doubt, you need to consider the safety of your dog above all else.
If your dog is whining and having accidents, but nothing too destructive, you do not need to start with a heavy-duty kennel.  I would start with a well-made, durable kennel, however.
Lastly, as they say, "You get what you pay for."  Be mindful of the materials used in constructing your dog's crate.  Choose crates with solid reputations, made by companies who have years of experience developing crates for every type of dog.  Be wary of knock-offs.  Low-quality crates, made with low-quality materials, can yield to a hazardous situation for your pet.  You do not want to come home to find your dog has ingested plastic or metal from their crate and has harmed themselves.