We may earn commission from qualifying purchases at no extra cost to you.
Learn more
It's horrible to be a dog with matted hair, especially in the summer! what's even worse is seeing your dog rolling on the floor trying to scratch those itches away! You don't even want to think about how painful the skin is underneath those matts.
We all know how expensive groomers are! so what to do especially if your dog is double coated (which exacerbates the problem) like a Shih Tzu?
So …
should I buy a pair of clippers and groom at home? aren't good professional clippers even more expensive than going to the groomer? Here are all the answers to finding the best dog clippers for matted hair …
Compare the 7 Best Dog Grooming clippers For Your Dog With Matted Hair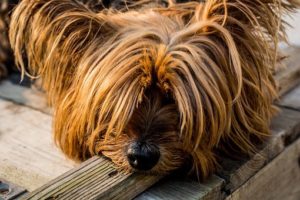 What is the secret to finding the best dog clippers for matted hair ? It's just about using the right blade and knowing what you're doing.
Jen – Professional Groomer
But First
Our Top Pick

How do I get ready for grooming a dog with Matted Hair?
Grooming your dog if he has a matted coat can be a challenge, but if you want to avoid costly trips to the groomers, you can do it at home.
You want to have a complete grooming plan in place for your pet. Think about your own grooming. You brush your hair on a daily basis and get regular haircuts, right? Why should it be any different for your dog?
You need to set up a schedule of regular grooming for your dog. Brush him every day, give him frequent baths, and clip his coat. If you have a dog with a thick matted coat, the frequent brushing is essential. Mats can crop up easily and can often hide under the outer coat causing undue damage to your pet.
Before you begin, there are some steps you should take to make the process easier for both you and your dog. Preparation is key. Make sure you gather all your tools, and everything is in easy reach.
Start by de-matting your dog first if necessary, using de-matting rake or comb. From there, grab the shedding comb and comb in the direction of your dog's coat. Make sure to start at your dog's head and work your way back, using small sections and don't forget to clean out the comb frequently.
Matted Hair Vs Thick Coat Vs Normal Hair Your Dog and Mats
No matter how frequently you groom, or have your dog groomed, mats in their hair can happen, and when it does, it can be very painful for your dog.
A mat is a clump of fur that is tangled in a dog's coat. Matting can happen at any time, but they happen most when your dog is shedding, and the hair that is shed is not removed with brushing.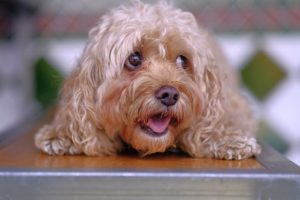 If your dog has a thick coat, mats can happen, and remain undetected in the undercoat, but the can and do happen the outer coat as well.
Be cautious if you find mats in your dog's coat. They can be extremely painful to your dog, especially during brushing. When you brush your dog's coat, healthy living hair can be pulled out of your dog's skin, which can be painful. If you've ever had your hair pulled by someone, this is similar to the pain your dog is feeling from the mats.
Mats in your dog's coat can be very dangerous. The mats can cut of the blood supply to your dog's skin. They can also make it difficult for air to circulate through the dog's coat and on the skin. When this happens, sores can develop. So don't wait until it becomes imperative to buy best dog clippers for matted hair !
Your dog may start licking at the matted area which can make it worse. The mat can collect bits of twigs, and things. If
your dog rolls
trying to alleviate the pain from the mats pulling on his skin, fecal and other organic matter can sometimes work their wait into the mats. Not only is this extremely painful for your pet, it is also unhealthy.
Mats can trap moisture, creating the perfect environment for infections to form, which can severely damage your dog's skin. If the mats are located on your dog's backside, fecal matter can get trapped in the mats which can also lead to infections, not to mention an unpleasant odor. Mats can also hide wounds that may be on your pet's skin.
The absolute best thing you can do for your dog is to brush him every day to keep his hair free of mats. But if mats do occur there are some steps you can take to make the grooming as pain free as possible.
Reviews of the best dog clippers for matted hair
The Andis Vet Pak Detachable Blade Clipper Kit is a wonderful, easy to use, heavy-duty model.
Though this is on the higher end of the price spectrum, customers agree that you get a higher-quality product. One of the featured highlights is the quiet and cool blades, which allow you to trim your animal for longer periods of time. It is intended to be used on equestrian species, but works very well on dogs. It is advertised to veterinarians and professional groomers but is easy enough to maneuver that beginners can succeed with this clipper as well.
The ergonomic handle and cordless feature allow for limitless mobility while trimming. It weighs about a pound, so while it is tough enough to tackle thick coats, it won't cause your arm to tire. The interchangeable blades are easy to maintain and can be swapped for any UltraEdge, CeramicEdge, ShowEdge, or Oster A-5 blades, though these are all sold separately. The Andis Vet Pak Kit includes blade oil, an additional battery pack, a charger stand, and a car charger and mini stand as well. All this is packaged in a durable hard-shell case.
It is quiet enough not to startle anxious or fearful animals and has enough power to get the job done quickly.
Check Carefully because…
Though the battery has a longer life span, after continuous use it will last for less time. Extra batteries can be purchased.
Some units have been reported to not work after first use, so be sure to test immediately and make use of the warranty if needed.
It is a one speed clipper that comes with one size comb (Size 10). You can purchase different sizes separately.
After long periods of use, the blades can become hot, never hot enough to burn you or your animal, and the use of cooling spray helps.
This is not the best trimmer for small dogs or the areas around the paws and face because it is a one size, one speed machine. Different size combs can be purchased to help with this drawback.

The MUST Know, True Facts about Andis Vet Pak Detachable Blade Clipper Kit for Veterinarians, Professional Equine and Livestock Grooming, AGR+ (65340)
What to watch out for with this product?
Crucial Tips
Don't let the warranty expire before you test this product. Make sure the battery lasts and the on/off switch stays. If not, return immediately for a replacement.
If you have other blades from other trimmers, check to see if they are compatible with Andis Vet Pak Detachable Blade Clipper Kit.
This is quite the investment so make sure that you will be using this frequently and that you know at least the basics for grooming kit care and maintenance.
Pros
-Interchangeable blades
-Natural grip for your hand
-Cordless, quiet
-Great for animals with thick coats
-One year warranty
Cons
-Battery fades after time and use
-One speed, one size
-Hot blades after extended use
-Expensive
Conclusion
Andis Vet Pak Detachable Blade Clipper Kit for Veterinarians, Professional Equine and Livestock Grooming, AGR+ (65340) is a great choice for both professionals seeking a heavy duty clipper, and beginners seeking a practical clipper for pets such as cats and dogs. If you are in the market for a reliable and versatile clipper, then this is a great choice for a quality kit especially if you are in the market for the best dog clippers for matted hair. This is our choice for the best dog clippers for matted hair!
Check Carefully because…
Even though these clippers use a ceramic blade, which stays cooler longer, the vase (where the blade hinge is located) does heat up and will burn your hand if you're not cautious. However, as long as you're using these correctly, you'll be fine. Thankfully, the actual blade really does stay cool and will not harm your pet.
The MUST Know, True Facts about Andis Excel Pro-Animal 5-Speed Detachable Blade Clipper Kit
With the detachable blade feature, you can use these clippers on ANY animal. You can also switch the guards easily for professional-level grooming. Being able to remove the blade and the guards also makes clean up a cinch.
What to watch out for with this product?
This clipper has a powerful rotary motor, which enables its long-lasting durability and ability to be used on both small and large pets. It also has five different speeds, which you can toggle through with a quick tap of a button on the side of the clippers as you work. If you've got a large breed dog with a full undercoat or a long-haired cat, you'll be glad you have clippers with this much power. Although it's designed for use on pets, it can also be used on humans in a pinch!
Crucial Tips
If it seems like your blade is getting too hot, you can always slow down the speed. You could also replace the blade before it gets too hot, if you're concerned.
In addition to the guards, these clippers also come with oil. Be sure to oil your blade between uses to keep that top coat shiny and smooth.
Pros
These clippers truly are lightweight, and the soft-grip, anti-slip design is so comfortable. If you have ever groomed a dog before, then you know that it can take a long time. These are designed to be used all day, for hours if necessary, and your wrists will thank you for not going with a bulkier model without the soft grip design.
Also, I didn't think that quiet clippers really existed, but these are the quietest clippers I've ever used. This is great for keeping the animal calm and cooperative while you get the job done.
The clippers, guards, and blade come in a clear case so you can easily organize and keep track of your supplies. The guards are stainless steel and magnetic, for incredible ease of use.
Cons
Unlike some models, these are not cordless, so you'll have to be near an outlet and may have to maneuver your way around while you work.
Conclusion
There are less expensive versions out there, but if you are a professional groomer or have a pet with lots of thick hair and you don't want to keep paying a professional groomer to tame it, this is a great product.
This lightweight, multi-functional clipper is the jewel of the Andis collection. It's super light, offers the option to go cordless or stay corded to make your workflow easier. You can use any of Andis' collection of blades and attachment combs, but it comes with the standard carbonized steel size 10 blade.
The blades come prepared to cut your dogs fur as if it is hot butter, instead of fur. These are great for groomers working with high numbers of animals each week.
It can be difficult to get this clipper to start at first, as there is a lock out feature that requires you to attach the blade while the clipper is on. This has caused a lot of confusion for users who have never come across this feature before.
The Andis Power Groom+ 5-Speed Detachable Blade Clipper comes with a bottle of blade oil to help keep your blades clean!
Best Lightweight Option
Heat and noise: Does not heat up as much as others, average noise level
Weight and Ergonomics: Contoured, break-resistant housing for groomer's comfort, 0.9 lbs and small
Motor: Rotary 120 volts, 60 Hertz
Blades: Comes with one detachable size 10 steel blade. 5,000 strokes per minute
Cord/cordless charge: Comes with swivel cord that's advertised as tangle free, but also works on battery power. Cord is 14 feet long
Maintenance: Easy to clean and oil blades
Check Carefully because…
This clipper does not come with a recharger for the battery pack. If you wish to go cordless, you will have to purchase that charger and extra batteries separately at an additional cost.
The MUST Know, True Facts about Andis Power Groom+ 5-Speed Detachable Blade Clipper AGRV
This offers five different speeds to make sure that you can get the perfect cut, no matter the state of your pet's fur.
What to watch out for with this product?
You may turn off the clippers while using them accidentally if you hold them too close to the switch that changes the speed!
Crucial Tips
You'll want to purchase some extra blades and cooling spray if you want to use this clipper continuously so that it doesn't burn the animals you are working with!
Pros
Option for cord and cordless for grooming needs
Does not heat up as much as other clippers
Easy to change blades
Assortment of attachment combs and blades available to make it easy to get the cut you want.
Cons
Lock out feature requires you to lock the blade into the device while it is running
Only comes with one blade and no attachment combs
Does not come with rechargable base or extra batteries
Several users reported a short in the cord that caused the clipper to stop running
Conclusion
The Andis Power Groom+ 5-Speed Detachable Blade Clipper AGRV is great for groomers that need multiple speeds to work with all different kinds of animal fur. Once you get the hang of the lock out feature, it's simple and easy to use for the long term.
The ProClip AGC 1-Speed Detachable Blade Clipper Kit is a great deal for a professional clipper.
It offers interchangeable blades and attachments that are designed to work on curly-haired, long-haired and double-coated dogs.The flashlight-like handle is designed to stay in your hand, but it is also shatter-resistant in case you do drop it.
The case, however nice it sounds, doesn't actually do this kit any favors. It comes with one #10 blade, as well as four different attachment combs and a tube of blade oil in the case with it. I would recommend also purchasing a cooling spray, or a second blade for this kit. The included steel blade is designed to prevent corrosion and rust, but does not prevent the blades from heating up like other clippers.
Most Versatile Grooming Tool Available
Motor: 120 volt and 60 Hertz rotary motor. 2700 strokes per minute
Blades: One steel blade, others available for purchase
Weight and Ergonomics: 1.1 lbs
Cord: 14 foot, heavy weight
Ease of Maintenance: Easy
Heat and Noise: Blade heats up but body stays cool, but stays fairly quiet
Check Carefully because…
If you have a dog with particularly fine hair or a cat, this may not be the trimmer for you. You might need to purchase one of the EGT UltraEdge Cat Blades in order to trim your furry friend properly.
The MUST Know, True Facts about ProClip™ AGC®+ 1-Speed Detachable Blade Clipper Kit
While the case for this kit may seem handy, it's not as high quality as the materials inside it. It's slightly too small to fit everything after the clipper has been used, and the accessories do not fit into their allotted slots very well. The case is not a great selling point for this clipper kit.
What to watch out for with this product?
Overheating blades are definitely an issue for this clipper, since they offer 2700 strokes per minute. The manufacturer recommends using a cooling spray or switching out the blades whenever one gets too hot to use. Another option is to spring for the ceramic blades, which stay cooler longer than the steel one that comes with this clipper kit.
Crucial Tips
Buy more than one blade
Try out the attachments
You will need to clean the clippers out before, during and after being used.
Pros
Long Power Cord
Many Attachments Available
Quiet
Built For Regular Use
No fan or vent = no clogging!
Compatible with all of Andis' blades.
Four attachment combs Included
Body stays cool in your hand
Quick, easy blade changes
Cons
Case is small and low quality
Only one speed on base model
Blade tends to overheat fairly quickly
Only comes with one blade
Conclusion
With an array of different blade styles and attachment combs available, this clipper kit offers a versatile experience that's great for at home grooming salons or personal dog grooming use at a reasonable price on its own. If you add onto it with the various types of blades, this could be perfect for your grooming salon!
Technical details
———————-
Heat and noise
Fairly loud and hot
Weight and Ergonomics
Nearly 2 pounds and somewhat awkward to hold
Motor
Universal motor, 2,100, 2,700 SPM
Blades
Uses detachable A5 style blades of any make. Includes Size 10 CryogenX blade
Cord/cordless charge
12' cord
If you're looking for a reasonably-priced set of professional-grade clippers, the Oster A5 Two Speed Animal Grooming Clipper may be just what you are looking for. These sturdy clippers will cut through all but the thickest coats.
Sturdy professional-grade clippers
These clippers are sturdy and can last a long time if you get a good set and maintain them properly. They are prone to problems with the blades becoming loose and not functioning properly. They are at the lower-end of professional-grade clippers, but they're a fine option for most people grooming their dogs at home.
Check Carefully because…
Not only do the blades get hot, but the clippers themselves can become so hot that they're difficult to hold after a while. Some people have problems with the blades coming loose and not functioning properly. These clippers are very heavy and can be difficult to use. They may have difficulty cutting through thick coats.
The MUST Know, True Facts about Oster A5 Two Speed Animal Grooming Clipper
Unless you get a defective pair, these are a sturdy set of clippers that can last for a very long time with proper maintenance. They will get through all but the thickest coats, although they get extremely hot in the process.
What to watch out for with this product?
You need to keep blade coolant or extra blades handy because the blade can quickly become hot enough to burn your pet. The clippers themselves can become very hot in your hand, to the point that they're uncomfortable to hold. They're very heavy and awkward to use. The blade may come loose, rendering the clippers useless until you tighten it back into place.
Crucial Tips
Keep spare blades or blade coolant handy, because the blades can become very hot.
Be sure to use these clippers for the first time before the end of return policy in case you've received a defective set.
Be aware that the clippers can become very hot in your hand.
The blade may come loose and make the clippers useless.
Pros
-Sturdy
-Very Reasonably priced
-Cuts all but the thickest coats
Cons
-Not just the blades but the clippers themselves get very hot
-The blade can come loose, rendering the clippers useless
-Very heavy
-Uncomfortable to use
Conclusion
If your dog doesn't have very thick hair, these might be a reasonably-priced upgrade from cheaper clippers that don't work well. Be warned that the clippers and blade can become very hot. The clippers may be defective when you receive them, and the blade can come loose and make the clippers useless.
Technical details
———————-
Heat and noise
Cooler than many other clipper models
Weight and Ergonomics
9.6 ounces
Motor
Rotary motor up to 6,000 SPM
Blades
Sizes 40-30-15-10-9 all in one adjustable steel blade. Includes 4 plastic attachment combs ranging in length from 1/8" to ½"
Cord/cordless charge
Cordless
Maintenance
Can be difficult to maintain
If you have a dog with fine to medium hair, these lightweight corded clippers may be a great choice for you.
Lightweight cordless clippers
These cordless clippers are much lighter than many other models of clippers, and the fact that they're cordless makes them more versatile than corded clippers. They hold about a 90 minute charge, but they can be used with a cord if that isn't long enough.
Check Carefully because…
The clippers don't fit into the charging base very well and may have trouble charging. The blade sometimes breaks off a small piece of plastic when you remove it to clean it, which requires you to send the clippers back to Wahl to be fixed. These clippers vibrate a lot, and the blade can get hot if used without attachment combs.
The MUST Know, True Facts about Wahl 8868 Figura Professional Lithium Ion Rechargeable Pet Clipper Kit
If you get a functional set of clippers with the entire attachment comb set and you have a dog with fine to medium hair, these could be a great purchase for you. They're very light and can hold a charge for up to 90 minutes. Unfortunately, the clippers often don't fit into the base very well, which makes it difficult to charge them. They can have trouble getting through thick coats, and the 5-in-1 blade is less versatile than clippers that use replaceable A5 style blades.
What to watch out for with this product?
Sometimes the clippers arrive used or missing some of the attachment combs, so check the product thoroughly as soon as it arrives so that you can return it to Amazon without hassle. The clippers don't fit well into the charging base and may have trouble charging as a result. These clippers have strong vibrations and aren't suitable for thick coats.
Crucial Tips
Check the product thoroughly when it arrives to make sure all the pieces are there, it seems to be in good condition, and it fits snugly in the charging base.
These clippers have a difficult time with thick coats and may be better used only in sensitive areas like the face, potty areas, and the pads of the feet.
The blade can get hot if you're using it without an attachments comb.
Pros
-Cordless
-Very lightweight
-5-in-1 blade reduces time spent switching out blades
Cons
-May have trouble charging
-Not good for thick coats
-Sometimes arrives used or missing pieces
-Has a known problem with plastic breaking off when removing the blade to clean and oil it
Conclusion
These lightweight cordless clippers can be a great choice for dogs with fine to medium hair – as long as you get a fully functioning set with all the pieces. These clippers aren't suitable for thick hair and the blade can get hot if you don't use it with an attachment comb.
Check Carefully because…
One word of warning: even though these are advertised as quiet, they generate a steady hum while you use them (much like a regular pair of clippers you've used before or seen at the barber shop). My Lab wasn't bothered by it but if your pet is jumpy, it might be a problem for you. On the other hand, you're not going to find totally silent clippers anywhere, so maybe you should just take your pet to the groomer if she freaks out when you turn these on.
The MUST Know, True Facts about Wahl Lithium Ion Pro Series
As advertised, these clippers are cordless, which makes it so easy to maneuver around my pup and make sure I'm doing a thorough job. Just make sure you recharge it after you use it so it will be ready to use the next time you need it. The charge lasts plenty of time to do a full-body trim (about 10-15 minutes, depending on how cooperative he's being) and supposedly would last up to two full hours if you needed that long.
What to watch out for with this product?
Since it's cordless, you have to remember to charge it between uses. You can't just pull it out of the drawer and start working.
Crucial Tips
So far, the blade looks like it is in good shape. We will see how it holds up this summer. Thankfully, these come with some oil for the blades, and that seems to keep the teeth sharp. The blades are supposedly self-sharpening, and they haven't had any problem getting through my Lab's long hair. The clippers come with four guards of different lengths, so you can use the one that makes the most sense for your pet. My husband has even used it to trim his beard!
Pros
The clippers are substantial but not overly heavy, and are easy to use.
There are instructions from the manufacturer that provide tips for specific breeds and also lists a phone number for customer service.
They even provide links to video tutorials, which were really helpful for me since I'd never done this before.
Full disclosure: you can tell an amateur (i.e., me) trimmed my dog, but for $60 and at least a dozen uses, I'm saving tons of money on a groomer.
Cons
These clippers do heat up while you use it but I haven't noticed that it overheats, and certainly hasn't been too hot to burn me (or the dog). My husband didn't complain when he used it either.
Conclusion
Overall, I'd recommend this product for anyone who wants to trim their pets at home. And even though you COULD use it on a human, it's probably not a good idea unless you're in a pinch.
Crucial tips to follow when grooming a dog with Matted fur at home
How do I get ready for grooming a dog with matted hair? [Bathe the dog first? or Brush first? It's critical to get this right!]
If your dog is severely matted, there are some steps you can take to make the process easier for both you and your dog. Again, make sure you have all your tools assembled before you begin.
How can I make my dog more comfortable with grooming?
Don't forget treats for your dog to help keep him calm and reward him for good behavior. Make sure you have a de-matting tool, a mat splitter, a brush and detangler. You can use a pet specific brand, or the detangler spray your mom used on you as a kid works just as well.
Start carefully brushing your dog. When you come upon a mat, spray it with the detangler – really get it saturated. Work through the mat with your fingers, carefully freeing the hair. Think about when you've had knots in your hair, or there have been knots in your child's hair.
You would work at them slowly and carefully. It shouldn't be any different for your dog. While this is a very painstaking task, your dog will thank you. If the mat is beyond detangling with your hands, use the mat splitting tool, and remember to go in the direction of your dog's coat.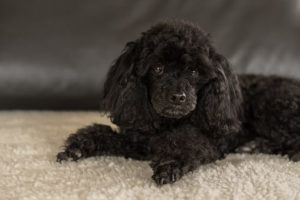 Shaving a Dog with Matted Hair at home
If your dog's mats are too severe, shaving him may be the only option. But you can't just jump in with the clippers. There is a process, and as always it begins with assembling your tools.
You will need a clipper with a very short blade, probably a number 10 blade, and a pair of scissors. If possible carefully cut out the mats with the scissors before you start clipping.
Just be careful to not to let the dog lick the scissors while you are doing this. If the tongue get's cut it will bleed a lot and create a scary mess for the dog and you!
A matted coat would be different from a thick coat. Whatever you do, do not bathe your dog first as this will exacerbate the matting. Water will only make mats worse, so you will want to shave the mats off first, then wash and dry, and then go back and make the haircut look nice.
Start at your dog's head, keeping clear of the eyes. You'll want to stay about an inch away from his eyes. Next move on to the under arm and under tail area on your dog. Take your time and move slowly and precisely.
The removal of dense, matted areas requires great skill. You must be very cautious of your dog's skin. Oftentimes the mats hide wounds, or at the very least, very tender skin.
This can happen because the mats restrict the airflow to the skin. Be very aware of this and inspect the skin and proceed with caution.
When you get to the back legs, be careful as the lower tendon can be cut easily. Also be careful and go slowly around the tuck up (the area under the loin in a small waisted dog) and in the arm pit area.
Make sure to hold the clippers flat against your dog's skin. From there, shave the dog's back starting with his head and moving down in the direction of his tail and then on to his belly. If the matting is severe all over, you'll probably need to leave the 10 blade in, but if the matting is less severe, you can use a longer blade.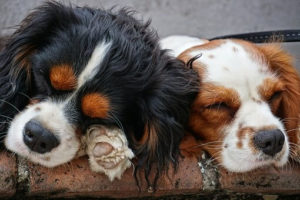 What to do to avoid excessive blade heating when grooming a dog with Matted hair?
Be careful when shaving your dog as the blades can get very hot. The first thing to do is to make sure your blades are sharp, sharper blades will not heat up as quickly. Make frequent checks by touching the blades to make sure they are not too hot.
If they are, you have a couple of options available. If you have a second blade, you can swap them out, giving one blade time to cool. If you don't have a second blade and you find yours is getting too hot. Shut off the clipper and remove the blade and place it on a cool/cold surface, like a piece of marble tile. This will help to pull the heat out of the blade.
Buyer's guide for dog trimmers for matted hair
How To Find Dog Clippers For Trimming Matted Hair? What to check when buying clippers to groom dogs with matted fur?
When it comes time to buy a clipper for trimming your dog's heavy coat, there are a lot of things to consider.
Corded vs. Cordless Clippers/shears
Corded were the recommended option over the years when it came to cutting matted hair, Because "It's going to take a lot of time, you'll want a corded rather than a cordless clipper. " but due to the advances in modern technology new models of cordless clippers have a long battery life, so they can be used for lengthy and heavy grooming sessions.
What speed should I use when grooming my dog (who has matted hair)? Fast High rotary speed per minute (RPM/SPM) or Slow clippers? Multi-speed or Single speed clippers?
Look for clippers with several speeds and a powerful motor. But make sure it's quiet as well. Basically the higher strokes per minute a clipper runs, the more powerful it will be to get under matted hair.
Sharp blades? Yes they would make it quicker and easier to cut through the mats. Actually sharp blades are more important than a powerful motor when removing mats!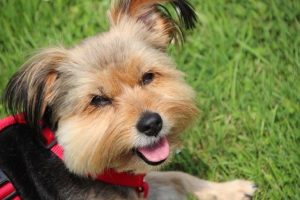 What to use? Long Blades? Short blades? Blade number/s?
To remove mats use a #10 blade
To shave use #7F blades
A 7 blade is one choice of blade you could use to shave a dog. Usually, you wouldn't go shorter than a #7, but there are longer lengths you can use and it still technically be called a "shave."
While a #10 is the safest blade to use under mats, sometimes you can get a longer blade under mats. But for the average person grooming their dog at home, it's safe enough to say use a 10 to remove mats and a 7 to shave.
Ergonomics of dog shears
A clipper that is ergonomically designed and fits comfortably in your hand is a must.
Lightweight or heavy clippers?
You'll also want to make sure the weight is comfortable in your hand. Your pet's skin is in your hands, so to speak, so you'll want to invest in a good, quality clipper.
You can spend less money and get an inferior product, but this is detrimental to you, and your dog. Yes, you can do an okay job, grooming your dog with less expensive budget clippers. But do you want to do an okay job? Probably not, especially not if your dog is severely matted.
You want to get a quality clipper that has a lot of strength, so you can power through the mats with the least amount of pulling on your pet's delicate skin.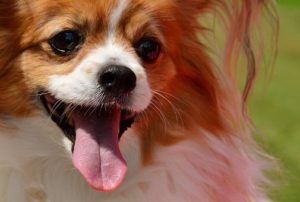 Yes, you're going to spend a bit more, but in the long run, you'll be saving money. You can groom your dog at home, and quality clippers will have a longer life.
Plus, as I said, they'll be more powerful, and will allow you to clip your pet, quickly and safely. Think about it this way, professional groomers are willing to buy the best possible tools, and while you may not be a professional, if you're grooming your own pet at home, don't you want to have the best possible clippers?
FAQ dog shears for dogs with matted fur
How to Groom an Aggressive Dog with Matted Hair
If you have an aggressive dog with severely matted hair, you are dealing with two problems when it comes to grooming. How to deal with the aggressiveness which will surely be exacerbated by the severe mats. If your aggressive dog is matted, your best bet may be to find a vet that has a groomer on the premises. If your dog is very aggressive, sedation may be the answer. It will be safer for you, and faster and less stressful for your dog.
Grooming a Senior Dog with Matted Hair
The grooming of your senior dog can take a special touch. Even if you've been grooming your dog all along, as he gets older, it can present some challenges. If grooming your elderly dog gets to be too much, check with your vet to see if the vet tech can take care of it. You can also search for a professional groomer that will let you hold your dog while they do the clipping.
How to Groom a Dog with Medical Issues Like Seizures
Grooming a dog with medical issues such as seizures can present its own problems. If you do have a dog that suffers from seizures, you'll want to make sure they are medicated. Check with your groomer and schedule the appointment for a slow time, like the end of the day. The quieter atmosphere, plus knowing that there are no other dogs waiting will probably work best for you and your dog.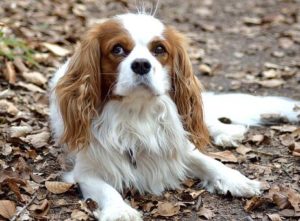 Is it a good idea to shave or closely trim my double coated dog (Shih Tzu, Yorkshire Terrier, Golden Retriever, Shiba Inu, Siberian Husky) because my dog is itchy?
No it can damage their hair, it might not grow back and it's unnecessary because unlike humans dogs do not regulate body heat by sweating through the skin (they sweat through their paws or regulate by panting)
How often should I groom my dog?
Can I use human clippers on a dog?
NO!. It won't cut through dog fur, it's much thicker and denser also it might be even hard it the dog hair has mats.
What are the most important functions? Do I need clippers with Many functions?
No, A sharp blade, a steady hand and a recommended pair of clippers is all you need!
Share your experience of finding best dog clippers for matted hair with others or ask questions below…