We may earn commission from qualifying purchases at no extra cost to you.
Learn more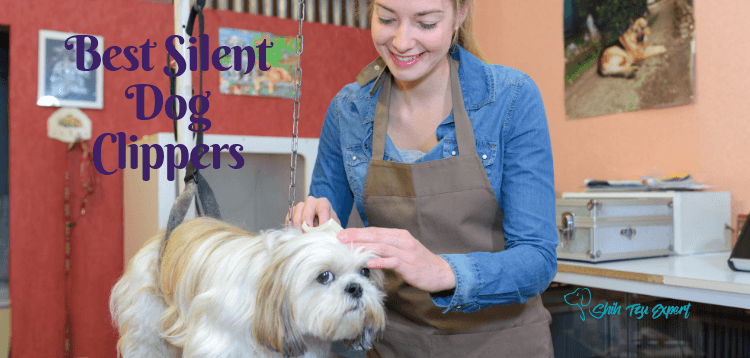 Does your dog get anxious before, after, and during grooming appointments? Do you get reports from your groomer that their behavior is bad or hostile? or even statements like "It was the dog's fault!" Initially, you may feel disappointed in your dog's behavior.
But, instead, try thinking about it from their perspective. Their owner took them to a strange place with lots of weird smells and other uncomfortable dogs. They were handled and shaved by a stranger (most probably who was not trained nor qualified to handle a pup let along play with those sharp and fast moving objects like dog clippers and scissors ), likely had to sit in an unfamiliar crate.
No wonder going to the groomer is an upsetting experience! To avoid putting your dog through that whole ordeal, you can simply groom them at home. It will be much better for your dog, and much cheaper for you.
5 Best Silent Dog Clippers for Grooming Anxious Dogs [That won't terrify my dog]
This uniquely powerful cordless clipper ensures you can groom your dog anywhere, which gives you the flexibility to choose whatever location they will be most comfortable. With a rechargeable lithium-ion battery that runs continuously for over two hours, there is plenty of time to get the perfect trim without worrying about a cord trailing behind you! If you have multiple dogs to groom, you can use multiple detachable batteries to effortlessly extend your runtime. With detachable steel A5 blades, you can choose the perfect attachments for your dog's coat. These versatile clippers are loved by professionals and home groomers alike for their efficiency and power. Weighing only 15 ounces and cutting at a steady 3000 strokes per minute, the lightweight design houses a powerful and efficient Universal Rotary motor that is even rated for heavy duty use on horses and livestock!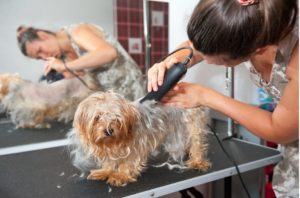 This professional clipper has both corded and cordless flexibility! The 90 minute cordless battery has a colored LED display to show battery status, and takes only 45 minutes to charge. You can also use it while it is charging. Boasting 5500 strokes per minute, their soundless rotary motor trims even the coarsest hair lightning fast! At only 9.4 ounces, these clippers are very lightweight and easy to maneuver. They feature an innovative removable scissor-like grip that makes steadying and guiding the clippers a breeze! The Wahl 5 in 1 multipurpose blade with included guide combs can accommodate any grooming preferences without additional tools.
The Andis brand has been respected by professional groomers for years, and their dedication to quality grooming devices is apparent in their Andis UltraEdge Super 2 Speed. The quiet rotary motor puts nervous pets at ease. With two speeds, 3400 and 4400 strokes per minute, you can utilize the higher speed as needed to maneuver coarse or matted fur. The detachable A5 blades give the user the opportunity to choose the blade that works best for the job. These clippers don't have cordless capability, but Andis makes up for it by supplying a long 14' cord. The efficient motor runs cool without fans or vents. What's more, the cool-touch blades are much more comfortable on your pet's skin, making the grooming process that much easier for everyone involved.
At a lower price point than previously reviewed clippers, Oster offers a heavy-duty set of corded clippers for a competitive value. Oster claims faster speeds and wider sweeps with their CryogenX blade. The Oster Turbo A5 2-Speed Clipper comes with a detachable CryogenX blade, crafted from quality steel to rigorous performance standards and treated with a custom hardening process. There are an array of compatible Oster A5 blades to choose for any breed or coat type.
The clippers easily glide through thick or matted fur
at high and low speeds of 4000 and 3000 strokes per minute. Oster's universal motor allows increased airflow and less noise than your average clipper.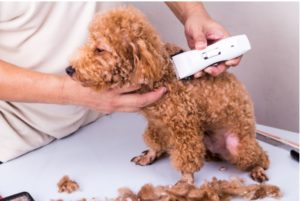 This professional and versatile clipper from Andis is rated as a high powered super-duty clipper. Specially designed to work on multiple different breeds, this clipper is a great option for those of us with multiple different pets. The system comes with the #10 UltraEdge blade, but also works with the CeramicEdge, ShowEdge, and other A5 blades. The cool running rotary motor has two speeds, 2700 and 2400 strokes per minute. Its corded design features a 14″ heavy duty cord with a locking switch.
What is THE best Quiet Dog Clipper for my dog?
After much deliberation and research, I chose the Wahl Motion Lithium Ion Clippers due to their cordless and corded capabilities, and the most strokes per minute of the clippers in my price range. The unique scissor grip helps me keep good control of the clippers without making my hand sore. Even though my dog is afraid of the blow dryer and the vacuum, she hardly even notices these clippers! Overall, it's been a wonderful investment, costing me less than a few months of grooming visits for my dog. First, I started out getting her used to the sound of the clippers running while she was enjoying a bone. Then, I moved on to quickly trimming her legs. Later, I progressed to giving her a partial trim, then a full trim. In less than a year, I've saved so much money on visits to the groomer. My friends were very surprised that I'd attempted to groom my wiggly dog at home, but once they saw my handiwork, they all agreed that the results look great! A few friends have already asked me to trim their dogs, but I told them they could borrow my clippers instead since I don't feel I'm comfortable enough to groom their dogs.
Why do dogs get anxious when grooming?
My
dog always hated
going to the groomers! I would get reports that she was uncooperative and she even had an accident one time. After a trip to the groomer, she wouldn't want to get in the car for almost a week afterward. Once I considered everything from her point of view, I could certainly understand why she was feeling and reacting this way. After considering the ordeal I've put my dog through every few months, I felt even worse considering the possible results of my actions.
They feel that the groomer is anxious
Due to moving, I have been to a variety of different grooming facilities. I have seen that the majority of the time, grooming staff are young and inexperienced. Not only is my dog uncomfortable being handled by a stranger, but the groomer is also likely uncomfortable to be handling a potentially dangerous dog. Due to their line of work, the groomer has had at least one bad experience with a dog. They may have even have had a problem client the same day as they're seeing your dog. Dogs are very in tune with others' emotions, and they become even more anxious when they feel that their groomer is anxious.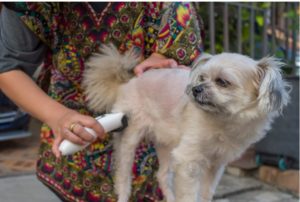 They see sharp and scary objects
Flashing scissors, loud clippers, and grooming tables are confusing and potentially dangerous to your dog, which raises their anxiety. In addition, they are likely to be other unfamiliar dogs at the grooming facility who are not in the best mood and may be another source of stress for your dog.
They hear unfamiliar noises
The groomer's is a loud place! There are clippers, blow dryers, and cries of uncomfortable dogs being handled by a stranger. Dogs have a great sense of hearing, and these strange noises are upsetting to them!
There are new smells
A sense of smell is also a very important sense to dogs. That's why when they get to a new location, they usually like to walk around and feel out the new place by smell. Especially if there are scents from other dogs. Unfortunately, roaming around the room is not possible at the groomer's office. This may be a source of anxiety for dogs as they are unable to familiarize themselves in this strange place.
Why is it bad when dogs get anxious while grooming?
There have been more and more stories in the media about the harmful experiences dogs have had at the groomers. And after taking over the grooming process and trimming my dog at home, I believe that it's important for dogs to feel safe and secure while being groomed. Beyond simply being uncomfortable for them, distress can cause many other more permanent problems. Injuries such as cuts and scrapes are a common occurrence at grooming facilities. More rarely, there have even been reports of dogs dying at the groomer's due to jumping off a grooming table or experiencing breathing issues.
Anxiety is another common and lasting result of going to the groomers. A dog can develop anxiety about traveling in a car due to a traumatic experience at the groomers. Car anxiety can be a big problem. If your dog is
uncomfortable getting in the car
, it's sure to complicate many happy occasions such as taking your dog on vacations and going to the dog park, as well as add another layer of stress to emergency trips to the vet or other destinations. Your dog's behavior while out in public can also be affected by their anxiety about being headed to the groomer or other traumatic experience, instead of just going to the park to play catch. They might develop a loss of trust in their owner who brought them to an unpleasant experience at the grooming facility.
How to control anxiety and keep a dog calm while grooming
There are many over the counter and prescription medications that owners can utilize to help their dog deal with anxiety, such as chewable tablets, food additives, and pills. However, it seems that these medications can have negative side effects like digestive upset and irregular heart rate. Vets agree that it is best to avoid medicating dogs unless absolutely necessary.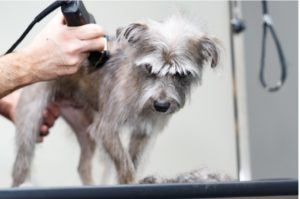 The best way to help and relieve your dog's grooming anxiety is to minimize their trips to the groomer. Luckily, dog owners have many options and resources they can use to help their dogs have a better grooming experience at home. Start by
bathing them at your dog
at home and getting them used to the sound of the clippers. Then complete some small trims, working up to fully grooming their fur. You will definitely be surprised to see how easy it is!
Electric dog hair clippers VS manual dog hair clippers
Besides quiet electric clippers, there are also manual dog clippers. Instead of a motor and guard, manual clippers are more similar to grooming scissors with a guide comb attached. For dogs who are sensitive to noises and afraid of whirring electric clippers, manual clippers seem like the way to go. However, the process of fully grooming a dog with manual clippers is extremely slow and labor intensive. Electric clippers are actually more user-friendly and quiet than the home dog clippers of years past. Because of the guide blades, there is no risk of accidental cuts when using electric clippers. When utilizing manual clippers, there is a big risk of accidental cuts that may occur if your dog moves while being trimmed.
Why we do not recommend manual clippers such as Scaredy Cut Silent?
Unless you have a small or toy breed dog, trimming your furry friend with manual clippers will take an extremely long time. Using the comb guard, you'll trim one lock of fur at a time, going back over your work in sections to smooth it out afterward. Good luck with getting your dog to sit still for that long! Because of the long process, dogs are likely to squirm around which causes the risk of accidental cuts. In contrast, electric clippers work in smooth motions, relying on the guard to provide safety and ensure hair is trimmed to the correct length. The quiet motors are less alarming than those used at the groomers. The lower noise of a home environment compared with an unfamiliar, busy, and loud grooming facility is a huge benefit that will improve any dog's anxiety around grooming. In addition, your dog will feel more comfortable being handled and trimmed by an owner they trust.
Instead of stressing your dog out and burning a hole in your wallet, skipping those visits to the groomer is beneficial to the whole family! With a great selection of high-powered, quiet, and easy to use clippers available for home grooming, there's no reason not to get started today!