One of the ultimate ways to motivate a dog is to use food, however should you bathe your dog after they have eaten? Are you unsure of when to bathe your dog?
Can I Bathe My Dog After Eating (In The Morning /Day Time /At Night)?
Depending on the temperament of the dog, sometimes it is not safe to bathe soon after eating. For example, if your dog is easily excitable during baths, then bathing soon after eating can result in gastric distress, bloating, etc. It's always advisable to not bathe soon after eating.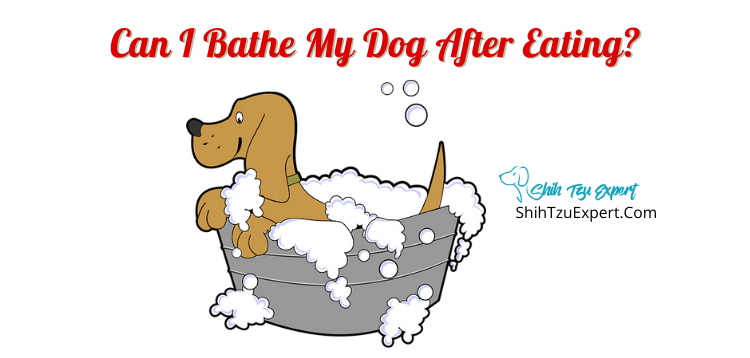 Can My Dog Become Sick If I Bathe It Soon After Eating?
If your dog gets very excited or anxious when they have a bath, and it's a lot of activity for them, then it can be dangerous for you to bathe them too soon after eating. They can feel sick, causing vomiting or even have something more serious such as gastric distress. However, if your dog is relatively calm and happy to stand there whilst you wash him, then the chances of him being sick are not as high!
For How Long Should I Wait To Bathe My Dog After He Eats?
Gastric distress can occur within 2hours of eating so if your dog is very excited during a bath it's recommended to wait at least this long.
When Should You Not Give Your Dog A Bath?
There are several reasons when you should not bathe your dog including:
Puppies: If you dog has just had a litter, its important to keep the smell of the dog consistent for feeding puppies so wait at least 2 days after the litter is born to bathe mum
Vaccinations: If you dog has just had a vaccination needle or any on-skin treatment it is recommended to not bathe them for a week to 2 weeks post the inoculation. For any on-skin treatment such as flea treatments, you should wait at least 48 hours.
Skin conditions: If your dog has a severe skin condition or allergy your vet may ask that you don't bathe them for some time to avoid flare-ups, always be guided by your vet in this instance.
Anxiety: If your dog is suffering extreme anxiety and/or hyperactivity when giving them a bath, you may seek some help from professional groomers who are experienced in dog bathing and can help alleviate some of his anxiety.
Do Dogs Need To Rest After Eating?
Generally, it is recommended that dogs should not be exercised after eating as it can cause gastric distress, or even Gastric Dilatation-Volvulus (GDV). This occurs particularly if your dog has eaten his meal very quickly or swallowed a lot of air whilst eating. The stomach can twist, blood supply to the stomach reduces and it can be incredibly painful for your dog. This is a serious condition and can require surgery.
How Long After Eating Does A Dog Get Bloat?
Bloating or GDV will usually occur within 2hours of eating
How Long After Eating Is A Dog's Stomach Empty?
A dog's stomach will usually be empty after 1-2hours from eating, and they will feel and display signs of hunger from 8-10 hours after eating.
Why Does My Dog Go Crazy After Eating?
For most dogs its because food is energy! Dog's also love food and mealtime will be one of their favourite times of the day. The energy burst that the food has given them may see them become very playful after a meal and they are also full of joy.
Technically this behaviour is known as FRAP (Frenetic Random Activity Periods) which is a moment of hyperactive behaviour and it is most common in puppies and younger dogs.
Can I Bathe My Dog Anytime? In The Afternoon, At Night?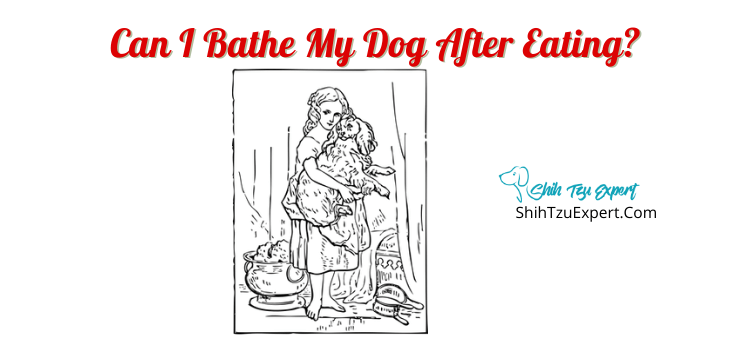 The time of the day that you wash your dog can be affected by several things such as:
Weather: If it's a really cold night you might not want to wash your dog at night unless you can blow dry them or let them lie in front of the heater as they will be very cold.
Behaviour: If your dog is very energetic in the morning and has a morning routine that involves a walk its best to walk them first and bathe them after. This doesn't disrupt the morning routine but will also mean your dog is not super excited or anxious whilst you are trying to bathe them so may sit still for you longer.
Drying time: if your dog has a very thick or long coat and they are going to air-dry post bath be sure to include enough time for them to dry before they go to bed. No one wants to sleep with wet hair!
Typically, most dog owners will wash their dog either late morning or early afternoon. This gives them time to dry, they are usually at their most mellow and it is not clashing with mealtimes.
How Often Should I Bathe My Dog?
You should bathe your dog every 1-2months depending on the following:
Type of Dog: Some dogs have short hair; some have long hair and some have no hair! Depending on the type of dog breed that you have, some will need to be bathed weekly as their skin lacks a protective coat, for example, the Chinese Crested Dog. There are also some breeds who can have very oily skin who will also need regular baths. If you are unsure, check with your vet or breeder.
Activity: is your dog an inside dog or work on a farm? This will also guide on how frequent your dog needs a bath. If they are running around outside chasing sheep all day, they are going to get much dirtier than an inside dog that walks twice a day through the suburbs. You can judge this purely by how dirty they are getting in their everyday activities
Allergies: If your dog suffers from allergies or a skin condition you may need to bathe them more or even less often, and also consider what shampoo you are using. Medicated or specific shampoos may assist with managing allergies.
The best guide on when to wash your dog is a) do they smell and b) are they dirty? If they don't smell and look relatively clean, they probably don't need a bath!
Should I Bathe My Dog Everyday?
Too much bathing is not always good for your dog. It can strip their skin of its natural oils and the shampoo may even cause itchiness or a dry and dull coat. You may also reduce the effectiveness of any flea or tick treatment. Taking your dog's lifestyle and their breed and health into account, you shouldn't need to bathe them more than weekly.
What Can I Use To Wash My Dog?
Dog shampoo is the best option for washing your dog, rather than using anything that the human family are using. This will ensure that it's protecting their skin and coat and less likely to cause allergies. This is available at most supermarkets, pet stores or your local vet. Stay away from any products that include coal tar or contain harsh strippers.
For dogs that suffer from allergies or skin conditions its best to speak to your vet about alternatives that will alleviate some of these conditions and reduce redness and itching.
Remember whilst you are washing your dog that it's also a great opportunity to check their skin for lumps, rashes and bites.
Can I Rinse My Dog With Water Everyday?
Whilst rinsing your dog with water everyday is not a bad thing, and in summer your dog may appreciate it to keep them cool, it's also not the best thing for their coat and their skin. Water can dry out the skin and rinse it of its natural oils
Do Dogs Feel Better After A Bath?
Dogs will generally not enjoy the process of a bath, but they love the 'clean' feeling afterwards. Most dogs also love being pampered so will enjoy a fluffy towel rub and a treat post bath.
It's quite common for dogs to go a little crazy after a bath, running around the house and acting very hyperactive. There are several reasons for this behaviour:
Relief – It's over! If your dog suffers from anxiety, they could just be relieved that it's all over and they can run around again, particularly if they are restrained for a bath.
Smell: Dogs have just lost their dirty scent which they love. They will run around and roll around trying to regain some of their lost scent.
Drying off: Some dogs will run around after a bath and roll on the carpet because they are trying to just dry themselves off.
References
Why exercise before or after a meal can be really bad for your dog
https://www.hillspet.com/dog-care/routine-care/how-often-should-you-bathe-dog
https://www.rspcapetinsurance.org.au/pet-care/health/washing-brushing-your-dog
https://thedogvisitor.com/can-i-give-my-dog-a-bath-after-eating
Why Do Dogs Go Crazy After a Bath?
https://germanshepherddog.info/bathing-your-dog-dog-feel-better-after-bath/
Most Dogs Feel Better After a Bath – Once It Is All Over!