Blue Buffalo vs Taste of the Wild You have absolutely no idea which is better… But which to buy? Here is the answer based on our research …
Blue Buffalo vs Taste of the Wild Quick Summary
If your pet is active then we recommend Taste of the Wild.
If your pup is not active we recommend Blue Buffalo

| | Blue Buffalo | Taste of the Wild |
| --- | --- | --- |
| | | |
| Our rating | (4.7 / 5) | (4.8 / 5) |
| Check Price on Amazon | Check Price on Amazon | Check Price on Amazon |
| Proteins: | 20-24% (Protein-rich, Real meat and Meal) | 25-32% (Protein-Rich, Whole Meat and Meal) |
| Fats: | 9-14% (Omega 3 & 6 Fatty acids) | 15 – 18% (Omega 3 & 6 Fatty acids) |
| Carbs : | 5% Fiber (Wholesome Whole grains) | 38% with 3 – 4.5% Fiber (Grain-free, Sweet potatoes) |
| Vitamins and Minerals: | Real fruits & Veggies, Calcium, Phosphorus, Glucosamine | Real fruits & veggies (Potatoes, Tomatoes, Blueberries, Raspberries), Vitamin E, Zinc, Selenium |
| Preservatives and Bad Stuff: | Holistic, Natural Preservatives, No Bad stuff | Natural Preservatives, No bad stuff |
| AAFCO approval: | Yes | Yes |
Trying to decide between Blue buffalo and taste of the wild?
is there a way to compare? which is better?
Why Choose One Over the Other?
They are the best in mid price range of dog food. They are both excellent brands and either one you go with will be a satisfying choice for your pet.
Taste of the Wild is going to be a little richer and higher in protein.
I used to have my pups on Blue Buffalo and they did really well on it.
I now have them on the Taste of the wild, and they love it!
Is Taste of the wild better for more active dogs?
Since it's higher in protein, Taste of the wild would be a great choice for active pets.
OK, so BB is for less active pets?
You can still feed your pet Blue Buffalo even if they are not as active but if the pet is on Blue Buffalo, it's better for their activity level.
Blue Buffalo vs  Taste of the Wild
Pickles, a long-haired Shih Tzu, used to struggle with food allergies in tangent with a sensitive digestive system, selective eating habits, itchy skin, and vomiting with every other intake of food.
As a Pickles pet mom I was beginning to think there was no solution for my finicky, sensitive pup. There was a point in time that I could only get Pickles to keep dog treats down, which is not healthy and only adds to his problem with being overweight.
I went to numerous vet visits and they only recommended to continue to switch brands of dog food until you find one he likes and doesn't immediately throw up. Aside from all of the crazy food allergies and sensitive stomach issues, Pickles was very healthy. I followed the vet's orders and started looking for hypoallergenic food brands – gluten-free, grain free, whole meats, and no preservatives or by-products.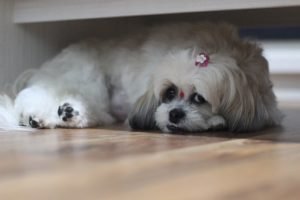 Before I bought a variety of dog food brands for Prince Pickles, I did a lot of research on a healthy Shih Tzu diet. When I was looking for dog food for my Shih Tzu,
I looked for six things: proteins, fats, carbohydrates, NO preservatives, vitamins and minerals, and approval by The Association of American Feed Control Official.
Here is the research I found and the two dog food brands I recommend for your sensitive dog.
Protein
The most imperative ingredient to look for is protein. Protein is an absolute must for your dog. But it can't be just any protein. It's important to avoid dog food brands that do not specify which kind of "meat" is used; otherwise, the deemed "meat" is probably by-products. Why are by-products bad? They are basically dried meat or bones mixed with other parts of the animal that are usually disposed of like stomachs, kidneys, face, feet, backs, brains, fetuses. If people generally don't consume it, then it's probably not best for your fur baby. By-products are not the worse thing for your dog to consume.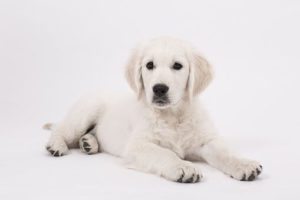 In fact, they can even contain more protein but they tend to be more processed and are inexpensive fillers. The most common proteins are chicken, beef, lamb, venison, bison, turkey, or fish. I found bison and venison can be used as a hypoallergenic if there are any allergies to chicken, turkey, or any of the other common meats.
I  decided to go look only for bison or venison products because Pickles has never had either and could very well be allergic to one of the common proteins. Keep in mind, proteins can come from fruits, vegetables and whole grains too.
Fat
As we should all know by now, fats are a pertinent part of our diets. The same can be said for dogs. Good fats offer healthy Omega-3 and 6 fatty acids. Fatty acids help keep the systems of all body functions healthy and running smoothly; like skin health, respiratory system, circulatory system, brain, and organs. The ideal ratio intake of fats for dogs is one gram of fat per two grams of protein.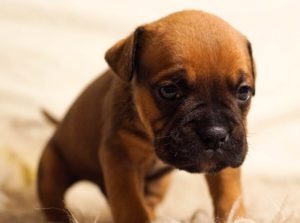 This allows your dog to consume the same amount of calories from each. Fats tend to have more calories per gram than proteins.
Also, a thing to look out for when further investigating the kind of fats and type of fats in your dog food, is that the AAFCO regulations allow a 10 percent variance in reporting what exactly is in the food.
Fat is significantly cheaper than proteins so it is possible for them to under report how much they actually contain. This can be avoided by finding a trusted brand.
Carbohydrates
Be vigilant about those carbs! It is good to limit carbohydrate intake because carbs are the number one contributor to overweight pets.
Since Pickles is super sensitive to everything I tried limiting my search to foods that were grain-free and gluten-free, or contained wholesome whole grains. I read good carbs are especially good for skin  sensitivities and promote healthy digestion.
Vitamins and Minerals
The no-brainer: avoid preservatives. There is a time and a place for preservatives because they keep food from spoiling, but you have to make sure they are natural preservatives.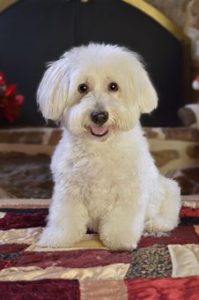 Natural preservatives tend to end in tocopherol and ascorbate. Just how you do not want to consume food products riddled with GMO's, hormones, and antibiotics, your dog doesn't either. Instead, find food brands with plenty of vitamins and minerals. These are essential for overall metabolic system health.
AAFCO Approved
And of course, make sure the food brand you select is AAFCO approved. This ensures the food contains the proper ingredients for your dog to live a healthy and full life – proteins, fats, fiber, and moisture.
After all of this research, I found two brands Pickles can eat
without throwing up
and maintains his cute, little figure – Blue Buffalo and Taste of the Wild. You can't go wrong with either of these brands but they are a couple distinct differences that might make you swing one way rather than the other.
Blue Buffalo
What drew me to Blue Buffalo initially was their inspiring story and practical antioxidant-rich kibbles. The story about Airedale Terrier, Blue, tugs at your heart strings and makes it easy to immediately trust and be faithful to this brand. Blue Buffalo inspires consumers to become part of a family that only wanted the best for their dog and turned it into a business to provide healthy dog food for the whole world. Who wouldn't want to support that? Who wouldn't want to support a dog food brand that is named after a dog.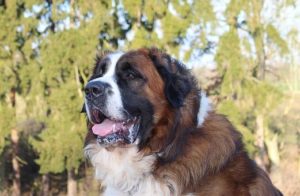 Blue Life Protection Formula contains high-quality, real meat plus has plenty of healthy fruits and wholesome grains. The formula is complemented with the LifeSource Bits that are a healthy blend of vitamins, minerals, and antioxidants. The healthy, real meats enhanced by the LifeSource kibbles creates a tasty and wholesome diet for your fur baby.
I bought this for Pickles to try it out for a couple of weeks and he ate it up. My only immediate reservation I had for Blue Buffalo is that Pickles did not like the taste of the vitamin kibbles/LifeSource Bits. He would eat around them and leave them in his bowl for the majority of the day until he got hungry enough to eat them regardless of the taste.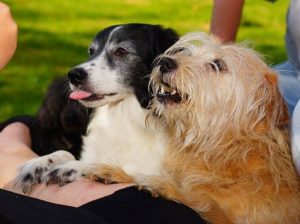 However, normally when Pickles eats too fast he will turn around and immediately throw it all back up again. But thanks to the the thoughtfulness of Blue Buffalo, the numerous varieties of dog food they create can cater to just about any of your finicky dog's needs.
I bought the Blue Wilderness Rocky Mountain recipe with bison and after two weeks Pickles itchy skin came to a halt and his coat was beginning to shine and look more healthy. It was unbelievable. Blue Buffalo has quite the selection of flavors and many varieties for any dog breed, size, and sensitivity. There is even weight control options. Between the gluten-free and weight-control perks, I noticed Pickles' coat becoming shinier and his stool was no longer as unpredictable and runny.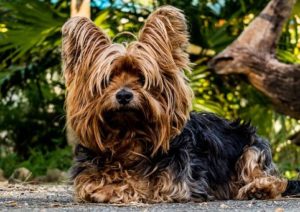 The only disappointment was the weight-control aspect of the formula. I felt like the weight control formula was not doing much. He mostly maintained his weight and he did not gain anything. But Pickles is a solid, five pounds overweight and I have been trying to slim him down to a healthier stature. I think Blue Buffalo weight-control or otherwise is a perfect formula for the more active pet. Pickles is a Shih Tzu and tends to want to be carried after a walk lasting longer than 15 minutes. If I had a a dog I went hiking with and who loves to run around and play fetch, then Blue Buffalo would be a perfect dietary choice.
Overall, I would recommend this product to anyone with pets looking for a more natural, wholesome diet. Pickles definitely reaped the benefits of the premium Blue Buffalo formula.
Taste of the Wild
What drew me to Taste of the Wild was their belief in bringing our animals back to their ancestral roots through diet. A diet that is grain-free and based on what their ancestors would eat. I can join and support a company that is trying to emulate what our dogs would eat in the wild. While Taste of the Wild does not have an inspiring dog named Blue to tell to its consumers, I felt like their innovative mission inspired me more to support.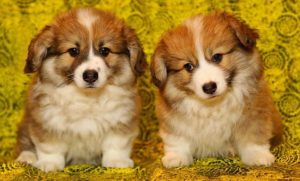 Most importantly there are no preservatives! I bought the prairie canine formula with roasted bison and venison to test my belief that Pickles has chicken allergy. My favorite part is that the very first ingredient on the package listed was buffalo followed by lamb meal, which means the majority of the food contains bison and lamb. Both of these proteins are high-quality meats and have a high concentration of proteins – lamb meal contains about 300 percent more protein than fresh lamb. The third ingredient is sweet potato.
This filled me with confidence that I was feeding Pickles real, natural food. The following ingredients were also straightforward, proving Taste of the Wild is a brand true to their story – ancestral diets. I noticed Pickles had more energy while consuming Taste of the Wild. The unique, lean meat options (that are hormone free) are highly digestible energy sources full of antioxidants and minerals. I loved that Taste of the Wild is family-owned and privately owned. The family saw a growing market and demand for natural, grain-free diets for dogs and jumped at the opportunity to provide just that.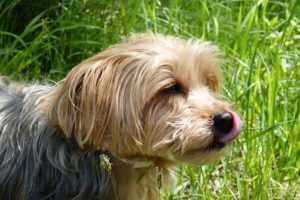 My only reservation with Taste of the Wild was the canola oil. I read it is tends to be harsher on dog's stomachs, tends to be genetically modified from rapeseeds, and is just an inexpensive filler. This is not a deal breaker for me because there is not enough canola oil in the overall product to actually raise concerns but definitely something to look for if you were expecting a 100 percent natural food.
The best part of Taste of the Wild is that Pickles goes nuts with excitement whenever its food time. He absolutely loves the taste and can smell it as soon as I open the bag. Even better, Pickles has started to slim down. The formula is rich enough to fill your dog up in smaller portions, but it is not rich enough to be harsh on sensitive digestive systems.
Comparison
While both products are excellent choices I ended up sticking with Taste of the Wild. I connected with their mission more than I did with Blue Buffalo. Taste of the Wild also has four different sources of protein in their formula (natural meats, eggs, pea protein, and sweet potatoes). Taste of the Wild also uses purified water during production. This is exactly the same quality you can find in bottled water. This really set Taste of the Wild apart from Blue Buffalo.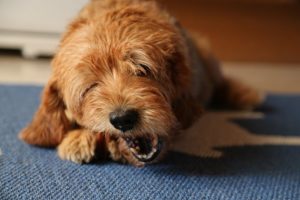 I also needed more grain-free options and Taste of the Wild provided that for me. Every formula is grain-free. Blue Buffalo mostly has wholesome whole grains rather than grain-free. However, on the other side of things, Blue Buffalo provides more vitamins and minerals in their product than Taste of the Wild. The LifeSource kibbles are real benefit for Blue Buffalo. Blue Buffalo also has more than 100 adult food options, about 20 senior food options, and about 20 puppy food options. This exceeds the variety of Taste of the Wild.
Ultimately, both products met my health requirements for Pickles are an exceptional, nutrient rich diet choice for your fur baby.
What do dog food manufacturers (Blue buffalo, Taste of the wild, etc) mean when they say they "do not have breed specific recipe"
I have very often been confused by this! because soon after this statement they say "our recipe is for small breed and large breed dogs"
Here is the explanation…
When they say "breed specific recipe" they are referring to a specific breed of dog, for example: boxers, poodles, german shepherds, etc.  The small breed recipes are generally for smaller dogs, due to the smaller kibble. If you have a pet that is under 5 lbs, the toy breed is probably a good choice since that will have the smallest kibble size that is manufactured.
So in summary
Small breeds (or medium, toy, large) aren't breed specific.
A specific breed would be like a Chihuahua or a Dachshund.
I hope this clears that up a little bit any confusion you may have had.