We may earn commission from qualifying purchases at no extra cost to you.
Learn more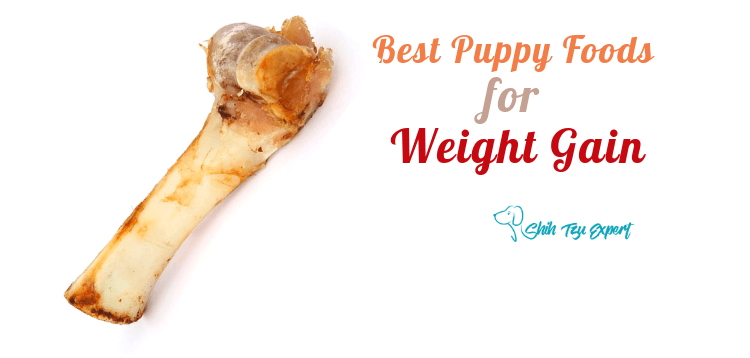 Do you have a puppy that needs to gain weight?
Never fear, there are plenty of excellent options out there to get your little guy or girl heathy! We compiled a list of great choices for puppies looking to put on a few extra pounds.
A BIG CAVEAT, you should absolutely check with your vet if you notice a significant change in the weight or eating habits of your puppy (or dog)! It is always better to be safe than sorry, especially because many vets say that medical causes of weight loss are more common than those related to food.
Once you've made sure that there is not a major health problem behind your little one's weight issues, then it is time to start for the perfect food to help them pack on the pounds!
In a rush? No problem, here's a quick list of great, high-calorie dog foods for your pup!
For the adult dogs in your life that need to pack on some lean muscle, we also found a few choice options!
For a comprehensive list check these ==>>for Specific breeds like Shih Tzu, Brands like Victor or Taste of the wild, Wet dog food, Best dry food options,
Now, back to the littlest pups!
What dog food will help my puppy gain weight?
There are lots of great options on the market to help your little one gain weight. Let's get specific!
One particularly good choice is
Best Puppy Foods for Weight Gain
It is all natural and great tasting.
Nutro makes two types of puppy food—one which is specifically designed for larger breeds. Both contain everything that puppies need to grow healthy and strong. In particular, Nutro's products are formulated to help with healthy growth, brain development, skin and coat health, and the promotion of a strong immune system. The puppy foods also contain DHA to aid in cognitive development.
They are also packed with nutrients to give your little guy or girl enough energy to run and play. Also important—they're easy to chew! Perfect for little mouths.
The base mixture is packed with protein from three sources—chicken, lamb, and salmon. You don't need to worry about accidentally feeding your little one a lot of fillers because the number one ingredient is chicken. The nutrition doesn't stop there; it also contains a special blend of powerhouse superfoods, including coconut, chia seeds, kale, and blueberries. All of their natural ingredients are sourced according to their "feed clean philosophy," which emphasizes quality and trusted farmers and suppliers.
This mixture also packs in lots of vitamins, including zinc sulfate, niacin, biotin, vitamin E, calcium, vitamin B2, vitamin B12, vitamin B6, manganese, Vitamin A, Vitamin B1, Vitamin D3, and folic acid.
Wow—that is a lot of health for a pup!
Fans love it because it is a hit with puppies—even the pickiest eaters! They also praise its high vitamin content and the fantastic improvement they've seen in their puppy's skin and coat.
| | |
| --- | --- |
| PROS: | CONS: |
| All natural | Contains chicken meal |
| High-protein (Meat from three sources) | Not grain free |
| Feed Clean Philosophy (High quality ingredients and superfoods) | Contains preservatives |
| Good for producing solid stool | |
| Great for skin and coat | |
Now, let's say that you want to help your puppy put on more than a few pounds. What if you want to help your little one get jacked?
Best Dog Food for Building Muscle
If you want to help your dog or puppy bulk up, look no further than
Not only are the ratings insanely high—it is the only five out of five-star dog food in its class—this formula is a nutritional heavyweight. It contains a whopping 535 calories per cup to help your dog pack on muscle. It is made entirely of all-natural, human-grade ingredients that will give your dog the energy it needs to thrive!
Beloved by K-9 Units and breeders alike, this formula is safe for all breeds and all dogs and puppies older than four weeks, making it a great choice for owners with multiple pups. Like Nutro's food, it contains DHA, which is essential for puppies' brain development.
Bully Max's mixture puts protein at center stage to increase strength, energy, and alertness. It is the only meat-based formula in its class and is completely free of corn, wheat, and soy. Because of its high meat content, it is full of amino acids that support muscle development. In total, it contains thirty percent more protein and twenty percent more fat than traditional dog foods. If the pup should be on a low fat diet here are the options. 
It is also excellent if you are looking to take fewer trips to the store. It contains fifty-four servings per bag; almost double the average for its class.
| | |
| --- | --- |
| PROS: | CONS: |
| No corn, wheat, or soy | Pricey ($50 dollars/ 15 pound bag) |
| High-protein | Not grain free |
| Highly rated | |
| All-natural, human-grade ingredients | |
| Most calories per cup (535 calories) | |
| No artificial flavors, colors, or preservatives | |
Phew! That's two great options for puppies looking to fatten and muscle up. But what if food isn't enough? Then it's time to turn to supplements.
High Calorie Dog Food Supplements
First up, let's talk about the
This easy to use milk replacement powder is designed for newborns and puppies up to six weeks old. Simply add water and the powder transforms into a life-saving formula specially created to be similar to natural milk. This formula literally saves the lives of orphans and other puppies that cannot survive on their mother's milk alone!
It is vitamin and mineral enriched, easy to digest, and great tasting. It's sure to leave your little guy wanting more! You can use it as either a milk replacement or to supplement the food of a puppy that is nursing. Packed with Vitamin A and C, it is all natural, preservative-free and made in the USA. Its highly digestible formula makes it a great choice for stressed dogs of all ages, which often have special dietary requirements.
| | |
| --- | --- |
| PROS: | CONS: |
| All natural | High in calories. Use care when creating mixture. |
| No preservatives | |
| Easy to use | |
| Complete food source for puppies | |
| Fortified with essential vitamins and minerals | |
| Highly-digestible | |
Another great option is
Vet-approved for most ages and breeds, this product is actually a combination of two excellent supplements: Bully Max's Muscle Builder and Gorilla Max— which maximizes muscle development by packing in 20 grams of protein. When used in tandem, these products produce twice the results. They are completely safe to use—neither contains steroids—and they improve both endurance and recovery.
Gorilla Max is a particularly advanced muscle builder, promising stronger and fuller muscles in as little as three weeks. On average, dogs gain seven pounds of muscle in the first two months on Gorilla Max.
Together the two supplements maximize growth, build muscle, and improve overall health. These products are safe for both doggos who are underweight and those that are already at a healthy weight but want to add muscle.
| | |
| --- | --- |
| PROS: | CONS: |
| Good option for healthy dogs and those that struggle with weight and illness | Not for dogs under seven weeks |
| Very high protein | Contains artificial sugar |
| No steroids | |
And that's it for supplements!
Sometimes, however, puppies that struggle to gain weight grow up to be dogs that need a little extra help putting on muscle. Once again, several quality brands have your back! Consider investing in a high quality food to make sure that your bigger guy or girl stays healthy and strong!
There are a lot of great high protein foods for adult dogs. One of the best on the market is
In addition to being good for all sizes and breeds—which means you can feed it to all the dogs in your family—this formula is chocked full of salmon. This natural fish protein will help your adult dog build lean muscle while also giving him tons of energy.
If your little guy or girl prefers land-based protein, Crave also makes beef, chicken, and lamb options. Fans report that Crave gives their dogs tons of energy and shinier coats!
Also important: their dogs love it!
Crave is unique in that it is designed to mimic the natural diet dogs' ancestors ate in the wild. As a result, the number one ingredient is real meat. In other words, they create food that your dog is programmed for, specifically one rich in animal protein. The formula contains a whopping 34% protein and is free of artificial colors and flavors, preservatives, soy, corn, wheat, and chicken by-product meal!
| | |
| --- | --- |
| PROS: | CONS: |
| No artificial colors, flavors, or preservatives | It is very rich, which may upset some dogs' stomachs. Crave recommends starting slowly. |
| High-protein | It is only for large, adult dogs so it might not be a good choice if you have a diverse family of pups! |
| Great for any size dog | |
| Grain free | |
| No corn, wheat, or soy | |
| No chicken by-product meal | |
| Affordable | |
If your dog loves salmon, you might also want to consider
Similar to Crave, Blue Wilderness draws inspiration from dog history by designing foods that would appeal to their wolf ancestors.
This formula is absolutely packed with salmon, which will help your dog maintain lean muscle mass. Specifically designed for larger breeds, this formula includes Blue Wilderness's Life Source Bits, which promote a variety of important aspects of heath from immune system to a healthy oxidative balance.
These little nuggets are made of antioxidants, vitamins, and minerals carefully chosen by vets and animal nutritionists. To make sure that these valuable health warriors don't lose their potency, Blue Wilderness processes them at a lower temperature than the rest of their ingredients.
Blue Wilderness is sensitive to the fact that larger breeds have specific needs and has created a formula that meets them perfectly. For example, they have added glucosamine and chondroitin to promote joint health and mobility. They have also added plenty of omega 3 and 6 fatty acids to care for your pup's skin and give him or her a shiny coat! For those of you that still have puppies, Blue Wilderness's recipes contain DHA, which helps support cognitive development.
| | |
| --- | --- |
| PROS: | CONS: |
| LifeSource bits (contains important vitamins, minerals, and antioxidants) | Contains chicken meal |
| High-protein (the number one ingredient is salmon) | It is very rich, which may upset some dogs' stomachs. Blue Wilderness recommends starting slowly. |
| Grain free | |
| No corn, wheat, or soy | |
| No artificial flavors or preservatives | |
While all of the options mentioned above are excellent, sometimes dogs have extra special needs. What can we do for pups with sensitive stomachs?
How to Put Weight on a Dog with a Sensitive Stomach
If your dog skips meals or has occasional problems going to the bathroom and keeping food down, there is a good chance that he or she has a sensitive stomach. This is a big deal because sensitive stomachs can cause weight loss and occasionally signal a larger problem. You should definitely make sure to take your fur baby the vet to check that there is nothing seriously wrong and that he or she isn't short on an essential vitamin!
While it is scary when your little one stops eating, there is no need to panic. Often, you can solve the case of the not-eating pup by switching foods. Look for formulas that are gentle on the stomach and doggy delicious. While there are some good options you can get at the store, a lot of higher-grade choices require a prescription. Another reason that going to the vet is so important!
You might also want to keep your eyes open for unusual birds! Some experts recommend trying out a 'novel protein' diet. Basically, this means that the protein in the food comes from a less common animal, like duck or quail. At the very least, you are giving your little one some interesting variety!
If your dog has a super sensitive tummy, it might be a good idea to try making food from scratch. There is more on this below!
What can I feed my puppy to fatten him up?
Since a variety of factors can make puppies underweight, you need to find a strategy that works best for your dog. Once again, you should definitely consult a vet.
In addition to checking the overall health of your little guy or girl, the vet is trained to you make decisions like whether it is best to feed your puppy more food at each meal or whether you should add a few additional small meals. They can also help you build a plan that is most appropriate for your puppy's activity level, breed, and reproductive status.
Once you have a good plan, it is time to pick a food!
What food is best for puppies?
Every puppy needs special-high calorie food to give him or her enough energy to grow and play. Plenty of dog food companies have formulas specifically designed with the littlest dogs in mind. If you are feeling adventurous, you can also try your hand at making your own formula and food, see below.
For the little tykes who are having lots of trouble gaining weight, it is often a good idea to supplement food with formula!
Other Weight Gain Recipes
When it comes to feeding your dog or puppy fresh food, there are a lot big questions! Is it safe? Which foods should I avoid? Will eggs help my dog gain weight?
Luckily, we have the answers! Yes it is safe for dogs to eat food that you make at home but there are foods to avoid so make sure that you have done some research.
And yes—eggs are helpful for graining weight. Yolks in particular are a common ingredient in puppy formulas and supplements because they are very rich in both fat and protein. If you are a do-it-yourselfer can also mix scrambled eggs into food for a protein boost.
If you are interested in trying your hand at making food for your pup, there are lots of options, although it can be a little pricy! Now, let's talk specifics.
Boiled chicken and sweet potatoes are both dog favorites when cooked at home and served plain. (They are also very common in high-quality formulated dog food).
If you want to try out a combination approach, you could mix a little bit of high-quality food from the human section of the grocery store into your pup's kibble. Ground turkey, scrambled eggs, and bone broth are all common choices!
A little note about raw food diets—they are not recommended for puppies, so wait for your pup to become a dog before you try one out. Otherwise, there is a good chance your little one will have tummy troubles.
If you have a very, very little guy or girl, you might be interested in making your own formula. Mixtures whipped up at the vet usually include evaporated milk, yogurt, egg yolks, liver water, Caro syrup, and baby vitamins.
It can be fun—and empowering—to experiment, but it's always a good idea to consult your vet before striking out on your own!