It can be scary when your Shih Tzu is throwing up. Even scarier if you find your Shih Tzu is throwing up a lot. You can't simply ask him or her what is wrong! And you don't always want to run to the vet if it's not an emergency. There are many reasons why your Shih Tzu may be vomiting.
Let's get into why your Shih Tzu may be throwing up or dry heaving a lot, and how you can look after your furry family member.
Why Do Shih Tzus Throw Up So Much?
Dogs get sick just like humans! But sometimes for sillier reasons, like eating too quickly or too much at once. We'll break down below some of the reasons your pup is vomiting and when your pup would need the immediate attention of a vet.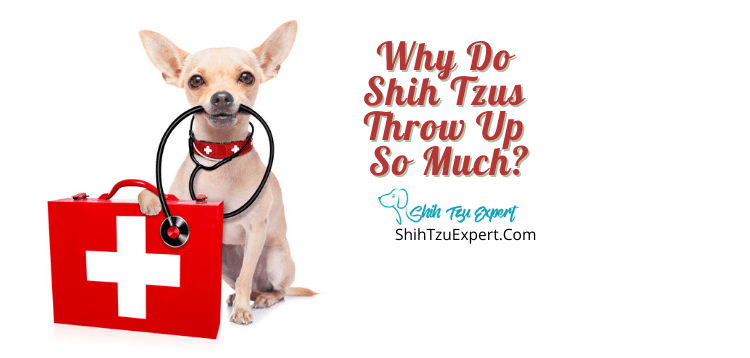 Why Does My Shih Tzu Throw Up White Foam / Liquid?
This may be due to stomach acid building up which creates a foamy appearance as soon as it meets the air. Or it may be caused by an upset stomach, and it's moving around in your Shih Tzus tummy a lot before they vomit it up which gives it a foamy appearance.
Consistently vomiting up foam can be a cause for concern and you should take your Shih Tzu to the vet.
What should I do if my Shih Tzu is Vomiting White Foam?
Keep an eye on your Shih Tzu for 24 hours and evaluate if they need to be taken to the vet. If they are acting differently than they usually act, like being lethargic and avoiding food, bring them in. Otherwise, monitor their symptoms and make sure they are hydrated.
Why Does My Shih Tzu Throw Up Brown Foam/Liquid?
Some instances of brown vomit is due to a dog eating their own poop. This may be common but pay close attention to what your dog is eating. They should not be eating their own poop! It may also be caused by bleeding ulcers or tumors if it's consistent.
Shih Tzu Is Throwing Up Pink Or Red Foam? Is It Dangerous?
If it is red, it usually has blood in the vomit. This may indicate issues with your dog's stomach lining. It may be dangerous if it happens constantly and doesn't appear to get better.
Why Does My Shih Tzu Throw Up Yellow Foam/Bile?
This is the most common for a Shih Tzu that is throwing up. It's them throwing up bile – they may have a very empty stomach. Make sure they are eating in periods that aren't too far apart. It could cause their stomach to be upset and too empty when they eat.
Shih Tzu Vomiting Yellow Foam/Bile And Diarrhea
Diarrhea may accompany vomiting. This will reinforce that your dog probably ate something that they shouldn't have – like garbage. It may also point to a gastrointestinal virus. If they have consistent symptoms, bring them to a vet immediately.
Shih Tzu Vomiting Green Foam /Liquid
Green often indicates your dog was eating grass. This usually isn't very dangerous but keep an eye on your puppy to see if it gets worse. Don't let them eat grass!
Why Is My Shih Tzu Throwing Up Clear Liquid?
This may be a regurgitation of water. It's not usually dangerous unless it happens very often.
My Shih Tzu Is Throwing Up Undigested Food. Why Is My Dog Throwing Up His Food Hours After Eating?
Throwing up undigested food hours after eating may be caused by vigorous exercise or too much water before they digest their food. If this happens often it may be dangerous. It could also indicate a food allergy or sensitivity. Take notes on what your dog was doing and eating when this occurs.
Slimy mucus like Vomit – Shih Tzu Throwing Up Mucus
A mucusy vomit may point to acid reflux, AKA gastritis. Hold off on feeding your Shih Tzu for 12 hours and allow only water to see if it calms their stomach.
Worms in Vomit
This probably indicates roundworms. Take them to the vet immediately and try to bring samples of your dog's vomit for testing. This is treatable but you must talk to a professional.
Grass in Vomit
Keep an eye on your dog to make sure they aren't eating grass again! This usually isn't that dangerous but make sure it doesn't happen often.
Why Is My Shih Tzu Projectile Vomiting Violently?
Take your Shih Tzu to the vet if they are projectile vomiting as it can be serious. It can be due to worms or parvovirus in your dog's system. They need to be checked out right away.
Shih Tzu Throwing Up And Shaking
Your Shiz Tzu may be shivering and shaking when they throw up. As they have a small frame, sometimes their bodies feel the strain of vomiting and they shiver. Monitor their symptoms closely and keep them hydrated. Give them plenty of attention so they know they are safe and cared for!
Shih Tzu Throws Up Every Morning Or Late At Night
If your Shih Tzu has a long time between feeding periods it can cause vomiting, such as if they only ate very early in the morning or very late at night. Make sure the feeding period isn't that far apart.
Shih Tzu Throwing Up And Blood In Stool
If this happens, don't feed your Shih Tzu for 12 hours and monitor their symptoms. Start slowly feeding them bland foods that will be easy for them to digest, like rice and chicken. If their symptoms persist, take them to the vet.
Is It Normal For My Pregnant Shih Tzu To Vomit [Is Vomiting A Sign Of Dog Pregnancy]?
Pregnant dogs experience this symptom as well as humans do! Especially in the early stages of their pregnancy. But if it persists, make sure you speak to their vet about it. It could point to an issue in their pregnancy.
Vomiting Followed By Fainting
There are many reasons a dog may faint including disease, a parasite, an insect or animal bite, or ingesting poison. Take them to the animal hospital immediately.
Shih Tzu Vomiting And Now Lethargic [Won't Eat At All!]
Not eating food is a strong indicator to take your dog to a vet. Vomiting will typically pass, but refusing food and being lethargic point to a bigger and worse issue.
Is It Normal For A Shih Tzu To Vomit During Or Right After Exercise Or Walks?
This may happen if your Shih Tzu exercises right after eating a meal without allowing time for them to digest it. If it's very hot out, Shih Tzus also may experience hyperthermia since they struggle with regulating their body heat in extreme temperatures. Give them time to digest after a meal before taking them on a rigorous walk. Make sure the weather isn't too extreme for them as they need to be kept cool.
Why Does My Shih Tzu Vomit During Car Rides [Travel/Motion Sickness]?
This is fairly common. Minimize the amount of time you have to take your Shih Tzu in a car. There are tablets you can give them to reduce their nausea as prescribed by a vet, but it's still recommended to try to keep them out of the car as much as possible to avoid this.
Should I Give Maropitant Citrate?
Tablets of Maropitant Citrate may reduce your dog's car sickness. Discuss with your vet before deciding to go this route for your Shih Tzu.
Why Does My Shih Tzu Vomit After Drinking Water
If they drink too much water too fast, it may come back up immediately. This should be a concern if they throw up all the water they are drinking.
My Dog Is Acting Like He's Going To Throw Up (Retching / Dry Heaving)?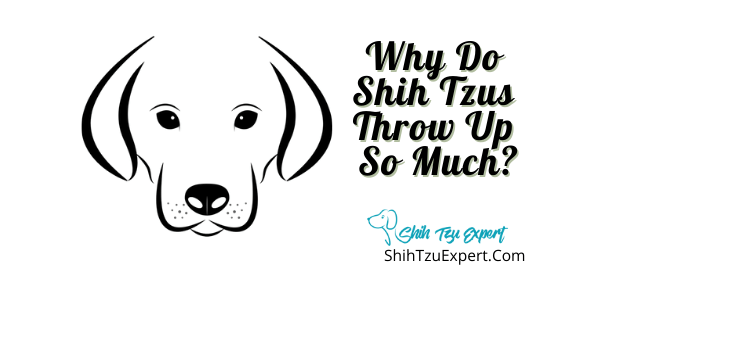 This may happen if something is obstructing your dog's airway, like fragments of a bone they were chewing on. A natural bone may not be the best snack for your dog. It may also be caused by a hairball, so make sure you brush your dog regularly to avoid hairballs from accumulating.
Other Reasons For Dogs Throwing Up
Just like humans, there are plenty of reasons why a dog may throw up. Here's a few major reasons:
Eating Too Fast Or Overeating
Your dog may be vomiting due to eating too much, too fast, or both. If they are eating too fast, dole out the food slowly so they have time in between bites. If they are overeating, make sure to only give them just enough.
Changes To The Diet [Dog Food Brand]
Abruptly changing your dog's food may cause stomach distress. It's known as gastrointestinal upset. Transition them to a new food slowly by introducing it to them over time.
Excitement, Anxiety, and Stress
If your dog is very stressed, or overly excited about something, they might vomit something that they have just eaten. If it happens rarely, it's not much to be worried about. However chronic stress in your pup might be dangerous.
When Should You Be Concerned About A Dog Throwing Up? When To Take Your Vomiting Shih Tzu To The Vet
If it is persistent, colored vomit, or if they are lethargic and refusing food, take them to the vet. This points to a larger issue that you will want some medical advice on.
Vomiting After Being Poisoned
Call the ASPCA pet poison line to get answers immediately on how to help your dog. It's (888-426-4435). Chances are you will have to head straight to the emergency animal hospital.
Non Stop, Violent Projectile Vomiting
This is a serious issue that may be caused by many things such as disease or ingestion of poison. They need to be taken to the animal hospital.
Dog Swallowed Something They Shouldn't Have -Toys, Bones, Jewellery, Toxic Food
This is an emergency – call the ASPCA pet poison line immediately.
Shih Tzu Looks Sick & Weak
Monitor your pup to see if they are eating and drinking regularly. If it doesn't pass quickly, they should be taken to a vet to make sure nothing is internally wrong.
Intestinal Parasites [Roundworms, Tapeworms, Hookworms, Whipworms]
You may discover your Shih Tzu has worms from seeing them in their vomit. A stool sample at the vet will help diagnose this issue for your pup to get them on the right medication. If they are losing weight, look more bloated than usual, and are scooting a lot, this could point to worms.
Tumors
Your dog may have a tumor if they are constantly getting sick. They may have a lump, sudden weight loss, or a change in what they like to eat. Frequent vet appointments are so important to be tested for these sometimes silent killers.
Inflammatory Bowel Disease (Ibd)
This happens when your dog has an inflamed intestine. They won't digest food properly and because of this won't get the nutrients they need. Consistent vomiting and diarrhea are tell-tale signs of IBD.
Are Dogs Ok After They Throw Up?
Usually yes. But take notes of their symptoms and frequency. They should not be throwing up very often because it points to a greater issue. You may need to save a vomit sample for your vet to test.
What Should I Feed My Dog After Vomiting?
Your dog should eat something mild to soothe its stomach. It's recommended to feed them rice and chicken.
What Is The Best Way To Rehydrate My Dog After Vomiting?
Gradually offer your sick dog some water. You don't want them guzzling water because it could make them vomit again very quickly. Watch them and give them small amounts over time. Ice chips may soothe their stomachs as well.
What Home Remedy Can You Give A Dog For Vomiting?
Ginger – In very small doses, ginger can help with inflammation and digestion.
Ice – Ice can soothe their stomach and rehydrate them.
Chicken Soup/Broth – This mild soup can help your sick dog like it helps sick humans.
Certain baby foods – some vets feed sick pups baby foods that are meat based, like chicken and turkey baby foods. As long as they are without garlic/onion powder they are considered safe, but double check with your vet before you do.
Is It A Good Idea To Withhold Food?
Depending on their symptoms, yes. 12 hours of withholding food may be an option to keep your puppy from getting even sicker. Monitor them and make sure they are drinking water. Gradually introducing them to food and water when they seem able and up to eating can be a good indicator of if they have an appetite and if they are perking up.
Is It Good To Feed My Dog White Bland Rice When They Are Throwing Up?
Yes – but withhold food for 12 hours to see if symptoms persist. Once they are capable of eating, bland food will be the best for their stomachs.
Should You Perform Heimlich Maneuver For Dogs? [When & How]
Your dog might be choking if they are hacking, unable to breathe, and pawing at their head in discomfort. You may have to perform a Heimlich Maneuver.
You will first want to open their mouths to see if you can find anything obstructing their airways. Pull out what you can, except if it's a bone. Pulling out a bone could injure their throats and they should be rushed to the animal hospital.
If you can't help them this way, to perform the Heimlich you will hold your small dog on your lap and have them lay on their back. Using the palm of your hand, push on the area below the rib cage inwards and upwards. Do so 5 times with force and roll them to the side to see if any food has been obstructed.
For a large dog, if they're standing, put your arms over them until they meet around the dog's abdomen. Using a fist, forcefully push 5 times in an up and forward manner.
If the dog is laying down, do so with one hand on its back and your other hand performing the Heimlich by pushing its abdomen in the same upwards/forwards manner.
Regurgitation Vs. Vomiting
Regurgitation is throwing up food that is undigested, usually right after it is eaten. Vomiting is throwing up food that is partially digested.
How Do I Make My Shih Tzu Throw Up?
Consult a vet before trying to make your dog throw up as it will depend on the individual needs of your Shih Tzu. You shouldn't necessarily have to ever make your dog throw something up without consulting a professional.
Do Shih Tzus Throw Up A Lot?
Sometimes, yes. But this isn't necessarily the norm. It's important to have frequent visits to the vet so your Shih Tzu can be tested and looked at often. No dog should suffer through chronic vomiting and it usually points to a greater issue.
However, if your dog throws up after a meal or running a few laps, that doesn't mean you should panic. Reference this article and see if you need to take another step on taking care of your under the weather pup.
When in doubt, it can never hurt to get a professional's opinion!
References