We may earn commission from qualifying purchases at no extra cost to you.
Learn more
You love your dog and want what is best for him. Of course, you also want what is best for you! Excessive shedding is a problem that bothers both you and your furry friend. Him, because he is losing hair, and you, because you have to clean it up off of your floors, furniture, and other surfaces. Before you can treat shedding, though, you need to understand it. Here is everything you need to know about excessive molting and ways to treat it, especially dietary methods.
What is a normal amount of shedding?
You should always expect to find your pup's hair all over your house. Just like humans lose hair, dogs do too. Some pooches are seasonal shedders, while others shed year-round. If your pup is double-coated, it will shed more than a single-coated dog would. Outdoor dogs tend to molt seasonally – typically twice a year, around spring and fall. Indoor dogs, on the other hand, shed year-round in smaller quantities. Some breeds are more prone to shedding than others.
To figure out which type of shedder your dog is, just read up on their breed. Also consider seasonal changes, your pup's lifestyle, and his general health. All of these factors combined should tell you about how much shedding to expect.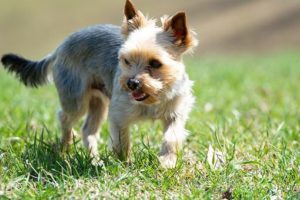 What is the best dog food for shedding?
That depends on what you're looking for. There are all sorts of dog foods out there that promise to prevent shedding in your pup, but not every one is right for you or your pooch. Below are some of the most popular, well-reviewed options on the market for you to read up on before making a purchase decision.
Major ingredients: salmon, ground rice, barley, canola meal, oatmeal
Things of note: designed for specific dietary problems, safe for most allergies
This is a great option for your pooch's overall health, not just shedding. However, the rice-and-salmon formula is especially great for excessively molting pups. Salmon provides protein without leading to an allergic reaction in most dogs, making it a great choice for your dog's health. The whole grains included, like barley and oatmeal, are easy for pups to digest. Probiotics and fiber also help with digestion, as well as nutrient absorption. To avoid triggering any food allergies, it does not contain any corn, soy, wheat, artificial colors, preservatives, or flavors. The most significant things that impacts your pooch's shedding are the omega-3 and omega-6 fatty acids, which maintain healthy skin and fur. Plus, they strengthen your pup's joints, so he should be free to run and play to his heart's content!
Major ingredients: whole Atlantic mackerel, whole Atlantic herring, monkfish, Acadian redfish, flounder
Things of note: grain-free, dry food
This recipe is a wonderful option for preventing excessive shedding. It is full of healthy fatty acids, vitamin, minerals, and antioxidants. There are no artificial colors, preservatives, or flavors at all, as well as no grains or fillers. The six different saltwater fish included, all caught in New England, provide plenty of omega fatty acids without needing to add supplements to your pooch's diet. It is 38 percent protein, which is more than enough to ensure that your pup is as healthy as possible. However, it is an expensive option.
Major ingredients: salmon, garbanzo beans, peas, salmon meal
Things of note: dry food, grain-free
If your dog has food sensitivities, this is a great option. Instead of grain, it contains sweet potato and pumpkin as the main source of carbohydrates. The primary source of protein is salmon, which is a great option. Everything is easy for your pooch to digest, in part because of all of the vitamins and minerals. It also contains antioxidants to boost your dog's immune system. There are no artificial ingredients, wheat, corn, or soy included, so it is perfect for a sensitive pup.
Major ingredients: chicken meal, dried potatoes, chickpeas, chicken fat, peas
Things of note: hypoallergenic, grain-free
While lots of recipes are great for dogs with allergies and sensitivities, this lamb-based recipe is among the very best. The protein is free-roam lamb and chicken meal, a great source of amino acids. There is no grain, wheat, corn, soy, gluten, or artificial ingredients, so it is unlikely to trigger any food allergies. The legumes and potatoes included in its place are super easy for your pup to digest. The fruits and veggies included provide all sorts of vitamins and minerals, along with the supplements of vitamins, B1, B2, B6, B12, and D. It is the perfect choice for a balanced daily diet.
Major ingredients: lamb, oatmeal, peas, ground rice
Things of note: good for healthy skin
This is a limited ingredient diet formula made primarily of lamb, as well as oatmeal. It is safe for sensitive pooches. If your pup's shedding and itchy skin are symptoms of an intolerance, this recipe should tamp that down. There is no soy, corn, or wheat included, so it is very easy to digest. Instead, there are easily digestible whole grains. Fruits and veggies are the sources of vitamins and minerals, without any artificial flavors, colors, or preservatives. Flaxseed is the main source of omega fatty acids, which helps strengthen your dog's skin and coat. The flaxseed and lamb work together to slow or stop excessive shedding.
Another option is the sweet potato and salmon formula instead of the lamb and oatmeal formula. Salmon is a better source of lean protein and essential fatty acids than lamb is, plus this option is also grain-free. Both options are great, but if your veterinarian suggests adding even more omega fatty acids to your pooch's diet, the salmon is a great place to start. Any Wellness Simple formula has high-quality, limited ingredients without any fillers or additives.
Major ingredients: chicken, salmon, lamb, venison, saltwater fish
Things of note: dry food, four flavors to choose from
If your pup has a food allergy, this is an option. The variety of meats included means that this formula is 34 percent protein, ensuring that your pooch's diet is balanced. There are tons of vitamins and minerals, and the ocean fish is a great source of omega fatty acids. Not only does this option control shedding; it gives your dog lots of energy so he can run and play to his heart's content every day.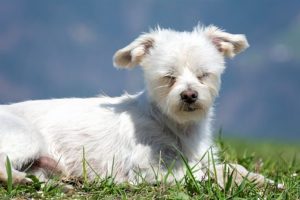 Major ingredients: deboned chicken, brown rice, oatmeal, barley
Things of note: good for small breeds
This recipe's two key ingredients are brown rice and chicken and it is perfect for small breeds that molt. The whole grains are easy to digest, as are the fruits and veggies included in the recipe. The main source of protein, of course, is deboned chicken. Despite being chicken-based, there are no poultry by-products, so it is safe for sensitive pooches. The variety of ingredients makes for a diet that is balanced. The formula has chondroitin and glucosamine which protects your pup's joints, ensuring they are always able to run and play. For his coat and skin, it includes omega fatty acids. The formula contains Blue Buffalo's LifeSource Bits, which are a blend of antioxidants, vitamins, and minerals. Plus, like Nature's Recipe, there are no artificial ingredients, soy, wheat, or corn included, so if your dog has sensitivities or allergies, this is a safe choice.
Major ingredients: pork meal, dried potatoes, peas, sweet potatoes
Things of note: grain-free
This recipe is designed specifically for sensitive dogs, with a foundation of pork, lamb, and beef. If your pooch has poultry-related allergies and sensitivities, this is a perfect choice. There is no wheat, soy, corn, or artificial ingredients, making it an easy-to-digest, sensitivity-safe choice. For vitamins, nutrients, minerals, and natural flavors, it has dried blueberries, sage, thyme, and rosemary. All these nutrients enrich your pup's coat, making it incredibly shiny. It supports healthy skin too, which stops your dog from itching, and there is minimal food-induced excessive shedding.
Major ingredients: whole mackerel, whole herring, whole redfish, whole silver hake, mackerel meal
Things of note: 70 percent protein, dry food, grain-free
This brand is incredibly popular with dog owners who want the very best for their pooch. With 70 percent protein, your pup will have tons of energy. Plus, the formula is full of omega-3 and omega-6 fatty acids provided by New England fish to make sure your dog has soft, healthy skin and limited shedding. The best way to prevent shedding in an otherwise-healthy dog is to give them the best diet possible, which is why so many owners turn to this brand. It is grain-free and made with all-natural ingredients, keeping your pup strong, healthy, and happy.
Major ingredients: chicken, turkey meal, chicken meal, chickpeas, peas
Things of note: contains antioxidants, grain-free
This grain-free recipe is chock full of antioxidants that keep your pup healthy and youthful. The main ingredient real, free-roam chicken, which is safe for any dog that is not poultry-intolerant. Fruits and veggies provide all sorts of antioxidants, vitamins, and minerals naturally. The omega fatty acids included strengthen your pup's skin, coat, brain, eyesight, and immune system. To ensure that it is safe for sensitive pooches, there is no grain, potatoes, dairy, wheat, corn, soy, or artificial ingredients. All of the ingredients are easy to digest.
Major ingredients: lamb meal, brown rice, ground rice, dried plain beet pulp, chicken fat
Things of note: only 6 main ingredients
The key source of protein in this dog food formula is lamb and lamb meal. With only 6 main ingredients, you know exactly what is going into your pup's diet. There are no artificial additives at all, so it is very safe. The recipe is full of essential fatty acids. It is free of corn, wheat, soy, and gluten. Plus, this is one of the most affordable options on the market.
No matter what dog food formula you decide to go with, here are some things to keep in mind. Always look for omega fatty acids, particularly omega-3 and omega-6. Your dog needs a minimum of 5 percent fat and 18 percent protein, though more protein is better, so aim for 25 percent or 30 percent protein. Make sure the fats in the formula are healthy. Animal fats are always best, but flaxseed oil and canola oil are plant-based options that provide omega fatty acids. Dogs do not necessarily need carbohydrates, but fruits and veggies can provide dietary fiber and essential nutrients. Note that many dogs are sensitive or allergic to grains, so grain-free options are almost always the best or safest choice for your pup. Look for legumes, sweet potato, or peas instead.
What causes a dog to shed excessively?
There are multiple possible causes of excessive shedding in your pooch. It is important to pay close attention to changes in your pup's health and to discuss them with your veterinarian to find the right approach to combatting excessive shedding.
One possibility is a food allergy. Common signs of a
food sensitivity include bloating
, constipation, diarrhea, and skin and coat problems. If your pup's coat is getting patchy or he keeps scratching and gnawing his paws, he may have a food allergy. If you sit down with your veterinarian, you should be able to figure out what ingredient your dog can't eat and choose a dog food formula that is right for him. Common sensitivities include
poultry
, beef, corn, soy, wheat, and artificial ingredients.
A second possibility is a poor diet, not specifically a food allergy. If your pup's food supply does not contain the right nutrients – or enough nutrients – then he needs a better food option. Check to see how much fatty acid your pooch is getting from his food. Dogs are incapable of producing omega fatty acids on their own; they have to get it from food. If your pup is not getting enough, then his coat could be unhealthy. In general, excessive shedding is a sign of a possible vitamin or mineral deficiency, so make sure your pooch's food formula has all the daily nutrients necessary for a balanced daily diet.
Another possibility is dry or irritated skin. It is possible that your pooch has a disease or problem leading to irritated, itchy skin, and if his scratching is so frequent that it hurts his skin, his coat could begin to molt. While food allergies can result in symptoms like itching, like discussed above, it could also be a symptom of fleas, a parasite, or mange. If you see your pup scratching more than usual, take him to your veterinarian as soon as possible to figure out the cause and find a way to stop the discomfort.
Keep in mind that dry skin could also just be a sign of dehydration. Always make sure that your pooch has access to clean, fresh water. If your dog still shows signs of dehydration, consider feeding him wet dog food, which contains up to 78 percent moisture.
As your dog ages, a possible cause of shedding is hormonal imbalance. Hormone levels change with age, and your pooch could find himself molting excessively as a result. Other hormone problems could be an issue with the thyroid gland, an iodine deficiency, or hypothyroidism. Your veterinarian can help you identify the cause and create a targeted solution.
Perhaps the most common source of shedding that dog owners know to look out for is stress. If an environment is stressful for your pup, then he is likely to shed. Common sources of stress are moving, a new baby, a new pet, or a sudden increase in loud noises. If possible, eliminate the cause of stress for your pooch so that the shedding goes down. If not possible, the only solution is time. Give your dog time to adjust to his new environment and the symptoms will likely go away.
Will shaving my dog stop him from shedding?
No! Do not do this. Shaving your pooch in an attempt to stop him from shedding will only cause more problems, especially related to temperature regulation. A worst-case scenario is that the hair does not grow back at all.
All you have to do is regularly groom your pup, brushing him or taking him to a professional groomer. That way, dead hair is removed without impacting healthy hair.

What about de-shedding shampoos?
De-shedding shampoos are out there, but are not always effective. If you find a shampoo that provides omega fatty acids, then it will probably help make your pooch's coat healthy and strong. However, if your pup is double-coated or if he has strong, wiry fur, then de-shedding shampoos will cause more harm than good. They will remove essential oils from undercoats, making the molting and skin problems worse.
It is probably better to just make sure you bathe and brush your dog regularly, as well as use flea prevention.
What are the signs that enough is enough and I should go to my veterinarian?
Any time you notice that your pooch is molting excessively, you should strongly consider going to talk to your veterinarian. However, there are other symptoms to look for that tell you when meeting with your veterinarian is an absolute must.
Things to look for include open sores with oozing pus. Those are often skin ulcers. They will probably be surrounded by inflammation, redness, and hair loss around the sore. Another hair-related symptom of allergy or disease is scabs, rashes, or redness. These could be caused by mange, fleas, ticks, parasites, dermatitis, or another disease.
If shedding is so bad that your pooch's coat is thin or has bald spots, you need to take him into your veterinarian's office. It could mean that your pup has been bit by a flea, has allergies, has Cushing's disease, or something else entirely.
Other common signs of allergies or disease are frequent foot licking, insistent face rubbing, or easily removed hair that comes out in clumps.
Does dog food make a difference in shedding?
Dog food definitely makes a difference in shedding. As explained above, food allergies and a poor diet are two major causes of excessive molting. If your pup is allergic to something, typically a specific protein, then he could begin shedding more than usual. If there is not an allergy issue, then it is likely a dietary deficiency, such as a lack of vitamins, minerals, or omega fatty acids.
Look for a dog food formula that is designed specifically to combat excessive shedding. Remove ingredients that your pooch is sensitive to or improve his nutrient supply. Even if the main source of shedding is not diet-based, it never hurts to increase your pup's daily supply of nutrients, vitamins, minerals, and omega fatty acids.
Can dog food help with dry skin?
Definitely. Omega fatty acids, also known as essential fatty acids, combat dry skin in a pup and make his skin as healthy as possible. Dogs can't produce essential fatty acids on their own, so they get them through diet. If your pooch is not getting enough, then their skin could be extra dry. Switching dog food formulas to something with a lot of essential fatty acids, specifically omega-3 and omega-6, can help significantly with dry skin.
If your pooch is not getting enough protein in his diet, then his metabolism will begin eating away at muscle mass and skin to get the necessary protein. This can lead to itchy, flaky skin and excessive shedding. Protein is so, so important to your pooch's health, especially coming from an animal source. That is why you should make sure your pup is eating a dog food formula with a protein that he is not allergic to. Most importantly, avoid byproduct meals and unnamed sources of protein. If a dog food formula says it contains, "meat," "meat meal," or "meat by-product," then it is not a healthy source of protein for your pooch.

What about allergies?
As mentioned above, excessive shedding and scratching can be a symptom of a food allergy. In fact, dogs with food sensitivities or allergies are the most likely to struggle with diet-related shedding. The most common food allergies, to reiterate, are to certain animal proteins or to artificial ingredients. Choose an all-natural formula to address the latter. For the former, talk to your veterinarian about your pooch's allergy and pick a specific animal-based protein that he is not allergic to so that his diet is as balanced as possible.
Does grain-free dog food help with shedding?
Grain-free dog food formulas are important to preventing shedding because grain tends to be found in cheap dog foods. Pups have a hard time digesting corn and grains. It is much better to give your pooch a meat-based diet, so make sure that meat is the main ingredient. It may be more expensive, but a healthier diet for your pooch is worth. There are more nutrients in meat-based dog food formulas and they are more easily digested and absorbed, so your pup will have better health and his shedding and dry skin will slow down or go away. Remember, of course, that molting can be minimized, but will never go away completely.
What home remedy can I give my dog for shedding?
Essential fatty acids are the best thing to manage molting. If you prefer a home remedy to switching dog food formulas, you might want to consider dropping i a tablespoon of olive oil, coconut oil, flaxseed oil, or fish oil to every meal. All of these will help calm inflamed skin and
decrease dandruff
because they contain omega-3 fatty acids.
What oil is the best for shedding?
Of the three options listed above, olive oil is the best option to combat shedding. However, coconut oil and fish oil do have similar effects.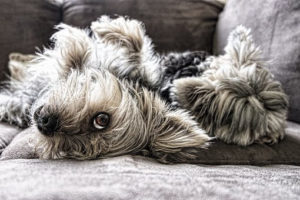 Should I consider giving my dog supplements?
Be very careful if you are considering dietary supplements, consulting your veterinarian before trying it. Vitamins and minerals can be toxic in increased quantities, so the better move is definitely to switch to a more balanced dog food formula.
If you are talking to your veterinarian about dietary supplements, the best one to consider is an omega fatty acid supplement to help reduce shedding, help the growth of your pup's undercoat, and help reduce inflammation. Consider a fish source low on the food chain, like anchovies or krill, because they are less likely to have mercury and other heavy metals. An omega soft chew might be more palatable for your pooch.
Can I just feed my dog fresh fish?
Adding fresh fish to your pup's diet two or three times a week is an option for adding omega fatty acids to his diet. Salmon and tuna are two of the best options. If you want, you could also give your pooch fish skins. Just make sure to never give your dog fish bones because they are a choking hazard.
However, this can be time-consuming and expensive, which is why essential fatty acid supplements and healthy dog food formulas are more popular options.
How do I change over to a new dog food formula?
Switching your pup's diet abruptly could cause some environmental stress, which would lead to shedding. A dramatic change in diet could also cause digestive issues like constipation, diarrhea, or bloating. If you determine that you need to move over to a new dog food formula to help prevent excessive molting, you must do so slowly and carefully.
Instead of switching all at once, start by giving your pooch mostly his old formula, with some of the new formula sprinkled in. Every day, decrease the amount of old formula a bit and increase the amount of new formula according. By five days, you should be at half-old, half-new. Continue with this until day ten, when your pup should be at the new formula exclusively.