What are the Nutritional Needs of Toy Breeds vs Other Breeds [Medium and Large breeds]?
When thinking about food, I like to use the old adage, "Garbage in, garbage out." Meaning, if you do not consume quality food, with the appropriate nutrients, your energy levels and health will be garbage – worthless. This concept applies to all living beings, especially your dog. To ensure a long, healthy life, you need to understand the best ways to feed your dog.
Best Dog Foods for Toy Breeds
###
Considerations:
Breed of your dog;
Size and weight;
Activity level;
Age;
If female, whether or not your dog is pregnant or nursing; and
Food allergies. Yes, pets get allergies, too.
A working, hound or sporting breed dog, or a dog that is helping tend a flock of sheep, or accompanying you on three mile runs each morning, is going to need a higher level of calories, than an English Bulldog sitting on the couch making sure gravity doesn't fail.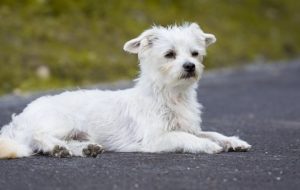 Toy Breeds vs. Small Breeds? Are they the same?
Let's address toy breeds. You will often hear 'Toy Breed' and 'Small Breed' used interchangeably. I must admit, at times I am guilty of interchanging these terms. The American Kennel Club (AKC) recognizes certain breeds in their Toy Group. The official Toy Breeds are:
Brussels Griffon
Chihuahua
Chinese Crested
English Toy Spaniel
Havanese
Italian Greyhound
Maltese
Manchester Terrier
Miniature Pinscher
Pekingese
Pomeranian
Toy Poodle
Pug
Shih Tzu
Silky Terrier
Toy Fox Terrier
Yorkshire Terrier
By comparison, small dogs can exist in any breed list, according to the AKC, and differ from Toy Breeds, in that they may serve a specific purpose, such as helping hunters, or having a high outdoor energy level. Overall, any dog can be a small breed, if it is under 35 pounds. I like to think of it this way: A square can be a rectangle, but a rectangle cannot be a square. So, a Toy Breed is part of the Small Breed list, but not all Small Breeds are Toy Breed Dogs.
This is why it is important to understand the food needs of your Toy Breed, as many food manufacturers do not differentiate their food product between Small Breeds and Toy Breeds. These breeds are close, but not the same. The biggest difference is probably in indoor activity levels. Toys Breeds tend to be highly active indoors. I like to compare them to sprinters. Small Breeds, such as the Boston Terrier are highly active indoors, outdoors, and anywhere they can go. I think of them as marathon runners or Energizer Rabbits!
Universal Things to Watch out for When Buying Kibble for any Breed
Kibble serves a fundamental purpose when feeding your dog. It is a great toothbrush! The crunching action of each piece literally scrubs plaque and tarter off the surface of the teeth, helping keep them clean. It also helps generate saliva, which helps rinse the mouth. This can save hundreds on the cost of dental cleanings, or extractions in the case of decay.
Toy breeds are prone to dental problems. Toy breeds typically do not drool as much as larger breeds. They also are not as interested as sitting and chewing and gnawing on a toy, which is an activity that would help clean their teeth.
It is critical to make sure the size of kibble is appropriate for your dog. Kibble that is too large will not be easy for your dog to chew, and can cause choking. Check the size of the kibble. Some dog food packaging will show the actual size of the kibble, but many foods do not. You can ask other owners of similar breeds what they use, or you can check reviews here.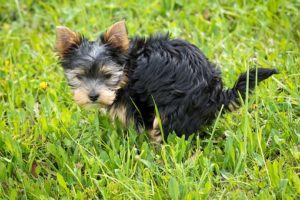 If your dog is older and suffering from dental problems, your dog may suddenly refuse kibble. As such, kibble is a good way to check if your dog is having problems with their teeth. You will know as soon as your dog stops wanting to eat crunchy food. It's good to have your dog's teeth and gums checked every year by your vet. And, if the teeth and gums are in good shape, and kibble is being refused, your dog may have simply changed their food preferences. (No, I would never accuse your dog of being picky!)
By contrast, if you have a young and highly food motivated dog, who is literally inhaling their food, you may need to find ways to slow down their intake, so they are not just inhaling their kibble. Similarly, any brachycephalic breeds (e.g. squished in faces), may also have issues with chewing, swallowing and breathing, if their kibble is too large or too small. There are a variety of slow feeding types of food dishes available to help with this.
Dry Food vs Wet food for Small Breed Pups
Most dogs love wet food. Why? It smells. Due to the smell, their senses are drawn to it. If you have ever done dog training, you know it is recommended to pick a dog treat that has a strong smell, as it will draw out the dog's attention.
There may be times when wet food is appropriate, and it is best to consult your vet if you feel your dog would do better with wet food. Sometimes, senior dogs do best with a mixture of wet food and dry food.
Overall, however, dry kibble has less bacteria, it's easier to store, it helps promote healthy teeth and gums, and it's cost effective.
Specific Nutritional Needs and Dietary Requirements of Toy Breeds
https://www.merckvetmanual.com/management-and-nutrition/nutrition-small-animals/nutritional-requirements-and-related-diseases-of-small-animals
The three main components of any diet are protein, fats and carbohydrates.
Protein provides essential amino acids that help with numerous processes, especially muscle development and maintenance. The most important muscle in the body is the heart. If a diet does not contain enough protein, the body will take from the heart. If too much protein, the excess protein can lead to kidney failure.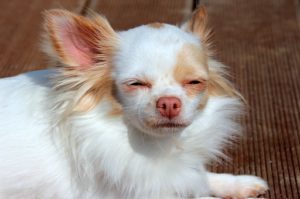 Protein comes in many sources, such as plants, eggs and animal meat. Each of these sources, according to the Merck Vet Manual has a different "biologic value" or bioavailability. The higher the biologic value, the more digestible the protein. The more digestible the protein, the lower volume of protein is required to meet nutritional requirements. So, think of bioavailability in terms of potency. Eggs have the highest biologic value, followed by animal proteins, followed by plant proteins.
If trying to feed a dog a vegetarian diet, they may not get enough protein to support their body's functions.
It is recommended to feed a healthy adult dog 2.62 grams of protein per kilogram of body weight. Simply put, determine what your dog should weigh. I say this, because if your dog is overweight, you need to be thinking in terms of what your dog should weigh. If your dog is 35 pounds, but should weigh 28 pounds, you want to calculate the protein needs based on 28 pounds, not 35 pounds, in order to get your dog back to the right weight. Base your dog's diet on one (1) gram of protein per one (1) pound of ideal body weight.
A 28-pound dog should have about 28 grams of protein per day.
Fat helps support brain function, especially early in the dog's brain development. Fat helps with condition skin and coat. Additionally, fat provide satiety. Fat takes the longest to metabolize. Calculate the number of fat grams needed by taking the number of protein grams required and dividing it roughly in half. So, if your 14-pound, healthy, adult dog needs 14 grams of protein, they need approximately 6-7 grams of fat.
As a dog ages, their protein requirements will stay about the same, but their caloric needs will decrease. The general formula for determining calories needed is to take 200 to 300 calories and multiply it by every ten pounds of body weight.
For example, a 20-pound senior dog who is very sedentary would require 400 calories per day. A 20-pound senior dog that does water therapy twice per week, and loves to play might do better with 600 calories per day, as they are more active.
Carbohydrates provide energy. They are metabolized the fastest and can quickly cause obesity if too high in the diet. Too low in the diet, and a dog may become constipated or lethargic. Simple carbohydrates are highly processed, so they are not nutrient dense, and low in fiber. Complex carbohydrates are found in fruits and vegetables and whole grains. They are more nutrient dense and help round out the basic nutrients required to support your dog's health.
Veterinarians recommend the following amounts of nutrients for a dog weighing 30 pounds. (You need to adjust this down for Toy breeds weighing less than 30 pounds, by dividing the number by 30, you will get the amount per pound required):
Calcium – 0.75 g – supports strong bones
Chlorine – 150 mg
Choline – 425 mcg
Copper – 1.5 mg – helps with neurological development and maintenance
Folic Acid (68 micrograms) – higher levels required for pregnant or nursing dogs
Iodine – 220 mcg
Iron – 7.5 mg – helps blood cells
Magnesium – 150 mg
Manganese – 1.2 mg
Niacin – 4 mg
Pantothenic Acid – 4 mg
Phosphorus – 0.74 g – lower levels are necessary for dogs with kidney issues
Potassium – 1 g – helps regulate hydration
Riboflavin – 1.3 mg
Selenium – 90 micrograms
Sodium – 100 mg – helps regulate hydration
Thiamin/Vitamin B1 – 0.56 mg – helps maintain healthy brain function
Vitamin B6 (0.4 mg)
Vitamin B12 (9 micrograms)
Vitamin K (0.41 mg) – helps regulate blood clotting / thinning
Zinc (15 mg) – helps breakdown proteins, helps support the immune system
How You Can Prevent Disease with the Right Food
One of the most serious and common issues with any breed is obesity. Dogs are SO cute and so good at begging for food. Food is a very nurturing aspect of our lives, so we tend to equate food with love. It is easy to want to feed them table scraps or extra bites here and there. Whatever you do, do not love your dog with food. Think of food in terms of fuel.
You can cause serious health issues by over feeding. Obesity affects a dog's heart and their joint health. Heart disease is often fatal. Joint health, while not fatal is very expensive to treat, as it often requires surgery. Osteoarthritis medications are expensive and come with serious side effects, such as liver failure. This can be avoided with a good, well-balanced diet.
Many diseases humans are prone to, are also common in dogs. Anemia, for example, is caused by a lack of iron and / or Vitamin B12. In some cases, anemia is caused by feeding a homemade diet without the proper balance of nutrients.
Dogs can suffer from high cholesterol and heart disease just like we can. All of the recommendations we are given about eating the right amount of fat, limiting salt, not eating too much, and making sure to exercise, applies to our dogs.
Rickets, which is the results of low Vitamin D, causes bones which are fragile and malformed. Calcium requires Vitamin D to properly metabolize, so seeking foods that have the right balance of calcium and Vitamin D help with bone development and growth.
Chronic Kidney Disease is often seen in older dogs. When kidney disease is observed, your vet will have you monitor water intake, as well as, phosphorus intake (e.g. limit phosphorus) to help the kidneys continue to metabolize nutrients. Omega-3 fatty acids have been shown to help prevent kidneys disease and aid in the treatment of it.
Lastly, due to the long lifespan of toy breeds, high quality food and nutrients will help support a longer disease-free life.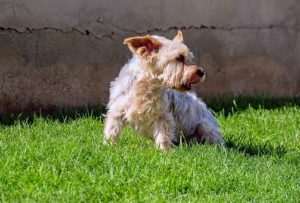 What to Look for When Buying Food for Puppy Toy Breeds
Puppies need a good start to ensure a healthy lifetime. Seek out puppy foods that are nutrient rich and dense in calories. Amino acids are particularly important, as the puppy will more than double its size during the first year of life. Amino acids are the building blocks of muscles. So, puppies need about 4% more protein in their diet than adult dogs. Puppy food should be close to 30% crude protein.
Toy breeds can withstand diets that are higher in fat, than large breed puppies. This is because large breed puppies are more prone to joint issues associated with rapid growth, such as hip dysplasia.
Toy breed puppies have high indoor energy levels, so consider taking the recommended amount of food, and dividing it by three. If, the recommended amount of food is one cup per day, feed 1/3 cup three times per day. This helps maintain blood sugar and energy levels.
What to Look for When Buying Food for Adult Toy Breeds
Protein levels that comprise 25% of the dog's diet are ideal for an adult Toy Breed dog. Approximately 12% to 15% levels of fat.
Food with plenty of antioxidants help support the longer lifespans of toy breeds is very important.
What are antioxidants? Antioxidants prevent cell damage and cancer. Vitamin C is a good example of an antioxidant. Fruits and vegetables – complex carbohydrates – contain antioxidants. Examples are blueberries, applies, spinach, kale, and beets.
What to Look for When Buying Food for Senior Toy Breeds
Senior dogs are more sedentary and typically have more digestive issues. Due to the more sedentary nature, their caloric needs are much lower than those of a healthy Toy Breed adult. When dogs are more sedentary, they become constipated. Diets high in fiber are critical for senior dogs. You want to look for foods that have 4 grams of fiber per serving.
As they age, dogs become fickle about their diets. Their sense of smell may not be as strong, so food isn't as appetizing. Due to inactivity, however, obesity is common as dogs age. So, you want to find nutritious food that is appealing, but make sure not to overfeed.
Senior dogs still like snacks, but you need to watch the fat, sodium and calories. Try cutting up an apple into thin slices. Cook some carrots and offer them as snacks. In the summer, frozen green beans are a great, low calorie treat. Dog biscuits should be reduced as treats for seniors, simply because they add extra calories and fat to your senior dog's diet.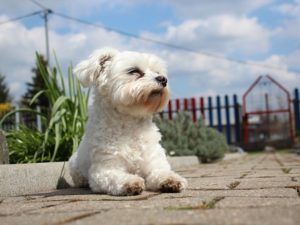 How to Read A Dog Food Label
Unlike human food, dog food labels don't break out the caloric content in many cases. Dog food simply isn't regulated the same way. The ingredients are listed in order of highest content to lowest content.
In the Indications, you will find the analysis breakdown of crude protein percentage versus fat versus fiber and other ingredients. As mentioned above, you want to target about 25% crude protein and about 12% to 15% fat.
Often times, dog food brands will have a chart by weight with a suggested amount of food to feed your dog. I still recommend having your vet review food requirements with you, and make suggestions about monitoring the quantity of food. Monitor your dog's weight. If losing weight, increase food by ¼ cup per day. If gaining weight, decrease food by ¼ per day.
Is Small Breed Dog Food More Expensive Compared to The Price of Large / Medium Breed Food?
When calculating the cost of food, you have to look at the serving size. If your Toy Breed is 10 to 15 pounds and eating a total of one cup per day, a 15-pound bag of dog food is going to last a while. By comparison, that same 15-pound bag of dog food is going to last a much shorter amount of time for someone feeding a 60-pound breed that requires four cups of food per day.
The size of your Toy Breed and activity level (meaning larger size = more food and more activity = more food) will equate to a higher cost.
There is also a price to pay for quality. Higher quality foods often cost more. They are using higher quality proteins with less filler. For fun, let's compare the foods shown here to a low-cost brand, such as Old Roy. The first ingredient in Old Roy is ground yellow corn, then soybean meal, whole wheat, corn syrup and poultry fat. Where is the 25% high quality crude protein?
When I think of the cost of vet bills versus the cost of nutrition and having my dog live longer, it's easy for me to make the decision to invest in high quality food.
Again, antioxidants are important for the health and longevity of any Toy Breed. Due to the longer lifespan, they need all of the support they can get to keep them happy into their teen years. Antioxidants aren't just a gimmick or a ploy for pet food companies to make more money. There are years of scientific research to support the multiple health benefits of diets rich in antioxidants