We may earn commission from qualifying purchases at no extra cost to you.
Learn more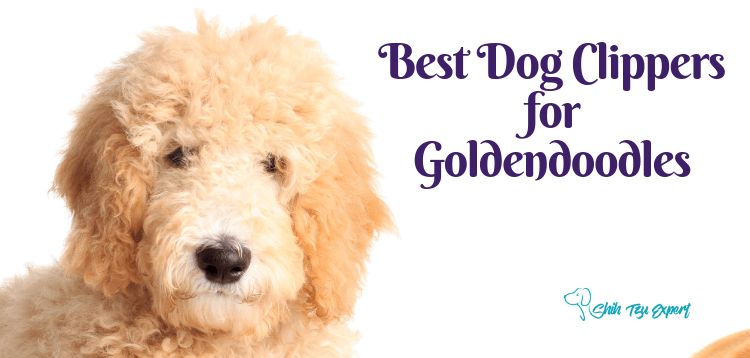 Are you tired of spending a fortune at the groomer?
Goldendoodles are expensive to have groomed. Depending on where you live and the size of your dog and the condition of his hair, grooming can cost anywhere from $75-$100 or more. Since you should get your Goldendoodle groomed every 6-8 weeks at least, that adds up pretty quickly. So lets find the best dog clippers for Goldendoodles and groom at home to save money!
Summary: Top 5 Dog Trimmers for Goldendoodles in 2021
Maybe it's time to
invest in some clippers and start grooming your dog
yourself. But how do you know which clippers you should buy? What sort of things should you look for when trying to decide which clippers to buy? And what should you know about grooming your Goldendoodle before you start grooming him yourself?
Don't worry; we have the answers you're looking for.
What are the Best Clippers for goldendoodle grooming in 2021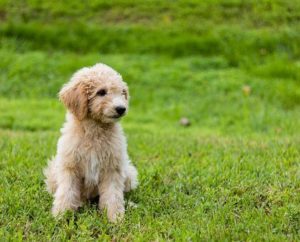 #1 – Andis Excel Pro-Animal 5-Speed
These lightweight and ergonomic clippers have 5 speeds, with the fastest one being powerful enough to get through any coat.
#2 – Andis UltraEdge Super 2-Speed Detachable Blade Clipper
At least half the groomers I've known over my years in the industry have used – and loved – these clippers. Nearly every part is easy to replace yourself, meaning they can last just about forever with only a little maintenance.
#3 – Wahl Motion Lithium Ion Clipper
These powerful cordless clippers hold a charge for 90 minutes and have enough power to get through a thick Goldendoodle coat.
#4 – Andis Super AG2 2-Speed Detachable Blade Clipper
These reasonably-priced professional-grade clippers are powerful enough on the higher speed to cut through any Goldendoodle's coat, while the lower speed is gentler on your dog's sensitive areas and won't heat up the blade as quickly.
#5 – Wahl Professional Animal Wahl 41871-0434 Chromado Lithium
With a 90-minute run time and enough power to get through thick coats, these clippers are a great choice.
#6 – Wahl Professional Animal Power Grip Pet Clipper
These 2-speed clippers are ergonomic and ultra-light, perfect for reducing hand fatigue during the long process of grooming your Goldendoodle.
#7 – Oster Power Max 2-Speed Pet Clippers
These ergonomic clippers have enough speed to cut through a thick Goldendoodle coat for a price point under $100.
Grooming Goldendoodles can be difficult
As a groomer for more than 12 years, I should warn you that grooming your Goldendoodle at home will not be an easy task. Although mini Doodles aren't too large, many Goldendoodles can weigh 80 pounds or more. That's a big dog with a lot of hair to manage yourself.
It can be done, but don't go into it thinking this will be an easy task. Once you and your dog get into a routine, it won't be so bad, but the first few times may be tough.
Grooming Goldendoodles vs grooming other breeds?
Goldendoodles and other Doodles are among the largest dogs with continuously-growing coats. They also tend to have extremely curly or unruly hair that can be difficult to manage.
This makes grooming them at home no small feat, especially compared to grooming Toy breeds like Shih Tzu where it's just a matter a using the right pair of clippers and the right techniques.
A Pet groomer's suggestions for grooming your Goldendoodle
#1 – Gather all the supplies you need ahead of time, including treats to reward your Goldendoodle for good behavior. You don't want to get your dog wet and realize you left the towels in another room, or start clipping your dog and realize you forgot the blade coolant, so now you have to stop grooming for 10 minutes while the blade cools down.
#2 – Taking your dog for a long walk or a run around the dog park first can help burn off some of your Goldendoodle's energy and help him be calmer for the grooming process. There's nothing worse than wrestling with a fidgety 100-pound dog while you try to shave his leg.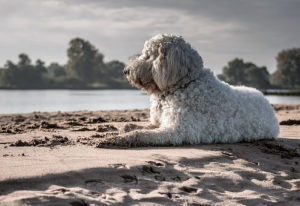 #3 – If you plan to leave a longer length on your Goldendoodle, you'll want to make sure he's completely brushed out before the bath since water will only make mats worse. If your dog is matted, you will want to shave the mats off before the bath. Alternatively, you can shave your dog while he's wet. You can sometimes get a longer blade underneath mats when they are wet, but it's crucial to dry and oil your blades afterward to prevent rusting.
#4 – Get into a routine. Whichever order you do things in, try to always do them in the same order. This ensures that you don't miss a step, like forgetting to shave the pads of his feet. It also gives your dog an idea of what to expect every time you sit down to groom him.
#5 – Start with sensitive areas first. Since blades will get hot on even the fanciest model of clippers, start with your dog's most sensitive areas first, such as his potty areas, armpits, pads of his feet, and around his eyes. These areas are the most susceptible to clipper burn, so doing them before your blade has a chance to get too hot can help prevent this.
#6 – Be patient. Whether your dog is a new puppy or one who used to go to a professional groomer, the process of starting to groom him yourself will be trying for both of you. There may be lots of starts and stops and uneven haircuts while you both get used to this new routine.
#7 – Give your dog plenty of praise and treats. You want grooming to be a pleasant experience for both of you, so make sure he understands exactly what you expect of him and what kind of reward he can expect from you for good behavior.
What Type of Clippers Should I Use On My Goldendoodle?
Goldendoodles tend to have very thick, curly hair, so you'll want clippers with at least 3500 strokes per minute (SPM).
Slower clippers won't have enough power to get through curls or mats
.
Cordless clippers can be very convenient, but they typically only maintain a charge for 60-90 minutes. If you plan to groom your dog in several different sittings, that may not be a problem, but it may not be enough time to groom your dog from start to finish.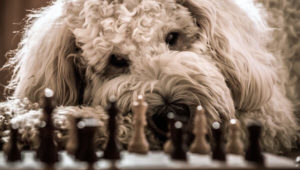 How to Use Clippers on my Goldendoodle?
If you are using attachment combs, you will want to make sure the comb is flat on your dog's skin as you glide through the coat. Your dog's hair must be completely tangle-free to successfully use an attachment comb.
If you're using a blade on your Goldendoodle, shorter blades like a #10, #7, or #5 blade should be held at a slight angle to the skin for the smoothest cut. This will also help get underneath any mats. A #4 blade or longer should be held flat against the skin for best results.
For coats that are not matted, you'll want to use long, slow strokes for the smoothest cut. If your dog is matted, you may need to take shorter strokes with the clippers to gently tease the mats away from the skin. Check our comprehensive reviews of the best clippers on the market to suit a large range of breeds and fur conditions.
Frequently check your blade to see how hot it is by touching it to the inside of your forearm. If it's too hot for your skin, it's too hot for your dog's skin. Switch to a new blade or use blade coolant to help protect your dog's skin.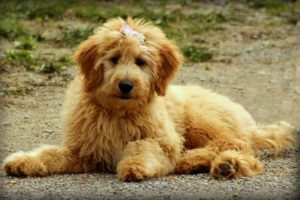 What to Expect IF Grooming at Home?
Bathing your Goldendoodle at home is likely to result in your getting a bath as well, so plan your outfit accordingly. Goldendoodles can take a long time to dry, even if you have a high-velocity dryer to help blast water out of your dog's coat. You may choose to bathe your dog the day before tackling the haircut as long as he won't get too dirty between the bath and haircut.
The nice thing about grooming your dog at home is that you can do it in several different blocks of time if necessary. Even a professional groomer typically needs at least 2-2 ½ hours to groom a Goldendoodle from start to finish, so it may be an all-day affair for somebody grooming their dog from home for the first time.
Even the best professional dog groomers have accidents from time to time, so you should be prepared for the fact that you may accidentally injure your dog. Be extra careful shaving your dog's potty areas, armpits, and around their eyes. Watch out for quick tongues when clipping or cutting near your dog's mouth.
What to Expect IF you take your dog to a groomer?
If you decide that grooming your Goldendoodle at home is too great a task, there's no shame in taking them to a professional groomer.
As you call around to different grooming salons, ask how they schedule their appointments and what their typical turnaround time is. For a place that grooms only one dog at a time, typical turnaround time for a Goldendoodle will be approximately 2-3 hours.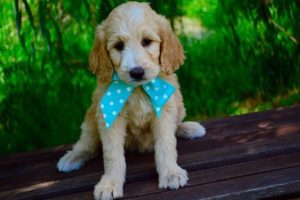 For salons that do block scheduling, the groomer will have several dogs come in at the same time, and your Goldendoodle will spend some time in a kennel while he dries. Expect a 4-5 hour turnaround time with this type of schedule.
Some groom shops do cattle call scheduling, where they will have every dog for the day come in at the same time in the morning and dogs will be sent home as they are completed. Your dog may be there as long as all day.
Be sure to ask what the price is, what that price includes, and if the price will go up if the groomer encounters problems (like more severe matting than expected).
The groomer will feel your dog's coat and ask what type of haircut you are looking for. They will do their best to accommodate you, although your dog is likely to be shaved if it's matted. Some groomers will charge a fee to brush out matted dogs, but the process can be extremely painful for your dog.
You may be asked to sign some paperwork or provide proof of vaccinations. Once the formalities are completed, you will typically leave and wait for a call saying that your dog is ready. While it's tempting to stick around, most dogs behave better when their owners aren't around since the sight of you gives them hope that they can leave instead of sending a signal that it's time to stand still and be patient during the grooming.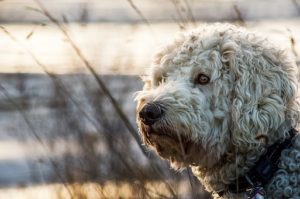 What extra grooming tools would you recommend for grooming Goldendoodles?
If you have a place to use it, a high-velocity dryer
like this one
can be a great investment. It will dry your Goldendoodle much faster than a regular blow dryer, it can blow out any undercoat on Goldendoodles that shed, and it will straighten all those curls, which will make the coat much easier to cut and make the haircut look a lot better, too.
You will probably want to use this type of dryer in a garage or outside because it blasts the water off your dog and can make quite a mess.
You may also want to invest in a grooming table, preferably one that's adjustable like this one, so you don't have to pick up your dog and lift him onto a table. Trying to groom your Goldendoodle on the floor can be difficult and hard on your back. Make sure the table you choose has a long arm since Goldendoodles tend to be very tall.
On top of clippers, other grooming tools you should have include shears, a good slicker brush, a strong comb, nail clippers and/or nail grinder, blade coolant, ear cleaner, and shampoo made for dogs.