We may earn commission from qualifying purchases at no extra cost to you.
Learn more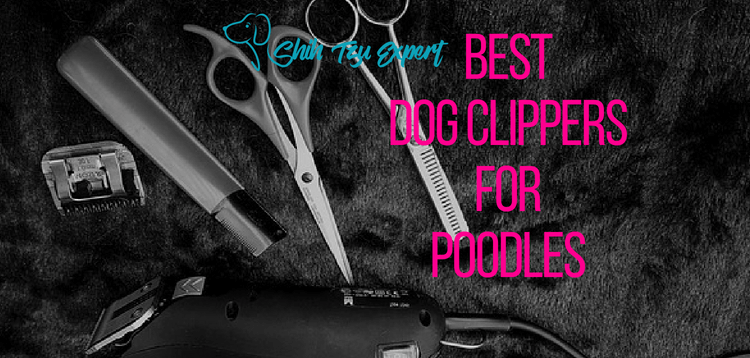 Chloe is a cuddly, sweet poodle that I adopted after my friend could no longer take care of her. She is very well trained, except for that she barks and whines every time someone stops paying attention to her. I love her though, and she has become an important part of my family and my  life. Are you looking for the best clippers for your Poodle? then read on…
When my friend asked me to take Chloe, I was more than happy to. I had been thinking about getting a dog anyway, but just hadn't found the time to go to the shelter. But I was not prepared for the cost of owning a dog. I knew that I would need to buy her food and toys, but what really started adding up too quickly was the cost of grooming. So, I took to the internet to start doing some research, and I decided to buy my own set of dog clippers to help cut down on the cost of haircuts. Here is what I found out.
Reviews of the Best Dog Clippers for Poodles [Andis, Oster, Wahl bravura ratings ] 2021
When buying a dog grooming kit there are many questions that come to mind. For example, will it be a safe and effective tool for grooming my pet, or, what are the benefits of this specific tool? In this article I will address all that you need to know before choosing the Andis Excel Pro.
Check Carefully because…
Make sure you verify that your clippers come with all the necessary parts when you order them as some models are not all inclusive. This particular design only comes with 1 blade so keep in mind that you may need to purchase additional items as needed for the best grooming experience for your pet. Before starting your search keep in mind that not all clippers will work for all types of fur. In addition to this, dog clippers are designed for use on dogs only. If you have another animal it is suggested to purchase clippers for that specific animal.
The MUST Know, True Facts about Andis Excel Pro-Animal 5-Speed Detachable Blade Clipper Kit – Professional Animal/Dog Grooming, SMC
The Andis Excel Pro is an easy to use product which requires minimal maintenance. The blades detach, allowing for simple cleaning and oiling. The clippers have 5 speed clipper settings to choose from, ranging from 2500-4500 SPM. This enables them to be useful on many poodle's coat thicknesses ranging from fine coats to very thick. Despite the high speeds these clippers remain quiet throughout use minimizing the likelihood that it will scare your dog. Another prominent feature of these clippers is the anti-slip grips on the housing in order to reduce the likelihood of the clippers slipping from your hand. This brand comes with 6 unique color options to choose from so you can personalize your clippers.
What to watch out for with this product?
Be careful with this product as it does have a tendency to heat up rather quickly. This can be easily solved by simply turning off the clippers for a short period of time to allow them to cool off. This problem can be delayed by using a slower setting allowing your cutting time to last longer between breaks. An important thing to keep in mind is that these clippers do not come with a warranty so you need to be careful with your Andis Excel Pro clippers to avoid damaging them.
Crucial Tips: This is perfect for home grooming due to their compact easy to use shape. They are not, however, suited for commercial grooming given their tendencies to heat up with expended use.
Crucial Tips about these poodle clippers
Pros
✓ It is easy to clean and maintain
✓ It has 5 speeds
✓ It is good for all kinds of fur
✓ It has non-slip grips
✓ It is available in 6 different colors
✓ It is quiet and will be less likely to scare pets
Cons
• It heats up quickly
• It is not good for commercial use
Conclusion of Andis Proclip professional dog clippers
The Andis Excel Pro-Animal 5 is perfect for in home pet grooming for short periods of time. The interchangeable blades allow you to continue using your favorite blade for your pet, though one #10 blade is included. It is an easy to use product that will make grooming your dog a fun activity for both of you, as long as the clippers are used correctly.
All our pets deserve to be well groomed and ensuring they remain so is of utmost importance for a responsible pet owner. Oster is a well known brand which provides superior quality products, they come in a wide range of variety and provides the best results. Oster Classic A5 Turbo 2-speed is one such product.
Check Carefully because…
● Motor-Powerful universal motor
● Speed-Comes in 2 speeds, 3000 SPM and 4000 SPM(Strokes Per Minute)
● Blade-Detachable blade, size 10. Includes a new cryogenic blade with Agion antimicrobial coating.
● Ergonomics-Heavy and bulky
● Cord-12 feet long
● Heat-Heats up quickly
● Maintenance-Easy to clean
● Can be used on all breeds of dogs, cats, horses and other large animals.
The MUST Know, True Facts about Oster A5 dog grooming clippers
This product is perfect for people who have multiple breeds of dogs, it can also be used on farm and livestock. It comes in a 2 speed setting and is quite durable with a 1 year warranty. This clipper glides through thick coated hair easily. The powerful clipper motor ensures a smooth performance.
What to watch out for with this product?
● Heats up-The clipper heats up quickly. This is common in most clippers and the solution is to use a cooling spray or to turn of the clipper when it heats up and use it once it cools
● Heavy-The Oster A5 two speed motor is quite heavy and will be inconvenient for some. However the heavy-duty cord is long enough to reach all the areas.
Crucial Tips for Oster A5 Professional dog clippers
Pros
● Easy and smooth cuts-Ensures smooth performance even if your pet has thick matted hair.
● Durable-Comes with a 1 year warranty
● Blades-The blades are detachable and can be sharpened. They include a new cryogenic blade with Agion micro bacterial coating.
● Sharp-Since they are sharp they can easily cut through dense coats.
● They are perfect for short as well as long hair
● Comes in a 2 speed variability
● Clipper does even the toughest jobs with the help of a reliable and powerful clipper motor.
● Comparable with all Oster cryogenic detachable blades.
Cons
● Loud-The clipper can be loud and may scare your pets
● Most clippers these days come with an instruction manual, some even have DVDs. However Oster Classic A5 does not include a manual.
● Heats up quickly-This may not only scare your pet but can even harm their skin.
Conclusion
Oster classic A5 is one of the best high quality trimmers available today. It is definitely worth the investment. While the clipper is of superior quality it is important to take proper care of the clipper. The blades have to be cleaned and lubricated accordingly to maintain the performance of the clipper.
Grooming your furry friend is not just about enhancing their looks but also taking care of their hygiene. It is important to brush and bathe your pet and get them comfortable with the grooming process before you start with clipping. This is because dogs tends to get uneasy and irritable when exposed to new noise. The heat emitted from the clippers might also scare them off, and as dog lovers, this is not what we want.
Wahl is one such product that has proved used for groomers. Wahl products have continued to evolve for the comfort and satisfaction of all those who use them. Wahl have always provided with the pioneer products when it comes to grooming and Wahl Lithium Ion Pro Series Cordless Dog Clipper is no different.
Check Carefully because…
● SPM -6000 Strokes Per Minute
● Cordless-Cordless enables the pet owner to use the clipper easily
● Warranty-5 years
● Weight-1.6 pounds
● Maintenance-Easy maintenance
● Motor-Heavy duty lithium-ion battery powered
● Switch-Can be quite confusing
● Accessories-Kit adjustable blade, storage case, instructional DVD, combs, cleaning brush, instruction book amongst other things.
● Heat-Stays cool
● Noise – Quite, so your pet can relax during the grooming process
● You can determine the charging level with the help of the indicator on the clipper
● The blades can be adjusted
The MUST Know, True Facts about this Series
The Wahl Lithium-ion battery powered Ion Pro Series works on a powerful rotary clipper set which works continuously for 2 hours. It also has a quick 15 minutes recharge option. Even though it can be used on all breeds, it is preferred to use it on medium to thin coats.
What to watch out for with this product?
This clipper deals with certain design issues like the placement of the power button. A solid button in a different place would have made things easier for the groomer. The durability has also given rise to concerns. The replacement blades cost as much as a new unit.
Crucial Tips
Pros
● Cordless with a good battery life-The clipper can work for 2 continuous hour plus a 15 minutes quick charge. Eliminates the need for frequent charging and provides professional cutting.
● Quiet-Reasonably quieter than most models
Cons
● Difficult to cut through matted fur and tangles. Works best on medium and thin coats.
● Tends to get hot-So you will have to either use a cooling spray or frequently switch off the clipper.
● Loud-Quiet loud which means your dog could get uneasy with the grooming process.
Conclusion
Conclusion
This is best used by owners who have one or two dogs on thin to medium coats, Although it has certain flaws, it's hard to find a good product at this rate. It also comes with an array of accessories. So an excellent choice if you are on a very tight budget!
As we all know grooming a dog is of utmost importance not just so they look good but for hygiene purposes as well. For dog lovers, picking the right clipper is a big deal and choosing a good tool can make all the difference in the world. It is important to select a quality brand as it will not only last longer but also provide better finish. Wahl is one of the most premium professional grooming products available today.
Check Carefully because…
● Excellent for face, feet and provides the perfect finish.
● Pet lovers can effortlessly clip using this model
● Quieter than most models
● Comes with a year warranty
● Can be used on most dog breeds as well as cats and some other animals
● Clipper and blade are always cool
● Vibrations are low, which means your dog will be less uneasy
● Comes with batteries and other accessories such as a storage case, brushes, instructional DVD etc…
● Motor-rotary
● SPM-5500
The MUST Know, True Facts about Wahl Professional Animal ARCO Cordless Clipper Kit
This brand weighs a lot less than its counterparts making it easy to hold and use. The Wahl Professional Animal Arco Cordless gives you unmatched and the absolute best when it comes to performance that allows pet owners to clip their pet's coat whether thick or thin. It is light and very reasonably priced making it a favourite amongst pet owners. It also comes with 2 rechargeable batteries which provides continuous usage, you could use one while charging the other.
What to watch out for with this product?
It doesn't come with a heavy duty motor and since it's cheaper the accessories are of lower quality, but at the same time for its price it is a great product.
Crucial Tips
Pros
● Quiet-This makes it easier for groomers to cut their pets as less noise means your dog will be cooperative.
● Remains cool, reducing the use of coolants and heating spray. It stays cool even after hours of use.
● No vibrations-Ensuring that your pet will not be restless during the grooming process.
● Light weight-Making it easier to use and handle the clippers.
● Low price-Users find it very economical
● Adjustable blade system
● Since it is cordless there is no need for an extension cord.
● There is no need to change blades, all that has to be done is to flip the leaver for a different size.
Cons
● The battery life is shorter than most recent lithium models.
Conclusion
The Wahl Professional Animal ARCO Cordless Clipper Kit can easily be transported making it easy to carry around. It is perfect for people with little or no experience with grooming. This is a versatile product available for less price.
Grooming is an essential part of a healthy, happy dog. It not only ensures your dog's hygiene but makes sure they always look their best. Regular grooming will improve your dog's coat and overall well being.
One of the best selling clipper and clipper blades manufacturers for grooming dogs, Andis make high quality reliable clippers that are bound to last. Andis clippers have been in the industry for more than 95 years. No other brand knows cutting, styling and grooming better than Andis.
Check Carefully because…
● Built to withstand years of use
● Break resistant.
● Blades-The detachable ceramic blades runs cool and stays sharp.
● Weight-2.5pounds
● Quiet-This clipper runs quiet which will allow your pet to relax and keep calm
● Motor-Highly efficient motor gives you enough strength to cut through heavy coats.
● Durability-Break resistant
● Cord-12 feet
● Ergonomics-Designed to fit comfortably in your hand. This clipper is build in such a way that it is easy to hold and use.
● Strokes Per Minute (SPM)-3700 SPM
The MUST Know, True Facts about Andis Easy Clip Pro-Animal 7
This clipper uses a superior rotary motor that is powerful enough to clip through thick hair and is used especially for poodles, spaniels and their breed matts. It stays cool so there is no worry of irritating your dog. It is also particularly used to cut through sensitive areas. It is designed and manufactured for years of reliable use and features a break resistance.
What to watch out for with this product?
It is a corded solution, so you will have to come an electric point to run it. This might not be useful for a heavy thick coat.
Crucial Tips
Pros
● Cuts through tough coats easily
● Quiet-The Andis Easyclip Pro Animal 7 functions quietly. Pets can easily get scared and since this clipper is quiet there is no worry of scaring your pet.
● Blades stay cool-Since the blades cool easily there is no need to use cooling spray or frequently turn it off.
● The powerful rotary motor is superior to most models.
● This particular clipper is easy to use even for beginners.
Conclusion
This clipper is perfect for anyone who wants to cut their pet hair at home and save themselves some money. It is simple to use and even beginners can use it easily. The blades are detachable making it easy to clean and maintain.
Why Is It Important to Find the Best Clippers for Poodles?
Poodles and poodle-mixes (like Labradoodles) have a different type of coat than some other dogs. They have a coat made of long, curly hair instead of fur. The curly hair gets matted easily, and the cheap clippers that you can get at pet stores or Wal-mart just aren't sharp enough to cut through their hair.
Besides having matted hair, poodles also traditionally have hair of several different lengths on their bodies. You will need a pair of clippers that comes with multiple attachments or blade sizes to make sure that you can get the length of the hair right.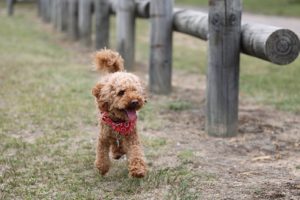 Are Poodles Double coated? like Shih Tzu?
No! unlike Shih Tzu who has a double coat, Poodles only have a single layered coat, without an inner coat (which makes the double coat). Normally this would mean that you wouldn't need the best fur clippers with the highest amount of torque, but since you have to consider the dense curly fur you will need powerful professional clippers with low heat emission and vibration for a poodle's coat.
The Difference Between dog grooming clippers and Human Clippers
Some people might wonder why they can't just use human clippers on their animals. There are two main parts of clippers, the motor, and the blade, and there are significant differences between these parts on clippers made for humans instead of dogs.
Human clippers usually have slower motors because humans do not have as much fur as dogs. The slower motors are not strong enough to get through dogs' fur, and they can actually pull your dog's skin into the blade causing cuts on their delicate skin.
Another reason that human clippers can cut dogs' skin is that the blades are thinner than dog clippers. The thin blade can easily become clogged with dog hair and can become dull and blunt. It may seem counter-intuitive to think that a dull blade can cut skin more often than a sharp blade, but that is because the sharp blade is able to accomplish its purpose. The dull blade is fighting every inch, which causes you to push harder or hold the clipper at a different angle. If you are not holding the clippers correctly, you will be more likely to slip and accidentally cut your dog's skin.
So, do yourself and your dog a favor by buying a set of clippers specially designed for pets. Trust me when I say that you don't want to be responsible for several cuts along your dog's skin.
What to Look for in Clippers for Poodles
There are several things you should consider when you buy dog clippers for poodles.
Speed: Shaving the different parts of your dog's body will be much easier if you have a set of clippers with multiple speed options. The highest speed needs to be fast enough to cut through a poodle's matted hair.
Blades/Attachments: You will most likely want to have different lengths of hair for the various parts of your dog's body.  You will need different blade sizes, for example Andis UltraEdge Detachable Clipper Blades or attachments to accomplish these lengths.
Corded/Cordless: If the clippers have a cord, you will want to make sure that it is long enough to allow you to move around your dog while you groom them. Cordless options are an alternative that some people prefer, but they require charging and replacement batteries.
Noise: Many dogs get spooked by loud noises, especially when those loud noises are coming straight for their face. A silent or quiet motor is essential to keeping your poodle calm while you groom them.
Heat: All clippers will eventually heat up because of the friction on the blades, but some heat up a lot faster than other options. Find clippers that don't heat up too quickly.
Ergonomics: You will probably be grooming your dog for two to three hours. That's a long time to be holding a heavy, bulky piece of equipment. A lightweight clipper with an ergonomic handle will make your job a lot easier!
What to do about clipper Blades Getting Too Hot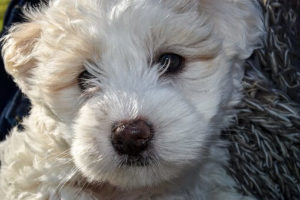 One of the most common complaints about dog clippers is that the blade gets too hot too quickly. Every manufacturer will say that they have designed clippers that don't get hot as soon as the other ones, but every clipper eventually gets hot because of the friction created when the two blades run against each other. The good news is that there are some things that you can do to combat heat on your clippers.
Some clippers come with a ceramic blade instead of one made with stainless steel. Ceramic does not get as hot as fast, but it probably won't be as strong as stainless steel either. Alternatively, stainless steel blades are often treated with anti-heat coatings. Buying the right blade is the first step to protecting your dog from blade burns.
The next step to preventing hot blades is taking care of the blades and clippers themselves. Clippers should be regularly cleaned with a cleaning solution specially made for them. Blades should also be lubricated with clipper oil each time you use them, and possibly multiple times throughout one grooming session.
The last thing you can do to make sure that your pet doesn't get burned is to bathe them before you begin grooming. Dirt and oil on your dog's hair can get caught in the blade causing more friction, so cleaning your dog beforehand cuts down on heat problems. Bathing them before you begin grooming is also an excellent way to get rid of mats that force your clippers to work harder. If your clippers don't have to work as hard, they won't get hot as fast.
Multiple pet Clipper Lengths and Sizes of Poodle Hair Clipper Blades
Poodles were bred to be water retrievers, so they were explicitly groomed for water-based activities. The lower half of their body was specifically cut shorter so that the wet hair would not become heavy enough to drag them down. Longer hair was left around the ribs, heads, and joints to prevent organ issues that could be an effect of cold water and arthritis. A topknot was added to their head to keep the hair out of their eyes while they swam.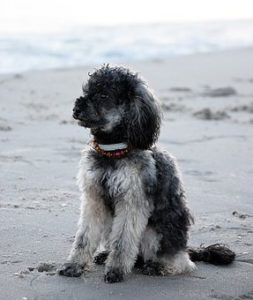 Modern dog owners are usually not using their dog for the same water-related activities as the days of old. However, if your poodle is competing in dog shows or competitions, they are usually restricted to one of two traditional hairstyles that leave longer and shorter hair in different areas.
Many dog owners are choosing a puppy cut or similar style that leaves the hair the same length throughout. However, because of the fast-growing hair that poodles have, this grooming style can get matted a lot more easily. Matted hair has been known to cause skin problems and make grooming more difficult.
If you would like to groom your poodle with a traditional hairstyle, you will need several different blade sizes to produce the different lengths. The number on the blade represents how long the hair will be; the higher the number, the shorter the hair. Blades with an F after the number are finishing edges, so they are better for putting the finishing touches on your dog. Regular split-tooth blades are stronger and faster, but they leave an uneven coat, so we recommend using a split-tooth blade for your first, overall cuts, and then using a finishing blade to even up the coat. Some blades have a T option that is wider and best for large standard poodles. Guide Comb attachments fit over the blade and add extra space between the blade and your dog's hair. Guide combs can help you achieve a slightly longer and more even trim.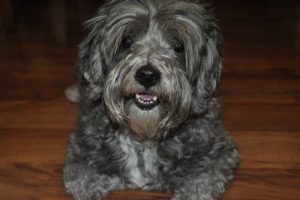 The blades that you need will depend on the style and length that you want your poodle to have, so it is ultimately up to you. But if you are not sure where to start here is our recommendation. You will need a size 7F or a 4F for finishing. Most clippers will come with a size 10 blade, and that or a size 15 blade will work well for clipping the feet and base of the tail. A size 30 blade is perfect for use with a 1 inch, or ¾ inch attachment comb. You may also want a set of grooming shears for perfect final touches.
One thing that you should keep in mind is that the blades on most clippers are universal. That means that if you buy a set of clippers from Wahl, but eventually decide to get an Andis set; you can still probably use your Wahl blades on the Andis set and vice versa. As long as they are both detachable clippers, the blades will work on both.
Different Speed Settings for brand [Andis, Oster, Wahl, etc] vs model [AG, AGC, AGC 2 (2-speed clipper), SMC, MBG-2 (2-speed clipper), RACA, RACD, PM-4, PM-10,  etc ]
The size of the blade is not the only thing that you will need to achieve traditional grooming styles on your poodle, or any dog for that matter. You will also need clippers with multiple speed options. Lower speeds are safer for cutting sensitive and small areas like around your dog's face. But those low-speeds will not be powerful enough to power through the thick, matted hair on your poodle's back and stomach. Most clippers come with either one speed, two speeds, or five-speed clipper options. The more options that you have, the more control you will have as well.
Here
is a guide on the best dog clippers for thick coats.
You do need to understand that different speed clipper settings will work differently. For example, higher speeds will automatically create more friction, causing your clippers to heat up faster. Keeping this in mind, you may want to use the higher speeds at intervals, with slower speeds in between to give your blades some time to cool off. But that requires changing blades several times, so you will need to experiment to find the system that works best for you.
Corded vs. Cordless Clippers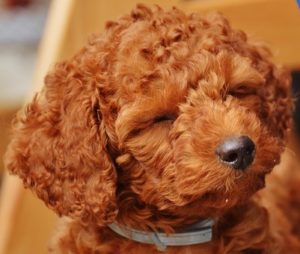 Whether you decide to get a cordless or corded clipper will depend on personal preference and your grooming space. It is essential to choose a comfortable area for both you and your dog because you will be there for a while. Your pet might move around, so you need to make sure that they are stable as well. However, if the space you are grooming in is far away from an outlet, you will be frustrated with continuously having to move the cord.
If you decide to get cordless clippers, you will not have the hassle of working around a cord, but you will have to charge them regularly. Some batteries take an hour or more to charge, and they usually last 35-80 minutes once they have been fully charged. That means that you will have to take several charging breaks or have a backup battery ready to complete a full grooming session. Cordless clippers also tend to be heavier than some of the corded options because the batteries add extra weight. One of the benefits of cordless clippers is that it allows you to clip your dog outside, which is preferred by some dog owners who don't want to have all that extra hair in their house.
The most apparent benefit of corded clippers is that they have continuous power so they won't die out or slow down (unless it is time for the drive motor to be replaced), but another benefit is that they tend to have more power. Because they are not relying on batteries, they are stronger and faster than cordless clippers. They do not need to be charged, and there are no batteries to replace. As long as you get clippers that have a long enough cord, somewhere in the 12-14-foot range, you should be able to maneuver around your poodle without getting the heavy-duty cord tangled.
SPM and Torque of the animal clipper
SPM is the strokes per minute, which is a measurement of how fast the blades on the clippers are moving. The more strokes per minute, the quicker you will be able to groom your dog. Higher SPM can get hot more quickly than lower speeds, but they are also hopefully getting more accomplished in the time that it takes them to heat up.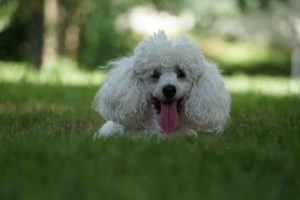 SPM is not the only thing you should consider when you are buying clippers for your poodle. It doesn't matter how fast the blades are moving if they are not powerful enough to cut through your dog's hair. That is where torque comes in. In order to cut efficiently, you need a clipper that has a high SPM, enough torque, and sharp blades.
Ergonomics of dog grooming clippers
An important consideration is your comfort. It will not be worth saving money on grooming costs if you end up feeling miserable every time you groom your poodle. All clippers are going to seem reasonably lightweight at first, but after holding them for three hours, you will quickly realize how much difference a few ounces can make. Finding a lightweight clipper is only half the battle.
Another factor that can make or break the ergonomics is the size and shape of the handle. Many clippers come with soft materials around the grip area so that your hand is comfortable. It is also essential to get a pair of clippers that has a specific design for your hands because an accidental slip could cause your dog to get a painful cut.
Some clippers are going to be better for different people because of the size of their hands. Many clippers are designed small so that they are comfortable for people with little hands. But groomers with large hands often find these difficult to hold on to. You should get a clipper that fits your hand comfortably.
Vibration is another vital ergonomics issue, that seems to be worse in cordless clippers. Your hand will tire out much quicker if it is continually vibrating with the movement of the clippers. Similarly, if you have to apply more pressure to get through thick fur, your hand will begin aching very quickly.
What Type of Clippers Should I Use on My Poodle with Matted Fur/Thick fur?
Poodles and poodle mixes often have thick fur that is prone to mats and tangles. If you get the wrong kind of clippers, they will get stuck in your pet's hair, or they will heat up too quickly. You need to look for clippers with high torque and a high SPM. However, you will also need to ability to adjust to different speeds so that you can control the clippers for different areas of your poodle's body. Detachable blades are also necessary because you may need a longer blade to cut away the mats, and a shorter blade to fine-tune the appearance.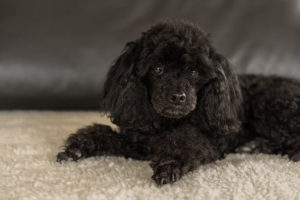 Your best bet for poodles with thick, matted fur is going to be a
professional grade clipper
. The cheap versions that you can buy at the pet store, just are not going to be powerful enough to cut through all those mats. Corded versions are usually stronger, so we recommend have a corded clipper, at least for the first cut where you can get all of the mats off. You could switch to a cordless clipper for the more delicate cuts if you prefer, but I don't see the point in having two clippers that can both do the same job.
Poodle Grooming Guide [Tips for Safely Grooming a Poodle]
Make sure that your poodle is comfortable and stable.  You don't want him or her jumping off of a table in the middle of a grooming session. Choose a grooming area that is big enough for your dog to sit or lay down when they want to.
Another safety tip is to get your pet acquainted with the clippers before you begin using them. Show your dog the clippers and let him or her smell them. Provide lots of treats and turn the clippers on, so your dog gets used to the sound before you begin. Gradually, start to cut small areas while providing plenty of praise and treats for your poodle. Once they seem comfortable with the clippers, your grooming process will go a lot smoother.
Check the heat of the blades regularly. Some blades can seemingly get hot in the blink of an eye, so you need to check their temperature often. A quick touch to the lower part of the blade, away from the teeth, can give you a good idea of how hot they are. If they seem to be getting warm, switch to a different blade to prevent burns.
Even professional groomers sometimes accidentally nick dog's skin, especially on areas that are difficult to groom, like the ears and face. Professionals use a specialized powder called styptic powder to stop the bleeding. Styptic powder is often used in first-aid kits because it is known for stopping bleeding quickly.
Clippers are fast, but they aren't always safe around specific areas. You should get a pair of safety rounded tip scissors to cut around your dog's eyes and paws.
When cutting along the face, you should always be aware of the contours of the dog's body and cut with the contour. Use very light pressure and keep the dog as still as possible.
The throat is one area that is particularly prone to burns. Dogs have folds inside their throats that stick out similar to a human's Adam's apple. If you are not careful, you can get too close to the skin on the areas around these folds and cut or burn your dog. The same issues arise around the folds of your dog's cheeks. Be careful and work slowly when you are grooming these sensitive areas.
Around the muzzle is another area you should be careful with especially with toy poodles. You need to stretch the skin around their gums and be careful to avoid hitting their canine. There are also spots along their gums that are easy to cut off accidentally, and they bleed profusely, so be careful there!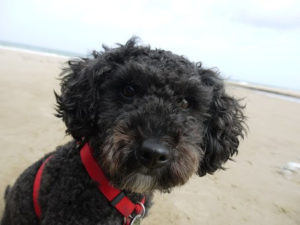 Prepping to Make Grooming Easy
The more that you can prepare yourself and your dog for the grooming process, the smoother it will go. You should always bathe your dog before you begin grooming because you need to wash away the dirt and grime that can cause the blades to heat up faster or get stuck.
Once you have washed your dog, you should brush their hair to get rid of as many mats as you can. Some groomers prefer to brush the dog before washing because it makes the hair fluffier and easier to work with. It is absolutely essential that you dry your dog's fur, either with a low-heat blow dryer, or letting it air dry before you start grooming. Wet hair is not going to give you a proper idea of the correct length, and it isn't safe for your pet.
Before you begin, you should also prep the clippers themselves. Make sure that the blades are clean and oiled and use a cooling spray to help make sure they don't heat up too fast. In addition, you should make sure that you are prepared and know exactly how long you want your dog's hair in different areas. Don't try to figure it out as you go because you and your dog will both become frustrated before you can finish.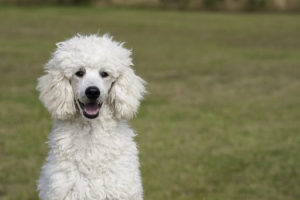 How to Groom a Poodle with Clippers: Important Tips
Once your dog is bathed, brushed, and dried, you are ready to start grooming them. Here are some important tips to keep in mind as you go:
If you find a mat, gently pull it away from your dog's skin and either comb it away or carefully shave it off.
When the blade gets hot, switch to a different blade while that one cools down. Switching usually means changing to a different part of your dog's body unless you have multiple blades of the same length. Reapplying cooling spray and lubricant can also help keep them cool.
Keep in mind that the longer you choose to keep your dog's hair, the more often it will need to be brushed and combed.
Use a pair of grooming scissors to finish the final details, like shaping and styling. Pin Combs can also be used to fluff your dog's hair as a final finishing touch up.
Because of the bevel on the blade itself, it is always better to angle the clippers inward toward the dog's body. You should also follow the grain of your dog's fur.
The 7 Most popular hair cuts for Poodles are
Dutch
Sporting
Retriever
Kennel
Lamb
Puppy or
Teddy bear
Conclusion
Getting the right clippers will not instantly make you an expert poodle groomer, but it is impossible to become an expert without the right tools. Now that you have the information about what to look for you can decide for yourself which set of clippers is right for you and your dog. You will need to consider your budget to determine what option is best for you, but I strongly suggest that you see it as an investment that will save you money on future grooming expenses. It may feel difficult to spend the money on a set of high-quality clippers, but it will definitely be worth it in the long run. Best of luck with your search for the best poodle clippers!