We may earn commission from qualifying purchases at no extra cost to you.
Learn more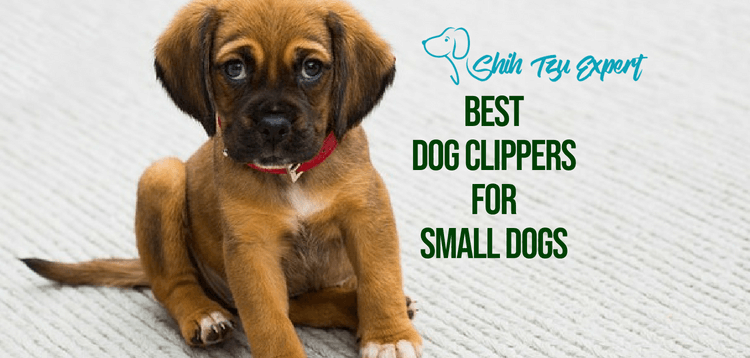 Do you worry about taking your dog to the groomer?
Maybe that's why you were looking for the best pet clipper for your Small pup?
These days, it seems like there's a new story every couple of weeks about dogs dying or being injured while being groomed. It can also be very expensive and inconvenient to leave your dog for anywhere from an hour to all day. Is it time to start grooming your dog yourself?
Buying clippers and learning how to groom your dog yourself is a bit of a financial and time investment, but it will all pay for itself within only a few grooms. In fact, even the most expensive clippers can pay for themselves within a year if you used to take your dog to a groomer every month or two.
There is a learning curve to grooming your dog, and small dogs can be more difficult to groom than larger ones. It's crucial to get the right pair of pet clippers for you and your dog to both have the best possible experience.
Top 4 small animal clippers
Here are my top 4 picks for the best pet clippers for small dogs:
If you're looking for a sturdy, professional-grade set of cordless clippers, these are a great bet. Not having to manage a long cord while grooming your small dog is a huge plus.
These 5-speed clippers are much lighter and more ergonomic than most other professional-grade clippers. They also have a slightly shorter body length, making them a great option for small dogs.
These professional clippers are at the cheaper end of the spectrum for professional grade. They're more expensive than the Wahl U-Clip, but they should last much longer. They are a little long and heavy, which may be awkward for really small dogs (or tiny dogs) like Yorkies and Maltese.
If you're looking to start with a cheap set of clippers to try grooming your dog for the first time, these have a solid star rating on online retailers. They won't get through thick coats but should be sturdy enough for fine to medium coats. They may need to be replaced after a while, but then you can upgrade to a professional model of clippers/shears.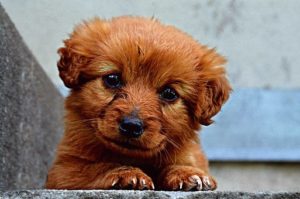 I was a dog groomer for more than 12 years, and I want to help you find the best clipper for your small breed pup. Here are my tips for finding the right set of small animal clippers.
The most critical issues when grooming small dogs
Small and tiny dogs are much more fragile than large dogs. It's much easier to injure them, whether you nick their skin or accidentally move their leg the wrong way. Really small dogs are sometimes smaller than the clippers, shears, brushes, or combs you want to use, which offers a whole other set of challenges.
Noise and vibrations also tend to make small dogs more nervous than large dogs, so you want to try to find clippers that are fairly quiet and don't vibrate too much.
How does grooming a small dog differ from grooming a larger one?
#1 – Size. You might think that grooming a small dog wouldn't be that much different from a large dog, but the size makes a bigger difference than you might expect. Say you're trying to shave your dog's armpits for example.
When you take the front leg of a large dog and gently pull it away from their body, there's plenty of room to maneuver little clippers and safely shave their armpit. With a small dog, the clippers may be longer than your dog's leg, making it difficult to maneuver the clippers and see what you're doing. This can make it easier to accidentally cut your dog.
Faces can be another difficulty in small dogs compared to big dogs. To safely trim around a dog's eyes, you need to be able to hold and control their face. Big dogs have plenty to hold onto, whereas many small dogs, especially those with short muzzles like Shih Tzus, don't have much of a face or head to hold onto without your hand being in the way of what you want to trim.
The one benefit of small dogs is that, once you know what you're doing and are comfortable with the process, small dogs are much faster to groom than large dogs, meaning cordless clippers are a more feasible option than they may be for larger dogs.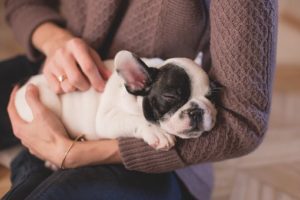 #2 – Temperament. While large
dogs can certainly have problems with anxiety, small dogs are more likely to be sensitive about things
like the noise, vibration, and heat from the clippers you're trying to use on them. Think about it – even their back feet are quite close to their head, so noise can be a factor in the entire grooming instead of just around their face.
Some small dogs have great temperaments and are comfortable with everything, but you should be prepared for some nervousness and fidgeting while you and your dog get used to grooming at home.
#3 – Coat type. While some large breeds can have fine coats (like Bearded Collies and Briards) and some small breeds can have thick coats (like Pomeranians and Toy Poodles), most small dogs have finer hair than large breeds, which means you don't need as much power in the clippers that you choose. This is a good thing because more powerful clippers can be more expensive.
The most challenging situation is where you have a small breed pup with a thick coat that is matted. This is where you will have to consider taking them to a professional groomer or buying a pair of professional heavy duty clippers to cut through the mats. Also it's a good idea to get a brush that can lift those troublesome mats during the regular brushing/grooming sessions.
Crucial tips to follow when grooming a small dog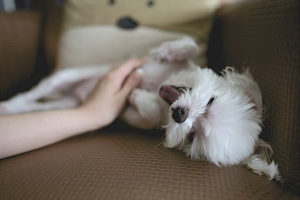 #1 – Be careful. I can't overemphasize how easy it can be to injure your small dog when grooming them at home. Make sure their skin is as taut as possible while easing the clippers through your dog's coat without jamming them into the skin. Be extra careful around your dog's potty areas, armpits, throat, and eyes.
Also, if you plan to scissor around your dog's face, be warned that many dogs lick their noses when they get nervous, so watch out for a fast tongue than can easily jab itself into your scissors. No matter how gentle and cautious you are, cut tongues are one of the most common injuries I saw in all my years as a dog groomer. Those tongues can be FAST.
Pro tip – keep some sugar handy. If you accidentally nick your dog's tongue, having him lick the sugar can help stop the bleeding. I don't know how it works, but it does. Be warned that tongues bleed A LOT, though they usually heal without any serious long-term side effects.
#2 – Be gentle. Obviously, you would never hurt your dog on purpose, but it's easy to get a yelp of pain out of your small dog if you move a leg too far to try to see what you're doing, for example. Small dogs tend to be less sturdy than larger ones, so even brushing out a mat can make your dog feel like he's being tortured. Keep in mind that sensitivity as you groom them.
#3 – Go slow. Trying to rush is one of the main things that leads to accidents. Pick a time when you don't have any plans for at least 2-3 hours so you can just focus on doing a safe haircut rather than rushing to get the chore out of the way. A nervous dog will have a very tough time being rushed through a haircut.
#4 – Choose smaller tools. Long shears and heavy-duty clippers are great tools for larger dogs but will make grooming small dogs more difficult. The smaller the tools you use, the easier it will be to maneuver them around your small dog.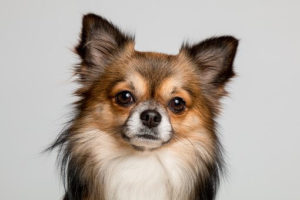 How do I get ready for grooming a small dog?
Figure out where you want to groom your dog. I recommend using a table or other flat surface for your dog to stand on, but you may decide it's easier to groom your dog in your lap or on the floor. Make sure all the tools you need are within easy reach so that you don't need to keep starting and stopping the grooming. Keep plenty of treats handy, too, so that your dog doesn't make too much of a negative association with the grooming process.
Start with a clean, dry coat. This will make for the easiest, smoothest, best looking cut. Having said that, you should brush or cut any mats out BEFORE washing your dog, since water will make mats worse (unless you have a high-velocity dryer to loosen mats with).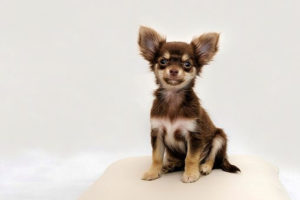 #Buyer's guide to finding the top dog trimmer for your small pup [Read this before you buy!]
If you want to start grooming your dog at home, you may think it's best just to buy the cheapest clippers you can find and see how that goes. That may work out OK, but you should look at dog clippers as an investment that will save you money on grooming down the road.
A cheap pair of clippers may work fine for a while but is likely to need to be replaced if anything goes wrong. With more professional-grade clippers, almost every part is easily replaceable, so they should last for many years without any problems. On the other hand, you may not need the most expensive clippers on the market. There are a handful of things you should consider when searching for the right set of clippers for smaller dogs.
Corded vs. Cordless Clippers
Cordless clippers are extremely convenient, especially for smaller dogs or a tiny little puppy. Remember how I said that size matters? A cord adds length to clippers, making them more difficult to maneuver around a small dog. Cordless clippers are also more convenient if you plan to groom your small dog somewhere unconventional, like your lap.
On the downside, cordless clippers tend to be more expensive, and the charge typically only lasts 60-90 minutes. If you're very slow while you first learn how to groom your dog, that may not be long enough, so corded clippers may be the better option for your situation.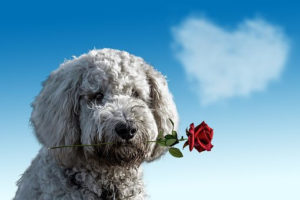 Speed? Multiple speeds?
The speed you need on your clippers depends on your dog's coat type. If you have a Pomeranian with a thick double coat or a Poodle with tight curls, for example, you may need higher speeds to get through the thick coat. The benefit of good clippers with more than one speed is that you can use the slower, quieter, gentler speed on sensitive areas like the face, potty areas, and the pads of the feet and the faster speed on the rest of the body.
If you have a dog with a finer coat like a Maltese or a Yorkie, the clipper speed won't matter as much. A slower single-speed small clipper will probably work just fine.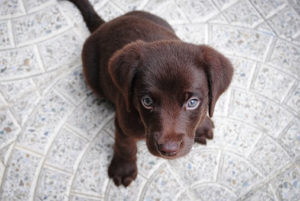 Which blades to use?
Some clippers only come with one blade, often a 5-in-1 style, and attachment combs for longer cuts. 5-in-1 blades can be more expensive and more difficult to replace than detachable blades, so that's something to consider. However, if you plan to only use the blade for sensitive areas and attachment combs for everything else, a 5-in-1 blade can be just fine.
If you like a short but not shaved look, a longer blade often looks better than a shorter attachment comb. Some clippers, especially professional-grade or brand clippers, come with detachable A5-style blades that are easily switched with different sizes that can even be made from other brands than the one that made your clippers. For example, if you have a pair of small dog clipper from Andis, you can use blades from another brand like Oster, Wahl etc
Most clippers will come with a #10 blade, which is the perfect length for trimming around the eyes, paw pads, and potty areas. You will have to purchase other blade lengths. A #7 blade leaves 1/8" for a smooth cut that is very short but not all the way down to the skin. A #5 blade leaves ¼" and is a nice length that is short but still leaves your dog with a little bit of fluff. A #4 blade leaves 3/8" and only looks good on certain types of coats, especially thicker ones. There are blades longer than a #4 blade, but at that point, the haircut usually looks better when you switch to an attachment comb.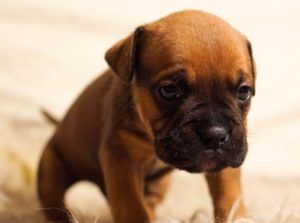 Ergonomics – Lightweight or heavy clippers?
Since small dogs can be more difficult to groom than larger ones, you may want to spring for more ergonomic clippers so that you can focus on your dog instead of how heavy, awkward, and uncomfortable the clippers are.