85 Best Puppy Chew Toys | Longest-Lasting While Teething That'll Save Furniture, Shoes & Your Sanity
Toy Name
Our Rating
Check Price on Amazon
Toy
Outward Hound Hide-A-Squirrel and Puzzle Plush Squeaking Toys for Dogs

Editor's Choice!

(4.9 / 5)

Check Price on Amazon

Benebone Real Flavor Wishbone Chew Toy, Made in USA

Editor's Choice!

(4.9 / 5)

Check Price on Amazon

Kong Classic Dog Toy

Editor's Choice!

(4.9 / 5)

Check Price on Amazon

Canine Hardware Chuckit! Ultra Ball

Editor's Choice!

(4.9 / 5)

Check Price on Amazon

KONG Jumbler Ball Toy
(4.8 / 5)

Check Price on Amazon

Chuckit! Launcher
(4.7 / 5)

Check Price on Amazon

Duckworth Large Dog Toy 13"
(4.7 / 5)

Check Price on Amazon

KONG PUPPY KONG Durable Rubber Chew and Treat Toy
(4.7 / 5)

Check Price on Amazon

KONG Rubber Flyer Dog Toy
(4.7 / 5)

Check Price on Amazon

KONG Wubba Dog Toy
(4.7 / 5)

Check Price on Amazon

Invincibles Snake Stuffingless Durable Tough Plush Dog Squeaky Toy with Squeakers by Outward Hound
(4.7 / 5)

Check Price on Amazon

goDog Dragons With Chew Guard Technology
(4.7 / 5)

Check Price on Amazon

Tuffy Ocean Creature Crab
(4.7 / 5)

Check Price on Amazon

Nylabone DuraChew Ring Dog Toy
(4.7 / 5)

Check Price on Amazon

Trixie Pet Products
(4.5 / 5)

Check Price on Amazon

Tuffy Ultimate Dog Toy
(4.5 / 5)

Check Price on Amazon

West Paw Zogoflex Hurley Durable Dog Bone Chew Toy for Aggressive Chewers, 100% Guaranteed Tough, It Floats!, Made in USA, for Strong Chewers
(4.5 / 5)

Check Price on Amazon

Chuckit! Indoor Ball
(4.5 / 5)

Check Price on Amazon

West Paw Zogoflex Tux Interactive Treat Dispensing Dog Chew Toy for Aggressive Chewers, 100% Guaranteed Tough, It Floats!, Made in USA
(4.5 / 5)

Check Price on Amazon

West Paw Design Jive Zogoflex Durable Ball Dog Chew Toy
(4.5 / 5)

Check Price on Amazon

Goughnuts - Original Dog Chew Ring
(4.5 / 5)

Check Price on Amazon
You want to give your puppy toys to chew on but you also want to make sure your puppy is safe. Without some good chew toys, your puppy just might chew off your table leg instead. Almost every pet owner worries that they are purchasing toys that can be destroyed easily and worse are unsafe. So let's look at a few of the most popular and safe chew toys for puppies.
Teething Puppies Need to Chew: Why Do They Chew?
Whether it is your puppy or your adult dog chewing is a normal practice. It is the way they explore the world around them. For puppies, chewing can relieve teething pain especially if you invest in puppy chew toys friendly to gums. Adult dogs keep their jaws strong and their teeth clean by chewing. All dogs, whether young or old will combat boredom through chewing. It can also help dogs of all ages to relieve mild anxiety.
Puppy Teething Stages and Teeth Development
Puppy teething is a reality. Just about all puppies are born with no teeth.
At around 3-weeks of age puppy's milk teeth or deciduous teeth begin to appear. By the time your puppy is 6 to 8 weeks old they will have all their baby teeth – a full set of 28 baby teeth will come through.
The incisors are the first teeth your puppy will get. They start to show at around 2-3 weeks of age, although this does vary depending on the breed. Puppies have six incisors on the top and six on the bottom jaw at the front of their month.
At around 4-weeks your puppy will get their four needle like canine teeth, which frame the incisor teeth.
Between 3 to 6 weeks, your puppy's premolars and molar teeth will come through. There will be three on the top and three on the bottom on each side of the jaw. Finally, at 6 to 8 weeks your puppy will get their last molars.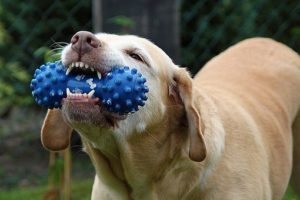 During this entire time, your puppy is going to be chewing on anything they can find. When you find your puppy chewing on something they should not be chewing on, calmly take away that item and replace with puppy chew toys friendly to gums or any of the many safe chew toys for puppies. They will figure it out pretty darn fast and begin to choose the chew toys over the furniture.
You do not get much of a break between your puppy's first teeth and their permanent teeth. At around 8-weeks your puppy's permanent teeth are going to push through and push out the milk teeth. Tooth for tooth the milk teeth are replaced with permanent teeth.
By age 7-months, most puppies will have 42 permanent teeth. There will be times during this process that your puppy might have double teeth until the deciduous teeth fall out. If these baby teeth do not fall out, you will need to see your vet so that they can be pulled, as you want there to be enough room for your puppy's permanent teeth to align properly.
During the time where your puppy is getting their permanent teeth you are going to want to make sure that there are plenty of good, safe chew toys for puppies around. In fact, right from early on if you provide your puppy with safe chew toys, and they will quickly become accustomed to chewing on designated toys and leave your furniture and shoes alone. Over the years, it will also help your dog to have healthy teeth and good chewing habits.
What Are The Concerns?
When puppies teeth there are some concerns.
How will I know my puppy is teething? The first clue you will have that your puppy is teething is a little bit of blood on their favorite chew toys. If it is minimal, there is no need to worry, as it will stop by itself. You might even find a tooth or two on the floor or in a toy. Other signs that your puppy might be teething include eating slowly or not wanting to eat at all, drooling, increased chewing, low-grade fever, and being fussy or whining.
What can I do to eliminate the pain? The best thing you can do for your puppy is to make sure they have some excellent chew toys designed for teething puppies. There are a number of good teething toys on the market, which we will discuss in detail. One of the best options is called a puppy pacifier. You can also soak a washcloth and freeze it. The cold helps to reduce inflammation. Frozen dog treats are another option, and of course, there are puppy chew toys designed to be frozen.
How can I make sure my puppy is chewing on safe chew toys for puppies? Buy only name brand dog toys and choose toys that are designed for puppies who are teething (not all toys are), and always supervise your bubby.
What are the Dangers When My Puppy is Chewing?
When your puppy decides to start chewing, you should be aware of the dangers that face your puppy. When your puppy is free to roam your home there are many options for chewing and some are not healthy for you or your puppy. Chewing on furniture is not only destructive, it can be dangerous as stains, cleaning finishes, etc. can actually be toxic to your puppy, so you want to know what safe chew toys for puppies are available and offer those up. Electrical cords are dangerous as chewing can result in electrocutions. Aggressive puppies can break down their toys faster than expected, especially if they are not toys designed for teething, and these pieces can be dangerous, which is why you need to keep an eye on your puppy when they are chewing, and check toys regularly.
Beyond chewing issues, generally your puppy getting all their teeth will be pretty uneventful. However, sometimes baby teeth do not fall out causing issues with the adult teeth that are developing. Have a look in your puppy's mouth a least weekly. If you see any baby teeth that are hanging on make an appointment with your vet. Also, brachycephalic pups, which are those dogs that have short faces like Shar Pei, bulldogs, and pugs need extra attention. While these breed tend not to be destructive chewers like larger breeds, but they are more likely to have dental issues. In a few of the hairless breeds, missing teeth is normal, but for most breeds, it is not.

Regardless of your breed, throughout this article we have recommended a number of safe chew toys for puppies such as the Flavor N-Bone Puppy Teething Ring, which is one of many. Look at your options, choose toys your puppy likes and teething will be pretty uneventful for both you and your puppy.
Choosing Safe Chew Toys for Puppies: How to Pick the Best Puppy Chew Toys
Your dog will chew – after all, that is one of the things that comes naturally to all dogs. Whether it's your puppy or your adult dog, chewing is an important act. Puppies chew when they are teething and as part of exploring their world around them. Adult dogs chew to keep their brain engaged, the masticator muscles strong, and their teeth clean. When choosing teething toys for your puppy you want to choose puppy chew toys friendly to gums.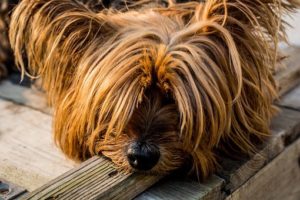 What You Should Know About Safe Chew Toys for Puppies
Chewing is good for the
physical and mental health of your dog
. It's also a natural instinct, and if you don't provide them with chew toys they'll discover their own chew toys that might include your dining room table leg or your best pair of shoes, or worse an electrical cord. There are tons of dog chew toys available but which are safe? Which should you avoid? Which are the best? This 3-part guide will help you choose your chews and chew toys safely based on your dog's own characteristics. Since all dogs are different they have unique chewing needs and these three steps will help you determine what will be best for your puppy or adult dog. One thing that applies to all puppies that are teething, you need to make sure that the puppy chew toys friendly to gums so that they don't cause bleeding.
#1 Determine What Your Dog's Chew Personality Is
Before you go shopping, you need to figure out what type of chewer your puppy/dog is: Which of these describes your dog best?
Destroyers – These are the dogs that's main goal is to completely destroying whatever they can get into their mouth, and they are often successful at doing so. There is always the possibility that as they destroy they will swallow the pieces, so be careful as the 'destroyer' and the 'inhaler' can overlap. Shopping for the destroyer can be a real challenge! Not only do you need tough toys that will last you need puppy chew toys friendly to gums when you are looking for toys for a puppy.
Inhalers/Gulpers – The inhaler bites large chunks off edible chew toys for puppies and adult dogs and then quickly swallows them.
Nibblers – These dogs take their time and are more interested in enjoying their toys and savoring their chews.

#2 The Best Chew Toys Based on Chew Personality
Now that you have identified the type of chewer your dog is, here are some general types of toys and chews that are likely safest for your dog's chewing type.
Destroyers – Bully sticks, rawhides, Firm rubber chew toys, and edible chews & treats
Inhalers –Stuffed toys, firm rubber chew toys, and rope chew toys
Nibblers – Rubber chew toys, rawhides, rope chew toys, stuffed toys, bully sticks, and edible chew toys for puppies.
This is a great starting place, but keep reading, because there's more.
#3 Buy Quality Chew Toys
No two dogs are like and each dog can chew differently and with an endless variety of chew toys to choose from it can be a daunting task to determine what chew toys right for your dog. These simple guidelines will help to simplify the task at hand and make it seem less daunting.
Coating – Avoid toys and edible chew toys for puppies that have been treated or coated with flavorings that can cause digestive upset.
Durable and Soft – The toy should not be constructed poorly or too soft, allowing your dog to be able to chew/tear it apart and possibly swallow the stuffing or chunks of the toy, which could lead to a medical emergency (blockage).
Entertainment Value – The toy should be able to provide your dog with hours of entertainment chewing and keep them distracted for long periods of time, by either letting you stuff it with food or treat, or simply because it lasts for a long time.
Hardness – Use the thumbnail test. When you press the toy with your thumbnail, if it does not give a bit it could be too hard for your dog and risk the breaking of a tooth, unless you have an aggressive/destructive chewer. Also puppy chew toys friendly to gums are a requirement for young puppies.
Size & Shape – Toys or edible chew toys for puppies shouldn't be small enough for your dog to choke on, and it shouldn't be a shape where your dog could get their muzzle stuck in it or get it lodged in their mouth.
Washable -You should be able to put it in the washing machine and clothes dryer or the dishwasher to disinfect and clean regularly.
Knowledge Is Power
At the end of the day, finding the right chew toys for your dog is likely going to involve a bit of trial and error, except for the occasional time you get lucky right off the bat. As you get to know your dog's chewing patterns better, along with how your dog interacts with certain toys, you will get better at choosing the best chew toys for your dog.
Some chew toys offer extra benefits for your dog, such as cleaning teeth or mental stimulation. However, chew toys can also cause problems, so you should always watch your dog closely the first few times they play with a new chew toy. Even long-term you should check toys regularly to see how they are holding up, and if you're concerned about a certain toy, don't leave your dog unattended with it, or find a better alternative.
If you notice any of the following take the toy away and make an appointment with your vet. When booking the appointment be sure to be clear about the symptoms your dog is experiencing so that they can judge the urgency of the visit.
Blood in the area where they have been chewing the toy or on the toy
Diarrhea
Loss of appetite,
Decrease in energy,
Not interested in playing after they've chewed on a certain toy
Vomiting
While some chews are better than others, there are potential problems that can happen with every kind of dog chew and it's important that you know what these are.
What to Look for When Buying Toys for Your Teething Puppy
Your goal is to provide your teething puppy with irresistibly fun teething chew toys that give them the relief they need and quench their desire to chew your belongings.
If your puppy can choose between your furniture or fun teething toys that fulfill their desire to chew and give their gums relief, they will almost always choose their toys. If your puppy doesn't like the teething toys, you provide they'll find something else to chew on. That means when you choose wisely it's a win-win – there will be no destruction and you'll have a happy puppy.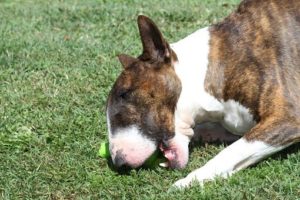 Furthermore choosing toys that are durable will save you tons of money as you won't be continuously spending money on new ones. Thus when your puppy is teething keep these things in mind when buying teething toys.
Be Shatter Proof – Every year too many dogs die from choking on or by ingesting fragments or small pieces that break off unsuitable toys.
Experiment With Different Textures and Shapes – Different dogs like different things. What one puppy goes nuts over might be completely ignored by another. So try a few different textures/shapes to find out what works. Also having a good variety helps to fend off boredom.
If it's Tasty That's Even Better – If your puppy can chew on something that's tasty that's even more incentive to choose the toy over the furniture. These tasty chew toys become high value toys and make them useful for training.
Make Sure Toys Are the Right Size – The right size toy for a Shih Tzu puppy could pose a choking hazard for a Saint Bernard puppy. Make sure the toy you choose is the right size for the breed.
Make Sure You Have Toys That are Considered Safe Toys for Puppies – Not all good toys are good for the destructive teething puppy so make sure you choose toys like Flavor N-Bone Puppy Teething Ring or one of the others we will talk about.
Must Be Tough Enough to Last Yet Soft Enough to Offer Your Puppy Relief – In order for a teething chew toy to work, there needs to be some give. The toy needs to be soft enough to keep their interest high and so that it feels like prey – that way they'll keep using the toy. It also needs to be durable and firm so that it lasts for awhile but not too hard that your puppy's sensitive gums are hurt. Look for a happy medium between soft and durable.
What to Avoid When Buying Toys for Your Teething Puppy
Not all toys are made equal. Here are some things you should avoid when you are looking to buy teething toys for your puppy.
Avoid things that resemble household items – Don't confuse your puppy by buying toys that resemble things like your shoe, or your slipper, or your cushions. When you buy these items, you are actually teaching your puppy to chew on said items.
Avoid toys that your puppy can tear into pieces – Many toys can be easily torn apart or broken into a number of pieces and these can pose a choking hazard.
Avoid toys too small for the breed – Small puppy breeds need small toys while large breed puppies need larger toys so that they can't choke on them or swallow them.
Choose BPA free toys – You will find BPA in cheap toys and this toxic chemical can lead to cancer or other illness.
The poor quality stuffed toys with squeakers – Not all squeaky toys are dangerous, but the poor quality ones, which are generally the cheap ones, are dangerous. Your puppy can easily tear these apart and if your puppy swallows the squeaker, you could have a medical emergency on your hands.
Toys for children – When you compare the price of a puppy toy to that of a child's toy, or the one you find at the thrift store don't fall for the temptation of saving a few dollars. Puppy toys are created to be chewed safely and you'll have to pay a little more for that. So puppy toys will always be a bit more expensive than a child's toy.
Puppy Teething Toys: Best Chew Toys for your Teething Puppies
Frozen Puppy Teething Toys


Check Price on Amazon

Puppies are happy chewing just about anything that they can get in their mouths, and often these are items that are forbidden. The solution to that is to buy puppy teething toys, and frozen puppy teething toys are one great solution!
Natural Polymer Flavor N-Bone Puppy Teething Ring Chicken Flavor – It's tough work getting new teeth. Your puppy's gums will be sore and there will be a much stronger desire to chew. N-Bone Puppy Teething Rings are designed to make it easy to be held with their paws and then offering a great way to sooth the gums while teething through chewing. The chicken flavor makes that that much more enticing and the pliable rings will not damage the immature teeth. The Flavor N-Bone Puppy Teething Ring is a great choice for any teething puppy.
Nylabone® Puppy Teething Keys – The Puppy Teething Keys are a great choice for teething puppies, as they are a bit softer than the Nylabones for adults and are gentler for your teething puppy while still providing hours of chewing. Teach your dog healthy chewing habits from an early age and safely with the Nylabone® Puppy Teething Keys, which is highly recommended by Vets to soothe your puppy's teething pain, while promoting oral hygiene and freshening their breath.
Nylabone® Romp 'n Chomp Freezer Bone Treat Holder Dog Chew Toy – Soothe your puppy's teething pain with this refillable Romp 'n Chomp Freezer Bone that holds treats and then you freeze it so that it soothes your puppies teething pain. It will also keep your pet entertained and use it to help discourage destructive chewing.
Puppy Kong® – The Puppy Kong® will promote good chewing habits and is very safe. The rubber is softer on the puppy version so that they get the pressure without the worry of getting hurt. Your puppy will have a very hard time destroying their Kong®. You can fill your Puppy Kong® with peanut butter for a little added fun. If your puppy is teething put it in the freezer filled with peanut butter it creates the perfect teething toy. The Puppy Kong® is very hard to destroy and it can be easily cleaned in the dishwasher or with a quick wipe down. Of the many toys on the market, this is one of the most difficult to destroy, but of course, you should always keep an eye on your puppy when they are chewing.
During teething time, you should be extra vigilant watching for chewing behavior that's inappropriate, such as your furniture and then redirecting to frozen puppy teething toys like The Flavor N-Bone Puppy Teething Ring.
The coldness will soothe your puppy's aching gums that are associated with teething. You can make your own frozen chew toy by twisting a wet cloth so it's shaped like a stick and then freezing it. Some dogs even like to chew on ice cubes. However, more effective are the many frozen puppy teething toys.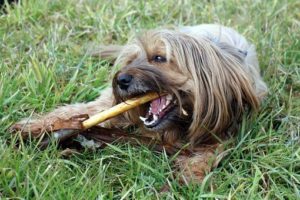 Good Frozen Toys for Teething Puppies
Puppies that are teething and have sore gums will appreciate you providing them with a nice frozen toy as these toys are very soothing during those periods of teething.
Arctic Freeze Bone Dog Toy in Blue – This toy can be used in the house or outside. Freeze the toy in your freezer and then give to your teething puppy. You can also put your puppy's favorite treat in the treat pocket for even more excitement.
Kong® Puppy Teeth Stick – Made from Kongs classic all natural rubber formula, this Kong® Puppy Teething Stick, which can hold up to your puppy's aggressive teething chewing. Stuff with your puppies favorite snack to entice your puppy, or throw it in the freezer to give them even a bigger challenge.
Natural Polymer Flavor N-Bone Puppy Teething Ring Chicken Flavor –
It is never easy when your puppy is getting new teeth. Their gums will be sore and the only thing on their mind is to chew, chew, chew. N-Bone Puppy Teething Rings are specially designed for puppies to hold easily and give them something to focus all of their teething on. It is made in a chicken flavor to make it irresistible to them while being soft on their gums. You can't go wrong with the Flavor N-Bone Puppy Teething Ring!
Natural Polymer Int. N-Bone Frozen Puppy Teething Ring – N-Bone Puppy Teething Rings are designed to make it easy for your puppy to grip. Toss it in the freezer and you now have a frozen teething toy that will soothe your puppy's gums. The Puppy Teething Ring is formulated with calcium and DHA to provide support to your puppy's nutritional needs.
Nylabone® DuraChew Double Action Puppy Chew – This durable puppy toy will hold up even for those aggressive chewers. Throw it in the freezer and your puppy will enjoy the nice cooling effect on their gums while satisfying the natural chewing urge
Puppy Teething Ring – Wolf – Chicken – This teething ring is made from thermoplastic polymer so not only will it satisfy your teething puppy, you can throw it in the freezer to enhance its benefits. There are different size options.
Rope Toys & Fabric Toys – There are many brands of these types of toys. These toys are designed to be either used both frozen and unfrozen, maintaining the cold for a long period of time. The cold will help to reduce inflammation and swelling in your puppy's gums, and eliminate the teething pain.
These safe chew toys for puppies are great to have around the house. Soft chew toys for puppies are great, but for teething puppies, they aren't always tough enough so make sure you read the reviews and what the manufacturer has to say.
Puppy Toys: The Best Dog Toys for Puppies
It's not just puppies that like to chew while they are teething. Puppies in general love to chew on things from the time they get all their teeth right through their adult life and into their senior life. Some dogs are heavier chewers than others are, and some dogs are light chewers while others are aggressive chewers. Let's have a look at some of the best dog toys around, starting with good chew toys for puppies.
Best Puppy Chew Toys
Beco Pets Hoop – The Beco Pets Hoop is made from natural rice husk rubber making it safe for your pet and environmentally friendly, a double win. Your puppy is going to love chewing and gnawing on the Beco Hoop that is completely non-toxic. This is a flexible toy that is soft enough for those puppies that have sensitive teeth but tough enough to be able to handle the tougher chewers.
Benebone Wishbone – The Benebone's Wishbone Chew is not your average chew toy because it is made from super strong food grade nylon and bacon. It is also available in a peanut butter flavor. The wishbone shape is ergonomic and meant to keep your dog chewing for a long time. Each of the prongs has deep flavor grooves designed to keep your puppy interested in continuing to chew. There is no artificial flavoring and is a great choice for dogs that are less than 70 pounds. Benebones are not edible and stand up to your puppies need to chew and when it is worn out you just toss it.
Braided Bully Pizzle Stick – While the ordinary bully stick does not hold up with some breeds, the Braided Bully Pizzle Sticks do. This is three bully sticks that have been braided into one monster stick and that means it's going to last at least three times longer. Puppies love the Braided Bully Pizzle Sticks and you will love them because they have no odor, no additives, and they are low in calories. The Braided Bully Pizzle Sticks are 100% natural and a safe alternative to rawhide chews.
Natural Polymer Flavor N-Bone Puppy Teething Ring Chicken Flavor – It's hard on you and your puppy when they are getting new teeth.You want to help them, but all they want to do is chew everything in the house. Luckily, N-Bone Puppy Teething Rings are made to help your teething puppy. It is chicken flavored so your puppy will think he is getting a treat and it is soft and pliable enough so it won't hurt their jaw or incoming teeth. The Flavor N-Bone Puppy Teething Ring is a perfect solution to your puppies teething days.
Puppy Kong® – The puppy Kong® has a unique natural rubber formula that is customized for the growing baby teeth of your puppy. It is gentler than the standard Kong® toy. The Puppy Kong® helps to teach your dog appropriate chewing while satisfying the instinctual needs of your puppy. Stuff the Puppy Kong® with peanut butter and your puppy will be entertained for hours.
Worst Puppy Chew Toys
Not all puppy chew toys that make it to market are good for your puppy. Let's look at some of the worst puppy chew toys so you can avoid them.
Any kind of cooked bones – Real, cooked bones splinter into tiny, abrasive pieces that over time will lead to serious damage.
Chewies that are made of large rawhide pieces – Should a puppy swallow a large piece of chewies or rawhide your puppy can land up having intestinal issues.
Ribbon or string – Don't let your puppy play with anything that is a long strip of fiber, ribbon, or string as it is dangerous if swallowed.
Sharp items that have metal parts – Don't let your puppy play with any toys that have sharp items like springs, batteries, or pins.
Squeaky or rubber type toys – Puppies chewing on these toys can land up swallowing these toys in large or even whole pieces. Also the squeaker inside can be swallowed and that can lead to surgery.
Toys that have foam stuffing – Like the squeaky toys, puppies can chew these until the can rip them apart and if they start to eat the stuffing inside it can make them very sick. Safe soft chew toys for puppies should be marked as such so that you know they will stand the test of time, at least for a little while.

Cheap Puppy Toys – How Do I Save Money And Treat My Pup?
There needs to be a fine balance between buying affordable good chew toys for puppies and ensuring these toys are safe for puppies. For example, purchasing your puppy toys from the dollar stores is as risky as purchasing your child's toys from the dollar stores, unless they happen to overstocks of name brand products. Most of these toys will be made in China and run the risk of containing things like BPA, lead, and other toxins not permitted here, which can over the long term make your dog sick. Suddenly your savings have all gone out the window and instead you are spending them money on vet bills. People tend to especially make this mistake with soft toys for puppies. Perhaps it's because soft toys always look so cute and innocent.
When you are looking to buy puppy toys for a good price, watch for sales at your local pet stores, and even more importantly check online as there are a number of site that sell puppy toys at discounted price where you can get good chew toys for puppies. For example, websites like Amazon are a great place to look for safe but affordable puppy toys that won't break the bank.
Bottom line – you can save money and find cheaper safe chew toys for puppies if you shop around, but whether you are looking to buy soft chew toys for puppies or hard chew toys for puppies, buy brand names that stand behind the puppy toys they make.
Tough Dog Toys – The Best Dog Chew Toys That Last
There are many good toys that don't last long, so we thought we'd cover a few dog chew toys that have a reputation for lasting, therefore you are more likely to get your money's worth out of these toys.
The Best Indestructible Dog Toys
Some toys are far more indestructible that others, so we did our research and came up with our favorite indestructible dog toys for 2020 that are good chew toys for puppies. These hard chew toys for puppies will stand up to some of the most avid chewers and are considered to be safe chew toys for puppies of all ages, including those who are teething.
Natural Polymer Flavor N-Bone Puppy Teething Ring Chicken Flavor – We all know how difficult a teething puppy can be. They are in pain and are looking for anything that can help and you only want the best for them. The N-Bone Puppy Teething Rings are an amazing teething toy for them. It is chicken flavored, is easy for them to hold on to with their paws and is soft on their incoming teeth and jaw. With the Flavor N-Bone Puppy Teething Ring, your puppy will be happy and will develop health chewing habits.
Nylabone® – Nylabone® has been around for a very long time and is well known for being practically indestructible. This is a great choice for teething puppies and you do not have to worry about it, because they are very safe. The raised bristles on Nylabones help to clean your dog's teeth and to prevent the buildup of tartar. There are a number of Nylabone® styles to choose from so there is certain to be something for your puppy or adult dog. Your dog's going to have to work hard at destroying the Nylabone® as they last a very long time. When they start to look worn, simply toss and replace with a fresh one.
The Kong® Flyer – A standard Frisbee can't withstand the jaws of a 75+ dog, but this flying disk is a great alternative designed to last longer for those aggressive chewers. While it won't last forever if your dog is an obsessive chewer it will outlast almost any other chewing toy and it's a great combination because now this is a Frisbee that will stand up to the aggressive chewer.
The Kong® Toy Line – Kong® products have been the King of chew toys for a very long time, and are available in a number of styles including the Puppy Kong®, which is perfect for your puppy. The Kong® line of toys has expanded greatly and now there's rubber toys, squeeze toys, plush toys and more, all designed to last and to keep your dogs interested. There's going to at least one Kong® toy that your dog is going to love, and you can relax knowing they are lasting, safe, and affordable.
West Paw Ball – This is an excellent fetch toy that's built to last. This ball just keeps going and it is perfect for fetch inside and outside. When you are not playing fetch, you will find your dog happily chewing on this ball. It comes in three different sizes so there's a ball that's right for your dog.

The Longest-Lasting Chews for Dogs Who Could Probably Chew Through Granite
Don't confuse indestructible with long lasting chew toys. Hard chew toys for puppies and indestructible toys are built to stand up but the longest lasting chews are meant to be chewed day in and day out and they still hold up to the challenge. Here are the longest lasting chews we found for dogs
Barkbel – The Barkbel is available in small or large so no matter what size your aggressive chewer is, this is one of the hard chew toys for puppies that is available for every type of chewer. Made of 100 percent rubber, it will offer many hours of chewable fun for your dog. It's rugged and fun, a great combination for your aggressive chewer. Make sure this is one of the toys you add to your list. It's rugged, safe, and affordable.
Diamond Plate Orbee Ball – Dogs love the Diamond Plate Orbee Ball. Tennis balls won't withstand the pressure of the super chewer, but the Orbee Ball will certainly stand up to the task. While not truly unbreakable, this could be the toughest dog ball available. It is built for durability. They also offer a soccer ball, football, and other more creative toys for the aggressive chewer.
Goughnuts Guaranteed Indestructible Dog Toy – This could very well be the most rugged dog toy made. Tons of dog owners have made the switch after having tried many different dog toys for aggressive chewers and who thought there wasn't any toy that could withstand a really aggressive chewer. Well the Goughnuts Dog Toy has a lifetime guarantee you know that it has to be built right. You need to ask for a replacement when you see the red. Think of it like this – green is go and red is stop. The company says that as long as the green is showing you can let your dog 'go nuts' but once the red shows take advantage of the lifetime guarantee. By the way, this does not happen very often, so if you have an aggressive chewer this is a toy you want to have!
Zogoflex Hurley – If you have a chewer and a dog that likes to swim, you will want to invest in the ZogoFlex Hurely, which is guaranteed to be tough while at the same time floating on water. If your dog destroys this toy, the manufacturer will replace it for no charge. There are three neon colors to choose from so it's easy to spot. Your dog is going to love this one!
There you have a few solid hard toys for puppies that are good chew toys for puppies you can choose from. Always watch your puppy when they are chewing on a toy and always keep an eye on how the toy is breaking down. Even safest chew toys for puppies eventually break down and become a danger.
The Safest Puppy Toys
Safe puppy chew toys for puppies is not a luxury – rather they are a necessity. Toys are necessary for the wellbeing of your dog. They help your dog fight off boredom or provide comfort if your dog is feeling nervous, such as when you leave your dog at home alone. Toys can also play an important role in preventing your dog from developing behavioral issues. Hard chew toys for puppies can entertain them for hours, while soft chew toys for puppies can provide comfort and chew time. Some puppy parents will prefer to choose natural chew toys for puppies. What's important is to do your homework so that you aren't leaving your dog with what you thought were edible chew toys for puppies only to find out they weren't and your puppy has been eating a bunch of hazardous material.
When you buy toys for your dog, you want to make sure they are the safest they can be. There are a numerous factors that contribute to making a toy safe or dangerous. Many of these issues are related to the size of your dog, along with your dog's preferences and overall activity level. While the safety of no specific toy can be guaranteed, because each environment of a toy's use is different, we can offer you guidelines to help you make good choices. At the end of the day the best thing you can do is to check your puppies toys regularly for breakdown and keep an eye on your dog so that you notice if they are breaking off pieces, or swallowing pieces of a toy, and buy toys that are recognized as safe chew toys for puppies.
The things that your dog, especially your puppy, will be most attracted to generally are the things that are the most dangerous for your puppy. Before you bring your puppy home, it's a good idea to take the time to dog proof your home. Remove things like rubber bands, ribbon, string, children's toys, items that they can swallow, toxic items, inedible items, and just about any other item you can think of that could pose a risk.
Get down on the floor so you see things from your puppies perspective. Then make sure you have some safe chew toys for puppies on hand. You might also want to have some comfort toys so why not also pick up a couple of safe soft chew toys for puppies. Your puppy is likely to miss its mom and siblings at first and that's where safe soft chew toys for puppies can be helpful providing comfort while you are gone.
When you are buying toys for your puppy make sure that they are size appropriate. For example, if you buy toys that are too small for your dog they might try to eat them and they could get caught in their throat or worse they might actually swallow them and require emergency surgery.
The soft chew toys for puppies that have squeakers in them must always be used under supervision. The squeaker drives your dog into a frenzy and for most dogs, they want to find it and destroy it, which means they start to shred the toy and too often they end up swallowing pieces and eventually they end up eating they squeaker. What this means is you need to be watching.
There are other toys your dog might love, but they might have bits and pieces that might not be safe such as eyes, strings, bows, ribbons, etc. that they might chew off and eat. Check new toys for possible hazards and remove them, and as toys begin to break down discard them. Check the labels to make sure they don't contain any dangerous fillings or stuffing. Even toys designed for dogs can contain materials that aren't safe. Look for toys that are machine washable or dishwasher safe.
We would be remiss if we didn't mention rawhide. If you are going to give your dog rawhide toys, you need to first check with your vet to make sure that they are appropriate and recognized as safe chew toys for puppies. There are many mixed opinions on rawhide so your vet is your best advocate for your puppy. One thing is for certain, rawhide does pose a choking hazard so make sure you never leave your dog unsupervised with rawhide.
What you might not be aware of is that many rawhide products come from the cruel international fur trade. You might want to choose more humane options such as hard rubber, which has many safe chew toys for puppies and will last much longer.
There are all kinds of natural chew toys for puppies, which means they contain natural ingredients that are not harmful to your puppy and this can be very helpful when you are not going to be home. You know that your puppy's chewing on good chew toys for puppies and adult dogs.
Recommended Safe Toys
Active Toys
Hard rubber like Kong® and Nylabone®, are available in a wide range of shapes and sizes and your dog will have fun chewing on and carrying these toys around. These are considered safe chew toys for puppies. For dogs that like to play tug-of-war or those who find textured toys more interesting to chew on, both woven and rope toys are good options.
Balls are a great toy for your puppy, but most vets no longer recommend actual tennis balls because they cause a great deal of wear down on your dog's teeth. Instead, opt for balls like Chuck It® makes, which are designed for your dog's safety in mind. These are great for playing fetch and will stand up to chewing better than an average tennis ball. Hard chew toys for puppies are good as long as they are appropriate for the age of your puppy.

Distraction Toys
Kong® type toys can keep your puppy busy for hours, especially when you fill them with treats. If your veterinarian gives you the okay for your dog to have peanut butter you can use peanut butter. You can also use the product Kong® makes.
Feeder or Busy-box toys are rubber shapes you can fill with treats. Your dog has to move the cube around using their paws, nose, and mouth in order to get the goodies out. If your dog tends to eat their food too fast, it can be helpful to feed your dog using this feeder style toy. There are natural chew toys for puppies that are safe because they contain no chemicals or toxins, which if this is a concern for you these are the toys you want to watch for. Of course, like every toy you need to be watching for the breakdown of the toy – that's the time to dispose of it and find a replacement.
Comfort Toys
Soft chew toys for puppies are popular as they have many uses. There are numerous safe soft chew toys for puppies. However, not all dogs do well with soft stuffed toys. Here are a few tips to help you choose the correct stuffed toy:
The Best Dog Puzzle Toys
Your dog will love puzzle toys, especially if they are a dog that gets bored easy. Interactive dog toys help keep your dog busy when you aren't home and they are often recommended by dog behaviorists. Let's look at our top picks for dog puzzle toys that sometimes are also good chew toys for puppies serving a dual purpose.
Dog Activity Flip Board – This interactive toy is designed for small dogs and is made by Trixie Pet Products. Don't think for a minute because it's for small dogs it's easy – not at all, it's difficult! In order for your dog to get the treat every flap, cone, and knob has to be operated by their paws, tongues, etc. – in some way. This game has a non-slip rubber rim so it will stay in place.
Hide & Slide Puzzle – Don't be too surprised if your dog doesn't want to stop playing with this very clever wooden puzzle. Your dog will find the treats by maneuvering the numerous levers.
Hide and Squeak – This toy is made by Outward Hound and it's a plush puzzle game. Your dog has to put the soft squeaky squirrels into the soft tree. Your dog will learn to pull them out and then put them back in the tree. It will keep them entertained for hours and it is available in three sizes.
IQ Treat Ball – You fill the ball with treats and you can set the difficult by how much of an opening you leave. If you want to keep your dog busy all day long then make a small opening. If your dog's attention span is short, make the opening bigger.
Kong® Classic – We'd be surprised if Kong® didn't make the list. After all dogs have been enjoying this rubber toy for 30 or more years. Stuff your Kong® with treats and leave your puppy to figure out how to get them out. There's hours of entertainment value here.
Mad Scientist Puzzle – This is the perfect game if you have one of those nerdy dogs. The dog has to flip the three beakers over and the treats will be released. You can set it on the floor or suspend it off the floor for those dogs that like to cheat.
These are our favorite intellectual toys for your puppy and adult dog. Of course, there are many others on the market, so you've lots of choices. Puzzle toys are one of the best ways to stop your dog from becoming board.
The Best Plush Puppy Toys
If your goal is to find cuddly toys for your puppy that won't break into hundreds of pieces the minute your puppy sinks their teeth into it, this is the list for you of soft chew toys for puppies that are safe
Mighty Safari Hippo – This purple hippo is super strong and super snuggly. Your puppy will lover it as it is soft and flexible and it also floats so it makes a good toy for fetch as well. When it's dirty, just toss it in the wash.
PetSafe Pogo Plush Dog Toy – This is a very popular plush. It has no stuffing and it has an inner frame that's bouncy and then the outer cover is strong yet snuggly with a faux sheepskin covering. Once the dog chews through to the rubber, it's time to toss.
Multipet Duckworth Duck – This duck is well loved by canines. Your dog just won't be able to get enough of this duck. It's larger than most plush toys and durable, and for those that love noisy toys, it also squeaks.
GoDog Dragons Periwinkle Dog Toy – This soft cuddly plush is very rugged thanks to the double stitching. Your puppy gets cuddly and you don't have to be worrying about the toy falling apart. It comes in three sizes so there's one for your puppy no matter the size and is certainly a favorite soft chew toy for puppies. It also has Chew Guard Technology.
The Best Fetch Toys for Puppies
For those dogs that can't get enough of chasing the ball, we thought we'd tell you about some of the other great fetch toys available for puppies.
Chuckit Indoor Ball – If the weather isn't contusive to outside play this squishy, fuzzy ball is perfect for indoor play so your puppy can get their ball fix. There is even an indoor launcher.
Kurgo Skipping Stones – For the puppy that can't get enough water these floatable fetch toys are in the shape of actual stones but they are flashy colored so that your puppy can easily see it when you skip it across the water.
Orbee Tough Zoom Flyer – This Zoom Flyer goes the distance traveling far through the air definitely tiring out your fetch, and it's soft in your dog's mouth. For the dog that likes to fetch in water, this one's a floater.
Traditional Chuckit Launcher – Just a flick of the wrist and the Chuckit ball is flying through the air and down the field with your dog happily chasing after. Cheap and highly effective.
West Paw Tizzi – This fetch toy flies high and the sleek design has it spiraling through the air. Your dog will love it! It's non toxic, dishwasher safe, and recyclable.
Tug Toys for Puppies
Some puppies can't get enough of tug of war games and these four are
Outward Hound Invincible Toy – Perfect for killing their prey or a good game of tug as this snake will squeak and it drives dogs' nuts. This is a toy great for small to extra large dogs. The Dura Tuff lining stop rips and lets this toy can withstand even the sharpest puppy teeth.
Honest Pet Super Sturdy Snakes – This is made from organic wool and hemp so it is eco friendly and the squeaker inside can't be destroyed. It's a little pricey but it's a great tug toy that stands the test of time.
Kong® Puppy Flyer Dog Toy – This is yet another rugged Kong® product but it's also flexible and soft so while it goes the distance it's easy on your puppy's mouth!
Tuffy Ocean Creature Octopus – The legs and head squeak to keep your puppy interested and it's a good size for chewing and tugging. It's super tough and it's a breeze to clean.
Kong® Shakers Toy – This is a toy made by brilliant human minds for brilliant puppy minds. You get the classic Kong® that can be filled with treats that will stand up with the vigorous thrashing that occurs in tug toy games. The rattle sound will keep your puppy engaged, but it's built so it's going to be very difficult for your puppy to destroy.

How to Keep Your Puppy Interested in Their Toys
Your puppy can become bored with their toys. In fact, it's more common than you might think. If your puppy gets bored with his toys and can't find something that excites him to chew on, you need to remember that your furniture or shoes are still options, so don't regret keeping your puppy interested. Here are some tips to help keep your puppy engaged with his toys.
Interactive – A large percentage of your dog's toys should be interactive, because interactive time with their person will increase their bond with you. Flying disks, balls, etc. all are interactive toys that will help to keep your puppy interested.
Make Sure Toys are the Right Size – If the toys you are buying are too big for your puppy they'll give up playing with them. The same can apply if they are too small, and worse there is always a risk of choking. Matching toy size and puppy size increases the likelihood of your puppy remaining interested in their toys.
Must Be Soft Enough to Provide Relief, Tough Enough to Last – When your puppy finds his favorite toy, he's not likely to want to part with it. Interest will be high, but if it's not designed to last, your puppy's interest is likely to wane as it falls apart or quits working. There's also the risk of injury, which we've already talked about. So buy toys that are soft enough for your puppy to carry around and 'love' but tough enough to last. Good chew toys for puppies are good investments.
Rotate Your Puppy's Toys – You can rotate the toys so that all of the toys remain interesting to your puppy. Leave them out for a few days, then put them away for a week or so and bring out other toys. Your puppy will think it's a brand new toy.
Toys That Taste Good Are Better – If the toy tastes good, your puppy is more likely to remain interested.
Try Different Shapes and Textures – By mixing up the size, shape, and texture of the toys you buy your puppy, they are more likely to remain interested in them.
Add Safe Soft Chew Toys – Puppies get lonely and having something soft to snuggle into will help immensely, and there are certainly man safe soft chew toys available.
Putting these into play or at least some of them into play will help to keep your puppy interested in his toys for longer.
Making Toys Last
You can make your dog's toys last longer by rotating them every week or two. This means your dog only has a handful of toys available at any one time and it keeps things fresh and interesting for your dog. If your dog has a favorite soft comfort toy, you can leave that with them all the time, but make sure that you check it regularly.
Provide a variety of toys that serve different purposes. For example, make sure your dog has one toy to shake, one to chew, one to carry, etc.
Often "found toys" are far more interesting to your puppy than the ones you introduce, so make a game of toy introduction by subtly placing them around the house. You can make a game out of hiding toys for your puppy to find. Toys that you can add treats work really well because they are able to sniff out the treats. Also hard chew toys for aggressive dogs are great if you have a puppy that's a heavy chewer.

No Biting Allowed
Investigating and chewing objects are part of the puppy's learning. In fact, just about all of the learning puppies go through involves their mouths and those sharp little needle teeth. It's pretty common for puppies to nip, bite, and chew on people's hands, clothing, limbs, etc., which is called mouthing. While it might seem cute when it's your 8-week old puppy, by the time your puppy is 3 or 4 months old, it is no longer cute, and it is a lot harder to break the habit by then.
You need to help your puppy learn how to not mouth. There are different methods of teaching this. Here are some excellent tips to help your puppy learn that their teeth do not belong in contact with your skin:
Encourage play that is gentle and non contact, like tug of war or fetch. Once it is able to safely play tug of war, keep those exact toys were they are easily accessible. It won't take long at all for them to figure it out.
If a time-out is not effective, you might have to use a taste deterrent like Grannick's Bitter Apple. Spray on your hands or areas of your body that your puppy likes to mouth prior to interacting with him.
Have a tug toy ready to prevent puppy biting at the ankles or feet so that you can use it to distract him.
Whenever your puppy ambushes you, just STOP immediately and use the tug toy (which you were carrying in your pocket :)) and wave it around to distract his attention. Once it grabs it, you can start moving it around again.
Puppies often mouth on people's hands when they are petted. If your puppy gets excited when you pet him, then distract your puppy by feeding him treats.
Substitute a toy or chew bone when your puppy tries to gnaw on fingers or toes. Good chew toys for puppies are a good substitute for your fingers or toes.
The minute you feel the bite of your puppy; let out a high-pitched yelp and immediately walk away. It won't take long for your puppy to figure it out.
Or you can keep the leash on during the time-out training (By the way okay to let the leash drag over the floor but only if you are supervising) and instead of leaving the room just grab the leash to walk the pup to a quiet area, tie him there and then for a brief time turn your back on your puppy. Untie your puppy and then continue what you were doing.
Remember to be patient. Mouthing is normal puppy behavior so be patient as your puppy figures out what it is you want from him.
Best Dog Frisbees
For some dogs chasing down the Frisbee is what they live for. Border Collies and Belgian Sheep Dogs are two great exceptions of that, so you want to make sure you are using the best Frisbees around. In fact, there are competitions like the Stanely Cup or Lander Cup where dogs are honored for their Frisbee skills.
Why the Frisbee
You might be surprised to discover that researchers have a real interest in how dogs are able to navigate and catch Frisbees. Even in the Guinness Book of World Records, you will find Frisbees covered for dogs. A 6-year old dog named Rose is able to catch seven Frisbees at the same time. So, have some fun with your dog and teach them young how to play Frisbee. Let's look at some of the best Frisbee toys for your dog.
Glow in the Dark Frisbee – Most dogs can't get enough of the Glow in the Dark Frisbee and it's also the perfect night toy. It's a nice lightweight and uses two lithium batteries, which are included.
Kong® Frisbee for Dogs – A dog without a Frisbee can be a sad dog. That's why Kong® was quick to create a Frisbee line. Like most of the Kong® toys, it's pretty close to indestructible. Made in the USA so it's safe for your dogs and the perfect Frisbee for fetch. It comes in a two pack and you can choose between large or small.
Nerf Dog Frisbee – The Nerf Dog Frisbee is really quite perfect in design, because it's brightly colored, is made of tear resistant nylon, and it can fly or float. It comes in a pack of two. It is made from thermoplastic rubber, which is safe, flexible, and allergy resistant.
Soft Dog Frisbee – This fun Frisbee is soft and colorful making it great for training. It can also be used as a water dish when you are out and about. Puppies really like this one, because their gums are a lot more sensitive. You can get it in multiple sizes from 7 to 12 inches.
Have a little fun and let your dog enjoy some great Frisbee Time.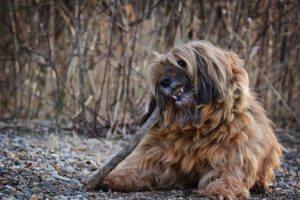 Tricks and Toys to Keep Dogs Busy When They're Alone
There are all kinds of things you can do to keep your puppy or adult dog entertained while you are gone. BY offering up tons of toys your dog likes they will be more interest in that then chewing the legs off the coffee table.
As a pet parent you are likely busy between work and other commitments, and so your fur baby spends that day at home alone. Giving your dog some great toys and jobs to do will he's by himself will help a great deal to keep your dog engaged while you are gone. Let's look at some of the things you can do.
Fill a Kong® with Peanut Butter – Take your puppies favorite Kong® and fill it with tasty peanut butter or some other food item your dog loves. Most dogs love the smell of peanut butter and because it's so sticky it adds a real challenge, which will keep your puppy busy for hours. Hard chew toys for puppies make your puppy have to work harder and so that keeps them engaged, however, you need to choose the appropriate hardness by the age of your puppy so you don't land up damaging their teeth.
Provide a Window – Dogs love to look out the window so make sure you have one available to them. This works unless you have a barker, then this is not a good option.
Puppy Puzzles – We talked about puppy puzzles earlier. These interactive puzzles will provide hours of entertainment to your dog. There are tons of interactive dog toys you can choose from, including the ones we've already talked about.
Watch TV – Leave the television on when you go out. Pick a channel with lots of animal action, turn the volume up, and if it's going to be evening leave a light on, and your dog will watch it. Some dogs are avid TV watchers while others only watch it occasionally, but it helps to stimulate their brain and it feels a little less lonely with the noise of the TV in the background.
Keeping your puppy entertained while you are gone can be challenging, and providing a variety of toys is a great way to do that – add hard chew toys, natural chew toys, and even edible chew toys for puppies. A nice variety of safe chew toys for puppies will help you to feel at ease when you aren't around.
Eco-Friendly Toys and Treats That Dogs Love
Safe chew toys for puppies come in many forms, and for some the preference is for eco-friendly toys and treats, which are another option for good chew toys for puppies. Let's look at some of the best eco-friendly toys and treats.
Eco-Fetcher – Honest Pet creates a number of good chew toys for puppies that are eco friendly. The Eco Fetcher is made from 100% natural felt and then covered with hemp canvas. It flies like any good Frisbee, and you can rinse it off with mild soap and cold water. It's a great eco friendly toy for your puppy.
Hurley Dog Toy – Cross a ball and a bone and you get a Hurley dog toy, which many consider the best dog toy to ever exist. It's made from Zogoflex, which is super pliable, so it floats in water, bounces when you toss it, and offers hours of fun. It comes in four colors and it is made from recycled materials.
Planet Dog Eats – These are 10% natural and you can choose from two flavors – Pumpkin pie, and chicken. They also contain rye flour, barley flour, and peanut butter. These are considered high value treats by many trainers – that means your dog will do just about anything for one of these treats.
Trail Buddy Treats – If you are buying food for you to eat, you likely choose foods that where you can pronounce the ingredients, and dog toys and treats should be the same. This is one reason why Trail Buddy Treats by Cycle Dog are so popular.
There are plenty of other eco-friendly toys and treats but these four are some of our favorites and a great place to start.
Best Kong® Dog Toys – Reviews & Top Tips for Choosing Kong® Chew Toys for Puppies
Walk into any pet store and they are going to recommend Kong®. Don't confuse its ugliness for its functionality. Pups love it! Let's have a look at some key Kong® toys
Kong® Squeezz Dumbbell – The Kong® Squeezz Dumbbell has a squeaker that's recessed which makes it one of the most fun, safe chew toys for puppies. It's perfect for some chew time, or a game of fetch, with the erratic bounce that will certainly keep your dog engaged. There's tons of fun here.
Kong® Wubba – This tug toy will bring hours of entertainment, and the squeaker will keep your dog excited and engaged. The Wubba will keep your dog chewing, chasing, and happily panting. Available in small, medium, and large. This toy should be used under supervision.
Kong® Puppy Goodie Bone – This toy is perfect for your puppy. The soft puppy rubber will soothe your puppy's gums. Made in the USA so you don't have to worry about poor quality products. It's good for dogs up to 9 months.
Kong® Binkie – The Puppy Binkie will promote correct chewing behavior. It is designed for teething puppies, and it will soothe sore gums. This is one of the puppy chew toys friendly to gums. You can fill the center of the Binkie with treats or peanut butter.
Kong® Teething Stick – This teething stick will fit perfectly into the mouth of a puppy. The Denta-Ridges will gently clean the teeth while providing relief to sore gums. The soft rubber formula means this is one of the puppy chew toys friendly to gums. Stuff with Kong® Puppy East Treats for added enjoyment.
Classic Kong® – The Classic Kong® remains the gold standard in the world of dog toys. In fact, for more than 40 years it has been a staple. It helps to satisfy your puppy's instinct. The red rubber Kong® is extremely durable and its erratic bounce makes it perfect for dogs that like to play as well as chew. You can entice it and make it more tempting just by filling it with treats.
Kong® Jumbler Ball Dog Toy – The Kong® Jumbler gives you two toys in one for double the interactive fun. This is an interior tennis ball and then it has a loud squeaker that gets your dog's frenzy up while offering a safe chew toy, The Jumbler is perfect for a game of fetch and it will stand up to even the most aggressive chewers. The handles make it easy for your dog to pick it up and shake.

The Difference Between the Kong® Classic and the Kong® Puppy Toy
There's no problem with your puppy using the regular Classic Kong® toy, however, they are likely to find the Puppy Kong more beneficial, and here's why:
Puppies are born with the desire to chew – it's instinctual. As your puppy begins to teeth this natural instinct gets stronger. It's important to teach your puppy early what is not acceptable to chew on and what is acceptable to chew. If you don't do this, your puppy will decide all on his own, and you might not be too happy with his choices because it could be your favorite shoes or that new sofa you've had for less than a year.
When your puppy is young, his jaws can't compress so he is not able to chew on the Classic Kong® rubber, which is designed for the adult dog, which is why most puppies prefer the Puppy Kong® toy. The Kong® Puppy rubber is designed for the growing jaw of puppies. This rubber is softer encouraging your puppy to chew which strengthens the jaw muscles and teaches correct chewing habits. Just as you can stuff the adult Kong® with treats, you can also stuff the puppy version. As your puppy's jaw gets stronger, your puppy will be ready to graduate onto the Adult Kong®. Keeping in mind both are safe, puppy chew toys are friendly to gums more so than adult chew toys.
The Best Nylabone® Toys
Nylabone® Puppy Key Ring – This puppy chew toy comes recommended by veterinarians as it satisfies teething needs and encourages your puppy's natural chewing instinct, while promoting oral hygiene, and promotes healthy chewing habits that are non destructive.
Nylabone® Puppy Teething Pacifier – The Puppy Teething Pacificer is made from textured, soft material that satisfies your puppy's needs and is puppy friendly encouraging correct chewing habits from an early age. The bristles that are raised when your puppy chews help to clean your puppy's teeth. If your puppy loves to chew, this is the perfect toy!
Nylabone® Ring Bone – Made from soft material that's puppy friendly and safe chew toys for puppies to satisfy your puppy's teething needs. In addition, it has bristles that are raised, which work to clean your puppy's teeth and remove tartar. Your puppy will love this toy, which is made in the USA.
Nylabone® Romp and Chomp – These bones are very satisfying for any dog that loves chewing. Fill with peanut butter or water and freeze for a terrific teething toy or cool treat. This will entertain your dog for hours and it's designed with the powerful chewers in mind.

Other Great Chew Toys
There are other manufacturers other than Nylabone® and Kong® that make excellent chew toys that are good chew toys for puppies. Let's have a look at some of these chew toys.
Beco Pets Hoop – Made from natural rice husk rubber this environmentally friendly toy is safe for the chewing and gnawing puppy at it is non-toxic. This toy is soft enough for the sensitive teeth of soft chewers.
Benebone Wishbone Chew Toy – The real bacon flavor is going to make your puppy want to chew on this bone even more. The design makes it easy to grab and it's made from food grade nylon so it's safe for dogs of all ages. The deep flavor grooves keep your puppy wanting to chew more. There's no artificial flavoring. These are not edible, when they are worn out, simply toss.
Bionic Urban Stick – Toss it in the water – it floats, chuck it through the air – play catch, fill it full of peanut butter and your puppy's going to enjoy a long chew. This unique toy is highly versatile, and comes in a variety of sizes to match your dog's size.
Chilly Bone – Made from canvas, this freezable teething toy is good for even the most sensitive gums. It's also great on a hot day to cool off. It promotes both healthy teeth and gums, and it's durable so you can expect it to last.
JW Invincible Chains – Triple – Made from natural rubber that's solid but resilient and it's perfect for fetch, toss, tug, and chew. This toys going to last for a long time. There is no glue holding the three rings together.
JW iSqueak Rubber Ball – This is a rugged and natural rubber ball that's very durable, and it's safe for your dogs of all ages, which includes your puppy. The squeak will help to get your dog excited and keep him coming back for more.
Mammoth Flossy Chews – This 48" – two-knot rope tug has rope fibers that will help floss your dog's teeth while they play and chew on it. This will provide plenty of play hours and will especially be enjoyed with a good game of tug.
Mammoth Flossy Chews 4 Knot Rope Tug – The rope fibers floss your dog's teeth while they play and chew. It's very large at 31 inches so your dog's never going to outgrow this "mammoth" rope tug toy.
Natural Antlers – Antler chews are natural, long lasting, and safe. Whole deer antlers are far less likely to splinter or chip than processed bones, and there's never any odor or staining off these bones. Antlers are very economical, and they contain nothing artificial.
Natural Polymer Flavor N-Bone Puppy Teething Ring Chicken Flavor – Sore gums and the desire to chew lots are part of your puppy's teething behavior, which is why you need the N-Bone Puppy Teething Rings which are designed to be held easily in your puppy's paws while providing an enticing chicken flavor chew toy that won't damage the immature teeth.
Outward Hound Invincibles Dog Toy – Fetch, prey kill, or tug are all ways that this snake can be enjoyed by your dog. The snake squeaks and drives your dog crazy. Good for all ages including sharp puppy teeth.
Planet Dog Orbee Tuff Bone – The material of the Tuff Bone was developed with a special formula that's soothing to growing pups. It's durable enough to withstand the chewing of a teething pup, while remaining pliable enough so that it remains gentle to a puppy's developing teeth. When frozen they are that much more soothing.
Planet Dog Tough Raspberry – The Obee Tuff Raspberry is the tiniest of the Orbee Tuff line. This tiny little toy is perfect for the tiniest of dogs and it's can be stuffed with the treats to provide extra fun and entertainment for your puppy.
Power Chomper by Mavel – This is an excellent toy for aggressive chewers. It's made to withstand better than many toys. Of course, nothing is completely indestructible but this one's certainly no slouch! The ridged and knobby center helps to clean teeth and remove tarter.
Tuffy's Red Paw Print Ultimate Ring Tug Toy – This toy floats and the squeaker will keep your pet amused on water or on land. It's made of numerous fabric layers and this makes the list of soft chew toys for puppies to invest in.
West Paw Tux Toy – Made in the USA this non-toxic rubber hold treats and makes your dog use his brain to figure out how to get them out. It provides hours of entertainment and keeps your dog happy – he loves being rewarded when he finally gets the treat out!
Where to Go From Here
We've provided you with all kinds of information on safe chew toys for puppies, soft chew toys, hard chew toys, natural chew toys, and edible chew toys. We've looked at good teething chew toys and puppy chew toys friendly to gums, and much more. You are armed with tons of information on good chew toys for puppies and good toys for your adult dog as well. So now, what you need to do is decide which puppy chew toys you want to try. Keep in mind this is always a bit of a game of hit and miss – while the review might make it sound like the perfect chew toy your puppy has a mind of their own and will ultimately be the one to decide which chew toys they like.