We may earn commission from qualifying purchases at no extra cost to you.
Learn more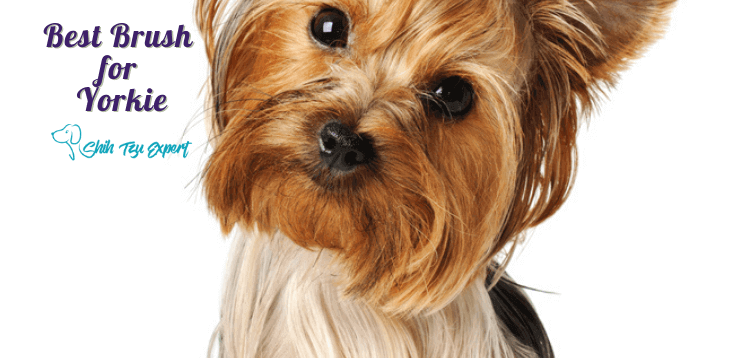 If you have ever had the pleasure of being around a Yorkie, you will know they are some of the sweetest and fiercest dogs out there. They steal your heart with their tiny size and cute personalities. Because of their fur types and lengths, it is very important that they are brushed just about every day. You may have wondered what the best brush for Yorkie is, or even what type of coat your Yorkie has and how you should go about brushing them.
Well, you've come to the right place! We will go over five of our favorite products that can be used for grooming your Yorkie, as well as give you some tips and tricks (like use of a great conditioner) for keeping your Yorkie's coat looking amazing and immaculate & save money by not having to go to a professional groomer!.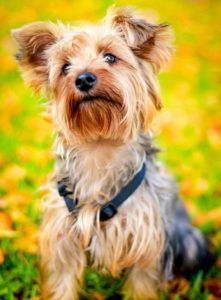 Why is this product here?
This is a
high-quality dog brush
, manufactured with eight rows of bristles that are .75 inches long. This is also a soft tufted brush, making soft strokes that will massage the small dog's fur. The handle is comfortable and lightweight, making it easy to hold and continue brushing for a lengthy time. The brush will work on disbursing the natural oils from the Yorkie's coat throughout the rest of the hair, ensuring the fur is healthy and allowing a shine to come through. It also will ensure that the fur is all distributed evenly and there aren't waves popping out throughout the fur. This Yorkie hair brush is a great one to try out if you are a beginner, or if you are a seasoned Yorkie owner.
Check Carefully because…
If the dog's hair is prone to tangles, this may not be the most durable and heavy-duty brush to tackle those rough tangles. This brush for dogs does a wonderful job of smoothing out hair evenly but will not necessarily be the best bet for taking on dogs with very twisted hair.
The MUST know, true facts about the Chris Christensen Soft Tufted Boar Brush
This is a top-quality brush that has soft bristles and will work well with a daily brushing routine. While this will not work well with tangles, if you are using this every day, it should prevent tangles from occurring in the dog's fur. The bristles are long enough to get underneath the fur and distribute the oils around to keep the fur healthy and fantastic looking.
What to watch out for with this product?
This product works wonders on everyday brushing but will not work the best on getting tangles out. Because it has soft bristles, it is not made for tackling tangles and will not be
reliable on this side of dog brushing
. If you are looking for a tangle brush, this may not be the best product for you.
Crucial Tips
This brush has soft bristles that will even out and smooth fur.
This brush will not work well to get out tangles.
It's high quality and has a comfortable handle.
Pros
-Soft Tufted
-Comfortable handle
-Distributes natural oils
-Smooths hair
Cons
-Won't get out tangles
Features Technical Details
-Eight rows of natural boar bristles that are .75 inches long
-Brush is 8.75 in length
Conclusion:
A favourite among professional groomers, this Chris Christensen brush is a wonderful option if you are looking for an everyday grooming brush for your Yorkie. It has soft bristles, making smooth and even brushes against the fur. This won't be your heavy-duty brush that is built to handle tangles, so you may want to look at different products if that is what you are looking for in a brush for dogs. Overall, this is a great option for keeping your Yorkie's fur healthy and smooth.
Editor's choice for Best Yorkie brush for daily use
Why is this product here?
This top of the line grooming comb is an excellent way to remove tangles and knots from fur. This is also a very versatile product, working with many different types of breeds and fur. If you are looking for a heavy-duty product to help untangle tough knots, this may be an excellent grooming comb for you to take a look at.
Check carefully because…
This tool is really built for getting knots and tangles out of fur, so may not be the best resort for an everyday grooming comb. It is not the softest brush for dogs, unlike the first product we mentioned, so make sure that this is the type of product you are looking for before you purchase it.
The must know, true facts about Hertzko Mat Remover Grooming Comb Suitable for Dogs, Cats, Small Animals- Great Tool for Removing Tangles, Mats, Knotted or Dead Hair
This tool is built to detangle fur and comes with a comb that has sharp teeth. This will prevent pulling the hair off the dog but is sharp enough to untangle the knots. The fine curved ends are what makes it safe to use on your pet. This is a very durable product, designed with a comfortable grip and a handle that won't slip while you use it. It also ensures that you won't have wrist strain if you are using it for a long time on your pet. This comb also massages for a healthy coat (weather it's an AKC "approved/recognized" silky coat or cotton coat), meaning that is circulates blood flow and will leave your pet's coat looking very healthy.
What to look out for with this product?
Sometimes this product may be a little rough on very matted fur. In some cases, it may rip out some hair (just like using a bad comb on human hair!), also depending some on the person using it. You need to be careful to go slow and not be rough when you are using it on your pet, as it is meant to get out tangles and so is designed with a sharper comb.
Crucial Tips
Make sure you are wanting a comb meant specifically for getting tangles out.
If you use it, be careful that it doesn't rip out your pet's hair.
Make sure you wash your pet first so their fur is clean.
Pros
-Durable
-Comfortable grip
-No scratch teeth make for safe grooming
-Gets out tough knots
Cons
-Can rip our fur if not careful
Technical features details
-Stainless steel comb Blade De-matting Tool
-Sharp Teeth prevent hair from pulling out
-Fine Curved Ends make it safe for pet hair
-High quality product
 Conclusion
This product is a great tool for getting out knots and tangles from your pet's hair. If you are looking for a top of the line product, this is a great one to check out. Built with sharp teeth that have fine curved ends, it works well to untangle without pulling hair out. However, if you aren't careful, you can end up hurting the pet by pulling out their fur, so make sure you use with discretion. Also, if you are simply looking for an everyday grooming tool, this may not be your product, as it is not soft bristled and really is designed specifically to get tangles out.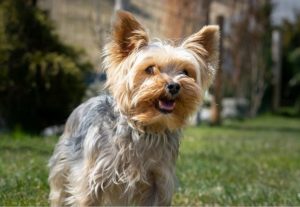 Why is this product here?
Slicker brushes are among the types of grooming tools that are widely used, perfect for helping work out tangles on Yorkies. They are equipped with round-tip pins that work easily to get out knots yet keep it safe for your dog. This product is also good for preventing types of skin diseases and it improves the pet's blood circulation, causing your pet's fur to look healthy and shiny.
Check carefully because…
This brush is not as effective with dogs that do not shed, so if you have that type of dog, this may not be the right product for you.
The MUST know, true facts about Glendan Dog Brush & Cat Brush- Slicker Pet Grooming Brush- Shedding Grooming Tools
This brush makes it easy to clean your pet's fur, as it traps dirt in between the bristles. It also massages your pet which helps to prevent skin disease and helps circulate blood flow to leave the coat healthy. It is designed with a comfort-grip and anti-slip handle, making it comfortable on your wrist when you use this for a long period of time. There is a 90-day warranty and 365-day quality guarantee.
What to watch out for with this product?
You need to be careful and brush your pet lightly with this brush, as sometimes it may be uncomfortable for your pet if you brush too hard. This brush is designed to get out tangles, meaning it is more durable and tough. You don't want your pet to be in any pain, so simply go slow and make sure they are okay while using this product.
Crucial Tips
Use carefully so that it doesn't hurt your pet.
Make sure you are wanting a product meant for untangling knots.
If you have a dog that doesn't shed, this brush may not be as effective.
Pros
-Durable
-Gets tangles out
-Comfortable grip
-Cleans pet's fur
-Prevents skin disease and keeps coat looking healthy
Cons
-Not effective on dogs that don't shed
-May sometimes be too rough
Conclusion
This is a great product if you are looking for something to help get tangles and knots out of your pet's fur. It helps keep the fur looking healthy and smooth, and also prevents skin disease. This is a very easy to use tool, complete with a comfort grip that won't hurt your wrist if you use it for long periods of time. Watch out when you use it that you are careful though, as sometimes tougher tools can cause the pet more discomfort. Also, if you are looking for a tool you can use every day for grooming, this is not really the perfect fit. This is meant for getting tangles out, so you may want to look at soft-bristled brushes or a different tool altogether. But if you are looking for something to detangle your pet's fur, this is a wonderful product to look at.
Why is this product here?
This is an excellent pick of a product that will gently untangle knots and tangles, while also cleaning and maintaining healthy fur. It's designed to be able to reach into your pet's coat to clean without hurting them. One of the best features on this product is that it is self-cleaning. There is a button that will retract the brushes and clean itself, so you do not have to put your fingers in and try and get the hair out yourself. This brush will also massage your dog to increase blood circulation, which is great for your pet and will leave their fur looking healthy and shiny. It also is a durable product and has a comfort grip, making it easy to hold for long amounts of time.
Check carefully because…
This product is designed to get out knots and tangles, so if you are looking for a product to simply brush out your pet's fur, this may not be the one you are looking for. It is more heavy-duty, meaning its bristles are meant to penetrate the coat and get the knots out, not ideal for simply just smoothing out your Yorkie's hair.
The MUST know, true facts about Hertzko Self Cleaning Slicker Brush- Gently Removes Loose Undercoat, Mats and Tangled Hair- Your Dog or Cat Will Love Being Brushed with The Grooming Brush
This brush will get out the tough knots and mats that you have trouble reaching. It will remove any loose hair while also taking out dirt and debris stuck inside the fur. It is very versatile, working on many different dog breeds and coat types. It works to get rid of these knots without hurting the dog; the bristle type is a fine bent wire which will get deep into the coat without hurting the dog's skin. This also has the cleaning feature where the bristles clean themselves, making this a great way to ensure the product is ready the next time you need to use it. The brush also massages the dog, causing the blood to flow and leave the coat healthy. This product is durable and strong, coming with a comfort grip that will not be hard to hold and cause wrist pain.
 What to watch out for with this product?
While the product boasts that it will not leave any scratches, there may be some on the dog depending on how it is used, because the bristles are sharp. When these tools are designed to get knots out, they are built differently and designed tougher so they will work well. That being said, it makes it easier to scratch the pet's skin. Also, sometimes the self-cleaner may not work 100%, meaning you may have to clean it a little yourself.
Crucial Tips
Ensure that you want a slicker brush.
Be careful while you use it so as not to scratch your pet.
Know that this mainly works for detangling knots and will not be your every-day grooming brush.
Pros
-Self Cleaning
-Durable
-Detangles knots
-Comfort grip
Cons
-May scratch pet's skin
Features Technical Details
-Purple color
-Slicker brush contains fine bent bristle wires
-Self cleaner
-Package dimensions: 9.9 x 6.1 x 4 inches
Conclusion
This is a wonderful product that will help you get out your pet's knots and tangles. Working swiftly to clean out dirt and get underneath the knots, the fine bent wire bristles are extremely effective in working well on your Yorkie's coat. The self-cleaning feature also ensures that the product stays clean after you are done. This is an easy way to clean it without having to painstakingly do it yourself. Another great feature on this product is that it massages your pet, making them feel comfortable and getting the blood flow circulated to ensure a healthy coat. This is a durable product, built with an anti-slip handle and comfort grip that makes it easy to hold. It's also versatile, working on different sizes and breeds of dogs. Make sure you are careful when you use it, as it can scratch your pet's skin if you don't use it right or are going too fast. Overall, a great product if you are looking for a tool to detangle your Yorkie's fur.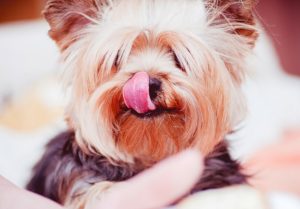 Why is this product here?
This double-sided comb is a very versatile product, special because of its two sides: one has fine teeth, one has wide. The size makes it perfect to use on Yorkies, and it can be used around sensitive areas such as the face, ears, and paws. This is because the grip allows for you to hold it with a good amount of control, and the two different sizes can let you do different things, such as both detangle and smooth out the hair. This is an all in one product, making it unique and beneficial to be able to do multiple things with just this one comb.
Check carefully because…
This will work well on thinner yorkie coats, which many Yorkies have, but may not work well on thicker coats. Because the teeth are short, it may not be able to penetrate a coat that contains thicker hair. The comb may also feel too short and narrow for some people, so make sure that this is the type of tool you want before purchasing.
The MUST know, true facts about LilPals Double-Sided Dog Comb
This product is made of stainless steel and contains two sides with different teeth sizes. These teeth will remove fleas and other dirt that gets stuck beneath the fur. This comb can also be used to remove knots and tangles. To use this comb most efficiently, comb with the wide spaced teeth first until it smoothly goes through the coat. Remember to comb in the direction of how the hair grows. This is a smaller sized product, perfect for the Yorkie breed.
What to watch out for with this product?
This is a smaller product and may not work as well with a larger dog and with thicker coats. Sometimes the teeth may fall out after multiples uses as well. They also may bend as well after time.
Crucial Tips
Ensure you have a smaller dog with a thinner coat.
Comb with the wide spaced teeth first.
You can use this everyday as you groom or when you are trying to get tangles out of your  small dog's fur.
Pros
-Versatile
-Perfect for Yorkies
-Double-sided
-Gets out dirt and tangles
Cons
-Doesn't do well with large dogs and thicker coats
-Tool may be too small for some people
Features Technical Details
-Handle made of plastic material
-Comb made of stainless steel
-Purple and green colors
-Easy grip handle
Conclusion
This little comb is perfect for Yorkies, as it allows you to hold it securely and work on combing out their fur. This is a very versatile product, as it has two sides which contain different size teeth. This tool can be used both to comb and smooth out fur, as well as to work out knots and tangles. However, it may be too small of a product for what people are looking for, and it cannot penetrate thick coats. Also, the teeth may come out after long use and may bend. Overall, a great product for Yorkies that will have their fur kept in excellent condition.

Is another favourite among home groomers. This Yorkie brush gets rid of mats, debris and hair that is weakly attached or fallen from the follicles. This is designed with long term benefits like promoting natural hair growth in mind by massaging skin to evenly spread natural oil throughout the coat. Ergonomically designed Soft-Grip handle makes it fun and easier for daily use by reducing hand fatigue.
 What is the best brush for a Yorkie?
Yorkies are smaller
dogs that often have sensitive skin
, making it crucial to find good brushes to groom them with. Yorkies can have three different types of coat: silky, soft, or wire. Silky coat Yorkies have hair that is long and silky, which is very pretty but also can be hard to look after. Soft coat and wire coat Yorkies usually have their hair kept shorter. When you brush a Yorkie, you are trying to keep their hair free of knots and also keep an eye on their dog's skin, as sometimes they can have skin issues that you need to catch sooner rather than later. Brushing their fur will help to maintain healthy skin. Yorkies also do not have an undercoat, meaning it's very
important to maintain the health
of their fur. The other way regular brushing helps is to give some bonding time with your dog. It can be a stress reliever for both you and your pet.
Pin brush
These brushes do a great job at both distributing natural oils and getting knots out, so they are versatile and will do both at the same time. Our favorite pin brush is the Chris Christensen pin brush that we reviewed. It's an excellent tool for grooming your Yorkie every day.
Bristle Brush
Because of the bristles, these brushes are great at getting the dirt and debris from underneath your pet's fur. On the other hand, they will not do a great job of getting knots out. Our top pick for a boar bristle brush is the AtEase Accents Double Sided Dog Brush for long hair. This product works great to smooth out hair and get out tangles.
Slicker Brush for Yorkshire terriers
These brushes can be more brittle and not as good for the skin, so be careful when you use this on your Yorkie. They will dig deep to get out loose dirt and hair, but they also can scratch the skin. Only use if your Yorkie has thicker hair; don't use on thin fur as it may hurt your pet. This is a brush that has fine metal bristles, and they usually don't hurt the dog's skin but will still be helpful in keeping the coat clean and the skin healthy. They also can come in small sizes. Our top pick for a slicker brush is the Hertzko Self Cleaning Slicker brush. This is a wonderful tool that will get out tangles and knots, and will clean itself!
De-shedding Combs
These combs are not used on Yorkies very often as they can damage their fur. These only can be used on Yorkies if it is used slowly and with care. An all-purpose comb will be great for getting tangles out quickly; a de-shedding comb is more durable and should only be used on the really tough knots that your all-purpose comb cannot get out. We love the Lilpals comb that we reviewed, as it is great for Yorkies and has two sides to accomplish different grooms.
Fine Bristle Brushes
These softer bristles are great at dispersing the natural oils throughout the fur of your Yorkie to keep their skin healthy. These brushes can also work at removing dirt and debris from the skin.
How should a good Yorkie brush work?
The type of pins in the brush are very important, as they should not be too breakable, but also not too tough for the dog. A brush that works well on a Yorkie should have their skin looking smooth and shiny. Because it helps to disperse the oils in their hair, it should help the health of their skin and have them looking nice and healthy. Also, your pet should like getting their fur brushed, so it's not a good sign if they don't enjoy their grooming time. This may mean that they are in pain or are uncomfortable, so it's important to have the right brush for your dog.
Using a Spray
 It's important that you find a good spray to use, as you shouldn't brush out your Yorkie's hair when it is dry. Not only does it add protection, but it also helps their coat to look shiny and healthy. And it works to strengthen the coat and prevent future knots.
How often does a Yorkshire terrier need to be brushed?
This depends upon what type of Yorkie you have. A long fine coat Yorkie may need brushed daily, as they have long hair that can get tangled easily. A Yorkie with a shorter coat may only need brushed about once a week or every other week. You will want to brush it even if there are no tangles, as it will keep their coat and skin healthy. Also, the longer you wait before brushing may mean that the Yorkie's fur may develop knots and tangles, making it uncomfortable for your pet.
Tips for brushing your Yorkie:
Make sure you are familiar with the type of coat your Yorkie has. This is crucial because it will help determine how you will groom your Yorkie and which brushes and combs you need to look at. Long coat hair Yorkies require more attention and care than short hair, and they may experience more knotting in their fur.
If you have a dog that keeps wanting to sit, you can use a harness or put their leash on them to keep them from sitting down.
Make sure you are careful around their more sensitive spots, such as their eyes, ears, and paws.
Don't brush them too fast, as it may hurt them. If you are going too quickly, you could rip out their fur or create more tangles that weren't there before. No matter what kind of Yorkie you have or what their coat is, go slow when you are brushing them.
Don't stick to only one brush, as it may not be able to do everything and tackle all of your grooming needs. You may have a Yorkie that doesn't typically have tangles in their fur, so you won't buy this type of product. However, when they ultimately do get a tangle or two, you won't be prepared with the right type of tool for them.
Make sure you are giving your dog a bath often, as you don't want them getting too dirty. They should be bathed at least every two weeks, and make sure you use a good shampoo and a conditioner
that is safe for them. Brushing dry hair is asking for breakage of fur! so always make sure the hair is not dry!
As well as not brushing them too fast, make sure you are always gentle. Sometimes brushing too tough when you are trying to get out a knot will make it hard on the Yorkie and can hurt their skin.
Make sure you are giving your Yorkie treats while you groom them. This will establish the activity as something positive. If they see it as positive, it will make your time brushing them go much smoother and allow them to enjoy their grooming time.
If you brush them on a routine, it will help them get used to being brushed. This goes along with making it a positive experience for them. If you aren't grooming them regularly, they may not get used to it and will not enjoy their time being groomed. That being said, you should try and incorporate it into their schedule and ensure that they are enjoying their grooming time.
Combing Before You Brush
Make sure that you follow the process of combing before you brush, as this will first work to untangle the hair that the brush won't be able to. The brush will only make it worse, so it's important to remember to use a comb before a brush.
Brushing Process
Check for any tangles or mats.
Loosen tangles with your fingers.
Spray your dog's coat so that it's not dry.
Start at the end and work your way up with a comb, getting rid of any knots or tangles.
Go in with a brush (after you've chosen the right fit for your dog) to smooth out the hair and cause blood circulation for healthy skin.
Be on the lookout for any abnormalities in your Yorkie's skin.
 Cons of Brushing
Texture: Some brushes will take off hair, or cause it to split. This not only could potentially be painful for the dog, but will not make the coat look good.
Shine: You don't want the brush to trap oil beneath the Yorkie's skin. It's important that the oils are circulated in a healthy way, but not in a way that doesn't allow the oils to breathe.
When you find a knot:
First of all, try to get it out with your hand gently. You can pull a little bit slowly, but if this does not work, you can either use a de-matting comb or remover tool. Always be careful not to hurt your pet as you do this. If you are seeing a knot, it means that your dog isn't being brushed enough. If you are brushing your Yorkie once a week or more, you should not see knots forming as frequently.
Brush for Yorkie Puppy
Puppies are different because they will have more sensitive skin. Their yorkie coats are softer, so it's extremely important to be careful about picking the tools you will use on their skin. Lilpals makes a brush that is specifically designed for Yorkie puppies. It is built with gentle and short bristles so that it won't hurt their fur or skin. It will help to massage the skin of the puppy, dispersing the natural oils in the right way. There's also a small-size pin brush sold by Safari. This one will work to separate the knots in the hair without pulling the skin. What you're looking for is a brush that is smaller and will also be gentle against the new puppy's skin. You don't want to hurt them, and since they do have delicate skin, it's extremely important to use these tools with soft and gentle movements. They also are more prone to quick movements and jumping around, since they are puppies, so take this into consideration and make sure you are careful when brushing out their fur.
 What are the dangers in brushing my Yorkie?
Really the thing that you want to worry about is any damage to your pet's skin. If you are careful, this shouldn't happen. Some people groom too fast and aren't gentle, which is when your Yorkie may get cuts or scratches on their skin from the brush or comb. The other factor in this is the type of tool you are using. We talked about how some tools are more harmful than others when it comes to brushing your dog. If they are meant to detangle fur, they are designed to be durable and to get out mats and knots. As such, with these tools it's extremely important to be even more careful so as to ensure you won't be hurting your pet. Most bristle brushes though are soft and should not harm your pet. If you buy the right tool for your dog and are careful about brushing them, you shouldn't have to worry about anything.
 Other Tools You Can Use in addition to a Yorkie brush
You can always get nail clippers to keep their nails short, teeth cleaner for their teeth, and trimmers to cut their hair. If you are already grooming them by regular brushing or combing, it's probably a good idea to also cut their nails, clean their teeth, and cut their fur. If you are cutting their fur, make sure you know how to do it and read up on the right products to use. Again, Yorkie's have sensitive skin and fur so you need to be careful when doing this. Researching and preparing for all these things will make you ready to take care of your Yorkie the best way you can and ensures they will be healthy and looking very well-groomed.
Conclusion
We've looked at some great products for Yorkies and hope this has been helpful in distinguishing which products you should look at and how to tell which ones will be a good fit for your dog. Yorkies are a wonderfully playful and independent species with such beautiful hair; it's important to keep their hair well-groomed and looking nice. Make sure you never brush their hair when it's dry and look out for mats and tangles. Also use a comb before you brush. Your steps should include checking for knots, spraying your pet, then using a comb, and then going in with your brush to smooth out the fur and massage the skin. We reviewed some of the best grooming tools for Yorkies that will have your Yorkie's fur looking shiny and beautiful. It's important to keep their coat looking healthy and vibrant, and that their natural oils are circulated throughout. Also keep an eye on their skin, as it is very important to ensure they are healthy and that there isn't anything wrong. As we said, we hope this was helpful for you, and that you can keep your Yorkie looking wonderful and well-groomed!