The subject of dogs and their apparent fear of violins has been widely discussed across the internet. Is it fear? Are they in pain? Are their howls merely attempts to sing along?
This article will aim to answer all your dog and violin questions.
Why Are Dogs Scared of Violins?
A dog's reaction to a violin is largely reliant on the dog's overall temperament. While many dogs will have no reaction or will find the sound a violin makes calming, others will be intimated by the instrument's unfamiliarity and frightened by the sounds that it makes. Dogs might fear a violin because of the unfamiliarity of the instrument or their reaction to loud sounds. Thankfully, research proves that the volume and frequency of sound that a violin makes will not hurt your dog's ears. Therefore, most dogs should become comfortable with a proper introduction, and time.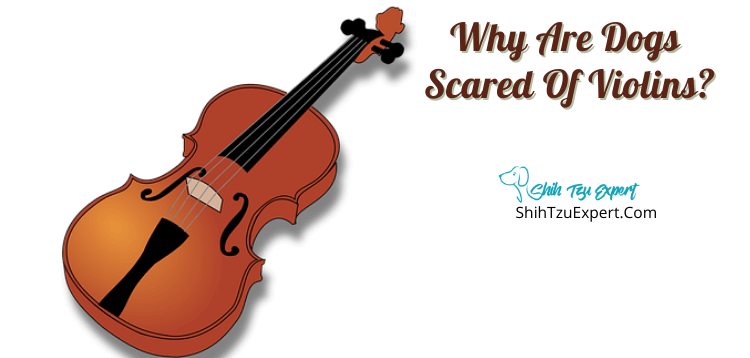 Do Some Dogs Enjoy Violin Sounds?
A dive into this question leads to a variety of responses across the internet. While some dog owners say their dogs run away, appear to be in pain, or even howl at the sound of a violin, others claim their dogs love the sound and are even soothed by it.
In fact, a survey conducted by Violinist.com found that 54% of dog owners stated their dogs were soothed by the sounds of the violin and fell asleep or sang along, while only 20% reported that their dogs ran away, and 4% reported growling and attacking.
Why Are Some Dogs Terrified of Violin Noise If Others Love It?
As it turns out, dogs' tastes and reactions to music and various instruments are in many ways as varied as human reactions.
Just as humans have different reactions to loud sounds and different genres of music, dogs do, too.
Your dog might be scared of the instrument itself simply because it is unfamiliar to him or her. Another reason might be because the sound of your violin is loud and your particular dog doesn't like loud sounds.
On the other hand, many dogs are soothed by the sounds of a violin and classical music.
A study conducted by psychologist Deborah Wells at Queens University in Belfast found that dogs do have musical preferences. While heavy metal songs tended to agitate dogs, classical music more often had a calming effect.
This was not the case across the board, however, and many dogs had completely different reactions than the majority – so do not be alarmed if your dog seems to have different preferences for music and sound.
Why Do Some Dogs Whine, Howl, Bark, and/or Pee When They Hear Violins?
In general, there are many reasons why violin music might cause a dog to whine, howl, bark, and/or pee including:
Stress
Wanting attention
Excitement
Trigger response (for instance – they generally do not like any type of loud sound.)
Is Howling at Violins Singing, or Is My Dog Scared?
Dogs howl at the sound of music, including violins, for various reasons which may include:
· Your dog might be attempting to sing along
· Your dog is a member of a vocal breed (such as Alaskan Malamutes or Siberian Huskies)
· The sound has triggered an emotional response (which could include feeling scared.)
· Your dog is attempting to communicate with you
· Your dog wants your attention
So, while your dog may be howling because they are either singing or scared, he or she could be reacting for many other reasons, too.
To better understand what the underlying cause is, pay attention to your dog's overall body language.
Do they appear happy? Is their tail wagging? Or do they look tense and worried? Identifying your dog's overall demeanor should help you better understand the reason for their howling.
Whenever I Start Practicing My Violin, Why Does My Dog Start to Shiver?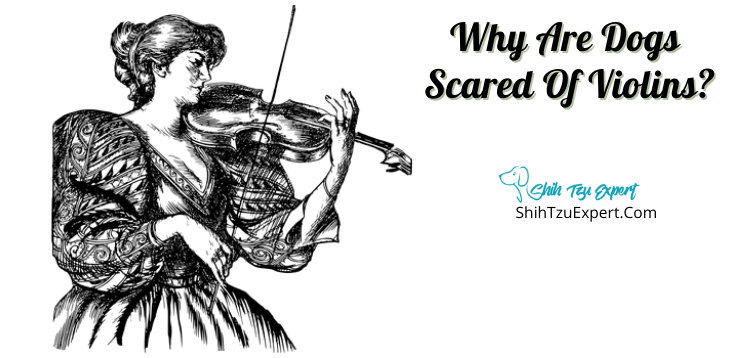 Many different things can cause a dog to shiver, however, if it is out of the norm for your dog to shiver and you only notice this when you play your violin, the shivering could very likely be caused by stress.
Dogs get stressed and anxious just like people.
Dogs may react to certain stressors their whole lives, or they may build up over time causing new a stress reaction that you might not have noticed before.
Another theory as to why your dog might be shivering in response to the sound of your violin is that either the frequency or the loudness of the sound is causing your dog pain – however, this theory seems to be disproven by the facts below.
How Loud Is a Violin?
When being played at full volume, a violin's sound can range from 78 to 95 Db. This means that after an hour of play, this is loud enough to require ear protection for human ears.
Anything over 120 Db for human ears can cause immediate damage.
How Many Decibels Is Too Loud for a Dog?
Like humans, dogs can experience hearing loss due to prolonged exposure to loud sounds. However, dogs' ears have a slightly higher tolerance for sound overall.
In fact, while humans can experience damage to their hearing at 120 Db and over, most dogs' hearing doesn't start to suffer until over 140 Db.
It is not uncommon for the sound in dog kennels to stay at a sustained range of 85-100 Db (which is louder than a violin being played at full volume.)
Furthermore, while human ears can hear frequencies up to 20,000 Hz dogs can hear high pitched frequencies up to 65,000 Hz!
How Well Can Dogs Hear a Violin (Decibel Range)?
Because the sound of a violin being played is well within the hearing range of a dog, a dog with normal hearing can hear the sound quite clearly.
Does Violin Sound Noise Hurt a Dog's Ears?
The sound that a violin emits, even when played at full volume, is well within a comfortable range for a dog's ears. This means, that the sound of a violin should not hurt a dog's ears – even when played at full volume over a sustained amount of time.
Are There Specific Frequencies or Notes on a Violin that Upset Dogs [High Pitches? The E String?]
The highest playable note on a violin is A7 which plays at a frequency of about 3,520 Hz.
Since frequencies do not start to hurt a dog's ears until the 20,000-25,000 Hz range, it is very unlikely that any sound emitted from a violin can hurt a dog's ears.
Are Dogs Scared of All Musical Instruments [Guitars, Pianos, Trumpets & Others]?
Whether a dog is, or is not, scared of an instrument has more to do with the dog's temperament rather than the instrument itself.
If your dog is generally skittish around new things, a large instrument may be a bit scary for your dog at first sight.
Also, if your dog is generally uneasy around loud sounds such as thunder or fireworks, this is another reason they might be a bit scared of an instrument, especially when you play it for the first time.
What Steps Can I Take to Help My New Puppy Not Be Scared When I Practice My Violin?
For a puppy, everything is brand new in the world around them and so they very likely might be scared, or at least a bit unsure, of your violin the first few times they are around it.
Here are a few ways you can introduce your puppy to an instrument so that they feel more comfortable.
1. Let your puppy sniff and explore your violin
o This might take multiple tries over time before your puppy is less afraid of your instrument
2. Practice in a room far away from your puppy
o Let your puppy get used to the sound from a distance
3. When you play in front of your puppy for the first time, play quietly.
o Gauge your puppy's reaction and adjust accordingly.
o If your puppy is still frightened, go back to playing in another room for a while.
o Repeat steps 2 and 3 until your puppy is comfortable with the sound.
4. Reinforce brave and calm behavior with treats
I Am A Professional Violinist. What Steps Can I Take to Help My Dog Not Be Scared of Violins (So I Can Practice at Home)?
For older dogs, you should already have a general idea of your dog's temperament and have an idea of how your violin and the sounds it makes will impact them, so it will be important to adjust how you introduce them to your instrument accordingly.
You can also follow the same steps mentioned above for helping a puppy get used to an instrument including:
· Allowing your dog the opportunity to sniff and get close to your violin before you play it.
· Practicing in another room.
· Playing quietly in the same room to ensure your dog is comfortable; and
· Reinforcing positive behavior with treats
You may also try introducing playtime before and after practicing your violin, so your dog begins to associate your instrument with reward and therefore is calmer while you play.
However, if your dog has a history of being generally skittish overall, it may be in your best interest (as well as your dogs) to practice in another room so as not to cause your dog unnecessary anxiety.
How Can I Get A Dog to Enjoy Violin Sounds?
A dog's enjoyment of music is as personal to them as it is to individual humans. While studies show that a majority of dogs prefer classical music to other forms of music, your dog might have different tastes completely.
It will be important for you to pay attention to your dog's overall demeanor and adjust accordingly.
If you've taken all the steps to introduce your dog to the instrument and they are still showing stress responses when you play, your best course of action will be to find another place to play that will not cause your dog anxiety.
References
https://www.violinist.com/blog/laurie/20196/27819/
https://www.cdc.gov/nceh/hearing_loss/what_noises_cause_hearing_loss.html
https://wagwalking.com/sense/can-dogs-hear-20000-hz