We may earn commission from qualifying purchases at no extra cost to you.
Learn more
Hello! So glad you found your way to this article. We're here to talk about dog treadmills and how they can help to keep your dog happy and healthy.
Maybe you found your way here because you know you want to purchase a treadmill for your dog and you're looking for advice on the best one to get. In that case, I hope you find the reviews on this page useful.
But maybe you're not quite convinced yet; maybe you are still trying to make up your mind whether you need one at all. Or maybe you're not even sure what a dog treadmill is. In that case, read on! This guide is designed to answer all your questions about dog treadmills. Questions such as . . .
What is a dog treadmill?
Well, basically it's a treadmill for dogs. Pretty straightforward, right? These useful products allow a dog to walk, trot or run without going anywhere. Designed specifically for a dog's needs, these treadmills can be a vital part of your dog's exercise regimen.
Best Dog Treadmills Reviewed
dogPACER is the number one brand of dog treadmills in the United States, and is a division of International Pet Group. Founded in 2011 dogPACER launched and quickly became the top manufacturer of dog treadmills in the United States. In 2016 dogPacer launched in the European Union under the brand dogPacer Europe and can now be found in countries across the EU.
Dogpacer treadmills were named the Top Pet Product of the Year in 2012/2013, and for good reason. DogPacer treadmills are utilized by both pet owners and professionals to help maintain healthy, active lifestyles for dogs.The LF 3.1 model will support weights up to 179 lbs, meaning even large breeds can be exercised comfortably. The treadmill folds flat for easy storage, includes detachable side walls for safety, and comes pre-programmed with training routines to help ease your dog into their new routine. Manual controls allow you to set the speed from as low as .1 miles per hour all the way to 6mph, meaning your dog can walk at the pace that is comfortable for their size and activity level. The compact design, ease of use, and affordable price point place the DogPacer brand at the head of the pack for pet fitness.
Check Carefully because…
Although DogPacer has risen quickly in the ranks of pet fitness and lifestyle brands some customers have reported that customer service response can be very slow or even non existent. That means that if there is an issue or a question you may find you are on your own.
Another concern is that not all dogs are willing to use the treadmill. There is a preset workout designed to specifically train your dog to feel comfortable on the treadmill, but if Fido isn't feeling the workout there aren't any features built in to make it more enticing. Without features such as a treat dispenser you may have to get creative to encourage your reluctant dog to try it out.
The MUST Know, True Facts about dogPACER LF 3.1 Folding Fitness Dog Treadmill for dog up to 179 Pounds
The DogPacer treadmills systems are used by vets, animal training coaches, and many police and emergency services teams around the world to keep their dogs healthy, active, and responsive. The DogPacer LF treadmill offers a running space of 16.5 inches wide and
71" long meaning that even larger breeds should fit comfortably.
DogPacer treadmills are great for encouraging your animal to lead a happier, more active lifestyle but they are not a substitute for regular exercise and play with your dog. It is vital that you stay close to your dog while they are using the treadmill both for safety as well as the happiness of your pet. By engaging in their workout routine and offering lots of praise and affection you can teach your pet to enjoy being (and staying) active.
Using the DogPacer LF is very simple. Once the treadmill arrives assembly is quite simple meaning that if you find yourself taking it down and setting it up frequently it shouldn't be a hassle. After unfolding the treadmills and securing the open position with lynch pins, the safety guide side panels attach to the base of the treadmill. Adjust the tension of the belt and plug it in and you are ready to go. You are able to attach your dog's leash to the guide, but it is recommended you stay nearby. Guide your dog onto the treadmill (some owners have reported that offering training treats helped when their dogs were not willing) and start either the pre-programmed workouts or manual programming to get your dog started. There is an emergency stop key included in case of emergency.
What to watch out for with this product?
There aren't many concerns regarding the DogPacer treadmill systems. The biggest concern are making sure you have a dedicated circuit to plug the treadmill into. If you are not plugging into a direct circuit you may find you blow your circuit breaker. Using a surge protector stops this concern.
Secondary, customer service for the US seems to be intermittently responsive. If you have a complex issue or need to exercise your warranty some people have experienced long response times and an unwillingness to replace faulty parts. The warranty offered is for 30 days on parts and defects, and lifetime on the steel frame. DogPacer also requires that all warranty claims be shipped at the owner's expense, so even within the 30 days you are responsible for the return shipping costs. This can be quite expensive, as the unit itself weighs over 80 pounds.
Crucial Tips
1) Use the training presets to introduce your dog to the DogPacer LF treadmill. These are designed to ease your dog into using the treadmill successfully.
2) Stay Close! For both your dog's safety as well as wellbeing stay near the treadmill while in operation. While you are able to tie your dog's leash to the stability bar, it is far better for both of you to stay close. The controls and emergency stop key are located closer to ground level to encourage you to be close to your pet's level while using the treadmill. The emergency stop key is bright red (much like a regular treadmill) and easy to pull from a sitting position.
Pros
1) The DogPacer LF model accommodates pets up to 179 pounds, meaning most breeds will fit without a problem.
2) The DogPacer LF has a wide (16.5") walking tread, meaning even large breeds such as St. Bernard's or Grayhounds can exercise comfortably.
3) The detachable side guards mean that your dog can focus on the treadmill without disctractions.
4) The pre-programmed training program makes introducing your dog to the DogPacer LF is easy and painless. The program introduces your dog to the treadmill using information gathered from thousands of users and analyzed by rocket scientists. If you are looking for a dog treadmill with smarts, this is it!
5) The friendly price point is a big seller. Although there are larger and more feature-rich options available, for an entry-level dog treadmill the DogPacer LF offers a good feature set and a high level of user friendliness. In less than an hour you can be set up and ready to put your pet through their paces.
6) DogPacer sells replacement parts for everything except the steel frame, which is covered with a lifetime warranty. Other parts, including the control/computer unit are warrantied for 30 days against manufacturer defect.
Cons
1) The support team for DogPacer is hit or miss. Some users have reported a longer than usual response time. Other users have reported an unwillingness to honor the warranty, but these cases may have been denied due to user error.
2) The DogPacer LF does not offer any built-in incentives to convince unwilling pups to jump on board. That means it is up to the owner to take their dog through the process of introduction and incentivization up to the owner. Some owners have reported that thier dogs just don't care for the treadmill.
3) The DogPacer will not appeal to all pooches. Without built-in incentives you may find yourself looking for ways to help your dog use the treadmill confidently.
4) If you have an overweight dog of a larger breed, this treadmill may not be the right size. For most dogs this treadmill will be an easy fit but for overweight large breeds (like St. Bernards or Mastiffs) you will want to make sure your dog does not exceed listed weight limits.)
Conclusion
The DogPacer LF treadmill offers a wide range of settings for all pets regardless of their fitness level. The large tread surface and wide range of manual settings mean that every dog, from a dainty Yorkie to a giant Great Dane will be comfortable using the DogPacer LF treadmill. The DogPacer LF is trusted to train dogs in Police organizations, emergency medical services, and with veterinarians world wide and for good reason.
Although customer service may be slow or lacking altogether, millions of satisfied customers show that this is the least of your concerns. With the exception of very few customer service issues over the last eight years DogPacer has proven through millions of satisfied customers that they are the last word in portable, lightweight dog lifestyle equipment.
dogPACER leads the pack in budget treadmills. If you want a quality product for the money, this is hands down, the best buy. Everything from the LCD console, to the emergency key, to the size of this model is designed with you and your pet in mind.
The wheels make this treadmill easy to roll away when storage is necessary. The side panels fold down, too. At just over 48 pounds, this is a lightweight model in terms of treadmills, but it doesn't skimp on quality.
Check Carefully because…
You will want enough room around the footprint of the treadmill to position your dog and get your dog used to walking on a moving surface. Make sure you measure the space where you plan on setting up the treadmill, so there is adequate room for you to be next to, or in front of, the treadmill.
The dogPACER treadmills have many optional and replacement accessories, such as a protective mat to protect floors and replacement side panels. As you know, dogs can wreck things by chewing or running into them. So, make sure to go with a treadmill with a good warranty and one that offers easy access to replacement parts.
Additionally, training videos and customer support are crucial. Not all of us train dogs for a living. You want to ensure your dog enjoys this activity and isn't afraid to hop onto the treadmill for a doggie workout!
dogPACER provides manuals, videos and troubleshooting. Not only do their videos show you how to set up your treadmill, but they will show you how to train your dog to love this treadmill. Proper maintenance is key, too. So, they have a video explaining how to maintain and lubricate the treadmill for best operation.
Lastly, what are you willing to spend to help keep your best furry friend in shape? Understand your budget, because pet treadmills can go into the thousands. If you are unsure of whether or not your dog will like exercising on a treadmill, the dogPACER Minipacer Treadmill is a great starting option.
The MUST Know, True Facts about dogPACER Minipacer Treadmill
• Perfect for smaller breeds. This will work for a dog up to 55 pounds.
• The treadmill measures 38" long and 16 inches wide. It weighs just 48.4 pounds.
• You will need to invest some time on assembly and training your dog to use this treadmill. It is not plug and play. Users advise the dogPACER Minipacer is easy to assemble and the training videos are very helpful.
• The dogPACER Minipacer has multiple speeds, so you can tailor the speed to the gait of your dog. The range in speeds is 0.5 miles per hour to 7.5 miles per hour, and are adjustable in 0.1 mile per hour increments.
• You can also customize the incline angle for a more challenging walk. The angle will incline up to 4.5 degrees.
• There are multiple pre-set programs designed to challenge your four-legged friend.
What to watch out for with this product?
1. Make sure your dog is healthy enough for exercise. One user reported their dog's age and condition made it too difficult for their dog to enjoy.
2. Read the manual or watch one of the online videos produced by dogPACER. Understand how the console works before placing your dog on the treadmill. Users reported setting the speed too fast initially and spooking their dogs.
3. Keep an eye on the belt and make sure the dog isn't slipping. The belt material is a bit slick.
4. Check the side guards to make sure they are stable before operating.
5. If damaged during shipping, contact the seller immediately. Most report positive experiences when items were damaged during shipping. So, unpack and check your treadmill upon arrival.
Crucial Tips
• Never leave your dog unattended while on this treadmill.
• Trim your dog's nails prior to use, so the belt doesn't get damaged.
• Make sure the leash you use is the right length, neither too long or too short when training your dog initially. A five to six-foot leash attached to a harness instead of a collar works well.
• Hold the leash. Don't tie the leash to the crossbar. You want to ensure safety, not strangula-tion.
• Know your dog's weight. This model is intended for dogs up to 55 pounds.
• Keep the belt clean.
Pros
• Excellent way to ensure your dog is getting enough exercise. Regardless of weather, most users reported their dogs really enjoyed this treadmill. Most users liked using this in winter and during rain. Important to note, however, this is a great option for people in hot climates. No more burnt dog paws. The belt stays at room temperature.
• Emergency key to stop the treadmill if it is running too fast. Users reported their dogs actually learned to pull this when the treadmill was going too fast.
• Built from carbon steel. The frame has a lifetime warranty.
• The side panels are optional to install. Some users reported not installing them, as their dogs had no issues with staying focused. Other uses preferred to use them to keep their dog focused on moving ahead.
Cons
Overall, users reported very few problems with the dogPACER Minipacer Treadmill. The biggest con-cerns were:
• Damage caused by shipping
• Dogs who were too old, or didn't like walking on a treadmill
• The side panels seemed flimsy to some users
• No customizable programs. All programs are pre-set by dogPACER.
• Not available in 220 volt markets.
Conclusion
While it is an investment, the dogPACER Minipacer is a quality product at a much more affordable price than many models in the marketplace. During the lifetime of your pet, this will likely save on vet bills, too, as exercise promotes health and well-being.
The dogPACER Minipacer is convenient to use at home. Forget the inconvenience of bad weather or dealing with a crowded dog park.
This is also a perfect choice for exercising dogs that do not play well with other dogs.
Great for aging dogs that still want exercise, or young dogs with too much energy. This is a great way to mentally and physically exercise your dog. Everything about the dogPACER Minipacer is designed to set you and your dog up for success . . . Ease of use, ease of storage and a great price.
Users raved about the customer support provided by dogPACER, too.
Technical Details
✓ 110V electric plug.
✓ Lifetime warranty for the carbon steel frame.
✓ Supports up to 55 pounds.
✓ Portable. Wheels help this model roll out of the way.
✓ Product dimensions: 29 inches high, 42 inches long
o Treadmill area: 16 inches wide and 38 inches long
✓ Incline angle up to 4.5 degrees
✓ Speed adjusts in 0.1 increments from 0.5 to 7.5 miles per hour.
✓ Removable side panels to keep dog focused.
✓ Emergency stop key.
✓ Basic LCD display.
✓ Pre-set exercise programs.
An Exciting, High Quality Way to Exercise your Dog Indoors When the Weather is Bad, or to Mix Up Your Dogs Normal Boring Routine
This is a great option to make sure that your dog can still get plenty of exercise, even when the weather doesn't agree. My English Bulldog can't be out in the heat for very long, and he hates going out in the rain, but he is uncharacteristically energetic and needs a lot of exercise every day. This is the perfect way for him to get enough exercise every day without risk of heat stroke.
Check Carefully because…
Make sure you get the right poundage for your dog. If you buy a treadmill that is intended for a smaller dog, your dog may not have enough room to get in a full stride and it may cause injury to your dog. If you buy one too big, it may not match your dog's stride and can also potentially cause injury.
The MUST Know, True Facts about PetZen DogTread Dog Treadmill
The PetZen DogTread Dog Treadmill is a great way to exercise your dog when the weather doesn't allow easy exercise outside. It may also be helpful for dogs who need different varieties of exercise options.
What to watch out for with this product?
While the PetZen DogTread Dog Treadmill boasts a near-silent motor, not all dogs will like the noise or the motion of the treadmill. Keep in mind that even if the treadmill works well, your dog may not want to use it. If your dog has expressed anxiety towards vacuums, elevators, or escalators in the past, they may also be anxious about using this product
Crucial Tips
Make sure your dog is comfortable with quiet mechanical noises and a moving belt before investing in this product. For some dogs, they may not want to use the treadmill because they are uncomfortable with the noise or movement.
Make sure that you purchase the right size for your dog. Check the recommended poundage and make sure you know your dog's current weight before purchasing.
Some assembly is required when purchasing this product.
This should not serve as a replacement for all other forms of exercise for your pet; it is still important that your pet has time outside each day to engage in exercise and social activities. It can however serve as a good supplementary source in certain circumstances and provide a viable option for days when the weather is inhospitable.
Pros
Treat dispenser attached at front for training purposes can be very helpful in motivating a reluctant exerciser.
The LCD console provides easy to read information on your dog's workout, including the distance traveled, time spent exercising, and treadmill speed. Remote control options allow you to create a realistic exercise scenario for your dog while they are on the treadmill, without distracting your dog form their activities.
The start and stop buttons are red and easy to identify, which ensures safe usage for your pet. If your dog suddenly starts to struggle and you need to quickly stop the treadmill, the easy-to-find safety features make sure that you can stop the treadmill quickly for your dog. Additionally, the PetZen DogTread Dog Treadmill includes a magnetic safety key that can be pulled to immediately stop the treadmill motion in case of an emergency.
PetZen DogTread Dog Treadmill is sturdy but compact. It is sturdy enough to support your pet's exercise habits but compact enough to be portable. Wheels are included for extra mobility.
Plastic guard rails on either side of the treadmill keep your pet safe during exercise. The guard rails are low enough that your dog can see over the top – that way, they don't feel like they're fenced in while they run – while also being high enough to ensure safe exercise for your pet. Rails can fold down when not in use for better storage options.
Cons
While many parts of the treadmill can be folded up for easy storage, it is still a relatively bulky machine, even when compacted.
While it boasts a near-silent motor, the quiet mechanical noise that the PetZen DogTread Dog Treadmill makes can scare some dogs, and some dogs won't like the movement of the mechanized belt.
While it comes at a relatively good value for the cost, there are a number of significantly cheaper ways to exercise your dog.
Conclusion
The PetZen DogTread Dog Treadmill may not work for every dog. Some dogs may be afraid of the gentle noise or the motion of the belt. Other dogs may not like the lack of control that the treadmill gives them. It is, however, a viable option for dogs who can't or won't walk outside, or to mix up your dog's regular exercise routine.
Dog owners everywhere want what is best for their fluffy best friend. While well-intentioned dog owners want to exercise their furry companion daily, there are a variety of reasons why this can't always happen. From busy schedules to poor weather conditions or overly energetic pups, we can't always give our dogs the running time they need. Even owners who walk their dogs consistently may still not be giving their dog as much exercise as they truly need to be the most outgoing and positive version of themselves. This is precisely why GoPet introduced their treadmill for small to medium sized dogs up to 132 pounds.
The GoPet Treadmill SmallMedium ( <132 pounds) is a perfect fit for your dog's exercise needs. It has a one horsepower motor with many safety features like guard rails and an emergency stop. It is easy to manually change the speeds, or can be programmed for specific workouts. The 52" by 16" track is large enough for most small to medium sized dogs. The treadmill was designed for easy transportation and storage with its dolly wheels and foldable rails. Owners can easily adjust the speed from across the room with a handy remote control.
Check Carefully because…
A highlight of this dog treadmill is that you can adjust the speed and incline using a remote control from across the room. This exciting feature means that if you notice that your dog is getting tired from across the room, you can instantly adjust the speed. However, some users have had issues with the remote control only working from certain angles or within a smaller range than advertised.
Additionally, although the GoPet Treadmill SmallMedium is equipped with wheels, it is much heavier than other similar dog treadwheels. The package weight is 100 pounds, so it may be necessary for more than one person to unpack the treadmill to set it up.
The MUST Know, True Facts about GoPet Treadmill SmallMedium ( <132 lbs)
This is an ideal product for small to medium sized, energetic pups. This product can also be used to help slim down an overweight dog, when the weather doesn't allow for walks outside, or for the dog-owner who is short on time.
The customizable and programmable speed and time controls allow you to adjust the speed or incline gradually to build your dog's endurance up over time. Speeds vary from .6 – 7.4 mph (1-12 KMH). If there is ever an issue, the emergency safety stop is clearly marked, easy to use, and quickly effective.
What to watch out for with this product?
This product has many positive reviews, but some users found that their dogs damaged the GoPet Treadmill SmallMedium after just six months. While this may have been because an owner had issues properly setting up, storing, or using the treadmill, it is best to make sure to purchase the additional warranty, in case the treadmill was to become damaged. Both the manufacturer and
Amazon offer warranties which could be well worth your money.
Other users found that it took longer than expected to train their dogs to use the treadmill. While the treadmill has many wonderful benefits like increased cardiovascular health for your dog, less time spent walking in the rain, and a calmer dog, be prepared to be extra patient during the training phase if your dog is not accustomed to using exercise equipment. The treadmill is equipped with a place to hang treats, toys, or other positive reinforcement so your patience is sure to pay off quickly. Your dog will be off to the races before you know it!
Crucial Tips
● The front safety bar sits over the front of the treadmill causing some medium sized dogs to bump into it while they run. The solution is simply to flip the bar around, and wa-la!
● Be sure to plan adequate water breaks when setting workouts, as the treadmill does not include a water bottle holder or water bowl
● While the weight of your dog is an important factor when deciding to purchase this treadmill, it is equally as important to consider the length of your dog compared to the length of the track. Your dog's length should be no more than two-thirds of the length of the treadmill. With a 52" track, your dog should be no longer than 34 ⅔" for this model
Pros
● The treadmill features a convenient place to attach treats, toys or other positive reinforcement items which may motivate your dog
● A low fence, built in for training and safety purposes, naturally guides your dog along a comfortable running track
● The GoPet treadmill is equipped with dolly wheels, making transportation a breeze
● Your dog won't even notice the quiet, electric motor as they are happily running along the track with gradual speed increase and manual incline options
● Your best friend and most loyal pup are sure to love the safe and secure design which will keep their paws protected from holes or joints
● In the event of an emergency, there is an easily located safety features which can be activated to turn off the motor on a moment's notice.
● Dog owners have maximum control of their dog's workout by using either the convenient remote or the LCD console to program a workout based on speed, distance, or time
Cons
● The treadmill has limited incline options- either 0% or 7%
● The remote control has minor issues with range and direction from which it must be used
● Even though it has wheels for versatility, the treadmill is still heavier than similar models
● The treadmill lacks a water bottle holder or water bowl, but it can hold treats, snacks, or toys from a metal eyelet
Conclusion
Although heavier than other models, the GoPet Treadmill for small to medium sized dogs is a practical choice for most dog owners. The fact that the safety features are user friendly, quick, and effective set it apart from its competition. It is budget-friendly, quiet, and sturdy. This treadmill is sure to help your dog stay healthy and happy. After just a little training and patience, your dog will be running with the big dogs on the GoPet Treadmill SmallMedium ( less than 132 pounds).

The Go Pet Petrun Pr700 Dog Treadmill Indoor Exercise / Fitness Kit – For Dogs Up to 44 Pounds is great for those who live in places with harsh winter climates, or whose dogs need regular exercise but are unable to go outside, or for owners who can't always keep up with their energetic pooches. Exercise is a necessity to maintain the health of your dog throughout its life. The Go Pet Petrun Pr700 Dog Treadmill is easy to move and gives dogs ample amounts of room to walk and run. It is adjustable which allows you the control of tailoring the fitness level based on your dog's ability. The Go Pet Petrun Pr700 Dog Treadmill Indoor Exercise / Fitness Kit is great for low impact exercise and a slightly more intense, calorie burning workout.
Check Carefully because…
This Go Pet Petrun Pr700 Dog Treadmill is not intended for puppies and it can cause damage to their development. Make sure the treadmill is on a stable, flat surface to avoid tipping and tilting. Do not use around water to prevent damage to the machine.
The MUST Know, True Facts about Go Pet Petrun Pr700 Dog Treadmill Indoor Exercise / Fitness Kit – For Dogs Upto 44 Pounds
The Go Pet Petrun Pr700 Dog Treadmill has a running platform that it located lower than other comparable models, which makes it easy for the dog to climb on to the treadmill to walk and run.
It has a silent motor/driver for quiet operation and wireless remote controls which allow you to adjust the speed of the treadmill, which ranges from a gentle walk speed of 1 mile-per-hour to a quicker sprint speed of 8 miles-per-hour. There are three ways to stop the treadmill —stop button on remote and side, main power switch on front panel. To protect your dog, the machine will not stop suddenly, but the belt will gradually slow to a stop.
What to watch out for with this product?
There's an eye hook attachment at the front of the Go Pet Petrun Pr700 Dog Treadmill to hook a lead or leash, but it's not recommended by professionals to use in that capacity as tethering a dog to a fixed machine can be dangerous. If your dog gets fatigued and is still attached or hooked to the treadmill itself, it could cause your dog to choke. It is recommended to put pillow, blanket, mat or some sort of padding around machine when first using with dog to prevent injuries if your dog falls or jumps off.
Crucial Tips
1. Always monitor dog while on treadmill
2. Make sure it's on a flat, stable surface
3. Do not attempt to move treadmill while dog is on it
4. Wipe belt clean with a damp cloth, do not submerge in water
5. Make sure your dog is within the weight requirement
Pros
• Comes assembled
• Easy for your dog to climb aboard, walk and run
• Silent driving system for quiet operation and to not frighten your dog
• Side protection to ensure your dog's fur won't catch (for long-haired dogs)
• Wireless remote controls
• Safety lock system
• Easy to move
• Great for low-impact exercise
• 3 ways to stop treadmill
• Adjustable incline
Cons
• Do not use with puppies
• Make sure the treadmill is on a flat, stable surface before turning it on
• Do not get remote or mechanical parts of machine wet
Conclusion
The The Go Pet Petrun Pr700 Dog Treadmill Indoor Exercise / Fitness Kit is good for small dogs that live in harsh winter climates or need to lose a few extra pounds. The ability to control the speed range puts you in control of the intensity of your pet's exercise and fitness. Unfortunately, the Pr700 doesn't tell the length of distance walked or run. That is offered on the upgrade, which has a built in computer to monitor distance. Be sure to monitor your dog when first using the treadmill and allow them to become accustomed to it. The Go Pet Petrun Pr700 Dog Treadmill Indoor Exercise / Fitness Kit is easy to move as it is on wheels and, as one of the widest options, gives dogs ample amounts of room to walk and run without fear of their falling off due to a misstep. The adjustable incline allows for a more impactful exercise, for more fit and sporty dogs. Given that it is adjustable, it is great if you have more than one dog in the house and need to tailor the fitness level based on your dog's ability. There is a metal eyelet feature which is great for putting toys or treats to motivate your dog. However, it is not recommended by professionals to attach or leash your dog to any stable, fixed machine, including a treadmill. The Go Pet Petrun Pr700 Dog Treadmill Indoor Exercise / Fitness Kit is great for low impact exercise and a slightly more intense workout.
Dimensions:
Total area: 15x81x5o
Belt area is 15.75" wide, 27" long
81 pounds
GoPet, LLC is a leader in the pet exercise solution industry. Founded in 2006, their number one priority is pet health, exercise and training. Located in Ephrata, Pennsylvania, they do their own development, testing, manufacturing, and marketing of canine equipment. They not only have a market line for consumers, but they also develop and manufacture a commercial line for veterinarians and other professionals to enhance canine fitness and rehabilitation. When it comes to exercise and fitness for your pup, their treadwheel offers many features such as a padded surface, so it is not hard on your pet's paws, a training door to teach your dog to stay in place, and it is dog-powered using no electricity.
Is it hard to find time in your busy schedule to take your dog for a walk? Is your dog not getting enough exercise? Is your dog bored with lying around all day? Is the weather too yucky to let your dog outside? Do you just not have a good place to take your dog to exercise? Answering yes to any of these questions could mean the GoPet Treadwheel is exactly what you need.
Check Carefully because…
With it being dog-powered, teaching your pet to use the wheel, even with the training door can be difficult. Some pets tend to be scared of the enclosure and the movement of the wheel. It may take some creativity to teach your pet to walk on the treadwheel.
The MUST Know, True Facts about The GoPet Treadwheel Toy/Small
This is a great product for small dogs weighing up to 25 pounds. There are other available models for larger dogs. It is electricity-free which makes it easy to use in any area and it comes completely assembled. It contains a cushioned, padded surface which promotes stability and is comfortable on your dog's paws, it is dog-powered so your furry friend can walk or run at their own pace. The removable training door keeps your pet on the wheel while they are learning, but when removed, it allows your dog to enter and exit the wheel any time, even if you are not home.
What to watch out for with this product?
The treadwheel comes completely assembled, but it is relatively large and cumbersome measuring 44" high, 30 "deep, and 40" wide. Space is definitely something to consider before buying. If your space is limited, you might have to rearrange in order for the wheel to be able to move freely when your dog climbs onboard. However, once set up properly, the treadwheel offers indoor exercise for your dog at all times.
Crucial Tips
1. The GoPet Treadwheel Toy/Small is designed for dogs under 25 pounds. For larger dogs, you will need one of the models that accommodates their weight.
2. Since it is manually powered, your dog must keep moving in order to get the exercise they need.
3. Dogs might be afraid of the movement, so careful training is recommended.
Pros
✓ It doesn't require electricity to function- it is completely dog-powered
✓ Your pup can use it any time-it doesn't matter if you are home, or what the weather is outside
✓ You don't have to live in the country or near a dog park for your dog to be able to exercise
✓ Highly active dogs can use it to relieve boredom instead of destroying your furniture
✓ It helps maintain a healthy weight for your dog
✓ Your dog can get the exercise they need without taking time out of your busy schedule
✓ Your dog will sleep better at night since they have had adequate exercise throughout the day
✓ It is comparably priced to other electric treadmills
✓ It is stable and well designed, alleviating the worry of your dog being harmed while exercising
✓ The padded mat makes it comfortable so your pet can run as much as they like
✓ It is quiet when in use, so it doesn't disturb the human occupants of the house
✓ Easy to clean, just use mild detergent and water
Cons
▪ Some dogs tend to be frightened of the wheel, especially when the training gate is closed
▪ It can be difficult to teach your pet the forward motion since it is not electrically powered
▪ It takes up a considerable amount of space
▪ It does not fold up or collapse for storage
▪ Because of the size and weight, most businesses will charge for shipping, adding to the overall cost, so make sure it fits your budget
Conclusion
For anyone who is not able to offer their dog enough exercise, whether due to limited time, space or inclement weather, the GoPet Treadwheel could be the best answer. This product is a great purchase for the right pet owner. You know your pet better than anyone. If they are full of energy, outgoing, and curious, this treadwheel should be a perfect fit. On the other hand, if they are timid and weary of new situations, it might not be the best solution. If you decide it is the product for you, making sure you have enough space for the unit and enough time to adequately train your dog to use the treadwheel, will ensure many miles of fun exercise for your pet and peace-of-mind for you.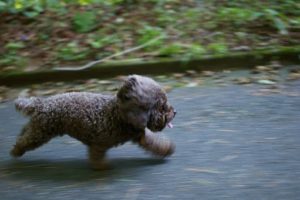 Wait, why is so important that my dog get exercise?
Exercise is vital for your dog! The first reason is so it can stay healthy. Just as with people, a dog that spends the majority of its time sitting around the house will gain weight and become unhealthy. Some estimates put the number of obese dogs in America at as much as 40%. 40%! That's a lot, for animals descended from wild ancestors who spent their days hunting and roaming for miles at a time.
And overweight and obese dogs are at risk for a lot of problems. Not only will there be certain activities they can no longer enjoy, but it can affect their stamina and their ability to deal with high temperatures. It can also lead to problems with their joints, ligaments, backs, hearts and skin—that's quite a list!—as well as difficulty breathing, potential for surgical complications, and even increased cancer risk. You don't want that for your dog!
Exercise is also an important part of keeping your dog well-behaved. Dogs are, by nature, high-energy animals, and they need outlets for that energy. They also need the mental stimulation that exercise can bring. Without these, your dog can exhibit behavioral problems like barking, digging, hyperactivity, and destroying things, which are really just responses to boredom or unused energy. Is your dog displaying any of these behaviors? It could be that he is just not getting enough physical activity. Many people find that once their dog starts getting enough exercise, these behaviors disappear.
Fine, but why do I need to exercise my dog? Why not just let him run around outside?
Having a yard where your dog can run around by itself is definitely helpful, and for certain dogs it could do a lot to make sure your dog is moving as much as needed. But, just like people, many dogs choose the path of least resistance; they can lose interest if you're not there making them play and run. Forcing a dog to engage (by playing fetch with them, for example) is necessary to make sure the dog is getting as much physical activity as is necessary for them. And one of the best ways to get your dog moving is to walk him.
Okay, then how about I take the dog on a walk myself? That's cheaper than buying a treadmill.
That is definitely cheaper than buying a treadmill, and it is a great way to exercise your dog and to engage him mentally. Even if you have a treadmill, it's still wise to take your dog out on a walk when you can, and to engage him in other types of physical activity.
What the treadmill is for is those times when taking the dog outside for a walk is just not feasible. This could happen for a variety of reasons.
Weather: At both ends of the thermometer, you'll find temperatures that are just not conducive to dog walking. Taking your dog out in high heat or the freezing cold can be an unpleasant experience for the both of you. Just like people, dogs can suffer from overheating and from frostbite. And remember, you've got shoes and they don't; hot asphalt and icy paths can both cause your dog discomfort. (Not to mention, if you're in a place where they salt heavily, you may come back from your winter walk and find that your dog's paws are covered in salt.) Rain and wind are other weather conditions that could keep you from going outside. Having a treadmill gives you a backup plan for those times when the weather is just not cooperating.
Allergens and air quality: Another outdoors concern to contend with is pollen, and the seasonal allergies that can keep you or your dog from being comfortable outside. There's also low air quality and high pollution. Using a treadmill indoors gives you a way to exercise your dog on days when the pollen count is just too high or the air quality is just too bad.
Safety: Not everyone lives in a place where walking your dog is always feasible; if you live along a busy road, for instance, the thought of walking your dog along the side of it might not be very appealing. And then there are those people whose work schedules mean they could only walk their dogs when it's dark out. For a variety of reasons, that doesn't appeal to a lot of people. It's nice to have an option to exercise your dog in the living room.
Time: The time required to get yourself and the dog ready, and then take it out on a walk, can be a difficulty for a lot of people. With a dog treadmill, you have an alternative to that. It's not recommended that you put the dog on the treadmill and then disappear for a while, just in case of emergency, but you could, for instance, be in the same room as the dog and answer e-mails while the dog is running. The treadmill gives you options.
Your health: Not everyone is in a position to take their dog outside themselves. The elderly, and people with health problems and disabilities, may find it difficult to walk their dog as much as they need. A dog treadmill is less physically taxing for the dog owner.

I already have a treadmill for myself. Can I just let my dog walk on that?
While it's tempting to use a treadmill you already have, rather than purchase another, there are a few reasons that using one specifically designed for dogs is a good idea.
The first is the length of the treadmill deck—the part that gets walked on. The deck on a dog treadmill is much longer than on a human treadmill; this is to accommodate the fact that a dog walks on all fours and is therefore takes up a lot more space on the deck. Having a long deck allows the dog to walk or run with a natural gait, and to fall back a little if needed. Using a human treadmill with its shorter deck could cause your dog to have to walk with an affected gait, which could lead to problems over time.
Another feature specific to dog treadmills is sidewalls, which many (though not all) dog treadmills have and human treadmills generally don't have. These are good for keeping your dog on the belt, and for keeping him from getting distracted.
The placement of the controls is also a concern. On a human treadmill, the controls are usually front and center so that you can access them while you're on the treadmill. This would be troublesome if your dog was using the treadmill, because you wouldn't be able to reach those controls very well. On dog treadmills, the controls are usually placed so that they're accessible to you—usually on the side of the machine.
Dog treadmills are often designed to run quieter than a human treadmill, which is useful because the noise of a human treadmill could frighten the dog.
Another big concern is the overall design of the treadmill—where the motor and the vents are, and where moving pieces are located. On a human treadmill, these things are often exposed.
This can lead to dog hair getting caught in or clogging vents
and motors, or the dog getting caught in the exposed bit between the belt and the frame. A well-designed and well-built dog treadmill should take care to avoid those concerns with thoughtful placement of such elements.
Human treadmills can have end caps at the front and/or back of the deck, which a dog, especially a small one, could get his paws caught in. Many (though not all) dog treadmills tend to avoid that kind of design.
So as you can see, there are a lot of design details that make a well-designed dog treadmill preferable to a human one.

All right, you've convinced me. What should I look for in a dog treadmill?
Good choice! There are a lot of factors that go into your decision about which dog treadmill to buy, and which ones carry the most weight are really going to vary based on your needs and your dog's needs. How large is the dog? How much space do you have to store a treadmill? What's your budget for this purchase? Keep that in mind as you look at this list of factors you can take into consideration as you ponder this purchase.
Size
Here I mean the size of the dog and the size of the treadmill. The larger your dog, the larger the treadmill needs to be; you also need to worry about the weight capacity of the treadmill. This is especially important if you have a high-energy dog that's going to run a lot; all that bouncing is going to put a lot of strain on the treadmill. Make sure you've chosen one that will stand up to it.
You also need to think about where you're going to put the treadmill. You need a place to store it, and it's wise to leave a little bit of space around the treadmill, just in case the dog should fall or jump off it. Is the treadmill going to stay up and out all the time? In that case, you need to make sure you have the room for it. If you don't, maybe look for one that has a slightly smaller footprint (keeping in mind that you want plenty of room for your dog to run on it!).
One rule of thumb you'll sometimes see is to make sure the deck is twice as long as your dog (or, if you have multiple dogs that will be using the treadmill, twice as long as your longest dog). Keep that in mind as you look at treadmill sizes.
Storage
If you don't have the room to leave the treadmill out all the time, or you only expect to use it part of time—say, only in the winter—you'll need to check how easy it is to store the treadmill. Some treadmills are designed to be folded up when they're not in use, so they'll store away easily; others have to be stored as they are, and are going to take up a massive amount of room. If storing the treadmill part of the time is a priority, keep this in mind.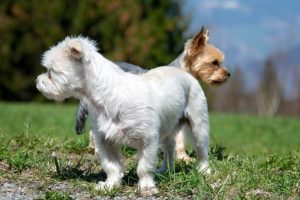 Portability
This is related to the last idea. If you don't intend to just leave the treadmill in one place all the time—if you occasionally store it, or move it into different rooms—take a look at how portable each model is. Many come with wheels to aid in moving them. Keep in mind the weight as well; the best wheels in the world won't do you much good if the unit is so heavy that you can't possibly move it.
Motor
The motor the treadmill uses is very important too. You'll want to make sure it's a strong enough motor to keep up with your dog, especially if your dog likes to run fast and hard. You'll also want to think about how loud the motor is. Very loud motors could frighten your dog, and your treadmill won't be a very good purchase if your dog is too frightened to use it! Fortunately, most dog treadmill companies keep this in mind and try to make sure their motors run nice and quiet.
Construction
How sturdy is the frame of the treadmill? How well is it constructed? What materials is it made of? These are important questions to keep in mind, because they'll affect the longevity of the treadmill, and they'll also affect how pleasant it is to use; if the frame is flimsy and the deck bounces or moves while the dog is running, that won't be a very good experience for your dog!
Controls
As we mentioned above, well-designed dog treadmills will place the controls off to the side, so that you can adjust them without getting on the treadmill yourself. You'll also want to look at how nice these controls are: is there a display screen? How easy is the screen to read? How durable is it?
And what does it display? Many will show speed and incline; it's also nice to find ones that show time elapsed, distance run, calories burned, etc.
Safety key
This is a feature that a lot of human treadmills have. This is usually a magnetic piece on the treadmill, attached to a string; you can clip that string to your own clothes, or just grab it if necessary. The point of it is that if you should fall or lose control, you'll jerk the safety key out of its port, and this will cause the treadmill to stop.
Well, now you can have this technology at work protecting your dog! Many dog treadmills now feature safety keys. If that's something you're interested, make sure the dog treadmill you purchase has one.
Sidewalls
We talked a little about this above. Many dog treadmills have sidewalls, rails, etc. along either side of the deck. These are there to help keep the dog centered on the deck, and to block out any distractions that could come along and sidetrack your dog. If this sounds like a feature you'd like, make sure the treadmill you're looking at has them. On many models, these sidewalls are removable, or can be folded down so that they're smaller, so you can take them down later if you feel like your dog is well-trained enough on the treadmill not to be in danger. Or you can adjust the height of them to give your dog different running environments.
Incline
Walking on an inclined treadmill is a great way to up your workout, and this holds true for dogs, too. See if the treadmill you're looking at has an adjustable incline, and what the increments are (if the only options are 0 degrees and 10 degrees, that might be too tough for your dog to deal with). See how complicated it is to adjust the incline, and whether it can be done mid-run or if you have to stop the dog completely to do it.
Also take a look at what the treadmill's flattest incline is. Some products don't actually have a completely flat option; the default is a slight incline, and it goes up from there. This could cause a bit of difficulty, especially for an older dog or one with joint problems.
Speeds
Check what speeds are available: what is the fastest and the slowest the treadmill can go? And in what increments can you adjust the speeds? If you've got a large dog that wants to run fast, can the treadmill keep up? If you've got a small dog that can barely scurry along at anything faster than a crawl, does the treadmill go slow enough, and change in small enough increments, to keep from tiring your dog out badly?
And, as with above, check how difficult it is to adjust the speed, and whether it can be done mid-run. It's best to start the dog off slow, increase to a higher speed for a while, and then slow down again to cool off. If you have to stop the treadmill entirely to change speeds, it's going to be hard to get a good exercise program for your dog.
Preset programs
With certain treadmills, though, the above section might not be a problem! Some dog treadmills come with preset fitness programs that will automatically raise and lower the speed and incline according to the program's design. If these are well-designed, they will go through all parts of a workout for your dog with no input from you! This can be a real time saver, and can help you make sure your dog is getting the best possible exercise regimen.
Other goodies
There are other useful features that a treadmill might have, such as a place to clip your dog's leash, a treat dispenser (very useful for training your dog!), or a remote control so that you can adjust speed and stop and start the treadmill from afar. See what the treadmills you're considering have to offer!
Ease of replacing parts
With something like a treadmill, parts are going to wear out; it's just something that happens on a machine with moving parts. Belts, in particular, need to be replaced every so often. Make sure that it'll be easy to replace any parts when it becomes necessary; check to see whether the company you're buying your treadmill from offers them for sale! If they don't, it can sometimes be tricky to find parts that fit your treadmill.
Warranty
Warranties are always nice, but can be especially useful for machines like this, with so many moving parts and so many potential points of failure. They're going to be even more important if your treadmill gets a lot of use. So keep an eye on what the warranty offers, how long it lasts, and the sorts of things it covers. A good warranty could be the deciding factor between different treadmills; the peace of mind they give are worth it!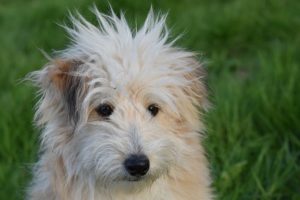 Okay, I bought a treadmill. How do I get my dog to use it?
Training your dog to get him to use the treadmill is very important! Although most dogs come to really love treadmills, and can be eager and excited to run on them, it's not a behavior that comes naturally to them; it has to be taught. Some dogs take to it much easier than others; it could take a very brief amount of time for your dog to get used to it, but it could take longer. So be patient, and don't give up!
The most important thing is not to force your dog to get on and start running; if he has a bad experience with it once, it can be really hard to overcome that later and get him to stop regarding the treadmill with suspicion. Take it slow. Reward him with lots of positive attention, and treats if desired, so that he has positive associations with the treadmill. And again, be patient!
There are a couple schools of thought on training your dog to run on a treadmill. Some people recommend starting by leading your dog onto the treadmill when it's running very slowly; others recommend getting the dog on the stationary treadmill before starting it. I'm going to talk about the latter option here, but if the first option interests you, you can find more information online.
First, get your dog accustomed to the treadmill itself. Lead your dog onto the powered-down treadmill (obviously it's best if your dog already understands leash pressure); you may want to do this while saying "Treadmill" to get him used to that command. If the design of the treadmill allows it, lead them onto the back of the deck and off the front of the deck. Do this a few times, then reward your dog with a treat or with positive feedback.
Once you've done this, and your dog is able to stand on the treadmill without any anxiety, it's time to start the treadmill moving. Keep a hold of your dog's leash or collar so that you can guide him with leash pressure and keep him centered on the deck. Position yourself at the front of the treadmill, and start the treadmill at a slow speed. Use verbal encouragement, favorite toys, and treats as appropriate to keep the dog's focus forward (this is why you place yourself at the front of the treadmill, not the back) and to keep him always moving on the treadmill. As he gets accustomed to the movement, raise to the speed slowly to where he's moving at a comfortable gait; you may find that he's more comfortable at this speed than he was at the slowest speed, because he's no longer moving with an unnatural gait. What speed this is will vary from dog to dog. Let him walk for a few minutes and get comfortable on the treadmill; try to keep him moving with positive reinforcement. But if he seems upset or panicky and inclined to jump off, let him; again, we don't want to create negative associations with the treadmill in your dog's mind. If he does jump off, just patiently start the process again.
Don't make your dog walk on the treadmill for too long in your first couple training sessions: only a few minutes for your first session, slowly increasing in duration as time goes on. This is especially important if your dog is not in good shape; just as with people, dog needs to work up to good physical shape.
Eventually, after some amount of training, you'll reach the point where your dog is comfortable on the treadmill, and you don't need to hold his leash. Even at this point, though, don't put your dog on the treadmill and leave the room. Inexperienced dogs can still panic or misstep, and experienced dogs can get so comfortable on the treadmill that they start looking around and stop paying attention. You want to be there to keep them focused, and to be able to react quickly should something occur.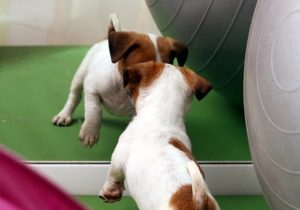 How much exercise should my dog get?
This is going to vary widely from dog to dog. Different breeds are going to have different exercise needs. Some breeds, namely those in the hunting, herding, and working groups, are very high-energy and are going to need a prolonged amount of rigorous exercise. Other breeds are better suited to short bursts of high activity, interspersed with low energy output, and still others might be better suited to walks, not runs. Brachycephalic dogs (flat-faced breeds like pugs and shih tzus) are susceptible to breathing problems because of their anatomy; you'll definitely want to be careful with how you exercise these dogs.
Another factor is your dog's age and health. For instance, puppies are prone to bursts of energy but aren't developed enough yet for prolonged exercise; they do well with short sessions of high-energy exercise. On the other hand, senior dogs may need to keep their exercise to walking, especially if they have joint problems. And of course dogs with health problems need to be exercised very differently from healthy dogs.
The point is, take the same advice here that you'd hear about humans: consult with a doctor (or a vet, as the case may be) before starting an exercise regimen. She'll be able to tell you what's best for your dog based on his breed, age and health.
The most important thing to remember is that no matter the dog's breed, age and health, all dogs will benefit from exercise, to keep them healthy and help with behavioral problems that stem from boredom and an excess of energy. So keep at it!
Any advice in closing?
Keep in mind that treadmill work can be a vital part of your dog's exercise routine, but it shouldn't be the only part. Dogs benefit from the stimulation they get from going outside and from engaging in different sorts of activity and play. Hiking, swimming, playing fetch and tug, and just running around the yard are all activities you should have your dog engage in. But for a part of your dog's exercise—especially for a high-energy dog that needs to exercise and burn off energy multiple times a day—a dog treadmill can be an invaluable addition to your home.