We may earn commission from qualifying purchases at no extra cost to you.
Learn more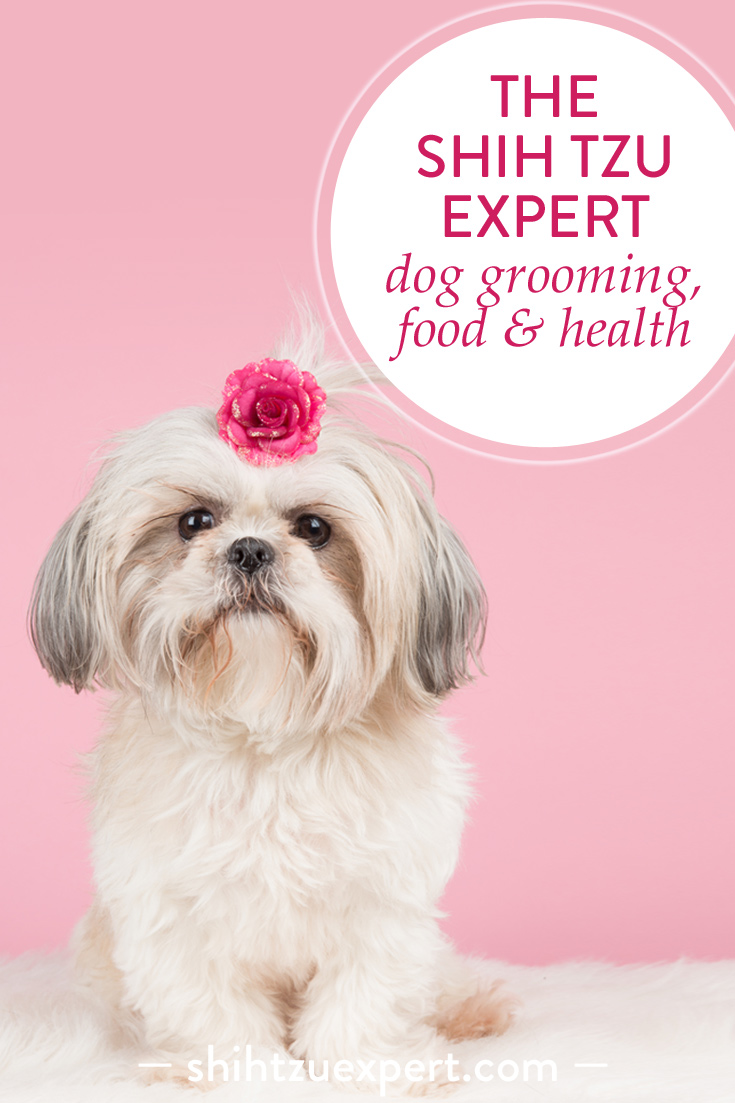 How to Groom a Shih Tzu at Home
Grooming your Shih Tzu at home because you want to save a little money from those trips to the groomer?. It is a good bonding experience with your pet. Even if you want to make a little side business out of it.
Grooming your Shih Tzu at home can be beneficial for both you and your dog. Grooming not only involves cutting your pet's hair, it also means checking his eyes, ears, and rear for any health issues.
Shih Tzus' eyes are especially sensitive, so trimming around their face is essential. Look at your pup's ears and ensure he does not have a discharge, which is a sign of infection, or ear mites. Check your dog's butt area for any swelling or inflammation.
Once these steps have been taken, your Shih Tzu can be groomed in a way that is most comfortable for you and your dog. If electric clippers make your pet nervous, use shears instead and vice versa. Unless you want a full shave, choose clippers that will leave a few inches of hair so you can be mindful of the skin.
Clip all over his body and then use shears to trim around his face and paws. If you use shears for his whole body, cut small portions and only a few inches at a time. This will ensure that you give your Shih Tzu an even cut and do not take too much off.
Shih Tzu Grooming Styles
There are a few different ways to groom your Shih Tzu. Professional groomers vary in how they prefer to style dogs and cut their hair, so it is possible for you to use variance at home.
The most common way to groom
is with hair clippers. These are versatile as attachments can be added like a comb to remove bulk from the hair, without cutting it all off. Attachments for short and long cuts can be added as well.
Shears can be used for the face, paws, and general trimming. A small electric trimmer can be used around the face for those hard to reach areas.
Aside from actual tools for different styles of grooming, be creative in how you style your Shih Tzu. Their beautiful hair lends to lots of possibilities.
Do not feel like you have to stay in the box of typical Shih Tzu hairstyles. Use elastics to create ponytails and braids, or cut their hair in something fun like a lion cut. This will make grooming enjoyable for both you and your pet.
Shih Tzu Grooming Kit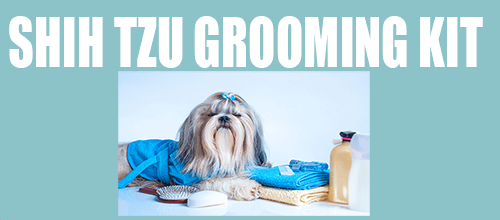 While grooming style is totally up to you, there are a few essential items that you should have handy. A brush is important to keeping your Shih Tzu's hair tangle-free. The type of brush you use will depend on your dog's haircut at the time.
If she has a long coat, use a pin brush, because it can brush out both the top and undercoats. It has long pins with the tips rounded off and can get through both layers of hair.
If your Shih Tzu currently has a shorter cut, use a slicker brush. It is similar to the pin brush, but its pins are shorter, and the brush is generally wider set.
While one or both of the previous brushes is crucial to own in order to prevent matting, a bristle brush is good to have to make your dog's coat beautiful. Much like human hair, a bristle brush makes hair smooth and shiny. But if you miss the regular brushing sessions and end up having a dog with heavily matted fur then you still have 2 options. You can visit a dog groomer (Expensive and Time consuming) or you can DIY at home by buying a pair of dog clippers that are suitable for matted hair (Note that most of the time, a standard, cheap pair of clippers will not be able to cut through matts)
Another important tool to have for grooming is a comb for gently undoing any tangles or mats. It is also useful when trimming the face to more easily see where to cut. Be sure to invest in
high quality clippers
.
Buy a pair that comes with attachments so you can adjust the length of the cut you want. While there are specific cleaners for clippers and trimmers available, distilled white vinegar can be used instead.
Finally, buy shears for the places that need trimming and all over if that is your preference. Different kinds of scissors can be purchased depending on your needs.
Curved scissors are good for rounding out the face. Blunt shears work for delicate places on the face, and blending shears help to create a seamless look after a full grooming.
Shih Tzu Face Grooming
When grooming your pup's face, it is important to take great care to not cut them. This can prove difficult if your dog is not used to grooming or is fidgety from a long grooming session. Simply hold her chin to prevent her from moving too much by cupping her jaw. Use small trimmers or blunt scissors on her face. Never use extra sharp shears or large clippers. Comb hair down and forward and cut evenly across or in a rounded fashion. Trim all hair around the eyes that is hindering vision. Cut the ears to the length desired, whether to the shape of the ear, or in a longer cut.

Shih Tzu Grooming Tips

Never groom your dog without first bathing and combing out mats. Not only will this make him smell and feel better, but it is essential before cutting hair. There is no sense in
grooming your dog's
face if he has tear stains, or having to cut whole chunks of hair out.
If your Shih Tzu does not like grooming at first, move the clippers or scissors over his body without actually cutting hair. This will get him used to the motion and noise. Often this is what makes dogs the most nervous.
If your pup continues to be aggressive or nip at you, correct him. Do not raise your voice or take offense. He will read these emotions, and it will make the whole process a lot harder. Also, do not baby him during grooming and especially not if he is being snappy. It will only encourage the behavior. Before long, your Shih Tzu will be used to grooming and will cooperate.

Shih Tzu Grooming Cuts
Even if your Shih Tzu is not a show dog, everyone should try the topknot show cut just because it looks so amazing. Let your pup's hair grow long (preferably not in the summer months), while still bathing, brushing, and trimming it regularly. Do not clip his beard or bangs. However, be sure he can still see, and that there are not any straggler hairs on the bridge of his nose. The goal is to grow his hair out until you are able to gather it on top into a cute bun.
If growing your Shih Tzu's hair out to the floor sounds like a nightmare to you, try the shorter version of the topknot. The body and face of your dog can be any length, but again, the goal is to grow long hair on the top of the head. This can be put in a clip or elastic. Once the hair is long enough to do so, feel free to experiment with shorter cuts. It will make your pup look darling.
Shih Tzu Puppy First Grooming

It is vital to begin grooming your new Shih Tzu from the get-go. This will not only make your puppy used to being groomed, it will get you in the habit of either taking her to the groomer's or doing it yourself. In the beginning, their coat is much fluffier than it will be later on. It just requires some maintenance to keep her looking neat and tangle-free.
Shih Tzu Grooming 3 Months
While it is crucial to bathe adult Shih Tzus before grooming each time, do not bathe a young puppy. Only begin bathing them at three months old, because they are very sensitive. At any point in their life, be sure to only use dog shampoo, not human shampoo. The different chemicals and perfumes can be harmful to their skin.
How to Brush a Shih Tzu's Teeth
When bathing your Shih Tzu, do not neglect to brush their teeth. Like all other dogs, their mouths can develop plaque buildup and lead to tooth decay. As with bathing, begin tooth brushing at an early age and do it regularly. Always use dog toothpaste as well.

You can begin by gently using your finger first, and let him get used to the feeling. Then, move to a finger brush and finally a toothbrush. Dental chews can be purchased to keep their teeth refreshed in between brushes.
How to Clip/Trim Nails
Use a set of guillotine nail trimmers to clip your Shih Tzu's nails. These are easy to maneuver. Do not use regular nail clippers, because they will not be strong enough, and you could end up hurting your pup. Cut little bits at a time, and check the middle of the nail after each trim. If you see the color start to look different in the center, you are close to the nerve in the nail and should stop. Use a metal file to touch each nail up after they have been trimmed to smooth out any rough edges.