Noise anxiety is common in dogs. It is triggered by almost any loud and sudden sound.
Shuffling cards can cause stress, leading to fear or aggressive behaviors like shaking or attacking your cards.
It's important to address anxiety to avoid health issues in your dog.
Dog Afraid Of Shuffling Cards
Noise anxiety stemming from shuffling cards is common in dogs. If not treated, noise aversion leads to fear, aggression, and worsening mental health. Fortunately, there are various ways to deal with noise sensitivity. Treating noise anxiety is essential for keeping your dog healthy.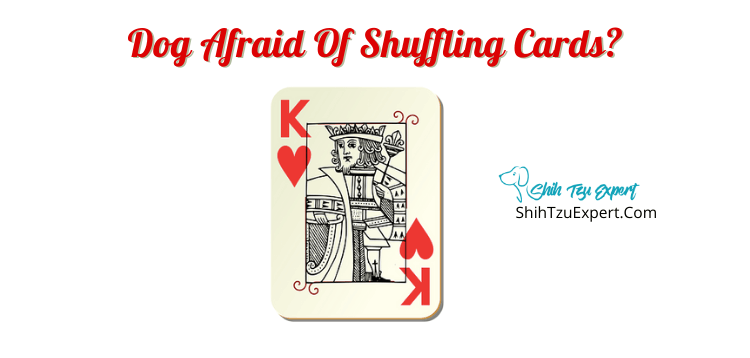 Why Are Dogs Scared Of Shuffling Cards?
Your dog isn't scared of the cards themselves – they are likely afraid of the noise it produces!
Noise anxiety (also known as noise aversion) appears in around a third of the canine population.
While genetics play a small role in noise sensitivity, experience is the most significant factor in the development of noise anxiety. Your dog's age can help you understand what is behind noise aversion.
Puppies younger than eight weeks do not easily retain traumatic experiences in their brains. So, noise anxiety displayed during this time points towards a genetic component.
Between 3 and 14 months old, puppies go through a period of skittishness towards unfamiliar sights and sounds. Noise aversions around this time are common and usually go away!
If noise anxiety persists beyond 14 weeks, your puppy may have learned to associate that noise with fear. Luckily, there are ways to help your doggie cope with this fear!
However, if your older dog seems to develop noise aversions out of nowhere, the anxiety could be connected to some pain.
The best practice for noise aversions at any age is to check with your vet first. They are the only ones who can check for underlying conditions that can cause noise aversion.
So, why are they afraid of cards? Well, the sound of shuffling cards usually happens suddenly and loudly. It can startle anyone who isn't paying attention or expecting it!
That is why fireworks are often scary for dogs and other animals. They do not understand that the loud noise is a celebration, and they aren't expecting it.
Why Do Dogs 'Freak Out' When They See And Hear Shuffling Cards?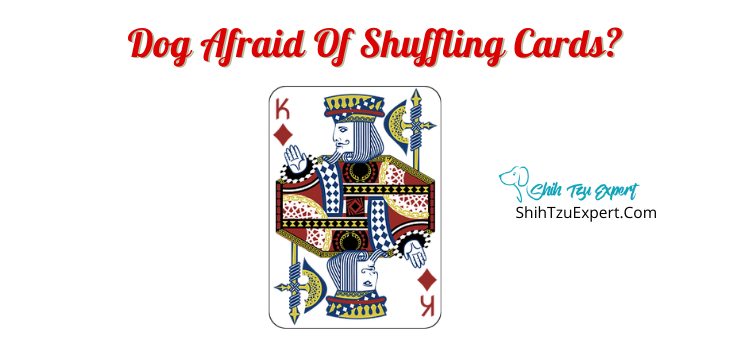 Dogs with strong noise anxiety may freak out when they see an object that triggers that anxiety. If they have an aversion to the sound of shuffling cards, they will likely start displaying a fear reaction.
Sometimes dogs will actually get into a playful mood when hearing shuffling cards. Learning is everything for dogs, so your dog may associate shuffling cards with excitement and play. These are often cute reactions that make us laugh!
However, if your dog displays fear behavior, this is a cause for concern.
Fear behaviors include shaking, barking and snapping, tense muscles, whining and crying, and panting.
These behaviors are a sign that the noise scares them. Of course, we don't want to scare our fur babies! The natural question to ask is how to correct behavior.
Read on to see what behaviorists suggest to do about noise anxiety.
How Do I Train (Counter Condition / Desensitize) My Dog To Not Be Afraid Of Shuffling Cards?
Pet behaviorists and other animal professionals have been attempting to solve noise anxiety for years.
The sound of shuffling cards is a common aversion for dogs because of how quickly and loudly the sound starts.
Pet owners obviously don't like causing fear or anxiety in their pets, so they search for solutions to this problem. While there isn't one cure for anxiety, there are many ways that you can help your dog be less fearful and more comfortable.
The first step is always to consult with your veterinarian. Your vet will probably want to check and ensure that something else isn't happening, like an ear infection or chronic illness.
Your vet professional will probably instruct you to try at-home remedies to help your dog's anxiety before trying any medication.
The first remedy owners attempt is creating a calm environment for their pets. Owners find crate training their dog in a comfortable container is a great way to deal with pet anxiety.
A crate is like your doggie's bedroom! It's a space just for them where they can relax and decompress. You should treat your dog's bedroom like you treat your own.
Make sure the crate is the appropriate space for your pet. Consider your pet's age, breed, and personality.
Older dogs or dogs with special conditions that may affect house training should always have a crate large enough for them to stretch and switch positions.
Other dogs may be comfortable in a smaller space. Always make sure there is room for your pet to sleep, eat, drink, and have a few toys.
If your dog chews, consider getting a simple, non-plush crate liner. If not, your dog may prefer a snugglier liner! A heated dog bed or weighted blanket may also increase the comfort level of the crate.
Next, make sure there is always a clean dish of water, their favorite treats, and one or two select toys in the crate with your pup.
Consider setting your crate up in a low-traffic area of your house or apartment. This way, if you are going to partake in an activity that causes your dog anxiety – like shuffling cards – you can put them in their crate and avoid scaring them.
One more consideration for crate training is ensuring your dog gets plenty of exercise, especially if they are a high-energy breed or a particularly energetic pup! Exercise helps them settle down in the crate and prevents them from chewing.
If you can't put your crate in a low-traffic place or away from the room where you're shuffling cards, there are other helpful ways to avoid scaring your dog.
Some owners prefer to put a blanket over the crate to create a sense of security. Others like to turn on the TV, music, or white noise to cover the triggering sound. You can also do both methods simultaneously!
Your pet may benefit from desensitization techniques. Before starting these techniques, remember that not all pets will get over their noise aversions. You shouldn't force desensitization on your pet because it can increase their fear and even cause aggression.
Your pet should be in a calm environment where you can easily access them. Play the noise at a low level. At this time, give your dog plenty of affections and treats.
If at any point they react negatively, you should stop and let them calm down.
If they can stand the noise at a low volume, slowly increase the sound until it's an average level. These increases should happen over the course of several weeks; you shouldn't rush it! Your dog should come to associate the sounds with treats and rubs, which helps alleviate fear.
If your dog does not respond well to this technique, their fear is extreme, or they exhibit aggressive behavior, talk to your veterinarian. Your vet may be able to prescribe medicine to help with the anxiety!
Sometimes you cannot put your dog in a calm place. Distraction techniques help comfort your dog during this time.
Distraction can be playing music, giving your pet treats, or trying to get them to play. Bring out their favorite treats and toys and try to get their minds off the noise freaking them out!
Finally, if none of these techniques work, your vet may be able to prescribe your pet some medicine that can help them.
What Not To Do With A Dog Who Is Afraid Of Shuffling Cards?
The most important thing to remember when dealing with a dog who has noise aversion is that they are scared, even if it seems silly to us.
As such, give your pup plenty of compassion, love, and patience!
You shouldn't react negatively to your dog when they show anxiety. Yelling or hitting will freak your dog out more and possibly cause aggression.
Pet owners should also avoid trying to desensitize dogs if the dog seems to become more fearful. A dog's fear increases when you try to force them to "get used to" a sound that scares them.
Another thing to consider is that distraction techniques aren't for every dog. If you notice your dog is still exhibiting fear behaviors while trying to distract them, stop the distraction technique. They may come to associate the toys, treats, or music with the fear and avoid them if you don't.
Should You Comfort A Dog Scared Of Shuffling Cards?
Yes!
The first step to comforting your frightened dog is to stop the triggering behavior. Your pet won't be able to calm down if the noise is still happening.
When comforting your dog, be sure to act normally. Being overly comforting may signal to your dog that their negative behavior is acceptable.
If you can't stop the triggering noise, you can attempt to distract your dog. Acting normally helps them ignore their anxiety by focusing on fun things!.
As noted, distractions may not work for your doggie. If that's the case, try removing them from the situation. A calm environment will allow them to calm down and be comforted.
Failing to comfort your dog can lead to increased fear and fear aggression.
What Exactly About Shuffling Cards Is My Dog Scared Of (The Smell? Look? Noise? Sounds?)
Your dog is probably scared of shuffling cards because the noise is loud and sudden.
Dogs don't have the same ability to reason as we do. Even though we know the cards can't attack, the noise sends your dog into a fight, flight, or freeze response.
To your dog's brain, the startling noise makes them believe they are under attack. Your dog will display fear behavior, such as snarling, running away, or shaking.
Your dog may come to understand that your card deck is the cause of the noise. They will begin to associate the sight of the deck with the noise, so their fear response may start when you pull out your deck.
Why Is My Puppy Terrified Of Shuffling Cards?
If your puppy is scared of shuffling noises, it is vital to take them to the vet to address this concern.
Puppies younger than eight weeks should bounce back from loud noises and can grow accustomed to them.
After eight weeks, however, the brain is more adult, and experience plays a significant role in developing aversion. Once your pup hits three months old, unfamiliar noises and sights begin to scare them more.
Regularly talking to your vet will help you better understand what is happening with your pup. Your vet monitors your puppy to make sure there are no underlying health conditions and can give you recommendations on how to keep your puppy calm.
Why Is My Old Dog Suddenly Afraid Of Shuffling Cards?
If you notice that your senior dog seems to have developed a noise aversion to shuffling cards, schedule an appointment with your veterinarian.
The onset of noise anxiety in older age can signal an underlying issue like pain or cognitive decline. It's essential to either rule out or address these problems. Medication may alleviate the noise anxiety.
However, your dog may not need medicine. In this case, accommodate your pet and figure out their triggers. Avoid making those noises when your dog is around.
Because your dog is older, it's advised that you don't attempt desensitization techniques.
You may want to try snug, heavy vests for your old dog. The tight feeling around their body eases the anxiety they get from the loud noises.
My Dog Is Becoming Increasingly Afraid Of Shuffling Cards [Trembling]?
A growing fear of a specific noise tells us that desensitization is not working. Your dog will likely have noise aversion for the rest of their life.
This isn't the end of the world. You will have to accommodate your dog using some methods already discussed to solve this problem.
Giving your dog a dedicated crate and properly crate training them is essential to dealing with chronic noise aversion.
Be mindful of the noises you make. Try to keep your environment free of startling noises that start quickly and loudly.
Take note of the noises that trigger your dog. Having this knowledge empowers you to protect your dog from anxiety.
Are Shuffling Cards Dangerous To Dogs?
Shuffling cards are not dangerous to your dog. However, the anxiety that comes with noise aversions is detrimental to their health.
You must recognize the signs of noise anxiety and address them as soon as possible by following the steps in this article.
Your dog will thank you!
Can & Do Dogs Destroy Shuffling Cards?
Yes, dogs can and will destroy card decks! This is called fear aggression.
Your dog perceives your cards as a threat, so they will try to protect themselves by attacking and shredding the cards.
Aggression is a serious behavior that must be treated as soon as possible. Without help from a behaviorist or your vet, the aggression may worsen.
The best way to prevent aggression is by avoiding situations that trigger your dog. It's important to learn these triggers and your dog's body language.
When you see your dog display fear or aggression behaviors, calmly and quickly get your dog out of the situation. Eliminating the noise that causes the aversion is key to calming your dog down and avoiding a destructive incident.
Noise Anxiety In Dogs
Noise anxiety in dogs is common.
Most people are aware that the Fourth of July in the U.S. is a hard time for dogs and their owners. The noise anxiety caused by fireworks results in an exponential rate of lost dogs.
As we've seen in this article, various sounds can cause noise aversions. Virtually any noise that is loud and sudden can be a triggering noise.
Noise anxiety can onset at any age, but your dog's age is important in understanding what may be causing it. Genetics, breed, and personality are essential factors in the development of noise aversions as well.
As a pet owner, you are your pet's protector. It's up to you to understand their triggers and ease their anxieties. Your vet and a behaviorist can help you in that pursuit.
Can You Give A Dog A Tarot Reading?
If your dog is not afraid of shuffling cards, you can definitely give your dog a tarot reading! They probably won't understand what is happening, but you may glean some knowledge from the cards.
If your dog does suffer from noise anxiety associated with shuffling cards, you can still read your dog's cards as long as they aren't in the room.
References
https://vcahospitals.com/know-your-pet/fear-of-noises-and-places-in-dogs
https://pets.webmd.com/dogs-fear-loud-noises