Grape popsicles are not a dog-safe treat. Grapes are toxic to dogs in even small amounts, causing sudden kidney failure and even death if left untreated.
Can Dogs Eat Grape Popsicles?
Grape popsicles may be safe for humans, but they can be dangerous – and even deadly – for dogs. Grape poisoning can cause kidney failure in even the most healthy dog, and it is best to keep them away from grape popsicles and opt for safer alternatives.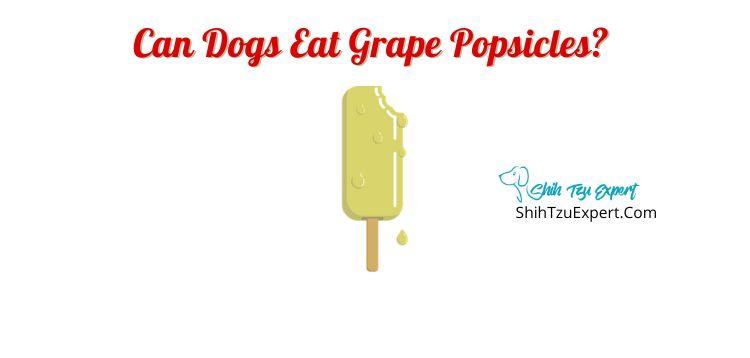 How Bad Are Grape Popsicles For Dogs [Can They Kill Dogs]?
Dog owners may be wondering how bad grape popsicles are for their furry friends, but that question does not have a simple answer. The dangers that grape popsicles pose depend heavily on what the ingredients in the specific popsicle are.
For example, a popsicle that has only artificial grape flavoring may do little more than give Fido a belly ache from the sugar. However, a popsicle made from fresh grapes can be poisonous – and potentially deadly – if shared with a dog. We will go into more detail on this below.
What Are Grape Popsicles?
Grape popsicles are frozen treats made from natural or artificial grape flavoring. Natural flavor options include pureed grapes and grape juice. Popsicles can provide a nice relief from the summer heat and provide a dairy-free alternative to ice cream.
Can Dogs Eat Raw Or Cooked Grape in Popsicles?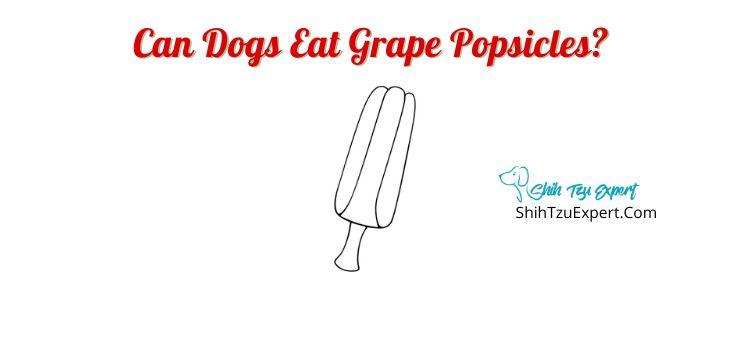 When considering what popsicles are safe for dogs, owners may wonder if cooked or raw grapes are a better option. Especially in human diets, cooking commonly removes the potential for food poisoning. With this in mind, it makes sense to question whether cooked grapes are safer for dogs.
Unfortunately, this is not the case. If there is real grape in the popsicle, it does not matter whether they are cooked or not because grapes are toxic to dogs. These toxic parts cannot be cooked out to make grapes and natural grape popsicles safe for dogs.
Can Puppies Eat Grape Popsicles?
Despite their cute faces and big, pleading eyes, puppies are even more prone to sickness and poisoning than adult dogs. Their small size means that it takes less toxic food to make a puppy sick. This applies to everything from chocolate to grapes.
With this in mind, it would be safest to not give puppies grape popsicles at all. Even if you think there is not real grape in the popsicle, your puppy is still growing and developing, and may not be able to handle it.
Will My Dog Get Sick By Eating Grape Popsicles?
There is a very real possibility that grape popsicles will make your dog sick. It is very hard to know what is in everything we buy in stores, and it only takes a handful of real grapes to make a dog sick.
Is There A Way To Make Grape Popsicles Safer To Eat For Dogs?
Pet owners may want to know how to make grape popsicles safer for their furry friends, especially in the summer. If you are going to give your dog a grape popsicle, you should make sure that the grape flavoring is only from artificial sources.
However, if you want to be sure your dog will not get sick, your best bet would be to make some pet-safe frozen treats for your pup. That way, you know there is nothing in their popsicles that could hurt them. Nobody wants to accidentally make their pet sick!
Is Grape Popsicles Raw?
There is no one-size recipe for grape popsicles. Our best bet to figure out whether the grapes in popsicles are raw is to explore some recipes. Most natural recipes online call for raw grapes, blended into a puree, which is then frozen in a popsicle mould.
This may give you an idea of whether grape popsicles are raw, but this cannot be taken as fact for store-bought popsicles. Ingredient lists may not disclose whether the ingredients are cooked or raw.
What Type Of Ingredients Are Used In Grape Popsicles?
As discussed in the previous sections, grape popsicles can vary in their ingredient list. The most basic grape popsicles consist of frozen blended grapes, maybe with some added grape juice for flavor. The ingredient list gets more complex with store-bought popsicles.
Grape popsicles purchased from the grocery store can contain any of the following:
natural or artificial flavoring
natural or artificial sweeteners
color additives
added vitamins
This is not even a complete list of the possible ingredients in store-bought popsicles! Not all brands list every single ingredient.
Which Brand Of Grape Popsicles Can Dogs Eat?
The only dog-safe brands of grape popsicles are those that you are certain do not contain real grapes or an artificial sweetener called xylitol in them. Both of these ingredients are toxic to dogs and popsicles containing them should not be given to your pet.
How Can I Stop My Dog From Eating Grape Popsicles?
Concerned pet owners may want to know the best way to keep their dogs from eating grape popsicles. The top solution is to keep grape popsicles out of reach of hungry dogs.When eating grape popsicles, make sure to throw any scraps immediately after finishing.
Should I Take My Dog To A Vet If It Eats Grape Popsicles?
If your dog manages to sneak a grape popsicle despite your best efforts, you should take the following steps.
1. Check the ingredient list for the popsicle if it is readily available. You should be looking for whether the popsicle contained real or artificial grape.
2. If you aren't sure whether the popsicle contained grape, or if you find out that it did, you should contact your local veterinarian, the Pet Posion Helpline, or the ASPCA Animal Poison Control Center.
3. Make sure to provide details about what your dog ate, when, and whether there has been any odd behavior since then. Any of the sources listed can inform you on whether your dog needs veterinary help.
What Happens If A Dog Eats Grape Popsicles?
If your dog eats a grape popsicle and you are worried about grape toxicity, here is what to look out for.
First 24 hours: Your dog may experience loss of appetite, increased or decreased thirst, vomiting, diarrhea, abdominal pain, and lethargy. Keep an eye out for changes in your dog's appetite and thirst. If he or she seems to be tired or in pain, contact your local vet office.
24-48 hours: Your dog may experience a decrease in urine output, bloody urine or bowel movements, and stumbling or lack of coordination. These symptoms are signs of sudden kidney failure and if you notice them in your pet, immediately take them to the nearest emergency vet.
How Long After A Dog Eats A Grape Popsicles Do They Get Sick?
Grape toxicity in dogs happens much quicker than you may expect. The first symptoms can occur less than 24 hours from ingestion, and they can escalate to dangerous sickness in as little as 48 hours.
How Long Can A Dog Live After Eating Grape Popsicles?
If medical help is received quickly after realizing your dog has signs of grape poisoning, he or she may still live a long, happy life. There are things that your vet can do to help lessen and reverse the effects on your dog's body.
How Many Dogs Die From Eating Grape Popsicles?
There is little to no research on how many dogs are lost to grape poisoning each year. However, considering how few grapes it takes to make a dog sick, we cannot guarantee that the number is zero.
What To Do If My Dog Eats Grape Popsicles?
If your dog has eaten a grape popsicle, the first thing to do is check the ingredient list of the popsicle. If there is potential that there is real grape in the popsicle, call your local vet or animal poison control and follow their advice.
Is There A Home Remedy For A Dog Who Ate Grape Popsicles?
If you think your dog may have signs of grape poisoning, do not try to treat them at home. Call a local vet or animal poison control hotline and follow their professional care advice.
Can A Single Serving Of Grape Popsicles Kill A (Chihuahua, 30 Pound Dog,German Shepherd) Dog?
When it comes to toxic foods, many pet owners wonder how dog size may effect poisoning. A single serving of grape popsicle may be enough to cause poisoning in dogs of any size. The popsicle contents matter more in this case than the size of the dog.
How Much Grape Popsicles Can Dogs Eat Safely?
If you are concerned for the safety of your dog, it is best to avoid giving them any grape popsicles. There are much safer frozen treats that do not come with a risk of poisoning that your dog will love just as much, if not more.
Can Dogs Eat Sugar-Free Popsicles?
Under no circumstances should dogs be given sugar free popsicles. Xylitol, an artificial sweetener found in sugar-free popsicles, is safe for humans but incredibly dangerous for dogs. It can cause low blood sugar, seizures, liver failure, and even death in large enough amounts.
Can Dogs Eat Jolly Rancher Popsicles?
It is not recommended to give your dog Jolly Rancher popsicles. The high sugar content can lead to stomach upset and weight gain in animals. They also contain fruit flavors, which may put your dog at risk of grape consumption. It is not worth the risk to your dog's health.
Which Popsicles Are Safe To Eat For My Dog?
After reading, pet owners may be asking "What popsicles can I give my dog, then?" The best pet-safe alternatives to human popsicles are pet-safe frozen treats. There are dozens of recipes online for posicles for dogs using ingredients like banana, yogurt, or blueberries.
Many pet-safe treat recipes are designed with the health needs of an average dog in mind. It is still important to be mindful of any allergies your dog may have. If you cannot or do not want to make your dog frozen treats at home, there are some store-bought options for dog ice cream.
Symptoms Of Grape Popsicles Poisoning In Dogs
Sometimes we can't control what our dogs eat. They are surprisingly good scavengers, and some dogs are experts at getting into the trash or grocery bags when our backs are turned. If your dog gets into grape popsicles despite your best efforts, here is what to look out for.
Symptoms of grape poisoning in dogs will often begin within 24 hours of your dog eating a toxic amount of grapes, even in popsicle form. The first symptoms may include loss of appetite, drinking more or less than usual, vomiting and/or diarrhea, abdominal pain, and sluggishness.
If you notice any of the symptoms above in your dog, contact your local vet or animal poison control center. The earlier your dog can receive treatment for their poisoning, the more likely they are to make a full recovery.
Between 24 and 48 hours after consumption, your dog's previous symptoms may worsen. They may also begin to experience a loss of coordination and stumbling, a decrease in the amount of urine passed, and bloody vomit and/or stool.
These are all signs that your dog's kidneys are starting to fail, and you should take your dog to the nearest emergency vet immediately. Acute kidney failure can be fatal if left untreated for too long.
Resources:
https://vcahospitals.com/know-your-pet/xylitol-toxicity-in-dogs
https://www.thesprucepets.com/can-dogs-eat-popsicles-5092119
https://greenbrier-emergency.com/grape-toxicity-dogs/