Correctly wearing an e-collar on your dog is a primary condition for its effective use in training your pup. Besides, e-collars can have negative health effects on your dog if wrongly used.
As such, you should ensure every aspect of the e-collar wearing is at 100% perfection. To help you do that, here are 8 tips for e-collar wearing.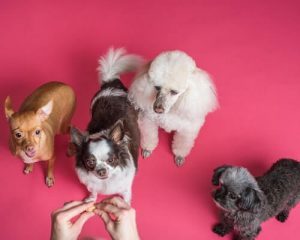 Purchase the Right-size E-collar for Your Dog
E-collars come in different sizes to suit your dog's neck. Some dog e-collars are made uniquely for small dog breeds. Manufacturers tailor others specifically for medium or large dogs.
Do your research before purchasing to ensure you get the correct size for your dog. Alternatively, go for "one size fits all" brands like the Bark beyond's bark collars.
These e-collars come with an adjustable strap. You can resize the strap accordingly to find a secure and comfortable fit on your dog's neck.
Study the E-collar Before Wearing it on Your Dog
Dog e-collars come with a user manual that discusses device operation, battery charging, button function, correct collar fitting, and troubleshooting, among other topics.
Spend time studying the instructions to ensure you don't use the device wrongly and hurt your dog.
If you are not sure about an instruction, consult the manufacturer.
Ensure the E-collar Strap Fits Comfortably on the Neck
There are two things to keep in mind to ensure the e-collar strap feels comfortable on your dog's neck:
It should be tight enough for the contact points to touch your dog's skin.
It should be loose enough to feel comfortable on your dog's neck.
The efficiency vs. comfort test for the e-collar is usually that you can fit your middle and index fingers between the strap and the dog's neck.
Position the Receiver Correctly for Maximum Efficiency
Why wear an e-collar on your dog if it won't serve its purpose? That goes to say you should ensure that you fit the e-collar on your dog in the recommended way for effective training.
If you check your dog's e-collar User Manual, you will notice that the correct position for the e-collar receiver is on either side of your pup's windpipe.
In that position, the receiver will easily detect the simulation from the remote control even when you are a distance away and as long as the dog is within the remote control range.
Identify the Right Contact Points for Your Dog
E-collars work with contact points (microprobes) that read and deliver the stimulation. These contact points need to be in contact with your dog's skin to function effectively. At the same time, they should feel comfortable for your dog and not cause skin irritations.
As such, ensure your dog's e-collar contact points are the right size for your dog's coat length and density.
For example, if you have a Boxer with a short coat, 3/8″ microprobes will work perfectly. If you have a Poodle with thick fur, you'll need 5/8″ contact points. If you need to switch one size for the other, your e-collar User Manual should have instructions on how to change contact points on an e-collar
Whichever the size of contact points, ensure they are comfortable on your dog. Consider using comfort pads on the e-collar contact points, especially if your dog has sensitive skin. For these dogs, you can also opt for hypoallergenic contact points, like those made with a hypoallergenic metal such as titanium.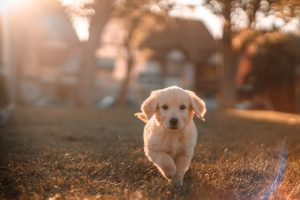 Limit the Time Your Dog Wears the E-collar
Although most e-collars are lightweight, they still make their presence felt on your dog's neck and can feel uncomfortable when worn for long hours. Besides, wearing them continuously can cause irritation if they rotate or allergic reactions for sensitive dog skin.
What's more, continuous use of e-collars for days for long hours can lead to fur loss with time.
As such, you should abide by the rule of thumb for wearing e-collars: your dog should not wear an e-collar for more than 12 hours continuously, and preferably less.
A sure way to guarantee your dog does not keep an e-collar for too long is to remove it when not training. Take the collar off also when your dog is resting.
Discontinue Use if the E-Collar Causes Allergic Reactions
Whether it is the result of normal use because your dog has sensitive skin or appears from unintended long hours of wearing, allergic reactions from an e-collar should be addressed with discontinued use.
Of course, any responsible dog owner will choose his/her dog's well-being over the ease of training that comes with using an e-collar.
You might also want to talk to your dog's vet about the allergic reaction. The vet will likely advise you to discontinue use until the allergy clears.
If the allergic reaction is severe, the vet may prescribe an anti-allergy topical cream. Your dog's doctor may also add an antibiotic if the reaction shows possible signs of infection.
To ensure you don't get here, consider using the comfort pads and the hypoallergenic contact points I mentioned earlier.
Monitor Your Dog's Comfort on the E-collar
While following all the above tips will ensure your dog is comfortable when on an e-collar, a few other tips can enhance your dog's well-being:
Check and adjust your dog's e-collar if you notice it has moved or is uncomfortable.
Regularly assess your dog for signs of irritation on the skin around the collar. Counter any signs of irritation with a break or discontinue use.
Gradually stop using the collar once you've achieved the intended training goal. E-collars are not meant for long-term use and you should eliminate them once your dog consistently shows consistent behavior change.
Concluding Thoughts
An e-collar is an effective dog training tool, especially if you use it alongside positive dog training methods.
To ensure its effectiveness, follow the recommended efficiency and safety measures for wearing the e-collar.
I just discussed those for you in the tips for wearing an e-collar listed in the article. Abiding by these tips will ensure that you and your dog have fun training with an e-collar.