Getting yourself an AI assistant might seem fun and exciting but there is a possibility that your dog won't be as enthusiastic about it.
Dogs have sensitive hearing and can easily get frightened by unfamiliar things in their environment.
Read further to find out why your pooch is scared of Alexa and what you can do to fix it.
Dog Hates Alexa The Amazon Assistant
If your dog hates Alexa, you might have to get rid of your virtual assistant but there are a lot of options you can try before you say goodbye to your AI friend. If you can get your dog to like Alexa as much as you do it will benefit you both. Alexa can interact with your pooch and help with separation anxiety. Your dog might even start seeing Alexa as a friend and learn to love her.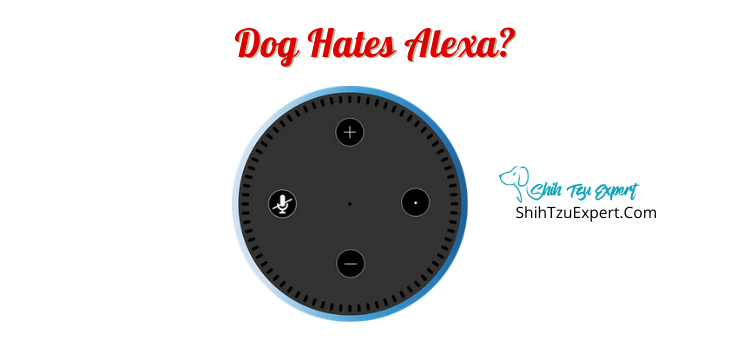 Why Do Dogs 'Freak Out' When They Hear Alexa?
There could be many reasons why dogs freak out when they hear Alexa. She is an AI assistant, meaning she is not human and although her voice sounds human-like, dogs can hear the difference.
If your dog freaks out when he hears Alexa it can possibly be because he does not recognize her. Dogs get attached to their humans and don't like other humans coming into their territory, never mind a virtual assistant that they can't see.
Also, dogs have sensitive hearing and it is possible that Alexa is speaking louder than your pooch is comfortable with. You can try to lower the volume and see if it helps your pooch to accept her.
How Do I Train (Counter Condition / Desensitize) My Dog To Not Hate Alexa?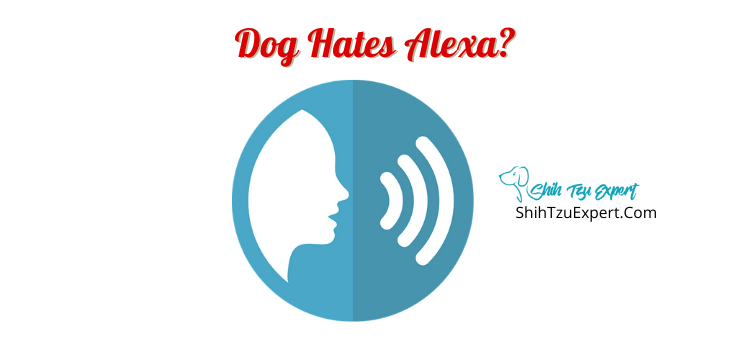 You can make Alexa pet friendly so that your dog learns to like her just as much as you do.
Here are a few things that will help your pooch to not hate Alexa.
Relax my dog – You can instruct Alexa to play calming music for your pup. Music can help to relax your dog and make him feel more at ease.
Furbo – Alexa can work with Furbo. Your virtual assistant can command Furbo to toss treats for your pooch.
Your dog's name – You can ask Alexa to say your dog's name which will help your pup get familiar with her and feel more comfortable.
Puppy jams – You can tell Alexa in what mood your pup is and she can use Puppy jams to play music to your dog that will suit his mood.
Audible – You can tell Alexa to play audiobooks for your dog which can help soothe your pup.
What Else Can I Do To Help My Dogs Noise Phobias?
Create a safe place where your dog can go when she is feeling anxious, preferably somewhere that is quiet and dark.
You can also play background music or white noise to drown out the other noises that are scaring your pup.
What Not To Do With A Dog Who Hates Alexa?
You should never punish your dog for hating Alexa. Your dog is scared and punishment will make it worse.
Also, do not yell at your dog or try to force your pup to interact with Alexa, it could make your pup's anxiety worse.
Should You Comfort A Dog Hates Alexa?
If you try to comfort your dog when she is scared by petting her or giving her treats you are encouraging the behaviour. Your pooch might be trembling and behaving strangely because she is scared but if you comfort her with treats or affection there is a possibility that she will continue the behaviour just to get treats or attention.
You can try to desensitize your dog by exposing her to Alexa in a controlled setting but be careful as this can make the situation worse.
You can also try to distract your dog by playing her favourite game.
If your dog's anxiety gets worse you should take her to a vet who will be able to rule out any medical conditions that could be causing the problem.
What Exactly About Alexa Does My Dog Hate (The Look? Noise? Sounds? Vibrations?)
No one knows for certain why some dogs hate Alexa but it is most likely the sound of her voice.
Alexa doesn't sound like a robot but your dog can tell that she isn't human. The sound of her voice or the vibrations from the speaker could be scaring your pooch.
There is also the possibility that your dog is scared because she can hear somebody talking but she can't see her.
My Dog Is Getting An Increasingly Dislike Of Alexa?
If your dog's dislike of Alexa is getting worse you can try to desensitize her.
It is preferable that you get help from a specialized trainer to help desensitize her because if you do it wrong it can increase your dog's anxiety.
If you have tried all the options, including Furbo, calm my dog, puppy jams, audible and getting Alexa to interact with your dog and your pup still hates Alexa, it might be best to get rid of your virtual assistant.
Is Alexa Dangerous To Dogs?
Alexa can't physically hurt your dog but she can cause your dog to become scared and anxious.
A scared dog can act out and hurt himself by trying to hide or attack the source of the noise.
Can & Do Dogs Destroy Alexa?
Alexa is an AI assistant that works through a speaker. If your dog gets over excited or scared it is possible for him to damage or destroy the speaker.
What Best Alternatives To Alexa That Dogs Do Not Hate?
If your dog hates Alexa you can try Google assistant but you will have to see how your dog reacts to it.
There is the possibility that your dog will be okay with a different voice but she might hate any AI assistant you get.
Can Alexa Interact With Dogs?
Yes, Alexa can interact with your dog. Alexa can play music for your pooch according to his mood or even work with Furbo to give your dog treats.
You can ask your virtual assistant to call your dog by his name and then instruct him to do tricks.
Alexa can also bark and make dog noises to entertain your pup or play audiobooks for him through Audible.
How Do I Calm My Dog Around Alexa?
You can program Alexa to speak to your dog so that he can get used to her voice. She can also give him treats using Furbo which can help to get your pooch to accept or even like Alexa.
Alexa can also play music and audiobooks which might help your dog to calm down.
Can Alexa Calm Dogs?
Yes, there are apps that Alexa can use to help calm your pup.
You can download the Calm my Dog app. The app plays classical music for your pooch and you can control it with voice commands.
Dogs also enjoy listening to stories, they might not understand everything that is being read to them but it helps to calm their anxiety.
You can download Audible for dogs and select stories with voices that sound similar to yours so that Alexa can play them for your pooch.
Can Alexa Tell My Dog To Stop Barking?
Alexa can help you if you have a pooch that likes to bark. Alexa has a stop barking skill which you can activate.
When your dog starts barking Alexa will emit a high-pitched frequency. Dogs do not like the sound and will stop barking.
Can Alexa Help With Dog Separation Anxiety?
Yes, Alexa can help your dog's separation anxiety. Alexa can give commands to Furbo to toss treats for your dog at certain times.
This is helpful to do as a morning routine. Furbo can start tossing treats to distract your dog before you leave and continue to give your pooch treats according to a schedule. This will help to keep your dog distracted and not focussed on the fact that you left the house.
Alexa can also play music or audiobooks for your dog so that he doesn't feel alone during the day until you return home.
Does Alexa Play White Noise For Dogs?
Yes, Alexa can play white noise. White noise will help calm your dog and create a relaxing atmosphere.
Can I Teach Alexa My Dog's Name?
You can install a Dog trainer for Alexa which can call your dog's name and ask him to do tricks.
Can Dogs Hear Alexa?
Yes, dogs have very good hearing and can hear Alexa. They might be confused as to where the voice is coming from as she will actually be talking to you and they can't see her.
My Dog Freaks When I Talk To Alexa?
If your dog is freaking out when you talk to Alexa it could be because he has associated the name Alexa with your AI assistant which he is scared of.
Can Alexa Alert Me If My Dog Barks?
Yes, Alexa has sound detection and you can program your virtual assistant to let you know when your dog barks.
This is very helpful as it lets you know how your pooch is doing when you are not at home.
What Is Alexa Guard Dog Mode?
Alexa guard dog mode is a feature your amazon assistant has. If you activate it Alexa will play sounds of dogs barking and growling.
This feature can make it sound like you have vicious dogs which can help to scare off anybody who might be trying to get into your house.
Music On Alexa For Dogs?
Yes, Alexa can play music for your dog. You can give a voice instruction to Alexa to play Puppy jams.
There is a special playlist created for dogs and if you tell Alexa in which mood your dog is, she will select songs to fit his mood.
Can Alexa Work With Furbo?
Yes, Alexa can work with Furbo. You can program Alexa to give commands to Furbo on a regular basis so that your pup stays entertained throughout the day.
References
https://www.ftc.gov/system/files/documents/public_events/1548288/privacycon-2020-christin_wilson.pdf
https://amazon.developer.forums.answerhub.com/questions/71378/anyone-elses-dog-reacting-when-alexa-is-activated.html