Dogs cry for many reasons, but for your dog to cry first thing in the morning, it can be an annoying thing. Luckily, there are many ways for you to stop this issue to make both you and your furry friend happy.
Why Does My Dog Cry In The Morning (Is My Puppy/Dog Sick)?
There are many reasons why your dog will cry in the morning. They may be sick. They may be hungry. They may have lots of energy. They may have separation anxiety. Regardless of the reason, there are ways for you to prevent it.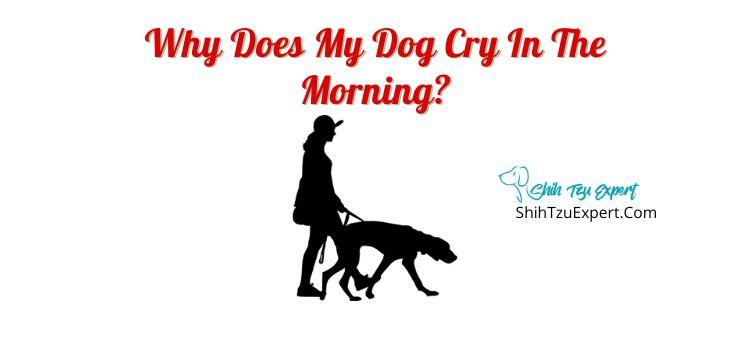 Is It Normal For My Puppy To Cry Every Morning?
It's completely normal for your puppy to cry every morning. Reasons for this include needing the toilet, feeling hungry, having separation anxiety, you waking up at different times, you've been encouraging the behaviour, or that they have excess energy.
Why Did My Dog Suddenly Started Whining A Lot In The Morning?
There may be many reasons why your dog has suddenly started crying in the morning. Think about when they first started crying and what was different to that morning compared to other mornings and you should have your answer.
Why Does My Old Dog Cry In The Morning?
These will be for pretty similar reasons to a puppy crying in the morning, but the most likely reasons for an old dog crying in the morning is that they need the toilet, are hungry, or that there has been some sort of change to their routine.
Puppy Won't Stop Whining In Morning?
Check the various reasons for why they're whining (such as needing the toilet or feeling hungry) and see if this stops them. If not, they could be hurt in some way and maybe a trip to the vet may be the best course of action.
Should I Just Ignore My Puppy Crying In The Morning?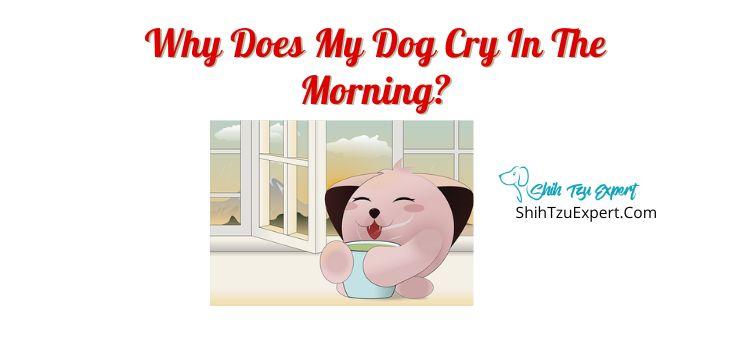 Sometimes you do just need to ignore your puppy crying as they are doing it to try and get your attention and once they realise this isn't working, they will stop.
How Do I Stop My Dog From Whining Early In The Morning?
Go through all the reasons why they might be whining in the morning, such as needing the toilet, and see if any of these get them to stop. If not, a possible chat with your vet might be needed to get to the root cause of it.
What Causes A Dog To Cry For No Reason?
Dogs don't cry for no reason. Figuring out the reason will make it easier to stop the crying as you'll know what you're dealing with.
How Do I Stop My Dog Waking At 4/5/6 Am Every Day?
Make sure the curtains are closed so no light can get in and give them plenty of exercise every day to help wear them out and ensure they don't have too much energy.
How Do You Stop An Anxious Dog From Whining?
Dogs are most likely to be anxious when you first bring them home, so you should be offering them plenty of reassurance during this time. Leaving them to cry can cause emotional trauma which will bring about behavioural issues when they're older.
How To Stop Dog Whining In Crate In The Morning?
Ensure they have plenty of exercise outside the crate so when they go into the crate to sleep they are tired enough to sleep all the way through the night and not have too much energy in the morning to the point of crying to get out.
Do Dogs Have A Circadian Rhythm?
Dogs, like all animals, have a circadian rhythm. They can recognise that when it's light they should be awake and when it's dark they should be sleeping. This is why you should put curtains where your dog sleeps so they don't wake up too early.
#Why Does Dog Cry In The Morning? (16 Reasons)
It's Potty/Peeing Time
If it's first thing in the morning, dogs will have gone quite a few hours without going outside to pee. Therefore, this will be as simple as letting them out straight away to go pee and also ensuring they pee right before you go to bed so they are less likely to cry.
Its Hungry
If your dog is used to a certain schedule of having their food at certain times, if this changes, it causes them to cry. For example, you may get up earlier during the week than at the weekend, which may confuse your dog into thinking they're going to be fed earlier than they actually are.
You Are Encouraging Their Behavior
Without realising it, you may be encouraging your dog to cry. For example, you may have figured out your dog is crying because they want food and if you give them food straight away, you are teaching them that the food is a reward for crying.
It's Become A (Bad) Habit!
If this is a bad habit, it's likely been enabled by you. You may have been accidentally rewarding them for crying by giving in to their demands, which is a mistake many dog owners make. When you know why they're crying, distract them with something and then give them what they want.
Over Attached To You
Dogs will often have their favourite person in the family and if that happens to be you, they are often going to want you and you only, so if someone else does the morning routine, they're going to want to know why. They want to be with you and you only.
Seeking Attention
If your dog is bored, they will probably start crying because they want attention. This may be a taught behaviour, for example, if everytime your dog cries you give them attention, they will know to cry so they get that attention. If you don't want them to do this, stop and so will they.
Separation Anxiety (Alone And Scared)
Particularly if you have just bought your dog home, they are not going to like being alone for the first time in a new space. Make sure they know the space they sleep in is safe and overtime, they will get used to it and the crying should stop.
They Can't Wait To Go Out Or Play
As well as plenty of exercise, your dog also needs plenty of playtime. If your dog doesn't get it, then this causes a lot of built-up energy and means they will be more excitable in the morning for playtime so give them plenty of playtime everyday to get rid of this energy.
You Encourage The Behaviour By Rewarding Them For Crying
Encouraging this sort of behaviour is easily done with dogs. This is done by giving them food or attention. Instead, you should ignore them until they stop crying and reward them for that as this will teach them that when they're quiet they get what they want.
Excess Energy Due To Lack Of Exercise
If you are not taking your dog on enough walks or playing with them enough, this causes excess energy that will probably show itself in the morning. To solve this, give them plenty of exercise and play time daily so they can sleep at night and don't have too much energy the next day.
Changes to Waking Up time / Daylight Saving Time/ Changes to Circadian Rhythm
If you know you are going to be waking up at a new time, gradually make the change to this new wake up time so it allows your dog to get used to it. Alternatively, start waking up at the new time and even though this may upset your dog for a while, they will soon get used to it.
Injury, Illness, A Medical Condition, Age Related Issues Like Dementia
Any illness or medical condition will cause your dog varying amounts of discomfort which may be exaggerated if they have been lying down for hours, particularly if they have been lying on their injury. In cases like this, you should take them to the vet to get checked out.
Dog Is Bored
Dogs get bored easily, which is why they need plenty of exercise and playtime each day. If you do not give them this, this is what leads to them crying. Make sure you give them plenty of entertainment and exercise daily to stop the crying.
Something Changed In Their Daily Routine
A good example of this is the times they eat changing. If your dog is eating at certain times of the day, particularly at a certain time in the morning, if these things change suddenly, they're going to become upset.
Their Sleeping Place (Kennel Or Crate) Is Uncomfortable
Your dog's sleeping place should always be comfortable. You wouldn't be feeling 100% if you had a bad night's sleep due to being uncomfortable and your dog is the same. Make sure they have a bed to lay down on, that it's not too hot and not too bright.
It's Urgent And Critical You Need To Check Your Pup Immediately
Your dog crying may be something urgent, such as an injury or illness and in this case you should take them to the vets immediately.
#Important Things To Consider
When Did Your Puppy/Dog First Started Crying In The Morning?
This is an important thing to consider as it will help you get to the root of the problem. Were they hungry? Did they need the toilet? Did they appear hurt or ill in any way? If it's any of these, you should be able to figure out the problem and how to solve it.
What Is Different When Don't Cry In The Morning?
As well as looking to when your dog first started crying, you should also look at what happens on the mornings when they don't cry. Look at if they had exercise the night before or if they went to the toilet. Then you should find the answer.
#What To Do When Your Dog Cries In The Morning?
Schedule Potty/Peeing Before Sleeping Time
Letting your dog out to pee before bedtime should help them be less likely to cry in the morning due to needing to pee. Make it a part of your routine to let them out to pee right before going to bed and again first thing in the morning.
Let You Dog Get Used To Your New Waking Up Time
Dogs love routine so a change in routine will really throw them off. Be patient with them and they will eventually get used to this new routine and the crying will stop.
Exercise Your Pup Before Sleeping
Giving your dog plenty of exercise, particularly before bed, will not only help them sleep throughout the night, but it will also mean they don't have a load of built-up energy in the morning that causes them to cry.
Why You Should Never Just Ignore Their Cries!
Their cries may be something more serious, such as an illness or injury. You may just think they're crying to get attention, but they may be crying because they're hurt. If you have any thought that it may be serious, take them to the vet immediately to get them checked out.
Does Faking To Leave Stop A Dog From Whining? (Here's The Truth)
Fake leaving can stop your dog from crying as it desensitises them to the issue. They possibly get triggered by a certain movement, such as picking up your keys, so desensitising them to this conditions them to know you doing this doesn't always mean you're leaving.
Consult Your Vet
If you believe your dog is crying because they are ill or injured, it is best to consult your vet straight away so they can diagnose your dog and treat them. Ignoring the issue is only going to make things worse.
Is Punishing Your Dog A Good Way To Stop It Crying In The Morning? NO!!!
Obviously you shouldn't reward your dog for crying, however, you shouldn't punish them for crying either. Crying is a natural reaction to your dog wanting something but not understanding why they haven't got it. Wait until they're calm and then give them what they want.
Train You Pup
There are various ways you can train your dog to stop them from crying. If you are unsure of where to start, you can always get a dog behaviourist to come and help you. They will be able to look at why your dog is crying and teach them (and you) ways on how to stop it.
Never Let Your Dog Sleep With You If It Whines!
Both you and your dog need your own spaces so letting them sleep with you is a bad idea. Yes, it may stop the whining, however, if you go away and someone else is looking after your dog, they're going to start whining.
Is A Dog Crying A Bad Omen (Related Superstitions)?
There is a belief that if a dog is crying that this means someone is about to die. There is also a belief that if a dog is crying they can see a soul around them. Of course, this is all just superstition and isn't necessarily true.
Do Dogs Whine When They Are Happy Or Only When They Are Unhappy?
Dogs cry both when they are happy and unhappy. Your dog crying is their way of showing their emotion. However, if you believe it is due to unhappiness that may possibly be linked to being unwell, you should get in touch with the vet so they can appropriately treat your dog.
Do Puppies Ever Grow Out Of Crying (If So When)?
Puppies normally cry, particularly if you have just bought them home, because they have been taken away from their parents and siblings. They should eventually stop but it will take a lot of patience and understanding from you for this to happen.
How Normal Is It For A Dog To Whine On Walks?
This is somewhat normal. Dogs cry when they're happy and sad, so they're either crying because they're happy to be going on a walk; or they're crying because they're sad and have possibly injured themselves.
What Dogs Whine The Most?
Husky
Chihuahua
Yorkie
Foxhound
Alaskan Malamute
What Dogs Whine The Least?
French Bulldog
Basenji
Great Dane
Australian Cattle Dog
Shar Pei
Do All Dogs Bark At 4/5/6 Am Every Day?
It varies from dog to dog and also depends on how you train them. It also depends on the time they're used to waking up at. You can train them to not bark at this time, whether you do this yourself or with a dog behaviourist.
References
Why does my dog cry in the morning?
11 Reasons Why Your Dog Cries In The Morning + 7 Tips
Puppy Cries and Whines in the Morning: Solutions