Dogs, like most animals, have ways of communicating pain or discomfort to attract their owners' attention. Dogs who cry when touched around the mouth may be experiencing oral pain.
In this article, we will discuss possible different causes and treatments for oral pain in dogs.
Why Does My Dog Cry When I Touch His Mouth?
Sensitivity around a dog's mouth may mean the dog is experiencing pain or discomfort. Dogs may experience mouth pain for a variety of reasons, including foreign objects in the mouth, poor dental hygiene, or muscular fatigue or conditions. Many of these conditions are easily identifiable and treatable by a veterinarian. To prevent mouth pain in your dog, familiarize yourself with the causes and symptoms, practice good oral hygiene, and take your dog to a professional if you notice changes in behavior or sensitivities around the mouth.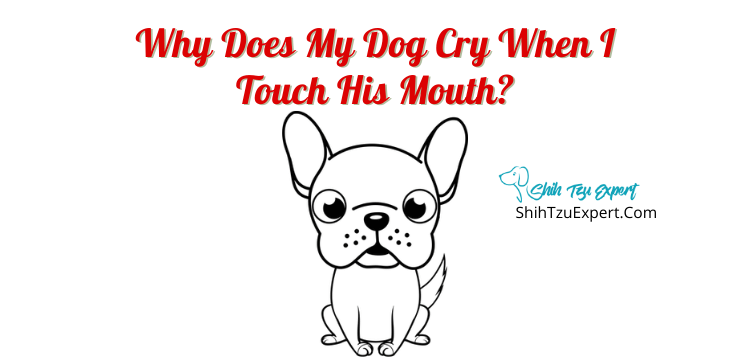 Dog Doesn't Want To Open Mouth [Is It Jaw Pain]?
Several signs may indicate your dog is experiencing jaw pain.
A dog that yelps, cries, or whimpers when touched around the mouth, is reluctant to open its mouth, or moves its head to avoid contact with its jaw or mouth may be experiencing jaw pain. This pain could be related to the bone, muscle, or teeth.
Why Do Dogs Get Jaw Pain?
Dogs may experience jaw pain for several reasons, such as:
Food or other solid stuck in their gums
Teething/ growth of teeth (for puppies)
Excessive chewing, biting, or gripping with teeth
Muscular trauma
Poor dental health
Other oral conditions
Dogs communicate pain by crying, whimpering, not opening their mouths, or tilting their heads back to avoid contact.
Possible sources of jaw pain should be investigated and eliminated to restore your dog to full health.
How To Cure Jaw Pain In Dogs?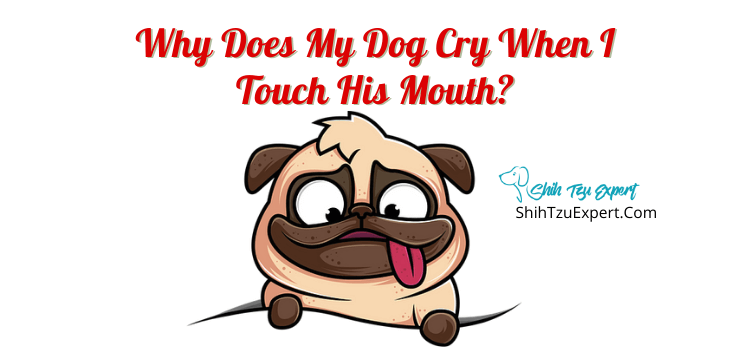 Depending on its cause, jaw pain in dogs can be cured in a variety of different ways.
Check for food or foreign objects stuck in your dog's mouth. Items stuck in the gums or behind the teeth may cause your dog pain when chewing, biting, or swallowing.
For teething puppies, purchase a soothing teething gel to alleviate jaw pain.
Dogs may also suffer jaw pain from gripping, chewing, or biting too hard. Altering your dog's pay habits, such as tug-of-war, types of toys, etc. can modify habits that lead to jaw pain.
Other oral conditions, such as masticatory myositis, trismus, or dental diseases, can be evaluated and treated by a veterinarian. Upon evaluation, veterinarians will prescribe the most appropriate course of treatment.
Why Does It Hurt My Dog To Open His Mouth?
If your dog displays behaviors indicative of jaw or mouth pain, such as yelping or crying, changes to eating and drinking habits, or shrinking away from being touched, it may be because your dog feels pain when it opens its mouth.
This pain can have a few different causes including those related to the dog's bones, muscles, or teeth. Foreign matter stuck in the dog's mouth, such as food, pieces of toys/ bones, or something else that the dog has eaten can also cause gum swelling and muscular fatigue, making it painful for the dog to open its mouth.
How Do I Know If My Dog's Mouth Hurts?
Dogs experiencing mouth pain will react to attempts to touch the mouth and alter behaviors that involve biting, chewing, or picking things up with their mouths.
Dogs may cry, whimper, growl, or bark when their mouths are touched. Dogs may also try to move their head away to avoid having their mouths touched. Reduced food or water consumption is also a sign of mouth pain in dogs.
Dogs are intelligent creatures who can communicate pain to humans, and will usually do so by exhibiting behaviors out of the ordinary, including crying or avoiding touch.
What Can I Give A Dog For A Sore Mouth?
There are several over-the-counter and prescription medications that can be administered to dogs suffering from a sore mouth.
Dog mouth wash
Antibacterials (gels, pills, liquid drops)
Anti-inflammatories (gels, pills, liquid drops)
A professional dental cleaning can also be helpful for dogs with sore mouths.
What Is Masticatory Myositis In Dogs?
Masticatory myositis is an immune disorder that causes a dog's immune system to identify its own cells as foreign and attack them. The attacked cells belong to the muscular tissue in the dog's mouth, also known as the masticatory tissue.
Masticatory myositis affects the muscles dogs use to chew and grip, causing them to become swollen and inflamed. Actions like eating, chewing, and picking up, and/ or biting toys become extremely painful for dogs with masticatory myositis.
Why Do Dogs Get Masticatory Myositis?
Dogs can develop masticatory myositis for several reasons, including:
Genetic predisposition
Bacterial and/or viral infections
Stress, anxiety, and trauma
Exposure to allergens and/ or environmental factors
Reactions to medications or vaccinations.
While masticatory myositis occurs in all breeds of dogs, there are certain breeds that veterinarians have identified as more likely to develop the condition. These breeds include:
Golden Retrievers
Doberman Pinschers
German Shepherds
Labrador Retrievers
Cavalier King Charles Spaniels
Rottweilers
Weimaraners
In general, masticatory myositis affects the breeds listed above, as well as other large breeds.
Masticatory myositis usually occurs in dogs around 3 years of age, although in some cases, onset can begin as early as 4 months. Masticatory myositis occurs in both males and females.
Due to the variety of genetic factors, environmental factors, and complex interactions between these, it is usually impossible to tell which of the known triggers caused the development of canine masticatory myositis.
How To Treat Masticatory Myositis?
Dogs suspected of having masticatory myositis should be taken to a licensed veterinarian immediately. Prompt and continuous treatment is the best way to address canine masticatory myositis.
Corticosteroids, such as prednisone, are the most common and most effective form of treatment. This class of steroids acts as an immunosuppressant, meaning that it prevents your dog's immune system from attacking the cells in its muscular tissue.
Administration of corticosteroids should be continued until your dog has regained normal range of motion, function, and feeling of its jaw and mouth. At this time, the dosage of steroids can be lowered and administered every other day. The reduced dosage should be continued for four to six months, depending on the dog's continued symptoms.
Side effects of corticosteroid treatment include excessive hunger, excessive thirst, and excessive urination (due to increased water intake). These symptoms, if present, typically diminish when the frequency of corticosteroid therapy is reduced to every other day, or to a different maintenance level suggested by your veterinarian.
Can Masticatory Myositis Be Cured?
Together, early diagnosis and proper treatment of masticatory myositis increase the likelihood of a dog's full recovery. However, most dogs need maintenance doses of corticosteroids, the class of drug used to treat masticatory myositis, to remain symptom and pain-free. Some dogs can eventually discontinue corticosteroid use without suffering from a relapse of masticatory myositis.
If treatment is not administered correctly at the outset, a dog is more likely to have recurring episodes of masticatory myositis. Additionally, the condition will progress. Swollen and inflamed muscles in the jaw begin to atrophy if they are left untreated. Progression of the myositis increases pain for dogs and decreases the likelihood of a full or partial recovery.
Is Myositis Fatal For Dogs?
Masticatory myositis is not fatal for dogs. The autoimmune reaction only affects a specific type of cells found in canine muscular tissue in the jaw, so the effects of masticatory myositis do not spread beyond the affected area. Early diagnosis and treatment usually lead to a manageable, if not good, condition. Dogs with properly treated masticatory myositis live happy, normal lives once they regain jaw function and mobility through treatment.
However, if left untreated, the condition can adversely affect other behaviors that keep dogs healthy and happy. For example, dogs that are experiencing severe pain from masticatory myositis will be less inclined to eat, drink, play, and exercise. Severe jaw pain can quickly cause negative effects on a dog's nutritional health. Dogs who have been unable to eat or drink for some time due to painful swelling and inflammation in their jaws may require nutritional supplements and/ or an altered diet that is easier to ingest.
Masticatory myositis is not a fatal condition in dogs, but it can have extremely adverse health consequences if left untreated.
Masticatory Myositis Vs Trismus In Dogs
Trismus refers to a dog's inability to open its mouth. Trismus can have a variety of causes, varying levels of associated pain for the dog, and varying degrees of jaw mobility. Trismus is a condition often associated with masticatory myositis.
Dogs suffering from masticatory myositis may exhibit trismus as a symptom or side effect of their condition. Masticatory myositis causes the jaw muscles to become swollen and inflamed. This often leads to severe pain for dogs when they try to open their mouths. Therefore, masticatory myositis can trigger trismus as a secondary condition.
Why Do Dogs Get Trismus?
Trismus refers to the general condition of being unable to open the mouth. There are several causes for trismus in dogs.
Masticatory myositis in dogs causes the muscles around the jaw to swell painfully, making it difficult and painful for an affected dog to open its mouth. Masticatory myositis is one cause of trismus in dogs.
An injury to the mouth can sometimes result in an abscess, or growth, behind the dog's eye. This can create painful pressure above and around the dog's jaw, limiting mobility and causing pain.
Foreign bodies inside the dog's mouth, such as food, bones, toys, sticks, or other objects may cause trismus. If the foreign matter becomes lodged in the dog's mouth, it may prevent the dog from opening its mouth or contribute to the development of another condition that can cause trismus, such as a mouth injury.
Abnormal bone growths and/ or small bone fractures may also contribute to trismus. These are not always painful for the dog.
If you suspect that your dog has trismus, take it to be evaluated by a veterinarian as soon as possible. The vet can perform tests and imaging to determine the cause of trismus in your dog and the best treatment, accordingly.
How To Prevent & Cure Trismus In Dogs?
Trismus in dogs occurs for a variety of reasons.
To avoid trismus caused by a foreign body becoming stuck in your dog's mouth, monitor what your dog puts in its mouth. Food, bones, sticks, toys, and household objects can become stuck in a dog's mouth.
To avoid muscular atrophy in the jaw, challenge your dog to play with balls or eat chewy food. These habits help the dog to exercise and strengthen its jaw muscles.
Sometimes, trismus is caused by internal factors, such as masticatory myositis, an autoimmune disease. This is not preventable but is treatable. Take your dog to the vet as soon as you notice trismus developing, particularly if you cannot see any foreign bodies stuck in the dog's mouth.
Trismus can be remedied by veterinarians through a wide array of procedures and medications, depending on its cause. Veterinarians can assist you in identifying the cause of your dog's trismus and finding a cure.
How Do You Know Your Dog Is Suffering?
Dogs can communicate that they are suffering pain or discomfort quite well.
Most often, dogs communicate suffering through behavioral changes. This may include exercising and playing less, sleeping more, decreased engagement with you and other family members or pets, and changes in eating and drinking habits.
Dogs also indicate pain in a specific part of their bodies by protecting that area. For example, a dog with jaw, mouth, or tooth pain will react when this area is touched. Dogs may yelp, cry, or whimper, attempt to move their heads out of the way to avoid contact, or cease interaction altogether.
You will usually be able to tell when your dog is suffering because it will act differently.
How To Tell If My Dog Is Suffering From Tooth Pain?
There are several symptoms and behaviors to look for that may indicate that your dog is suffering from tooth pain.
Excess drooling, especially if blood is present
Bad breath (halitosis)
Changing eating habits
Loss of appetite
Visual differences in the dog's mouth
Avoiding being petted
How To Prevent And Treat Tooth Pain In Dogs?
Preventative dental care and maintenance are important for dogs, just like they are for humans. There are several precautions you can take to avoid dental pain in dogs.
Practice good oral hygiene. Make sure your dog has nourishing food that is easy to chew and swallow and will not become stuck in its mouth. Brush your dog's teeth every day to reduce unhealthy build-up.
Choose toys that won't be too hard for the dog to play with. Avoid hard bones and opt for chew toys.
Perform regular oral examinations. You should periodically examine your dog's mouth to check for healthy teeth and gums. Your dog should have annual examinations by a licensed professional in addition to home inspections.
References
https://vcahospitals.com/know-your-pet/masticatory-myositis-in-dogs
https://www.wellpets.com/blog/160-my-dog-has-pain-or-difficulty-opening-its-mouth
https://www.marvistavet.com/masticatory-myositis.pml
https://www.purinaproclub.com/resources/dog-articles/health/early-diagnosis-of-masticatory-muscle-myositis-is-needed-for-treatment-success
https://www.wedgewoodpharmacy.com/blog/posts/how-to-tell-if-your-dog-is-dealing-with-tooth-pain.html