Is your dog suddenly refusing to spend time in his crate? There are several reasons why: He's spending too much time in it, it's uncomfortable, he associates it with punishment. Let's explore these reasons for crate avoidance and see how to help your furry friend!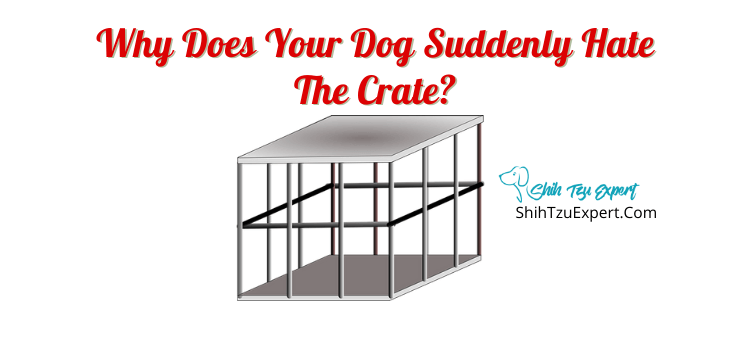 Why does my dog not want to sleep in his crate anymore?
-He's been over-crated 
-Bad smell associations 
-The room the crate is in is too big 
-Separation anxiety 
-Weak bladder 
-Another dog or cat has been in his territory 
-Uncomfortable crate 
-Crate is too small 
-Your dog is sick or needs to see the vet 
-Your dog needs more exercise or playtime 
-The dog's personality has changed as he's gotten older 
-Bad associations from past homes 
-Crate is damaged or broken
-General joint pain 
-You moved his crate to a different room 
Should dogs sleep in crates at night?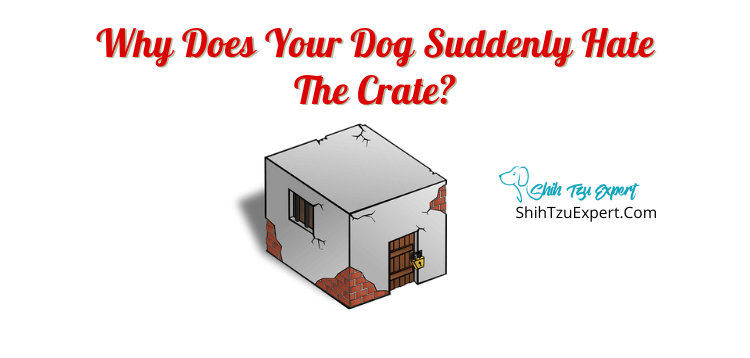 When used properly a crate can be a safety zone for your dog. Think about where you like to sleep at night? Would you rather sleep out in the open like at the airport or in the comfort of your smaller bedroom? Your dog feels the same way! 
Sleeping in his crate can give our dog a sense of security and protection. Especially if he's a particularly anxious dog. If you're worried about leaving him in his crate overnight try leaving the door open. Give him the choice to come in and out. 
Dog whining in the crate all of a sudden.
Has your previously crate-trained dog started whining when crated? It might be time to look into the crate yourself. How old is your crate? Has it recently gone through a move? Your crate may be damaged or broken. Take a moment to run your fingers along any surface your dog can touch to make sure there is nothing sharp! 
Has your dog been going potty more frequently? He might be experiencing a weak bladder due to age or a medical issue and the whining is because he needs to go while crated. If this is the case try crating him less or seeing his vet. 
Why does puppy suddenly hate crate at night?
Have you recently welcomed a new puppy into your home?
Congratulations! Now's the time to make him feel like one of the family. If your puppy hates being in his crate at night but enjoys it during the day he might have separation anxiety.
As your puppy gets used to sleeping in his crate try putting something that smells like you into the crate with him. An old t-shirt is perfect! Puppies are full of energy. Maybe your puppy is frustrated at bedtime because he still has some restless energy.
Try going on a walk, giving him a meal, or playing with your puppy before bedtime. Just like a little toddler – you've got to wear them out! Dog traumatized by crate?
Dogs with a history of being abused, hoarded, or generally neglected may have bad associations with being crated. This can manifest as aggression, nervousness, or whining while crated. It's important to be sensitive to your dog's needs. Never force a dog into their crate by pushing or yelling. This will reinforce those negative emotions. 
Make the crate seem fun by adding toys (especially treat puzzles!), treats, and special blankets. If your dog is a previously abused rescue understand that crate training him might take time or a crate might not be right for him. 
Dog won't go in crate even with treats?
Some dogs just aren't motivated by treats. If your dog isn't anxious and will at least put his head in the crate try feeding him his meals in the crate. Start by having his food bowl near the front and then move it deeper in each day! 
What to do if your dog refuses to go in crate?
The most important thing to remember is patience! Crate training takes time and patience from both parties. Think of your dog's temperament. An anxious dog wants to know you're coming back, an energetic dog wants to know that he won't be over-crated. Try not to use the crate as punishment. 
Does putting a blanket over a dog crate help?
Think back to the airport scenario. Do you want to sleep somewhere open, cold, and bright? No. of course not.
Putting a blanket over your dog's crate can be extremely beneficial. It will give him a sense of being in a den just like his wolf ancestors, give him a sense of privacy and keep him warm if the room he's in is a little chilly or drafty. 
Do dogs need blankets in crates?
It depends on the dog and the weather.
Your dog certainly needs something soft to sleep on. This can be a cushion, a dog bed/mattress, or some blankets. A blanket, especially one that smells like you, can provide a sense of comfort. 
How long will a dog cry in its crate?
A puppy will take about 5-30 minutes before settling into a crate. It's important to remember that unless your puppy is hurt he's probably just trying to get your attention. Letting him out early will enforce whining behavior. Try your best to ignore the whining within reason. If your dog is truly anxious, scared, or hurt stick to shorter crate times. Remember not to over-crate! 
My crate trained dog suddenly hates the crate?
It is possible for a crate-trained dog to suddenly regress. If your dog was perfectly content to be crated before but is suddenly scared do not ignore it. There is usually a reason for a sudden change. If you suspect a medical reason seek medical help. 
Non-medical reasons could also include: seeing something scary, a change in diet or sleep schedule. 
What to do if the dog is freaking out in a crate?
If you've successfully gotten your dog in his crate with the door closed and he begins to panic open the door. Leaving an obviously panicking dog in his create will only create bad associations. Give him space as he exits and offer treats to calm him down. Attempt to get him back in the next day.
What to do if  your dog suddenly hates his crate?
-Check for sharp objects or broken pieces 
-Exercise him before crate time 
-Offer treats before and after crate time 
-Put a soft cushion or dog bed into the crate 
-Supply the crate with toys especially treat puzzles or things to chew on 
-Drape a blanket over the crate 
-Make sure the crate is a quiet and secure place 
-Make the crating time shorter 
-Spend more time with your dog (taking him with you when applicable)
-Don't use crate time as punishment
-If the change is very sudden take your dog to his vet 
 My dog hates his crate during the day
Does your dog love to sleep in his crate at night but hate it during the day? Your dog may need some exercise. Before you leave for work or school take the time to take your dog on a walk. This will give your dog some extra attention and burn off some extra energy.
Try leaving some calming music or the television on for your dog during the day. It's possible that he is lonely and some extra stimulation would help soothe him. 
When you get home from work or school immediately let him out. Give him some treats and love on him. It's nice to feel like you've done a good job! How to Make Your Dog Like His Crate Again?
Has your dog regressed from his crate training? This can happen. After you've ruled out medical issues and things like diet or exercise it's time to get him to enjoy crate time again! Try putting your t-shirt inside the crate to give it a familiar smell and a few new special toys to get him interested! Leave the door open when you're home to give him the choice to go in.
 Do dogs get bored in their crate?
Sometimes dogs do get bored in their crates. If you leave your dog in his crate for too long he may get bored. Make sure that you supply him with plenty of toys, enough food and water, and maybe leave some music on for him. If he seems restless when you get home it might be time for a trip to the dog park! At what age do you stop crating a dog?
The American Kennel Club states that "crates are forever". When owners who crated their dogs as puppies but take them off crates as adults see more regression. This could mean not sleeping through the night or more house training accidents. While where your dog sleeps is a matter of preference its still important to supply him with a safe and private place to go. 
 Should I cover my dog crate with a blanket at night?
Covering your dog's crate with a blanket at night is important to make him feel safe and secure! In summer consider a sheet so he doesn't overheat. In the winter provide a heavy quilt or comforter for warmth. You're not only appealing to his den instincts but keeping his temperature regulated. Should I ignore my dog barking at night?
If your dog is barking in pain, sounds aggressive, or is scared do not ignore him. If he's just barking to get your attention you're awarding negative behavior by giving it to him. Your dog should settle down and go to sleep after about 30 minutes.
The dog suddenly loves the crate?
If your dog suddenly loves his crate consider it a win! Try to take note of what you did right and don't change that routine. It's important to remember that dogs thrive on their routine and don't take to change well. Congratulations on successfully crate training your furry friend!
References
Crates are Forever – Not Just for Puppies
https://www.whole-dog-journal.com/training/crates/what-to-do-when-your-dog-hates-his-crate/