Has your dog suddenly become very clingy? Here we will talk about all the reasons why this could be and what to do about it.
Why Is Your Dog So Clingy All Of A Sudden?
There are a huge multitude of reasons why your dog is suddenly so clingy. It can be hard to problem solve and figure out which reason is the cause for their need for attention. We are here to help you understand and figure out which cause may be affecting your dog. From separation anxiety to pregnancy, we will talk about everything in detail.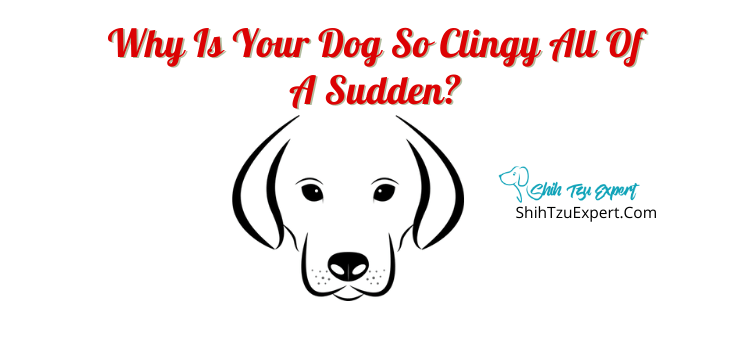 Reasons Why My Dog is So Clingy All Of the Sudden
1. Clingy due to separation anxiety
A dog with separation anxiety is usually a very timid dog. This dog basically won't leave their owners' sight, following them everywhere from room to room. And if you try to leave the dog at home while you go somewhere, it can be a bit of a struggle.
2. Clingy due to a change in their environment
Moving houses can be a big change for a dog. Dogs are very routine oriented animals and when they are in a new environment it can be difficult for them to find a new routine. It is normal for a dog in a new environment to become clingy to their owner since you are a big comfort to them. With time, your dog will learn that this is the new place and become comfortable in it. Setting up their bed with their toys in a nice area of the new house and sitting or playing with them in the new house will help them understand it's a safe place.
3. Clingy due to a stranger danger
Dogs, especially guard dogs or dogs with anxiety will appear clingy around strangers because they are trying to protect you.
4. Clingy due to boredom
A bored dog will often seem clingy because they are trying to tell you they are bored. Take your dog for a walk or let them out in the yard to relieve this boredom.
5. Clingy due to dementia
6. Clingy due to illness
7. Clingy due to heat
8. Clingy when just about to give birth
9. Clingy due to human pregnancy
Dogs are very intuitive and they know there is something growing inside a human when she is pregnant. A lot of dogs will get a paternal sense to protect the woman and the baby and won't leave their side.
Why is my dog suddenly clingy and panting?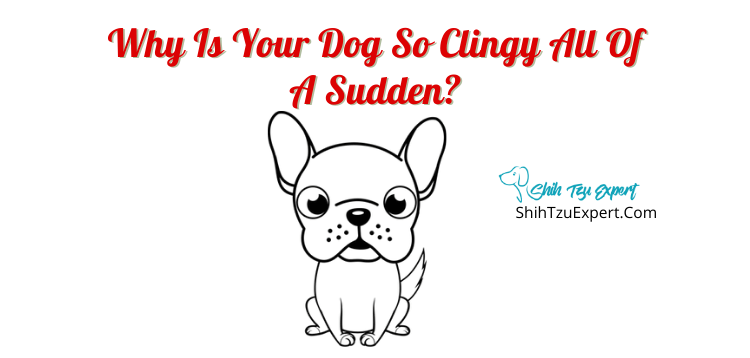 If your dog is suddenly clingy and panting there could be a few reasons why. They could either be very excited, or in pain. Arthritis will cause dogs to pant and when dogs are in pain they will often follow their owners around.
Why is my female dog suddenly clingy?
If your female dog is suddenly clingy, she could be experiencing any number of the things we've talked about OR she could be pregnant! A pregnant dog will become very clingy since they may not be exactly sure what is happening to their changing body. It is good to talk to your dog about it and make sure she is comfortable.
Take your dog to the vet immediately if you suspect she is pregnant.
Clingy dog meaning
A clingy dog is a dog who will constantly follow you around. They constantly need attention or pets. Always wants to be doing whatever you are doing or always wants you to give them attention instead of whatever you are doing.
11 reasons why your dog is so clingy all of a sudden
#1: Your dog has separation anxiety
Separation anxiety is exactly how it sounds. It is when a dog gets extremely anxious when their owner isn't around. Not to be confused with velcro dogs, who are dogs that stick themselves to their owners when they are around, but aren't necessarily anxious when they are gone.
#2: Your dog is ill
Your dog may just be sick, but they could be experiencing any type of illness. Take your dog to the vet if they have other symptoms or seem lethargic and tired.
#3: They are aging
A dog who is getting old may become clingy as they become weaker and more relaxed.
#4: They have abandonment problems
It can be frustrating if you feel you can't leave your dog anywhere or at the house alone. You can do things like, leaving clothes out that smell like you, give them treats before you leave and when you come back (if the house is still in order), put them in a room with their comfort items, muzzle your dog, or consider anti-anxiety medications for dogs or even CBD.
#5: You moved out of the house
Moving out of the house can be traumatic for a dog as they need to try and rediscover their routines. Help them by getting their personal items in the area and giving them a comfortable spot that can be theirs. Walk them around the house and sit with them in each room. Eventually they will get used to it.
#6: You have a new furry friend
A new pet can be very different for the dog you've already had. Take your time to play with both of your animals at the same time so one doesn't feel left out. Do things and go places with both of them, feed them at the same time etc. to show them that they are equals.
#7: There's a stranger in the house
Introduce the stranger to your dog and shake their hand or give them a hug to show your dog that they are not harmful. Teach your dog the sit command or leave it if they are barking too much. If all else fails, you need to put your dog in a separate room if strangers are around, especially if your dog seems aggressive towards people.
#8: There's a change in your daily routine
A change in your daily routine can really mess a dog up. Incorporate your dog into your new routine and they will figure it out in no time.
#9: Your dog is in heat
Dogs can become very clingy and/or very protective of their owners while they are in heat. Since it doesn't last a while, it may be a good idea to keep your dog with you as much as you can while they are in heat. If not, just make them comfortable and get them as much exercise as possible. If you leave them alone, make sure they can't get out or leave the house.
#10: Your dog is about to deliver her puppies
Dogs have about a four month gestation period. If that time is coming, move your dog to a place where you can comfortably have the puppies. Make sure she is comfortable, on her bed with lots of blankets and water. Don't go anywhere unless you absolutely have to, and stay by her side as she will need the support and possible help.
#11: Boredom makes them clingy
A bored dog will follow you around, maybe for entertainment, but probably because they are trying to tell you they are bored. Let them out into the yard or take them for a walk and afterwards they'll probably leave you alone.
What's the difference between clingy VS velcro dogs?
Clingy dogs or dogs with separation anxiety will basically freak out if you aren't around. This entails them barking or hollering when you try to leave the house or the car. Things like that. A velcro dog is a dog that follows you around everywhere while you are around, but does not panic when you try to leave. A velcro dog doesn't necessarily have separation anxiety.
Why is my dog being clingy and shaking?
Pets shiver or shake for many reasons. If they start to shake and seem very attached to you suddenly, they've most likely become frightened of something. Maybe it was a loud noise, or something spoked them, but this will probably pass shortly. Just give them a little attention and tell them everything is alright.
Why is my old dog suddenly clingy?
Senior dogs start to become clingy because a lot of times they are losing their senses. They need you now more than ever, you are their eyes and ears. They also need the comfort of you.
Why does my dog become very clingy and hyperactive?
Puppies will oftentimes be very hyperactive and clingy. They are a lot like toddlers! Dogs older than 3 years old that are hyperactive and clingy could have a form of dog ADHD. Yes, that's right, dogs can have ADHD. Doing dog brain exercises or training them to do tricks will help set their mind right. Make sure they get plenty of outdoor time, including walks and catching the ball etc.
Why is my dog clingy all of a sudden?
1. Clingy due to separation anxiety
How to help your dog with their separation anxiety
2. Clingy due to boredom
3. Clingy due to dementia
If your dog is suffering from dementia, they may be either very clingy or the opposite and want nothing to do with anybody. These are both very common occurrences. Dementia is not curable, so the best thing you can do is to just make sure your dog is comfortable and as happy as they can be.
4. Clingy due to illness
5. Clingy due to life changes
Some dogs get very stressed out during big life changes. An example of these life changes could be moving, a new partner or roommate, or maybe you got a new pet.
6. Clingy due to heat
Signs your dog is going into heat include: swollen vulva, bloody discharge, agitated or nervous, urinating more frequently, more clingy and protective of owner, licking genital area, and more receptive to male dogs.
7. Clingy due to human pregnancy
Why is my dog being clingy? 6 Causes
1. He's clingy because of anxiety or fear
2. He's clingy because of a threat
3. He's clingy because of boredom
4. He's clingy because he's missing you
5. He's clingy because of sickness or pain
6. She's is clingy because she's in heat or going into labor
Is it okay to stop my dog from being clingy?
A dog can be a certain amount of clingy before it becomes a problem. Of course, it's fine if they are around you and want attention, but if it's all the time it can be annoying. It's especially annoying if you can't leave the house without them freaking out. Of course it's okay to stop your dog from being clingy if it's becoming a problem.
Understanding the Clingy Nature of Dogs
The easiest way to understand a clingy dog is to relate them to a human. Just like people, dogs have anxiety and they need their comforts. Since dogs are dogs, they don't have many comforts and their owners (us) are their biggest comfort of all.
6 Solution to get your personal space back
1. Anxiety and fear: Learn what is making them anxious and change their environment. Or do training with whatever if making them fearful. If it's something like walking on a leash, all it takes is practice and lots of treats.
2. Threat/danger: If your dog thinks there is a threat or danger, assess the situation. Dogs can be much more intuitive than we are and there may actually be something dangerous about your situation. If everything is fine and your dog doesn't understand, just show them you are safe and that everything is okay.
3. Boredom: Dogs will follow their owners around a lot if they are bored. Get them some new toys, or try spending more time with them outside so they can get some energy out. Also look into getting them a friend, or setting up playdates with other dogs.
4. Missing you: If your dog misses you, try to set some time aside everyday to spend more time with them. Take them on a walk, just the two of you or cuddle with them at night while you watch a movie etc.
5. Illness: If your dog is displaying other symptoms of discomfort, they may be ill or in pain. Take your dog to the vet right away to get them checked out.
6. Heat or labor: If you have a pregnant dog, make sure you are ready for the birth of her puppies. Have a comfortable area set up for her labor. If she is in heat, spend time with her and make sure she is comfortable. Water is important in both scenarios.
Why Is My Dog So Clingy All of a Sudden?
1. You Changed Your Dog's Environment
2. Boredom
3. Your Dog Is Uneasy with Strangers
4. Dementia Is Setting In
5. Your Dog is in Heat
6. Your Dog Is Pregnant
7. It's a Health Symptom
8. Separation Anxiety
Should I Be Worried If My Dog Is Clingy?
If you've had a dog that was never clingy and is all of the sudden, it may be a nice change of pace. Those extra snuggles, extra kisses. However, there could be something else going on with the dog. Just like when we are sick, dogs like to be taken care of too if they aren't feeling well. It's important to look for other symptoms or take your dog to the vet to make sure everything is okay with your dog.
How to Stop a Dog From Being Clingy
1. Utilize Distraction
2. Get Him Outside
3. Get Your Dog Used to Different Movements
4. Give Your Dog His Own Space
Frequently Asked Questions About Clingy Dogs
Is it normal for a dog to be clingy?
It is normal for a dog to be clingy. Lots of dogs have the tendency to be clingy in general. However, if your dog wasn't clingy before and has other symptoms of pain or lethargy, they could have a medical problem and you should seek a vet right away.
Should I let my dog be clingy?
There really isn't any problem in letting your dog be clingy. Although, its best to make sure the separation anxiety doesn't get too bad so you can at least leave the house.
When should I worry about my clingy dog?
You should start to worry if they are exhibiting other strange behaviors or seem in pain.
10 Possible Reasons for Clingy Dog Behavior
#1. – Newfound Separation Anxiety
#2. – Physical Pain or Illness
#3 – . Unexpected Strangers
#4. – Routine Changes
#5. – Changing Family Dynamics
#6. – Clingy Due to Boredom
#7. – Labor Pains
#8. – Females in Heat
#9. – Human Pregnancy
#10. – Clingy Due to Canine Dementia
Why is my dog so clingy all of a sudden?
Clingy due to Separation anxiety
Clingy due to Encouraging the behavior
Something in its environment causing it to be fearful
Your dog has a clingy nature
Clingy due to Illness or injury
Clingy due to being bored
You started to be stressed
Things to consider about your dog being clingy
What else happened when your dog first started being clingy
What is different when your dog is not clingy
What to do about your dog being clingy suddenly
Avoid encouraging it
Limit reasons why it might be anxious
Positive reinforcement training
A clingy dog can be frustrating, but there is no need to panic. Look at all the reasons why your dog may be acting clingy to try and find the cause. It may be very simple, like making them more comfortable or spending more time with them, it could also be them trying to tell you something like they are in pain or they're bored.
References
https://www.ncbi.nlm.nih.gov/pmc/articles/PMC6857470/
https://www.ncbi.nlm.nih.gov/pmc/articles/PMC6943310/