We may earn commission from qualifying purchases at no extra cost to you.
Learn more
Are you looking for an energetic little dog that will be loyal to you and protective of his household? Look no further than the Ratshi Terrier. Also known as Ratshih or Rat Tzu, everyone that comes around this dog will fall in love. Although they are a relatively rare and unknown breed, they deserve a part in the spotlight. With their hybrid half being one of the most popular dogs in the world, a Shih Tzu, and their other half being an American Rat terrier, you get a very interesting combination.
Pros and cons of getting a Ratshi Terrier 
There are many wonderful things about this breed but also some traits to watch out for. The pros are that they are smart, good for people with small homes, easy to handle because of their small size, kind, and is very much attached to their owners. The problems that a lot of people face while getting a Ratshi Terrier is that they are not good around small children. They have a tendency to be unpredictable, and will nip and growl at people that are bothering them. However, they can grow out of this bad habit with proper training.  Some owners say they are hard to train, while others say that they are easy.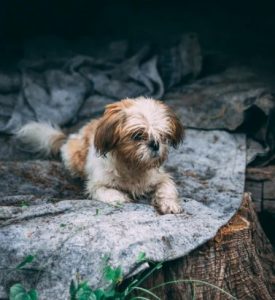 What makes the Ratshi Terrier such an awesome support animal? This breed may be small but they are quick to defend their owners around strangers.  They will always want to keep an eye on the owners that they love. When you go to one room, they will be there with you. If you are in the kitchen, they will follow you there. When you are relaxing on the couch, they will be snuggling up to you. They are the best for adults and senior because they adapt to calmer environments more quickly. This breed can also be good around families with multiple people, as long as they have space to be themselves.  Despite this, they have a good energy that will make everyone around them happy.
How can you decide if you are a good match for this breed? Because not every dog has the same personality, you will have to get to know each one individually. Generally, you are a good match if you are an individual, or have a small family. The Ratshi Terrier will need time to themselves a lot, especially when over stimulated. You will be a good match if you have 45 to 60 minutes a day to spare to exercising your dog. If you have other pets, consider the temperamental attitude of the Ratshi Terrier and decide if this is something you can work with, especially if you are a first-time small dog owner.
When it comes to sizes, the males usually stand about two inches taller than the female and can weigh five inches more. Be careful with puppies as they are fragile and can get injured when you are not careful enough. They will quickly grow up to be 8-12 inches tall and 10-20 pounds.
The Ratshi Terrier is not recognized by the ACK like the parent breeds are. This is because they are fairly new in the scene and are hybrid designer dogs. There are smaller organizations that recognize them and want to help them grow in popularity. The ones who see them as a real breed are the American Canine Hybrid Club, Designer Dogs Kennel Club, Dog Registry of America, and International Designer Canine Registry.
Rat Tzu Terrier Origins
Not all of the Ratshi Terriers characteristics will be 50-50 of each parent breed. To figure out the personality type and looks of the dog, you have look at the way the parent breeds are and know that no two puppies will look and act the same. Some predictable traits include the fight and stubbornness of the Rat Terrier, yet the sweetness and loving personality of the Shih Tzu. Traits that would come out differently each time would be the fir length and color combination.     
As the Shih Tzu is one of the most popular dogs in the world. They usually end up only 8-11 inches tall and weigh 9-16 pounds There is no doubt that the parent breed has been loved by centuries, as they have been known to have history in Tibet, and was a very prized dog in China. Despite this they were fairly unknown to the world until the 1920s and became recognized by the AKC in 1969. They are known to be companion animals and are wonderful house pets, even wonderful with young children. Very non aggressive, this long-haired dog has a very sweet and loving personality, it's no wonder where the Ratshi Terrier gets its loving heart from! The Shih Tzus have very long fir and require a lot of grooming.
The American Rat Terrier is a dog very well known for hunting. They are generally small dogs also, with 3 sizes and doesn't usually get taller than 18 inches and can weigh 25 pounds. Because of their muscles, quickness and keen sense of smell, they started out being breed to kill rats. Where there was a rodent infestation, they would be able to take care of the problem on farms and in buildings. President Theodore Roosevelt even gave them their title after his terrier took care of the infestation at the white house.  They were recognized by the AKC in 2013. The Rat Terrier loves to go and be free, so they can be hard to control and contain. Despite being a work dog, they are very friendly toward humans and will be loyal and protect his family at all costs. The American rat terrier has short fir and longer legs.
Grooming requirements
The Ratshi has long fir that was inherited from the Shih Tzu. Some parts of the breeds body have where the fir is longer than other parts, for example the face, tail and feet. This will depend on the specific Ratshi that you get. One good part about this breed is that they are hypoallergenic. So, people will allergies will need not to worry about this detail.
For extra care in order to keep their fir smooth and easier to brush through, use a conditioning shampoo. Daily brushing with a stiff bristle brush, and stainless-steel comb might be necessary to keep the dust and dirt off. Get a nail clipper specifically made for dogs, and make sure that their nails will be clipped regularly, as it causes discomfort when it gets too long and can dig into the pads on their feet.
Common health problems
The Rat Tzu is a generally healthy breed that has health problems that occur later on in life. It is very important to watch out for signs of Hip and Elbow dysplasia, which can also depend on genetics and a poor diet that will affect the bone density. This is a very painful condition where the joint sockets go out of place. The signs to look for include Limping, difficulty getting up, pain while jumping, and loss of muscle mass.
Small dogs like this one may have shortened noses, which means the possibility of Brachycephalic Syndrome. This syndrome causes breathing issues as it restricts air flow into the airways. Other conditions this hybrid might inherit from the parent breeds are patellar luxation and canine disc disease. Make sure to take them to the veterinarian often to keep any problems or issues in check. Especially if you see signs or symptoms, get them helped immediately. Small problems you might come across are allergies and cherry eye.
Spaying and neutering your pets are a very important detail to keep in mind. There are millions of dogs that have to be put down by shelters because there are not enough families and people to love them. For designer dogs like the Ratshi, it is important to leave the breeding up to specialized breeders unless you decide to start breeding them specifically yourself. For males, neutering them helps them be less aggressive towards you and your family. It makes them happier and healthier because they are not focused on escaping and looking for a mate. The best time to take them to do this procedure is between four and nine months. The sooner you do it, the better. It is also painless for them because they get medicine preventing them from feeling the pain. Afterword they will require a couple days of resting to recover before they can be their energetic selves again.

Training your Ratshi Terrier
Although this breed has been known to be difficult to housebreak and potty train, it's all possible with constant practice and to keep on them at all times. Despite having trouble around children and other pets, by training them from a young age not to snap and bite is very possible. If you happen to get your Ratshi terrier as an adult dog, these tendencies are harder to grow out of, but it will be very worth it.
A tip on potty training would be to catch them in the act. To be able to teach them between right and wrong, you have to catch them when they are going inside of the house so that they can connect their behavior to your reactions. To prevent accidents in the middle of the night, it would be a good idea to withhold water before bedtime and pay attention to mealtimes. Stay consistent and know that accidents can happen if they are anxious or sick. Puppy Pads are useful tools to use inside of the house as they do not leak. Overall, the Ratshi Terrier is very eager to make you happy, so eventually they will get it right.
Ratshi Terriers can enjoy a variety of exercises. They are not too demanding but they need to be able to run free to prevent boredom. Because of the terrier side they need more exercise. Just 45-60 minutes a day will be sufficient. Take walks with them, go hiking, go playing in the park, play fetch with them. You can even go ahead and teach them to do tricks and teach them commands as they are intelligent and will catch on fast.
They can be good pets for seniors, because they can be easy to exercise if you have a big yard or even an apartment, since they have such a small size.   They could spend hours outside if it is warm, as they do not like cold weather. Provide toys when you will be gone for a long time so that they can have some fun, and make sure important items in your house are protected, so that they don't become toys! Or have friends and family members check up on them.
Ratshi Terrier Diet
The Ratshi Terrier only requires one cup of food a day. The recommended dose is half of a cup in the morning and half of a cup in the evening.  Overall, throughout the month they will cost about 20-30 dollars to feed. Since they don't have any special diet requirements, the best way to go is to feed them high quality food without the fillers. The first ingredient in the kibble or wet food should be meat, not corn. There are specific food brands that cater to small dogs like the Ratshi, since their nutritional needs are different to big dogs.  There are multiple ways to buy dog food. You can find them at the pet store and at grocery stores. Another way is to buy online, as there are special websites that has many varieties of specialized dog food to fit the needs of your dog.
It is very important not to over feed as small dogs are prone to obesity. Like humans, they have to be able to burn off the energy, or food you give them.  Very much like the Rat Terrier who are known to be huge eaters, the Ratshi will also overeat if you let them. Closely monitor their food intake.  Depending on activity level they can be fed more than less. Adult dogs that are active will require more food than a senior dog that doesn't move around so much.

Where to buy
There are two things you have to look for when buying a Ratshi terrier. Where you are buying, and the price. This breed goes high priced, about $800 for one! If you are wondering why they are so expensive, you have to remember about the very much prized Shih Tzu who goes for over $1000 dollars. Despite being such a small dog, this is how much money each breeder puts into receiving and caring to breed the Ratshi Terrier. If you find one being sold for cheaper, its likely to be not as authentic as they say it is.
If you really want to adopt one of these special breeds, you may have to travel far to find one. They are very uncommon and not many people know they exist. You may be able to find puppies for sale through online market places, or people you know. When you do find a breeder, make sure you are getting healthy puppies. It is very easy to get scammed. Since dog mills are common you have to make sure you are not adopting from a pet store. Instead, find a nice family or adoption agency that takes care of animals instead of abusing them.
Are you having trouble coming up with a name for your new best friend? Choose a name that you wouldn't mind saying over and over again. Watch out for fast fading trends that you would be bored with 10 years down the line. And choose a name that is special and important to you. Each dog has his own personality, so it is a good idea to watch yours closely to make sure you get the perfect name to really fit. Short and simple names are the way to go. The Ratshi Terrier, like most dogs, can learn their name and respond to them.
Conclusion
This American Rat Terrier and Shih Tzu mix is a fun loving, energetic, playful and loving dog that has a tendency to get emotional. Be careful and train them well to be around young children so that they do not cause injury. This furry friend will light up your life in multiple ways. It doesn't matter if you are young or old, the tiny Ratshi Terrier is easy to take care of and can fit in small houses. They will need space to play, and will cuddle and rest with their humans. Make sure to choose the breeder carefully. Keep them well-groomed and clean. This breed will guaranteed be your best friend for years to come!