I don't know about you, but when I wash my dog I always get drenched anyway, so why not take a shower with your dog? You save both your precious time and water!
Can I Shower With My Dog?
As a general conclusion, you can 100% shower with your dog. It is just as natural as a parent showering with their toddler and makes cleaning so much easier. It's your dog, so please Don't listen to anyone who judges you! Or says otherwise.
How To Wash A Dog In The Shower
Washing your dog in the shower is pretty much just like washing them anywhere else.
You are going to want to first get them wet in lukewarm water (not too hot!) and rub in their dog shampoo well into their fur and skin and then thoroughly rinse it out, leaving no suds behind.
After that, if your dog gets matted very easily, you can spray them with a detangling spray and brush out the fur while still in the shower.
If not just continue your shower regularly ( just make sure you let the dog out if you want to turn up the temperature).
In order to not soak your whole house after, you can either blow-dry your dog on a cool setting or quickly towel dry them and let them air dry the rest of the way.
Why Does My Dog Jump In The Shower With Me?
Dogs can be a lot like children, they like to interrupt your alone time any way they can, but this is just because they want to spend time with you!
When your dog tries to get in the shower with you, it's because they have to wait for you to come out every time you go for a shower and they miss you.
They also enjoy the warm water and steam, just like we do.
Is It Ok To Bathe With My Dog In The Shower?
It is perfectly fine to let your dog bathe with you.
To keep them safe just make sure you don't turn the water up too high and make sure they are able to leave if they need to.
Can You Bathe A Puppy In The Shower With Me?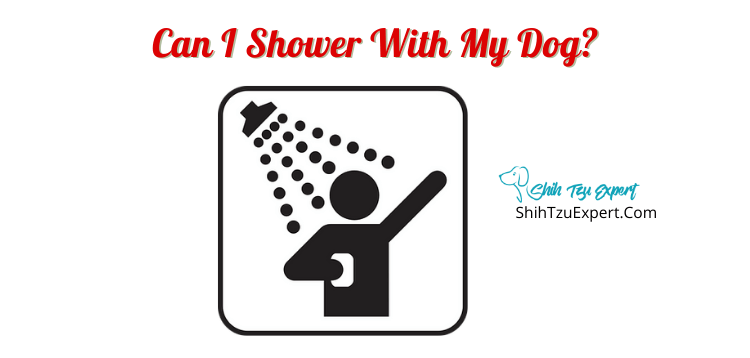 This depends on how old your puppy is. If your puppy is between 0-4 weeks old then it is recommended to not bathe them at all, as they can't regulate their body temperature.
Even if your puppy is older than four weeks old you should be very careful about what temperature you keep the water at. Be sure to keep the water between 97-100°F
Once they reach around 3 months old you can bathe them like you would a normal adult dog.
How Weird Is It To Shower With My Dog? >> Not Weird At All!
Showering with your dog is the exact same as a parent showering with their toddler, it's totally normal and way more convenient than showering separately.
The only people who would think this is weird are those who are unlucky enough to have never owned a dog.
Is It Safe And Clean To Shower With My Dog? Yes!
Absolutely, if a shower is fine to wash the dirt off of you, why would it be any different for your dog? You may have a little bit more hair to clean after though.
Assuming that you wash your shower regularly already, you won't really have to change much about how you clean just because your dog is being washed there too.
Dirt is dirt no matter who it comes on!
Is It Okay To Take A Bath With Your Dog Without Clothes?
It can feel a little weird to be around anyone naked, even animals. However, I can assure you, they do not care about whether or not you are wearing clothes.
Dogs are just like children in the fact that being naked means nothing to them as societal norms that they aren't aware of are the only things making it taboo.
If you think about it, dogs are actually naked all of the time!
Is It Okay To Take A Bath With Your Dog With Clothes?
As long as you are fine with getting them wet, taking a bath with your clothes on is completely fine, the only risk you have is feeling a little silly!
If you are going to wear clothes it would be best to wear shorts so you can stand in the water without getting completely soaked.
Can My Dog Chill In The Bathroom With Me During A Shower?
Having your dog chill in the bathroom while you are showering is great for dogs who have separation anxiety or are just clingy, it's also just nice to have the company sometimes.
Just be warned that if they get in the water unintentionally that you will have to dry them afterwards and you could possibly get your house soaked in the process.
Dog Makes It Near Impossible To Shower Him With Me?
Unfortunately, there are lots of dogs who hate being bathed, there are some ways you can help them feel more comfortable though.
One thing I have found is that if a dog doesn't like being bathed, the water may be too warm or too cold, make sure it is lukewarm or just a little bit warmer than body temperature.
You can also try giving your dog treats sporadically throughout the bathing process as opposed to just at the end, they may be more inclined to be on their best behaviour this way.
All in all, if your dog doesn't like showering with you, just try to make it as quick as possible for them.
Quick And Easy Tips For Washing My Dog In The Shower
Usually, when we wash our dogs we are trying to get through it as quickly as possible both for them and for us.
Here are some tips to help speed things along a little bit and make it more comfortable for both you and your dog:
Get a mat for your shower so you aren't slipping and sliding all over the place.
Keep all the products you need for your dog in the shower.
Have an extra towel or two at the ready as they get soaked through quite quickly
Have hypoallergenic wipes for cleaning their face as it can be difficult to do without hurting them with soap in their eye.
Play music!
How To Get The Shower Temperature Right?
The exact temperature your shower is when bathing your dog isn't really what is important (although if you would like to know you can always use a thermometer).
What's important is that the water is a comfortable temperature that won't burn your dog or cause them to be too warm, or end up with them shivering.
The best test to do is to run your hand under the water, it should feel slightly warm, as you are shooting for around or just above body temperature.
Anything warmer than just slightly warmer than your hand is too hot and anything that feels cool or cold is too cold.
What Are The Mistakes To Avoid When Showering With Your Dog?
The biggest mistake you can make while showering with your dog is doing anything that will make it harder to do the next time.
So for example, if you accidentally get soap in your dog's eye, they will probably be far more reluctant to even get close to the shower the next time you want to clean them.
The same thing goes for if you have the water too hot or too cold, anything that makes them uncomfortable will ensure they put up a fight when you next bathe them.
Pros And Cons Of Showering With My Dog
Pros:
Efficient use of your time by getting both you and your dog clean at once.
Using less water not only drives down your water bill but helps the environment.
Cleaning your shower stays almost the same as opposed to having to specifically clean where you would wash your dog otherwise.
Makes it much easier to keep on top of your dog's grooming schedule.
Using the lower temperature needed for your dog is very good for your skin and nails.
Makes cleaning time a lot more fun and is a bonding experience for you and your dog.
Cons:
You will have to pick up extra hair after the shower.
If you forget to pick up the extra shed hair from your dog it can clog your drain, which can be a pain to unclog.
You can't have the water temperature very high, which can be annoying if you like hot showers.
Is Showering With My Dog The Best Way To Wash It?
The thing is, there is no "best" way to wash your dog, someways might be more effective but they're not very useful if they are so energy and time-intensive that you never do them.
Showering with your dog while washing them is almost a guarantee that you will be able to keep up with their grooming schedule.
Using shower time to wash your dog will 100% get them squeaky clean and stop them from stinking up the place.
Can You Shower A Dog With Human Shampoo
The short answer is no, you can not wash your dog with human shampoo. It can itchiness and flakiness as well as leaving the door wide open for infections and parasites.
This is because a dog's skin has a different ph balance than ours does, humans have a ph balance of 5.5 – 5.6 whereas dogs have a ph balance of 6.2 – 7.4.
Our products are developed to cater to our skin's needs just as dogs products are catered to their needs, using a shampoo that isn't designed for your skin can be very harmful.
Can I Use Shower Gel On My Dog
If human shampoo is a no-no for washing your dog then shower gel is an even bigger no-no. Shower gel tends to be made with slightly rougher ingredients than shampoo.
This means that using human shower gel on your dogs will almost definitely cause skin irritation and issues for your dog.
What Can I Use To Wash My Dog
There are so many great dog shampoo options that it doesn't really matter what your dog's needs are, you can find a great shampoo that is just right for them.
For example, if you have a dog with dry, itchy skin getting a moisturizing dog shampoo that doesn't contain fragrance will really help soothe that irritated skin.
If you have a younger dog, it is best to get a shampoo specifically formulated for puppies as they are made to be less harsh and their delicate skin.
For all the clumsy folk out there, a great option would be a tearless shampoo that won't hurt your dog if a little gets in their eyes.
If you look around a little you absolutely find a dog shampoo that perfectly suits your needs.
Can I Bathe My Dog At Night
Absolutely! Time of day has no effect on bathing, it is best though to not wake them up for a bath if they have already fallen asleep or you can mess up their sleep cycle.
It also probably shouldn't be done if it is cold at night where you live and you are planning to let them out to use the bathroom anytime after their bath.
Can I Use Baby Shampoo On My Dog [Or Is It Better To Use Dog Shampoo]?
While it is still recommended that you use dog shampoo, you actually can use baby shampoo to wash your dog as it is much more gentle than regular human shampoo.
Why Is The "Shower Your Dog Biweekly" Rule So Confusing? >> Biweekly Can Mean "Twice In A Week" Or "Every Other Week."
When talking about bathing dogs the rule means bathe them every other week, the problem is that no dog s the same and you should be deciding how often your dog is bathed.
As long as you are using a shampoo that is right for your dog there isn't really any problem with washing them quite frequently or waiting a while.
So if your dog isn't very smelly or in need of a wash, you can wait upwards of three months before bathing them.
How Often Should I Shower My Dog?
Realistically anywhere between once every week to once every 3 months will be fine for most dogs.
If you are unsure of what your dog in particular needs, ask your vet during your dog's next check-up.
How To Clean Your Dog Between Showers?
If your dog rolls around in mud or gets in the garbage in-between when you would usually shower them you have two options as to what to do.
Option number one: Bite the bullet and give them another shower, this can be a pain in the neck but could be the best option depending on their situation.
Option number 2: Wipe them down with a baby wipe as best you can to hold them over until their next shower day, just make sure it's a baby wipe for sensitive skin.
What Happens If A Dog Is Showered Too Often?
Just like us, dogs have natural oils in tier skin that protect and moisturise them and showering too often can strip the skin of these oils.
You have to shower them very frequently (5-7 times a week) for this to become a problem but it definitely can.
If this happens, your dog can develop irritated and dry skin, which can result in skin infections.
References: