Taking a dog outside during a thunderstorm is a dangerous activity. Spending time outdoors can put a dog and its owner at high risk of death from a lightning strike.
Can I Take Dog Out During Thunderstorm?
Dogs should not be outside during a thunderstorm because they have a high risk of death from a lightning strike. Many dogs are also afraid of storms and their anxiety can lead them to injure themselves. Dog owners should be prepared to manage their dog's fear and provide comfort during a thunderstorm.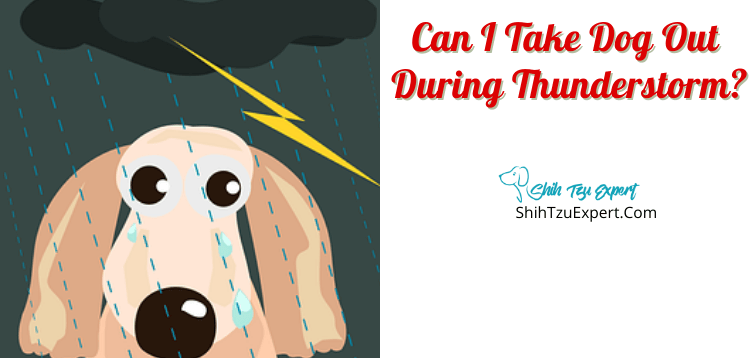 How Dangerous Is It To Take A Dog Outside During A Thunderstorm?
Whether you are a dog or a human, going outside immediately before or during a thunderstorm is a dangerous activity. Lightning can strike at any time with no warning, even miles away from the storm. Dogs that are struck by lightning usually die instantly.
While the statistics for lightning strikes on dogs are virtually nonexistent, dogs do succumb to lightning strikes every year. Dogs left chained up in an open backyard or left outside to run around in a fenced backyard are both at risk of being struck by lightning.
Dogs that seek shelter in a doghouse or under a tree are at an even higher risk of suffering from a lightning strike.
Dog owners that decide to take their dogs outside during a thunderstorm put both themselves and their dogs at risk from lightning strikes. If the owner is struck by lightning while walking their dog, while that injury may not necessarily be fatal for the owner, it would be fatal for the dog.
Why You Should Never Take A Dog Out During A Thunderstorm?
1. Fear of Noises in Dogs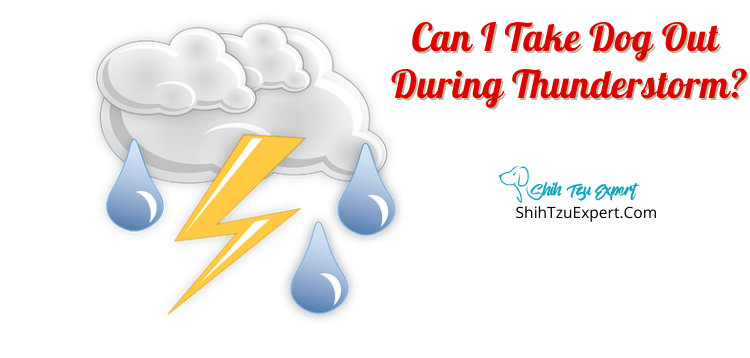 Loud, sudden noises like those heard from thunder or fireworks can often be scary for dogs. This is usually referred to as noise phobia and it is very common in dogs. Dogs that are frightened by loud noises may seek to escape the noise by any means necessary.
Dogs have been known to injure themselves without thought when they try to escape loud noises.
A noise phobia can look like a thunderstorm phobia. During thunderstorms, the sound of thunder can be so loud that it shakes buildings. The violent sound of thunder can be pretty scary for humans, but for dogs, it can be downright terrifying.
Owners need to be aware of how their dogs feel and react to thunderstorms and take steps to protect them as much as possible.
2. Guide to Keeping Dogs Safe During Thunderstorms
Thunderstorms are dangerous for dogs in a couple of different ways. First, lightning can strike several miles away from the thunderstorm, even under clear, blue skies. If you know a thunderstorm is coming, put your dog into a secure location. Do not leave them chained up outside.
Second, many dogs are frightened by storms. Some dogs are so scared during storms that they will hurt themselves trying to escape from it. The dogs that do manage to escape from their homes during thunderstorms are sometimes found. All too often, many dogs are never returned to their owners.
3. Thunderstorms Can Cause Severe Anxiety in Dogs
Thunderstorms can cause anxiety in dogs. Dogs can sense a thunderstorm building and that anticipation can build up and manifest in abnormal behaviors. One theory suggests that dogs may feel painful shocks from the static electricity buildup that precedes storms, causing them to exhibit these abnormal behaviors.
Whether it's the change in barometric pressure, sound of the wind, detection of distant thunder outside of human hearing, or buildup of static electricity, dogs know when a thunderstorm is coming and they can become anxious.
Stress and anxiety in dogs can cause normally well-behaved dogs to turn into a destructive force. Dogs that are severely phobic of thunderstorms may break a window to escape, scratch through walls or doors, chew on furniture and rugs, or destroy property in their quest to find a safe space.
Can A Dog Go Potty Outside During Thunderstorm [What Are The Alternatives]?
When a thunderstorm occurs, dogs should not go outside to use the bathroom. Luckily, there are alternatives to taking a dog outside to do their business.
First, find a safe, indoor location for your dog to use during the storm. This location could be a garage, bathtub, bathroom floor, kitchen floor, a small kiddie pool, a dog crate, or a portable bathroom designed for dogs.
Second, find materials that can be used to simulate the bathroom outside – fake grass, real grass (sod), newspaper, or absorbent pads for pets.
Third, train the dog to use the indoor potty area before a thunderstorm occurs. Your dog may be reluctant to use the bathroom indoors. Mimic the same cues indoors that you would use outdoors so that your dog understands what you expect.
Owners need to plan ahead so they are prepared for thunderstorms, especially if they live in a location where thunderstorms occur frequently.
What Do You Do For A Dog During A Thunderstorm?
Be patient with your dog during thunderstorms. Understand that their fear is a real thing. Dogs with a thunderstorm phobia can be stressed and anxious before and during the storm. Owners can calm their dogs by using some coping techniques or tools to help.
Give your dog a safe place to hide. A crate or under a bed are examples of places where a dog might feel safe. Learn where your dog's safe space is located.
Buy a snug shirt or compression garment that your dog can wear during the storm, such as a Thundershirt. This piece of clothing simulates swaddling in infants and can provide comfort to anxious dogs.
Put an anti-static jacket on your dog to see if their fear comes from the feeling of static electricity building up in the atmosphere and giving them small shocks.
Turn on the TV, play music or white noise, vaccuum the house – these are all noises that can distract your dog from the sounds of the storm.
Talk to your vet about anti-anxiety medication. These medications are safe and effective and could provide relief to your stressed and anxious dog.
It may be possible for dog owners to desensitize their dog from their fear of thunderstorms. Playing a video or listening to the sounds of a thunderstorm during a controlled simulation can help a dog better manage its fear during the real event. Use treats to reinforce the behaviors you want to see during these simulations.
A new dog owner may not know how to best help their dog at first. Learning and understanding your dog can take time. With care and dedication, your bond with your dog can deepen as you learn to take care of it and it learns to trust you.
How Do Thunderstorms Affect Dogs?
It is important for a dog owner to understand how thunderstorms affect their dog. Knowing that information will provide dog owners with the ability to keep their dogs safe during these events.
Some dogs are very scared of thunderstorms. That fear can cause dogs to display bad behavior that they might not display normally. Some of those behaviors may include:
Pacing excessively
Barking more
Trembling
Yawning
Drinking excessively
Hiding
Clinging to owner
Chewing on furniture
Clawing walls or doors
Breaking things
Dog owners should be aware of the symptoms of anxiety caused by fear in their dogs and be prepared to help their dog manage that anxiety.
Talk to your vet if you think your dog's anxiety is too intense.
Why Are Dogs Scared Of Thunderstorms?
Many dogs suffer from a fear of thunderstorms. Their fear could be a simple noise phobia or it could be more complex. The reasons why some dogs are afraid are not well understood by veterinarians.
Dogs have a very keen senses of smell and hearing.
They may be highly attuned to the atmospheric changes that occur leading up to the storm. It is quite possible that dogs can sense the storm in a way that humans cannot. They may feel an increase in static electricity buildup if they have a thick coat of fur. A dog's fear may manifest before its owner is even aware of an approaching storm.
Dogs that are especially sensitive to loud noises or have a nervous nature might be particularly affected by thunderstorms.
Loud and unexpected noises can be scary for dogs, just like they can be scary for humans. Dogs cannot predict when the loud noises from thunder will occur and it takes them by surprise. They also may not understand why the loud noises are happening.
When dogs do not understand what is happening around them, they may become scared and eventually develop a phobia.
How To Calm Down Your Pet During Thunderstorms?
Owners can help their pets remain calm during a thunderstorm. These coping mechanisms can help dogs get through the storm without injuring themselves.
Hug or pet your dog. Hold your dog close to your body so that they can cuddle with you.
Remain calm throughout the storm. A dog can sense its owner's anxiety or fear and that can intensify its own fear and anxiety.
Provide your dog with comfort items. These items could be things like a stuffed toy for cuddling, a special blanket, or a pillow.
Play with your dog or do something that your dog likes to do during the storm. A distraction from the storm can help your dog manage its anxiety.
Give your dog a treat as a reward for remaining calm. Every time it remains calm during a loud boom of thunder, encourage that good behavior by giving the dog a treat.
Dog owners should make sure they have everything they need before a thunderstorm occurs. Keeping your dog safely inside and calm by being prepared for a thunderstorm is important.
References
"5 Tips to Calm Your Dog During a Storm." April 23, 2019. The Parc. https://theparcvet.com/blog/5-tips-calm-your-dog-during-storm
Admin. "Where to Let your Dog 'Go Potty' During a Hurricane." December 16, 2018. True Emergency.com. https://trueemergency.com/dog-bathroom-during-a-hurricane/
Janzen, Eugene. "Lightning Stroke and Electrocution in Animals." October 2020. MSD Veterinary Manual. https://www.msdvetmanual.com/generalized-conditions/lightning-stroke-and-electrocution/lightning-stroke-and-electrocution-in-animals
Langley, Liz. "Why Your Dog Freaks Out During Thunderstorms—And What to Do." April 27, 2018. National Geographic Society. https://www.nationalgeographic.com/animals/article/animals-pets-summer-storms-weather
Sashin, Daphne. "When Your Dog Is Afraid of Storms." June 8, 2012. WebMD, LLC. https://pets.webmd.com/dogs/features/dog-storm-phobia#1
Tudor, Ken. "Thunder and Lightning Safety for Your Pet." June 20, 2014. Pet MD. https://www.petmd.com/blogs/thedailyvet/ken-tudor/2014/june/thunder-and-lightning-safety-your-pet-31806
Vets Now Team Member. "What should I do if my dog is electrocuted?" November 20, 2020. Vets Now Emergency Limited. https://www.vets-now.com/pet-care-advice/my-dog-has-been-electrocuted/