It is so exciting when you know your dog is pregnant with puppies! If this is your first experience with a dog pregnancy, you probably have a lot of questions. In this article, we will explore all about how you can tell your dog is pregnant and what to expect.
Can Puppies Hide In The Rib Cage
It's hard enough to tell when your dog is pregnant at first. Even with ultrasounds and X-rays, you might not always get a 100% accurate answer on how many puppies are in the dog's womb. Don't be surprised if you were expecting six puppies but seven came out instead. They were just hiding high up in the womb near the rib cage!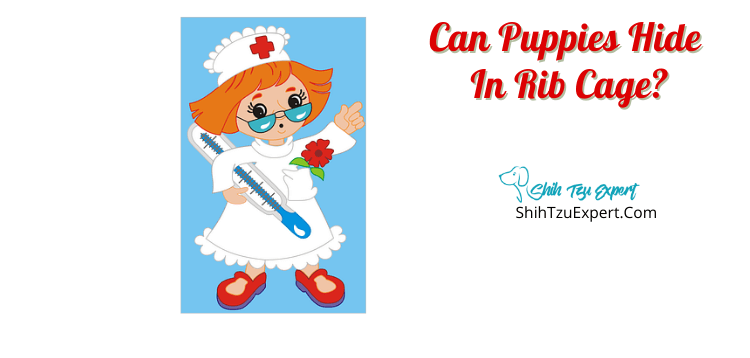 Pregnant Dog Carrying Puppies High Up In Rib Cage?
Your pregnant dog can carry its puppies high up in the womb, but it's not in the rib cage.
This can happen if the litter is small. The uterus in a dog is Y-shaped and the pups are located in the top portion of the uterus. When you take your dog to the vet, they should be able to feel the puppies. They can also confirm how many puppies there are with X-rays.
Is It Abnormal To Carry Puppies In Rib Cage?
Just to be clear, the fetuses grow inside their mom's uterus. As time goes on during the pregnancy, the uterus expands so puppies in the uterus might be close to the stomach or rib cage. Your dog might not even show signs they are pregnant until well over a month into the pregnancy. It is not uncommon to take your dog to the vet for a scan and to not see all of the puppies. Be prepared for the possibility of more dogs than expected when your dog is ready to give birth.
When Do Puppies Drop In To The Womb?
Puppies don't drop into the womb, they are there from the beginning of the process until birth.
The overall pregnancy for a dog is about nine weeks long. The process starts in the womb once there is a fertilized egg. Once again, puppies can only grow inside their mother's uterus. So even though it may appear they are hidden near the rib cage, they are still inside the womb.
Can A Scan Miss Puppies?
Yes!
When the vet performs an ultrasound, they are looking for heartbeats. If it is too early in the pregnancy and it is a large litter, the vet will have trouble identifying every heartbeat. Sometimes puppies are hidden behind other puppies and it is hard to distinguish the number of puppies in the womb.
Ultrasounds are mostly accurate after 28 days into the pregnancy.
Where Does A Dog Normally Carry Her Puppies?
The pregnancy of a dog is like every other pregnancy for mammals.Think about a pregnant woman. She carries the fetus in her uterus. In this case, the puppies grow inside the mother's uterus. Yes, you will even see your pregnant dog's belly get bigger.
When Can You See Puppies Move In Belly?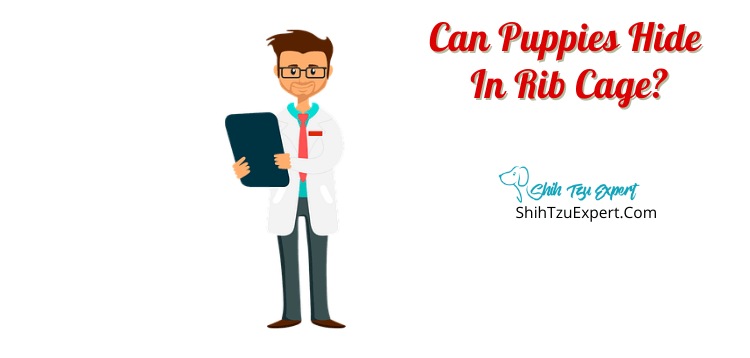 Don't expect to notice any puppies moving for the first six weeks of the pregnancy. This makes it even harder to tell if your dog is pregnant in the first place. The fetuses are too small up until this point which is why you won't notice them. After six weeks, the puppies are big enough for you to feel. Definitely by week seven you will see the puppies moving inside the mother's belly.
When Can You See Puppies On X-ray?
X-rays are useful to show you how many puppies are in the womb, but you won't be able to see any puppies until at least day 45. X-rays are usually accurate which can help you know how many puppies to expect during birth. You can also use X-rays to make sure all the puppies inside the womb are out and none are hiding.
What's The Longest A Dog Can Be Pregnant?
Most dogs are pregnant for about 63 days. Once it reaches 70 days, that is when you should contact your vet. It doesn't necessarily mean there is something wrong, but it could be a sign of trouble. It could mean the puppies are stillborn or almost dead. The mom could be in distress. It is not normal for the pregnancy to be longer than 65 days.
If you feel it is well past when your dog should have given birth, reach out to your vet.
Can Ultrasound Show How Many Puppies Are There?
Sort of. Ultrasounds are useful just to confirm a dog's pregnancy. The problem is you most likely won't get an accurate number from an ultrasound. One puppy could be hiding and you won't be able to tell. That is why if you want an accurate number, get an X-ray. You can certainly get a rough estimate of how many pups are in the womb, but ultrasounds are rather ineffective in counting the actual number of puppies.
How Do You Count Puppies On An X-ray?
When looking at an X-ray, you're looking at the skeletal structure of the puppies. So you can count the skulls of each puppy and then count how many spines you see. This way you can see if the numbers match up.
Can Dogs Hide Pregnancy?
Yes.
In fact, most dogs won't show any signs they are pregnant for the first few weeks. Dogs are only pregnant for about two months to begin with. Some dogs won't get a big belly which is a clear sign they are pregnant. She could have a smaller litter than other dogs. You can look for other signs of pregnancy though such as weight gain and change in their nipples. If you aren't sure if your dog is pregnant, take them to the vet so they can perform an ultrasound.
My Dog Didn't Look Pregnant But Had Puppies
It's similar to humans. Some women show when they are pregnant and some don't get that big belly. With dogs, they won't even show for the first few weeks anyway. The pregnancy is not that long and if your dog doesn't have that big belly, it's not a surprise that you couldn't tell she was pregnant.
How Can I Feel Puppies Inside My Dog?
When your dog is lying down on her side, you will probably be able to see the puppies move around. Take your hand and with an open palm gently place your hand on the dog's belly. Try to be very gentle and use light pressure.
Remember, you won't even see the puppies moving until at least the sixth week.
What Is The Best Way To Find Out If Your Dog Is Pregnant?
It can be really difficult to find out if your dog is pregnant, especially if it is in the first three weeks of the pregnancy. Go to your vet where they can perform a canine pregnancy test. This test measures hormone levels starting from at least three weeks into the pregnancy. You should also have the ultrasound performed which can also confirm or deny a pregnancy. The problem is once again you can't really rely on that test until at least a few weeks into the pregnancy.
References
How to Tell If Your Dog Is Pregnant | HowStuffWorks
Breeding for Pet Owners – Whelping in Dogs | VCA Animal Hospital (vcahospitals.com)