Dog Hates Gentle Leader?
If your dog is not getting comfortable with the Gentle Leader, you may need to find a new training tool for them to practice. Some dogs learn quickly with the Gentle Leader, while others may never get comfortable with it.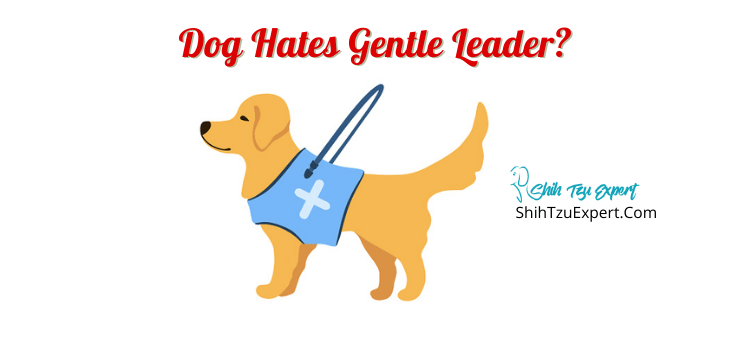 Why Do Some Dogs Dislike Gentle Leader?
Most dogs dislike Gentle Leader because it is not worn correctly or fits incorrectly.
Before purchasing a Gentle Leader for your dog, you want to ensure that you have purchased the correct size. If you have the right size, it should fit properly, but if it still seems too loose or too snug, you may need to buy a different size.
How Do I Get My Dog To Like A Gentle Leader?
Here are some simple steps to get your dog to like the Gentle Leader:
Put Gentle Leader muzzle loop on loosely
Remain calm and quiet
Feed your dog treats while they wear it
Keep it on for about 10 – 15 seconds at first, then longer and longer each time after that.
Your dog may not like the Gentle Leader, but they will become more comfortable and wear it with ease.
Do Some Dogs Like Gentle Leader?
Some dogs do not like to have anything on their face, but as long as your dog is not opposed to having things on their face, they could like Gentle Leader.
It does not cause pain, discomfort, or have any sharp prongs, so dogs can learn to like the Gentle Leader.
What Is Gentle Leader?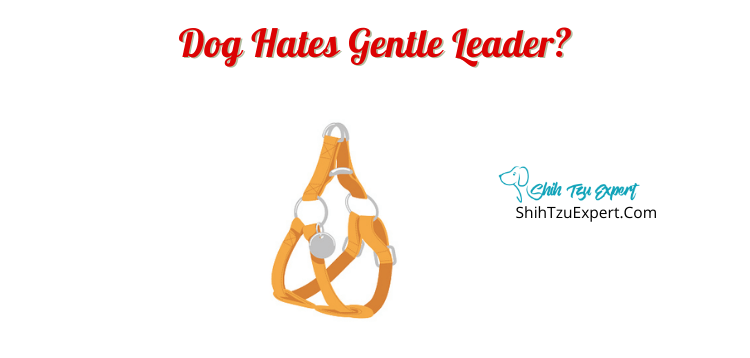 Gentle Leader is a headcollar that is a no-pull solution to help your dog improve their leash manners.
It gently moves your dog's head and body back towards you to refocus the dog's attention back to you.
Is Gentle Leader Safe For Dogs?
Generally, Gentle Leaders are not cruel. As long as it is used correctly, nothing can cause pain or hurt the dog.
Some people believe they are unsafe because they cause more stress for the dog, but dogs can become comfortable and not stressed when wearing them.
How To Put On Gentle Leader Harness?
The steps to putting on the Gentle Leader are:
Identify the straps
Open the strap
Hold one end in each hand (nose loop hanging down in T shape)
Position neck strap as high as it goes behind the ears
Gently pull extra skin or coat out of the way
Remove head collar neck strap and fit nose loop
Pull nose loop through the center ring
Fit around the muzzle of the dog (treats are helpful in this step)
Make final adjustments
You want the harness to fit snug so that dog can't pull out of it.
Gentle Leader Vs Harnes
When used correctly, both the Gentle Leader and a harness are practical tools, but depending on what type of training you are working on will determine which to use.
The Gentle Leader is used to keep your dog focused on you and stop pulling, while a harness is suitable for training your dog to stop pulling.
Why Is The Gentle Leader A Successful Tool For Dogs Who Pull?
A Gentle Leader is a successful tool for dogs who pull because it takes away distractions.
When the dog pulls on the leash, the nose loop redirects its head towards you to give you their full attention.
Will A Gentle Leader Stop Pulling?
A Gentle Leader can help tour dog stop pulling on the leash with enough time and practice.
Dogs learn quickly when you put the time in to train them. After enough practice, your dog will become used to walking without pulling because they will realize that it is easier to walk without pulling.
Why Do Some Dogs Still Pull With Gentle Leader?
Dogs like to lead, and pulling on the leash helps them keep showing, and the Gentle Leader can help manage the pulling.
If the Gentle Leader seems to not work on your dog, then you may not be using it enough, or you could be misusing it.
Some dogs may not learn with the Gentle Leader like others do too. They may need additional or alternative training techniques.
How Long Does It Take For Dog To Get Used To Gentle Leader?
Once your dog has gone through the desensitization process, it can take up to two weeks to get used to the Gentle Leader.
Dogs will try to paw, bite, wiggle, and gnaw at the Gentle Leader until they are comfortable wearing it.
Is The Gentle Leader Bad For Dogs?
The Gentle Leader should never hurt or be bad for your dog as long as it is used properly.
It is not like other training tools that inflict pain or harm to train. They automatically turn your dog's head without you needing to pull or tug on it.
Why Do Service Dogs Wear Gentle Leaders?
Just like standard training for dogs, service dogs need to be taught to walk on a leash as well.
Service dogs need to be trained more than the average dog, and using the Gentle Leader helps the dog stay calm while learning to walk on the leash.
How Do I Get My Dog To Stop Pawing At The Gentle Leader?
Some tips to stop your dog from pawing at your Gentle Leader are:
● Let them sniff it before putting it on
● Keep them moving
● Reward good behavior
● Do not remove Gentle Leader while they are pawing at it
The most important tip is to make sure the dog is comfortable at all times. If they feel uncomfortable, they will never stop pawing at the Gentle Leader.
Does Gentle Leader Help With Barking?
The Gentle Leader can help with excessive barking by correcting the dog's behavior away from whatever is making them bark.
When wearing the Gentle Leader, your dog cannot get as excited and exert too much energy. They are forced to stay calm and focus on what's important.
Are "Gentle Leader" Dog Collars Effective With Aggressive Dogs?
Gentle Leaders are highly recommended by veterinarians when managing an aggressive dog.
The Gentle Leader, along with a calm, quiet, and firm voice, can help your aggressive dog feel more relaxed.
Do Gentle Leaders Hurt Dogs?
Some harnesses and muzzles are known to be uncomfortable for dogs, but Gentle Leaders sit gently on the dog's neck and nose.
It should never hurt your dog as long as you use it properly and do not be too aggressive toward the dog.
Halti Vs Gentle Leader
The significant differences between Halti and Gentle Leaders are:
Halti:
● Not completely adjustable
● Dogs can back out of Halti
● Halti is more comfortable
● Has extra strap
Gentle Leader:
● Completely adjustable
● Not padded
● Applies comfortable pressure
● Easier to put on
Do Head Collars Hurt Dogs?
There are multiple types of collars that can hurt dogs. Some of these include head collars, choke collars and prong collars.
They can potentially cause spinal injuries, nerve damage, and paralysis if used too often or too long.
Is The Gentle Leader Cruel?
Gentle Leaders are not cruel when used the right way.
They act as a tool that can stop your dog from pulling, barking, gnawing, and much more without causing pain to the dog.
Are Dog Haltis Cruel?
Halters are not cruel but can irritate if a little too much time is spent wearing them.
Halti's help properly trains your dog to get comfortable wearing it. It is a cruelty-free tool as long as the correct steps are taken.
Why Is Head Halter Bad?
Some head halters can choke or injure a dog's neck, nose, and spine.
Dogs can also slip out of head halters easily and can jerk the dog's head around too much and cause discomfort.
Running With Dog Gentle Leader?
There is a debate about running with a Gentle Leader. Some believe that it is entirely safe if the dog is not acting out of control.
Others believe that the Gentle Leader is not safe to run with because the dog cannot breathe as easily. There is no proof of this, but it is not to be ignored when running with it.
Gentle Leader For Short Nosed Dogs Like Shih Tzu?
Short nosed dogs can use a Gentle Leader harness just like the larger dogs.
Short-nosed dogs can learn to use and get comfortable with the Gentle Leader like the larger dog breeds.
Can Shiba Inu Use Gentle Leader?
Because of Shiba Inu's independent temperament, it is not as easy to train them.
They can learn to use a Gentle Leader, but their training may take longer than anticipated.
How Does The Gentle Leader Work?
The Gentle Leader will move your dog's head and body back towards you when they pull, tug, or try to run away.
It is designed to redirect your dog's attention and attitude by making them look back at you and ignore any distractions.
Gentle Leader Hair Loss?
There is a chance that your dog could suffer some hair loss, especially if they tend to pull more than other dogs.
If your dog seems to be losing hair after wearing the Gentle Leader, you could treat it with medicine, or you may need to use the harness differently.
How Old Should A Dog Be To Use A Gentle Leader?
Gentle Leaders can be used on dogs or puppies of six weeks or older.
If the harness fits the dog or puppy, it can be used on them when the dog is ready to train.
How Do I Train My Dog Not To Pull On The Lead?
Steps to take to train your dog not to pull on the lead are:
Place on leash with a treat for them to smell
Start with short distances
Reward with a treat when they are not pulling
Increase distance
Stop using treats when show improvement
There are many different methods to use when training your dog to stop pulling, but these steps are used in most methods.
How Do You Introduce A Gentle Leader To A Dog?
The best way to introduce a Gentle Leader to your dog is slowly and with patience.
You want the dog to recognize the harness before putting it on and then slowly (preferably with treats) put the harness over their nose and head.
Better And Cheaper Alternatives To Gentle Leader?
The cheaper alternative to Gentle leaders is not known to be as comfortable and easily misused.
The better alternative to Gentle Leader is Halti. Halti is known to fit a bit looser and is bought more often.
Benefits Of Gentle Leader?
The benefits of the Gentle Leader are:
● Complete control of the dog
● Inexpensive
● Dogs adapt quickly
● No trainer
Cons Of Gentle Leader?
The cons of the Gentle Leader are:
● Restraining
● Mostly for walking
● You may have to use it every time you walk your dog
References
Alt, K. (2021). Gentle Leader vs. Easy Walk Harness: Which Will Help Your Dog Walk Better? https://www.caninejournal.com/gentle-leader-vs-easy-walk-harness/
Elf. (2022). Managing dog aggression by using a head halter for an aggressive dog. https://k9aggression.com/using-a-head-halter-for-an-aggressive-dog/?v=7516fd43adaa
Garrett. (2021). Are Gentle Leaders Cruel? (2022). https://welovedoodles.com/are-gentle-leaders-cruel/#:~:text=Today%2C%20we%20will%20explore%20the,which%20may%20be%20considered%20cruel.