If your dog has stopped eating breakfast, don't panic. It could be a normal response to changing routines or even a shift in your dog's preferences. But watch for these warning signs to be sure it's not something more.
Dog Stopped Eating Breakfast But Eats Dinner?
Feeding your dog small meals throughout the day is the best way to ensure they are healthy and their hunger is satisfied. But as long as your dog is eating at least one meal every 12 hours, it's probably not cause for alarm if they stop eating breakfast. If you notice any changes in your dog's weight or signs of sickness, however, contact your vet right away.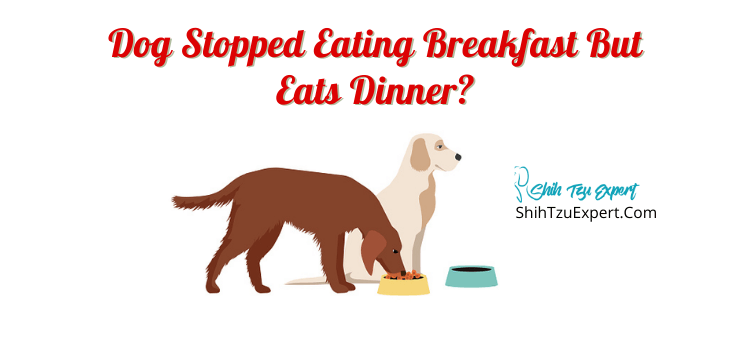 Why Did My Dog Stop Eating Breakfast?
If your dog stopped eating breakfast, don't panic. It could be a sign of changing tastes, competing interests, or simply lack of hunger.
Changing tastes: Is your dog showing less interest in the food you offer? Just as humans grow bored with the same food, dogs can too. Try gradually introducing another dog food variety by adding a little at a time to your dog's typical food. If your dog seems excited for more, eventually replace the food with the alternative.
Competing interests: Some dogs, especially puppies, are so interested in the world around them that they forget to eat. If your dog stops eating in the morning, think about possible distractions – like a new playmate or a regular visitor – that might be pulling your dog's attention away from the food bowl.
Lack of hunger: Your dog might just not be hungry for breakfast, especially if they had a late dinner the night before. If your dog eats at other times of the day, but skips breakfast, this might be a sign that they're just not ready to eat in the morning. This preference can change overtime, as it does with humans.
But if your dog stops eating breakfast and also shows signs of weight loss, low energy, or sickness, do call your vet for a check up. This might be a sign of something more serious.
Is It Normal For A Dog Not To Eat In The Morning?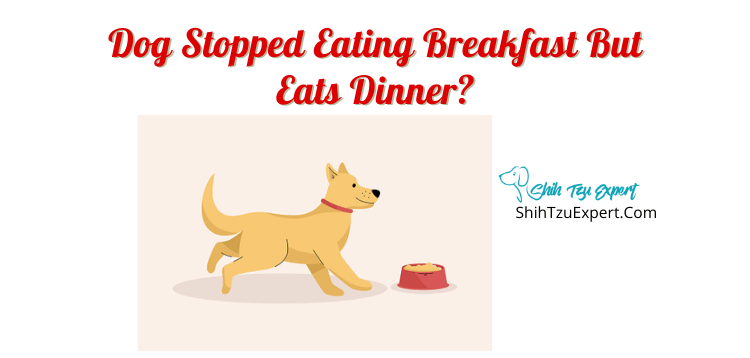 It is completely normal for a dog not to eat in the morning, especially if they are eating other meals throughout the day.
Some dogs prefer to eat later in the day, just as some humans do.
If your dog suddenly stops eating in the morning, think about new habits or environmental factors that might be causing the change, like a new dog in the house or a new human routine.
It might just take some time for your dog to get back on schedule.
Should I Feed My Dog First Thing In The Morning?
If your dog seems hungry first thing in the morning, you should feed them. A breakfast, lunch, and dinner schedule works well for many dogs and humans alike.
But it's also OK not to feed your dog first thing in the morning.
Dogs need to be fed at least once every 12 hours to ensure their stomachs don't get upset. Lunch and dinner might be enough for some dogs, while other hungry hounds may want to eat three square meals a day.
Ultimately, if your veterinarian has given specific feeding advice for your dog, take it.
How To Get The Dog Back To Eating Breakfast?
If your dog has stopped eating breakfast but you want to get them back in the routine, first think about what's changed.
Did something in the human family disrupt your pup's routine? Has a walk been removed or added? Has a new house guest arrived?
Think about if something has changed in your dog's schedule and if it has, give your dog time to adjust to the new routine. They might start eating breakfast again when things have settled.
But if schedules aren't the problem, think about what else your dog is eating. Are they having a late dinner or a midnight snack that might fill them up before breakfast?
If none of these are the issue, try feeding your dog something different for breakfast, like some cooked oatmeal or rice (something bland that won't hurt their stomach).
If they show interest in a new food, maybe they are getting bored with the same old breakfast! Consider offering them something different for breakfast or even slowly introducing a new variety of dog food.
Just be sure not to switch dog food brands or flavors too quickly – this could cause stomach issues!
Add a little new food at a time to the old food until you eventually replace one for the other.
Should Dogs Eat First Thing In The Morning?
It's not essential for dogs to eat first thing in the morning, unless instructed to do so by your vet.
Some dogs have sensitive stomachs or medical conditions that require a certain feeding schedule.
If your dog does not have such a condition, feel free to let them tell you if they are hungry for breakfast! As long as you feed your dog at least once every 12 hours, they should have what they need to be healthy and content.
Why Has My Puppy Stopped Eating His Breakfast?
Puppies are easily distracted, and this could be why they stop eating breakfast.
Look for any distractions – including toys, other dogs, and children – and remove them from the puppy's view during feeding time. If necessary, create a little secluded area where the puppy can eat in peace.
But if you notice your puppy is also losing weight, contact your veterinarian's office. It's important to let your dog's doctor know of any weight changes as soon as you notice them, especially for puppies.
It could be something as simple as a food allergy that can be fixed before the dog becomes sick.
How Important Is It For My Puppy To Eat Breakfast?
Puppies do need more nutrients than grown dogs. Their stomachs also tend to be smaller and they get hungry more often.
It's a good idea to set out food for your puppy in the morning, but if they do not eat until later, it's OK, as long as they are gaining weight and showing signs of hunger throughout the day.
Puppy Only Wants To Eat At Night?
Your puppy might have learned a bad habit by only eating at night. Try offering smaller portions throughout the day to get them on a more consistent routine.
You want to be sure your dog is eating at least once every 12 hours to avoid an upset stomach.
Puppies also need extra calories, so try to coax your dog to the food bowl at least twice, if not three times a day, for feeding.
Senior Dog Won't Eat In The Morning?
While it can be alarming when a senior dog changes their eating habits, skipping breakfast might be completely normal. Sometimes older dogs have just had enough to eat.
They might also be experiencing bloating or stomach pains. If this is the case, talk with your vet about probiotics or other options to help them feel their best.
If your senior dog is experiencing weight loss or is refusing meals at other times of the day, let your vet know.
Is It Normal For Dogs To Only Eat Once A Day?
While some dogs might prefer to eat only once a day, be sure they are eating at least once every 12 hours to prevent stomach upset.
Even if they have a smaller snack in the day, be sure they get something in their stomach.
Avoid feeding one big meal. Instead, try to space out smaller meals throughout the day. This helps prevent bloating and digestion issues.
When Should I Worry About My Dog Not Eating?
If your dog loses weight, refuses multiple meals a day, or displays signs of sickness like lethargy or coughing, you should contact your vet right away.
Should I Stimulate My Dog's Appetite?
You might try stimulating your dog's appetite if they aren't eating, especially if they have recently recovered from illness or surgery, or if you think they just don't like the type of food they usually get.
Adding a bit of peanut butter or your dog's favorite treat to their food is a good way to get them back on their eating routine.
References
https://vcahospitals.com/know-your-pet/feeding-times-and-frequency-for-your-dog
https://www.petmd.com/blogs/nutritionnuggets/dr-coates/2015/january/what-do-when-dog-stops-eating-32401