Shih Tzu are known for their cute, cuddly bodies and intelligent personalities. They are known to be bad swimmers, but what about running?
How fast can a Shih Tzu run?
The average speed of a Shih Tzu is around 6 miles per hour. Several things like their skeletal build, their breathing problems, and their breeding prevent them from being the fastest runners, but they are extremely good at being your best friend!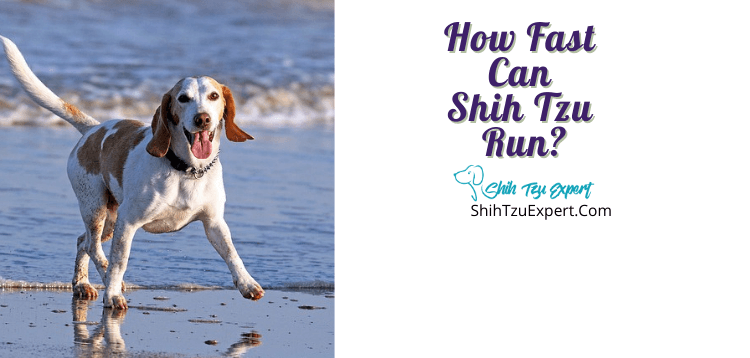 Can Shih Tzu run fast?
It sure seems like it when they run alongside a fence barking at newcomers. But how fast can they really run? Below we give the facts.
Can A Shih Tzu Run Faster Than A Human?
Since Shih Tzu are not bred for endurance or sports, they are not the fastest runners and cannot run for very long before tiring.
The average running speed of a Shih Tzu is six miles per hour, which is a little less than the speed of the average woman, which is 6.5 miles per hour. The average speed of a man is 8 miles per hour.
This means your dog can definitely go on a jog with you, as long as you make sure not to run him too hard or too long.
Is It Safe For Shih Tzu Puppy To Run Fast?
Puppies are not fully formed, so while they may have more energy than older dogs, it isn't wise to run with them.
Like other young creatures or people, if you put too much strain on their bones and muscles, they may have injuries or malformations that last a lifetime.
How Fast Can Shih Tzu Run Compared To Other Breeds?
| | |
| --- | --- |
| Breed | Speed (mph) |
| Basset Hound | 5 |
| Shih Tzu | 6 |
| German Shepherds | 30 |
| Dalmations | 37 |
| Greyhounds | 45 |
Are Shih Tzu Fast ?
Shih Tzu are not the slowest breed of dog, but they are among the slower breeds.
Because of their size and lung capacity, Shih Tzu are not considered 'fast' dogs by most dog owners. The ones that people own are used mainly for companionship.
What Happens When Shih Tzus Over Exert Themselves?
If a Shih Tzu runs too hard or too long on a hot day, there are several dangers to be aware of.
Heat stress or burned paws.
Injuries in younger dogs.
Stiffness or soreness.
Limping from foot injuries.
Lethargy.
Excessive panting or drooling.
Aversion to exercise or extreme slowness.
How Long Can Shih Tzu Run?
Small dogs are able to accomplish a full-out run easily for twenty to thirty minutes. This will vary depending on the dog and most will have to build up to that amount of time.
Shih Tzu are regarded as lap dogs, but surprisingly enough can enjoy running as long as they don't overexert themselves.
How Far Can A Shih Tzu Run At Their Top Speed?
Like all dogs, if you train a Shih Tzu and work it up to a certain speed.
At top capability, the average Shih Tzu can run between 2 and 5 miles. Because of their lung and nasal passages, running any further at top speed can be dangerous.
How Far Is Too Far For A Shih Tzu To Run?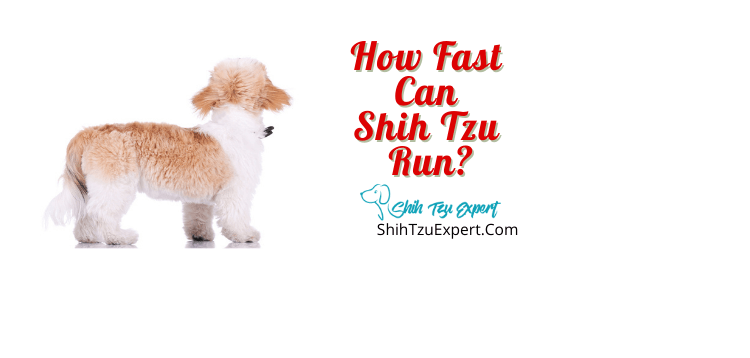 While distance in and of itself can vary between dogs, any distance that makes your dog overheat or work too hard is too far.
Generally, anything over five miles is too far for a little dog, and five can be too long if you haven't worked him up to it yet. Always make sure to warm up your dog before going for a jog or a run.
Are Shih Tzus Good For Running?
Some Shih Tzu enjoy running with people, and often they like to chase children playfully.
However, despite their instincts, Shih Tzu are not bred for running, but rather for being lapdogs. They can be good running partners if trained properly, but not for long-distance running.
Are Shih Tzu's Active Dogs?
Even though Shih Tzu are not the fastest breed of dog, they tend to be fairly active.
Older Shih Tzu will also be active unless they have bad health issues.
Shih Tzu love playing and usually get their exercise from playing with their owners, children, toys, or other dogs. They also enjoy running and walking.
Are Shih Tzus Athletic?
Even though they are active and like to play, Shih Tzu are not very athletic. They are brachycephalic dogs, meaning their breathing is a hindrance to their athleticism.
Besides their breathing problems, they also aren't built for running or athletic sports.
What To Consider Before Taking Your Shih Tzu For A Run?
There are several things to consider before taking your dog out on a run, no matter how good they are at it or how far they can go.
Lifestage/age of your dog. – If your dog is too young, you may damage their growth plates or cause injuries to muscles and bones that are still growing.
Weather -If it is too hot, your dog may be at risk for heatstroke or burned paws. If it is too cold, your dog may be at risk for frostbite or pneumonia.
Terrain -Always consider the terrain of the place you plan on taking your dog. You don't want anything that is too strenuous or might hurt your dog's paws. Thankfully, if you come across a patch of land, Shih Tzu are easy to carry past it.
Health conditions -Never take your dog for a run if he has health conditions that make it harder to run. If he has lung problems, it is wise not to run but rather to go on short, brisk walks.
How Fast Is The Average Dog Compared To A Human?
Shih Tzu are not as fast as men, but can sometimes run as fast as the average woman.
However, a human can easily outrun a Shih Tzu, as even the average, non-athletic human has more endurance than the little breed.
Running Speeds Of Slowest Small Dog Breeds Compared
| | |
| --- | --- |
| Basset Hounds | 5-10 mph |
| Pugs | 5-10 mph |
| Shih Tzu | 6 mph |
| Chihuahuas | 5-10 mph |
| Cardigan Welsh Corgis | Up to 10 mph |
| Pembroke Welsh Corgis | Up to 10 mph |
| Pekingese | Up to 10 mph |
| Japanese Chins | Up to 10 mph |
| Toy Poodles | Around 10 mph |
| Bulldogs | Up to 15 mph |
Running Speeds Of The Fastest Dog Breeds?
| | |
| --- | --- |
| Greyhounds | Up to 45 |
| Salukis | Up to 42 |
| Afghan Hounds | Up to 40 |
| Vizslas | Up to 40 |
| Jack Russells | Up to 38 |
| Dalmations | Up to 37 |
| Borzois | Up to 36 |
| Whippets | Up to 35 |
| Doberman Pinschers | Up to 32 |
| Border Collies | Up to 30 |
How Much Running Should Your Shih Tzu Do?
The recommended exercise time for a Shih Tzu is two 20-30 minute walks a day. These sessions can be replaced with playtime or letting in run around in a large yard.
Any cardio or running can be done anywhere from one to three times a day, depending on the length and intensity of the session. When Shih Tzu are given exercise in short bursts, it is much more beneficial and helps them build up to longer periods of exercise.
Is A Shih Tzu A Good Running Companion?
Shih Tzu can be good running companions for short distances! If you try to take them on your longer running sessions, then your dog will tire.
As long as you take precautions first, your Shih Tzu will be happy to run with you and will enjoy it, which will make running another way to bond with your pet.
How Do Dogs Run Fast [Scientific Reasons]?
For centuries, dogs have been bred to be fast runners. While some breeds are hefty and much slower, most dogs have the build and genetics for fast running.
Dogs were descended from wolves, which are a combination of tough, strong, and fast. Some dogs were bred more to one characteristic, meaning some dogs are faster than others, but all have different strengths.
Dogs have a skeletal build that is specifically designed for running. Their shoulders are not connected by a collarbone, allowing for longer strides. Their paws grip any surface, making it easy to speed up quickly.
Most dogs that run fast have a very aerodynamic body and a large heart that is able to keep up with the fast pace. They also tend to have longer legs that allow for longer strides, as well as powerful shoulders and hindquarters and a tail that helps with balance, especially with turning sharply.
What Factors Affect How Fast A Dog Can Run?
There are several things that can affect a dog's speed, no matter the breed.
If the weather outside is incredibly windy, wet, or warm, a dog will slow down considerably, or tire much quicker.
Another thing to consider is how healthy the dog is. If he has injuries or internal problems, these can cause your dog to run slower than his breed is used to running.
If you fail to clip your dog's nails, this can cause breakage and bleeding, which will hamper your dog's speed. If not taken care of, it can even prevent your dog from running again.
Signs Your Dog Is A Fast Runner
The first sign of a fast dog is the breed. If your dog is listed in this article or another website as one of the faster breeds, then that means he will be a fast runner.
Take a close look at the body of your dog. Does he have an aerodynamic build? Long legs? A long tail? These can all point out that your dog is a fast runner.
If your dog has a large chest and a lot of drive and energy, this is a sure sign that your dog is a fast runner.
How To Find Out How Fast Your Dog Can Run?
The easiest way to test how fast your dog runs is to time how long it takes to run 100 yards. Convert that to miles per hour. Repeat this several times to get an average speed.
For fun, consider comparing your dog's speed to that of the fastest breeds! Make sure your dog is running at top speed during these tests.
If you aren't confident your dog is running his fastest, you can look for an agility and speed test called "Fast Cat" which tests your dog's speed over a distance of 100 yards.
Can I Train My Dog To Run Fast?
The best way to train your dog to run fast is to first make sure he is good at obeying you while on a leash. If your dog doesn't walk easily beside you on a leash, he will not listen when you try to train him to run on command.
Keep your sessions short and sweet, praising your dog when he runs well.
Ways to teach your dog to run fast:
Use a favorite toy or treat.
Replicate the Fast Cat test with another person and your dog.
Make sure your dog is in shape and obeys well.
Make it fun and don't push him beyond his natural limits.
How Fast Can A Dog Run A Mile?
The fastest a dog can run a mile is between 5 and 6 minutes if he is conditioned to be able to keep up the same speed for a long distance.
Smaller dogs take longer to run a mile. The slowest dogs can take close to 15 minutes.
The average speed, however, is around 8-10 minutes per mile. This is for normal, companion dogs that aren't conditioned for stamina but still have the natural speed to run.
Why Do Some Dogs Run Slow?
Some dogs, like smaller breeds, tend to run much slower than bigger dogs. Some even run only 5 miles per hour. Why is this?
These types of dogs are bred either for toughness (bulldogs) or companionship (Shih Tzu). Because of this, their legs are slower, and their lung capacity does not allow for extended periods of running or strenuous activity.
These dogs also are not built as aerodynamically, and can even have fur or hair that slows them down.
References
https://www.preventivevet.com/dogs/run-with-dog
https://wagwalking.com/behavior/why-do-dogs-run-so-fast