We may earn commission from qualifying purchases at no extra cost to you.
Learn more
As proud dog owners, we'd like to think we do all we can to love and care for our canine companions. However, in cases of extreme weather, we have to take extra precautions to ensure the comfort and safety of our pets. As winter time rolls around and the weather becomes colder, dog owners need to more carefully consider how this shift from breezy, autumnal days to snowy, winter ones will affect their pups.
Generally, small and toy breed dogs in particular are more likely to be
affected by cooler temperatures
. But exactly how cold is too cold for our furry friends? And why is it that smaller dogs are less able to withstand the harsh winter weather? The answers to these questions lie in both the physical traits these dogs share, and the physics behind them. Knowing the science behind your small dog's coat and body composition can help you determine whether or not they need some extra help in combating the cold this winter season.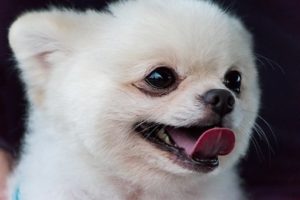 How Cold is Too Cold?
There are many conflicting assumptions made about what is best for small dogs during cases of extreme, cold weather. Many tend to believe that if humans think it's too cold outside, their dogs will think it's too cold as well. There are also people who believe that because their dogs have fur, this means they are immune to the effects of freezing temperatures. While both of these assumptions lie on opposite ends of the spectrum, the truth is, they are both false.
In reality, dogs can typically withstand much colder conditions better than humans can. For example, breeds like Huskies or German Shepherds are built to resist the cold. However, many small dogs do not have the physicality to endure extremely cold weather. There are various traits that your dog may or may not have to naturally combat the effects of winter chill. Coat type and color can be a major factor in determining whether or not your small dog is equipped to handle these frigid conditions. Typically, dogs with longer coats and undercoats have a better chance of bearing the colder weather than dogs with shorter, thinner coats, or no undercoat at all. Dogs with darker colored coats – such as brown and black – absorb more sunlight than dogs with blonde, white, or other lighter coat colors. This means that
dogs with darker coats can better absorb sunlight on sunny winter days
.
Of course, there are some small dog breeds that are well-equipped to handle colder weather. The Border Terrier, for instance, has a dense undercoat and wiry overcoat that provides proper warmth and insulation. The Tibetan Spaniel has a smooth double coat, with longer hair on its extremities, to help keep it warm. But Chihuahuas, toy poodles, Italian greyhounds, and other breeds with small bodies and sparse coats need extra protection.
Additionally, small dogs tend to have a thinner layer of muscle and less
overall body fat
, which doesn't provide much insulation to fight against freezing temperatures. Therefore, larger dogs seem more well-adapted to colder weather in general. Typically, large adult dogs have a thicker layer of muscle and more body fat, meaning they hold more heat.
Yet the scientific elements to a small dog's ability to stay warm doesn't stop with its physicality; understanding physics also plays an important role in grasping why small dogs are unable to retain as much body heat as their larger or adult counterparts. According to Newton's law of cooling, the rate in which the temperature of an object changes is equal to the difference between its own temperature, and the temperature of its surroundings. To put it simply, this means that smaller objects tend to lose heat faster than larger objects when placed in a colder environment. Just like human babies, smaller dogs have a larger body surface area in comparison to their weight. Therefore, smaller dogs lose heat faster than larger dogs, because larger dogs are able to conserve more of their energy. This is why, regardless of your dog's coat or body fat composition, it's still important to take extra care of your small and toy breed dogs during the winter season.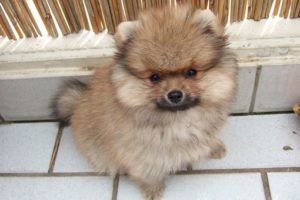 Typically, dogs can tolerate cold temperatures
down to 45 degrees Fahrenheit. When the temperature starts to drop below this point, dogs begin to feel the effects of this change. Temperatures below 32 degrees Fahrenheit can be dangerous for small breeds, and proper action needs to be taken to warm them up immediately.
However, you should also take into consideration other environmental factors that can exacerbate cold weather. If it is particularly windy, damp, or cloudy outside, it may feel colder than it actually is. Therefore, even if the temperature is above 45 degrees Fahrenheit, you should still pay close attention to your dog and how it behaves. Let's take a look at some symptoms dogs exhibit when they are too cold.
Symptoms of a Dog Being Too Cold:
In general, small dogs tend to visibly show symptoms of being too cold. In this way, they are not much different from humans; shivering and anxious behavior are some traits that dogs exhibit under duress, much in the same way that people do. Therefore, as it gets colder, it is important to keep a close eye on your dog and observe how they behave. When taking your dog outside in colder weather, some of the symptoms you should look out for include: Shivering and other signs of weakness, sudden slowness or tiredness, anxious movements (such as pacing or restlessness), whining, and putting up their front paws. Furthermore, dogs tend to look for warmer locations when they feel too cold. If you notice your pet looking for a place to burrow, this could mean that they feel extremely cold, and that you need to take action immediately, in case they are at risk for frostbite or hypothermia.
What Do You Do if Your Dog is Feeling Cold?
When your dog begins showing signs of being too cold, be ready to take immediate action. If not treated quickly,
your dog might experience frostbite
, a slower heart rate, low blood pressure, or even hypothermia in cases of weather below 20 degrees Fahrenheit. If you see your dog exhibiting one or more of the listed symptoms of feeling extremely cold, move them to a warm place indoors as quickly as possible.
After bringing your dog inside, wrap them in a well-insulated blanket to warm them up
. You can use tools, such as a pet thermometer, to measure your dog's temperature and accurately assess if they are in serious danger. If you feel like your dog needs professional medical assistance, contact your vet for more instructions on how to care for your pet.
For many dog owners, outside time is considered sacred and necessary. Playing fetch and going for a walk are not only ways for your dog to get its much needed exercise, but is also a way to bond with your beloved pup. However, it can be scary to think about your small dog being at risk in wintery weather. Therefore, it is important to recognize when you should or shouldn't take your dog outside. There is a common misbelief that dogs need to go outside for exercise purposes, regardless of hot or cold it is. However, there are plenty of indoor activities you can do with your pet to get them the proper exercise they need. Walking on the treadmill, running up and down the stairs, and creating homemade obstacle courses can all be great alternatives to playing outside or walking around the neighborhood. These methods can be especially effective when trying to train new dogs or puppies during winter.
However, when you do go outside, there are preventative measures you can take to make sure your small or toy dog is warm and well protected.
Should Dogs Wear Sweaters? The Importance of Outerwear
Fortunately, if temperatures lie between 32 degrees and 45 degrees Fahrenheit – and weather conditions are favorable – you do not need to forgo taking your small or toy outside entirely. Some dogs enjoy basking in the cold winter air, or playing in fluffy snow. There are plenty of ways in which you can protect your small dog to ensure it will be safe during your winter outings.
Like babies, small dogs need to be bundled up to retain their body heat in cold conditions. Luckily, the world of dog fashion is unexpectedly vast; even chain stores have started carrying shirts, sweaters, and accessories for canines. However, winter wear is not just limited to sweaters and jackets: sweaters, jackets, hats, socks, and snoods are all forms of outerwear that can be extremely helpful in providing your small dog with an extra layer of protection. Outerwear can help your dog defy nature, giving them the warmth and protection from the elements not provided by their own coats. A little extra help can go a long way in safeguarding your pet's comfort and care.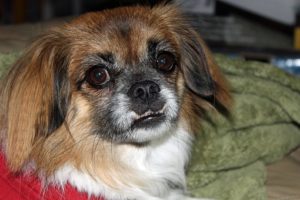 With the ever-expanding market for pet clothing, there are innumerable types of sweaters, jackets, and coats that you can buy for your small dog. These different styles of outerwear can be used to cope with various kinds of cold weather and precipitation. For instance, dense, fleece jackets can help combat the effects of snowy environments. Dogs who are closer to the ground may need winter sweaters, to prevent their bare bellies from brushing against the snowy ground. Furthermore, reflective parkas can come in handy for rainy weather.
Hats also come in a variety of styles, including ones with flaps that cover the ears to provide your dog with extra insulation. These style choices do not only cater to your small dog's personal preference, but are also practical in keeping them warm in cold weather.
Socks are excellent outerwear for both indoor and outdoor pets. Some homes have hard flooring that tends to get colder during winter months. Therefore, even though your dog should be able to handle indoor temperatures, their paws still may get cold. Inevitably, dogs who walk outside in icy or snowy conditions could get cold as well. If you notice your dog walking unusually, this could indicate that they are cold. Buying slip-resistance socks can make your dog more comfortable as the temperature drops during the winter.
Snoods are knitted neck warmers that warm your dog's head and ears. They essentially function as a scarf for dogs that can be fitted around the neck and head. This is an easy way to provide your small dog with extra insulation; since the snood fits around the head and neck, the snug fit ensures that it won't easily slip off. Snoods come in a variety of different patterns and colors, and are usually made from cotton or knit material to ensure that they will provide adequate warmth.
Do Dogs Need Boots During Winter?
Another crucial piece of winter wear to protect your small dog from the weather are dog winter boots. There is a common misconception that dog boots (and outerwear for dogs in general) are merely a fashion statement that serve no functional purpose. However, just as we humans wear shoes to protect our feet, dog boots can be extremely important to the health and safety of your dog, especially in places that experience ice and snow during the winter months. While a dog's paw typically contains a heating system, as well as insulating fat and tissue, these factors may not be enough to keep your dog's paws warm while walking on snow and ice. While socks are one way to keep your dog's paws warm, buying your small dog some boots can ensure that they are able to run and dig in the snow to their heart's content. Just like sweaters and jackets, boots also come in a variety of different styles. Plush-lined winter dog boots can provide your dog with extra external warmth; Slip-resistant boots are good for navigating ice, snow, sleet, and other wet terrains; Lastly, waterproof boots are great for rainy days and walking on rain-slick pavement. No matter what the conditions are like outside, there is sure to be a pair of boots to serve the needs of your pet.
In addition to providing warmth and protection from the weather, boots can also protect your pet's paws from any external factors that may harm them. In freezing weather, city workers often pour salt and other chemical products on the pavement and roads to quickly melt snow and ice. This chemically treated snow can stick to your dog's paws, and can potentially make the dog sick if they decide to ingest it or
groom that area
. Wearing boots can prevent snow from resting between your dog's paws, ensuring that they will not try be effected by these chemicals. Boots can not only aid dogs in walking on icy or snowy surfaces, but can also help your dog navigate rough terrains, such as rocky or muddy ground. This is important in making sure that your dog doesn't step on something that could potentially hurt its paw, or slip in mud.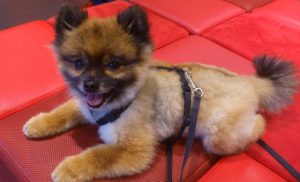 Boots are wonderful tools that can be used to protect your pets during frigid conditions. Nonetheless, you need to make sure that your pet's footwear is properly fitted to their paws. While you might spend some time trying to search for the right pair, finding boots that fit your dog is important to their comfort and safety. Some boots can easily slip off a dog's foot, so owners should be on the lookout in case they need to fix their dog's shoes during time spent playing, walking, or running outside. Additionally, boots should not be kept on for long periods of time. If you notice your dog beginning to show signs of discomfort while wearing their shoes, it may be time to move them indoors.
When it comes to the needs of your pet, it's imperative to treat them with the same care and consideration you would another human being. Considering the adaptive traits your dog has to handle specific types of weather can be integral to knowing how to
take care of them
. Ultimately,
each pet is unique and has different levels of tolerance when it comes to extreme weather
conditions; but knowing how their physical composition plays a major role in their ability to tolerate the cold can be important in gauging what your dog can and cannot handle. Dealing with extreme coldness can be a life or death situation for some pets. This is why it is incredibly important to look for signs and symptoms that your dog is too cold, and taking immediate action to warm them back up can potentially save their lives. So the next time you decide to take your small dog out on a snowy day, make sure to break out
their snoods
and boots alongside your own hats and coats – playing in a winter wonderland is more fun when you're both warm enough to enjoy it!