Protecting your dog from heartworms can be a relatively easy and safe task. However, there are pros and cons when deciding which heartworm medication is the most suitable for your pup.
How Long Does it Take a Dog to Digest and Absorb a Heartworm Pill?
In most dogs, a heartworm pill can take a few hours for a dog to fully digest. The actual time that it would take greatly depends on the dog's age and the breed of the dog. You would also need to take into account the dosage being used. The larger the dog – the higher the dosage.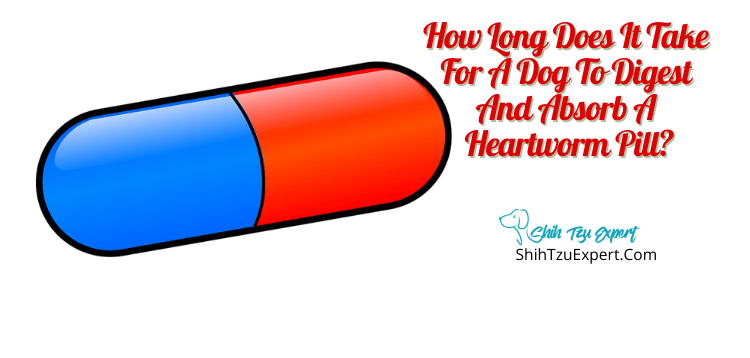 How quickly does Heartgard take effect?
As soon as the Heartgard is swallowed and enters the dog's circulatory system, it will begin to take effect. Once wholly digested, the medicine will protect your pet from heartworms for 30 days. However, after 30 days, the effectiveness of the treatment begins to slow.
There are three dosage strengths based on the weight of the dog. The heavier the dog, the higher the dose recommended will be.
Can Heartgard Make Dogs Sick?
Although the chances are low for your dog to feel sick after Heartgard, there is still a possibility. While the heartworm medicine is traveling through the circulatory system eliminating worms and parasites, there is a chance that your dog may experience:
Temporary loss of appetite
Upset Stomach
Drooling
Panting
Fever
Respiratory Difficulty
Depression
Does Heartworm Medicine Upset a Dog's Stomach?
According to Heartgard's clinical research, vomiting and/or diarrhea is not typical within 24 hours of ingestion of the medicine. However, there is still a 1% chance that this can happen, so ensuring that your dog has properly ingested the medication is essential.
If your dog likes to swallow food whole, you can break up the Heartgard into tiny pieces and add it to food or treat. This can make ingestion easier on the stomach.
How Long Does It Take A Dog To Digest Nexgard?
Nexgard is a flavored chew tablet available on prescription. It can take up to size hours to absorb through the circulatory system. Once absorbed, it takes eight hours to start killing fleas and ticks. Just like Heartgard, the medicine will protect your dog for 30 days.
Can My Dog Jump On The Couch After Heartworm Treatment?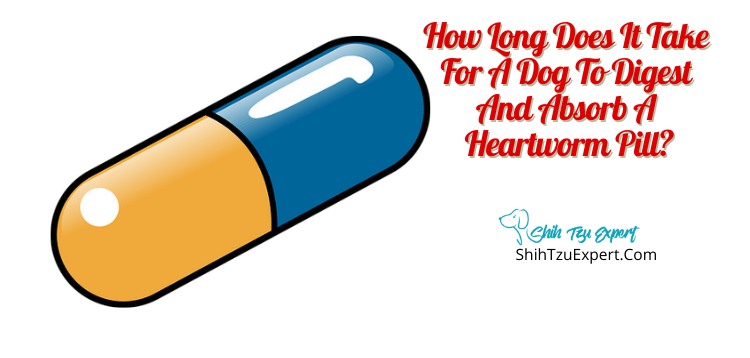 If you choose to get heartworm treatments from your vet, your dog will be recommended to have strict rest. Your dog should be leash walked to use the bathroom and then back inside for more rest. It is important to not let your dog climb the stairs, run, jump, or play roughly with humans or other dogs. If you cannot supervise your dog, they should be created to help keep them at ease.
Even if you are using heartworm pills, your dog should be closely monitored for any complications or upset stomach.
How Long Does It Take For Heartworms To Dissolve After Treatment?
Adult heartworms will begin to die within days of the absorption of the medicine. Once they decompose, they will start to dissolve and expel from your dog's system. Then, they get carried into the lungs and lodge into smaller blood vessels until they are absorbed by the dog's circulatory system.
How Common Is It For Dogs To Throw Up After Taking Heartgard?
It is truly uncommon for a dog to have an upset stomach or vomit after taking Heartgard. There is only a 1% chance that there would be an issue after taking medicine. Again, it is crucial to monitor your dog after giving them Heartgard to make sure there are no issues.
Should I Give A Second Dose Of Heartgard If My Dog Throws Up The First One [Is It Safe]?
If you find that your dog has thrown up or spit out the first dose of Heartgard, it is safe to give your dog another dose without harming its health. Make sure to adhere to the dosage recommendations given on the packaging or consult with your vet. Even if the ingestion of a second dose happens accidentally, there is a very low chance of adverse effects.
When Is Heartgard Dangerous For Your Dog?
A dog should be tested for existing heartworm infection before giving Heartgard medicine. If a dog is infected with heartworms, those need to be treated and removed before you can begin a Heartgard regimen. Heartgard has been proven to not be effective against already existing heartworms.
For How Long Does Heartgard Stay Effective In A Dog's System?
After the complete absorption, Heartgard is going to stay active in your dog's system for 30 days. Unfortunately, at the 30-day mark, the medicine's effectiveness significantly depletes. This is why most heartworm preventative medications are given to a dog once a month. This would keep them protected continuously.
What Should I Do If My Dog Overdosed On Extra Heartgard?
As with any medication, toxicity can occur if a dog is given an excessive dose, ten to twenty times the recommended dosage. In addition, certain dog breeds are genetically hypersensitive to medications. In some cases, these dogs can have complications when the medication passes directly to the brain.
The breeds with the most sensitivity to the leading ingredient in Heartgard (Ivermectin) are:
Collie
Old English Sheepdog
Shetland Sheepdog
Australian Shepherd
German Shepherd
Longhaired Whippet
Silken Windhound
Border Collie
Mixed breed dogs that include a type of herding dog
If your dog overdoses on Heartgard, it is imperative that you bring them to the vet immediately. The vet will most likely induce vomiting. Suppose you are comfortable with inducing vomiting before going to the vet. In that case, you can use a small dose of peroxide to help move things along.
Do Dogs Feel Sick & Bad After Heartworm Treatment?
Even though the side effects are rare, they are still possible after giving your dog a heartworm treatment. As mentioned above, some dog breeds have a genetically more sensitive stomach. As a result, a dog may feel tired, temporary loss of appetite, and possible vomit or diarrhea. Because these effects can be hard on your dog, you will want to make sure that your dog gets to rest while the medication runs its course through your dog's system.
What Are The Side Effects Of Heartgard?
There is a slight chance that your dog will experience side effects after taking Heartgard. But if they do experience side effects, it will most likely be one of the following:
Vomiting or diarrhea within 24 hours of ingesting the medication.
Depression or Lethargy, loss of energy or interest in doing things they usually enjoy.
Incoordination or staggering while walking.
Upset stomach causing the dog to temporarily lose appetite.
The less common but more severe side effects include:
Anorexia is brought on by an upset stomach that makes the dog not eat.
Mydriasis which is the dilation of the eyes.
Ataxia can be summed up as the loss of coordination and/or balance.
Convulsions or Seizures can change the levels of consciousness and change behavior, body movements, and feelings.
Hypersalivation which sounds exactly how it is, but it can cause irritation and inflammation to a dog's mouth and lips.
How Long Do Heartgard Side Effects Last?
If your dog develops side effects, it usually takes place between 12 hours and 3 days after ingestion. Once it is confirmed that the dog has side effects to the Heartgard dosage, it is essential to contact your vet immediately. The side effects can last longer or worsen if not cared for and monitored quickly. How long the side effects last can vary between each dog that takes Heartgard.
How Does Heartgard Work?
The medicine Ivermectin kills heartworm larvae that may have infected your dog. Because the larvae are being killed, it stops them from developing into juvenile and adult heartworms. In addition, because the low dose of Ivermectin rushes through the bloodstream, which means it can kill the larvae from today and yesterday but not tomorrow.
This is why it's recommended to treat with chewable tablets every 30 days.
The medicine Pyrantel Pamoate in the Heartgard kills roundworms and hookworms living inside your dog's intestines. The use of Heartgard each month reduces the risk of infection.
Heartgard Vs. Heartgard Plus Vs. Tri-Heart Plus Vs. Interceptor For Dogs
Heartgard will annihilate heartworms, while Heartgard Plus will destroy heartworms, hookworms, and roundworms. Heartgard is available over the counter, but Heartgard Plus requires a prescription from a vet.
Tri-Heart and Heartgard Plus have more similarities than differences. Tri-Heart has been proven to be the less expensive option, but they harbor the same ingredients, and both need to be prescribed by the vet.
Tri-Heart and Inceptor have a lot of similarities. Still, they also have differences that need to be taken into account. First, the Interceptor is formulated to be used for cats and dogs, while Tri-Heart is specifically for dogs. They use different ingredients. Inceptor has been proven safe for lactating dogs, and Tri-Heart should not be given to a nursing momma dog. Interceptor also offers protection against whipworms. And lastly, Inceptor can safely be given to younger puppies and puppies that weigh less than 3 pounds.
There are several options available to protect and treat heartworms in your dog, from over-the-counter options to injections that can only be done at the vet's office. It is essential to do research and bring any and all questions directly to your vet so you can choose the most effective and safe option for your dog. Once you have selected your option for heartworm treatment, make sure to monitor your dog's reactions to know what works best for your pet.
References
Interceptor vs Tri Heart Plus. https://www.allievet.com
Heartworm Disease in Dogs. https://www.vcahospitals.com